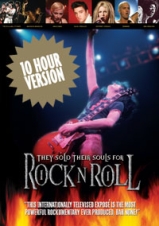 We know what some of you are already thinking. 'Selling their souls? Come ON now.' But this gripping documentary shows some of rock and roll's most celebrated artists - including Lennon, Morrison and Jagger - speaking about their ties to the occult, IN THEIR OWN WORDS.
The content of this 4-hour series, chronicles the modern music industry's ties to the occult over the past 75 years... Written in part (and narrated) by pastor, researcher, and former hard rock musician Joe Shimmel, it is an alarming spiritual awakening for ANYONE who wants to know how violence, sexual immorality and blasphemy have been able to completely infiltrate the powerful, billion-dollar music business... AND the hearts and minds of those who listen to it!
I received an e-mail from Jason with Good Fight Ministries excerpted below regarding this:
"...The only reason I'm contacting you, is to make you aware that the videos that you had posted on your site are no longer online and you may want to update your page. Though we have removed the videos in their entirety we are not pulling clips that were posted on individual topics or artist. I.E. the Bono clip you have. Our heart is to get the word out and the reason we are doing this is because we are trying to direct these viewers back to our site so that we can keep them up to date on what is happening. I hope you understand our heart. Again, we are very thankful for friends such as your self."
So I recommend that everyone check out their website to see clips focusing on individual artists from the documentary and you can still purchase the DVD at the Good Fight Ministries website. (Purchase DVD set)
---
Here is a Bible study on Lucifer being a musical being, and when you combine this with some of the lyrics and the message they send in much popular music today, it's not difficult to see what is presented in this series of videos as very valid and relevant to the spiritual condition of the world today.
A Magick Life A Biography Of Aleister Crowley
China song-writers decry "unhealthy" pop tunes Reuters (October 24, 2007) - A group of conservative Chinese songwriters has denounced the emergence of "vulgar" pop music on the Internet which they say is poisoning youth with weird lyrics and lustful themes. The 40 composers, some of who have written songs for Peng Liyuan, a famous singer married to Shanghai Communist Party boss Xi Jinping, signed a petition calling for a boycott of unhealthy online music and vowed to improve young people's music appreciation through their own "outstanding" output. "Music workers should firmly observe the socialist honors and disgraces," a transcript of the petition carried by the official People's Daily Web site (www.people.com.cn) said, referring to a 2006 campaign launched by Communist Party chief Hu Jintao to instill moral values in society. "(They should) resist the incursion of unseemly content, abandon vulgarity ... and work hard to compose outstanding online works that the people, and especially the broader youth, love to hear." With state television and radio broadcasts limited to bombastic patriotic blasts from the past and benign pop, the popularity of online music has exploded in China. China's censors have so far failed to control the Internet, despite a massive surveillance machine and government campaigns to stamp out "unhealthy content." The petition was signed at a seminar held by the official Chinese Music Association last Friday during the recently concluded Communist Party Congress, the newspaper said. Delegates singled out online hits, including "Na Yi Ye" -- "That One Night" -- by Xie Jun, a song about a couple who get drunk and spend the night together. "That one night you didn't refuse me!/That one night I hurt you/That one night you were all tears," are the raciest lyrics. The attack on vulgar online music follows campaigns against online pornography and bans on crass reality TV shows and "sexual sounds" on the country's air-waves.
It seems that these conservative Chinese recognize what the conservative Americans spoke out against in the 60's. Only now the music industry is far more blatant in their destruction of family and morals in the world.
Can Bono Save The World? Time Magazine - In the past three years, in talking to politicians, aid workers, activists and United Nations and development-bank officials, I have never heard a single suggestion that the U2 singer was involved with the plight of the world's poor for anything other than genuine concern. In part that's because he has convinced the professionals that he does his homework. It's one thing to hear celebrities talk about "doing something" for a cause. It's quite another to hear a rock star give a lecture on "hipc conditionality," the terms under which the most highly indebted countries of the world are forgiven their loans. Bono also wins plaudits because he's not easily typecast. Asking for more government funding for the developing world is a quick way to get applause from liberal constituencies. But Bono stresses a more subtle point, and one that often raises opposition on the political left. For many nations, exporting agricultural commodities and cheap T shirts is the best way to raise standards of living, yet as soon as they try to do so, protectionist lobbies in the First World—French farmers, American textile firms—scream bloody murder. Bono isn't swayed. "There is no justification," he says, "for denying the very poorest countries market access." More important, Bono has given a public face to the agenda of the developing world at an important moment. Within the next six months, crucial decisions will be made on the shape of the rich world's policies for poverty reduction. Next month in Monterrey, Mexico, President Bush and other leaders will gather to hash out the scale and terms of a new and expanded program of financial assistance to the poorest countries. In the fall a conference in Johannesburg will take stock of the progress toward the U.N.'s "millennium goals" to eliminate extreme poverty and increase access to education and health care. The model for a new approach is Jubilee 2000, which campaigned with great success to reduce developing-world debt. Jubilee 2000 was based in Europe, not the U.S., and its foot soldiers were not liberal activists but churchgoers. I remember covering a huge demonstration at the 1999 G-8 summit in Cologne, Germany, that was led not by black-clad anarchists but by nuns singing hymns. Bono's support for the campaign was critical; he gave a patina of glamour to people who would otherwise have been dismissed as nice but deeply unfashionable. Now he is convinced that the same coalition can be built in the U.S. In the past few months, Bono has consistently stressed the need for campaigners to work with church groups. Last week he told me of his determination to reach out to "grassroots conservative Republicans." The pitch to the Bush Administration for more foreign aid is deliberately aimed to appeal to both self-interest and idealism. The war against terrorism, Bono argues, needs to be accompanied by "the pursuit of a less dangerous world for Americans, one where 'America' is once again a great idea, contagious and inclusive." more...
---
---
Other Videos: