News for August 22, 2006
Morning Planets (August 22, 2006) - This morning, standing atop Storm Mountain among the scorched remains of the Bobcat Gulch Wildfire, Darrell Spangler of Colorado watched Venus, Saturn, Mercury and the 1% crescent Moon come up just before the sun. "It was a beautiful view." Tomorrow, the Moon will be gone, and Mercury will hurriedly follow a day later. That leaves only Saturn and Venus to decorate the dawn sky. Those two planets are converging for a very close encounter on August 27th: sky map.
Matthew 16:1-3
The Pharisees also with the Sadducees came, and tempting desired him that he would shew them a sign from heaven. He answered and said unto them, When it is evening, ye say, It will be fair weather: for the sky is red. And in the morning, It will be foul weather to day: for the sky is red and lowering. O ye hypocrites, ye can discern the face of the sky; but can ye not discern the signs of the times?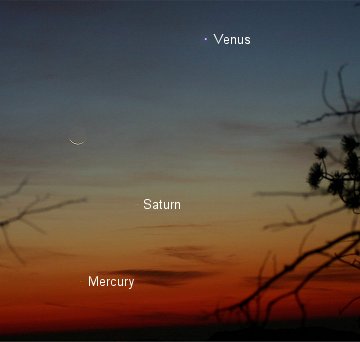 ---
Arab nations pushing for new peace process with Israel (August 20, 2006) - Worried the Lebanon war has given a boost to Iran and militants in the region, three U.S. allies in the Mideast are spearheading an Arab effort to present a plan for reviving the stalled peace process and talks with Israel. Details remain sketchy, and already Israel has expressed skepticism, saying it doubts any plan the countries put forward would take into account its security needs. But the decision by Saudi Arabia, Egypt and Jordan to make the commitment now is a clear sign of how worried the countries are by current tensions and especially by Iran's new influence. So far, the United States has not talked about a wider peace effort in the wake of the Lebanon crisis, instead focusing its efforts on ensuring the Iranian and Syrian-backed Hezbollah is reined in. more...
| Israel | Islam | Solana |
---
Lebanese Christians Opening Arms, Homes to Muslim Refugees (August 18, 2006) - "We have heard that Christian house groups in the city not only survived but are thriving in the chaos. Christ's love is shining through those groups." The Baptist Press reports that a flood of mostly Shiite Muslim refugees, from destroyed Lebanese villages overrun by Hezbollah, are now being given shelter by Christians in villages such as Deir el-Ahmar. Reporter Mark Kelly notes that "Across Lebanon, from mountains of refuge in the north to the chaotic neighborhoods of Beirut, Christian people are demonstrating the love of Christ for Muslims driven from their homes by the fighting. For a month now, Lebanese Christian groups have been housing and feeding thousands of displaced families in their own homes and in places like Beirut Baptist School and the Arab Baptist Theological Seminary." One Southern Baptist worker in the United States -- whose name is withheld for security reasons -- is close to the situation in Lebanon. He says, "We have heard that Christian house groups in the city not only survived but are thriving in the chaos. Christ's love is shining through those groups. Christians are showing genuine love to people they don't usually deal with, in certain cases to people they see as the source of the problems they face," Logan continued. "Even though they aren't completely comfortable with it, they are realizing they are able to love these people, not because of their own ability, but because they have the love of Christ inside." more...
---
Experts Say Volcano in Ecuador is Ready to Erupt Again (August 18, 2006) - "There is more potential for it to do very big things. We see that there is a fault in the volcano and it is very unstable with the crater full." According to an AP report, the Tungurahua volcano in Ecuador, which erupted earlier this week, is not finished spewing ash and its pyroclastic flow, and its calm demeanor at the present should not be mistaken for inactivity. The 16,575 foot volcano's eruption, on Thursday, left 5 people dead, and at least 30 missing, as thousands of residents were forced to flee the area. more...
| Earth Changes |
---
DEBKAfile: Nasrallah is transferring his entire fighting force from northern Lebanon to the South (August 16, 2006) - The rockets and guns were silent up to Wednesday, Day 3 of the ceasefire – although Tuesday, Israeli troops shot at 5 Hizballah fighters in two separate incidents, killing at least three. However, the swelling numbers of returning Hizballah fighters with their families are jamming the roads south – also blocking the deployment of the 15,000-strong Lebanese force ordered by UN SC resolution 1701 to take over the South and disarm Hizballah. The Hizballah are moving back into their still undamaged bunkers and fortified civilian dwellings opposite the Israeli border. Therefore, while thousands of displaced people in Israel and Lebanon headed back to their ravaged homes, DEBKAfile's military sources report trepidation about the durability of the ceasefire which Israel declared Monday morning. Everyone is talking about the inevitability of a second round. Hours after the ceasefire went into effect Monday morning, 6 Hizballah fighters were shot dead in three incidents with Israeli troops. more...
| Israel | Islam |
---
Rescued: Three Men Lost at Sea for Nine Months - They Survived on Rainwater, Raw Fish and Reading the Bible (August 16, 2006) - "We never lost hope because there is a God up there." The AP reports on three fishermen, who claim they left the coast of Western Mexico, at San Blas, on October 28th, 2005, to fish for sharks. But, with mechanical problems, and adverse winds pushing them off course, they were soon lost at sea. The three said, although they never saw any other ships, they stayed hopeful. Survivor Jesus Vidana, 27, told Mexico's Televisa News Network, "We fished, and we ate the fish raw . . . because there was no fire to cook with." The three men reportedly read the Bible, and tried to fix the 27-foot boat's engine. "We never lost hope because there is a God up there," said Vidana. "Our feet are swollen, our arms are swollen . . . but we're not in that bad shape." He added that at one point they went without food for 15 days, but it rained every day, so they were able to survive on just drinking water. The men were picked up by one of the "Koos Fishing Co." boats on August 9th. more...
---
Lebanese Government Concession Allows Hizballah to Stay Armed in the South - Provided Weapons Are Hidden (August 15, 2006) - This under-the-table deal violates two clauses of 1701 which require Hizballah to be removed and disarmed. DEBKAfile adds: Hizballah also agrees to let the Lebanese army and UN force be deployed in the south as "our guests." Read DEBKAfile's Exclusive Report for more Hassan Nasrallah's machinations. more...
| Islam |
---
Is The Way Congress Votes Moral Or Even Legal? (October 1, 2002) - When you go to the ballot box to elect individuals to the U.S. Congress, is one of your expectations that they read the legislation that comes before them? Bills that may very well pass both the house and senate, then are signed by the President and made into law affect you, your family and the future of this nation. Here's a news flash for you. Members of Congress do not read the bills that become law - at least not on a regular basis and not on some of the most draconian, oppressive laws ever to be imposed against the people of this free Republic. Back in 1994, a lame duck Congress voted on the hideous "free" trade treaty, GATT, whereby the united States of America totally and completely abrogated it's sovereignty to a foreign body - the WTO. At the time of the vote, counterfeit U.S. Senator Bob Dole said, "Any way you cut it, we're the big beneficiary." Counterfeit U.S. Senator Ernest Hollings had just the opposite prediction, "...described the vote as 'the gravest mistake the U.S. has ever made on economic policy.'" Hollings' statement turned out to be right. Our nation has been plundered as a result of GATT and We, the People, our businesses, our commerce, and our livelihoods, have been under attack ever since, losing virtually every single challenge made by some foreign country. On September 26, 2002, counterfeit U.S. Senator Max Baucus said he was deeply troubled by the WTO dispute settlement process and "Things are looking more and more... like a kangaroo court against U.S. trade laws." Funny thing about Baucus' stand on trade. He's a "free" trader. On his web site it states, "I've also been a leader in the successful efforts to open Chinese markets to U.S. products and to bring China into the World Trade Organization." Lie down with dogs, get up with fleas. Do business with our mortal enemy, the Communist Chinese? Remember, in October 2001, a video came out officially sanctioned by the Communist Chinese government which glorified the attacks on America last September 11, 2001, with the moderator chiming that we got what we deserved. That's a fact. The vote on GATT was 76-24. Guess how many members of the entire Congress read GATT? One! Former counterfeit Senator Hank Brown (R-CO). He's the only one who read this 28,000 page treaty and declared that in no way would he vote for it. During the hearings on this monster, French financier Sir James Goldsmith testified in front of Earnest Hollings' committee. He demonstrated that GATT would gut the American textile market. more...
| NewWorldOrder | America |
---
Russia's Putin Faces Growing Chorus of Criticism in U.S. (August 22, 2006) - The "solid friendship" that President Bush cited last month in describing his relationship with Russian President Vladimir Putin is now stacked against growing criticism for Putin's alleged attempts to revert Russia to a "police state." "Information is now being closed again in the Russian Federation of Mr. Putin," Paul Goble, a professor at the University of Tartu in Estonia, said recently during a discussion at the Heritage Foundation in Washington, D.C. Goble and other scholars criticized Putin for exerting control over most of the national broadcasting and radio stations, for allegedly bullying nearby countries, including the cutting off of natural gas to Ukraine earlier this year, and for the recent crackdown on U.S. non-governmental organizations. Russia went from the designation of "partly free" in 2004 to "not free" in 2005, according to a Freedom House report, and Russia's freedom of the press is now ranked only slightly better (a total score of 68) than that of Iran (score of 80) and China (score of 82). The United States was given a score of 17 for press freedoms in the same report. more... This isn't a big surprise. I've presented other stories you can find in the main news page. Just do a search (Ctrl+F) for "Russia" and see where their loyalties lie. That nation is becoming Muslim, which all makes sense since they're one of the agressors in the Gog/Magog invasion. They've already been caught providing weapons that Hizbullah used against Israel in the last month. Watch as Russia turns more and more against Israel and sides with Iran.
---
Israel Must Be Ready For Any Iranian Attack: Minister (August 22, 2006) - Israel should prepare for the possibility of a missile attack from Iran, a cabinet minister said on Tuesday. "We are liable to face an Iranian missile attack. The Iranians have said very clearly that if they come under attack, their primary target would be Israel," Rafi Eitan, a member of the decision-making inner cabinet, told Israel Radio. Iran could fire missiles at the Jewish state "therefore we must prepare for what could come, and prepare the entire country for a missile strike attack, to prepare all the civilian systems so they are ready for this," Eitan said. The radio said Eitan, a former spymaster, meant that Israel should prepare its bomb shelters to protect against a possible Iranian attack. It quoted Eitan as alluding to the current international standoff with Iran over its uranium enrichment, saying if the situation deteriorates, Israel would be the first to come under attack. Iran's President Mahmoud Ahmadinejad has called for Israel to be "wiped off the map." He has said Israel "should not assume" its ceasefire with Iranian-backed Hizbollah guerrillas last week means an end to the crisis. Hizbollah fired 4,000 rockets on northern Israel during the war. Iranian cleric Amad Khatami has said that Iran would hit Tel Aviv with medium-ranged missiles it came under attack. Arms experts say Iran's Shahab-3 missiles are capable of striking Israel. Eitan's remarks also came as tensions rose between Iran and six world powers led by the United States, who have sought to persuade Tehran to halt its uranium enrichment program, with an August 31 deadline for Tehran to face possible sanctions from the United Nations. Israel is widely believed to be the only nuclear power in the Middle East. more...
| Iran | Gog/Magog | Israel | Islam |
---
Speculation Rages About Iran's Plans For August 22 (August 21, 2006) - August 22 could usher in an apocalyptic period in the Middle East thanks to some belligerent action on the part of the Iranian regime. Or maybe not. The date was chosen by Tehran and had no obvious relevance in international diplomacy. The only formal deadline the international community is currently awaiting with regard to Iran is August 31 -- the date set by the U.N. Security Council for Iran to suspend uranium enrichment or face the possibility of sanctions. Some commentators have downplayed the importance of August 22, arguing that the decision was simply one of convenience, akin to saying "we'll respond by the end of the month." August 22 marks the end of the Persian solar month of Mordad. But others are less sanguine, noting that the date is significant in Islam, for several reasons. It coincides with the Islamic calendar date Rajab 28, the day Jerusalem fell to the Islamic warrior Saladin, in October 1187. Many Muslims regard Saladin's victory as a high point in Islamic history, and just weeks ago, Syrian fans of Hizballah leader Hassan Nasrallah were likening him to the 12th century Kurdish hero. On the night of August 21-22, Muslims believe Mohammed underwent his "night journey," a trip on a magical steed from Mecca via the "farthest mosque" -- later said to be al-Aqsa in Jerusalem -- and on to heaven and back. The two-stage journey is known in Islam as the "isla and miraj," and tradition holds that a divine white light appeared over Jerusalem at the time. more...
| Iran | Gog/Magog | Israel | Islam |
---
Olmert Rules Out Peace Talks With Syria (August 21, 2006) - Prime Minister Ehud Olmert on Monday ruled out a resumption of negotiations with Syria at this time, saying Damascus must first end its support for militant groups. Olmert spoke just hours after a minister in his Cabinet urged a resumption of negotiations and said Israel should give back the Golan Heights in exchange for peace with Syria. Israel accuses Syria and Iran of arming and supporting Lebanese Hezbollah guerrillas who fired nearly 4,000 rockets at Israel in the 34-day war that ended last week. However, during the war, Israel went to great lengths to keep Syria out of the conflict, apparently to avoid opening another front or closing future peace options. After the war, Syrian President Bashar Assad signaled he is moving closer to Iran. He delivered a hardline speech in praise of Hezbollah and warned that future Arab generations might succeed with force where peace talks have failed so far - a reference to the Golan Heights, the plateau Israel captured in the 1967 Mideast War. more...
| Israel | Islam |
---
EU To Meet On Lebanon Force (August 21, 2006) - EU member states are to meet on Wednesday in Brussels to discuss participation in the international peacekeeping force in Lebanon, with governments still reluctant to firmly commit themselves until the rules of engagement are clear. With the UN pressing the 25-nation bloc to make up the backbone of the troops deployed to Lebanon, the EU's response remains undecided with the different capitals calling for an unambiguous mandate for the troops. France, which has angered the UN by only agreeing to send a further 200 soldiers to the area when a commitment of up to 3,500 had been expected, on Sunday called for an extraordinary EU meeting on the issue. "We ask that European solidarity is expressed as soon as possible about Lebanon", French foreign minister Philippe Douste-Blazy told France Info Radio adding that he has asked the Finnish EU presidency to call a meeting on the issue. Helsinki responded by scheduling the meeting for Wednesday (23 August) with member states expected to discuss the details of the mandate and what governments are prepared to contribute. more...
| Israel | Islam | EU/UN |
---
Unidentified disease kills 14 (August 21, 2006) - Unprecedented epidemic of an unidentified disease has killed at least 14 people, including seven children, in Netini VDC, a far eastern village of the district, in the past two weeks. The disease, which was first detected in dogs and chicken in the last week of June, had started spreading to humans. Major symptoms of the disease are high fever together with bleeding from nose and mouth at the time of death. Sounds like one of the end-times signs Christ spoke about. Matthew 24:3-8 We've seen an increase in pestulence since science boldly claimed we would wipe out disease many decades ago. New diseases like AIDS, Morgellons disease, this unidentified one, and others have popped up, replacing those diseases and illnesses that vaccines and medicine kept at bay. Even some of those are threatening a comeback at a time when the world is unprepared because they thought the threat was irradicated. These are all a sign of the times, just as the Bible said since Christ's words were written down and are being fulfilled 100%. Keep watching!
---
Annan abuses power – sides again against Israel (August 21, 2006) - For the second time in a month, United Nations Secretary General Kofi Annan revealed his pro-Arab bias at the weekend when, instead of condemning the Hizb'allah for breaking the terms of the ceasefire between it and Israel, he condemned Israel for acting in accordance with the provisions of that agreement. Annan was backed up by his special Middle East envoy and also long-time critic of Israel, Terje Roed-Larsen. The UN chief wagged his finger at Israel after an IDF commando raid carried out an operation Saturday aimed at preventing Hizb'allah armaments from being replenished via Syria. According to the ceasefire resolution passed by the UN Security Council last week, the Lebanese government is obliged to prevent the re-supplying of Hizb'allah with weaponry, and Israel has the right to exercise self-defense to prevent such a rearmament taking place. In a 33-day-long war ignited by an unprovoked Hizb'allah attack inside sovereign Israeli territory last month, the Iranian- and Syrian supplied Muslim terrorist organization repeatedly committed war crimes under international law when it rained more than 3000 rockets down on Israeli population centers, with the express intent of killing as many Jewish civilians as possible. Throughout the war Syria was seen to be replenishing the Hizb'allah's rocket stocks. more...
| Israel | Islam | EU/UN |
---
US facing wave of murders and gun violence (August 20, 2006) - Analicia Perry was kneeling to light a candle at a makeshift shrine to her brother when she was shot in the face and killed -- four years to the day after her brother was gunned down on the same spot. The slaying of the 20-year-old mother -- on a narrow street behind a police station in Boston's poor Roxbury district last month -- is one of the shocking examples of a rise in the murder rate across the United States that is raising questions about whether police are fighting terrorism at the expense of crime. In a shift from trends of the past decade, violent crime is on the rise, fueling criticism of Bush administration policies as a wave of murders and shootings hits smaller cities and states with little experience with serious urban violence. From Kansas City, Missouri, to Indianapolis, Indiana, places that rarely attract notice on annual FBI crime surveys are seeing significant increases in murder. Boston, once a model city in America's battle against gun violence, is poised to eclipse last year's homicide tally, which was the worst in a decade. Explanations vary -- from softer gun laws to budget cuts, fewer police on the beat, more people in poverty and simple complacency. But many blame a national preoccupation with potential threats from abroad. more...
| America |
---
Powerful Magnitude 7.2 Earthquake Hits Near South Pole (August 20, 2006) - A powerful earthquake with a preliminary magnitude of 7.2 hit near the South Pole, Japan's weather agency said Sunday. The temblor hit at around 0341 GMT, Japan's Meteorological Agency reported. The agency did not indicate the quake's depth. The agency, which said it received magnitude data from the Pacific Tsunami Warning Center, said the quake was centered in waters in the Scotia Sea. The Scotia Sea lies between Antarctica and South America. The quake's magnitude is sufficient to produce a tsunami in shallow waters, the agency said. It added that the quake posed no tsunami threat to Japan.
| Earth Changes |
---
Iranian Army Ready For Israel Action After Lebanon War (August 19, 2006) - A senior Iranian army commander said on Saturday the armed forces were prepared for any action by Israel after what Iran has called the Jewish state's defeat at the hands of Lebanon's Hizbullah guerrillas. Ataollah Salehi, commander-in-chief of Iran's army, made his comment on the first day of army wargames, which started in the south of the country but will later extend to other areas. He did not say how long the maneuvers would last.
| Iran | Gog/Magog | Israel | Islam |
---
Israel Protests Russian Missile Sales To Iran (August 18, 2006) - A senior Israeli delegation headed to Moscow earlier this week to complain that Russian-made anti-tank missiles had reached Hizbullah guerrillas in Lebanon and were used in the 34-day conflict, government officials said Friday. Asaf Shariv, a senior adviser to Prime Minister Ehud Olmert, confirmed the delegation had headed to Russia earlier this week, but refused to elaborate. The anti-tank missiles proved to be one of Hizbullah's most effective weapons in face-to-face combat with the IDF, killing many of the 118 soldiers that died in the fighting. Another government official said the delegation was "senior," but refused to say who they would be meeting with in Russia. Israel does not accuse Russia of directly arming Hizbullah, but rather that Russia sold the weapons to Iran and Syria, known supporters of Hizbullah, who passed them on to the guerrilla group. more...
| Israel | Islam |
---
Al-Aqsa: We Learned Missiles Subdue Israel (August 18, 2006) - The Palestinian terror organizations are looking north and are filled with satisfaction and hope for the next step. "We learned from Hizbullah that the tools that make a difference are missiles. If achieve expertise in this field, we won't make do with the simple rockets we have. There is no doubt that we can subdue Israel ," Abu Nasser, a commander in the al-Aqsa Martyrs Brigade, Fatah's military wing, told Ynet. "Since the Gulf War, missiles were what brought Israel to the negotiation table. The withdrawal from Gaza was also a result of missiles. If we use them correctly in the West Bank, we will get rid of the IDF here too," Abu Nasser explained. According to him, his organization wasn't surprised by what he defines "the defeat Hizbullah handed to Israel." more...
| Israel | Islam |
---
Volcano Wipes Out 3 Villages In Ecuador (August 17, 2006) - A volcanic eruption in Ecuador's Andes mountains showered incandescent rock and lava on nearby villages, smothering houses and burning residents as thousands tried to flee to safety. At least one person was killed and 60 were missing. The Tungurahua volcano exploded overnight, raining ash for miles and sending molten rock flowing down its slopes for hours. The fiery mountain was still unleashing a blast of gas and ash Thursday that reached 5 miles into the sky. At least a dozen villages on the volcano's western slopes were seriously damaged or destroyed _ televised images showed just the tops of electricity poles jutting out from the smoldering pyroclastic flow that smothered 107 homes in the village of Juibe Grande, on the volcano's northwest slope. Authorities said that village's 600 residents escaped in time. They were less sure about the many holdouts who refused to answer evacuation orders Wednesday in three hamlets high on the slopes of the 16,575-foot volcano, which is some 85 miles south of the capital of Quito. more...
| Earth Changes |
---
Syria President Assad Threatens War (August 17, 2006) - Syrian President Bashar Al-Assad says his country is prepared for war with Israel and warned that the Golan Heights would be seized "by Syrian hands." In an interview with the Egyptian publication Al-Usbu after the ceasefire in Lebanon went into effect, Assad declared: "Syria has been prepared and ready since the first day of the war... "We and the resistance (Hezbollah) read clearly that the day of confrontation was definitely approaching. The current war is five years old, and there were widespread preparations for this day." Assad said he is convinced that steps toward peace "have fallen off, and that the Golan will be liberated by Syrian hands." Asked what the expected results would be if Israel launched an attack against Syria, Assad said: "If Israel acts with adventurism and enters into a war with Syria, this will be the beginning of a heavy price that it will pay." Assad said Hezbollah's conflict with Israel marks "a new stage in the history of [the Arab] nation, and he remarked ominously: "To this day no one in American intelligence or Israeli intelligence knows what the true capabilities of the resistance are." more...
| Israel | Islam |
---
Hezbollah Leads Work to Rebuild, Gaining Stature (August 16, 2006) - As stunned Lebanese returned Tuesday over broken roads to shattered apartments in the south, it increasingly seemed that the beneficiary of the destruction was most likely to be Hezbollah. A major reason — in addition to its hard-won reputation as the only Arab force that fought Israel to a standstill — is that it is already dominating the efforts to rebuild with a torrent of money from oil-rich Iran. Nehme Y. Tohme, a member of Parliament from the anti-Syrian reform bloc and the country's minister for the displaced, said he had been told by Hezbollah officials that when the shooting stopped, Iran would provide Hezbollah with an "unlimited budget" for reconstruction. In his victory speech on Monday night, Hezbollah's leader, Sheik Hassan Nasrallah, offered money for "decent and suitable furniture" and a year's rent on a house to any Lebanese who lost his home in the month-long war. "Completing the victory," he said, "can come with reconstruction." On Tuesday, Israel began to pull many of its reserve troops out of southern Lebanon, and its military chief of staff said all of the soldiers could be back across the border within 10 days. Lebanese soldiers are expected to begin moving in a couple of days, supported by the first of 15,000 foreign troops. more...
| Iran | Islam |
---
IDF: We'll Disarm Hizbullah If UN Can't (August 16, 2006) - The issue of disarmament is not on the agenda, senior Hizbullah official Hassan Fadlallah said on Wednesday, jeopardizing the fragile cease-fire in the region. The UN cease-fire resolution clearly states that the area south of the Litani river must be demilitarized. According to Fadlallah, who spoke with al-Jazeera, Hizbullah will not evacuate its operatives from southern Lebanon since they are the ones who populate the region. "Any such withdrawal means the evacuation of southern Lebanon," he said. An official in the Prime Minister's Office warned on Tuesday that the IDF would have to resume operations in Lebanon if Hizbullah is not disarmed. Lebanese Prime Minister Fuad Saniora and Hizbullah leader Hassan Nasrallah reportedly reached a deal allowing Hizbullah to keep its weapons but refrain from exhibiting them in public. Israeli officials called the arrangement a violation of UN Security Council Resolution 1701, which passed over the weekend and was approved on Sunday by the cabinet. "The resolution is clear that Hizbullah needs to be removed from the border area, embargoed and dismantled," the official said. "If the resolution is not implemented, we will have to take action to prevent the rearming of Hizbullah. I don't think backtracking will serve any useful purpose. There has to be pressure on Hizbullah to disarm or there will have to be another round." Foreign Minister Tzipi Livni is expected to raise the issue when she meets in New York on Wednesday with UN Secretary-General Kofi Annan. more...
| Israel | Islam | EU/UN |
---
Nations Refuse To Disarm Hezbollah (August 16, 2006) - The countries tasked with upholding the shaky truce in Lebanon appeared unwilling to force the disarmament of Hezbollah yesterday, a development that threatens to delay the creation of a massive United Nations peacekeeping force and could ultimately set off fresh conflict in the region. France, the United States, the United Nations and Lebanon itself have all refused to accept responsibility for stripping the Lebanese Shiite militia of their weapons, despite a key element of the UN resolution that calls for the group to give up its firepower and vacate the southern part of the country. Hezbollah leader Sheik Hassan Nasrallah said on Monday that his force will not be pressured into disarming, and he gained key support yesterday from Lebanon's Defence Minister, Elian Murr, who has refused to take up the task of disarmament. The Lebanese Cabinet agreed to the UN resolution on Saturday, but Mr. Murr explained that his job is not disarmament, but rather to "ensure the security of the [Islamic] Resistance and citizens, to protect the victory of the Resistance." The Islamic Resistance is the armed wing of Hezbollah. London's al-Hayat newspaper reported yesterday that the Lebanese government is considering allowing fighters to keep their weapons in the southern border zone in violation of the UN resolution. more...
| Israel | Islam | EU/UN |
---
Prepare For The Next Round (August 16, 2006) - The IDF has exacted a heavy price from Hizbullah for its aggression, but failed to achieve an unequivocal victory. It was a mistake to believe that military pressure could generate a process whereby the Lebanese government would disarm Hizbullah. Neither the latest UN Security Council resolution or the deployment of an international force will be able to overcome the centrifugal political processes that have beleaguered the divided Lebanese society. Similarly mistaken was the belief that reliance on air power could paralyze Hizbullah's capacity to harm Israel by launching thousands of short-range rockets. The political and military circumstances surrounding the cessation of the fighting in Lebanon have left Hizbullah shaken but still a force to be reckoned with in Lebanon and a proxy for Syria and Iran. Subduing Syria is the key to managing the Lebanese crisis, to rolling back Hizbullah, and to weakening Iran and its radical Islamist influence in the Middle East. In order to attain victory in the next military engagement, Israel should target Damascus. more...
| Iran | Gog/Magog | Israel | Islam |
---
Islamic Jihad mob kills alleged collaborator (August 14, 2006) - Five gunmen shot dead an alleged collaborator in front of hundreds of people in a public square in the Jenin refugee camp on Sunday, accusing him of giving information to Israeli authorities, witnesses said. The gunmen, who identified themselves as members of Islamic Jihad, accused the victim of helping Israel killed two terrorists last week in a targeted attack, said witnesses and Islamic Jihad members. Sunday's killing came in response to a helicopter attack on the homes of the two last Wednesday, said an Islamic Jihad official. The victim was identified as Bassem Malah, 22, who worked in Umm el-Fahm. He was due to be married next week. more...
| Islam |
---
Neighbors Smell Blood in Israeli Cease-Fire Acceptance (August 14, 2006) - Arabs and Muslims from Iran, Hizbullah and the PA are celebrating Israel's acceptance of the UN ceasefire, dubbing it a "surrender" and calling on Arab states to attack the new "weak" Israel. "After one month of war against Lebanon's resistance, Israelis are the absolute losers and Hizbullah is the absolute winner of the war," Iran's Foreign Ministry spokesman Hamida-Reza Asefi said Sunday. "The occupiers of Jerusalem failed, despite their military, economic, intelligence and diplomatic backings." The Iranian official said the Islamic Republic of Iran is "very pleased" with the ceasefire, according to state-run Iranian news agency IRNA. He warned, though, that attacks on Israel would continue as long as "occupation lingers." He declined to outline whether occupation included retaining sovereignty in regions such as the Galilee – which Hizbullah chief Hassan Nasrallah has termed "settlements" in his wartime addresses. "Let us not forget that as long as there is occupation there is resistance," he added. more...
| Iran | Gog/Magog | Israel | Islam |
---
Iran Says Disarming Lebanese Hizbollah "Illogical" (August 13, 2006) - Iran welcomed on Sunday a planned ceasefire to halt the month-long war between Lebanon's Hizbollah and Israel but described the U.N. Security Council's call for disarming the Iranian-backed group as "illogical". The U.N. Security Council adopted a resolution on Friday calling for a "full cessation of hostilities" and for the implementation of a previous U.N. resolution requiring the disarming of armed groups including Hizbollah. "We are happy for the ceasefire in Lebanon. But the resolution is not balanced," Foreign Ministry spokesman Hamid Reza Asefi told a weekly news conference. "It does not condemn the Zionist regime (Israel) and its crimes in Lebanon." Asked about the call for disarming Hizbollah, Asefi said: "This is a totally unreasonable demand. It is illogical." "Let us not forget that as long as there is occupation there is resistance," he added. more...
| Iran | Israel | Islam |
---
Syria still transferring supply of rockets, missiles to Hezbollah (August 13, 2006) - Syria continues its efforts to transfer large quantities of war materiel, including rockets, to Lebanon, in an effort to assist Hezbollah in its war against Israel, a senior Israel Defense Forces source told Haaretz on Saturday. According to the IDF source, the air force has succeeded in partially stemming the arms transfers, but intelligence shows that supply convoys have managed to cross into Lebanon from Syria. Senior Syrian army and intelligence officers are involved in the arms smuggling, according to the senior IDF source, who says it is unlikely this continues without the explicit support of the regime in Damascus. Two specific types of weapons - anti-tank missiles and rockets used to target Israeli civilians - are of concern. The alert levels of the Syrian army, especially on the Golan Heights, is at its highest levels since the Lebanon War in 1982. The Syrian preparedness is mostly defensive, but the IDF is not excluding the possibility that Damascus will initiate a limited ground operation during the closing stages of the war. more...
| Israel | Islam |
---
Analysis: For Israel, An Imperfect Deal (August 13, 2006) - For Israel, the U.N. cease-fire deal is far from perfect. A U.N. force deploying in south Lebanon as part of the truce will have trouble keeping Hezbollah at bay for long or prevent the Iranian-supplied guerrillas from rearming, critics said, pointing to past failures of international peacekeepers. The U.N. terms will buy temporary calm, but make the next war between Israel and Tehran's proxy army inevitable, former Israeli Foreign Minister Silvan Shalom and some military analysts warned. "It begs the question, `What was it all for?'" Shalom said, reflecting a growing chorus of criticism. Israel had little choice but to go along with the U.S.-backed compromise, after its vaunted army failed to subdue Hezbollah in more than a month of fighting. The guerrillas took heavy blows and suffered scores of casualties, but kept raining rockets on northern Israel throughout the war and clung to positions near Israel's border. more...
| Israel | Islam | EU/UN |
---
Buchanan Declares: Third World Conquest of Americasp;(August 20, 2006) - "As Rome passed away, so, the West is passing away, from the same causes and in much the same way. What the Danube and Rhine were to Rome, the Rio Grande and Mediterranean are to America and Europe, the frontiers of a civilization no longer defended." So begins a new work of warning from Pat Buchanan. And this time Buchanan goes all the way. STATE OF EMERGENCY: THIRD WORLD INVASION AND CONQUEST OF AMERICA streets this week and is designed to jolt readers with stats/analysis of illegal immigration gone dangerously wild. Buchanan warns: "The children born in 2006 will witness in their lifetimes the death of the West." One in every twelve people breaking into America has a criminal record. By 2050, there will be 100 million Hispanics concentrated in the U.S. Southwest. Between 10 and 20 percent of all Mexicans, Central Americans and Caribbean people have already moved to the United States. Every month, the U.S. Border Patrol apprehends more illegal aliens breaking into our country, 150,000, than the number of troops we have in Iraq. Buchanan slams the president: "Concerned about his legacy, George W. Bush may yet live to see his name entered into the history of his country as the president who lost the American Southwest that James K. Polk won for the United States." In EMERGENCY, Pat Buchanan charges the Mexican regime with an Aztlan Plot, a conscious campaign to use America as a dumping ground for its poor and unemployed, both to relieve social pressure and effect a cultural re-annexation of the American Southwest. La Reconquista, the reconquest of the lands lost by Mexico in the Mexican-American War, Buchanan charges, is underway. The Republican Party, a wholly owned subsidiary of the U.S. Chamber of Commerce, is in the grip of a cult called "Economism." It is all about money now. The GOP worships at the "Church of GDP" Both parties are paralyzed by guilt over American past racial sins. Powerful Mexican and U.S. elites seek to erase America's borders and merge the United States and Mexico into a "North American Union." more...
| NewWorldOrder | America |
---
Iran's Military Exercise and Apocalyptic Plans for Israel and World (August 20, 2006) - Washington is keeping a sharp weather eye out for Tuesday, August 22, which this year corresponds in the Islamic calendar to the date on which many Sunni Muslims commemorate the night flight of the prophet Muhammad on his winged horse Buraq to "the farthest mosque", which is traditionally identified with Jerusalem. According to the Muslim legend, on that day, a divine white light spread over Jerusalem and the whole world. DEBKAfile's intelligence sources report that information rated "highly credible" has reached US undercover agencies of a secret report presented to Iran's supreme ruler Ali Khamenei by Abdollah Shabhazi, one of the heads of the Supreme National Security Council. He claims to expose a mega-terror plot against Jerusalem scheduled for August 22, which aims at killing large numbers of Jews, Arabs and Christians. This atrocity will reportedly arm the United States and Israel with the pretext for hitting Iran's nuclear installations, as well its capital, Tehran, and other big cities. Shabhazi says the US and Israel need to launch a military campaign to restore the deterrent strength they lost in the Lebanon war. The massive attack will reportedly focus on the Old City of Jerusalem and its eastern suburbs. The Iranian report claims that the plotters, who are not identified, are eager to recreate the divine white light whish spread over Jerusalem in the year 632. It does not rule out the use of a non-conventional weapon. DEBKAfile reports that the authorities in Israel do not appear to be taking this threat seriously, unlike Washington – and Tehran. Deeply impressed, Iran's rulers launched a large-scale are, sea and ground exercise Saturday, Aug. 19. The maneuver, dubbed the Blow of Zolfaghar (the sword used by Imam Ali), involves 12 divisions, army Chinook helicopters, unmanned planes, parachutists, electronic war units and special forces. State-run television reported a new anti-aircraft system was tested "to make Iranian air space unsafe for our enemies." The massive military exercise will spread over 14 of Iran's 30 provinces and last about five weeks. DEBKAfile adds: The point of this massive display of might is in fact to place Iran's armed forces on the ready for the contingency of a US-Israeli offensive on August 22 as per Shabhazi's prediction. The exercise will be moved to Tehran to prepare the capital for a potential assault. August 22, furthermore, is also the day of Iran's formal reply to the incentives packages on offer from the West in return for halting its uranium enrichment projects. For weeks, Tehran was under pressure from the United States and Europe for an earlier reply, but insisted on August 22. Prof. Bernard Lewis, the great scholar of Islam and the Middle East offers the background in the Wall Street Journal on Aug. 8: "In Islam, as in Judaism and Christianity, there are certain beliefs concerning the cosmic struggle at the end of time - Gog and Magog, anti-Christ, Armageddon, and for Shiite Muslims, the long awaited return of the Hidden Imam… Mr. Ahmadinejad and his followers clearly believe that this time is now, and that the terminal struggle has already begun and is indeed well advanced. It may even have a date, indicated by several references by the Iranian president to giving his final answer to the U.S. about nuclear development by Aug. 22. This was at first reported as "by the end of August," but Mr. Ahmadinejad's statement was more precise." more...
| Iran | Gog/Magog | Israel | Islam |
---
Backward Sunspot (August 15, 2006) - On July 31st, a tiny sunspot was born. It popped up from the sun's interior, floated around a bit, and vanished again in a few hours. On the sun this sort of thing happens all the time and, ordinarily, it wouldn't be worth mentioning. But this sunspot was special: It was backward. "We've been waiting for this," says David Hathaway, a solar physicist at the Marshall Space Flight in Huntsville, Alabama. "A backward sunspot is a sign that the next solar cycle is beginning." "Backward" means magnetically backward. Hathaway explains: "Sunspots are planet-sized magnets created by the sun's inner magnetic dynamo. Like all magnets in the Universe, sunspots have north (N) and south (S) magnetic poles. The sunspot of July 31st popped up at solar longitude 65o W, latitude 13o S. Sunspots in that area are normally oriented N-S. The newcomer, however, was S-N, opposite the norm." This tiny spot of backwardness matters because of what it might foretell: A really big solar cycle. Solar activity rises and falls in 11-year cycles, swinging back and forth between times of quiet and storminess. Right now the sun is quiet. "We're near the end of Solar Cycle 23, which peaked way back in 2001," explains Hathaway. The next cycle, Solar Cycle 24, should begin "any time now," returning the sun to a stormy state. more...
| Earth Changes |
---
The Top 10 Things Food Companies Don't Want You to Know (August 14, 2006) - The giant food corporations have one mission: selling more food and beverage products to consumers. Succeeding with that mission depends on keeping consumers in the dark on certain issues such as the presence cancer-causing chemicals found in popular food products. Here are ten things the food corporations, whose products dominate grocery store shelves across the United States and other countries, absolutely do not want you to know.
1. The ingredients listed on the label aren't the only things in the food.
2. Monosodium glutamate (MSG)
3. MSG is routinely hidden in foods in these ingredients
4. ADHD in children is caused almost entirely by the consumption of processed food ingredients such as artificial colors and refined carbohydrates.
5. The chemical sweetener aspartame, when exposed to warm temperatures for only a few hours, begins to break down into chemicals like formaldehyde and formic acid.
6. Most food dips (like guacamole dip) are made with hydrogenated oils, artificial colors and monosodium glutamate. Many guacamole dips don't even contain avocados.
7. Plastic food packaging is a potent health hazard.
8. Milk produced in the United States comes from cows injected with synthetic hormones that have been banned in every other advanced nation in the world.
9. Most grocery products that make loud health claims on their packaging are, in reality, nutritionally worthless (like meal replacement shakes, instant chocolate milk, etc.).
10. Food manufacturers actually "buy" shelf space and position at grocery stores.
---
Drought in Texas Staggers Farmers; Losses at More Than $4.5B (August 12, 2006) - Direct economic losses from the current drought are estimated to have eclipsed the $4 billion mark in Texas, far surpassing the damage done when it stopped raining in 1998 and reminiscent of the infamous 1950s dry spell, Texas Cooperative Extension economists said Friday. "It's every bit as bad as it was in parts of the state during the worst of the '50s," extension agronomist Travis Miller said Friday, explaining that the intensity of the current 18-month drought has been similar to the severest times of that six-year drought. Worse, there's not much hope for many producers even if the weather suddenly changes. "If it rained now, it would be too late for the main crops," said extension economist Carl Anderson, adding that the total economic impact could be around $8 billion when effects on related businesses — mostly in rural areas — are considered. more...
| Earth Changes |
---
Mike Wallace Hired as Iranian Spin Doctor? (August 11, 2006) - It takes a whole lot to shock me these days, but I must admit that my jaw dropped upon hearing "retired" CBS newsman Mike Wallace gush over Iranian President Mahmoud Ahmadinejad. The "60 minutes" correspondent, who retired last March, was all excited about his exclusive interview with Iranian president, and to be fair it was a journalistic coup. However, after hearing Wallace discuss the interview with Sean Hannity on his radio show, if I were working for the State Department, I'd investigate whether or not Mike Wallace registered as an agent for a foreign government. Ahmadinejad couldn't buy better spin and publicity. According to CBS News, Wallace's interview will air on "CBS Evening News" on Thursday and on "60 Minutes" on Sunday. Wallace -- who has never impressed me as someone with intellectual prowess -- said that the maniacal dictator is "a rather attractive man, very smart, savvy, self-assured, good looking in a strange way. He's very, very short but he's comfortable in his own skin." I don't know about you, but I smell a dinner date on the horizon for Ahmadinejad and Wallace. I guess it's those cool sheets Ahmandinejad wears that makes Wallace's heart flutter. more...
| Iran |
---
Iran Prepares for War With Israel and U.S. (August 2, 2006) - The authoritative Middle East News Line has confirmed that Iran has ordered preparations for war with Israel and the United States. In the first such order, Iran's Islamic Revolutionary Guard Corps has ordered its more than 300,000 troops to prepare for a confrontation with Israel and the United States. IRGC has directed as well as participated in the Hezbollah war against Israel. "Iran's powerful Revolutionary Guards and Basij [a branch of the IRGC] should prepare themselves to get even with Zionists and Americans," IRGC commander Maj. Gen. Yahya Rahim Safavi said. "The supreme leader [Ali Khamenei] will announce the time for this." Safavi said Iran would avenge Israeli air attacks on Lebanon. He said the Israeli military was aided by aircraft and weapons from the United States. "We have to keep this sacred hatred of the enemies of Islam alive in our hearts until the time of revenge comes," Safavi said on July 30. "I hope our nation can one day avenge the blood of innocent people in Palestine, Lebanon, Iraq and Afghanistan. I ask God to arouse the dignity of Muslims and destroy America, Israel and their associates." Yesterday, Iranian Foreign Minister Manouchehr Mottaki discussed strategy in Beirut with Hezbollah and Lebanese leaders. Mottaki's visit, welcomed by France, took place as the Lebanese leadership was said to have drawn closer to Iran during the current war with Israel. Western intelligence sources said IRGC has deployed nearly 1,000 soldiers in Lebanon, many of them along the border with Syria. The sources said IRGC officers participated in the battle against Israel for Bint Jbail, about three kilometers from the Jewish state. So far, Iran has denied that it sent fighters to Lebanon. But Teheran has reported efforts by so-called volunteers to aid Hezbollah. more...
| Iran | Gog/Magog | Israel | Islam |
---
A Third of the World Population Faces Water Scarcity Today (August 22, 2006) - One in three people is enduring one form or another of water scarcity, according to new findings released by the Comprehensive Assessment of Water Management in Agriculture at World Water Week in Stockholm. These alarming findings totally overrun predictions that this situation would come to pass in 2025. "Worrisome predictions in 2000 had forecast that one third of the world population would be affected by water scarcity by 2025. our findings from the just-concluded research show the situation to be even worse," says Frank Rijsberman, Director General of the International Water Management Institute (IWMI). "Already in 2005, more than a third of the world population is affected by water scarcity. We will have to change business as usual in order to deal with growing scarcity water crisis we see in some countries like India, China, and the Colorado River basin of USA and Mexico." The Comprehensive Assessment, carried out by 700 experts from around the world over the last five years, indicates that one third of the world's population is currently living in places where water is either over-used - leading to falling groundwater levels and drying rivers - or can not be accessed due to the absence of the appropriate infrastructure. more...
| Earth Changes |
---
Small Quakes Keep Shaking Ohio (August 15, 2006) - A small earthquake shook this northwest Ohio city for the second time in about three months, awakening residents but causing no damage early Tuesday, officials said. The 2:09 a.m. quake, with a preliminary magnitude of 2.5, was not related to the series of tremors that have struck in northeast Ohio's Lake County and under Lake Erie this year, said Mike Hansen, head of the Ohio Seismic Network. Hansen said the quake occurred close to this city about 70 miles southwest of Toledo, although authorities were still trying to determine the exact location of the epicenter. "It was very close to the one we had May 11," Hansen said. Residents who called law enforcement authorities reported waking up to a loud boom and then feeling the earth shake, according to Lima police and the Allen County sheriff's office. | Earth Changes |
---
Natural Disasters Rising With Staggering Consequences (August 13, 2006) - Natural disasters that have multiplied worldwide since the 1950s will increase in frequency due to climate change, a conference has been told. Professor Hartwig de Haen, retired assistant director-general of the United Nation's Food and Agriculture Organisation, said that each year 79,000 people died and 200 million more were directly affected by natural disasters such as droughts and floods. And the annual global damages bill had reached $AU90 billion, he said. Prof de Haen, speaking at the International Association of Agricultural Economists (IAAE) conference on the Gold Coast on Sunday, said the number of natural disasters had been growing rapidly, impacting especially hard on the very poor. "The costs associated with natural disasters are difficult to estimate," Prof de Haen said. "However, there is sufficient evidence that they have increased several-fold since the 1950s and strong indications that this trend will continue. "Scientific predictions point to a further increase in the frequency and intensity of hazards, with a five-fold global cost increase over the next fifty years, mainly due to climate change and to further concentration of the world's population in vulnerable habitats." more...
| Earth Changes |