News for April 8, 2007
He is risen!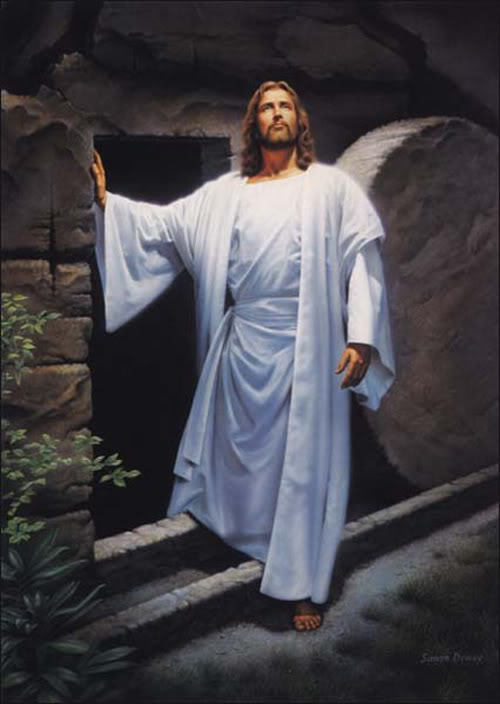 ---
Iran, Syria Prepare For War In Mid-2007 (April 6, 2007) - Israel's intelligence community has assessed that Iran and Syria were preparing for war in mid-2007. Officials said the war was expected to be sparked by a U.S. strike on Iran's nuclear weapons facilities. At that point, they said, Iran, Syria and Hizbullah would also attack Israel with a range of missiles and rockets. "Nobody wants to initiate the war, but everybody is ready to join," an official said. On Sunday, Israeli military intelligence chief Maj. Gen. Amos Yadlin said Israel could be attacked in the summer of 2007 along the northern front. Yadlin said Israel was monitoring military preparations in Lebanon and Syria, which included the deployment of short- and medium-range missiles and rockets.
| Iran | Gog/Magog | Israel | Islam |
---
Russia Seeks Closer Ties With Iran, Not 'Gas OPEC' (Update1) (April 6, 2007) - Russia, the world's biggest energy supplier, will seek closer ties with gas-producing nations at an industry meeting next week in Qatar, Energy Minister Viktor Khristenko said. Russia, however, won't sign an accord creating a pricing cartel or "gas OPEC,'' Khristenko told reporters today in Moscow. "To sign something, it has to be prepared first.'' Energy ministers from Russia, Iran and Qatar, holders of the world's biggest gas reserves, will meet April 9 with envoys from gas-producing nations under the umbrella of the Gas Exporting Countries Forum. Russia expects the group to evolve into a place where producers can share technology, investment and data, Kremlin spokesman Dmitry Peskov said in an April 4 interview. "Russia has been in a fortunate position, benefiting from high oil prices supported by an oil cartel while not being a member,'' said Kim Iskyan, co-head of research at UralSib Financial Corp. in Moscow. "It risks demonization if it joins a gas exporters group where it couldn't be neutral during a conflict between producers and consumers.'' Iran has been seeking to turn the forum into a cartel that would control more than 70 percent of the world's gas reserves. A cartel isn't possible until more gas is liquefied and shipped by tanker than is shipped through pipelines, Khristenko said today. President Vladimir Putin fanned concerns among energy- consuming nations when he said in February that Iran's proposal to unite gas producers in a group similar to the Organization of Petroleum Exporting Countries was "an interesting idea.'' The European Union, which gets a quarter of its gas from Russia, has criticized closer cooperation among producers of the fuel. "Russia hasn't had and will never have a goal of joining an organization that is against someone,'' Khristenko said. Consuming countries "demonize'' exporter nations "to draw attention away from internal problems,'' he said. "It's a traditional political tactic.''
| Iran | Gog/Magog |
---
Kabbalist Elder: Israel on Brink of War (April 6, 2007) - A highly-regarded kabbalist elder from Bnei Barak has issued a warning that the next war in Israel is on the way. Rabbi Eliyahu Leon Levi, who frequents the Western Wall every Saturday night to recite Psalms and teach Torah, told his students that there is an "evil decree" of war looming on the horizon. According to the Rabbi, Syria is liable to join Lebanon in firing missiles at the Jewish State in the pending war. The missiles will have a much greater range and carry much larger warheads than the katyusha rockets fired against Israel this past summer in the Second Lebanon War which claimed some 156 lives, he noted. "It's not going to be 'katyushas shmatyushas' this time which have only tens of kilograms of explosives. The enemy will launch, G-d forbid, rockets carrying 500 and 600 kilograms of explosives," Rabbi Levi told his students. On several occasions, Rabbi Levi first alerted Israeli military authorities of security threats and movements of massive amounts of enemy weapons, that were subsequently verified by IDF intelligence. The kabbalist Rabbi said just before the Passover holiday that he does not want to cause panic, but suggested that the Israeli public stock up on two weeks of water, food supplies, candles and matches in case the delivery of basic commodities is disrupted. Rabbi Levi said that though Israel "may, G-d forbid, pay a heavy price initially, the Jewish People would muster strength to crush their enemies leading to a great sanctification of G-d's name through ultimate victory." more...
| Iran | Gog/Magog | Israel | Islam | Destruction of Damascus |
---
PMO denies peace message to Assad (April 5, 2007) - The Prime Minister's Office issued a rare "clarification" Wednesday that, in gentle diplomatic terms, contradicted US Speaker of the House Nancy Pelosi's statement in Damascus that she had brought a message from Israel about a willingness to engage in peace talks. According to the statement, Prime Minister Ehud Olmert emphasized in his meeting with Pelosi on Sunday that "although Israel is interested in peace with Syria, that country continues to be part of the Axis of Evil and a force that encourages terror in the entire Middle East." Olmert, the statement clarified, told Pelosi that Syria's sincerity about a genuine peace with Israel would be judged by its willingness to "cease its support of terror, cease its sponsoring of the Hamas and Islamic Jihad organizations, refrain from providing weapons to Hizbullah and bringing about the destabilizing of Lebanon, cease its support of terror in Iraq, and relinquish the strategic ties it is building with the extremist regime in Iran." The statement said Olmert had not communicated to Pelosi any change in Israeli policy on Damascus. Pelosi, who met in Damascus with Syrian President Bashar Assad over the objections of US President George W. Bush, said she brought a message to Assad from Olmert saying that Israel was ready for peace talks. "We were very pleased with the reassurances we received from the president [Assad] that he was ready to resume the peace process. He was ready to engage in negotiations for peace with Israel," Pelosi said after meeting Assad. She said the meeting with the Syrian leader "enabled us to communicate a message from Prime Minister Olmert that Israel was ready to engage in peace talks as well." According to officials in the Prime Minister's Office, however, this was not what transpired during her meeting with Olmert. The officials said Olmert had told Pelosi that he thought her trip to Damascus was a mistake, and that when she asked - nevertheless - whether he had a message for Assad, Olmert said Syria should first stop supporting terrorism and "act like a normal country," and only then would Israel be willing to hold discussions. The first part of that message, the officials said, was lost in what was reported from Damascus on Wednesday. Pelosi said the congressional delegation she led raised the issue of kidnapped IDF soldiers Gilad Schalit, Ehud Goldwasser and Eldad Regev and conveyed "the importance of Syria's role in promoting peace between the Palestinians and the Israelis." She also said she had pressed Assad on Syrian support for Hamas and Hizbullah. In a related development, Bahrain's Foreign Minister Sheikh Khalid Bin Ahmed al-Khalifa told the Bahrain daily Al-Ayam on Tuesday that the Riyadh Arab League summit set up "panels to communicate with all influential parties, including Israel, to activate the Arab Peace Initiative." According to the Bahrain News Agency, Khalifa said the Arab League has formed "working teams to communicate with all parties, including Israel, the United Nations, the US, China and the European Union." more...
| Israel | Islam | America |
---
Israeli minister: Everyone knows we'll surrender the Golan (April 4, 2007) - A minister in the government of Ehud Olmert said openly Thursday Israel would eventually give in to Arab demands and European insistence and surrender the Golan Heights to the Syrians. "We know that the price will be, in the end, that Israel will come down from the Golan Heights," Immigrant Absorption Minister Ze'ev Boim said. The Kadima Party member's irresponsible and capitulatory statement echoed sentiments expressed by individual wrong-thinking Israeli leaders over the past decade-and-a-half. They came a day after another liberal lawmaker, US House Speaker Nancy Pelosi, defied her president's policies and flew to Damascus to try her hand at Middle East peace making, at Israel's expense. (See Olmert: We sent no message with Pelosi) Towering high over the Sea of Galilee, the Golan Heights forms a strategically important part of the Land of Israel, serving, since 1967, as a preventative to Syrian aggression against the Jewish state. The territory was designated as the inheritance of the half-tribe of Manasseh and 2000 years ago they were - as they are today - home to thriving Jewish communities. Roman armies attacked them - most notably at sites like Gamla - and drove those who survived into exile. In 1914 the Heights were included in the land set apart for close Jewish settlement by the Balfour Declaration, which was ratified at the 1920 San Remo Conference and confirmed by the League of Nations in 1922. Almost immediately on being granted a mandate to oversee the creation of the Jewish homeland, the British government lopped off the Golan and handed it to French-controlled Syria, which in 1946 became an independent Arab state. Syria attacked newly reborn Israel in 1948 from the Golan, and for the following 19 years occupied the Heights, using them as a platform from which to fire down on the Jews farming in the valley below. Israel retook them in 1967, and has spent the last 40 years resettling and developing them against the backdrop of increasingly strident Syrian demands for their "return."
| Israel | Islam | 1st Seal |
---
Mars Heats Up (April 4, 2007) - Mars is getting hotter. Measurements of the brightness of the planet's surface show that the thermometer has ratcheted up some 0.65 °C over a few decades. Lori Fenton at the Carl Sagan Center, Mountain View, California, and colleagues looked at maps of Mars's 'albedo', a measure of how much light reflects off a surface. By comparing a map from 1976-78 with one from 1999-2000, they found "some pretty dramatic changes", says Fenton. In particular, the southern highlands region of Mars had darkened significantly. The darkening is thanks to the clearance of light-coloured dust that covers the planet's darker bedrock, they propose. When the Sun's light hits dark rock it warms the surface, and the heat is kept in by the atmosphere. This warming kicks up winds, which swirl any dust around and can even make dust devils. This sweeps the light-coloured dust into pockets, revealing more bedrock and causing further heating. "The two processes that lift dust are being enhanced by the darkening of the surface, and those are the processes that darken the surface in the first place," says Fenton. Fenton then used a model of the planet's climate to infer the temperature change caused by this darkening. These models are very similar to those used to predict the weather on Earth, but with fewer parameters: Mars has no oceans or vegetation, and the effects of clouds are nowhere near as important as they are on Earth. more...
| Earth Changes |
Revelation 16:8,9
And the fourth angel poured out his vial upon the sun; and power was given unto him to scorch men with fire. And men were scorched with great heat, and blasphemed the name of God, which hath power over these plagues: and they repented not to give him glory.
---
Official: Discussions on Iran's nuclear program resume after sailor standoff resolved (April 4, 2007) - Discussions about Iran's nuclear program are back on. A European Union official says talks between Iran's top negotiator and the E-U's foreign policy chief resumed hours after Iran's president announced the release of a British navy crew. The official says the two discussed both the seized crew and the possibilities of progress on the nuclear issue. Just before the British crew members were seized last month, the Security Council toughened sanctions against Iran over its defiance of U-N calls to stop enriching uranium. Uranium can be used to make nuclear weapons as well as generate energy. Tehran insists the program is for peaceful purposes. E-U foreign policy chief Javier Solana (hah-vee-EHR' soh-LAHN'-ah) is negotiating on behalf of the permanent U-N Security Council members.
| Iran | EU/UN | 4th Kingdom | Solana | 1st Seal |
---
Gold: Western Inaction Pushing Saudi Arabia to Hamas, Hizbullah (April 4, 2007) - For Saudi Arabia, the Israeli–Palestinian conflict is not the main issue; it is rather Iran—and the West's inaction vis-a-vis the Iranian threat. So writes former Israeli Ambassador to the UN, Dore Gold, in a brief for the Jerusalem Center for Public Affairs' Institute for Contemporary Affairs. "What is shaping Saudi Arabia's new diplomatic activism," Gold explains, "is the rapidly expanding Iranian threat and the weakness of the Western response." Gold feels that though expectations were raised that "the Riyadh Arab summit might provide a mechanism for restarting the Arab–Israeli peace process," it got off to a "bad start when Saudi Foreign Minister Saud al-Faisal warned Israel that its rejection of the [Saudi complete-withdrawal] plan would leave its fate in the hands of the 'lords of war.' Rather than obtaining some flexibility, Israel was handed an ultimatum." Saudi Arabia's King Abdullah was to have had a mid-April gala dinner with US President George W. Bush at the White House later this month, but abruptly canceled it. This was a clear signal, Gold writes, that the time was far from ripe for a Saudi–Israeli rapprochement under an American umbrella. Why were the hopes of both the US and Olmert government diplomats dashed? Gold quotes the Washington Post that "Riyadh had decided for now to seek common ground with Iran, Hamas, and Hizbullah." Why? Because the West has responded weakly to the growing Iranian threat. Gold concurs with other experts in positing that Saudi Arabia feels threatened by Shiite-controlled Iran. Haifa University's Middle Eastern affairs expert Dr. David Bukai said at last month's Jerusalem Conference, "The main dispute in the Middle East is between the Shiites (10% of the world's Moslems) and the Sunnis and the so-called moderate nations. The Shiites are more threatening to Saudi Arabia than to Israel." Iran is committed to "a second Iranian revolution," Gold writes, referring to a "revival of Iranian efforts to export revolutionary Shiism, wherever possible. In some Sunni-dominated countries, like Sudan and Syria, the Iranians hope to convert Sunnis to Shiism. In the [Persian] Gulf, there are already substantial Shiite populations. more...
| Iran | Islam | EU/UN | 4th Kingdom | America |
---
Why Does Tehran Free the Britons But Refuse to Signal the Release of the Three Israeli Servicemen? (April 4, 2007) - The 15 British sailors and marines were seized by a Revolutionary Guards task force Friday, March 23, in northern Gulf waters that have been disputed between Iraq and Iran. Their families saw them alive and well in one Iranian television broadcast after another. In contrast, all three Israeli soldiers were abducted in cross-border raids - Gideon Shalit by a Hamas-led band which crossed from Gaza in June 2006, and Udi Goldwasser and Eldad Regev, kidnapped in Israel by the Hizballah the following the month. None of the three have been seen or heard of since. No international visitors are allowed, no letters or any other access to their hidden places of imprisonment. But the British and Israeli cases do have a common factor: Iran, which captured and freed the British sailors and marines, also has the authority to weigh in for the Israeli captives' release with its Lebanese proxy and the Hamas-led group of Popular Resistance Committees and al Qaeda Falastin in Gaza. It is in Iran's power to end the long agony of uncertainty suffered by their families. But Tehran refuses to give the signal. Iran's leaders appreciate that Israel's military strength is at least three times that of the British army, air force and navy. The trouble is they do not respect Israel's prime minister Ehud Olmert. They believe the Lebanon War fiasco has deprived him of international leverage for generating the political and military pressure to force Tehran's hand. Tony Blair's campaign to free the sailors was backed by American military might. His declaration Tuesday, April 3, that the next 48 hours would be critical in solving the crisis, was received in Tehran as an ultimatum, after which UK-US military action would be on the cards. Iran's leaders decided to take no chances. In the nick of time, President Mahmoud Ahmadinejad was ordered by his more pragmatic superior, the Supreme Ruler Ayatollah Ali Khamenei, to announce the captives would be freed "as a gift to the British people." In contrast, Olmert vowed at the outset of the Lebanon War in July 2006 that Israel would fight on until the two kidnapped soldiers were recovered. His failure to meet this goal - and the war's other objectives - has irreparably damaged his credibility in the Arab and Muslim world. This showed up clearly in their derisive response to the prime minister's Eve of Passover call Sunday, April 1, for a peace conference attended by Arab rulers and himself. The prime minister's office in Jerusalem had no comeback to this response. This inertia is part of a broader malaise: the Olmert government has refrained from action to stem the massive rearmament of Hizballah in Lebanon since the war and the war build-up of the Palestinian Hamas and Jihad Islami in the Gaza Strip since Israel's pull-back in 2005. It does not seem to occur to Ehud Olmert and his ministers that every ton of war materiel reaching these groups adds to their strength and their determination not to let their Israeli hostages go. Noam Shalit, father of one of the kidnapped soldiers, remarked at one of the many popular demonstrations of support he attended: "I would like to say to the prime minister: This is not a property deal." more...
| Iran | Israel | Islam |
---
Eni, Enel win auction for Yukos assets (April 4, 2007) - Two Italian energy companies won an auction for assets of the bankrupt Yukos oil company on Wednesday and quickly offered to bolster the Kremlin's control of energy sector by selling the bulk of them to state gas monopoly Gazprom. It was the first time foreign firms have purchased assets of OAO Yukos at a series of controversial auctions aimed at liquidating the company, which was driven into bankruptcy after it was hit by billions of dollars in back-tax bills. Observers have said the tax campaign and the parallel jailing of billionaire former owner Mikhail Khodorkovsky were orchestrated to seal state control of Russia's hydrocarbons and punish a perceived political opponent to President Vladimir Putin. Acting through a joint venture — EniNeftegaz — the Italian companies — Eni SpA and Enel SpA — won the auction with a bid of $5.83 billion — or just $260 million above the start price. The lot included a 20-percent stake in OAO Gazprom's oil division and the Arcticgaz and Urengoil gas companies, as well as a bundle of smaller assets. Eni owns 60 percent of the joint venture while Enel holds 40 percent. In a statement posted on its Web site, Eni touted the deal as the company's "entrance into the Russian upstream market as a major player." Chief Executive Paolo Scaroni called the deal "a major step forward in Eni's strategy of securing reserves in the world's leading hydrocarbon producing countries." more...
---
Pelosi meets Syrian president (April 4, 2007) - House Speaker Nancy Pelosi held talks with Syria's leader Wednesday despite White House objections, saying she pressed President Bashar Assad over his country's support for militant groups and passed him a peace message from Israel. The meeting was an attempt to push the Bush administration to open a direct dialogue with Syria, a step that the White House has rejected. Congressional Democrats insist the U.S. attempts to isolate Syria have failed to force the Assad government to change its policies. Rep. Tom Lantos, the head of the House Foreign Affairs Committee who was in Pelosi's delegation, said the meeting "reinforced very strongly" the potential benefits of talking to Syria. "This is only the beginning of our constructive dialogue with Syria and we hope to build on this visit," he told reporters. On Tuesday, President Bush denounced Pelosi's visit to Syria, saying it sends mixed signals to Assad's government. "Sending delegations doesn't work. It's simply been counterproductive," Bush said. Washington says Syria is fueling Iraq's violence by allowing Sunni insurgents to operate from its territory. It also accuses it of backing terrorism because of its support for the Hezbollah and Hamas militant groups and of destabilizing the Lebanese government. "We came in friendship, hope, and determined that the road to Damascus is a road to peace," Pelosi told reporters after her talks with Assad. Pelosi said she and her delegation "expressed our concern about Syria's connections to Hezbollah and Hamas" and discussed the issue of militant fighters slipping across the Syrian border into Iraq. "These are important issues not only in the fight against terrorism but important priorities for us for peace in the Middle East," she said. She said she brought a message to Assad from Israeli Prime Minister Ehud Olmert that Israel was ready for peace talks with Syria. Assad gave assurances that "he's ready to engage in negotiations for peace with Israel," Pelosi said. She later left Syria and arrived in Saudi Arabia, meeting with King Abdullah, a top U.S. ally. more...
| Islam | America |
---
New Jersey School Stages Practice Hostage Drill – Portrays Killers as Fundamentalist Christians (April 3, 2007) - Superintendent says, "We need to practice under conditions as real as possible." On Thursday, March 22, officials at Burlington Township High School enlisted the help of two local policemen to carry out a mock 'hostage situation' drill at their school. The drill invoked disapproval from Christian students as the student body was told that the alleged gunmen were "members of a right-wing fundamentalist group called the 'New Crusaders' who don't believe in separation of church and state." According to a report in the local paper, The Burlington County Times, the mock gunmen pretended to gun down several students in the hallways before taking 10 students hostage in the school's media center. Given that the drill was intended to test the disaster response of students, faculty and local emergency personnel, county officers were dispatched during the drill to realistically execute an emergency evacuation of the building. The drill organizers explained that the supposedly Christian gunmen "went to the school seeking justice because the daughter of one had been expelled for praying before class." School Superintendent Chris Manno praised the drill beforehand explaining that "You perform as you practice. We need to practice under conditions as real as possible in order to evaluate our procedures and plans so that they're as effective as possible." Bob Pawson, National Coordinator of the Scriptures in School Project, denied that the drill portrayed a possible reality and instead asserted that the drill was used as an excuse to denigrate Christians. "So what allegedly real condition was imagineered? A grotesque scenario saturated with Christian-bashing prejudice and bigotry; a scenario which could never possibly occur." Pawson explained that the scenario created by the Burlington school officials could never realistically happen. "Why could it never happen? Because, as all Burlington school officials know full well: It is perfectly legal for any student or staff member to pray in a public school. They know that no student can ever be expelled for praying before class. Hence, the contrived reason for the mock attack is bogus." Prayer in school has been a contentious issue for schools in the past despite a 1969 Supreme Court ruling that stated that students do not "shed their constitutional rights to freedom of speech or expression at the schoolhouse gate." The US Department of Education explicitly affirms the high court ruling and the national No Child Left Behind educational program penalizes any school that does not allow for constitutionally protected religious speech which includes public prayer. While county officials praised the drill saying that it was the first live test of its sort Pawson explained that he thought the drill was a test of another sort. "This denigrating drill is also a test of the reactions and responses of New Jersey 's Christians, along with all other fair-minded citizens of any faith, to such a blatant example of anti-Christian animosity." "A public apology is in order. The citizens of Burlington County could rightly demand the resignation or termination of school officials who dreamed up and approved this reprehensible scenario."
| America | Burlington Township School District response
---
Syria back in the Arab fold (April 3, 2007) - Syrian Ambassador Imad Mustapha corrected one of his dinner guests last week, commenting that the recent Arab summit in Saudi Arabia had welcomed Syria back into the Arab fold. "It's the rest of the Arab world that has come around to accept Syria's point of view. Syria had never left the fold," said the Syrian diplomat. Supporting his argument, the Syrian ambassador reminded the small group of dinner guests, gathered around his table to a delicious meal that started with traditional Lebanese hors d'oeuvres, the fact that King Abdullah of Saudi Arabia -- a staunch U.S. ally in the region -- had called the U.S. intervention in Iraq "an illegitimate occupation." "In beloved Iraq, blood is flowing between brothers, in the shadow of an illegitimate foreign occupation, and abhorrent sectarianism threatens a civil war," said Abdullah. Saudi Arabia had initially supported the U.S.-led invasion of Iraq in 2003. King Abdullah's remarks were made at the opening of the two-day Arab summit in Riyadh. Asked if the king's critical statement should be regarded as a wake-up call by the United States, a Saudi security expert who asked that his name not be used told United Press International, "The United States needs more than a wake-up call." The Saudi expert referred to what is generally perceived in the Arab world as a failed Middle East policy adopted by the Bush administration. Among the most crucial points of concern to the Arab world, which were raised by the Saudi monarch at the Riyadh summit, included the following: The position taken by the Bush administration in Iraq and the catastrophic results it yielded for the people of Iraq. Tens of thousands of dead, and the country plunged in violent sectarian civil war. The nonchalant approach to the Palestinian-Israeli conflict, a dossier largely ignored by the administration until just recently. U.S. Secretary of State Condoleezza Rice is now working overtime in an effort to make up for wasted time. The tension between Iran and the U.S. over Iran's nuclear ambitions. Indeed, another wake-up call for Bush administration Middle East policies came when House Speaker Nancy Pelosi announced a planned visit Syria, where she will meet with President Bashar Assad as part of a regional tour including Israel and Lebanon. News of her Damascus visit has angered the White House, whose policy regarding Damascus has been to ignore it. Washington accuses Syria of helping insurgents in Iraq by supporting them with weapons and money and in facilitating their passage to Iraq across the Syrian border. Also, Washington wants Syria to stop supporting what it calls terrorist groups, such as Hamas in the Palestinian territories and Hezbollah in Lebanon. Washington also wants to see the international tribunal investigating the assassination of former Lebanese Prime Minister Rafik Hariri and several other prominent politicians and journalists proceed with its findings and trial. The investigation has identified several top Syrian and Lebanese officials as prime suspects. Syria would like to see the whole affair disappear. Mrs. Pelosi, a Democrat, will be the first high-ranking U.S. official to visit Syria since relations deteriorated between the two countries. She also will become the highest-ranking American official to meet with a Syrian president since President Bill Clinton met with the late Hafez Assad in 1994. more...
| Gog/Magog | Israel | Islam |
---
6.2-magnitude earthquake hits northeast Afghanistan (April 3, 2007) - A 6.2-magnitude earthquake hit a remote and mountainous area of northeast Afghanistan on Tuesday morning, shaking buildings in the capital and as far away as Pakistan, Tajikistan and India. The earthquake in Badakhshan province was about 300 kilometers (200 miles) northeast of the capital, Kabul, where residents felt shaking buildings and ran outside their homes, and some windows were shattered. There were no immediate casualty reports. The U.S. Geological Survey said the 6.2-quake was centered 60 kilometers (40 miles) south of the provincial capital Faizabad and hit at 8:05 a.m. (0335 GMT). The quake was felt across northern Pakistan, including in the capital Islamabad, 450 kilometers (280 miles) away. It was also felt in Tajikistan and in the Indian and Pakistan-administered portions of Kashmir, where a severe earthquake in October 2005 left tens of thousands dead and caused widespread destruction. In Pakistan-controlled Kashmir, residents dashed out of shops and homes when the temblor struck Tuesday, and at least one boy was injured as he fell while running out of his school in the town of Dherkot.
| Earth Changes |
---
Teachers drop the Holocaust to avoid offending Muslims (April 3, 2007) - Schools are dropping the Holocaust from history lessons to avoid offending Muslim pupils, a Governmentbacked study has revealed. It found some teachers are reluctant to cover the atrocity for fear of upsetting students whose beliefs include Holocaust denial. There is also resistance to tackling the 11th century Crusades - where Christians fought Muslim armies for control of Jerusalem - because lessons often contradict what is taught in local mosques. The findings have prompted claims that some schools are using history 'as a vehicle for promoting political correctness'. The study, funded by the Department for Education and Skills, looked into 'emotive and controversial' history teaching in primary and secondary schools. It found some teachers are dropping courses covering the Holocaust at the earliest opportunity over fears Muslim pupils might express anti-Semitic and anti-Israel reactions in class. The researchers gave the example of a secondary school in an unnamed northern city, which dropped the Holocaust as a subject for GCSE coursework. The report said teachers feared confronting 'anti-Semitic sentiment and Holocaust denial among some Muslim pupils'. It added: "In another department, the Holocaust was taught despite anti-Semitic sentiment among some pupils. "But the same department deliberately avoided teaching the Crusades at Key Stage 3 (11- to 14-year-olds) because their balanced treatment of the topic would have challenged what was taught in some local mosques." A third school found itself 'strongly challenged by some Christian parents for their treatment of the Arab-Israeli conflict-and the history of the state of Israel that did not accord with the teachings of their denomination'. The report concluded: "In particular settings, teachers of history are unwilling to challenge highly contentious or charged versions of history in which pupils are steeped at home, in their community or in a place of worship." But Chris McGovern, history education adviser to the former Tory government, said: "History is not a vehicle for promoting political correctness. Children must have access to knowledge of these controversial subjects, whether palatable or unpalatable." The researchers also warned that a lack of subject knowledge among teachers - particularly at primary level - was leading to history being taught in a 'shallow way leading to routine and superficial learning'. Lessons in difficult topics were too often 'bland, simplistic and unproblematic' and bored pupils.
---
Europe tops US in stock market value (April 2, 2007) - Europe has eclipsed the US in stock market value for the first time since the first world war in another sign of the slipping of the global dominance of American capital markets. Europe's 24 stockmarkets, including Russia and emerging Europe, saw their capitalisation rise to $15,720bn (€11,819bn) at the end of last week, according to Thomson Financial data. That exceeded the $15,640bn market value of the US. The rise of the euro against the dollar, growth of east European markets such as Russia and stock market outperformance spurred by improving profitability have seen Europe close a long-held gap with the US. Ian Harnett at Absolute Strategy Research, who identified the move, said this marked a "seismic shift" in markets. The last time Europe eclipsed the US in market capitalisation was likely to have been before the first world war, said Mike Staunton, stock-market historian at London Business School. The shift mirrors a trend in the debt world, where European activity has caught up, and in some cases overtaken the US. more...
| EU/UN / 4th Kingdom | America |
---
'Iran, Syria prepping for U.S. summer war' (April(April 1, 2007) - Iran, Syria and the Lebanese Hezbollah militia are preparing for a U.S.-led war this summer, according to the Israeli Defense Forces. "Their preparation is defensive ahead of war. ... They fear a war initiated by the Americans because they understand that there might be an attack against Iran over the summer, but not by Israel," IDF Military Intelligence chief Amos Yadlin told the Knesset today. Yadlin said Iran and Syria believe a war this summer will be initiated by the U.S. and that Israel will be involved. He said Israel has been monitoring Iranian fortification of Tehran's military positions; Syrian military movements and indications of war preparation with the help of Iran; and the large-scale smuggling of Iranian-supplied weapons to Hezbollah. Yadlin noted the war preparations are defensive. He said Israel doesn't expect Iran or Syria to start a confrontation. "What we are seeing is their preparation for the possibility of war in the summer. My assessment is that they are defensive preparations for war," Yadlin told the Knesset. The military intelligence chief, though, said he feared hostilities could break out even without a U.S.-led strike because of "the involvement of many players." WND previously reported Brigadier General Yossi Baidatz, head of the IDF's intelligence research division, said the Syrian army has been placed on high alert for attacks. He said Syrian President Bashar Assad ordered increased production of long-range missiles and instructed the Syrian military to position anti-tank missiles closer to the Syrian border with Israel. Security officials told WND there have been indications Syria is seeking to launch a provocation. Assad has made multiple statements to his state-run media he is preparing his army for war. Also the officials say state-run Syrian media have been broadcasting regular warlike messages unseen since the 1973 Yom Kippur War, in which Syria and Egypt launched invasions from the Golan and the Sinai desert. "The tone [in Syria] is one of preparing the public for a war," said a senior security official. He said any Syrian provocation would likely be coordinated with Iran. Tehran and Damascus, which both support Hezbollah, have signed several military pacts. Also, according to Israeli intelligence officials, Iran and Syria have been smuggling mass quantities of weaponry to Hezbollah in Lebanon. The officials say Hezbollah has regained most of its strength since the militia's war last summer with the Jewish state and that the rate of weapons smuggling has nearly doubled the past few weeks. "The Iranian weapons are coming in so furiously, there are even indications Syria is worried about Israeli deterrent action against Hezbollah," a security official said. WND reported earlier this month Iran has been working with Palestinian groups in Gaza to help improve the range of Palestinian rockets, smuggle in mass quantities of weapons, construct underground bunkers and build guerrilla-like armies.
| Iran | Gog/Magog | Israel | Islam |
---
'Gay' cleric: Christ did not die for sin (April 1, 2007) - Church of England traditionalists, wearied by the battles over homosexuality in the church and the clergy, are about to take it on their spiritual chins once again when a leading "gay" cleric will tell listeners to BBC Radio 4 that Christianity's traditional teaching on Christ's crucifixion for the sins of mankind is "repulsive," "insane" and makes "God sound like a psychopath." Rev. Jeffrey John, who was forced to withdraw before assuming a position as bishop in 2003 after it was learned he was in a longterm homosexual relationship, is scheduled to appear on Wednesday and will criticize ministers who use their Easter messages to preach that Jesus was sent to earth to die as an atonement for sin, reported the London Telegraph. Christian theology has taught the doctrine of "penal substitution" – that humans, alienated from God by their sins and unable to save themselves, could only be forgiven by God sending Christ as a substitute to suffer and die in their place. "In other words, Jesus took the rap and we got forgiven as long as we said we believed in him," said John. "This is repulsive as well as nonsensical. It makes God sound like a psychopath. If a human behaved like this we'd say that they [sic] were a monster."
| Signs of the Times |
---
Merkel says EU committed to Israel's safety (April 1, 2007) - Germany and the European Union are committed to the safety of Israel's citizens, German Chancellor Angela Merkel said on Sunday after meeting Prime Minister Ehud Olmert. Merkel said that endorsing the two-state solution for the Israeli-Palestinian conflict necessitates recognition of Israel's right to exist, and renouncing violence. The German leader spoke of the horrors of her country's Nazi era, and said that Germany, along with the Quartet were making efforts to ensure that Israel lives in peace. Olmert, on his part, lauded Merkel for her efforts on the issue of the kidnapped soldiers' release and for her contribution to the strengthening of ties between Israel and Germany. The prime minister said that Israel was at an important junction of making decisions regarding its future, and that the strategic partnership with Germany would play a crucial role in the efforts to promote peace in the region. more...
| Israel | EU/UN | 4th Kingdom |
---
Iranian President Lauds Suicide Bombers As Invincible (April 1, 2007) - Iranian President Mahmoud Ahmadinejad praised his country's ability to recruit "hundreds of suicide bombers a day," saying "suicide is an invincible weapon." Ahmadinejad made the comments during a visit to a site south Iran used to prepare suicide bombers during the Iraq-Iran war, Iranian state television reported. He praised Hizbullah fighters for their suicidal spirit during last summer's confrontation with Israel. Iran recruited thousands of suicide bombers, many of whom were children, and sent them to the frontline to face Saddam Hussein's army. "Suicide bombers in this land showed us the way, and they enlighten our future," he said. The Iranian president said the will to commit suicide was "one of the best ways of life."
| Iran | Islam |
---
Tsunami hits South Pacific's Solomons (March 31, 2007) - A bone-rattling undersea earthquake sparked a tsunami that sent 10-foot-high waves crashing into parts of the Solomon Islands on Monday, wiping out one village and killing at least 13 people. The death toll was expected to rise. Large waves struck the western town of Gizo, inundating buildings and causing widespread destruction within five minutes of the earthquake. "There wasn't any warning — the warning was the earth tremors," Alex Lokopio, the premier of the Solomon's Western Province, told New Zealand's National Radio. "It shook us very, very strongly and we were frightened, and all of a sudden the sea was rising up." Despite initial regionwide warnings, there was no repeat of the massive 2004 tsunami, when a magnitude 9 quake sent massive waves slamming into the coastlines of a dozen countries around the Indian Ocean's rim, killing or leaving missing about 230,000 people. Julian Makaa, spokesman for the Solomons National Disaster Management Office, said numerous villages in the country's remote west were reporting people being swept away as waves plowed through their communities. Reports remained sketchy because communications were reduced in many cases to scratchy two-way radio lines. Emergency officials have yet to be able to reach the area hit by the tsunami and communications with the area is limited. Alfred Maesulia, the information director in Prime Minister Manasseh Sogavare's office, said late Monday that 13 people had been killed and an unknown number were still missing. "Some people were seen floating on the sea during the big waves but it was very difficult to go near them," Maesulia told The Associated Press. "The number at the moment is 13. It's possible that number will increase, maybe double up or even more." Lokopio said he witnessed a large wave crashing into the island. "I saw the wave ... all of a sudden the water was just rising up and moved toward the island and hit all the houses on the coastal area, and all of their property was washed away to the open sea," he said. more...
| Earth Changes |
---
UN Rights Council Adopts Resolution Vs Religious Defamation (March 30, 2007) - Islamic countries pushed through a resolution at the U.N. Human Rights Council Friday urging a global prohibition on the public defamation of religion - a response largely to the furor last year over caricatures published in a Danish newspaper of the Prophet Muhammad. The statement proposed by the Organization of Islamic Conference addressed what it called a "campaign" against Muslim minorities and the Islamic religion around the world since the Sept. 11, 2001 terrorist attacks in the United States. The resolution, which was opposed by European and a number of other non-Muslim countries, "expresses deep concern at attempts to identify Islam with terrorism, violence and human rights violations." It makes no mention of Buddhism, Christianity, Hinduism, Judaism or any other religion besides Islam, but urges countries "to take resolute action to prohibit the dissemination of racist and xenophobic ideas and material aimed at any religion or its followers that constitute incitement and religious hatred, hostility, or violence." Iran, whose President Mahmoud Ahmadinejad has repeatedly called for Israel to be "wiped off the map," belongs to the 57-member Islamic conference. The resolution was adopted by a 24-14 vote with nine abstentions. Canada, Japan and South Korea joined European countries in opposition, primarily citing its excessive focus on Islam and incompatibility with fundamental rights such as the freedoms of speech and thought. "The problem of religious intolerance is worldwide and not limited to certain religions," said Brigitta Maria Siefker-Eberle of Germany," speaking on behalf of the 27-nation European Union. Ghana, India, Nigeria, Zambia and some of the council's Latin American countries abstained. There are 17 Muslim countries in the 47-nation human rights council. Their alliance with China, Cuba, Russia and most of the African members means they can almost always achieve a majority. The council, which last year replaced the discredited U.N. Human Rights Commission, has no power beyond drawing international attention to rights issues and scrutiny of abuses in certain countries. The move at the council was initiated last year after protests across the Islamic world drew attention to caricatures of Muhammad first printed in Danish paper Jyllands-Posten in September 2005. One of the drawings showed Muhammad with a bomb-shaped turban. Islamic law is interpreted to forbid any depiction of the prophet for fear it could lead to idolatry.
| Islam | EU/UN / 4th Kingdom |
---
Olmert reaches out to Saudis over peace plan (March 30, 2007) - Israeli Prime Minister Ehud Olmert said he was ready to hold talks with Saudi Arabia and other Arab states about their renewed peace plan but rejected any return of Palestinian refugees as "out of the question." In interviews with Israeli newspapers published on Friday, Olmert said the plan endorsed by Arab leaders at a summit in Riyadh could help create positive momentum in future negotiations. "There is a significant chance that in the next five years Israel can get to a comprehensive peace," Olmert said. But he made clear aspects of the Arab plan were "problematic" and that Israel was not prepared to embrace it, "jump in and say 'This is it."' The Arab plan offers Israel normal ties with all Arab countries in return for withdrawal from land seized in the 1967 Middle East war, the creation of a Palestinian state and a "just solution" for Palestinians displaced in 1948 with Israel's creation. Israel opposes giving Palestinian refugees the right of return to their former homes in what is now the Jewish state, and it wants to hold onto some of the major settlement blocs in the occupied West Bank. "There are interesting ideas there (in the Arab plan), and we are ready to hold discussions and hear from the Saudis about their approach and to tell them about ours," Olmert told the Haaretz newspaper. But he added: "We will act cautiously and wisely out of a willingness to create a dynamic that will improve and strengthen the process." The right of return, Olmert told the Jerusalem Post, is "something we certainly can't agree to and we won't agree to." It is out of the question, he said. "I'll never accept a solution that is based on their return to Israel, any number." Israelis fears that any mass return of refugees would threaten the Jewish character of their state. Islamist group Hamas, which heads the Palestinian government, has not voiced opposition of the Arab plan but called on Arab leaders not to compromise on the right of refugees to return. Arab leaders in Riyadh gave the green light to creating a committee that could negotiate details of the plan with the Jewish state and others. more...
| Israel | Islam | EU/UN / 4th Kingdom | Solana | 1st Seal |
---
EU: Commissioner Seeks To Breathe Life Into EU's Neighborhood Policy (March 30, 2007) - EU external relations commissioner Benita Ferrero-Waldner plans to ask EU member states to speed up efforts to ease visa restrictions against the bloc's easternmost neighbors, and to open their markets to their goods. The hope is that the two measures would help the ENP meet it stated objective of facilitating economic integration and good relations with the enlarged EU's new neighbors. The commissioner intends to pitch her ideas during informal talks by EU foreign ministers from March 30-31 in Bremen, Germany. The plan will also be touted at the EU summit in June. Speaking in Brussels on March 29, Ferrero-Waldner acknowledged that neither idea is likely to be met with open arms by EU members -- with whom final decisions concerning the ENP rest. But Ferrero-Waldner argues that unless the EU opens up to its new neighbors, the bloc will fail in its efforts to improve its relations with them. "Building better people-to-people contacts with our partners is in many ways, I would even say it's the litmus test for the Neighborhood Policy," she said. "But the real issue is enabling our neighbors to engage with us more easily. How can they feel closer to us if we keep them at [an] arm's length, so to speak, with complex and sometimes very expensive visa procedures?" ENP members Ukraine and Georgia are next in line to ink visa-facilitation agreements with the EU. Russia, which does not neighbor the European Union, has already done so, adding some urgency to the equation. The other major element in Ferrero-Waldner's initiative to bring new life to ENP is to push for better market access for neighbors' goods. Improved trade, she says, should be at the heart of the new policy. "The core of our strengthened ENP is, of course, improved access to the European Union's internal market," Ferrero-Waldner said. "And our long-term vision is [that] of a 'Neighborhood Economic Community.'" more...
| EU/UN / 4th Kingdom | Solana | 1st Seal |
---
Paving the Way for a Muslim Parallel Society (March 29, 2007) - A recent ruling in Germany by a judge who cited the Koran underscores the dilemma the country faces in reconciling Western values with a growing immigrant population. A disturbing number of rulings are helping to create a parallel Muslim world in Germany that is welcoming to Islamic fundamentalists. She didn't know it, nor did she even expect it. She had good intentions. Perhaps it was a mistake. In fact, it was most certainly a mistake. The best thing to do would be to wipe the slate clean. Last week, in the middle of the storm, Christa Datz-Winter, a judge on Frankfurt's family court, was speechless. But Bernhard Olp, a spokesman for the city's municipal court, was quick to jump in. Olp reported that the judge had been under emotional stress stemming from a murder that had been committed in her office 10 years ago, and that she was now planning to take a break to recuperate. He also mentioned that she was "outraged" -- not about herself or her scandalous ruling, but over the reactions the case has triggered. The reactions were so fierce that one could have been forgiven for mistakenly thinking that Germany's Muslims had won the headscarf dispute and the controversy over the Mohammed cartoons in a single day and, in one fell swoop, had taken a substantial bite out of the legal foundations of Western civilization. more...
| Islam | EU/UN / 4th Kingdom |
---
Pope says society to fail without Christian conscience (March 25 , 2007) - Pope Benedict, speaking as the European Union marked its 50th anniversary without a mention of its religious heritage, said a society that lacks a Christian conscience will end up failing. The Pope's comments came a day after he lambasted the European Union for not mentioning God and Europe's Christian roots in declarations marking its founding. "A society in which the Christian conscience does not live anymore loses direction, does not know anymore where to go, ends up empty and bankrupt," the Pope told parish elders on Sunday. Such a conscience was needed to promote justice and a sense of responsibility among one another, he said. The remarks came as the European Union celebrated its 50th birthday in a Berlin ceremony that included unveiling a broad, aspirational "Berlin Declaration" that left out mention of religion or the continent's Christian roots. But EU leaders like German Chancellor Angela Merkel -- who unveiled Sunday's declaration -- as well as Italian Prime Minister Romano Prodi, reaffirmed their support for its inclusion in a new EU treaty they want adopted by 2009. Prodi told reporters on Sunday that he had unsuccessfully fought for the inclusion of Christian roots in an amendment that he hoped would be accepted by countries like France that have historically opposed the move. But positions on the matter have not changed, and were unlikely to do so in the future, he said. Merkel appeared equally pessimistic that any reference would be included in a new treaty, but said people should be allowed to express their personal views on the matter. "What the result will be, I can't say," Merkel, the daughter of a Protestant pastor, told a news conference. "I am realistic and that means not so optimistic." The Pope made his displeasure over the matter clear in a strongly worded speech on Saturday, saying excluding values that helped forge its very soul meant Europe was committing a form of apostasy -- a total desertion of one's religion -- and doubting its own identity. The Pope, like his predecessor John Paul, often calls for including God and Christianity in the European Constitution. Plans to put a reference to Europe's Christian roots in a previous EU constitutional treaty were blocked by French President Jacques Chirac.
| EU/UN | 4th Kingdom |