News for April 11, 2008
---
Minerals: Crumbling Bedrock of U.S. Security The Trumpet (April 2008) - During the War of Independence, America learned the painful lesson of reliance on foreign nations. The newborn United States had to rely on France and the Netherlands to supply everything from iron and gunpowder to blankets and clothing, and Britain routinely cut America's supply lines. Seeing this weakness, America's founders implemented a national strategy promoting industrial and military self-sufficiency in order to establish the nation's security. It seems America has forgotten that lesson. One specific example is in mineral production. America's leaders have allowed the nation's once formidable mining industry to erode. Many minerals—including some that are strategically important for the military—are no longer produced in the United States at all. Due to lack of investment, radical environmental activism, and low-cost foreign competition, many of America's former mining giants have turned off the drills, closed the refineries and sent the workers home, or have chosen to develop new production outside the U.S.
A Warning Unheeded
It's not that America wasn't warned. Back in 1985, the secretary of the United States Army testified before Congress that America was more than 50 percent dependent on foreign sources for 23 of 40 critical materials essential to U.S. national security. The year before, in a U.S. Marine Corps study, Maj. R.A. Hagerman wrote, "Since World War ii, the United States has become increasingly dependent on foreign sources for almost all non-fuel minerals. … The availability of these minerals have an extremely important impact on American industry and, in turn, on U.S. defense capabilities. Without just a few critical minerals, such as cobalt, manganese, chromium and platinum, it would be virtually impossible to produce many defense products such as jet engines, missile components, electronic components, iron, steel, etc. "This places the U.S. in a vulnerable position with a direct threat to our defense production capability if the supply of strategic minerals is disrupted by foreign powers" ("U.S. Reliance on Africa for Strategic Minerals," April 6, 1984). A look at America's mining production since the mid-to-late 1980s is not just shocking, it is chilling. Cobalt, for example, is one of the most critical minerals used in America and is considered a strategic metal by the U.S. government, meaning that its availability during a national emergency would seriously affect the economic, industrial and defensive capability of the country. It has many diverse commercial, industrial and military applications including superalloys (used to make parts for jet aircraft engines), magnets, high-speed steels, catalysts for petroleum and chemical industries as well as for paints, varnishes and inks. Just before America entered World War ii, it made a scramble to begin cobalt mining. Production began in 1940 and continued until 1971, when the mines were closed and cobalt mining ceased to exist in America. The most recent data available from the U.S. Geological Survey (usgs) shows that, as of 2004, the over 8,700 tons the nation consumes is 100 percent imported. Cobalt sells for more than $45,000 a ton. Manganese is another essential mineral America no longer produces. It is essential to iron and steel production by virtue of its sulfur-fixing, deoxidizing and alloying properties. Manganese is also a key component of certain widely used aluminum alloys and of dry cell batteries and plant fertilizers. In 1918 America produced over 400,000 tons of manganese, which was over 44 percent of global production. By the end of World War ii, mining had fallen to only 12 percent of global production, covering just 28 percent of America's daily needs. Since then, manganese production has steadily eroded; the last domestic ingot of manganese was mined in 1990. Today America imports 100 percent of its manganese consumption. America no longer produces any chromium either, a mineral the usgs calls "one of the nation's most important strategic and critical materials." Chromium is used to harden iron, steel and other nonferrous alloys. The list of minerals that America no longer produces is astounding and growing. America no longer produces indium (as of 1970), arsenic (1985), gallium (1987), bauxite or alumina (1989), tin (1990), thorium (1992), mercury (1993), tungsten (1995), fluorspar (1997), nickel (1999), vanadium (2000), antimony (2001) or rare earth minerals (2002), to name a few. Then there is a whole host of other minerals, like iron, zinc and titanium, that America produces at greatly reduced volumes. Allowing such a wide swath of the nation's mineral production base to dry up and disappear is a critical miscalculation. You can't just turn mines on and off at the flick of a switch. "The average person doesn't stop to think that a process of several years is involved from the point of minerals exploration to on-site development to extraction, smelting and manufacture of the primary products," former American Mining Congress President J. Allen Overton once noted. "Once lost, it will take years—if ever—to recover it." As America has been divesting itself of mineral-producing capacity, other nations have been quick to embrace it. Unfortunately for the U.S., the ability to control global production of strategic minerals is an incredibly powerful political weapon. China, for example, now completely dominates rare earth minerals—minerals that the U.S. supplied over 20 percent of not long ago. "The whole family of '-ums' like gallium, rhenium, neodymium and indium, is fascinating. And frightening!" reports the Miner Diaries investment bulletin. "They are an essential ingredient in many technology-related sectors and demand is growing at 10-to-15 percent a year. "Yet it is completely dominated by just one country—around 95 percent of supply comes from China" (Jan. 30, 2008). more...
| America |
---
Forecasters Predict 'Well Above Average' Hurricane Activity for 2008 Season Fox News (April 10, 2008) - Fasten your seatbelts, it's gonna be a bumpy hurricane season. That's the latest word from a team of Colorado State University forecasters, who predict the nation's Atlantic coast will experience a hurricane season "well above average." "Current oceanic and atmospheric trends indicate that we will likely have an active Atlantic basin hurricane season," said William Gray, who heads the university's forecast team. The forecasters predict at least 15 named storms will form in the Atlantic basin between June 1 and Nov. 30. Eight of the storms are predicted to become hurricanes, and of those eight, four are expected to develop into intense or major hurricanes with sustained winds of 111 mph or greater. "Based on our latest forecast, the probability of a major hurricane making landfall along the U.S. coastline is 69 percent compared with the last-century average of 52 percent," said Phil Klotzbach, a member of the forecast team. "We are calling for a very active hurricane season this year, but not as active as the 2004 and 2005 seasons." The 2005 season — the year of Katrina, Rita, Wilma, Dennis and Emily — caused a record $128 billion in damage, with at least 2,280 reported deaths. The 2004 season was one of the deadliest, with at least 3,100 deaths and more than $50 billion in damage. The Colorado State team reported that current conditions in the Atlantic basin are very favorable for an active hurricane season. The current warm sea surface temperatures in the Atlantic are likely to continue in the tropical and North Atlantic during 2008. Additionally, the team expects neutral or weak La Nina conditions in the tropical Pacific, which, combined with a predicted warm north and tropical Atlantic, is a recipe for enhanced Atlantic basin hurricane activity. These factors are similar to conditions that occurred during the 1950, 1989, 1999, and 2000 seasons. The average of these four seasons had well above-average activity, and Klotzbach and Gray predict the 2008 season will have similar activity. more...
| America | Earth Changes |
---
'Hamas will lose its ability to hit us' The Jerusalem Post (April 10, 2008) - A day after three Israelis were killed by terrorists in the South, Prime Minister Ehud Olmert upgraded his threats against Hamas and vowed to take action that would incapacitate the Islamist organization. Speaking at a pre-Pessah toast for Kadima activists at the party's Petah Tikva headquarters, Olmert said Hamas would be held accountable for every infiltration, shooting and rocket attack in the South, no matter which terrorist organization claimed responsibility. It was "inevitable" that Hamas would pay the price for its terror attacks, he said. "I promise you that the response to Hamas will be such that Hamas will no longer be able to continue to take action against the citizens of Israel," Olmert told the crowd. "I don't want to say more than that. But what I am saying will obligate Israel [to act], and I promise you that it will be properly implemented." In a toast with Labor activists at his party's Tel Aviv headquarters, Defense Minister Ehud Barak also pledged to fight Hamas. "We will restore security to Sderot and the Gaza periphery," he said. Olmert recounted an emotional meeting on Wednesday night with the father of St.-Sgt. Sayef Bisan at the family's home in the Druse village of Jatt, near Acre. He praised the bravery of Bisan, who served in the Golani Brigade's Egoz reconnaissance unit and was killed in action in Gaza early that morning. While the prime minister said he believed an agreement could be reached with Palestinian Authority President Mahmoud Abbas this year, he said that due to the situation in the PA and Hamas's control of Gaza, no such deal could be implemented any time soon. "I don't see any chance of implementing an agreement in the near future," Olmert said. "When we reach an understanding, we will insist on all their obligations in the road map being met, especially stopping terror, as a condition for implementing the agreement." Ynet reported from Palestinian sources Thursday that Foreign Minister Tzipi Livni and PA negotiator Ahmed Qurei were considering a proposal whereby the final-status negotiations on the issues of Jerusalem and refugees would be postponed for five years. According to the report, the deal would be a temporary one, valid for five years, during which the PA would be granted some municipal sovereignty in the capital and would be allowed to provide certain services to the Palestinian residents of the city. Olmert's and Livni's spokespeople declined to respond to the report, but Olmert defended himself when politicians on the Right blasted him on the Jerusalem issue. more...
| Israel | Islam |
---
Food price rises threaten global security - UN Guardian UK (April 9, 2008) - Rising food prices could spark worldwide unrest and threaten political stability, the UN's top humanitarian official warned yesterday after two days of rioting in Egypt over the doubling of prices of basic foods in a year and protests in other parts of the world. Sir John Holmes, undersecretary general for humanitarian affairs and the UN's emergency relief coordinator, told a conference in Dubai that escalating prices would trigger protests and riots in vulnerable nations. He said food scarcity and soaring fuel prices would compound the damaging effects of global warming. Prices have risen 40% on average globally since last summer. "The security implications [of the food crisis] should also not be underestimated as food riots are already being reported across the globe," Holmes said. "Current food price trends are likely to increase sharply both the incidence and depth of food insecurity." He added that the biggest challenge to humanitarian work is climate change, which has doubled the number of disasters from an average of 200 a year to 400 a year in the past two decades. more...
| 3rd Seal |
---
Rice Jumps to Record on Philippine Imports, Curbs on Exports Bloomberg (April 8, 2008) - Rice climbed to a record for a fourth day as the Philippines, the biggest importer, announced plans to buy 1 million tons and some of the world's largest exporters cut sales to ensure they can feed their own people. Rice, the staple food for half the world, rose as much as 2.9 percent to $21.60 per 100 pounds in Chicago, before paring gains. The price has doubled in the past year. Philippine President Gloria Arroyo announced two rice tenders today and pledged to crack down on hoarding. Anyone found guilty of "stealing rice from the people'' will be jailed, she said. "We're in for a tough time,'' Roland Jansen, chief executive officer of Pfaffikon, Switzerland-based Mother Earth Investments AG, said in an interview with Bloomberg Television from Zurich today. Unless prices decline, "you will have huge problems of daily nutrition for half the planet.'' Mother Earth holds about 4 percent of its $100 million funds in the grain. China, Egypt, Vietnam and India, accounting for more than a third of global rice exports, curbed sales this year to protect domestic stockpiles. The World Bank in Washington says 33 nations from Mexico to Yemen may face ``social unrest'' after food and energy costs increased for six consecutive years. The Philippines, which imports about 15 percent of its rice, is tightening controls over domestic sales and buying more overseas. The government's rice tenders are in April and May. "I am leading the charge'' against any officials and businessmen who divert supplies or distort the price of the staple food, Arroyo said in a televised speech today. "The need to avert social tensions from high food prices'' has made "food sufficiency even more urgent,'' Abah Ofon, a soft-commodities analyst with Standard Chartered Plc, said in a report yesterday. Food importers may not be able to meet their needs because of the export limits, Dubai-based Ofon said. more...
| 3rd Seal |
---
Sadr to consult top Shiite clerics about possibility of disbanding Mehdi Army The Daily Star (April 8, 2008) - Hard-line Shiite cleric Muqtada al-Sadr will dissolve his feared Mehdi Army militia if ordered by top clerics, an aide said on Monday, adding that Sadrists are "open for dialogue" to defuse a stand-off with the government. The offer from the Sadr movement came after Prime Minister Nuri al-Maliki threatened to ban it from politics if it failed to disband the militia. "The Mehdi Army receives orders from Sadr and from the highest religious clerics whom he consults. If these clerics ask him to disband Jaish al-Mehdi [the Mehdi Army], for sure the order will be obeyed," said Salah al-Obeidi, spokesman for Sadr in the shrine city of Najaf. The Mehdi Army, with an estimated 60,000 fighters, has been engaged in fierce clashes with Iraqi and US forces since Maliki ordered a crackdown on Shiite militiamen in the southern city of Basra on March 25. The prime minister warned in an interview broadcast on Monday that Sadr's movement will be sidelined from politics unless the militia is disbanded. "A decision was taken ... that they no longer have a right to participate in the political process or take part in the upcoming elections unless they end the Mehdi Army," Maliki told the US television network CNN. Obeidi said that Sadr's movement is ready for talks with the government. "Our door was open before the crisis and is still open ... to solve the problems that occurred on the streets by peaceful means and dialogue," he said. The Mehdi Army was formed by Sadr in the aftermath of the overthrow of Saddam Hussein's regime and mounting attacks on Shiites. It is fiercely opposed to the US-led military presence. The loosely organized militia fought two deadly uprisings against US forces in Najaf in 2004 in which hundreds of its fighters were killed. Since 2006 it has also been accused of sectarian attacks against Sunni Arabs and was regarded by the US military as one of the main perpetrators of violence in Iraq before Sadr ordered a freeze on his militia's activities last August. more...
| Islam | America |
---
A Mystery in the Middle East Strategic Forecasting, Inc. (April 8, 2008) - The Arab-Israeli region of the Middle East is filled with rumors of war. That is about as unusual as the rising of the sun, so normally it would not be worth mentioning. But like the proverbial broken clock that is right twice a day, such rumors occasionally will be true. In this case, we don't know that they are true, and certainly it's not the rumors that are driving us. But other things — minor and readily explicable individually — have drawn our attention to the possibility that something is happening. The first thing that drew our attention was a minor, routine matter. Back in February, the United States started purchasing oil for its Strategic Petroleum Reserve (SPR). The SPR is a reserve of crude oil stored in underground salt domes. Back in February, it stood at 96.2 percent of capacity, which is pretty full as far as we are concerned. But the U.S. Department of Energy decided to increase its capacity. This move came in spite of record-high oil prices and the fact that the purchase would not help matters. It also came despite potential political fallout, since during times like these there is generally pressure to release reserves. Part of the step could have been the bureaucracy cranking away, and part of it could have been the feeling that the step didn't make much difference. But part of it could have been based on real fears of a disruption in oil supplies. By itself, the move meant nothing. But it did cause us to become thoughtful. Also in February, someone assassinated Imad Mughniyah, a leader of Hezbollah, in a car bomb explosion in Syria. It was assumed the Israelis had killed him, although there were some suspicions the Syrians might have had him killed for their own arcane reasons. In any case, Hezbollah publicly claimed the Israelis killed Mughniyah, and therefore it was expected the militant Shiite group would take revenge. In the past, Hezbollah responded not by attacking Israel but by attacking Jewish targets elsewhere, as in the Buenos Aires attacks of 1992 and 1994. In March, the United States decided to dispatch the USS Cole, then under Sixth Fleet command, to Lebanese coastal waters. Washington later replaced it with two escorts from the Nassau (LHA-4) Expeditionary Strike Group (ESG), reportedly maintaining a minor naval presence in the area. (Most of the ESG, on a regularly scheduled deployment, is no more than a few days sail from the coast, as it remains in the Mediterranean Sea.) The reason given for the American naval presence was to serve as a warning to the Syrians not to involve themselves in Lebanese affairs. The exact mission of the naval presence off the Levantine coast — and the exact deterrent function it served — was not clear, but there they were. The Sixth Fleet has gone out of its way to park and maintain U.S. warships off the Lebanese coast. Hezbollah leaders being killed by the Israelis and the presence of American ships off the shores of Mediterranean countries are not news in and of themselves. These things happen. The killing of Mughniyah is notable only to point out that as much as Israel might have wanted him dead, the Israelis knew this fight would escalate. But anyone would have known this. So all we know is that whoever killed Mughniyah wanted to trigger a conflict. The U.S. naval presence off the Levantine coast is notable in that Washington, rather busy with matters elsewhere, found the bandwidth to get involved here as well. With the situation becoming tense, the Israelis announced in March that they would carry out an exercise in April called Turning Point 2. Once again, an Israeli military exercise is hardly interesting news. But the Syrians apparently got quite interested. After the announcement, the Syrians deployed three divisions — two armored, one mechanized — to the Lebanese-Syrian border in the Bekaa Valley, the western part of which is Hezbollah's stronghold. The Syrians didn't appear to be aggressive. Rather, they deployed these forces in a defensive posture, in a way walling off their part of the valley. The Syrians are well aware that in the event of a conventional war with Israel, they would experience a short but exciting life, as they say. They thus are hardly going to attack Israel. The deployment therefore seemed intended to keep the Israelis on the Lebanese side of the border — on the apparent assumption the Israelis were going into the Bekaa Valley. Despite Israeli and Syrian denials of the Syrian troop buildup along the border, Stratfor sources maintain that the buildup in fact happened. Normally, Israel would be jumping at the chance to trumpet Syrian aggression in response to these troop movements, but, instead, the Israelis downplayed the buildup. When the Israelis kicked off Turning Point 2, which we regard as a pretty interesting name, it turned out to be the largest exercise in Israeli history. It involved the entire country, and was designed to test civil defenses and the ability of the national command authority to continue to function in the event of an attack with unconventional weapons — chemical and nuclear, we would assume. This was a costly exercise. It also involved calling up reserves, some of them for the exercise, and, by some reports, others for deployment to the north against Syria. Israel does not call up reserves casually. Reserve call-ups are expensive and disrupt the civilian economy. These appear small, but in the environment of Turning Point 2, it would not be difficult to mobilize larger forces without being noticed. The Syrians already were deeply concerned by the Israeli exercise. Eventually, the Lebanese government got worried, too, and started to evacuate some civilians from the South. Hezbollah, which still hadn't retaliated for the Mughniyah assassination, also claimed the Israelis were about to attack it, and reportedly went on alert and mobilized its forces. The Americans, who normally issue warnings and cautions to everyone, said nothing to try to calm the situation. They just sat offshore on their ships. more...
| Iran | Israel | Islam | Isaiah 17 | Gog/Magog | America |
---
Israeli intel projects a one-month war with Syria World Tribune (April 8, 2008) - Israel's intelligence community has concluded that the next war would involve missiles and Hizbullah, last at least a month and include Syria. The intelligence community has drafted a series of scenarios for Israel's emergency services to prepare for future war. The scenarios envisioned the next war as including massive missile and rocket salvos, some of them containing chemical weapons, on Israeli cities. "The scenarios are based on Arab military capability rather than intentions," an Israeli government source said. "The war in Lebanon was also seen as a taste of what a full-scale war would bring." Officials said Israel's military, police and emergency services have been on high alert for an attack by Hizbullah, Syria or Iran, Middle East Newsline reported. They said the current alert would last throughout April and did not rule out a continuation of high combat-readiness for the rest of 2008. Under the scenarios, hundreds of Israelis would be killed and thousands injured in missile strikes on Tel Aviv. The enemy missiles would target strategic facilities, including Israel's Ben-Gurion International Airport. Syria was also expected to be a participant in the next war against Israel. The intelligence community envisioned Hizbullah, Iran and Syria coordinating strikes on northern and central Israel. The Hamas regime and the Palestinian Authority would also fire rockets from the West Bank and Gaza Strip. In one scenario, Iran would also attack the Jewish state. The intelligence community did not expect Iran to fire nuclear, biological or chemical weapons, but said such an attack could stem from Syria. more...
| Iran | Israel | Islam | Isaiah 17 | Gog/Magog |
---
Israel, Palestinian talks raise hope for 2008 accord: Solana EU Business (April 8, 2008) - EU foreign policy chief Javier Solana expressed hope Tuesday that Israel and the Palestinians could reach a peace settlement this year, after their leaders met for the first time in almost two months. "Politically, an important meeting took place yesterday," he told members of the European Parliament, a day after Israeli Prime Minister Ehud Olmert and Palestinian president Mahmud Abbas held direct talks in Jerusalem. "I do think that we have still a chance to move the process to a settlement before the end of year 2008," Solana said, underlining: "I don't want to sound too optimistic, I want to sound realistic." He said that "the situation in Gaza is more relaxed than it used to be" and that he hoped a "period of quietness" would descend on Gaza, with the help notably of Egypt. Israel has sealed off Gaza from all but vital goods since Hamas seized power last June, in a bid to halt rocket attacks from the territory and to put pressure on the Islamist-run government. But Solana said the future would become clearer in the summer. If "we are not able to move the process in a dynamic manner by this period of time, maybe we'll have to begin to think that the possibility of an agreement in the year 2008 will be further away," he said. Olmert and Abbas agreed Monday "to continue with the goal of reaching an historic agreement by the end of the year," an Israeli spokesman said, despite accusing each other of failing to meet commitments under a peace roadmap.
| Israel | Islam | Dividing the Land | EU/UN / 4th Kingdom | Solana |
---
Insider leaks plans for Palestinian state WorldNet Daily (April 7, 2008) - U.S.-backed negotiations between Israelis and Palestinians are expected to generate an agreement by the end of the year that would set up a Palestinian state in the West Bank and eastern sections of Jerusalem, according to a source who has participated in the talks. In one of the first media glimpses into the current negotiations, a source who takes part in the regular meetings outlined for WND the main objectives of the secretive negotiations. Since last November's Israeli-Palestinian Annapolis summit, which set as a goal the creation of a Palestinian state before 2009, negotiating teams including Israeli Foreign Minister Tzippy Livni and chief Palestinian negotiator Ahmed Qureia have been meeting weekly while Prime Minister Ehud Olmert and Palestinian Authority President Mahmoud Abbas have been meeting biweekly. Unlike previous Israeli-Palestinian negotiations in which both sides attended with about a dozen advisers each, the teams working with Livni and Qureia are small, usually consisting at most of five people each. Also unlike previous talks, in which the contents of many meetings were leaked quickly to the media, the current negotiations have resulted in few press leaks. According to the source who has been playing a role in the meetings, the two sides are drafting an agreement, to be signed by the end of the year, requiring Israel to evacuate most of the West Bank and certain eastern sections of Jerusalem. The source said Israeli community blocks in the zones of Gush Etzion, Maale Adumin and Ariel would remain Israeli while most of the West Bank and parts of Jerusalem will be slated for a Palestinian state. In contradiction to statements by Olmert, the status of sections of Jerusalem is being negotiated but the specifics of any agreed-upon Israeli withdrawal is as yet unclear, said the source. "It is understood [Jerusalem] Arab neighborhoods would become part of a Palestinian state," the source said. The source told WND both sides agreed Israel would retain Jerusalem's Pisgat Zeev neighborhood, which is located near large Arab communities. Many of those Arab towns were constructed illegally on property owned by the Jewish National Fund, a Jewish nonprofit that purchases property using Jewish donors funds for the stated purpose of Jewish settlement. The source said the U.S. pledged advanced training for thousands of PA security officers who would take over security in the West Bank and eastern sections of Jerusalem and operate in those territories instead of the Israel Defense Forces and Israeli police. The U.S. previously has trained thousands of Palestinian security officers, including units in which known members of Fatah's Al Aqsa Martyrs Brigades terrorist group serve. Scores of those security forces have carried out terrorist attacks against Israeli soldiers and civilians, including recent deadly shootings in the West Bank. But the source claimed the planned U.S. training is different: "This training is unlike anything before. The PA, Israel and the U.S. are working very closely to vet the forces. All sides are approving the training candidates. The training is more advanced than ever. It will create a very serious Palestinian army," said the source. The source said as part of the negotiations, Abbas has agreed to hold early PA elections in the West Bank by 2009, including presidential elections that could replace the Palestinian leader... A U.S. security report last month concluded the PA is failing to fight terrorism. The report was compiled by Gen. William Fraser, who was deployed to the region to monitor implementation of agreements pledged by Israel and the PA at Annapolis. Fraser's report slammed the PA for failing to arrest, interrogate and place terrorist suspects on trial. The report said the PA occasionally carries out arrests of suspected terrorists, but usually only following pressure from Israel or the U.S. The arrested terrorists, the report said, are rarely interrogated or tried but instead are briefly detained. more...
| Israel | Islam | Dividing the Land | America |
---
'The Grid' Could Soon Make the Internet Obsolete Fox News (April 7, 2008) - The Internet could soon be made obsolete. The scientists who pioneered it have now built a lightning-fast replacement capable of downloading entire feature films within seconds. At speeds about 10,000 times faster than a typical broadband connection, "the grid" will be able to send the entire Rolling Stones back catalogue from Britain to Japan in less than two seconds. The latest spin-off from Cern, the particle physics centre that created the web, the grid could also provide the kind of power needed to transmit holographic images; allow instant online gaming with hundreds of thousands of players; and offer high-definition video telephony for the price of a local call. David Britton, professor of physics at Glasgow University and a leading figure in the grid project, believes grid technologies could "revolutionise" society. "With this kind of computing power, future generations will have the ability to collaborate and communicate in ways older people like me cannot even imagine," he said. The power of the grid will become apparent this summer after what scientists at Cern have termed their "red button" day - the switching-on of the Large Hadron Collider (LHC), the new particle accelerator built to probe the origin of the universe. The grid will be activated at the same time to capture the data it generates. Cern, based near Geneva, started the grid computing project seven years ago when researchers realised the LHC would generate annual data equivalent to 56m CDs - enough to make a stack 40 miles high. This meant that scientists at Cern - where Sir Tim Berners-Lee invented the web in 1989 - would no longer be able to use his creation for fear of causing a global collapse. This is because the Internet has evolved by linking together a hotchpotch of cables and routing equipment, much of which was originally designed for telephone calls and therefore lacks the capacity for high-speed data transmission. By contrast, the grid has been built with dedicated fibre optic cables and modern routing centres, meaning there are no outdated components to slow the deluge of data. The 55,000 servers already installed are expected to rise to 200,000 within the next two years. Professor Tony Doyle, technical director of the grid project, said: "We need so much processing power, there would even be an issue about getting enough electricity to run the computers if they were all at Cern. The only answer was a new network powerful enough to send the data instantly to research centres in other countries." That network, in effect a parallel Internet, is now built, using fibre optic cables that run from Cern to 11 centres in the United States, Canada, the Far East, Europe and around the world. One terminates at the Rutherford Appleton laboratory at Harwell in Oxfordshire. From each centre, further connections radiate out to a host of other research institutions using existing high-speed academic networks. It means Britain alone has 8,000 servers on the grid system – so that any student or academic will theoretically be able to hook up to the grid rather than the internet from this autumn. Ian Bird, project leader for Cern's high-speed computing project, said grid technology could make the internet so fast that people would stop using desktop computers to store information and entrust it all to the internet. "It will lead to what's known as cloud computing, where people keep all their information online and access it from anywhere," he said. more...
| Technology |
---
Olmert, Abbas to meet again after seven weeks Breitbart.com (April 7, 2008) - Israeli Prime Minister Ehud Olmert and Palestinian president Mahmud Abbas meet on Monday for the first time in six weeks as Middle East peace talks get back on track under heavy US pressure. Abbas, who suspended his bi-weekly meetings with Olmert at the beginning of March after an Israeli military operation in Gaza killed more than 130 people, said on Sunday that he would not accept a peace deal at any price. "We are negotiating seriously and we are striving to arrive at a solution for all the final-status issues, but it will not come at any price," Abbas told a meeting of local officials in the West Bank political capital of Ramallah. The talks were given new impetus after US Secretary of State Condoleezza Rice, during a visit to the region last week, managed to secure an Israeli commitment to ease hardships on West Bank Palestinians and convince Abbas to resume his meetings with Olmert. Senior Palestinian negotiator Saeb Erakat said Abbas and Olmert would discuss a mutual ceasefire, lifting the Israeli siege on the Gaza Strip and the implementation of the 2003 Middle East roadmap agreement. The international roadmap peace blueprint urges Israel to freeze Jewish settlement construction and calls on the Palestinians to improve security in their territories. But the latest peace talks have made little progress since they were launched at a US-sponsored conference in Annapolis outside Washington in November, with each side accusing the other of neglecting its obligations. Israel has "not implemented a single one of its obligations as specified in the roadmap. It has not halted the (growth of) settlements or freed prisoners or removed checkpoints," negotiator Erakat told AFP. An Israeli official said Olmert, who last met with Abbas on February 19, was "looking forward to the renewal of talks." "We want the Annapolis process to succeed and the meetings between the leaders will continue focusing on the crucial elements of the peace talks," the official said on condition of anonymity. The two leaders are expected to discuss several of the core issues at the heart of the conflict, but the sides remain divided on many issues. Olmert said last month that he does not envisage the possibility of anything more than an outline agreement by 2009, despite the US target of a peace deal by the end of 2008, and that settlement expansion on Palestinian land would continue. Abbas has in turn accused Israel of splitting the Palestinian territories into isolated cantons as a means to prevent the creation of a viable Palestinian state.
| Israel | Islam | Dividing the Land |
---
PM, Abbas aim for deal by end of '08 The Jerusalem Post (April 7, 2008) - Prime Minister Ehud Olmert and Palestinian Authority President Mahmoud Abbas will meet every two weeks until the November deadline for striking a deal, regardless of developments on the ground, Olmert and Abbas decided in a meeting at the Prime Minister's Office Monday. The two men pledged at the Annapolis summit in November 2007 to meet every two weeks in an effort to reach a deal by the November 4, 2008 deadline. But they had not met since February 19 due to Abbas's protests of IDF activity in the Gaza Strip during Operation Hot Winter. From now on, they intend to take the same approach as the heads of the Israeli and Palestinian negotiation teams, Foreign Minister Tzipi Livni and former Palestinian Authority prime minister Ahmed Qurei, who meet regularly regardless of the day's news. For instance, Livni and Qurei met the day of the suicide bombing in Dimona in January. In their sixth meeting since the Annapolis summit, Olmert and Abbas met for some three hours, including one hour in which they met alone, without their negotiating teams. The next steps in the process include Abbas's forthcoming visit to Washington, next week's visit to Israel by US National Security Adviser Steve Hadley and US Secretary of State Condoleezza Rice returning to Israel after Pessah. Olmert and Livni complained that the Palestinians were not doing enough to fight terror in the West Bank and Gaza Strip. But much of the meeting focused on what steps Israel could take to ease conditions for the Palestinians. "We discussed what we could do to improve the lives of the Palestinians so they would see that it was in their best interests to make a strategic choice in favor of the moderates against the extremists," a participant in the meeting said. Officials on both sides indicated that as in the past, the talks deteriorated into mutual accusations that each side was not doing its part under the road map diplomatic plan that is the basis of the negotiations. Hamas control of the Gaza Strip, Israeli settlement construction, West Bank checkpoints, terrorist violence and frequent armed clashes remained serious obstacles in the way of success for the talks. Palestinian negotiator Saeb Erekat said much of the meeting focused on the settlements. Abbas showed Olmert "documents and maps" in emphasizing the need to stop the construction. "Settlement expansion undermines the credibility of the peace process," Abbas told Olmert, according to Erekat. more...
| Israel | Islam | Dividing the Land |
---
What Does a World Governed by Humanistic Socialism Look Like? Reshaping the International Order Part 1 Knowledge Driven Revolution (April 7, 2008) - "The establishment of a New International Economic Order entails fundamental changes in political, social, cultural and other aspects of society, changes which would bring about a New International Order." - RIO: Reshaping the International Order, 1976 (p5) The Club of Rome is a premiere think tank composed of approximately 100 members including leading scientists, philosophers, political advisors, former politicians and many other influential bureaucrats and technocrats. This series of articles describes the major conclusions of the 1976 book Rio: Reshaping the International Order: A Report to the Club of Rome [1] coordinated by Nobel Laureate Jan Tinbergen. The RIO report "addresses the following question: what new international order should be recommended to the world's statesmen and social groups so as to meet, to the extent practically and realistically possible, the urgent needs of today's population and the probable needs of future generations?" From RIO: Reshaping the International Order: [Italicised text is original emphasis and bolded text is added emphasis by author.]
"Many in the RIO group believe that this equitable social order could best be described as humanistic socialism..." - 63
So what exactly does a new social order based on "humanistic socialism" look like? Below is the RIO group's own description of what the future should look like.
Collective Workers and Full Employment
"Society must also deliberately aim at creating employment for all those seeking it and at ensuring that the distribution over different types of jobs achieves a balance between the satisfaction derived from the job and the satisfaction of the needs of society. The latter necessitates that certain unpleasant (heavy, dirty, dangerous) activities be performed. If these activities can be learnt relatively easily, they could be performed by all citizens. Their efforts could be organized in the form of 'land' or 'neighbourhood armies' for work in rural areas, in the field of environmental care..." - 69

"A full employment policy should be adopted by all governments as part of their development plan." - 145

"As a counterpart to these rights, a number of duties must be accepted, especially the duty to use one's capacities in the interest of an adequate level of production..." - 63

"Public power should be used to ensure that education is geared to meet the needs of individuals and the needs of society, that is, all individuals. The supply of qualified types of labour should be so planned as to equal, to the greatest extent possible, the demand for them by society (i.e. by the 'organizers of production')." - 69
A Planned World Economy
"Effective application of public power implies the need for middle and long-range planning at different levels... The UN Economic and Social Council might be best suited for undertaking such a task, perhaps assisted by the UN Development Planning Committee." - 70

"At the highest level, the level of world affairs, international institutions must form the prime movers of planned change." - 100

"... the optimum utilization of human and physical resources in the world as a whole." - 140

"One of the basic questions which today faces the international community is whether it should accelerate the process of this evolution and consciously put in place the various elements of a system for global planning and the management of resources...

The achievement of this global planning and management system calls for the conscious transfer of power - a gradual transfer to be sure - from the nation State to the world organization. Only when this transfer takes place can the organization become effective and purposeful." - 184
Private Sector and Global Free Trade
"New forms of cooperation between private initiative and public authorities will have to be characterized by a certain balance of power..." - 280

"In the trade field, an International Trade and Development Organization, formed by expanding the responsibilities of UNCTAD [United Nations Conference on Trade and Development], should be set up with a very broad mandate for overall coordination of policy issues relating to international trade in primary commodities and manufactured goods. Likewise, UNIDO's [United Nations Industrial Development Organization] responsibilities should be increased to enable it to participate in the planning of a more equitable world industrial order;..." - 184

"This [Third World development] implies that, if a new international order is to be created, the rich nations must be prepared to give up part of their future productive capacity. [Explain outsourcing?] To be able to do this smoothly they will need to resort to adjustment policies and such policies must form part of their development strategies... The creation of an optimal international division of labour, and as such the selective development of economic activities in Third World countries, calls for the substantial extension of such adjustment policies...

It is no longer desirable that the industrialized countries adopt policies of protecting their labour-intensive industries in the manufacturing sector. Rather, they should seek, as must the Third World, to develop those industries in which they have a comparative advantage...

The process described, albeit with distortions, is already taking place: some sectors of Western manufacturing industry are moving to Third World countries. The movement of Western European garment industries to North Africa is a case in point. As such, private initiative will no doubt prove responsible for a large part of the adjustment required. That adjustments are at present insufficient is witnessed by the millions of workers who migrate from the Third World to seek employment in the Western industrialized nations. To the extent that the adjustments brought about by private initiative on the strength of international market forces will be inadequate, and in view of the fact that private enterprises may not be sufficiently creative nor responsive to the needs of countries, adjustment must be stimulated and guided by selective taxes and subsidies. Subsidies should be offered to those industries with a clear potential for contributing to a country's or a regions' development efforts. Such subsidies could aim at supporting changes, where necessary, in the production mix of enterprises...

To ensure the effectiveness of adjustment policies, there is a clear need for coordination of policies both between the industrialized countries and between public authorities and the private sector..." - 112

"The industrialized countries, on their part, will have to introduce policies of adjustment, develop specialization in knowledge-intensive products and gradually introduce and enforce environmental protection standards." - 143

"In the long term, transnational enterprises will still form part of the world structure, in either their present form of private enterprises or in a renovated form comprising genuine international ventures." - 160
Public International Enterprises
"The possibility of genuine internationalization of some transnational enterprises or transnational operations should be further investigated. They could be owned, controlled and managed by an international development authority. The pharmaceutical industry could be used as an initial test case for analysis because of its international social implications." - 281

"Active sharing of benefits [of the ocean], with particular regard to the needs of the less developed countries, through a variety of devices including international public enterprises, especially for fishing and offshore oil production; international tax on ocean uses, etc." - 175
Consumption Patterns
"The rich nations... must develop new consumption styles which are less wasteful, less resource - intensive and geared to the consumption of social services rather than of superfluous consumer durables." - 183

"Growth in equality would make it less difficult for people to accept the principle of self-restraint in the satisfaction of material needs, the ideological cornerstone of the future 'steady state'. It would equally create the necessary social conditions for self-control of family size and the consequent reduction in population pressure; birth-control campaigns are likely to remain largely ineffective (unless enforced by coercion, which is clearly unacceptable) up to the time that peasants are freed from material insecurity, that infant mortality rates go down, and that the use of unpaid child labour is no longer necessary to make ends meet." - 162

"Ultimately, they must aim to construct their policies on a series of 'maxima' which define an appropriate style of civilized living in a world of deprivation and declare that all consumption beyond that fixed maxima is not only waste but a conscious action against the welfare of large numbers of poor and disprivileged, their own children, and the prospects for a peaceful world." - 76
Financial and Monetary Change
"(a) The gradual introduction of a system of international taxation which should be handled by a World Treasury, both to meet the current as well as the development needs of the poorer nations;

(b) The creation of an international reserve currency by an international authority, such as an International Central Bank, which should be under international management without being dominated by the interests of one particular group of nations;" -184

"The statutes of transnational enterprises should be under the supervision of, and their profits taxed by, an inter- or supranational authority." - 160
More on the proposed changes to the financial system in part 2 of this series entitled: Reshaping the International Financial Order.
International Control of All Mineral Resources - The Common Heritage of Mankind Concept
"In the long term, and assuming progress towards the creation of an equitable international economic and social order leading to a pooling of material and non-material resources, mineral resources will need to be viewed as a common heritage of mankind. This concept implies both a real world market for all mineral resources and a system of world taxation to replace national mining taxation. The revenues collected should be redistributed among Third World countries - possibly through such an agency as IDA [International Development Association - World Bank group]...

This tax could, for instance, be introduced as one of a moderate rate and gradually be raised to something in the order of 70 per cent of profits on fossil fuels and 50 per cent of the value of production of ores (including uranium).

Such a tax would, like the present taxes on oil products, in fact be paid by the consumers...

Such a tax, at the rates proposed, would probably induce consumers to restrict their consumption of mineral raw materials..." - 148

"It is now recognized that a more elaborate system of careful husbandry and management of raw materials and scarce resources is inevitable." - 244
The redefinition of sovereignty from "territorial sovereignty" to "functional sovereignty" as well as the establishment and expansion of the concept of the "common heritage of mankind" is discussed in more detail in part 3 of this series entitled: "Functional" Sovereignty and the Common Heritage of Mankind.
Reshaping Public Opinion
"Public opinion is no phenomenon sui generic. It is in part the result of government policies and by definition politicians cannot hide behind their own creation. If some sectors of public opinion in the industrialized countries are immersed in the rhetoric and slogans associated with misunderstanding, then much of this may be inherited from their political leaders. And if these leaders are in part responsible for a situation which impedes acceptance of the need for change, then they themselves must be held responsible for changing this situation." - 110
The reshaping of public opinion and the importance of the scientist and experts is further described in part 4 of this series entitled: Reshaping Public Opinion and the White Coated Propagandists.
World Food Authority
"A number of measures have been proposed which should bring greater planning and coordination in the field of domestic food production and international supplies of food, including the establishment of world grain reserves... In the last analysis, it may require the setting up of a World Food Authority to supervise this vital area of human activity and survival" - 184
More on the establishment and functioning of the World Food Authority in part 5 of this series entitled: Population Control and the World Food Authority.
A Glimpse into the New Order
The final article in this series will examine a wide range of topics including: regional unions, world solidarity, foundations of the international legal system, freedom and the establishment of an standing United Nations military.
| NewWorldOrder |
---
Shell chief favours cross-border cooperation over competition to cut CO2 CNN Money (April 7, 2008) - Royal Dutch Shell Plc.'s (NYSE:RDS A) chief executive Jeroen van der Veer said the group favours a scenario to reduce carbon dioxide (CO2) emissions which promotes cross-border cooperation rather than countries rushing to secure energy resources for themselves. Speaking at an event here, the chief executive said coalitions should take on the challenges of economic development, energy security and environmental pollution through cross-border cooperation. Under the group's favoured 'Blueprints' scenario, innovation should occur at the local level, as major cities develop links with industry to reduce local emissions, he said. Added to that, national governments should introduce efficiency standards, taxes and other policy instruments to improve the environmental performance of buildings, vehicles and transport fuels. 'The Blueprints scenario will be realised only if policymakers agree on a global approach to emissions trading and actively promote energy efficiency and new technology in four sectors: heat and power generation; industry; transport and buildings,' he said. 'This will require hard work and time is short'. Under the scenario, the group assumes carbon dioxide (CO2) is captured at 90 per cent of all coal and gas fired power plants in developed countries by 2050, plus at least 50 per cent in non-OECD countries. The chief executive said government support is needed for carbon capture and storage (CCS) because the system adds costs and yields no revenues. 'At least, companies should earn carbon credits for the CO2 they capture and store,' he said. In response, European Union foreign policy chief Javier Solana said he supports the 'Blueprint' scenario in general terms. He said the scenario is 'dramatic' in that it requires the cooperation of every country in the world. 'The EU needs to act together rapidly in the Blueprint type of model. A single policy is absolutely fundamental,' Solana said. more...
| EU/UN / 4th Kingdom | Solana | NewWorldOrder | America |
---
Schools' new prom fever: Giving condoms to kids WorldNet Daily (April 7, 2008) - A school board in Arizona has decided condoms are among the items that should be given to students attending this year's prom. The school board in the Bisbee District voted 4-1 at a recent meeting to include the condoms in a "prom bag." A spokeswoman in the office of Supt. Paul McDonald confirmed the condoms would be handed out to the event celebrants, along with other items. "The governing board approved [this]," she told WND. "They are to have what they call prom bags, which include picture frames and balloons and candy and other items. They requested from the health department if they could put a condom in the bag also." She said Bisbee High Principal Jim Gordon could provide additional details, but Gordon declined to respond to a message left by WND. WND previously reported a seminar speaker in Boulder, Colo., told high school students to "have sex, do drugs," and the outrage that erupted among parents. WND also has reported a court's conclusion that a law requires children to be taught how to use condoms. But handing out condoms in association with a traditional high school dance still horrified a number of parents and others in the Bisbee area. "All that the policy of handing out condoms for our youth does [is] condone and indirectly approve the short-term immediately satisfaction…," wrote Chuck and Sharon Tuell in a letter to the editor in the local Sierra Vista Herald newspaper. "Your decision is obviously every short-sighted. We are very disappointed." Added Dick and Margaret Hamilton in another letter to the editor: "We were appalled at the information contained in a rather low-key article in the March 25 paper. … The information that was appalling to me, as a parent and a taxpayer, is that condoms will be given to all attendees of the Bisbee High School prom. Even more appalling is the fact that your paper treated this as just an everyday occurrence. "Only [board member] Millicent Kasun voted against the handout. Hooray for her," the couple wrote. "We urge all concerned parents in the Bisbee school district to contact their board members and demand a reversal of the decision and to wrest their parental rights back from the school." The newspaper had reported the vote in a story about a board meeting, at which board members discussed the length of girls' skirts, the school's music honor society and other issues. "Students attending the Bisbee High School Prom will be given gifts bags containing pictures frames, candles, mints and two condoms per bag. The board members voted four to one in favor of allowing the gift bags to be distributed," the newspaper article said. On the newspaper's forum, "Billy Hill," wrote, "This is what happens when you let the government do your thinking for you. Who will be checking to see that they are using them." Just weeks earlier, a Florida school district said it was planning to give its 6th-graders lessons in how to use contraceptives in a promotion by Planned Parenthood. Officials in Palm Beach County have decided to teach their 6th-graders how to use contraceptives such as condoms, because Florida "is the sixth-highest in the nation for pregnant teens, and that tells us we need to get information to our students."
| Signs of the Times | America |
---
Syria on Alert 'Because Hizbullah Revenge Attack is Near' Israel National News (April 6, 2008) - Syria has raised the state of alert of its armed forces because it knows Hizbullah's revenge attack against Israel for the killing of Imad Mughniyeh is near, according to Israel's Channel 2 TV. Soon after Mughniyeh's death, Israel warned Syria that it would hold it responsible for any revenge attack launched by Hizbullah for the killing of Mughniyeh, its operations officer. Syria is due to release its official findings in the probe into Mughniyeh's death. He was killed in an explosion in Damascus in February. The paper Al-Quds Al-Arabi, which is published in London, reported that since Mughniyeh's death, Syria has arrested dozens of suspects, including "Palestinians and senior Syrian army officers." Sources in Damascus told the paper that the investigation established that foreigners were behind the murder of Mughniyeh. Syria has accused Israel of being behind the assassination.
'Assassination planned in Syria'
Meanwhile, former Syrian vice president Abdel Khalim Khaddam is accusing Syria of killing Muyghniyeh. Interviewed by a Lebanese newspaper, Khaddam said that the head of Syrian intelligence was replaced because the investigation he conducted showed that those who planned the assassination came from within Syria. Khaddam was forced into exile and took up residence in Europe after he criticized the regime of Syrian President Bashar Assad. Hizbullah's Deputy Director Sheikh Naeem Kassem said Sunday that the Israeli Home Front exercise is a preparation for war and part of "Israel's aggressive character." Kassem said the exercise had three purposes: first, to boost the morale of the Israeli people, which has been low since the Second Lebanon War; second, to convince the Israelis that the army has overcome the failure and is ready and has drawn all the lessons from the war; and third, he explained, "it is part of the preparations for war, because Israel is always on a war footing." The Al-Arabiyah television network reported Sunday that the Lebanese military ordered residents of southern villages to move away from the border with Israel. According to the report, the Lebanese Army set up dirt roadblocks and inspection towers along the border with Israel to prevent Lebanese civilians from getting too close to the fence. Tension between Israel and Syria has been high recently, and there were reports that Defense Minister Ehud Barak cancelled his planned visit to Germany this week because of it. Defense Ministry advisor Amos Gilad denied this report and said that the Defense Minister changed his schedule because of a heavy workload. However, he also made what reporters saw as a hinted threat at Syria, following reports that Syrian forces were on a heightened state of alert. "Anyone who tries to strike Israel should keep in mind that Israel is the strongest country in the region and that its response will be hard and painful. We are always alert and ready," Harel warned. more...
| Iran | Israel | Islam | Isaiah 17 |
---
Jewish group to slaughter lamb in Passover sacrifice rehearsal Israel Today (April 6, 2008) - A Bible-adherent Jewish group on Sunday ritually slaughtered a young lamb in what is called a "rehearsal" for the renewal of the Passover sacrifice once the Jerusalem temple is rebuilt. The Temple Movement won approval to carry out the practice sacrifice from Israel's High Court on Friday after animal rights groups asserted that the lamb would be put through inhumane suffering. In its legal response, the Temple Movement explained that the slaughter would be carried out according to biblical standards, which is the same method used to slaughter lambs at kosher slaughterhouses around the country. The sacrifice and accompanying religious ceremonies were performed at a prominent yeshiva overlooking Jerusalem's Temple Mount, which is still occupied by several Muslim shrines.
| Israel | Temple Mount |
---
'Warning to Assad sparked tension' The Jerusalem Post (April 6, 2008) - Sources close to Prime Minister Ehud Olmert confirmed a Channel 2 report Sunday that the reason for the tension with Syria was a message Israel sent Damascus warning that Bashar Assad's regime would be held responsible if Jews around the world were harmed in retaliation for the killing of Hizbullah arch-terrorist Imad Mugniyeh. Israel has not claimed credit for the killing, but Syria and Hizbullah hold Israel responsible for Mugniyeh's death. Hizbullah chief Sheikh Hassan Nasrallah has vowed to take revenge against Jews abroad, and Syria drafted reserve soldiers last week as tensions escalated. In a move likely to further enhance the tension with Syria, Olmert reportedly approved an American request to allow congressional hearings to reveal details of the strike on an alleged Syrian nuclear installation that foreign sources have attributed to Israel. Officials in US President George W. Bush's administration asked to reveal the information in order to use it against North Korea. Olmert agreed to the request, despite opposition from Israeli intelligence officials. His advisers, Yoram Turbowitz and Shalom Turgeman, went to Washington last week to speak about the issue with US National Security Adviser Stephen Hadley and other top American officials. Olmert downplayed the tension with Syria at the start of Sunday's cabinet meeting and stressed that there was no connection between the current security situation with Syria and Monday's drill in the Home Front Command. "I want to emphasize that this is only a drill, with nothing hiding behind it," Olmert told the cabinet. "All the reports about heightened tension in the North are exaggerated. We have no secret plans. This drill is not part of anything else. It seems to me that the Syrians know this as well and they have no reason to analyze this drill differently. "I would like to make it unequivocally clear that this is a routine drill. The State of Israel is not intent on any violent confrontation in the North. On the contrary, we have said more than once that we have an interest in holding peace negotiations with Syria." more...
| Israel | Islam | Isaiah 17 |
---
Time for a more coherent voice EU Observer (April 4, 2008) - What a difference a year makes. Twelve months ago the talk was of the European Union 'fading away,' as China and India began to assume more importance on the world stage. Even Joschka Fischer, Foreign Minister in Gerhard Schroeder's former coalition government, was asking ominously 'where is Europe?' If such expressions coincided with the EU's 50th anniversary, the 51st, a week or two back, found us in better shape. Thanks to a strong currency and vibrant economy, Europe is on its feet again, weathering the global financial storms. Unemployment across the Union is down by almost three-quarters of a per cent, compared to a year ago. The great task of institutional reform is practically complete; ratification of the Lisbon treaty being all but assured. We look forward, later this year, to the arrival of the first European President and Foreign Minister. No one is asking now 'where is Europe?' We are no longer the ghost at the table, a vacant place setting. No one doubts today that we are here, in economic substance, even if we are still not fully pulling our weight in terms of influence. Our partners know that there are still many areas in which we still have to struggle to live up to our own ideals as well as equipping us to compete against the upcoming super-giants of Asia. One is democracy. We may be about to announce the arrival of a European President and Foreign Minister but the idea that there should be some democratic input, whether directly or through the European Parliament, to determine who holds these positions is still anathema to member states. Moreover, the European Parliament still cannot manage to control where it sits. Nor can Europeans debate European issues with one another. Despite the attention of the European Commission, attempts to create a genuine European wide political debate are still in their infancy. Events of European dimension are still viewed and reported in a national context... As I write NATO is meeting in Bucharest to determine, among other things, whether the Ukraine and Georgia should be allowed to take their first steps towards NATO membership. As the USA is in favour my guess is that sooner or later they will be admitted, despite objections from a number (as might be expected there is no single view) of European states. If the Ukraine and Georgia are part of the NATO family, and the EU continues to replace NATO forces in local peacekeeping operations, it seems NATO membership will come to represent a foot in the door to EU accession. Here of course we see in miniature the third area on which the EU has shown little sign of moving forward during the past year. Were the Europe Union to be united on whether the Ukraine and Georgia should or shouldn't become members of NATO, that would constitute a powerful voice. But the EU is not united. In fact it is far from united on a great range of foreign policy issues as a result of which its voice on the world stage is weak and inhibited. Because the EU's common foreign policy has to be settled unanimously, it is common only to the extent that it is the policy to which no one has found a reason to object. In consequence the policy is feeble. Instead of speaking with a single strong voice, the EU speaks with many weak ones. The result is that nobody's interest is served. Most recently we have seen this split over whether we should recognise Kosovo, but on practically every dimension of foreign policy the Union is divided. Sometimes, as over Tibet, the need for unanimity produces pusillanimity; at other times it produces no policy at all, so we leave situations - such as divided Cyprus - to fester. Had Europe been prepared to speak with a single voice over Iraq - the fifth anniversary of whose invasion we have just commemorated - who doubts that events on the ground might have been very different, regardless of whether that voice had been for or against an invasion. Will the advent of an EU Foreign Minister - or even an EU President - correct this situation, produce more agreement? It may produce a small change, but nothing significant is likely to happen without the realisation by member states that their interests are better served by a single strong foreign and security policy operating in the common interest, than by each operating as though they alone had legitimate foreign policy concerns. more...
| EU/UN / 4th Kingdom |
---
Brown to host world leaders at 'progressive' summit AFP (April 4, 2008) - Prime Minister Gordon Brown is to host a summit of some 20 world leaders and key figures to discuss "progressive" governance, after a conference on the issue in London Friday, officials said. South African President Thabo Mbeki, Australian Prime Minister Kevin Rudd and former US president Bill Clinton are among participants at the summit of broadly centre-left leaders outside London on Saturday, said Downing Street. EU foreign policy chief Javier Solana, World Trade Organization chief Pascal Lamy and national leaders from Australia, Chile, Cyprus, Ghana, Italy, Liberia, Lithuania, New Zealand, Norway and Slovakia are also scheduled, according to a participants' list released by Downing Street. In a speech pre-released on video ahead of the conference Friday, and the "progressive governance summit" on Saturday, Brown called for the development of a form of "globalisation that is fair and sustainable for all." The conference brings together some 300 leaders, officials and experts in a location outside London which has so far not been disclosed. When the summit was last held in Britain it was in Bagshot, south of the capital. The conference is organised by the Policy Network, which describes itself as "an international thinktank dedicated to promoting progressive policies and the renewal of social democracy." The idea for the summit was launched by Clinton in 1999, when he was still in office. The first one was held in Berlin in 2000, before Stockholm in 2002, London in 2003, Budapest in 2004 and Johannesburg in 2005. Brown will host it after returning from Bucharest, where he has been attending the NATO summit. The 2008 meeting will focus on globalisation, climate change and poverty. "Achieving an inclusive globalisation, one that can combine economic dynamism with social justice in a sustainable way for all, is the key political challenge facing this generation of leaders and politicians," Brown said in a video posted on the website of the Guardian daily.
| EU/UN / 4th Kingdom | Solana | NewWorldOrder | America |
---
Turkey's EU bid runs into trouble BBC News (April 4, 2008) - Turkey's attempt to enter the EU is now being called Europe's "biggest project". But new doubts have emerged that it will ever happen. Uniting Turkey, a large mainly Muslim nation, with the European Union is Europe's biggest peace project since World War II, Turkey's Foreign Minister Ali Babacan says. But he complains that some EU countries are holding Turkey back out of political ill-will. Turkey has had enough of being Europe's whipping boy. After nine years of frustrating efforts as an official candidate to join the European Union but still without a guarantee of membership in the end, its leaders now have a tougher message for Europe - play fair, because you need us as much as we need you. Veiled warning Mr Babacan told BBC News "Europe should never think that Turkey has no choice". This did not mean there was any "other alliance or group of countries we might join forces with", the minister explained. But the relationship must be a two-way street, of benefit to both sides. The foreign minister's veiled warning came this week during a conference in Istanbul of the British Wilton Park organisation for politicians and policy-makers to assess Turkey's path towards EU accession. Last week Turkey's most ardent supporters of its European hopes were shocked when the Prime Minister, Recep Tayyip Erdogan, told students in Sarajevo that his country would have "nothing to lose" if Europe kept it out. The EU would be the loser, Mr Erdogan claimed. Turkey's 45-year-old commitment to integration in Europe has hit serious turbulence. And "enlargement fatigue" among the EU's 27 member states is not the main reason. The issue is Turkey itself. Turkish hopes are threatened by flagging popular support on both sides. more...
| Islam | Gog/Magog | EU/UN / 4th Kingdom |
---
Lawmakers heavily invested in defense SanLuisObispo.com (April 3, 2008) - Members of Congress have as much as $196 million collectively invested in companies doing business with the Defense Department, earning millions since the onset of the Iraq war, according to a study by a nonpartisan research group. Not all the companies in which lawmakers invested are typical defense contractors. Corporations such as PepsiCo, IBM, Microsoft and Johnson & Johnson have at one point received defense-related contracts, notes the report by the Washington-based Center for Responsive Politics. The center's review of lawmakers' 2006 financial disclosure statements suggests that members' holdings could pose a conflict of interest as they decide the fate of Iraq war spending. Several members earning money from these contractors have plum committee or leadership assignments, including Democratic Sen. John Kerry, independent Sen. Joseph Lieberman and House Republican Whip Roy Blunt. The study found that more Republicans than Democrats hold stock in defense companies, but that the Democrats who are invested had significantly more money at stake. In 2006, for example, Democrats held at least $3.7 million in military-related investments, compared to Republican investments of $577,500. Overall, 151 members hold investments worth $78.7 million to $195.5 million in companies that receive defense contracts that are worth at least $5 million. These investments earned them anywhere between $15.8 million and $62 million between 2004 and 2006, the center concludes. It is unclear how many members still hold these investments and exactly how much money has been made. Disclosure reports for 2007 aren't due until this May. Also, members are required to report only a general range of their holdings. According to the report, presidential hopefuls Barack Obama and John McCain did not report any defense-related holdings on their filings; Hillary Rodham Clinton did note holdings in such companies as Honeywell, Boeing and Raytheon, but sold the stock in May 2007. All three candidates are members of the Senate. Earning dividends from companies tied to the military "could be problematic" for lawmakers who oversee defense policy and budgeting, noted the center's Lindsay Renick Mayer. Avoiding every company with a military contract, however, would not be easy for an investor. "So common are these companies, both as personal investments and as defense contractors, it would appear difficult to build a diverse blue-chip stock portfolio without at least some of them," Mayer wrote. more...
| America |
---
'Implementation of the European Neighbourhood Policy in 2007' Progress Report Israel Fulfilled Prophecy: Commission of the European Communities (April 3, 2008) - Israel and the European Community first established contractual relations in 1975 by signing a Cooperation Agreement. The Euro-Mediterranean Partnership inaugurated at the 1995 Barcelona Conference established a policy with ambitious long-term objectives. The Association Agreement with Israel which entered into force in 2000 sets out in more detail the specific areas in which the objectives of the Euro-Mediterranean Partnership can be developed bilaterally. On this basis, the EU-Israel Action Plan was adopted in April 2005, for a period of three years. A first ENP progress report was adopted in December 2006. Intense institutional cooperation through the EU–Israel Association Council, the EU–Israel Association committee and 10 sub-committees has enabled both sides to progress with the implementation of the Association Agreement and more recently the Action Plan. In the framework of the EU-Israel Reflection Group, work is ongoing to identify areas to upgrade the future of EU-Israel relations. This document reports on overall progress made on the implementation of the EU – Israel Action Plan between 1 November 2006 and 31 December 2007, although developments outside this period are also considered when deemed relevant. It is not a general review of the political and economic situation in Israel. Israel has been an active partner in the framework of the ENP, as demonstrated by the progress made in implementing a large number of priorities of the Action Plan. Sound macroeconomic policies associated to a buoyant external demand have allowed the Israeli economy to expand for a fourth consecutive year. The ENP has clearly enhanced the pace of cooperation between the EU and Israel in a large number of fields: from enhanced EU-Israel political dialogue to Israel's involvement in a number of European initiatives. Having agreed a framework protocol with the EC, Israel is the front-runner in making use of the new possibilities for ENP partner countries' participation in Community programmes. It has also sought closer cooperation with EC and EU agencies. In October 2007 Israel agreed to start bilateral negotiations on a Free Trade Agreement on the liberalisation of services and establishment, at the beginning of 2008. more...
| Israel | EU/UN / 4th Kingdom |
---
Exclusive: Barak calls off German trip next week as Damascus raises war alarm DEBKAfile (April 2, 2008) - Israel's security cabinet convened Wednesday, April 2, to examine the homeland's preparedness for war. It decided to redistribute the bio/chemical warfare masks a few months after they were called in. DEBKAfile's military sources disclose intelligence data indicating the possibility that Syria may transfer to Hizballah chemical or biological warheads known to have been developed for its war arsenal. A few hours earlier, the London-based al Quds al-Arabi quoted Damascus officials as claiming that Israel is preparing a big attack on Syria and Hizballah. Syria was said to have ordered a partial call-up of its military reserves. DEBKAfile reports that Damascus has placed its missile units on the alert after last week deploying two armored brigades on the Beirut-Damascus highway under the command of President Bashar Assad's young brother Maher Assad, chief of the presidential guard. They were posted there to block the road in case Israeli armored columns attempted to reach Damascus through Lebanon. Our sources also note Syria plans to release the findings of its inquiry into the death of Hizballah leader Imad Mughniyeh in February. Sources close to Israel's defense minister Ehud Barak report he called off his trip to Germany next week because he expects Damascus to use those findings to put Hizballah on the spot where it can no longer duck exacting revenge for his death from Israel, which is held responsible for his death. IDF sources report Iran has sent Syria state of the art equipment for surveillance and eavesdropping on Israeli military command centers and bases. Israel's home defense command scheduled April 6-10 a nationwide exercise to improve the home front's readiness for emergencies. Warning sirens will be tested on April 8. Tuesday, Barak toured Israel's northern border and reported "a great deal of activity on the other side." He added: "…we are learning the lessons of the last war, Israel is the strongest country in the region and I would not advise anyone on the other side to test us." In their briefing to the Knesset foreign affairs and security committee Tuesday morning, IDF intelligence officers confirmed intense Hizballah activity, much of it in South Lebanon by operatives in civilian disguise. The officers referred to the Lebanese Shiite terror group's rearmament with more powerful and longer-range rockets. On March 22, DEBKAfile first revealed that Hizballah had more than trebled its pre-war rocket arsenal. "Some of their 40,000 rockets of Syrian and Iranian manufacture can hit Israeli targets as far south as Beersheba, 350 km. away. Not only has Tel Aviv come within range, but Hizballah and the Palestinian Hamas in Gaza can between them now cover most of Israel up to its southernmost tip at Eilat. The possibility is now under consideration that these rockets may be armed with Syrian non-conventional warheads. Damascus has also shipped to Hizballah quantities of anti-air weapons, including shoulder-borne rockets and scores of Russian-made anti-aircraft ZSU-100 automatic 14.4 mm caliber cannon, which are most effective against low-flying aircraft, helicopters and drones.
| Iran | Israel | Islam | Isaiah 17 |
---
We have created human-animal embryos already, say British team Times Online UK (April 2, 2008) - Embryos containing human and animal material have been created in Britain for the first time, a month before the House of Commons votes on new laws to regulate the research. A team at Newcastle University announced yesterday that it had successfully generated "admixed embryos" by adding human DNA to empty cow eggs in the first experiment of its kind in Britain. The Commons is to debate the Human Fertilisation and Embryology Bill next month. MPs have been promised a free vote on clauses in the legislation that would permit admixed embryos. But their creation is already allowed, subject to the granting of a licence from the Human Fertilisation and Embryology Authority (HFEA). The Newcastle group, led by Lyle Armstrong, was awarded one of the first two licences in January. The other went to a team at King's College London, led by Professor Stephen Minger. The new Bill will formalise their legal status if it is passed by Parliament. Admixed embryos are widely supported by scientists and patient groups as they provide an opportunity to produce powerful stem-cell models for investigating diseases such as Parkinson's and diabetes, and for developing new drugs. Their creation, however, has been opposed by some religious groups, particularly the Roman Catholic Church. Cardinal Keith O'Brien, the head of the Catholic Church in Scotland, described the work last month as "experiments of Frankenstein proportion". The admixed embryos created by the Newcastle group are of a kind known as cytoplasmic hybrids, or cybrids, which are made by placing the nucleus from a human cell into an animal egg that has had its nucleus removed. The genetic material in the resulting embryos is 99.9 per cent human. The BBC reported that the Newcastle cybrids lived for three days, and that the largest grew to contain 32 cells. The ultimate aim is to grow these for six days, and then to extract embryonic stem cells for use in research. It is already illegal to culture human-animal embryos for more than 14 days, or to implant them in the womb of a woman or animal, and these prohibitions will remain in the new legislation. more...
| EU/UN / 4th Kingdom | Technology |
Genesis 6:1-8
And it came to pass, when men began to multiply on the face of the earth, and daughters were born unto them, That the sons of God saw the daughters of men that they were fair; and they took them wives of all which they chose. And the LORD said, My spirit shall not always strive with man, for that he also is flesh: yet his days shall be a hundred and twenty years. There were giants in the earth in those days; and also after that, when the sons of God came in unto the daughters of men, and they bore children to them, the same became mighty men which were of old, men of renown. And GOD saw that the wickedness of man was great in the earth, and that every imagination of the thoughts of his heart was only evil continually. And it repented the LORD that he had made man on the earth, and it grieved him at his heart. And the LORD said, I will destroy man whom I have created from the face of the earth; both man, and beast, and the creeping thing, and the fowls of the air; for it repenteth me that I have made them. But Noah found grace in the eyes of the LORD.
"When the Greek Septuagint was created, the Hebrew word Nephilim was translated into Greek as "gegenes." This is the same word used in Greek mythology for the "Titans," creatures created through the interbreeding of the Greek gods and human beings. The English words "genes" and "genetics" are built around the same root word as gegenes, genea meaning "breed" or "kind." Thus the choice of this word again suggests a genetic component to the creation of these giants." | Steven Quayle, 128
Jasher 4:18
After the fallen angels went into the daughters of men, the sons of men taught the mixture of animals of one species with the other in order to provoke the Lord.
Enoch 7:5,6
they began to sin against birds, and beasts, and reptiles, and fish.
"Today, molecular biologists classify the functions of genes within native species but are unsure in many cases how a gene's coding might react from one species to another. In recombinant DNA technology, a "transgenic" organism is created when the genetic structure of one species is altered by the transfer of a gene or genes from another. This could change not only the genetic structure of the modified animal and its offspring, but its evolutionary development, sensory modalities, disease propensity, personality, behavior traits, and more." | Thomas Horn Nephilim Stargates 135,136
---
Iran Gains African Foothold up to Chad through Pacts with Sudan DEBKAfile (April 1, 2008) - Iran jumped in with gusto to meet Sudan president Omar al-Bashir's application for a military package including arms and training of his army. The application was received after the horrendous Darfur tragedy and Khartoum's backing for Chad rebels finally convinced Sudan's traditional arms suppliers, Russia, China and Libya, to back away from arming Sudan's 120,000-strong army. Beijing came last, sensitized to its international image by the approaching Olympic Games in August. Libya has a major beef with Khartoum for backing the rebels fighting to overthrow Chad president Idriss Debby. The pacts were signed on March 8 by Iran's defense minister Gen. Mostafa Mohammad Majjar and his Sudanese counterpart, Gen. Abdul Rahim Mohammad Hussein, a fighter pilot appointed defense minister last month. For years Tehran has been building up its military ties with Khartoum with an eye on its geopolitical assets: a long coast on the Red Sea, a main sea lanes to the Persian Gulf, a Muslim nation located opposite Saudi Arabia and next door to Egypt; Sudan's command of oil resources and the White Nile, a major water source for an entire African region. This strategic jewel finally dropped into Iran's fundamentalist lap. DEBKA-Net-Weekly's Iranian sources disclosed its substance on March 14, 2008:
The Sudanese Army will gradually re-adjust from Russian and Chinese weaponry to Iranian-made items.
A 50 percent discount on Iran arms sold to Sudan.
Iran will build Sudan a military industry for the manufacture of Iranian weapons.
The two governments will establish a joint military commission to translate mutual defense collaboration into practical form. Each undertakes to come to the other's aid in the event of foreign aggression.
The two air forces, navies and armored corps will exchange delegations.
Iran will help Sudan plan and construct security systems for strategic locations, such as oil fields, ports and the Nile River dams.
The $1.8 billion White Nile River Merowe Dam hydropower project, which includes a 174-kilometer long reservoir, is funded by China and Arab countries. Chinese, Sudanese, German and French companies participate in this project and in the Kajbar Dam downstream of the Merowe Dam. The Sudanese are afraid that Egypt, which claims the Merowe project is diverting its water supply, may attack and destroy the project. On March 10, the UN center in Geneva published a report compiled by a group of experts monitoring human rights in Sudan, which had this to say about these dams: "We regret that the government did not allow access to Kajbar, Amir, Merowe and Makabrab in the northern state. The visit was planned to meet with local authorities and affected communities in the Nile valley area where two hydropower dams are being constructed. It was canceled by Sudan's state security committee the day before it was scheduled to travel to the area. The reasons provided by the government did not justify their decision to prevent access. more...
| Iran | Islam | Gog/Magog |
Image from Chuck Missler research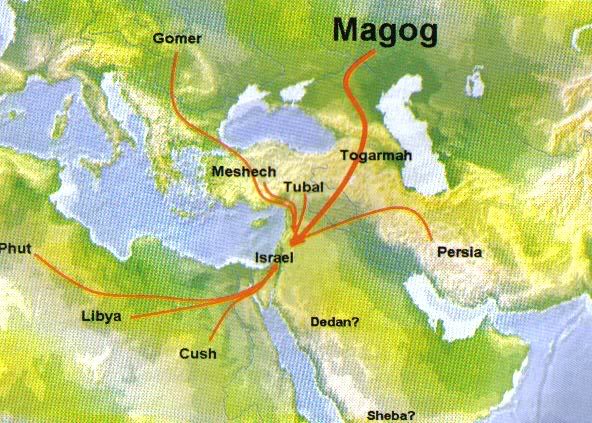 ---
'Silent' famine sweeps globe WorldNet Daily (April 1, 2008) - Rice, fertilizer shortages, food costs, higher energy prices equal world crisis. From India to Africa to North Korea to Pakistan and even in New York City, higher grain prices, fertilizer shortages and rising energy costs are combining to spell hunger for millions in what is being characterized as a global "silent famine." Global food prices, based on United Nations records, rose 35 percent in the last year, escalating a trend that began in 2002. Since then, prices have risen 65 percent. Last year, according to the U.N. Food and Agriculture Organization's world food index, dairy prices rose nearly 80 percent and grain 42 percent. "This is the new face of hunger," said Josetta Sheeran, director of the World Food Program, launching an appeal for an extra $500 million so it could continue supplying food aid to 73 million hungry people this year. "People are simply being priced out of food markets. ... We have never before had a situation where aggressive rises in food prices keep pricing our operations out of our reach." The WFP launched a public appeal weeks ago because the price of the food it buys to feed some of the world's poorest people had risen by 55 percent since last June. By the time the appeal began last week, prices had risen a further 20 percent. That means WFP needs $700 million to bridge the gap between last year's budget and this year's prices. The numbers are expected to continue to rise. The crisis is widespread and the result of numerous causes – a kind of "perfect storm" leading to panic in many places:
In Thailand, farmers are sleeping in their fields because thieves are stealing rice, now worth $600 a ton, right out of the paddies.
Four people were killed in Egypt in riots over subsidized flour that was being sold for profit on the black market.
There have been food riots in Morocco, Senegal and Cameroon.
Mexico's government is considering lifting a ban on genetically modified crops, to allow its farmers to compete with the United States.
Argentina, Kazakhstan and China have imposed restrictions to limit grain exports and keep more of their food at home.
Vietnam and India, both major rice exporters, have announced further restrictions on overseas sales.
Violent food protests hit Burkina Faso in February.
Protesters rallied in Indonesia recently, and media reported deaths by starvation.
In the Philippines, fast-food chains were urged to cut rice portions to counter a surge in prices.
Millions of people in India face starvation after a plague of rats overruns a region, as they do cyclically every 50 years.
Officials in Bangladesh warn of an emerging "silent famine" that threatens to ravage the region.
According to some experts, the worst damage is being done by government mandates and subsidies for "biofuels" that supposedly reduce carbon dioxide emissions and fight climate change. Thirty percent of this year's U.S. grain harvest will go to ethanol distilleries. The European Union, meanwhile, has set a goal of 10 percent bio-fuels for all transportation needs by 2010. "A huge amount of the world's farmland is being diverted to feed cars, not people," writes Gwynne Dyer, a London-based independent journalist. He notes that in six of the past seven years the human race has consumed more grain than it grew. World grain reserves last year were only 57 days, down from 180 days a decade ago. One in four bushels of corn from this year's U.S. crop will be diverted to make ethanol, according to estimates. "Turning food into fuel for cars is a major mistake on many fronts," said Janet Larsen, director of research at the Earth Policy Institute, an environmental group based in Washington. "One, we're already seeing higher food prices in the American supermarket. Two, perhaps more serious from a global perspective, we're seeing higher food prices in developing countries where it's escalated as far as people rioting in the streets." Palm oil is also at record prices because of biofuel demands. This has created shortages in Indonesia and Malaysia, where it is a staple. Nevertheless, despite the recognition that the biofuels industry is adding to a global food crisis, the ethanol industry is popular in the U.S. where farmers enjoy subsidies for the corn crops. Another contributing factor to the crisis is the demand for more meat in an increasingly prosperous Asia. More grain is used to feed the livestock than is required to feed humans directly in a traditional grain-based diet. Global food prices are even hitting home in New York City, according to a report in the Daily News. Food pantries and soup kitchens in the city are desperately low on staples for the area's poor and homeless. The Food Bank for New York City, which supplies food to 1,000 agencies and 1.3 million people, calls it the worst problem since its founding 25 years ago. Last year, the Food Bank received 17 million pounds of food through the Emergency Food Assistance Program, less than half of the 35 million pounds it received in 2002. And donations from individuals and corporations are also down about 50 percent, according to the report. High gas prices, increased food production costs and a move to foreign production of American food are contributing to the problem. more...
| 3rd Seal |
Revelation 6:5,6
And when he had opened the third seal, I heard the third beast say, Come and see. And I beheld, and lo a black horse; and he that sat on him had a pair of balances in his hand. And I heard a voice in the midst of the four beasts say, A measure of wheat for a penny, and three measures of barley for a penny; and see thou hurt not the oil and the wine.
---
Fears of Muslim Violence Inactivates Web Site Israel National News (April 1, 2008) - The world's largest website name registrar, Network Solutions, is blocking web surfers from accessing an anti-Islam site - prompting concerns that fear of Islamic violence has become so powerful that it even controls WWW content. Network Solutions developed the domain name registration system in 1993 and was the world's only domain name provider until 1999, when the domain name industry opened up to competition. Today, the company hosts seven million domain names. The Washington Post reports that Network Solutions is now, for the first time, blocking access to a site that has not yet put up any substantial content. The site in question is owned by a Dutch politician, Geert Wilders, who is known for his opposition to Muslim immigrants and the Koran. Wilders has said that he planned to post a short anti-Koran film on the site, named fitnathemovie.com. Wilders hopes to rally support for banning the Koran in Holland, explaining that the book urges followers to commit acts of violence. A Network Solutions spokeswoman told the Washington Post that the site was blocked on Saturday night "due to the potential unrest that could follow if Wilders followed through on his pledge to post his film on the site." She said the company was still investigating whether the site violated its "acceptable use policy." The inaccessible site contained, before it was shut down, only a picture of a gilded Koran along with the text "Allahu Akhbar" (Allah is Great), and the words "Geert Wilders presents Fitna - Coming Soon." The decision by Network Solutions followed warnings and threats that the movie could lead to pro-Moslem violence. Earlier this month, for instance, NATO's secretary general expressed his concern that the Wilders movie could foment anger and added danger for Western troops in Afghanistan. Protests were held in Afghanistan against the Wilders film. In addition, Dutch television stations refused to air the movie. Possibly even more telling was the fact that though no "specific threats" had been received by Network Solutions, the company reminded its employees this week about observing regular physical safety and security measures at work. The Post reported that Fred von Lohmann, a senior staff attorney with the Electronic Frontier Foundation - an organization that aims to champion free speech, privacy, innovation, and consumer rights in digital and electronic issues - said it was the first case he'd heard of in which a U.S.-based registrar had preemptively suspended a domain name for violating its use policy. He admitted, however, that Network Solutions was within its legal rights in doing so. Wilders has said that his movie is a "last warning for the West," and that "if need be, I will personally distribute DVDs in the Dam [central square in Amsterdam]." He has also warned of a "tsunami of Islamisation" in Holland, and is under heavy guard due to Islamic death threats.
| Islam |
---
Will Uncle Sam let the dollar collapse? Telegraph.uk (April 1, 2008) - The dollar is taking a pounding. With the US sinking deeper into recession, the greenback recently hit an all-time low against the euro and a 12-year low against the yen. Last week, America's currency fell again - dropping more than 2 per cent in euro terms, to $1.5779. On a trade-weighted basis, the dollar is now south of its late-70s low point and close to its historic nadir of the mid-1990s. The markets sense the US Federal Reserve, having already slashed interest rates by 300 basis points to 2.25 per cent since the credit crunch erupted last summer, will soon cut rates even more. The European Central Bank, in stark contrast, looks determined to keep rates at 4 per cent - where they've been since sub-prime broke. Eurozone inflation, at 3.3 per cent, is still way above target. And with ECB Chairman Jean-Claude Trichet stressing upside price pressures last week, eurozone rate cuts seem unlikely. In other words, the gap between euro and dollar rates looks set to get wider - making the US currency even less attractive. And, last week, just as fresh data showed America's housing and manufacturing sector weakening further, business confidence in Germany - the eurozone's largest economy - jumped up. That suggested an even bigger euro-dollar interest differential, piling still more pressure on the greenback. But a falling dollar is not necessarily bad news for the American economy. The underlying reason for the currency's weakness, beyond the current woes on Wall Street, is that years of over-consumption have resulted in a massive US trade deficit - which, in 2006, reached 6 per cent of GDP. The dollar's decline has lately helped address that - by making US goods more competitive. Over the last two years, American exports have risen 17 per cent in value terms, cutting the trade shortfall to 4.7 per cent of national income. In other words, as has often happened in recent decades, a falling dollar has shoved the burden of America's adjustment onto the rest of the world. And now - as the White House knows well - a further dollar slide will play a large part in rescuing the domestic economy. The US takes a dim view of other countries - such as China - allowing their currencies to remain weak against the dollar. But when it comes to old-fashioned beggar-thy-neighbour exchange rate policy, the Americans are past masters. There are limits to this process. The euro has risen some 17 per cent against the dollar over the last year, with much of that rise happening since January. This makes life tough for the eurozone's exporting economies - which, apart from Germany, are now suffering badly. That's why Trichet now expresses "concern" at the drooping dollar. French president Nicolas Sarkozy has gone further - describing America's ailing currency as "a precursor to economic war". Elsewhere, too, the complaints are getting louder. Japan's Finance Minister, Fukushiro Nukaga, says the dollar's decline is now "excessive". Such statements are preparing the ground for a meeting in two weeks' time - when finance ministers and central bankers from the G7 gather in Washington. The headlines will be about post sub-prime regulation. But the meat of the summit concerns the dollar. The big question is whether to intervene in foreign exchange markets to prop up the currency. When co-ordinated among several large central banks, such initiatives have worked quite well. The 1987 Louvre Accord helped halt a sliding dollar, as did joint intervention by the US and Japan in 1995. But, if the G7's upcoming dollar dialogue is conducted in whispered tones, another much bigger question won't be discussed at all - the dollar's status as the world's reserve currency. The cracks are now starting to show in the dollar's reserve currency status. For the first time, Saudi Arabia now refuses to cut interest rates in line with the Fed - the first step towards a break in the kingdom's dollar peg. If that break happened, it would spark a massive flight of Middle Eastern assets away from the US currency. Chinese exporters are also now shunning the dollar in non-US transactions. Again, that's a worrying sign for the States. With its $1,400bn of reserves, China is the biggest investor in dollar-denominated assets by far. With the Fed expected to cut rates by at least another 25 basis points at its next meeting on April 30, the dollar can only get weaker in the coming month. So the US may be forced into a G7 initiative to strengthen its currency. The trouble is, since the last joint-intervention, the balance of world power has changed. Today, around 75 per cent of the world's foreign exchange reserves are held not by the West, but by the likes of China, Russia and Brazil. So any initiative will have to involve them - even though they're not in the G7. And that will expose the grouping for what it is - an anachronistic hark-back to a world that no longer exists. more...
| EU/UN / 4th Kingdom | NewWorldOrder | America | Economic Crisis |
---
Student Sues Wisconsin School After Getting a Zero for Religious Drawing Fox News (April 1, 2008) - A Tomah High School student has filed a federal lawsuit alleging his art teacher censored his drawing because it featured a cross and a biblical reference. The lawsuit alleges other students were allowed to draw "demonic" images and asks a judge to declare a class policy prohibiting religion in art unconstitutional. "We hear so much today about tolerance," said David Cortman, an attorney with the Alliance Defense Fund, a Christian legal advocacy group representing the student. "But where is the tolerance for religious beliefs? The whole purpose of art is to reflect your own personal experience. To tell a student his religious beliefs can legally be censored sends the wrong message." Tomah School District Business Manager Greg Gaarder said the district hadn't seen the lawsuit and declined to comment. According to the lawsuit, the student's art teacher asked his class in February to draw landscapes. The student, a senior identified in the lawsuit by the initials A.P., added a cross and the words "John 3:16 A sign of love" in his drawing. His teacher, Julie Millin, asked him to remove the reference to the Bible, saying students were making remarks about it. He refused, and she gave him a zero on the project. Millin showed the student a policy for the class that prohibited any violence, blood, sexual connotations or religious beliefs in artwork. The lawsuit claims Millin told the boy he had signed away his constitutional rights when he signed the policy at the beginning of the semester. The boy tore the policy up in front of Millin, who kicked him out of class. Later that day, assistant principal Cale Jackson told the boy his religious expression infringed on other students' rights. Jackson told the boy, his stepfather and his pastor at a meeting a week later that religious expression could be legally censored in class assignments. Millin stated at the meeting the cross in the drawing also infringed on other students' rights. The boy received two detentions for tearing up the policy. Jackson referred questions about the lawsuit to Gaarder. Sometime after that meeting, the boy's metals teacher rejected his idea to build a chain-mail cross, telling him it was religious and could offend someone, the lawsuit claims. The boy decided in March to shelve plans to make a pin with the words "pray" and "praise" on it because he was afraid he'd get a zero for a grade. The lawsuit also alleges school officials allow other religious items and artwork to be displayed on campus. A Buddha and Hindu figurines are on display in a social studies classroom, the lawsuit claims, adding the teacher passionately teaches Hindu principles to students. In addition, a replica of Michaelangelo's "The Creation of Man" is displayed at the school's entrance, a picture of a six-limbed Hindu deity is in the school's hallway and a drawing of a robed sorcerer hangs on a hallway bulletin board. Drawings of Medusa, the Grim Reaper with a scythe and a being with a horned head and protruding tongue hang in the art room and demonic masks are displayed in the metals room, the lawsuit alleges. A.P. suffered unequal treatment because of his religion even though student expression is protected by the First Amendment, according to the lawsuit, which was filed Friday. "Students do not shed their constitutional rights at the schoolhouse gate," the lawsuit said. "No compelling state interest exists to justify the censorship of A.P.'s religious expression."
| Signs of the Times | America |
---
"Doomsday Seed Vault" in the Arctic Global Research (April 1, 2008) - One thing Microsoft founder Bill Gates can't be accused of is sloth. He was already programming at 14, founded Microsoft at age 20 while still a student at Harvard. By 1995 he had been listed by Forbes as the world's richest man from being the largest shareholder in his Microsoft, a company which his relentless drive built into a de facto monopoly in software systems for personal computers. In 2006 when most people in such a situation might think of retiring to a quiet Pacific island, Bill Gates decided to devote his energies to his Bill and Melinda Gates Foundation, the world's largest 'transparent' private foundation as it says, with a whopping $34.6 billion endowment and a legal necessity to spend $1.5 billion a year on charitable projects around the world to maintain its tax free charitable status. A gift from friend and business associate, mega-investor Warren Buffett in 2006, of some $30 billion worth of shares in Buffet's Berkshire Hathaway put the Gates' foundation into the league where it spends almost the amount of the entire annual budget of the United Nations' World Health Organization. So when Bill Gates decides through the Gates Foundation to invest some $30 million of their hard earned money in a project, it is worth looking at. No project is more interesting at the moment than a curious project in one of the world's most remote spots, Svalbard. Bill Gates is investing millions in a seed bank on the Barents Sea near the Arctic Ocean, some 1,100 kilometers from the North Pole. Svalbard is a barren piece of rock claimed by Norway and ceded in 1925 by international treaty (see map). On this God-forsaken island Bill Gates is investing tens of his millions along with the Rockefeller Foundation, Monsanto Corporation, Syngenta Foundation and the Government of Norway, among others, in what is called the 'doomsday seed bank.' Officially the project is named the Svalbard Global Seed Vault on the Norwegian island of Spitsbergen, part of the Svalbard island group. The seed bank is being built inside a mountain on Spitsbergen Island near the small village of Longyearbyen. It's almost ready for 'business' according to their releases. The bank will have dual blast-proof doors with motion sensors, two airlocks, and walls of steel-reinforced concrete one meter thick. It will contain up to three million different varieties of seeds from the entire world, 'so that crop diversity can be conserved for the future,' according to the Norwegian government. Seeds will be specially wrapped to exclude moisture. There will be no full-time staff, but the vault's relative inaccessibility will facilitate monitoring any possible human activity. Did we miss something here? Their press release stated, 'so that crop diversity can be conserved for the future.' What future do the seed bank's sponsors foresee, that would threaten the global availability of current seeds, almost all of which are already well protected in designated seed banks around the world? Anytime Bill Gates, the Rockefeller Foundation, Monsanto and Syngenta get together on a common project, it's worth digging a bit deeper behind the rocks on Spitsbergen. When we do we find some fascinating things. The first notable point is who is sponsoring the doomsday seed vault. Here joining the Norwegians are, as noted, the Bill & Melinda Gates Foundation; the US agribusiness giant DuPont/Pioneer Hi-Bred, one of the world's largest owners of patented genetically-modified (GMO) plant seeds and related agrichemicals; Syngenta, the Swiss-based major GMO seed and agrichemicals company through its Syngenta Foundation; the Rockefeller Foundation, the private group who created the "gene revolution with over $100 million of seed money since the 1970's; CGIAR, the global network created by the Rockefeller Foundation to promote its ideal of genetic purity through agriculture change.
CGIAR and 'The Project'
As I detailled in the book, Seeds of Destruction, in 1960 the Rockefeller Foundation, John D. Rockefeller III's Agriculture Development Council and the Ford Foundation joined forces to create the International Rice Research Institute (IRRI) in Los Baños, the Philippines.1 By 1971, the Rockefeller Foundation's IRRI, along with their Mexico-based International Maize and Wheat Improvement Center and two other Rockefeller and Ford Foundation-created international research centers, the IITA for tropical agriculture, Nigeria, and IRRI for rice, Philippines, combined to form a global Consultative Group on International Agriculture Research (CGIAR). CGIAR was shaped at a series of private conferences held at the Rockefeller Foundation's conference center in Bellagio, Italy. Key participants at the Bellagio talks were the Rockefeller Foundation's George Harrar, Ford Foundation's Forrest Hill, Robert McNamara of the World Bank and Maurice Strong, the Rockefeller family's international environmental organizer, who, as a Rockefeller Foundation Trustee, organized the UN Earth Summit in Stockholm in 1972. It was part of the foundation's decades long focus to turn science to the service of eugenics, a hideous version of racial purity, what has been called The Project. To ensure maximum impact, CGIAR drew in the United Nations' Food and Agriculture Organization, the UN Development Program and the World Bank. Thus, through a carefully-planned leverage of its initial funds, the Rockefeller Foundation by the beginning of the 1970's was in a position to shape global agriculture policy. And shape it did. Financed by generous Rockefeller and Ford Foundation study grants, CGIAR saw to it that leading Third World agriculture scientists and agronomists were brought to the US to 'master' the concepts of modern agribusiness production, in order to carry it back to their homeland. In the process they created an invaluable network of influence for US agribusiness promotion in those countries, most especially promotion of the GMO 'Gene Revolution' in developing countries, all in the name of science and efficient, free market agriculture.
Genetically engineering a master race?
Now the Svalbard Seed Bank begins to become interesting. But it gets better. 'The Project' I referred to is the project of the Rockefeller Foundation and powerful financial interests since the 1920's to use eugenics, later renamed genetics, to justify creation of a genetically-engineered Master Race. Hitler and the Nazis called it the Ayran Master Race. The eugenics of Hitler were financed to a major extent by the same Rockefeller Foundation which today is building a doomsday seed vault to preserve samples of every seed on our planet. Now this is getting really intriguing. The same Rockefeller Foundation created the pseudo-science discipline of molecular biology in their relentless pursuit of reducing human life down to the 'defining gene sequence' which, they hoped, could then be modified in order to change human traits at will. Hitler's eugenics scientists, many of whom were quietly brought to the United States after the War to continue their biological eugenics research, laid much of the groundwork of genetic engineering of various life forms, much of it supported openly until well into the Third Reich by Rockefeller Foundation generous grants.2 The same Rockefeller Foundation created the so-called Green Revolution, out of a trip to Mexico in 1946 by Nelson Rockefeller and former New Deal Secretary of Agriculture and founder of the Pioneer Hi-Bred Seed Company, Henry Wallace. The Green Revolution purported to solve the world hunger problem to a major degree in Mexico, India and other select countries where Rockefeller worked. Rockefeller Foundation agronomist, Norman Borlaug, won a Nobel Peace Prize for his work, hardly something to boast about with the likes of Henry Kissinger sharing the same. In reality, as it years later emerged, the Green Revolution was a brilliant Rockefeller family scheme to develop a globalized agribusiness which they then could monopolize just as they had done in the world oil industry beginning a half century before. As Henry Kissinger declared in the 1970's, 'If you control the oil you control the country; if you control food, you control the population.' Agribusiness and the Rockefeller Green Revolution went hand-in-hand. They were part of a grand strategy which included Rockefeller Foundation financing of research for the development of genetic engineering of plants and animals a few years later. John H. Davis had been Assistant Agriculture Secretary under President Dwight Eisenhower in the early 1950's. He left Washington in 1955 and went to the Harvard Graduate School of Business, an unusual place for an agriculture expert in those days. He had a clear strategy. In 1956, Davis wrote an article in the Harvard Business Review in which he declared that "the only way to solve the so-called farm problem once and for all, and avoid cumbersome government programs, is to progress from agriculture to agribusiness." He knew precisely what he had in mind, though few others had a clue back then--- a revolution in agriculture production that would concentrate control of the food chain in corporate multinational hands, away from the traditional family farmer.3 A crucial aspect driving the interest of the Rockefeller Foundation and US agribusiness companies was the fact that the Green Revolution was based on proliferation of new hybrid seeds in developing markets. One vital aspect of hybrid seeds was their lack of reproductive capacity. Hybrids had a built in protection against multiplication. Unlike normal open pollinated species whose seed gave yields similar to its parents, the yield of the seed borne by hybrid plants was significantly lower than that of the first generation. That declining yield characteristic of hybrids meant farmers must normally buy seed every year in order to obtain high yields. Moreover, the lower yield of the second generation eliminated the trade in seed that was often done by seed producers without the breeder's authorization. It prevented the redistribution of the commercial crop seed by middlemen. If the large multinational seed companies were able to control the parental seed lines in house, no competitor or farmer would be able to produce the hybrid. The global concentration of hybrid seed patents into a handful of giant seed companies, led by DuPont's Pioneer Hi-Bred and Monsanto's Dekalb laid the ground for the later GMO seed revolution.4 In effect, the introduction of modern American agricultural technology, chemical fertilizers and commercial hybrid seeds all made local farmers in developing countries, particularly the larger more established ones, dependent on foreign, mostly US agribusiness and petro-chemical company inputs. It was a first step in what was to be a decades-long, carefully planned process... Plant breeders and researchers are the major users of gene banks. Today's largest plant breeders are Monsanto, DuPont, Syngenta and Dow Chemical, the global plant-patenting GMO giants. Since early in 2007 Monsanto holds world patent rights together with the United States Government for plant so-called 'Terminator' or Genetic Use Restriction Technology (GURT). Terminator is an ominous technology by which a patented commercial seed commits 'suicide' after one harvest. Control by private seed companies is total. Such control and power over the food chain has never before in the history of mankind existed. This clever genetically engineered terminator trait forces farmers to return every year to Monsanto or other GMO seed suppliers to get new seeds for rice, soybeans, corn, wheat whatever major crops they need to feed their population. If broadly introduced around the world, it could within perhaps a decade or so make the world's majority of food producers new feudal serfs in bondage to three or four giant seed companies such as Monsanto or DuPont or Dow Chemical. That, of course, could also open the door to have those private companies, perhaps under orders from their host government, Washington, deny seeds to one or another developing country whose politics happened to go against Washington's. Those who say 'It can't happen here' should look more closely at current global events. The mere existence of that concentration of power in three or four private US-based agribusiness giants is grounds for legally banning all GMO crops even were their harvest gains real, which they manifestly are not. These private companies, Monsanto, DuPont, Dow Chemical hardly have an unsullied record in terms of stewardship of human life. They developed and proliferated such innovations as dioxin, PCBs, Agent Orange. They covered up for decades clear evidence of carcinogenic and other severe human health consequences of use of the toxic chemicals. They have buried serious scientific reports that the world's most widespread herbicide, glyphosate, the essential ingredient in Monsanto's Roundup herbicide that is tied to purchase of most Monsanto genetically engineered seeds, is toxic when it seeps into drinking water.9 Denmark banned glyphosate in 2003 when it confirmed it has contaminated the country's groundwater.10 The diversity stored in seed gene banks is the raw material for plant breeding and for a great deal of basic biological research. Several hundred thousand samples are distributed annually for such purposes. The UN's FAO lists some 1400 seed banks around the world, the largest being held by the United States Government. Other large banks are held by China, Russia, Japan, India, South Korea, Germany and Canada in descending order of size. In addition, CGIAR operates a chain of seed banks in select centers around the world. CGIAR, set up in 1972 by the Rockefeller Foundation and Ford Foundation to spread their Green Revolution agribusiness model, controls most of the private seed banks from the Philippines to Syria to Kenya. In all these present seed banks hold more than six and a half million seed varieties, almost two million of which are 'distinct.' Svalbard's Doomsday Vault will have a capacity to house four and a half million different seeds. more...
| NewWorldOrder | Earth Changes |
---
Here A "Christ," There A "Christ," Everywhere A "Christ-Christ"! Pastor Larry DeBruyn (March 31, 2008) - Throughout this inter-advent age--the time between Jesus' Incarnation and Second Coming, or Parousia--Jesus and John warned that false prophets would arise preaching the doctrine of replacement christs (Matthew 24:5, 23-24; 1 John 2:18). As Jesus' coming draws nearer, and as pictured by the image of Messiah's birth pangs, we can expect that oracular announcements of anti-christs by the false prophets will multiply and proliferate. Some of these false messiahs will even work deceptive "signs and wonders" (Mark 13:8, 21-22). During this age Jesus warned: "Then if any man shall say unto you, Lo, here is Christ, or there; believe it not. For there shall arise false Christs, and false prophets, and shall shew great signs and wonders; insomuch that, if it were possible, they shall deceive the very elect. Behold, I have told you before. Wherefore if they shall say unto you, Behold, he is in the desert; go not forth: behold, he is in the secret chambers; believe it not" (Matthew 24:23-26, KJV). There can be no greater proliferation of the anti-christ doctrine than belief systems which teach everybody's a christ. Among a host of others, Eckhart Tolle, bestselling author whose writings Oprah Winfrey highly recommends, teaches that all humanity is indwelt by an immanent christ-spirit. He has stated, "Jesus speaks of the innermost I am, the essence identity of every man and woman . . . Some Christian mystics have called it the Christ within . . ."[1] In an earlier writing, he also stated: "In you, as in each human being, there is a consciousness far deeper than thought. It is the very essence of who you are. . . . it is the Christ within, or your Buddha nature."[2] Statements like Tolle's are all over the Internet. Everybody's a christ--they just haven't realized it. To experience "christness," New Age prophets tell us that a shift in consciousness is needed. So we ask, what would Jesus think (WWJT) about such teaching? Before attending to "WWJT," we should know something of the overall New Testament presentation of Christ. In contrast to the plethora of christs advocated by proponents of mystical spirituality, Peter designated, and John affirmed, that Jesus is " the Christ, the Son of the living God" (Emphasis mine, Matthew 16:16; Compare 1 John 2:22-23; 5:1.)[3] The one God has one Son, and the one Son is the one Christ. There can be no other "christs"! Jesus is as John says, "the only begotten from the Father" (John 1:14,18; 3:16, 18; See Hebrews 11:17; 1 John 4:9.), and "only begotten" (Greek, monogenes) means "unique, only one of His kind" (Compare Philippians 2:9-11.). Given the Gnosticism, Immanentism, and Messianism of the new spirituality of the New Age[4], Christ's prophetic warning becomes relevant. He stated, "Wherefore if they shall say unto you, Behold, he is in the desert; go not forth: behold, he is in the secret chambers; believe it not" (Matthew 24:26). Jesus warned His disciples not to look for the Messiah in two places: either "in the desert" or "in the secret chambers." So in light of the popular rise of mystic religion in America during the last half-century, and when compared to the Bible's teaching there's but "one" Christ, the two places where Jesus predicted Christ could not be found become most interesting.
First, disciples are not to think that Christ is hidden somewhere in "the desert." He will not be found, or experienced, by engaging the disciplines, solitude, and silence of ascetic monks who choose, like the Essenes and Desert Fathers, to separate themselves from the corrupting and distracting influences of a worldly civilization and church. Christ will not be found in some personal-mystical experience in a barren desert. Jesus Christ told His disciples, "Don't look for Me there."
Second, He, that is Christ, will not be discovered in "the secret chambers." The two words in the English Bible, translated "secret chambers" (KJV and ASV) or "inner rooms" (NASB, NIV, NKJV, and NRSV), are one word in the Greek text (tameiois). In the New Testament the word is rare (See Matthew 6:6; Luke 12:3.) As a plural noun, the word literally reads, "the secrets." So we can understand Jesus to have warned the disciples: "Don't believe it when the false prophets tell you, 'Look, Christ is in the secrets!'" (Matthew 24:26). About "the secrets," one scholar wrote that Jesus was warning people that false prophets would attempt to lead them astray by, "claiming that they [i.e. the false prophets] have special knowledge; whereas ordinary people do not know where the Messiah is, they do. If people will only trust them, they will lead them to him."[5] Thus, we can see that Jesus' warning is relevant to the spiritual gnosticism (i.e., "knowing") which advocates that there resides a secret christ within, "far deeper than thought," as Tolle puts it, awaiting the awakening of the new consciousness. These days, many peddle a secret Jesus lost in history and shrouded in mystery. This christ, the popular notion goes, is waiting to be revealed, exposed, and unwrapped via some new historical evidence, innovative spiritual program, or radical shift of consciousness. Of such consciousness, Eckhart Tolle also wrote, "The 'second coming' of Christ is a transformation of human consciousness, a shift from time to presence, from thinking to pure consciousness, not the arrival of some man or woman. If 'Christ' were to return tomorrow in some externalized form, what could he or she say to you other than this: 'I am the Truth. I am divine presence. I am eternal life. I am within you. I am here. I am now.'"[6] Guess what? Jesus tells us that we won't find Christ "in the secrets." Messiah is not mentalist. By human imagining, He cannot be reproduced over and over and over again in billions of human minds and hearts. About the deception that Christ can be found in the secret recesses of human consciousness, Jesus says, "Don't you believe it!" As He first warned in His prophetic sermon, "Take heed that no man deceive you. For many shall come in my name, saying, I am Christ; and shall deceive many " (Matthew 24-4b-5).
The Messiah's coming was not, is not, and will not be secreted. Rather, in contradiction to Tolle's dictum, His coming will be "externalized."[7] His coming will not be realized by internally developing a consensus of christ-consciousness on earth below. But as described by the apostle John, Christ will come externally from heaven above. "Behold, he cometh with clouds; and every eye shall see him, and they also which pierced him: and all kindreds of the earth shall wail because of him" (Revelation 1:7). The Christ will come openly and publicly for all to see, and this after true believers have already met "the Lord in the air" (1 Thessalonians 4:17). So in the meantime, and as ordered by Jesus, believers are not to go about looking for Christ in "deserts" or "secrets."
| Apostasy |
---
Rice Wins Concessions From Israel, Paving the Way Towards Peace Agreement Fox News (March 30, 2008) - Israel and the Palestinians agreed Sunday to a series of "concrete steps" aimed at paving the way for a final peace agreement later this year, beginning with Israel's pledge to remove some West Bank roadblocks. Secretary of State Condoleezza Rice, visiting the region for the second time this month in hopes of energize faltering talks, said the moves "constitute a very good start to improving" a Palestinian economy crippled by the Israeli restrictions. Under the plan that Rice announced, Israel will remove about 50 roadblocks, upgrade checkpoints to speed up the movement of Palestinians through the West Bank and give Palestinians more security responsibility in the town of Jenin with an eye toward looking at "other areas in turn." The Israelis also pledged to increase the number of travel and work permits it gives Palestinians and to support economic projects in Palestinian towns. In return, the Palestinians promised to improve policing of Jenin "to provide law and order, and work to prevent terror," according to a State Department statement released shortly before Rice spoke. Israeli Defense Minister Ehud Barak and Palestinian Prime Minister Salaam Fayyad consented to the steps at a joint meeting with Rice earlier Sunday. They agreed to pursue the measures with "special, immediate emphasis and work," the statement said. "We've been told that this is going to start and, hopefully even be completed in a relatively short period of time," Rice told reporters. "I am expecting it to happen very, very soon." "We will be monitoring and verifying," she added. The agreement includes:
removing 50 travel barriers in and around Jenin, Tulkarem, Qalqiliya and Ramallah.
dismantling of one permanent roadblock.
deploying 700 Jordanian-trained Palestinian police in Jenin and allowing them to take delivery of armored vehicles.
raising the the number of Palestinian businessmen allowed into Israel to 1,500 from 1,000.
increasing the number of work permits for Palestinian laborers by 5,000 from its current number of 18,500.
building new housing for Palestinians in 25 villages.
connecting Palestinian villages to the Israeli power grid.
Israeli support for large-scale economic development programs and encouragement of foreign investment.
Neither Barak nor Fayyad commented on the developments when they appeared at a brief photo opportunity with Rice after their meeting. One Palestinian official said he welcomed any improvement, but that Israel's moves were "too little, too late." "We want Israel to move quickly in removing these obstacles that make no sense and make the lives of the Palestinians difficult," said Samir Abdullah, the Palestinian planning minister. Israel maintains hundreds of checkpoints, roadblocks and other travel restrictions in the West Bank, and says they are needed to stop suicide bombers. The Palestinians say the restrictions are excessive and have stifled their economy. They have made removal of the checkpoints a priority as the two sides, with U.S. backing, try to negotiate a peace agreement by year's end. Rice had said she was looking for "meaningful" steps to put in place the stalled U.S.-supported plan that envisions the creation of an independent Palestinian state through concessions on both sides. "There has not been enough momentum," she said. "This is a start in terms of delivering on some of those obligations."
| Israel | Islam | Dividing the Land | 1st Seal | America |
---
Laser plane could destroy tanks from 10 miles Telegraph.uk (March 29, 2008) - The United States Defence Department has developed a prototype of an aircraft armed with a laser gun that could destroy tanks 10 miles away. The weapon is capable of destroying targets up to 15km (10m) away, according to Defense Update online magazine. The ten-centimetre-wide beam will heat targets almost instantly to thousands of degrees and will slice through metal even at maximum range. It is intended both for battlefield use and for missile defense. It is anticipated the beam will be adjustable, allowing the gunner to choose between, for example, targeting a vehicle's fuel tank to destroy it utterly, or slice through a tyre to bring it to a halt without injuring the driver. The laser will be housed in a rotating turret attached to the underside of the aircraft and will be aimed independently of the plane. Early tests have focused on testing the rotation of the laser housing. So far the laser itself has not been tested in flight, but first trials are expected during 2008. Tests on a laser for destroying vehicles will be carried out on the prototype based on the C-130 "Hercules" transport aircraft. A separate version of the missile will be trialled on a Boeing 747.
| Technology |
---
EU borderless zone to be extended to airports EU Observer (March 28, 2008) - At midnight on Sunday (30 March) the enlargement of the EU's borderless zone to eight Eastern European countries and Malta will be completed through the lifting of air border controls between them and the 15 countries already part of the area. The enlargement of the so-called Schengen area started on 21 December when land and sea border checks between Estonia, Hungary, Latvia, Lithuania, Malta, Poland, Slovenia, Slovakia and the Czech Republic, and the other Schengen countries were abolished. "The enlargement of the Schengen zone to 24 member states is now complete," EU transport commissioner Jacques Barrot stated on Friday (28 March) referring to the inclusion of airports. "I would like to underline the symbolic and concrete importance of this change," he said. "The free movement of persons represents one of the fundamental [EU] principles. [It is] concrete, as the life of the citizens moving within the Schengen zone will be very simplified," he added. While air companies will continue to perform identity checks at check-in and boarding, people will from Sunday onwards be allowed to fly from one airport to another within the Schengen area without being subjected to other formalities. In addition, "it will be the end of a certain number of long queues and procedures for EU citizens, as well as for third country nationals travelling within Schengen by air", said Mr Barrot. In order to celebrate the lifting of air borders, several member states have planned media events at their main airports. more...
| EU/UN / 4th Kingdom |
---
Report: Iranian, Syrian missiles to pound Israel in next war YNet News (March 24, 2008) - Hundreds of dead, thousands of injured, missile barrages on central Israel, full paralysis at Ben-Gurion Airport, constantly bombed roads, nationwide power outages that last for long hours, and whole regions' water supply being cut off – this is what the next war could look like. A secret report recently distributed among government ministries and local municipalities details various wartime scenarios. The report deals with very harsh possibilities, including some that are downright horrifying, formulated as part of the lessons drawn in the wake of the Second Lebanon War. Notably, the document does not aim to predict future developments with certainty, but rather, only aims to serve as a guideline for civilian war preparations. The above assessment is characterized as a "severe reasonable scenario" – that is, it is not the gravest scenario, but also not the most favorable. According to this scenario, the war will last for about a month and will include the participation of Syria (military operations on the Golan Heights front and the firing of many Scud missiles at the home front,) Lebanon (the firing of thousands of Hizbullah rockets at the Galilee and Haifa as well long-range missiles at central Israel,) and the Palestinian Authority (relatively limited conflict that would include short-range rockets fired from Gaza and the West Bank as well as terror attacks such as suicide bombings within Israel.) According to this scenario, Iran will also get involved in the war, but will only fire a limited number of missiles rather than non-conventional weapons. In addition to missile barrages, the scenario includes aerial strikes on military and strategic targets, attacks on infrastructure facilities, and attempted abductions of civilians and soldiers. Such hypothetical war, according to the assessment, will leave 100-230 civilians dead, and 1,900-3,200 Israelis wounded. However, should Israel be attacked with chemical weapons, the number of killed and wounded Israelis would skyrocket to 16,000. Under such circumstances, as a result of missile damage, chemical contamination, and the razing of homes the State would have to evacuate as many as 227,000 Israelis from their homes. According to the assessment, about 100,000 people would seek to leave the country should such scenario materialize.
| Iran | Israel | Islam | Isaiah 17 |
---
Bernanke: Federal Reserve caused Great Depression WorldNet Daily (March 19, 2008) - Despite the varied theories espoused by many establishment economists, it was none other than the Federal Reserve that caused the Great Depression and the horrific suffering, deprivation and dislocation America and the world experienced in its wake. At least, that's the clearly stated view of current Fed Chairman Ben Bernanke. The worldwide economic downturn called the Great Depression, which persisted from 1929 until about 1939, was the longest and worst depression ever experienced by the industrialized Western world. While originating in the U.S., it ended up causing drastic declines in output, severe unemployment, and acute deflation in virtually every country on earth. According to the Encyclopedia Britannica, "the Great Depression ranks second only to the Civil War as the gravest crisis in American history." What exactly caused this economic tsunami that devastated the U.S. and much of the world? In "A Monetary History of the United States," Nobel Prize-winning economist Milton Friedman along with coauthor Anna J. Schwartz lay the mega-catastrophe of the Great Depression squarely at the feet of the Federal Reserve. Here's how Friedman summed up his views on the Fed and the Depression in an Oct. 1, 2000, interview with PBS:
PBS: You've written that what really caused the Depression was mistakes by the government. Looking back now, what in your view was the actual cause?

Friedman: Well, we have to distinguish between the recession of 1929, the early stages, and the conversion of that recession into a major catastrophe. The recession was an ordinary business cycle. We had repeated recessions over hundreds of years, but what converted [this one] into a major depression was bad monetary policy. The Federal Reserve System had been established to prevent what actually happened. It was set up to avoid a situation in which you would have to close down banks, in which you would have a banking crisis. And yet, under the Federal Reserve System, you had the worst banking crisis in the history of the United States. There's no other example I can think of, of a government measure which produced so clearly the opposite of the results that were intended. And what happened is that [the Federal Reserve] followed policies which led to a decline in the quantity of money by a third. For every $100 in paper money, in deposits, in cash, in currency, in existence in 1929, by the time you got to 1933 there was only about $65, $66 left. And that extraordinary collapse in the banking system, with about a third of the banks failing from beginning to end, with millions of people having their savings essentially washed out, that decline was utterly unnecessary. At all times, the Federal Reserve had the power and the knowledge to have stopped that. And there were people at the time who were all the time urging them to do that. So it was, in my opinion, clearly a mistake of policy that led to the Great Depression.
Although economists have pontificated over the decades about this or that cause of the Great Depression, even the current Fed chairman Ben S. Bernanke, agrees with Friedman's assessment that the Fed caused the Great Depression. At a Nov. 8, 2002, conference to honor Friedman's 90th birthday, Bernanke, then a Federal Reserve governor, gave a speech at Friedman's old home base, the University of Chicago. Here's a bit of what Bernanke, the man who now runs the Fed – and thus, one of the most powerful people in the world – had to say that day:
I can think of no greater honor than being invited to speak on the occasion of Milton Friedman's ninetieth birthday. Among economic scholars, Friedman has no peer. … Today I'd like to honor Milton Friedman by talking about one of his greatest contributions to economics, made in close collaboration with his distinguished coauthor, Anna J. Schwartz. This achievement is nothing less than to provide what has become the leading and most persuasive explanation of the worst economic disaster in American history, the onset of the Great Depression – or, as Friedman and Schwartz dubbed it, the Great Contraction of 1929-33. … As everyone here knows, in their "Monetary History" Friedman and Schwartz made the case that the economic collapse of 1929-33 was the product of the nation's monetary mechanism gone wrong. Contradicting the received wisdom at the time that they wrote, which held that money was a passive player in the events of the 1930s, Friedman and Schwartz argued that "the contraction is in fact a tragic testimonial to the importance of monetary forces."
After citing how Friedman and Schwartz documented the Fed's continual contraction of the money supply during the Depression and its aftermath – and the subsequent abandonment of the gold standard by many nations in order to stop the devastating monetary contraction – Bernanke adds:
… Before the creation of the Federal Reserve, Friedman and Schwartz noted, bank panics were typically handled by banks themselves – for example, through urban consortiums of private banks called clearinghouses. If a run on one or more banks in a city began, the clearinghouse might declare a suspension of payments, meaning that, temporarily, deposits would not be convertible into cash. Larger, stronger banks would then take the lead, first, in determining that the banks under attack were in fact fundamentally solvent, and second, in lending cash to those banks that needed to meet withdrawals. Though not an entirely satisfactory solution – the suspension of payments for several weeks was a significant hardship for the public – the system of suspension of payments usually prevented local banking panics from spreading or persisting. Large, solvent banks had an incentive to participate in curing panics because they knew that an unchecked panic might ultimately threaten their own deposits.

It was in large part to improve the management of banking panics that the Federal Reserve was created in 1913. However, as Friedman and Schwartz discuss in some detail, in the early 1930s the Federal Reserve did not serve that function. The problem within the Fed was largely doctrinal: Fed officials appeared to subscribe to Treasury Secretary Andrew Mellon's infamous 'liquidationist' thesis, that weeding out "weak" banks was a harsh but necessary prerequisite to the recovery of the banking system. Moreover, most of the failing banks were small banks (as opposed to what we would now call money-center banks) and not members of the Federal Reserve System. Thus the Fed saw no particular need to try to stem the panics. At the same time, the large banks – which would have intervened before the founding of the Fed – felt that protecting their smaller brethren was no longer their responsibility. Indeed, since the large banks felt confident that the Fed would protect them if necessary, the weeding out of small competitors was a positive good, from their point of view.

In short, according to Friedman and Schwartz, because of institutional changes and misguided doctrines, the banking panics of the Great Contraction were much more severe and widespread than would have normally occurred during a downturn. …

Let me end my talk by abusing slightly my status as an official representative of the Federal Reserve. I would like to say to Milton and Anna: Regarding the Great Depression. You're right, we did it. We're very sorry. But thanks to you, we won't do it again. Best wishes for your next ninety years.
Today, the entire Western financial world holds its breath every time the Fed chairman speaks, so influential are the central bank's decisions on markets, interest rates and the economy in general. Yet the Fed, supposedly created to smooth out business cycles and prevent disruptive economic downswings like the Great Depression, has actually done the opposite.
| NewWorldOrder | America | Economic Crisis |
Executive order: By virtue of the authority vested in me by Section 5(B) of The Act of Oct. 6, 1917, as amended by section 2 of the Act of March 9, 1933, in which Congress declared that a serious emergency exists, I as President, do declare that the national emergency still exists; That the continued private hoarding of gold and silver by subjects of the United States poses a grave threat to the peace, equal justice, and well-being of the United States; and that appropriate measures must be taken immediately to protect the interests of our people.

"Therefore, pursuant to the above authority, I herby proclaim that such gold and silver holdings are prohibited, and that all such coin, bullion or other possessions of gold and silver be tendered within fourteen days to agents of the Government of the United States for compensation at the official price, in the legal tender of the Government. All safe deposit boxes in banks or financial institutions have been sealed, pending action in the due course of the law. All sales or purchases or movements of such gold and silver within the borders of the United States and its territories, and all foreign exchange transactions or movements of such metals across the border are herby prohibited.

"Your possession of these proscribed metals and/or your maintenance of a safe-deposit box to store them is known to the Government from bank and insurance records. Therefore, be advised
that your vault box must remain sealed, and may only be opened in the presence of an agent of The Internal Revenue Service.

"By lawful Order given this day, the President of the United States."
---
Ghost of Nazi Past, Ghost of Nazi Present A Time, Times, and Half A Time (March 16, 2008) - Quite often as I've spent time preparing material for this blog space, I've thought to myself, "this is a resurgence of Nazism". I had been raised in a household by a father who purchased every book he could find related to the first and second world wars. I knew that it was important to direct attention to this area and parallel the changes the Nazi's made to law with those being prepared by the global government. I understood this would be an extremely time consuming task and one which I was not too excited to start. Fortunately for me, around Christmas time, as I passed through the history section in Barnes & Noble, a book title caught my eye. The book The Third Reich In Power by Richard J. Evans had done exactly what I was preparing to do. It seemed as though it was God's Christmas present to me for which I am thankful. Richard Evans has provided an excellent high level overview of Nazi changes to law and culture—a book which I highly recommend. I will be quoting from Evans' work extensively in this and the next blog post. The format will be that I present a passage from The Third Reich In Power followed by citations of global governance proposals. I have already dedicated ink to much of the material I'm about to cover, but it is worth re-reading as one considers we have seen this before in various dictatorships, and in particular, the Nazi regime. Throughout my lifetime, I've heard people argue that what happened in Nazi Germany could never happen again. My father advised me that when people truly start to believe that, that's when it will happen. Perhaps Richard Evans best explains this mindset as "the further in time we get from Nazi Germany, the more difficult it becomes for historians living in democratic political systems and in cultures which respect the rights of the individual to make the leap of imagination necessary to understand people's behaviour in a state such as Nazi Germany, where imprisonment, torture or even death might await anyone who dared to voice the slightest criticism of the regime and its leaders." Pg 116 Indeed, and today the masses may be prepared to accept the doctrines like those of the Nazis-- the newly-proposed model of Shared Security, a.k.a, "Civilian-Military Cooperation (CIMIC), "Responsibility to Protect", "Human Security"—because their architects present the doctrines as belonging to the human rights framework. Nonetheless, the definition of human rights has become a slippery slope. For example, any religious or political viewpoint that does not fall within "common shared value" guidelines is considered extremist and said to be a gross violation of another's human rights. Therein the hostilities begin. Following, I have divided sections into topic. The lead section which is bolded has been quoted from The Third Reich in Power. The italicized sections following it are citations which demonstrate there are calls to implement similar legislation.
Cultural/Social
"…he [Justice Minister Gurtner] quickly appointed a committee to revise the Reich Criminal Code of 1871 in accordance with the new ethos of the Third Reich. As one committee member, the criminologist, Edmund Mezger, put it, the aim was to create a new synthesis of 'the principle of the individual's responsibility to his people, and the principle of the racial improvement of the people as a whole." Pg 72
"Everyone has duties to the community in which alone the free and full development of his personality is possible." | Article 29, Universal Declaration on Human Rights
"UNESCO promotes respect for all dimensions of cultural diversity since it is the very fabric of humankind and the "common heritage of humanity", as stipulated in the UNESCO Universal Declaration on Cultural Diversity…The Declaration furthermore aims at preserving cultural diversity as a living, and thus renewable treasure that must not be perceived as static but rather as a process guaranteeing the survival of humanity…the Declaration is dedicated to preventing segregation and fundamentalism which, in the name of cultural differences, could sanctify those differences and in doing so, counter the message of the Universal Declaration of Human Rights." | Rosa Guerreiro
more...
| EU/UN / 4th Kingdom | NewWorldOrder | America |
---
China's Big RFID Market Beyond The National ID Program RFID News (March 10, 2008) - China not only boasts the "world's largest" RFID-enabled government ID card initiative, but a wide range of other RFID projects in transportation, animal-tagging, anti-counterfeiting and real-time location systems tracking. And it's a market that in 2008 will reach $1.4 billion in revenue, according to ABI Research. Perhaps the sexiest project in the works is the RFID e-ticketing apps for the upcoming 2008 Olympic Games and 2010 World EXPO (in Shanghai). "We could see more than 12 million e-tickets for the Beijing games," notes Michael Liard, ABI's RFID research director.
| Technology |
---
Parents urged to boycott homosexual indoctrination WorldNet Daily (March 8, 2008) - What if homosexual rights advocates staged a huge promotional event and no one came to see it? That's exactly what a coalition of organizations is proposing for April 25, this year's "Day of Silence," which is sponsored in public schools across the nation. "It's outrageous that our neighborhood schools would allow homosexual activism to intrude into the classroom," said Buddy Smith of the American Family Association, one of a long list of organizations asking parents to keep their students home from school on that day. "'Day of Silence' is about coercing students to repudiate traditional morality. It's time for Christian parents to draw the line – if your children will be exposed to this DOS propaganda in their school, then keep them home for the day," he said. The "Day of Silence" promotion is intended, ostensibly, to make students "aware" of the "discrimination" suffered by homosexuals in society, by having students remain silent for the day. Such events typically are organized by a school's "Gay-Straight Alliance" group, but the event has been promoted for its previous 11 years by the Gay, Lesbian and Straight Education Network, an organization with the agenda of establishing homosexual advocacy organizations such as GSAs in all schools in the nation. The pro-family coalition said the event "is designed to pressure students to regard homosexual, bisexual, and transgender behavior as normal and worthy." It said the teaching environment is disrupted by the event because some students "and even some teachers" remain silent through the school day. Protesters wear T-shirts and hand out 'speaking cards' protesting alleged injustice, harassment, prejudice, and discrimination toward 'LGBT' people and their 'allies,'" the coalition said. Linda Harvey, a spokeswoman for Mission America, told WND, "It's incredibly important that parents be very aware because things are quickly getting to a bizarre level." A parent in Massachusetts was jailed when he objected to his kindergarten son being presented with a public school district book advocating homosexuality, and in California, lawmakers have written a law requiring teachers to present only positive representations of such alternative lifestyle choices. Such events only "honor" such alternative lifestyles, she said. "When a parent finds out about this kind of event, they need to take immediate action, join with other parents. They need to go to the school board. They need to be persistent. They will get a cold shoulder from those who say, 'We've never heard this [concern] before.' Those are standard responses. They need to be persistent, and very, very discerning about what's really going on and who's advocating this," she warned. The harm being done is enormous, she noted. "We need to be very, very concerned about the harm, for our own children and all of these children," she said. "[Under such indoctrination,] we are creating barbarians. Parents want something other than barbarians living down the street. They need to care about their own kids. They need to take this seriously. Your kids are learning to respect this behavior." Besides being morally objectionable, such lifestyles present enormously higher risks for children for HIV and other related health damage, she noted. "[Parents] need to decide this is real, this is extremely damaging. And it's only going to get worse. In the early 1990s there were a handful of homosexual clubs at schools. Now there are about 3,500-4,000 in high schools and they are increasing. The big trend now is in middle schools. GLSEN has made it a goal to have homosexual clubs in every school K-12. They're going to make it if we don't stand up and be counted," she said. Matt Barber, a spokesman for Concerned Women for America, said the day "amounts to educational malpractice." ""Our schools are supposed to be places of learning, not places of political indoctrination. It is the height of impropriety and cynicism for 'gay' activists and school officials to use children as pawns in their attempt to further a highly controversial and polarizing political agenda," he said. "Social activism does not belong in the classroom," added Peter LaBarbera of Americans for Truth. The coalition is suggesting parents ask their school districts about "Day of Silence" plans, especially the date because some school districts vary. Then, the group said, parents should "inform the school of our intention to keep your children home on that date and explain why." Then parents should talk with their children about the issue and explain homosexual behavior is not an "'innate identity,' it is sinful and unnatural," the coalition suggested. And church and religious leaders should be encouraged to organize opposition to public school promotion of homosexuality. more...
| Signs of the Times | America |