News for May 13, 2008
---
Etna Volcano Rumbles Back to Life in Sicily Breitbart.com (May 13, 2008) - The Etna volcano in Sicily rumbled back to life on Tuesday with a "seismic event" followed by a burst of ash, volcanologists said three days after minor eruptions shook the cone. A "seismic event provoking a strong explosion was recorded Tuesday at 0424 GMT (6:42 am local) in parts of the peak of the volcano," the National Geophysics and Vulcanology Institute in Sicily's Catania region said in a statement. The explosion on Etna, Europe's tallest active volcano at 3,295 metres (10,810 feet), was followed by a rain of ash on the southeast crater, "where significant gas emissions are occurring," the statement said. The institute dispatched experts on Tuesday to the site, but "the phenomenon currently represents no danger to people or property," it said. Saturday's eruption, accompanied by streams of lava, was also at the volcano's southeast crater. The last eruption of Mount Etna was in November 2007, two months after another eruption forced a temporary closure of nearby Catania airport due to flowing lava and clouds of ash. The last major eruption was in 2001.
| Earth Changes |
---
Ahmadinejad: Israel to be 'swept away soon' The Earth Times (May 13, 2008) - Iranian President Mahmoud Ahmadinejad said Tuesday that Israel would "be soon swept away" from the Palestinian Territories by the Palestinians. It is the second time within less than three years that the Iranian president predicted the eradication of the Jewish state. The first time was in 2005 when Ahmadinejad hoped that Israel would be eradicated from the Middle East map. "This terrorist and criminal state is backed by foreign powers, but this regime would soon be swept away by the Palestinians," Ahmadinejad said in a press conference in Tehran. Referring to worldwide celebrations for the 60th anniversary of Israel's foundation, he said that "it would be futile to hold a birthday ceremony for something which is already dead." "As far as the regional countries are concerned, this regime does not exist," Ahmadinejad added. The Iranian president said last week that the anniversary feasts could not save this "rotten and stinking corpse." Ahmadinejad caused international outrage in the past by hoping for the eradication of Israel, the relocation of the Jewish state to Europe or Alaska and questioning the historic dimensions of the Holocaust.
| Iran | Israel | Islam | Gog/Magog |
---
Iran's Ambassador to Syria says Israel in worst ever condition Mathaba (May 13, 2008) - President's Advisor and IRI Ambassador in Syria said here Monday occupying regime of Holy Qods is currently in its worst ever condition, getting weaker with passage of each day, and moving towards extinction. According to IRNA correspondent in Syria, Hojjatoleslam Seyyed Ahmad Moussavi made the comment here on Monday night at the opening ceremony of a conference titled "Repatriation, A Sacred And Legitimate Right", sponsored by Damascus based Arab Writers Union. Moussavi added, "Israel has ever since its establishment been serving the colonialist, and later on neo-colonialist Western powers as a tool for strengthening their hegemony in this sensitive region." The Iranian diplomat added, "The US President assumes that the entire nations in this region are waiting for him to issue commands and obey them, but the Americans are today beginning to realize that not only that has been a simple minded assumption, but also the US and Israeli plots for the region are facing humiliating defeats in the region one after the other." Referring to the existence of numerous conflicts and difficulties within the Islamic and Arab worlds, he said, "Despite all those problems and challenges, the root cause of most of which is US and Israeli plots, the victory of Muslims in the long run is easy to predict." The Islamic Republic of Iran's ambassador to Syria emphasized that freedom and liberation cannot be achieved without tolerating the hardships of Jihad (sacred defensive war), resistance, and unity. He added, "In order to achieve independence, freedom, and competence in facing the ever increasing challenges in today's world, the world Muslims need to get acquainted with the culture of resistance, and to keep alight the light of hope for embracing final victory in their hearts." Hojjatoleslam Moussavi who was addressing the audience at the conference on the verge of the 60th wretched anniversary of Israel's illegitimate establishment meanwhile warned the Muslims to beware of the incessant cultural onslaught of the West. He added, "The main objective of this onslaught is annihilation of the Islamic and indigenous values of our nations, as well as braking the bonds of unity within the Islamic and Arab societies." The Zionists occupied the major part of Palestine's lands on May 15th, 1948 and in 1967 seized the entire territory of that oppressed nation. The Palestinians refer to the latter day, when they lost their lands, became homeless, and were broadly massacred by the Zionists as "Yaum ul-Nikba" (The Wretched Day), remembering it as the most catastrophic day in their history, but the illegitimate Zionist state celebrates the same day annually. Mousavi then referred to the occupation of Palestine initially by the British forces, and then handing it to the agents of the International Zionism, who facilitated for the three waves of the world Jews' migration to that holy land as the most perilous plot hatched n the West against the Islamic World. He emphasized, "Accusing the world Muslims of nurturing terrorists and of having terrorist tendencies today, is a stage in continuation of the same nasty plot." Mousavi said, "The late founder of the Islamic Republic of Iran, Imam Khomeini (P) considered defending the Palestinian nation, and their ideals a top priority of Iran's foreign policy. Iran's ambassador to Damascus added, "A couple of signs of remaining faithful to that policy is his announcement of the last Friday of the fasting month of Ramadan as the International Qods Day, closure f Israel's embassy in Tehran, and establishment of Palestine's Embassy in its place soon after the victory of the Islamic Revolution." The two-day conference is held in the presence of a large number of Iranian and Arab Alims and thinkers. Among the prominent Arab personalities at the conference there are the head of the Arab Writers Union, Hussain Jum'ah, Deputy Secretary General of Palestine's Islamic Jihad Movement, Amal, and head of Iran-Arab Friendship Committee, Adnan Abu-Nasser.
| Iran | Israel | Islam | Isaiah 17 | Gog/Magog |
---
Blair unveils new 'West Bank package' The Jerusalem Post (May 13, 2008) - Quartet envoy Tony Blair on Tuesday unveiled a package of steps designed to allow greater movement in the West Bank, and help the Palestinian economy grow in a way in which he said would be consistent with protecting Israeli security. Blair, speaking a day before the arrival of US President George Bush, said that the Israelis and the Palestinian Authority, after weeks of negotiations, have agreed on the steps which he said could begin to change the reality on the ground. "For Palestinian statehood to be possible in the eyes of Palestinians there must be hope that occupations will, over time, be lifted," Blair said. "For Palestinian statehood to be possible in the eyes of Israelis, there must be hope, over time, that the security of Israel will be improved and not harmed by the way the Palestinians run their territory." Blair, at a press conference at his headquarters in the American Colony Hotel, said that the centerpiece of the package is an area in and around Jenin which is greater in land mass than the Gaza Strip, where the Palestinians will be given increased security authority and a number of economic and social projects will begin there. In addition, Blair said that the Israelis had agreed to remove four checkpoints throughout the West Bank, upgrade seven others, and move one.
| Israel | Islam | Dividing the Land |
---
Tornado season deadliest in a decade USA Today (May 13, 2008) - The USA has been ravaged through mid-May by a near-record number of tornadoes that has pushed the death toll — including 47 killer twisters over the weekend — to a 10-year high. The deaths of 98 people attributed to tornadoes this year has made 2008 the deadliest year thus far for tornadoes since 1998 and the seventh deadliest since modern recordkeeping began in 1950, The Weather Channel said. Such a rate could make 2008 the year with the most tornadoes since 1950. "We are on a pace that continues a record number" of twisters, said Greg Forbes, severe weather expert at The Weather Channel. Violent storms over the weekend that spawned tornadoes left at least 22 people dead from the southern Plains states eastward to Georgia, including seven deaths in the tiny town of Picher, Okla., and 10 deaths in Seneca, Mo. Storms remained active Sunday night as they swept eastward. The National Weather Service said tornado watches were in effect for southern Georgia into northern Florida, as well as south central Virginia, much of North Carolina and northern South Carolina. The National Weather Service takes weeks to confirm actual numbers of tornadoes but The Weather Channel said it believes there were 47 separate twisters as of May 11 putting the count for the year at 636. That is second only to the No. 1 year of 1999, when 669 tornadoes hit through the same date, Forbes said. As for deaths by tornado, this year has seen the most through May 11 since 115 were killed by tornado in 1998, Forbes said. That year ended with 130 total deaths because of tornadoes. Meteorologists say wind conditions and weather patterns have been ideal for creating twisters this year. The jet stream, a shifting river of air at high altitudes, has been moving from the southwestern USA toward the Great Lakes and pulling moist air from the Gulf of Mexico. The contrast between the warm southern air and cold air aloft creates winds that can spin turn into twisters. more...
| Earth Changes | America |
---
Report: Death toll in China quake exceeds 12,000 Associated Press (May 13, 2008) - Soldiers hiking over landslide-blocked roads reached the epicenter of China's devastating earthquake Tuesday, pulling bodies and a few survivors from collapsed buildings. The death toll of more than 12,000 was certain to rise as the buried were found. Rescuers worked through a steady rain searching wrecked towns across hilly stretches of Sichuan province that were stricken by Monday's magnitude-7.9 quake, China's deadliest in three decades. Tens of thousands spent a second night outdoors, some sleeping under plastic sheeting, others bused to a stadium in the city of Mianyang, on the edge of the disaster area. Street lamps were switched on in Mianyang on Tuesday night, but all the buildings were dark and deserted after the government ordered people out of them for fear of aftershocks. Security guards were posted at apartment blocks to keep people out. The industrial city of 700,000 people — home to the headquarters of China's nuclear weapons design industry — was turned into a thronging refugee camp, with residents sleeping outdoors. "I'm cold. I don't dare to sleep, and I'm worried a building is going to fall down on me," said Tang Ling, a 20-year-old waitress wrapped in a borrowed pink down jacket and camped outside the Juyuan restaurant with three co-workers. "What's happened is so cruel. In one minute to have so many people die is too tragic." As night fell, a first wave of 200 soldiers entered the town of Wenchuan, near the epicenter, trudging across ruptured roads and mudslides, state television said. Initial reports from troops said one nearby town could account for only 2,300 survivors out of 9,000 people, China Central Television said. At least 12,012 deaths occurred in Sichuan alone while another 323 died in five other provinces and the metropolis of Chongqing, state media reported. That toll seemed likely to jump sharply as rescue teams reached hard-hit towns. The devastation and ramped-up rescue across large, heavily populated region of farms and factory towns strained local governments. Food dwindled on the shelves of the few stores that remained open. Gasoline was scarce, with long lines outside some stations and pumps marked "empty." more...
| Earth Changes |
---
Global free market for food and energy faces biggest threat in decades Telegraph.UK (May 10, 2008) - The global free market for food and energy is facing its biggest threat in decades as a host of countries push through draconian measures to hold down prices, raising fears of a new "resource nationalism" that could endanger world food security. India shocked the markets yesterday by suspending trading in futures contracts for a range of farm products in a bid to clamp down on alleged speculators and curb inflation, now running at 7.6pc. The country's Forward Markets Commission said contracts for soybean oil, chana (chickpeas), potatoes, and rubber had been banned for four months, even though a report by the Indian parliament last month concluded that soaring food costs had almost nothing to do with the futures contracts. Traders in Mumbai slammed the ban as an act of brazen political populism. The move has been seen as a concession to India's Communist MPs - key allies of premier Manmohan Singh - who want a full-fledged ban on futures trading in sugar, cooking oil, and grains. As food and fuel riots spread across the world, a string of governments have resorted to steps that menace the free flow of food and key commodities. Argentina has banned beef exports, while Egypt and India have stopped shipments of rice. Kazakhstan has prohibited wheat exports. Russia has slapped a 40pc export duty on shipments, and Pakistan a 35pc duty. China, Cambodia, Malaysia, Philipines, Sri Lanka, and Vietnam have all imposed export controls or forms of rationing to ease the crisis. UN Secretary-General Ban Ki-moon has warned that this lurch towards national controls is becoming a threat to the open global system we all take for granted. "If not handled properly, this crisis could result in a cascade of others and affect political security around the world," he said. A new report by UBS says the scramble for scarce raw materials is turning ever more political, with ominous implications for ill-endowed societies that rely on imports. "The bottom line is that countries with resources, particularly in food and energy are becoming more protective of these resources," it said. more...
| 3rd Seal |
---
Myanmar junta votes as cyclone victims starve AFP (May 10, 2008) - Myanmar's junta Saturday held a vote on a new constitution, ignoring pleas to focus on delivering urgently needed food supplies to 1.5 million cyclone victims facing disease and hunger. The referendum being held in all but the most devastated parts of the country is the first balloting to take place in Myanmar since the disallowed elections in 1990, in which democratic icon Aung San Suu Kyi secured a landslide victory. Voting was postponed by two weeks in the former capital of Yangon, as well as most of the Irrawaddy delta where Cyclone Nargis struck last week, leaving 65,000 dead or missing according to the junta's count. Although Myanmar says it will now accept aid from the United States, it has tussled with the World Food Programme over unloading UN supplies, triggering a brief suspension of the global body's relief flights Friday. "My understanding is that it has not yet been released into our hands, but we are working around the clock to get access," Marcus Prior, a Bangkok-based spokesman for WFP, said of a vital UN aid shipment impounded by authorities. "We have people who know how to work these channels, and they are," he said as the supplies -- enough high-energy biscuits to feed 95,000 survivors -- remained stuck at Yangon airport more than 24 hours after being delivered. "It is frustrating but that doesn't mean we're going to throw up our hands and give up. To the contrary -- we're going to work harder," he said. The UN has launched an emergency appeal for 187 million dollars to help the cyclone victims, but Secretary General Ban Ki-moon has not yet succeeded in speaking directly with the reclusive junta leader, Than Shwe, a UN source said. The junta has also refused to allow in foreign aid workers to direct the relief effort, drawing condemnation from the UN and world leaders who urged the ruling generals to open their doors. The situation on the ground is one of horror, with starving survivors looking for food in waterways littered with dead bodies and aid groups warning that time is running out. Countless masses are suffering in the waterlogged southern delta, where entire villages were washed away. "I am angry with the government," said Dowla Shwe, a single mother with five children who said her house was one of the many that simply vanished when the powerful storm tore through her village. She said the military had brought no aid or food -- and that she feared her children would now starve to death. "If they can't help, why not allow foreigners to come and help us?" more...
---
Hezbollah to end Beirut seizure BBC News (May 10, 2008) - The army revoked two key government measures that had led to four days of street fighting between the two sides, leaving at least 37 people dead. But it has vowed to continue civil disobedience until its demands are met. The fighting was sparked by a government move to shut down Hezbollah's telecoms network and the removal of the chief of security at Beirut airport for alleged Hezbollah sympathies. Earlier, Prime Minister Fouad Siniora called on the army to restore law and order, saying the country would not fall to Hezbollah after four days of street battles which saw the Shia movement drive supporters of the government out of western Beirut. In his first response to Hezbollah's de facto takeover of the west of the capital, Mr Siniora said his government would never declare war against the Shia group. The latest violence amounts to a humiliating blow to the government, which appears to have badly overplayed its hand in moving to close Hezbollah's telecoms network on Tuesday, our correspondent says. more...
| Iran | Islam |
---
Hezbollah gunmen seize large areas of Beirut Associated Press (May 9, 2008) - Shiite Hezbollah gunmen seized control of key parts of Beirut from Sunnis loyal to the U.S.-backed government Friday, a dramatic show-of-force certain to strengthen the Iranian-allied group's hand as it fights for dominance in Lebanon's political deadlock. An ally of Hezbollah said the group intended to pull back, at least partially, from the areas its gunmen occupied overnight and Friday morning — signaling Hezbollah likely does not intend a full-scale, permanent takeover of Sunni Muslim parts of Beirut, similar to the Hamas takeover of Gaza a year ago. The clashes eased by Friday evening as Lebanon's army began peacefully moving into some areas where Hezbollah gunmen had a presence. But as Hezbollah gunmen celebrated in the capital's empty streets — including marching down Hamra Street, one of its glitziest shopping lanes — it was clear that the show-of-force would have wide implications for Lebanon and the entire Mideast. Lebanon's army largely stood aside as the Shiite militiamen scattered their opponents and occupied large swaths of the capital's Muslim sector early Friday — a sign of how tricky Lebanon's politics have become. In one instance, the army stood aside as Shiite militiamen burned the building of the newspaper of their main Sunni rival — acting only to evacuate people and then allow firefighters later to put out the blaze. The army has pledged to keep the peace but not take sides in the long political deadlock — which pits Shiite Hezbollah and a handful of allies including some Christian groups, against the U.S.-backed government, which includes Christian and Sunni Muslims. Three days of street battles and gunfights capped by Friday's Hezbollah move have killed at least 14 people and wounded 20 — the country's worst sectarian fighting since the 1975-1990 civil war. Three more people were killed in two separate incidents on Friday after the Hezbollah takeover. Two of them were Druse allies of Hezbollah who died in a shooting in a hilly suburb southeast of the capital late Friday, security officials said. For Beirut residents and those across the Mideast, it was a grim reminder of that troubled time when Beirut was carved into enclaves ruled by rival factions and car bombs and snipers devastated the capital. more...
| Iran | Islam |
---
Happy Europe Day! (May 9, 2008) - On the 9th of May 1950, Robert Schuman presented his proposal on the creation of an organised Europe, indispensable to the maintenance of peaceful relations. This proposal, known as the "Schuman declaration", is considered to be the beginning of the creation of what is now the European Union. Today, the 9th of May has become a European symbol (Europe Day) which, along with the flag, the anthem, the motto and the single currency (the euro), identifies the political entity of the European Union. Europe Day is the occasion for activities and festivities that bring Europe closer to its citizens and peoples of the Union closer to one another.
---
Are Emerging Church Critics Too Critical? Understanding The Times - Not every Christian is called to be a watchman. This is understandable. The body of Christ is made up of men, women and children with a variety of gifts and callings all important for the body of Christ to be healthy. The watchman or watchwoman is a person called by God to warn about the dangers of departing from the truth and being led astray. This calling is not without problems and difficulties. The watchman, even though his or her voice may be biblical, is almost always considered by the majority to be too critical. This is especially true today when so many Christian leaders are embracing a Christianity that is more seeker-friendly and purpose-driven rather than God-fearing and Spirit-led. A person who attempts to exhort stray sheep back to the fold is considered negative, judgmental, and unloving. Further, when someone has departed from the Word of God, they are not always grateful to someone who tells them they have departed. If a person knew they were being deceived, they wouldn't have been seduced by the deception. It is also a fact there are many who profess to have faith in Christ but have very little faith in His Word. It is God's Word that must be our plumb line in bringing us back to the truth. Following a man and his ideas may well lead us astray, especially if his ideas do not line up with God's revelation as recorded in God's Word. I have been attempting to sound a spiritual alarm by documenting facts associated with various ideas and trends that are sweeping the world in the name of Christ. We are living at a time in Church history when a new reformation is supposedly underway and Christianity is being reinvented so that it will be more relevant for the twenty-first century, but a Christianity that is not consistent with the Scriptures in not Christianity. Answering the Critics There are those who will read this and will not come to the conclusion that we are living in an age of apostasy before the return of our Lord. There will be those who accuse me of presenting an unbalanced view of the emerging church, in spite of the facts. There will be those who say that I concentrate only on the negative and that I have avoided all the good things about the Emerging Church. For example, I anticipate there will be statements similar to the following one made by Emerging Church supporter Darren King in an article he wrote titled "A Response to Reactionism Against the Emerging Church":
It is clear that while those of us engaged in the Emerging Church conversation might find new perspectives a helpful thing, there are others, within the larger Christian community, who find these fresh perspectives not only unhelpful, but actually threatening. These people tend to operate under very circular, rigid belief systems. And for these people, any idea that infringes on any one corner of the "faith infrastructure" causes what amounts to a fight or flight response. [1]
This statement illustrates how someone with a rigid perspective (biblical perspective) is perceived by someone with an Emerging Church perspective ("fresh perspective"). From Darren King's viewpoint, if someone is not willing to abandon their "faith infrastructure," (the Bible) for the "fresh perspective," (ideas that are unbiblical or anti-biblical) the person is considered a dangerous crackpot. Further, King, the editor of Precipice Magazine, states that he has a plan to deal with resistors who refuse to leave their "faith infrastructure" for the "fresh perspective".
What I am interested in is a discussion of the knee-jerk reactions; the critical responses that arise out of a spirit of superiority, disdain, fear, etc. It is with that aim in mind that we at Precipice launch a new feature called: "A Critique of Criticism: A Response to Reactionism Against the Emerging Church". Over the next few weeks we'll be directly addressing these particularly ungracious, destructive and dismissive examples of criticism, one by one. [2]
Following this article some examples of Emerging Church criticism were posted along with a response by Precipice Magazine. For example, as an answer to the criticism—"I feel like you can never pin down the Emerging Church on what they actually believe. That kind of slippery theology seems dangerous, cowardly, and way too convenient in our politically correct culture"—the following statement is made:
There is a very good reason why it's difficult to pin the Emerging Church down on certain issues. Simply put, the Emerging Church is an evolving movement, a fluid conversation. It is not a denomination with an official doctrinal statement to refer to. In these kinds of conversations it's usually helpful to differentiate Emergent, a specific group, from the larger Emerging Church conversation. Emergent is one community within the larger context of the Emerging Church…

The EC crowd is not nervous when grey areas linger. Mystery is newly embraced in the EC. And this shift away from a blind emphasis on propositional truth seems, to me anyway, much more in line with early Christian faith and practice. Faith is a process. The Christian experience is a journey. We would do well to remember that for the early followers of Christ, faith was commonly referred to as "the Way"—not the destination. [3]
If Christianity is evolving, as this writer suggests, what is it evolving into? Whether or not one names this trend a "church" or a "conversation" is not the issue. What is important is whether or not the trend is based on sound Christian doctrine. As we have discussed in previous commentaries, faith in the Bible is not the basis for this "New Reformation". Faith in the Bible is not being promoted; it is it under attack. Faith is being undone. Yes, it is true that the early church was called "The Way." However, the church was called "The Way" because the members of the church were following Jesus, who said He was "The Way." John 17:17 Jesus also said the "Way" is a "narrow way" Matthew 7:13 and the "only way" John 14:6 to get into heaven. The Emerging Church way or emergent conversation or whatever name is used to describe this so-called New Reformation, in my view is a wide way that many are traveling and heading in the wrong direction. more...
| Apostasy |
---
Severe storms cause damage in 4 Southern states Associated Press (May 9, 2008) - Amber Parker watched on television as the storm near her home grew into a tornado threat. Then, when the roaring wind outside suddenly fell silent, she grabbed her two toddlers and rushed to get under the stairwell. "We just got inside the door frame when I was pushed inside ... then everything went," said Parker, tears welling in her eyes as she described the chaotic scene during a brief discussion with reporters near her demolished home in central North Carolina. Neighbors helped the 36-year-old Parker and her two children — a 2-year-old and a 3-year-old — out of the ruins that used to be their home, and the three survived with barely a scratch. "We're blessed," she said. The powerful storm system that swept through the Southeast and the mid-Atlantic states late Thursday and into early Friday produced two tornados. In North Carolina, the storm left one person dead, several injured and scores of homes and businesses damaged. Donald Ray Needham, 51, of Jackson Springs, died when his truck overturned in a parking lot just west of Greensboro, authorities said. They said three others were injured, one when the storm knocked down a wall at a distributing business, and two others when their vehicles flipped off the road. In Greensboro, some homes and businesses on the outskirts of town were damaged, and two FedEx airplanes were pitched off the tarmac and into an airport construction site. No one was injured at the airport. And while officials scoured through wreckage when daylight arrived Friday, they found no new injuries or fatalities. "I thought we were going to come back to something a lot worse than what we have out there," said David Douglas, assistant chief for the Greensboro Fire Department. "It could have been much worse than it was." The National Weather Service reported preliminary indications that the Greensboro tornado clocked in as a category EF2 on the Enhanced Fujita scale, meaning the funnel was packing winds between 111 and 135 mph. Earlier Thursday, an apparent tornado wrecked a shopping area in Mississippi and strong winds flipped a mobile home in Alabama. In south-central Tennessee, at least four homes and a few barns were reported damaged. The storm made its way to Virginia and Maryland late Thursday and early Friday, leaving between 75 and 100 homes in northeastern Virginia damaged — about 30 of them severely, said Stafford County spokeswoman Cathy Riddle. She said two people were injured; one of them was taken to a hospital and later released. Dozens of residents were taken to a temporary shelter at a middle school. Weather service officials confirmed Friday that a tornado also touched down Thursday night in Franklin and Henry counties in western Virginia. The EF1 twister, with winds of 86 to 95 mph, downed trees and damaged homes in a mile-long path, officials said. Portions of northern and central Virginia and southern Maryland remained under a flood warning Friday morning. more...
| America | Earth Changes |
---
Ahmadinejad: Israel a 'stinking corpse' facing annihilation The Jerusalem Post (May 9, 2008) - Iranian President Mahmoud Ahmadinejad said on Thursday that the state of Israel is a "stinking corpse" that is destined to disappear, the French news agency AFP reported. "Those who think they can revive the stinking corpse of the usurping and fake Israeli regime by throwing a birthday party are seriously mistaken," the official IRNA news agency quoted Ahmadinejad as having said. "Today the reason for the Zionist regime's existence is questioned and this regime is on its way to annihilation." Ahmadinejad further stated that Israel "has reached the end like a dead rat after being slapped by the Lebanese" - referring to the Second Lebanon War in the summer of 2006.
| Iran | Israel | Islam | Gog/Magog |
Ezekiel 37:1-6; 11-14
The hand of the LORD was upon me, and carried me out in the spirit of the LORD, and set me down in the midst of the valley which was full of bones, And caused me to pass by them round about: and, behold, there were very many in the open valley; and, lo, they were very dry. And he said unto me, Son of man, can these bones live? And I answered, O Lord GOD, thou knowest. Again he said unto me, Prophesy upon these bones, and say unto them, O ye dry bones, hear the word of the LORD. Thus saith the Lord GOD unto these bones; Behold, I will cause breath to enter into you, and ye shall live: And I will lay sinews upon you, and will bring up flesh upon you, and cover you with skin, and put breath in you, and ye shall live; and ye shall know that I am the LORD...

Then he said unto me, Son of man, these bones are the whole house of Israel: behold, they say, Our bones are dried, and our hope is lost: we are cut off for our parts. Therefore prophesy and say unto them, Thus saith the Lord GOD; Behold, O my people, I will open your graves, and cause you to come up out of your graves, and bring you into the land of Israel. And ye shall know that I am the LORD, when I have opened your graves, O my people, and brought you up out of your graves, And shall put my spirit in you, and ye shall live, and I shall place you in your own land: then shall ye know that I the LORD have spoken it, and performed it, saith the LORD.
Ezekiel 39:6-8
And I will send a fire on Magog, and among them that dwell carelessly in the isles: and they shall know that I am the LORD. So will I make my holy name known in the midst of my people Israel; and I will not let them pollute my holy name any more: and the heathen shall know that I am the LORD, the Holy One in Israel. Behold, it is come, and it is done, saith the Lord GOD; this is the day whereof I have spoken.
---
Burma death toll worse than Tsunami The Sun (May 9, 2008) - THE death toll in cyclone-ravaged Burma could hit 500,000 – more than twice the total killed by the Boxing Day Tsunami. Last night's warning came as it emerged that 17 Britons, including ex-pats and backpackers, were still missing. The UN World Food Programme said on Friday it would resume aid flights, despite the military government's seizure of deliveries at Yangon airport. "The World Food Programme has decided to send in two relief flights as planned tomorrow, while discussions continue with the government of Myanmar on the distribution of the food that was flown in today, and not released to WFP", said Nancy E. Roman, WFP's communications and public policy director. The UN food agency had previously said it would suspend aid flights over the seizure today. The shipments of 38 tonnes of high-energy biscuits, enough to feed 95,000 people, were intended to be loaded on trucks and sent to the inundated Irrawaddy delta where most of the estimated 1.5 million victims of Cyclone Nargis need food, water and shelter. Sources said 200,000 people were already dead or dying. But the figure could rise to HALF A MILLION through disease and hunger if the nation's hardline army rulers continue to block aid for the devastated lowlands of the Irrawaddy Delta. That would dwarf the 230,000 deaths across South East Asia in the 2004 catastrophe. Nyo Ohn Myint, of exiled opposition party The National League for Democracy, told The Sun at a border crisis centre: "Much of this will be a man-made disaster, caused by the military regime. "The bodies need to be collected and burnt as soon as possible or disease will claim many more lives. But the government has organised nothing and its 400,000 soldiers are doing nothing while undistributed aid piles up. "They are hoping bodies will be washed out to sea so the final count is smaller – but it could kill half a million people within a matter of weeks. The world must know what is going on." Disaster struck on Saturday when 120mph Cyclone Nargis forced ashore waves up to 20ft high. The Irrawaddy town of Labutta – population 80,000 – was wiped off the map. Local doctor Aye Kyu told how families clung to trees as their homes were swept away. He said: "I asked survivors how many there were left. They said about 200." A spokesman for the UN Office for the Coordination of Humanitarian Aid said: "The entire lower delta region is under water. Teams are talking about bodies floating around. This is a major, major disaster." The UN World Food Programme said up to a million may have been left homeless in the vital "rice bowl" farming region alone. In the city of Bogalay, 95 per cent of homes are thought to have been destroyed. In the township of Dedaye, south of the main city Rangoon, desperate kids scavenged among the debris of their homes for anything useful to survival. On the outskirts of Rangoon forlorn families, including a mother cradling her screaming baby, queued for emergency handouts of rice. In Britain, International Development Secretary Douglas Alexander told MPs the situation was "grave". more...
| Earth Changes |
---
Strong quake rocks Tokyo Herald Sun (May 8, 2008) - A SERIES of strong earthquakes including one with a magnitude of 6.7 hit the Tokyo area early today, cutting off power to more than 2000 homes and causing light injuries, officials and reports said. Japan's meteorological agency warned that more moderate aftershocks could strike, although there were no fears of a tsunami. The strongest earthquake hit at 1.45am (2.45am AEST) in the Pacific Ocean off Ibaraki prefecture, some 100km northeast of Tokyo. Public broadcaster NHK said that two people were lightly injured, including an 18-year-old boy who was hit by his falling stereo speaker. Power was cut off to 2100 households, the network said, quoting local officials. The impact was strongest in Ibaraki and adjacent Tochigi prefecture where the earthquake measured lower-five on the seven-point Japanese scale - strong enough to crack holes in weak buildings. more...
| Earth Changes |
---
Israel's Olmert admits taking cash but won't quit Reuters (May 8, 2008) - Israeli Prime Minister Ehud Olmert admitted on Thursday taking cash from a U.S. businessman but resisted calls to resign over a police investigation into alleged hefty bribes over almost a decade. As Israelis enjoyed festivities marking Independence Day and the 60th anniversary of the founding of their state, police lifted a week-old media gag order and announced details of accusations that sparked opposition calls for Olmert to quit. He said he would resign only if he were formally indicted. Whether he goes or not, doubt over his future is likely to upset his faltering, U.S.-sponsored peace negotiations with the Palestinians and will cast a heavy cloud over next week's celebratory visit to Israel by U.S. President George W. Bush. The White House said Bush still intended to make the trip. Olmert, in a late-night televised address to the nation, said: "I look each and every one of you in the eye and say, 'I never took bribes. I never took a penny for myself'." His allies say there is a right-wing campaign to wreck the peace process, but it was unclear if his fragile coalition would rally behind a man who last year said he was "indestructible". Israelis are no strangers to tales of corruption at the top in the Middle East's most feted democracy and the latest case may fuel calls for an overhaul of political funding rules. Olmert, who was questioned by police for an hour last Friday, has weathered a string of investigations since he succeeded Ariel Sharon as prime minister in 2006. Sharon's son is in jail for campaign funding misdeeds on his father's behalf. On Thursday, Olmert said all the cash he received -- put at hundreds of thousands of dollars by one judicial source -- was legitimate support from New York financier Morris Talansky to fund various election campaigns over nearly a decade from 1993. more...
| Israel | Dividing the Land |
---
Egypt extends ration cards due to high food prices Reuters (May 8, 2008) - Egypt has opened its ration card system to an extra 17 million people and doubled the amount of rice that card holders receive in an effort to counter the effects of rising food prices. The global prices of staple foods have risen more than 40 percent in the last year causing shortages, hoarding and riots in many developing countries and prompting the United Nations to warn of malnutrition and social unrest. In Egypt, inflation has jumped to 16.4 percent and the government is trying to contain growing public discontent over rising food prices which are accentuated by low wages. Three people were killed in a Nile Delta town last month in clashes with police after textile workers tried to strike. Egypt had not added to the ration card registry since 1988 before opening it up for new registrations until June 30. "Up to now we have received about 17 million additional citizens... This means we will cover about 55 million people," Social Solidarity Minister Ali Musailhi told Reuters. Egypt's population is about 75 million. The poor spend a disproportionate amount of their income on food and in Tajikistan, an impoverished Central Asian republic, their problems have been worsened by a locust infestation which threatens maize and wheat crops. Last month, the U.N. said locusts had infested an area of 150,000 hectares -- 30 percent more than last year -- and could damage food supplies in a nation of 7 million. Many countries have responded to high food prices by imposing taxes and other restrictions on exports to try to ensure adequate supplies at home. Export bans by India and Vietnam, the world's second biggest exporter, have helped rice prices in Asia to treble this year and filled the coffers of rice exporters in Thailand. Thailand, the world's biggest rice exporter, is expecting to sell more than 9 million tonnes of rice overseas this year, about the same as last year, but at far higher prices. Thai rice prices eased this week from a record level above $1,000 a tonne. "Everybody turns the spotlight on Thailand and this year will be the golden year for Thai rice exports," Commerce Minister Mingkwan Sangsuwan told reporters. more...
| Economic Crisis |
---
Violence rekindles fears of Lebanese civil war MSNBC (May 8, 2008) - Shiite Hezbollah supporters and the Lebanese government's Sunni backers clashed with machine guns and rocket-propelled grenades Thursday in battles that spread through Beirut's streets soon after Hezbollah's leader vowed to fight any attempt to disarm his men. Lebanese security officials said two people were killed and eight wounded in the sectarian clashes. The violence first erupted in Muslim West Beirut, where masked gunmen on street corners opened fire along Corniche Mazraa, a major thoroughfare that has become a demarcation line between the two sides. It spread to Khandaq el-Ghamiq, a neighborhood adjacent to downtown, which is home to the government's offices. Shootings and explosions were reported by witnesses and television stations in the Aisha Bakkar neighborhood near the office of Lebanon's Sunni spiritual leader, who is allied with the government. Gunfire and explosions were also heard in a nearby district where the opposition-aligned parliament speaker has his official residence. Troops in armored carriers had earlier moved in to West Beirut to separate people who were trading insults and throwing stones at each other, but the troops did not attempt to stop the street battles that then broke out. The army, which has been struggling to contain the disturbances, warned of the consequences to the country and the military. "The continuation of the situation as is is a clear loss for all and harms the unity of the military institution," a statement said. The clashes have brought back memories of the devastating 1975-1990 civil war that has left lasting scars on Lebanon. Beirut residents are now seeing fresh demarcation lines, burning tires and roadblocks. The army has largely stayed out of the broader political struggle between Hezbollah and the government for fear of exacerbating the situation. The army's commander is the two factions' consensus candidate for president. Gen. Michel Suleiman so far has advised the government not to declare a state of emergency. The clashes came close on the heels of a defiant speech by Hezbollah leader Hassan Nasrallah, who said his Iranian-backed militant organization would respond with force to any attacks. "Those who try to arrest us, we will arrest them," he said. "Those who shoot at us, we will shoot at them. The hand raised against us, we will cut it off." It was the second day of fighting that has turned some city neighborhoods into battlegrounds and spilled over to other parts of the country. more...
| Iran | Islam | Gog/Magog |
---
Iran clerics rebuke Ahmadinejad over 'hidden imam' Brietbart.com (May 7, 2008) - Clerics have told President Mahmoud Ahmadinejad to stick to more worldly issues after he was quoted as saying the "hidden imam" of Shiite Islam was directing Iran. Ahmadinejad has always been a devotee of the Mahdi, the twelfth imam of Shiite Islam, who Shiites believe disappeared more than a thousand years ago and who will return one day to usher in a new era of peace and harmony. But in a speech to theology students broadcast by state television on Monday, Ahmadinejad went further than ever before in emphasising his belief that the Mahdi is playing a critical role in Iran's day-to-day politics. "The Imam Mahdi is in charge of the world and we see his hand directing all the affairs of the country," he said in the speech, which appears to date from last month but has only now been broadcast. "We must solve Iran's internal problems as quickly as possible. Time is lacking. A movement has started for us to occupy ourselves with our global responsibilities, which are arriving with great speed." Two leading clerics retorted that Ahmadinejad would be better off concentrating on Iran's social problems -- most notably its double-digit inflation -- than indulging in such mystical rhetoric. "If Ahmadinejad wants to say that the hidden imam is supporting the decisions of the government, it is not true," sniped Gholam Reza Mesbahi Moghadam, the spokesman of the conservative Association of Combatant Clerics. "For sure, the hidden imam does not approve of inflation of 20 percent, the high cost of living and numerous other errors," he said, according to the Kargozaran daily. Ali Asghari, a member of the conservative Hezbollah faction in parliament, told the president not to link the management of the country to the imam. "Ahmadinejad would do better to worry about social problems like inflation ... and other terrestrial affairs," Etemad Melli daily quoted him as saying. Since becoming president in 2005, Ahmadinejad has repeatedly stated that his government is paving the way for the return of the Mahdi and chided his foes for not believing that his return is imminent.
| Iran | Islam |
---
State of Israel turns 60 YNet News (May 7, 2008) - Israel's 60th anniversary commenced Wednesday evening with a formal torch-lighting ceremony on Mount Herzl in Jerusalem. The celebrations were held under tight security, due to warnings received on terror organizations' plans to carry out attacks. Knesset Speaker Dalia Itzik said during the ceremony, "The nation of Israel will never be able to pay off its debt to its fallen soldiers. "The State of Israel is an extraordinary success story; a wonder by any historical measure," she said. "We built this magnificent enterprise with our own hands. There are countries that are wealthier and certainly more peaceful, but there is no other country like the State of Israel. There are flaws and we still have things to do, but behind these flaws is a great country." Addressing the Palestinian terror organizations, Itzik said, "As long as Israel has one Asher Tuito (eight-year-old boy who was seriously wounded in a Qassam attack on Sderot) – you do not stand a chance. We want peace not only for our children but for yours as well; however, you must realize that we will know how to fight if needed." According to figures released by the Central Bureau of Statistics on the eve of Independence Day, 7,282,000 people live in Israel today. About 75.5% of them are Jews, some 1,461,000 are Arabs, and 322,000 are defined as "others". According to forecasts, Israel's population will include some 10 million people in the year 2030. more...
| Israel |
---
Magnitude 6.7 earthquake jolts eastern Japan Reuters (May 7, 2008) - A earthquake with a preliminary magnitude of 6.7 jolted eastern Japan early on Thursday, and was felt over a wide area, including in Tokyo, Japan's meteorological agency said. The quake, at 1:45 a.m. (1645 GMT, Wednesday), was centered in the Pacific Ocean east of Tokyo. There were no immediate reports of injuries or damage after the quake, which measured 5 on the Japanese scale of 7 in some parts northeast of Tokyo, NHK said. No tsunami damage was expected from the quake but there may be slight sea level changes, the agency said on its website.
| Earth Changes |
---
'Day of Silence' walkout a success OneNewsNow (May 7, 2008) - The recent "Day of Silence" event promoting homosexuality was a bust at one Washington State high school thanks to the efforts of pro-family students, parents, and community leaders. The Day of Silence is promoted by the Gay, Lesbian, Straight Education Network (GLSEN) as an event to draw attention to alleged persecution suffered by students who claim to be homosexual or confused about their gender. But Pastor Ken Hutcherson of Antioch Bible Church in Redmond, Washington, claims the event was actually designed by homosexual activists to promote their lifestyle to students. So Hutcherson worked with other parents in the area of his daughter's Mount Si High School to protest the event. Hutcherson and his wife purchased a half-page ad in the local newspaper urging concerned parents and Christians to join them in protest of the event. "Then the word went out," he explains. "It went out to my prayer warriors. And they prayed about it ... and last Friday [April 25], we had probably about 250 to 300 parents there," he contends. But parents were not the only ones opposed to an entire school day being used to promote a lifestyle the Bible declares to be immoral, says Hutcherson. "There were 638 kids out of 1,410 kids that didn't come to school that day," he remarks. In addition to 45 percent of the student body staying home on the Day of Silence, Hutcherson and other parents convinced the school board to give waivers to student athletes who did not want to be present during the pro-homosexual event. Those waivers allowed the athletes to skip school but still participate in sporting events held that school day. Eighty-five of the school's athletes took advantage of the waiver, and less than 200 of the school's 1,400 students actively participated in the Day of Silence activities. Hutcherson considers his protest of the homosexual event a "very big success."
| America |
---
Secret documents detail post-WWII debacle OneNewsNow (May 7, 2008) - A messianic Jewish ministry leader says recent documents released by the British government have confirmed a long-held belief. Jan Markell has long believed that God judged Britain for its treatment of the Jews. She notes that 400 pages of formerly secret documents -- recently made public by the British National Archives -- reveal how the British government tried to send thousands of Holy Land-bound Jewish Holocaust survivors back to post-war Germany without inflaming world opinion. But despite the best efforts of early spin-doctors to portray the move in a most sympathetic light, the decision to turn away more than 4,500 Jewish refugees on board the Exodus refugee ship turned into a humanitarian and public relations debacle for Great Britain. Markell, founder and director of Olive Tree Ministries, believes Britain has paid a steep price for betraying the Jews in 1947. "At one time [Britain] had so many nations and colonies that the sun never set on [the British Empire]," she recalls. "Today [Britain] is a broken and fractured empire, and I believe it is partly because of the way that she dealt with the Jews ... during the Holocaust and post-Holocaust," says Markell. And the pro-Israel advocate warns this story ought to serve as reminder to supporters of Israel today. "It should remind us that the world to this day continues to hate the Jewish people," she continues, "because they still are God's chosen people no matter what the Muslim world wants to do to annihilate them. [The Jews] will not go away." Markell argues the United States should take special heed to this story, considering its continual efforts to force the Jewish people to turn over their covenant land in order to create a Palestinian "state."
| Israel | Dividing the Land | America |
---
Georgia says "very close" to war with Russia The Star Online (May 6, 2008) - Russia's deployment of extra troops in the breakaway Georgian region of Abkhazia has brought the prospect of war "very close", a minister of ex-Soviet Georgia said on Tuesday. Separately, in comments certain to fan rising tension between Moscow and Tbilisi, the "foreign minister" of the breakaway Black Sea region was quoted as saying it was ready to hand over military control to Russia. "We literally have to avert war," Temur Iakobashvili, a Georgian State Minister, told reporters in Brussels. Asked how close to such a war the situation was, he replied: "Very close, because we know Russians very well." "We know what the signals are when you see propaganda waged against Georgia. We see Russian troops entering our territories on the basis of false information," he said. Georgia, a vital energy transit route in the Caucasus region, has angered Russia, its former Soviet master with which it shares a land border, by seeking NATO membership. An April summit of the U.S.-led Western alliance stopped short of giving it a definite track towards membership but confirmed it would enter one day. Russia has said its troop build-up is needed to counter what it says are Georgian plans to attack Abkhazia, a sliver of land by the Black Sea, and has accused Tbilisi of trying to suck the West into a war -- allegations Georgia rejects. Tensions have been steadily mounting and escalated after Georgia accused Russia of shooting down one of its drones over Abkhazia in April, a claim Russia denied. An extra Russian contingent began arriving in Abkhazia last week. Moscow has not said how many troops would be added but said the total would remain within the 3,000 limit allowed under a United Nations-brokered ceasefire agreement signed in 1994. Diplomats expect the reinforcement to be of the order of 1,200. more...
| Gog/Magog |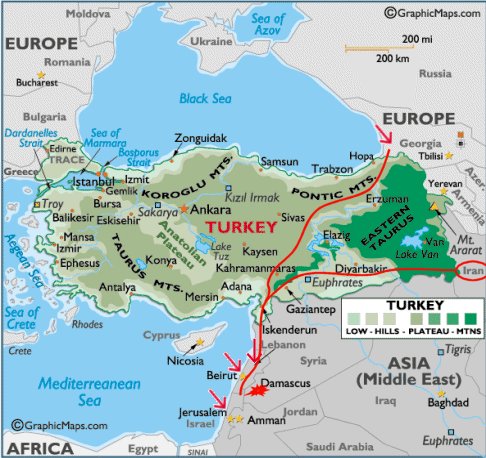 ---
Full evacuation ordered around Chile volcano MSNBC (May 6, 2008) - The long-dormant Chaiten volcano blasted ash some 20 miles into the Andean sky on Tuesday, forcing the last of thousands to evacuate and fouling a huge stretch of the South American continent. A thick column of ash climbed into the stratosphere and blew eastward for hundreds of miles (kilometers) over Patagonia to the Atlantic Ocean, closing schools and a regional airport. Citizens of both countries were advised to wear masks to avoid breathing the dangerous fallout. Chilean officials ordered the total evacuation of Chaiten, a small provincial capital in an area of lakes and glacier-carved fjords just six miles (10 kilometers) from the roiling cloud. Interior Minister Edmundo Perez said anyone still in the area should "urgently head to ships in the bay to be evacuated." More than 4,000 people were evacuated over the weekend and 350 more headed out Tuesday. Also emptied was the soot-coated border town of Futaleufu, about 75 miles (120 kilometers) from the volcano. The five-day-old eruption is the first in 9,370 years, said Charles Stern, a volcanologist at the University of Colorado-Boulder who has studied Chaiten. He said the nearby town could end up buried, much like the Roman city of Pompeii following Mount Vesuvius' eruption in 79 A.D. Volcanic material from Chaiten's last eruption measured up to 5 feet in places. "What happens after today is anybody's guess," Stern said. While volcanologists around the world eagerly awaited data on the scope of the eruption, one local expert got an up-close look when he accompanied police and air force teams over the 3,950-foot (1,200 meter) peak. Volcanologist Juan Cayupi told The Associated Press by telephone that Chaiten's two small craters have morphed into a large, single crater. Lava was rising within the crater but has not yet spilled over, said Luis Lara, another volcanologist with the government's Geology and Mining Service. more...
| Earth Changes |
Massive volcanic cloud creeps over Argentina, Chile Breitbart.com (May 8, 2008)
---
Relief slow for victims in cyclone-hit delta MSNBC (May 6, 2008) - Myanmar's Irrawaddy delta remained largely cut off from the rest of the world Tuesday, four days after a cyclone unleashed winds, floods and high tidal waves on the densely populated region, killing nearly 22,000. State radio reported that more than 41,000 others were missing in the wake of Asia's deadliest storm since 1991. With the death toll expected to mount and as many as 1 million possibly left homeless, the international community was poised to deliver aid to the military-ruled country, which normally keeps out most foreign officials and restricts their access inside the country. Some aid agencies reported their assessment teams had reached areas of the largely isolated region but said getting in supplies and large numbers of aid workers would be difficult. Images from state television showed large trees and electricity poles sprawled across roads and roofless houses ringed by large sheets of water in the Irrawaddy River delta, which is regarded as Myanmar's rice bowl. "From the reports we are getting, entire villages have been flattened and the final death toll may be huge," Mac Pieczowski, who heads the International Organization for Migration office in Yangon, said in a statement. Power remained cut for the fourth day for almost all 6.5 million residents of Yangon, the country's largest city, while water supply was restored in only a few areas. Buddhist monks and Catholic nuns wielding knives and axes joined residents in clearing roads of ancient, fallen trees that were once the city's pride. Concerns mounted over the lack of food, water and shelter in the delta as well as diseases spawned by Cyclone Nargis in a country with one of the world's poorest health systems. President Bush urged Myanmar's military rulers on Tuesday to accept U.S. disaster response teams that so far have been kept out and said the United States stood ready to "do a lot more" to help. "The military junta must allow our disaster assessment teams into the country," Bush told reporters. He said he was prepared to make U.S. naval assets available to help in search and rescue efforts. "So our message is to the military rulers: let the United States come and help you help the people," Bush said. The White House later announced $3 million in aid after an initial pledge of $250,000 on Monday. more...
| Earth Changes |
---
Population Control and a World Food Authority Reshaping the International Order Part 5 Knowledge Driven Revolution (May 5, 2008)
"... it is of utmost importance that an equilibrium be established between the world's total population and the capacity of 'spaceship earth'..." - RIO: Reshaping the International Order, 1976 (p124)
The establishment of a World Food Authority to control the food supply of the world is a major goal of The Club of Rome's RIO report. This issue is intertwined with exaggerated fears of environmental collapse and the elite's obsession with population control.
The Environmental Scare
From RIO: Reshaping the International Order: [Italicised text is original emphasis and bolded text is added by author.]
"History has frequently shown that people, in times of crisis and once convinced of the necessity for change, are prepared to accept policies which demand changes in their behaviour so as to help secure better lives for themselves and their children." - 110
The threat of environmental catastrophe to further the population control agenda is nothing new and continues to this day with the manmade global warming scare. Back in the 1970's the Club of Rome was not shy at using the environmental catastrophe card to push for population control. Below are some examples from RIO: Reshaping the International Order:
"Moreover, it has been estimated that by 1985 all land surfaces, except those so cold or at such high altitudes as to be incompatible with human habitation or exploration, will have been occupied and utilized by man." - 89

"Although not yet proven, climatologists are being forced to conclude that our planet has in recent times passed through a period which may well have been optimal as far as food production is concerned. They believe that future decades may well be characterized by extremes - hot and cold, wet and dry - without necessarily a change in average temperature. (4)" - 90
The endnote used to back up this claim is given below:
"(4) There is certainly sufficient evidence for this concern: the Asian monsoons were unsatisfactory for three successive years between 1972-1974; severe droughts in the Sahel and other parts of Africa and the Great Plains area of the United States and Canada in 1974; an unexpected late frost in Brazil in 1975 which may have destroyed as much as 60 per cent of its 1976 coffee crop. The growing season of the best grain producing areas in the Soviet Union is now believed to [be] about a week shorter than it was in the 1950's; an even more pronounced shift appears to have taken place in the United Kingdom." - 97
Do these types of arguments sound familiar?
"Much effort has been made in the past ten years, in some industrialized countries, to bring the disadvantage facing many Third World countries to the attention of large numbers of people. If it has met with only limited success, it is probably because it has failed to bring out the concept of interdependence of countries and issues. More attention must in future be focused on information and education on how our planet functions and on the 'survival fact' that the claim of the whole is wider and deeper than the claim of any of its parts. There is also a fundamental need to develop a broadly educated political class which is capable of understanding science and the broad implications, possibilities and dangers of technological advance, and which can harness technological advance for constructive social purposes." - 111
Population Control and The World Food Authority
"... these threats [of food shortage] might well be exacerbated by increasing population pressures and deteriorating climatological conditions." - 135

"Population control policies carry the important indirect consequence of restricting the supply of unskilled labour, thereby raising its price." - 73

"If the world is to be liberated from the continual nightmares of hunger and malnutrition, these and the various measures proposed by the FAO [Food and Agricultural Organization] Worlds Food Conference should be implemented to the full and call for the creation of the World Food Authority, with extensive and real powers; or, as a second best, the World Food Council proposed by the World Food Conference." - 138

"internationally owned and internationally managed [food] buffer stocks..." - 226

"the question of introducing meat rationing should be seriously considered [for developed countries]." - 227
Food as a Weapon
The incredible power that would be accomplished from a massive concentration of food stocks under the control of a single agency did not escape the authors of this report to the Club of Rome. The reigning food situation in the world was dominated by the great dependence of many countries on the North American breadbasket. This gave the Americans a considerable amount of power over their dependent countries.
"the American Secretary for Agriculture who has observed: "Food is a weapon. It is one of the principal tools in our negotiating kit" " - 29
The further centralization of food stocks under a single international power would only increase the abuse of food supplies not decrease it. This, quite naturally, is the point. The result of this control is well described by Bertrand Russell (who strongly supported this idea) in his 1952 book The Impact of Science of Society [2]:
"To deal with this problem [increasing population and decreasing food supplies] it will be necessary to find ways of preventing an increase in world population. If this is to be done otherwise than by wars, pestilence, and famines, it will demand a powerful international authority. This authority should deal out the world's food to the various nations in proportion to their population at the time of the establishment of the authority. If any nation subsequently increased its population it should not on that account receive any more food. The motive for not increasing population would therefore be very compelling. What method of preventing an increase might be preferred should be left to each state to decide." - 124
Conclusion
The final article in this series deals with a variety of issues including global solidarity, regional unions, legal changes and a standing United Nations Peace Force.
| EU/UN / 4th Kingdom | NewWorldOrder | America |
---
Germany 'business as usual' with Iran The Jerusalem Post (May 5, 2008) - Critics of Germany's pro-business policy toward Iran flocked to a conference in Berlin that for the first time brought together Germans, Iranians-in-exile and Israelis for two days of panel discussions that concluded late Saturday. The strong trade relations between Iran and Germany are a source of great concern for the speakers, who argued that Germany's overly cordial political and economic relations with Teheran are endangering the security of Israel and stability in the Middle East. The nonprofit Mideast Freedom Forum Berlin organized the conference. Dr. Matthias Küntzel, a German political scientist who specializes in German-Iranian relations, revealed that a controversial meeting between Iranian Deputy Foreign Minister Mehdi Safari and his German counterpart, Reinhard Silberberg, took place in April. Küntzel cited a report in the Tehran Times from April 19 in which "Silberberg noted that the two countries enjoy good relations and called for continuation of dialogue between Iranian and German officials." According to an April 20 report in the Persian Journal, Silberberg invited Safari for a three-day visit that entailed meetings with leading German politicians and business officials. A German Foreign Ministry spokeswoman told The Jerusalem Post, "A meeting took place with Silberberg" and Safari in Berlin on April 16, but the discussion did not address "economic questions." Instead, "difficult questions involving Iran" were raised. Silberberg reiterated Germany's two-track Iranian position emphasizing sanctions and dialogue, she added. A lighting-rod issue at the conference was the yawning gap between Chancellor Angela Merkel's speech to the Knesset on March 18 declaring Israel's national security to be part of Germany's "national interest," and her government's refusal to clamp down on German firms supplying valuable technology for Iran's infrastructure. According to the Iran Press TV Web site, representatives from the German Economics Ministry and German industry met with Safari during his visit and "the two sides discussed ways to expand economic cooperation and agreed that a German delegation would visit Iran to follow up agreements already signed between Teheran and Berlin." more...
| Iran | EU/UN / 4th Kingdom |
---
Search Under Way for Missing in Boryeong, S.Korea Tidal Wave The Korea Times (May 5, 2008) - Rescuers were unable to find additional survivors Monday in seas off a breakwater in Jukdo, Boryeong, South Chungcheong Province, where a giant tidal wave claimed nine lives and injured 27, Sunday. About 700 personnel, alongside divers and helicopters were mobilized from early Monday morning to search for 13 people still listed as missing. Local authorities initially announced a total of 50 had been swept into the seas by the abnormally high tidal wave, but concluded the actual number was uncertain as the former was based on witnesses' statements. The exact cause of the tidal wave is still puzzling meteorologists and experts. The Korean Meteorology Administration (KMA) said a fast moving underwater current being blocked by the breakwater could have created the wave. However, oceanographers refute this, saying the breakwater was incidental to the incident. "No earthquakes were detected at the time and the velocity of the wind then ranged between 0.5-4 meters per second. Thus, weather conditions were not directly responsible for the tidal wave,'' the KMA said Sunday, adding "it might have been a man-made disaster.'' But professors of oceanography said the artificial structure had nothing to do with the incident. Prof. Lee Jong-seop at Pukyong National University said the breakwater had stood there for a long time, but no other waves had been reported in the past. "This means other unaccountable factors triggered the event.'' Also, Prof. Choi Byeong-ho at Sungkyunkwan University said that he didn't think the breakwater caused the wave. "We need to review various factors to discover its origin,'' he said. Witnesses said the tidal wave that slammed into the breakwater was at least 10 meters high. "The sea water receded at once like an ebb tide and then a high wave smashed into the breakwater and rocks sweeping anglers and tourists into the sea,'' a witness said.
| Earth Changes |
---
Troubling turnaround at Olmert-Abbas meeting Jerusalem Newswire (May 5, 2008) - After initial reports indicated a negative outcome, Israeli Prime Minister Ehud Olmert and PLO chief terrorist Mahmoud Abbas reportedly held an unexpectedly successful meeting in Jerusalem Monday morning, with officials saying they had suddenly made "considerable progress." Maps depicting the areas of Israel's historic lands being demanded by the Palestinian Arabs for their state were brought to the meeting, which was held at Olmert's official residence shortly after US Secretary of State Condoleezza Rice ended a two-day visit to the land. According to The Jerusalem Post, after "warmly" embracing Abbas, a man responsible for the deaths and wounding of untold numbers of Israeli Jews - Olmert told him Israel now realized the need to make "tangible" changes in Samaria and Judea because it was necessary that the months of peace talks be accompanied by actions on the ground. Abbas' aides said earlier the PA chairman was contemplating resigning within a few months unless noticeable progress was made towards the creation of "Palestine." Palestine is the name intended for the Arab state the international community is working to establish in the biblical heartland of the Jewish people. Ha'aretz reported that a senior Israeli official had told Army Radio that during the meeting, Olmert and Abbas made "significant progress on the borders issue" - the issue of where the borders of the new "Palestine" would lie in relation to what would be left of Israel. Abbas' authority is also being challenged by Hamas, which violently wrested control of Gaza from the PLO last year and is spreading its influence across Samaria and Judea. Officials in the Prime Minister's Office said "these were the most serious talks the sides have ever conducted," according to Ynetnews. Commentators wondered whether Olmert was trying to bolster Abbas in the face of the opposition against him, or whether the Israeli leader had perhaps been spurred to make sudden concessions because his own position is threatened in a new police investigation.
| Israel | Islam | Dividing the Land |
---
Mogadishu rocked by food demonstrations News Daily (May 5, 2008) - A young man was killed when thousands of Somalis protested in Mogadishu on Monday over food traders' refusal to take old currency notes blamed for stoking spiraling inflation, witnesses said. A shopkeeper shot the man dead after dozens of demonstrators wielding clubs and stones broke into his store. Locals said police wounded a teenage boy while trying to disperse hundreds of angry residents. "The shopkeeper fired a pistol at the crowd and it hit the young man's head," one witness in the Madina district in the southeast of the capital said, refusing to give his name. Despite still being a legal currency, many shopkeepers have been refusing to accept the worn out old notes, saying wholesale traders were also refusing to take them. The Somali shilling is valued at roughly 34,000 to the dollar -- more than double what it is was a year ago -- and many blame the fall in value on counterfeiters. With an interim government focused on containing islamist insurgency, there is no one to control rampant counterfeiting of currency which is often exchanged for real dollars that are then taken out of the country. The problem has been compounded by sharply rising world food prices, leaving many in the lawless Horn of Africa nation of 10 million short of money to buy food, triggering several protests or riots in the past six months. On Monday, thousands were on the streets of the bombed-out capital, clutching tattered old notes while shouting "Down with traders" and "We want to buy food." All shops remained closed and the streets empty as protestors stoned the few vehicles moving around. more...
| Islam | Economic Crisis |
---
UN-American WorldNet Daily (May 5, 2008) - On the last day of the Constitutional Convention in 1787, as Benjamin Franklin was leaving Independence Hall, a lady asked him, "Well, doctor, what have we got?" Franklin pointedly responded, "A republic, if you can keep it." James Madison, chief architect of the Constitution, defined a "republic" to be "a government which derives all its powers directly or indirectly from the great body of the people, and is administered by persons holding their offices ... for a limited period, or during good behavior." In other words, in our constitutional republic, the people possess the power to govern themselves by laws they enact through elected representatives. Today, the most serious threat to our nation's sovereignty and the republican form of government we cherish is the United Nations and other international organizations that work through ill-advised treaties and irresponsible bureaucrats to usurp the power of the American people to govern themselves. Unfortunately, more than a few politicians in our country are willing to cede power to foreign control. One of those powers is the right to control the oceans and seas. The president's proposed budget for 2009 includes a request for nearly $5 million to support the International Seabed Authority, an international tribunal established by the Law of the Sea Treaty. For years this treaty has been rejected by the U.S. Senate because it would take power away from the U.S. government and give an unfair advantage to countries like China, which uses the treaty's vague language to make claims about the waterways it controls far beyond its proper jurisdiction. This treaty would also impose a global tax on U.S. companies if ratified by the Senate. The presumptive Republican nominee for president, Sen. John McCain, wrote a letter in 1998 to the Senate Foreign Relations Committee in favor of the Law of the Sea Treaty. As late as 2003, McCain submitted written testimony to the committee in favor of the treaty. But since seeking the Republican presidential nomination, McCain has been telling conservatives that he will "probably" vote against the treaty because its terms negatively affect U.S. sovereignty. Other politicians want the U.S. to fund welfare programs for the rest of the world. The leading Democratic candidate for president, Sen. Barack Obama, is presently sponsoring S.B. 2433: the Global Poverty Act of 2007. This bill would sanction spending as much as $845 billion in taxpayer money to reduce global poverty to meet the "U.N. Millennium Summit Goals." In addition to calling for a reduction in global poverty through unconstitutional foreign aid, the Millennium Summit Goals urge nations to sign many other dangerous treaties like the Kyoto Protocol and the U.N. Convention on the Rights of the Child – both of which the Senate has rejected for many years. The Kyoto Protocol sets limits on the amount of "greenhouse gases" that nations can emit while specifically excluding countries like China that it categorizes as "developing nations." It also subjects participating nations to penalties for exceeding those limits. Japan, Italy and Spain face penalties totaling over $33 billion for failing to meet their obligations under Kyoto. Each of those countries admits that the cost will be covered by taxpayers and businesses. Thus, joining Kyoto would subject the American people and U.S. businesses to a global tax. As for Obama's rival for the Democratic nomination, Sen. Hillary Clinton, her husband formally signed the Kyoto Protocol on Nov. 12, 1998, at a global conference in Buenos Aires. In February 2005, Sen. Clinton gave a speech on the "Future Role of the United Nations" in which she openly supported then-Secretary General Kofi Annan and the U.N.'s Millennium Summit Goals. Clinton has also long supported the adoption of the U.N. Convention on the Rights of the Child even though the treaty would wreak havoc on parental rights. One thing all the leading presidential candidates for both major parties support is continued financial aid to the U.N. despite its dismal record of fraud and mismanagement. An audit last month discovered that the U.N. has wasted tens of millions of dollars in its "peacekeeping operations" in Sudan. Last year, a task force uncovered "multiple instances of fraud, corruption, waste and mismanagement at U.N. headquarters and peacekeeping missions ... with an aggregate value in excess of $610 million." A series of audits from 1996 to 2003 revealed "gross mismanagement" in the U.N.'s $100 billion oil-for-food program in Iraq. Yet, Clinton in her speech about the future role of the U.N. stated that she "deplored" Americans "who have sought to weaken, undermine and underfund the U.N." Actually, given the corruption and mismanagement of the U.N., monetary support for the U.N. is un-American. The obstinate support of the U.N. and continual reliance on treaties with foreign powers to solve our problems is reminiscent of the time when ancient Israel depended upon Egypt instead of the Lord for its protection. Isaiah prophesied:
Woe to them that go down to Egypt for help; and stay on horses, and trust in chariots, because they are many; and in horsemen, because they are very strong; but they look not unto the Holy One of Israel, neither seek the Lord! ... Now the Egyptians are men, and not God; and their horses flesh, and not spirit. When the Lord shall stretch out his hand, both he that helpeth shall fall, and he that is holpen [helped] shall fall down, and they all shall fail together.
The leading presidential candidates have repeated Israel's mistake: They are looking to other nations for guidance and have failed to seek guidance from God – the one upon Whom our nation was founded and our ultimate security depends. In the process, "We the People" are losing our right to self-determination and representative government through the encroaching influence of the international community. George Washington declared in his First Inaugural Address that "the preservation of the sacred fire of liberty and the destiny of the republican model of government are justly considered, perhaps, as deeply, and finally staked on the experiment entrusted to the hands of the American people." If the American experiment fails, republican government falls with it. We must call on our leaders to fight for America and to rely upon God.
| EU/UN / 4th Kingdom | NewWorldOrder | America |
John 18:35-37
Pilate answered, Am I a Jew? Thine own nation and the chief priests have delivered thee unto me: what hast thou done? Jesus answered, My kingdom is not of this world: if my kingdom were of this world, then would my servants fight, that I should not be delivered to the Jews: but now is my kingdom not from hence. Pilate therefore said unto him, Art thou a king then? Jesus answered, Thou sayest that I am a king. To this end was I born, and for this cause came I into the world, that I should bear witness unto the truth. Every one that is of the truth heareth my voice.
Matthew 24:10-21
And then shall many be offended, and shall betray one another, and shall hate one another. And many false prophets shall rise, and shall deceive many. And because iniquity shall abound, the love of many shall wax cold. But he that shall endure unto the end, the same shall be saved. And this gospel of the kingdom shall be preached in all the world for a witness unto all nations; and then shall the end come. When ye therefore shall see the abomination of desolation, spoken of by Daniel the prophet, stand in the holy place, (whoso readeth, let him understand:) Then let them which be in Judaea flee into the mountains: Let him which is on the housetop not come down to take any thing out of his house: Neither let him which is in the field return back to take his clothes. And woe unto them that are with child, and to them that give suck in those days! But pray ye that your flight be not in the winter, neither on the sabbath day: For then shall be great tribulation, such as was not since the beginning of the world to this time, no, nor ever shall be.
---
Unnatural Grid Appears in Nevada Earthquakes Stan Deyo (May 2, 2008) - When we first posted an image last Saturday showing numerous earthquakes hitting Reno's Crystal Peak golf course, it was interesting. However, it was nothing compared to the very distinctive earthquake grid that's formed in Nevada. This simply can't be a natural event. There are many – literally hundreds – of earthquakes on this main image, but you can't truly appreciate the number until you look at the individual maps. To do so, click any of the circles on the map below and you'll see many earthquakes hidden in this onslaught. The unmistakable grid pattern looks as though the quakes were deliberately targeted. Check this high altitude view of the Reno earthquake "explosions". Red arrows indicate areas of highest earthquake density on the grid. One would have to ask, why would Crystal Peak Golf course be targeted?
| America | Earth Changes |
---
Illegal Aliens Demand 'Rights' and 'Reforms' The Loft (May 2, 2008) - I was planning to take the day off today and start my weekend a little bit early. However, I had the misfortune of reading the AP story on the May Day marches by thousands of illegal aliens who are demanding their "rights." Not only is the notion of lawbreakers taking to the streets to demand legal benefits completely outrageous, but the way the "news" story is worded is insane. When people break the law, there should be consequences. We should not close down streets in order for them to "show unity." What is going on here?!?! If you go by the AP's story, it's like there is no such thing as an "illegal" alien. For your humor and amusement, the AP story titled "Thousands rally in May Day effort for immigration reform" is filled with plenty of quotes that show the bias and the slant that the liberal media outlets take on this issue. In the second paragraph, the story talks about marchers across the country who "demanded citizenship opportunities for the estimated 12 million illegal immigrants in the U.S. and an end to raids and deportations." Did I read that correctly? People come into this country illegally, and then "demand" citizenship and an end to enforcing the laws that are on the books to stop illegal activity? Here's one quote to start things off:
''We come here to fight for legalization. We're people. We have rights,'' said Eric Molina, an undocumented factory worker who immigrated to Zion, Ill., from Mexico.
Of course, the AP refers to this person as an "undocumented factory worker." Give me a break! Undocumented? You mean the employer was having a bad day and lost Mr. Molina's paperwork? The person is an ILLEGAL ALIEN, and is not only being allowed to stay in the country, but is being interviewed about it. In addition, the whole use of the phrase "immigrated to" has been completely twisted by the liberal press. Immigrants are people who come to this country legally and work to become part of the American fabric. They are not people who sneak across the border, use fake Social Security cards, and wave signs of their home countries during marches. Here's another quote:
''People have been stopped and deported in the last week. This is a community living in fear,'' said Veranes, a researcher for the International Union of Painters and Allied Trades. ''You never know when you're going to be stopped by Border Patrol and now the police.''
Isn't it the job of the Border Patrol and the police to enforce our laws and protect our borders? Why are people surprised when a person who comes to this country illegally is deported? The outrage! I'm sure jewelry thieves don't take to the streets and start demanding their rights. How dare the authorities take those diamond rings from them? In addition, the AP uses more of their misleading language to account for the smaller number of protesters from the previous year. The writer states, "Some said participation likely was lower because many immigrants increasingly fear deportation." Wrong! I guarantee there is no immigrant in the United States of America who fears deportation. There may be some illegal aliens who fear deportation, but that is not the same thing, and the Associated Press should make that clear. Illegal immigration hurts America. It is a national security concern that must be addressed from top to bottom. The borders must be protected. Immigration laws must be enforced. America welcomes more legal immigrants than any other country in the entire world. We need to continue to do it the right way!
| America |
---
EXPELLED Producers to Yoko Ono: Let It Be ChristiansUnite.com (May 1, 2008) - A new front has been opened in the culture wars. Ben Stein's EXPELLED: No Intelligence Allowed stunned detractors by opening as the nation's #10 movie last weekend. Out for less than one week, it has already become one of the top 25 documentaries of all time. Opponents of the film have attacked everyone and everything in it. They have attacked the producers, the star, the music, and film itself. They have even attacked those who have seen it. Now they want to change the Constitution. Yoko Ono and others have now filed lawsuits challenging the film's use and critique of John Lennon's song Imagine. One of the suits seeks to ban free speech through preliminary injunctive relief which essentially means that they are trying to expel EXPELLED as it is now being shown in theaters. "If you really listen to the lyrics of Imagine then you realize that it represents everything that the Neo- Darwinists want. 'Imagine there's no Heaven...No hell below us...Nothing to kill or die for And no religion too...' That's exactly what the Darwinist establishment wants to do: get rid of religion. And that's what we point out when we play less than 15 seconds of the song and show some of the lyrics on screen," said Walt Ruloff Executive Producer and CEO of Premise Media. Executive Producer and Chairman of Premise Media Logan Craft explained, "The fair use doctrine is a well established principle that gives the public the right to freely use portions of copyrighted materials for the purposes of commentary and criticism. While some may not like what we have to say or how we say it, we have the free speech right to do so - just as other political and social commentators have been doing for years." Premise did not pursue a license for the song and had no obligation to do so. Unbiased viewers of the film will see that the Imagine clip was used as part of a social commentary in the exercise of free speech. The brief clip - consisting of a mere 10 words - was used to contrast the messages in the documentary and was not used as an endorsement of EXPELLED. But the irony of this lawsuit was not lost on the film's star Ben Stein, "So Yoko Ono is suing over the brief Constitutionally protected use of a song that wants us to 'Imagine no possessions'? Maybe instead of wasting everyone's time trying to silence a documentary she should give the song to the world for free? After all, 'imagine all the people sharing all the world...You may say I'm a dreamer But I'm not the only one I hope someday you'll join us And the World can live as one.'" For more information on EXPELLED, visit www.getexpelled.com and www.expelledthemovie.com.
---
Report: Israel threatened to target Syria if Hezbollah attacks YNet News (May 1, 2008) - Israel recently conveyed a warning to Syria through a third party that it would hold Damascus accountable if Hezbollah launched attacks on the Jewish state, Israeli and European sources said on Friday. The sources, speaking on condition of anonymity, said the warning stemmed largely from Israeli concerns that Hezbollah would launch salvoes of cross-border rockets to coincide with any major Israeli offensive in the Hamas-controlled Gaza Strip. The sources said the message was conveyed in February through at least one European intermediary following the assassination of a top Hezbollah commander and before this month's five-day Israeli offensive in the Gaza Strip. After the group's senior commander, Imad Mugniyah, was killed in a bombing in Damascus, Hezbollah leader Nasrallah threatened Israel with "open war." A European source familiar with the matter noted that the message conveyed to Damascus said Syria could be targeted by Israel even if Hezbollah's attack emanated from Lebanese soil. An Israeli source with knowledge of government affairs said: "The message was passed around late February, before the last round of fighting in Gaza." "It has become clear to us Syria has to understand there is a price for its use of proxy terrorism, especially as Damascus is itself a proxy - the long-arm of Iran," the source said. Another senior Israeli government official with knowledge of defence affairs declined comment on whether a message was sent to Damascus, but told Reuters: "This is sound strategy. Syria has significantly deepened its involvement with Hezbollah in southern Lebanon since the war." Asked about the risk of an Israeli attack on Syria in response to a Hezbollah attack, a British official said: "There is always a danger that a turn of events here could prompt something on the northern border, which would be a disaster."
| Israel | Islam | Isaiah 17 |
Isaiah 17:1,2; 9
The burden of Damascus. Behold, Damascus is taken away from being a city, and it shall be a ruinous heap. The cities of Aroer are forsaken: they shall be for flocks, which shall lie down, and none shall make them afraid... In that day shall his strong cities be as a forsaken bough, and an uppermost branch, which they left because of the children of Israel: and there shall be desolation.
---
Gulf States May End Dollar Pegs, Kuwait Minister Says (Update4) Bloomberg (May 1, 2008) - Gulf states are considering dropping their pegs to the dollar after the U.S. currency's decline stoked inflation across the region, Kuwaiti Finance Minister Mustafa al- Shimali said. "Yes, there are some'' Gulf Cooperation Council states considering dropping their pegs to the dollar, which has fallen 13 percent against the euro in the last 12 months, al-Shimali said in an interview in Kuwait late yesterday without naming the countries. ``Some countries will do what we are doing.'' Al-Shimali's comments may restoke speculation of a change in Middle East currency systems that eased after the United Arab Emirates and Qatar last month ruled out any revaluation or dropping the dollar peg in the short term. The issue will remain a key issue as long as inflation remains high. "Inflation is rising in the Gulf to a great extent because of loose monetary policy,'' said Marios Maratheftis, head of research for Standard Chartered Plc in the Middle East in a telephone interview from Dubai. "Tightening monetary policy can only happen if they drop their currency pegs or strengthen the currency, preferably both.'' The U.A.E., Bahrain and Qatar lowered their benchmark interest rates today by a quarter point, matching a cut by the U.S. Federal Reserve a day earlier. The move is needed to maintain the dollar pegs. Saudi Arabia is on its weekend while Oman moves its interest rates in line with the London Inter Bank Offered Rate. Inflation is running close to 10 percent in Saudi Arabia and the U.A.E., while Qatar's consumer prices rose 14 percent in the fourth quarter. The Kuwaiti dinar has appreciated 7.9 percent against the dollar since the nation in May became the only Gulf Arab state to drop its peg to the U.S. currency. Contracts to buy U.A.E. dirhams in 12 months time are trading at a 2 percent premium and Saudi riyal forwards are trading at a 1.3 percent premium to the spot price, suggesting that some traders are betting that those countries will follow Kuwait in revaluing. The link to the dollar meant that imports in euros and other currencies that have strengthened against the dollar became more expensive. The idea of dropping the peg "has been started by other Gulf countries and they are partially going this way because the dollar has been going down for some time,'' al-Shimali said yesterday. more...
| America | Economic Crisis |
---
Reshaping Public Opinion and the White Coated Propagandists Reshaping the International Order Part 4 Knowledge Driven Revolution (April 28, 2008)
"Atomic and political scientists from Harvard University and MIT meeting in November 1975 concluded that an atomic war will certainly occur before the year 2000. This, they believed, could only be prevented by the decision of all nation-states to surrender their sovereignty to an authoritarian world government, a possibility they viewed as unlikely." - RIO: Reshaping the International Order, 1976 (p46)
Public opinion is not generated by the public it is driven into them by marketing and propaganda. One of the main aspects of generating public opinion is the use of experts or specialists to tell the public what to think and give them a false sense of security derived from the belief that there are armies of experts making all of the difficult decisions for them. What if the legions of experts are just white coated propagandists?
Importance of Public Opinion
Any attempt at creating a new international order requires the reshaping of public opinion from their current modes of thought into newer more appropriate forms. This important detail was not overlooked by The Club of Rome. From RIO: Reshaping the International Order: [Italicised text is original emphasis and bolded text is added by author.]
"The possibility of implementing ideas of a new power structure would, in democratic societies, necessitate the acceptance of such ideas by wide sections of public opinion. It is of paramount importance, therefore, that new ways and means be found to establish, within industrialized countries, contacts between formal and informal groups of concerned citizens, scientists and politicians..." - 109

"Political feasibility. Crucially important especially during the early phases of the transformation of the existing order..." - 101

"Development implies a constant destruction of sociological and psychological structures. The real problem of development is cleverly to balance positive and real improvements with severe destructions... It is the responsibility of every nation to make its own choice between economic progress and socio-psych structure destructions, and to define its own fundamental objectives for real development, which is the development of man as a totality and of the totality of men." - (Part of RIO member Maurice Guernier's position statement) - 321

"The satisfaction of needs implies that each person available for and willing to work should have an adequately remunerated job... Education is the most important non-material component for fulfilling individual ambitions... At a higher level, education not only contributes directly to individual satisfaction by developing that individual's spiritual endowment, but also indirectly by preparing the individual, mentally as well as morally, for a future role in a changing world..." - 64
Reshaping Public Opinion
Public opinion is not generated from the public, but rather given to them from politicians, experts, fiction, news media, etc.
"Public opinion is no phenomenon sui generic. It is in part the result of government policies and by definition politicians cannot hide behind their own creation. If some sectors of public opinion in the industrialized countries are immersed in the rhetoric and slogans associated with misunderstanding, then much of this may be inherited from their political leaders. And if these leaders are in part responsible for a situation which impedes acceptance of the need for change, then they themselves must be held responsible for changing this situation." - 110
No Technocracy, Just White Coated Propagandists
"One of our main weapons in this search is the vast arsenal of scientists we are potentially able to deploy. To fully utilize this resource, we must deliberately choose to focus investigation in directions we believe to be really relevant." - 107

"In political process too, the search for 'new combinations' can be expected to produce valuable results. Such a search is likely to demonstrate the responsibilities which scientists and other specialists have, not only to their nations, but also to the constituency of mankind. In the past, specialists have often been reluctant to engage in political debate or to share their knowledge and fears with the general public. Given social dilemmas, they have often preferred to adopt neutral rather than value positions, to tacitly advise rather than openly advocate. This generalization no longer holds true. In many branches of science there are radical movements. Increasingly, both in the rich and poor worlds, scientists are involved in active advocacy which they see as an intellectual and ethical duty.

These observations suggest that specialists be provided with greater opportunities to participate in the making of decisions in areas of vital importance to the future of mankind This is not to suggest the creation of a technocracy nor that political will can ever be substituted by scientific expertise... Specialists must serve as 'advocates of the unborn' and the expansion of their role can be viewed as an example of functional representation in international decision-making.

Not only must specialists advocate courses of action in international fora, they must also more fully commit themselves to development efforts at the local level. Their commitment must be total, their allegiance to a problem or community unstinting. Experts operating through bilateral and multilateral channels have not always meet these requirements. The 'new expert', in actively promoting local self-reliant development, may need to subordinate his own values even his knowledge, to those of the community he is attempting to serve. We have seen the rise of 'barefoot doctors'; we must encourage the rise of 'barefoot experts'." - 108
The above quote clearly states that the "new experts" should form a league of white coated propagandists willing to subordinate their knowledge (the only thing they have to offer) to a desired political agenda. It should also be noted the use of the term "functional representation". This is significant because the Club of Rome redefines sovereignty from what they call "territorial sovereignty" to "functional sovereignty" completely changing the meaning of sovereignty. More on the redefinition of sovereignty here.
Using Other Groups
"The most important options for organizing institutions lie in three main areas. The first relates to the way in which the means of operating society are grouped into bunches which can appropriately be handled by one institution. From the viewpoint of efficiency, the most suitable approach would be to group together those means requiring similar techniques of control. The second option concerns the various levels of decision-making and the hierarchy corresponding to it. This important structural consideration applies to single institutions as well as to the relationship between persons and between institutions. ... Third... Membership should not be limited to national governments; it should also embrace non-governmental organizations of many kinds operating at different levels." - 101

"Whereas national public opinion may exist in the singular, internationally it exists in the plural... Groups of many different kinds, both in and outside the production process - students, trade unions, scientists - from both the Third World and the industrialized countries should join forces in their attempts to shape public and political opinion. The aim here must be the internationalization of attempts at 'conscience-raising'. There would appear to be tremendous scope for a range of non-governmental organizations in this field and for cooperation among them." - 111

"... a conscious attempt must be made to organize intellectual and political lobbies to re-educate international public and political opinion." - 177

"Convincing Public and Political Opinion: Coordinated and intensified effort should be made, particularly in industrialized countries, to publicize the need to create an international social and economic order which is perceived as more equitable by all peoples. ... The primary task of many non-governmental organizations must be to undertake the effort suggested." - 122
The Ministry of Third World Truth
The Club of Rome proposes the creation of a Ministry of Third World Truth to help shape international public opinion.
"Such reform [of news media] should include the creation of a Third World information centre to specifically serve Third World needs and to facilitate the dissemination of information on the Third World, both in industrialized and Third World countries." - 111
Conclusion
The creation of a World Food Authority and its use for population control is examined in part 5. The final article in this series deals with a variety of issues including global solidarity, regional unions, legal changes and a standing United Nations Peace Force.
| EU/UN / 4th Kingdom | NewWorldOrder | America |