News for July 15, 2008
---
Stop Oil Speculators Website - Speculators and investment banks can game the energy trading markets, using loopholes in commodities law to drive up the cost of energy and reap record profits… at the expense of American families and small businesses! One of the biggest factors in high oil prices, according to many experts, is that investors, such as hedge funds and investment bankers, can use loopholes in commodities law to manipulate the market and drive crude oil, heating oil, gasoline and diesel fuel prices to new heights. Congress is aware of the problem and lawmakers recently passed legislation to address the "Enron Loophole," one of the major loopholes that opens the door to abusive trading practices, but the law didn't go far enough. Unfortunately, other loopholes exist that allow energy trading on completely "dark" exchanges. For example, the "Foreign Markets Loophole" allows American energy commodities to be traded overseas – exempt from U.S. oversight. These so-called "Dark Markets" – commodities markets that are not policed by U.S. authorities provide for an open the door to manipulation, even outright control of the markets. For example, speculative investors can buy and sell millions of barrels of U.S. destined oil and other energy products every day in the United Kingdom and even in Dubai… but are not made subject to the transparency and accountability laws that govern exchanges here in the United States! Additionally, through the so-called "swaps loophole," financial investors can "game the markets" for pure profit by buying up positions in the energy markets, without any limitation on the size of the positions they can take. One recent estimate suggested that they now control one third of the commodities markets, or $150 billion - a 1,000% increase in less than five years! Some experts believe that as much as 60 percent of the cost of a gallon of gasoline or heating oil can be attributed to pure speculation and abusive –even manipulative – trading practices, yet most trading is "dark" and federal authorities can neither fully police or see the data in the majority of the trading markets. The energy trading markets were originally set up to provide energy producers and distributors with an environment to manage risk and produce the best possible price for their customers. But they are clearly no longer the driving force in the market. Profiteering speculators and investment banks care little about establishing a price for energy based on supply and demand fundamentals – they care about turning a PROFIT. more...
| America | Economic Crisis |
---
Earthquake near Rhodes felt in Israel The Jerusalem Post (July 15, 2008) - Tremors of a powerful earthquake with an epicenter near the Greek island of Rhodes were felt throughout Israel on Tuesday morning. According to Israeli reports, the quake measured 6.8 on the Richter Scale, and was felt in Israel at 6:35 a.m, primarily in the northern and central parts of the country. While nobody was wounded in Israel and no damage was reported, in Greece a 56-year-old woman was killed after falling down a flight of stairs while she ran towards safety. The Athens Geodynamic Institute said the quake struck at 6:26 a.m. (0326 GMT) with its epicenter located 445 kilometers (275 miles) southeast of Athens, beneath the seabed south of Rhodes, and was also felt on the islands of Santorini and Crete. The US Geological Survey gave the magnitude as 6.4. Magnitudes often differ in the first hours and days after an earthquake. Local authorities in the affected areas appealed for calm, and seismologists said that while Rhodes lies in a seismically active area, major aftershocks were not expected. The quake occurred at a depth of about 70 kilometers (about 45 miles). Recently in Israel, Health Ministry director-general Prof. Avi Yisraeli issued a letter to all hospitals, health funds and Magen David Adom asking them to ensure that they are prepared for the possibility of an earthquake in the North. However, when contacted by The Jerusalem Post, Yisraeli said there was absolutely no evidence of an imminent earthquake in the North, despite reports of some unusual seismic activity of some 500 mini-quakes ranging from two to five on the Richter scale in southern Lebanon during the past four months, most of which were not felt anywhere.
| Earth Changes |
---
Euro soars to $1.60 against U.S. dollar, a new record high Associated Press (July 15, 2008) - The European single currency leapt to a record high above 1.60 dollars here on Tuesday as investor fears grew over the state of the US economy and its financial services sector, dealers said. In late morning London deals, the euro jumped to 1.6038 dollars, which beat the previous all-time peak of 1.6019 that was set on April 22.
| EU/UN / 4th Kingdom | America | Economic Crisis |
---
Fannie Mae, Freddie Rescue a 'Disaster,' Rogers Says Bloomberg (July 14, 2008) - The U.S. Treasury Department's plan to shore up Fannie Mae and Freddie Mac is an "unmitigated disaster" and the largest U.S. mortgage lenders are "basically insolvent," according to investor Jim Rogers. Taxpayers will be saddled with debt if Congress approves U.S. Treasury Secretary Henry Paulson's request for the authority to buy unlimited stakes in and lend to Fannie Mae and Freddie Mac, Rogers said in a Bloomberg Television interview. Rogers is betting that Fannie Mae shares will keep tumbling. Goldman Sachs Group Inc. analyst Daniel Zimmerman said the mortgage finance companies' shares may fall another 35 percent and lowered his share-price estimate for Fannie Mae to $7 from $18 and for Freddie Mac to $5 from $17. Freddie Mac fell 64 cents, or 8.3 percent, to $7.11 in New York Stock Exchange trading, while Fannie Mae fell 52 cents, or 5.1 percent, to $9.73. "I don't know where these guys get the audacity to take our money, taxpayer money, and buy stock in Fannie Mae," Rogers, 65, said in an interview from Singapore. "So we're going to bail out everybody else in the world. And it ruins the Federal Reserve's balance sheet and it makes the dollar more vulnerable and it increases inflation." The chairman of Rogers Holdings, who in April 2006 correctly predicted oil would reach $100 a barrel and gold $1,000 an ounce, also said the commodities bull market has a "long way to go" and advised buying agricultural commodities. Rogers, a former partner of hedge fund manager George Soros, predicted the start of the commodities rally in 1999 and started buying Chinese stocks in the same year. He traveled the world by motorcycle and car in the 1990s researching investment ideas for his books, which include "Adventure Capitalist" and "Hot Commodities." Billionaire investor Soros said today that Fannie Mae and Freddie Mac face a "solvency crisis," not a liquidity one, and that their troubles won't be the last financial disruption, Reuters reported. "This is a very serious financial crisis and it is the most serious financial crisis of our lifetime," Soros told Reuters in a telephone interview. "It is an idle dream to think that you could have this kind of crisis without the real economy being affected." "These companies were going to go bankrupt if they hadn't stepped in to do something, and they should've gone bankrupt with all of the mistakes they've made," Rogers said. "What's going to happen when you Band-Aid and put some Band-Aids on it for another year or two or three? What's going to happen three years from now when the situation's much, much, much worse?" Paulson's proposal, which the Treasury anticipates will be incorporated into an existing congressional bill and approved this week, signals a shift toward an explicit guarantee of Fannie Mae and Freddie Mac debt. The Federal Reserve separately authorized the firms to borrow directly from the central bank. more...
| America | Economic Crisis |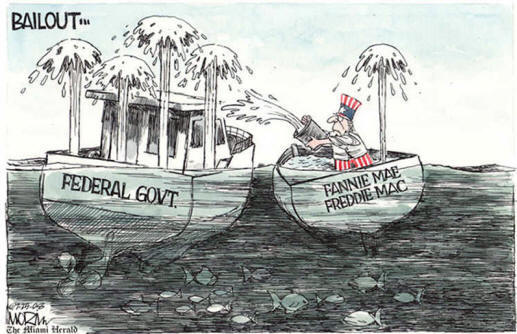 ---
Analysts say more U.S. banks will fail International Herald Tribune (July 14, 2008) - As home prices continue to decline and loan defaults mount, U.S. regulators are bracing for dozens of American banks to fail over the next year. But after a large mortgage lender in California collapsed late Friday, Wall Street analysts began posing two crucial questions: Just how many banks might falter? And, more urgently, which one could be next? The nation's banks are in far less danger than they were in the late 1980s and early 1990s, when more than 1,000 federally insured institutions went under during the savings-and-loan crisis. The debacle, the greatest collapse of American financial institutions since the Depression, prompted a government bailout that cost taxpayers about $125 billion. But the troubles are growing so rapidly at some small and midsize banks that as many as 150 out of the 7,500 banks nationwide could fail over the next 12 to 18 months, analysts say. Other lenders are likely to shut branches or seek mergers. "Everybody is drawing up lists, trying to figure out who the next bank is, No. 1, and No. 2, how many of them are there," said Richard Bove, the banking analyst with Ladenburg Thalmann, who released a list of troubled banks over the weekend. "And No. 3, from the standpoint of Washington, how badly is it going to affect the economy?" Many investors are on edge after federal regulators seized the California lender, IndyMac Bank, one of the nation's largest savings and loans, last week. With $32 billion in assets, IndyMac, a spinoff of the Countrywide Financial Corporation, was the biggest American lender to fail in more than two decades. Now, as the Bush administration grapples with the crisis at the nation's two largest mortgage finance companies, Fannie Mae and Freddie Mac, a rush of earnings reports in the coming days and weeks from some of the nation's largest financial companies are likely to provide more gloomy reminders about the sorry state of the industry. more...
| America | Economic Crisis |
"The ruling by HUD only affected a small portion of the homebuying public, those getting FHA-secured homes for first-time home buyers. A zero-down-payment loan for someone with good credit and proper loan documentation probably isn't defaulting that frequently. FHA loans require income verification. All FHA loans that I know of are 30-year fixed loans. These are not the loans creating the problems. ARMs with low teaser rates, Alt-A, no-doc, negative amortization, pay option, etc. loans are the problem loans now, and I seriously doubt that any of them would have qualified for FHA insurance. Also, if the problem loans were FHA insured, then Wall Street and the banks wouldn't be in the mess that they are in, as the federal government would be on the hook to pay off the loans. The problem loans are not FHA secured, therefore the initiative mentioned is not applicable in this case.

Our current fiscal problems are due to loose money from the Fed, collusion/fraud by and between Wall Street and the ratings agencies, and greed/lack of ownership by the banks, as well as lack of oversite by the Fed, Congress and the Executive Branch. Bush has very little responsibility for any of the problems. Wall Street, the ratings agencies and the banks are to blame. The Fed shares a lot of the blame because they have oversite on the banks, (and all the CDO crap was blessed by Greenspan as a great financial innovation). Congress and the Executive Branch, (of which Bush is the head), also share some blame because they have oversite into the actions of the Fed and thus the banks. Bush is at the very end of a long line of people/institutions that are to blame."
---
Ahmadinejad: We'll sever enemies' hands The Jerusalem Post (July 13, 2008) - Iran's President Mahmoud Ahmadinejad threatened on Sunday to "cut off the hands" of any would-be attackers of the Islamic Republic. "Before the enemies touch the trigger, the armed forces will cut off their hands," the state-run IRNA news agency quoted the leader as saying. Ahmadinejad said that missile tests conducted last week exhibited "only a small part" of Iran's defense capabilities, and that, if necessary, further capabilities would be revealed. Ahmadinejad's statement comes amid a report that US President George W. Bush has given Israel the "amber light" to carry out an attack on Iran if diplomatic efforts are unsuccessful in causing the Islamic Republic to back down and relinquish its nuclear program. According to a senior Pentagon official quoted by the British Sunday Times on Sunday morning, Bush has given Israel free rein to attack Iran's nuclear sites if sanctions fail in spite of opposition from US generals and regardless of the possible economic and political repercussions of such a strike. "Amber means get on with your preparations, stand by for immediate attack and tell us when you're ready," the official said, adding however, that Israel had been told that it could not count on the US to lend it military support. Contradicting recent reports to the contrary, he also said that the IAF would not be permitted to take off from American military bases in Iraq. The Jerusalem Post could not confirm the report. Ahmadinejad's aggressive statements contrasted strikingly with a report on Iranian state TV Sunday, which quoted him as saying that Iran would welcome the idea of setting up a US diplomatic office in Teheran. The report quoted the firebrand Iranian leader as saying he would consider an American request to set up an interests section in Iran. He said he "welcomes any move to expand ties." But Ahmadinejad said his government hasn't received any official request for such an office. Last month, US officials floated the idea but no formal requests were made. more...
| Iran | Israel | Islam | Isaiah 17 | Gog/Magog | America |
---
43 nations creating Mediterranean union Associated Press (July 13, 2008) - French President Nicolas Sarkozy urged the disparate and conflicted countries around the Mediterranean Sea on Sunday to make peace as European rivals did in the 20th century, as he launched an unprecedented Union for the Mediterranean. Yet the summit did not mask all the divisions that crisscross the region: Syria's President Bashar Assad left the enormous table before Israeli Prime Minister Ehud Olmert gave his speech to the more than 40 leaders seated around it, Israeli government officials said on condition of anonymity because of the sensitivity of the matter. It was the first time the two men had sat at the same table. "The European and the Mediterranean dreams are inseparable," Sarkozy told leaders from more than 40 nations in Europe, the Middle East and North Africa. "We will succeed together; we will fail together." The union Sarkozy championed as a pillar of his presidency brought together around one table for the first time dignitaries such rival nations as Israel and Syria, Algeria and Morocco, Turkey and Greece. Coping with age-old enmities involving their peoples and others along the Mediterranean shores will be a central challenge to the new union encompassing some 800 million people. "We will build peace in the Mediterranean together, like yesterday we built peace in Europe," Sarkozy said. He insisted the new body would not be "north against south, not Europe against the rest ... but united." Sarkozy went to special efforts to bring Syria into the international fold for the summit: Assad met Lebanese President Michel Suleiman and German Chancellor Angela Merkel, separately, both for the first time. And he met Sarkozy, after years of chill between their countries. Egypt's President Hosni Mubarak, co-presiding the summit with Sarkozy, said: "We are linked by a common destiny." He said the union has better chances of success than a previous cooperation process launched in Barcelona in 1995 because the new body focuses on practical projects parallel to efforts toward Mideast peace. more...
| Israel | Islam | EU/UN / 4th Kingdom |
---
Strong quake hits Taiwan Breitbart.com (July 13, 2008) - An earthquake with a magnitude of 6.1 struck Taiwan late Sunday, the United States Geological Survey said. The quake struck at 10:58 pm local time (1458 GMT) and was centred 188 kilometres (120 miles) south of T'ai-tung in Taiwan, the USGS reported, at a depth of 10 kilometres.
| Earth Changes |
---
'We'll Take Land By Force if Talks Fail' The Jerusalem Post (July 12, 2008) - Should diplomacy fail to return "Israeli-occupied land" to Lebanon, the Lebanese army (LAF) will take it by force, Lebanese President Gen. Michel Sueleiman said on Sunday. Suleiman was speaking at a press conference after meeting Syrian President Bashar Assad on the sidelines of the Mediterranean conference in Paris. The Lebanese president stressed, however, that the military option was the last resort. Assad said Lebanon had an important role to play in the Middle East peace process and that any progress in future Israel-Lebanon negotiations would be made in coordination with Syria. Meanwhile, in what is being interpreted in Israel as a declaration of ownership, the Lebanese Armed Forces (LAF) has built a road and set up a military position in the Shaba Farms/ Mount Dov area for the first time since Israel's withdrawal from that part of Lebanon in 2000. Israeli defense officials confirmed the move, which was first reported in the Lebanese media, but would not comment on its significance.
| Israel | Islam | Dividing the Land | Isaiah 17 | Gog/Magog |
Ezekiel 39:2
And I will turn thee back, and leave but the sixth part of thee, and will cause thee to come up from the north parts, and will bring thee upon the mountains of Israel:
Also see map of mountains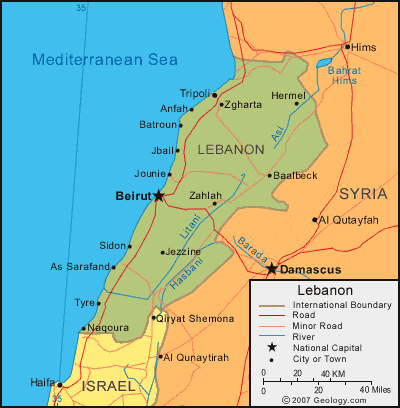 ---
Feds take over mortgage lender IndyMac. May become most expensive bank collapse ever CNN Money (July 12, 2008) - In what could turn out to be the most expensive bank failure ever, troubled mortgage lender IndyMac Bank was taken over by federal regulators on Friday. The operations of the Pasadena, Calif.-based bank - once one of the nation's largest home lenders - were shut down at 3 p.m. by the Office of Thrift Supervision and transferred to the Federal Deposit Insurance Corp. According to the FDIC, 10,000 IndyMac customers could lose as much as $500 million in uninsured deposits. The agency says the failure will cost the Deposit Insurance Fund between $4 billion and $8 billion, based on preliminary estimates. "It's possible this will be the most costly bank failure in history, but it's too soon to say," FDIC Chairman Sheila Bair said in a conference call late Friday night. The failure could also affect premiums paid by all banks for deposit insurance, she added. IndyMac, with assets of $32.01 billion and deposits of $19.06 billion, is the fifth bank to fail this year. Between 2005 and 2007, only three banks failed. And in the past 15 years, the FDIC has taken over 127 banks with combined assets of $22 billion, according to FDIC records. "There will be increased failures, but it will be within range of what we can handle," Bair said. "People should not worry." IndyMac marks the largest bank collapse since 1984, when Continental Illinois, which had $40 billion in assets, failed, according to FDIC records. The two most expensive failures were in 1988: American Savings and Loan Association in California ($5.4 billion) and involved First Republic Bank in Texas ($4 billion). more...
| America | Economic Crisis |
---
Sarkozy: Syria and Lebanon will open embassies Associated Press (July 12, 2008) - France's president says Syria and Lebanon will open embassies in each other's countries. The nations have not had full-fledged embassies in each other's countries since Lebanon became independent in 1943 and Syria in 1945. Syrian President Bashar Assad said last month that establishing diplomatic ties with Lebanon would be possible if a national unity Cabinet was formed in Beirut. Such a government, including members of Syria's ally Hezbollah, was formed Friday after weeks of haggling. French President Nicolas Sarkozy is hosting a summit among leaders of 43 nations from Europe and the Mediterranean rim. Lebanon's new president said Saturday he wants to establish diplomatic ties with Syria and exchange ambassadors, calling for a major shift in long-hostile relations between the neighbors. Michel Suleiman spoke before talks in Paris with his Syrian counterpart, Bashar Assad — and on the eve of a rare summit among leaders of 43 nations from Europe and the Mediterranean rim that France says could send a "wind of hope" through the region. "We want an exchange of ambassadors and diplomatic relations with Syria," Suleiman told reporters at the French presidential palace. He said he was "satisfied" with relations with Syria and that a visit there is "still on the agenda." The two countries have not had diplomatic relations since 2005, when former Lebanese Prime Minister Rafik Hariri was killed. Syria's critics accuse Damascus of having a role in the slaying, a charge Syria denies. Suleiman would not comment on a hoped-for timeframe for new ties or embassies. The nations have not had full-fledged embassies in each other's countries since Lebanon became independent in 1943 and Syria in 1945. more...
| Islam | Isaiah 17 | Gog/Magog |
---
Iran says Solana nuclear talks July 19 in Geneva AFP (July 11, 2008) - Iran said on Friday that its top nuclear negotiator and EU foreign policy chief Javier Solana will hold their next talks on ending the nuclear standoff on July 19, despite Western concern over the test-firing of several missiles by Tehran. "They are to continue their negotiations about the package on Saturday, July 19" in Geneva, said Ahmad Khadem al-Melleh, spokesman for the secretariat of Iran's supreme national security council, according to the state-run IRNA agency. World powers -- Britain, China, France, Germany, Russia and the United States -- last month presented Iran with a package aimed at ending the five-year-old nuclear crisis, notably offering Tehran technological incentives in exchange for suspending the sensitive process of uranium enrichment. "The trip of Dr Jalili to Geneva is taking place after the world powers welcomed the continuation of the talks on common points in the two packages that have been proposed," the spokesman added. Iran has proposed its own package -- a more all-embracing attempt to solve the problems of the world including the nuclear standoff -- and has made much of the common ground between the two proposals. The French foreign ministry has, however, confirmed that Iran does not say in its response that it is prepared to suspend uranium enrichment, which world powers say they fear could be used to make a nuclear weapon. Solana's spokeswoman Cristina Gallach declined to confirm the date, saying "we are continuing to work on the meeting and we are in the process of holding discussions" with Iran. But she reaffirmed that a meeting was still scheduled by the end of this month. more...
| Iran | EU/UN / 4th Kingdom | Solana |
---
Chile's Llaima volcano rumbles into action Breitbart.com (July 11, 2008) - Chile's imposing southern Llaima volcano roared into action Thursday, spewing rocks, lava and clouds of ash and putting six nearby communities under a red alert, the National Emergency office said. "Activity has strengthened, but it is all taking place in the Calbuco river sector, where we have all precautionary measures in place," Cautin Province Governor Andres Jouannet told reporters. He said the 3,125-meter (10,253-foot) volcano 700 kilometers (1,100 miles) south of Santiago erupted in the predawn hours, after six months of quiet following its initial eruption on January 1. "You can see three (lava) flows heading for the Calbuco river, which is constantly being monitored for abnormal levels," the office said in a statement. It said six communities in the vicinity of the volcano a week ago were placed under a red alert, pending immediate evacuation should the situation worsen. Llaima was Chile's second erupting volcano this year, after the 1,000-meter (3,280-foot) Chaiten volcano, 100 kilometers (65 miles) further south awoke after centuries of lying dormant in May.
| Earth Changes |
---
McDonald's: Christian boycotters 'hate' homosexuals reitbart.com (July 11, 2008) - Those who oppose homosexuality for religious reasons are participating in "hate," according to an official for McDonald's, the worldwide purveyor of Big Macs and Happy Meals. "Hatred has no place in our culture," corporate spokesman Bill Whitman told the Washington Post in response to a campaign by the American Family Association for a boycott of the burger-and-fries outlets because of the corporation's advocacy for the homosexual lifestyle. "That includes McDonald's, and we stand by and support our people to live and work in a society free of discrimination and harassment," Whitman said. "Throwing out any pretense of being neutral in the culture war, McDonald's has taken up the rhetoric of gay activists, suggesting those who oppose same-sex marriage (SSM) are motivated by hate," the AFA said in a new alert about its campaign today. "AFA has asked for a boycott of McDonald's restaurants because of the company's promotion of the gay agenda. AFA asked McDonald's to remain neutral in the culture war. McDonald's refused," the group said. "McDonald's has decided to adopt the 'hate' theme used by gay activist groups for years," said the AFA alert. "Mr. Whitman has intentionally avoided addressing the reason for the boycott. This boycott is not about hiring gays or how gay employees are treated. It is about McDonald's choosing to put the full weight of their corporation behind promoting their agenda," the AFA alert said. McDonald's CEO Jim Skinner said the company will promote issues they approve, the AFA said. "Being a socially responsible organization is a fundamental part of who we are. We have an obligation to use our size and resources to make a difference in the world ... and we do," Skinner was quoted as saying. The American Family Association's earlier boycott of Ford Motor Co. over its promotion of homosexuality was dropped after company sales fell 8 percent per month for two years. AFA said McDonald's donated $20,000 to the National Gay and Lesbian Chamber of Commerce in exchange for membership in the NGLCC and a seat on the group's board of directors. The NGLCC lobbies Congress on a wide range of issues, including the promotion of same-sex marriage. AFA had asked the corporation to remove its name and logo from the NGLCC website, where it is listed as a "corporate partner and organization ally." AFA also requested that McDonald's remove the endorsement of NGLCC by Richard Ellis, vice president of communications for McDonald's USA, from the website. more...
| Signs of the Times |
"When someone stands up and says homosexuality is an abomination, does that make you want to get to know God?"
Leviticus 18:22
Thou shalt not lie with mankind, as with womankind: it is abomination.
Leviticus 20:13
If a man also lie with mankind, as he lieth with a woman, both of them have committed an abomination: they shall surely be put to death; their blood shall be upon them.
1 Corinthians 6:9-11
Know ye not that the unrighteous shall not inherit the kingdom of God? Be not deceived: neither fornicators, nor idolaters, nor adulterers, nor effeminate, nor abusers of themselves with mankind (G733), Nor thieves, nor covetous, nor drunkards, nor revilers, nor extortioners, shall inherit the kingdom of God. And such were some of you: but ye are washed, but ye are sanctified, but ye are justified in the name of the Lord Jesus, and by the Spirit of our God.
G733 (arsenokoitēs)
From G730 and G2845; a sodomite: - abuser of (that defile) self with mankind.

G730 (arrhēn arsēn)
Probably from G142; male (as stronger for lifting): - male, man.
G2845 (koitē)
From G2749; a couch; by extension cohabitation; by implication the male sperm: - bed, chambering, X conceive.
Mark 13:13
And ye shall be hated of all men for my name's sake: but he that shall endure unto the end, the same shall be saved.
---
U.N. scheme to make Christians criminals WorldNet Daily (July 10, 2008) - Dozens of nations dominated by Islam are pressing the United Nations to adopt an anti-"defamation" plan that would make Christians criminals under international law, according to a United States organization that has launched a campaign to defend freedom of religion worldwide. "Around the world, Christians are being increasingly targeted, and even persecuted, for their religious beliefs. Now, one of the largest organizations in the United Nations is pushing to make a bad situation even worse by promoting anti-Christian bigotry," the American Center for Law & Justice said yesterday in announcing its petition drive. The discrimination is "wrapped in the guise of a U.N. resolution called 'Combating Defamation of Religions,'" the announcement said. "We must put an immediate end to this most recent, dangerous attack on faith that attempts to criminalize Christianity." The "anti-defamation" plan has been submitted to the U.N. repeatedly since about 1999, starting out as a plan to ban "defamation" of Islam and later changed to refer to "religions," officials said. It is being pushed by the 57-member Organization of the Islamic Conference nations, which has adopted the Cairo Declaration of Human Rights in Islam, "which states that all rights are subject to sharia law, and makes sharia law the only source of reference for human rights." The ACLJ petition, which is to be delivered to the United Nations High Commissioner on Human Rights, already had collected more than 23,000 names in just a brief online existence. The ACLJ's European division, the European Center for Law & Justice, also has launched its work on the issue. It submitted arguments last month to the U.N. in opposition to the proposal to institute sharia-based standards around the globe. "The position of the ECLJ in regards to the issue of 'defamation of religion' resolutions, as they have been introduced at the U.N. Human Rights Council and General Assembly, is that they are in direct violation of international law concerning the rights to freedom of religion and expression," the organization's brief said. "The 'defamation of religion' resolutions establish as the primary focus and concern the protection of ideas and religions generally, rather than protecting the rights of individuals to practice their religion, which is the chief purpose of international religious freedom law." "Furthermore, 'defamation of religion' replaces the existing objective criterion of limitations on speech where there is an intent to incite hatred or violence against religious believers with a subjective criterion that considers whether the religion or its believers feel offended by the speech," the group continued. Interestingly, in nations following Islam, the present practice is to use such laws to protect Islam and to attack religious minorities with penalties up to and including execution, the brief noted. "What should be most disconcerting to the international community is that laws based on the concept of 'defamation of religion' actually help to create a climate of violence," the argument explained. more...
| Signs of the Times | Islam | EU/UN / 4th Kingdom | NewWorldOrder |
Revelation 13:4-5, 15
And they worshipped the dragon which gave power unto the beast: and they worshipped the beast, saying, Who is like unto the beast? who is able to make war with him? And there was given unto him a mouth speaking great things and blasphemies; and power was given unto him to continue forty and two months.
And he had power to give life unto the image of the beast, that the image of the beast should both speak, and cause that as many as would not worship the image of the beast should be killed.
---
Britain okays human-pig embryo One News Now (July 9, 2008) - A license to create human-pig embryos has been granted in Great Britain. An American professor says the moral and ethical implications of that decision have not been thought out. There are moral ethics involved, says Dr. Mark Mostert of Regent University. He believes that, in this case, technology has "outstripped our thinking," and contends that the creation of human-animal embryos presents the potential for doing a great deal of harm. "...[W]e've not thought through on a moral and ethical level what this means for the future," he maintains. Plus, he points out that embryo research has not produced results. "The truth, however, is that stem cells have provided very little to this point for any kinds of diseases," says Mostert. "[W]hereas...cells from [sources other] than embryos, for example in cord blood, [have yielded] a number of successes," he notes. British law requires that the human-animal embryos be killed after 14 days, but Mostert predicts some researchers will violate that statute and let them grow even further. He emphasizes that God created man and animals separately, intending for it to stay that way. "Species were created to procreate among those of like kind, and now this takes us a step closer to essentially saying, 'well, whatever the Bible says or whatever a Christian perspective is doesn't really matter,'" he continues. "We have now completely divorced what we do in biology and in human engineering from acknowledging that we as human beings are creations of God and that other species are made by the creator. Now we're saying we are taking that role." Mostert argues that the creation of human-pig embryos will create beings that God never intended to be. He also stresses that many scientists are atheists or agnostics and care nothing about biblical ethics.
| Technology |
Did Ancient Biotechnology Create Nephilim? - "...The Book of Jasher, mentioned in the Bible in Joshua 10:13 and 2 Samuel 1:18, says, "After the fallen angels went into the daughters of men, the sons of men taught the mixture of animals of one species with the other, in order to provoke the Lord"(4:18). This clear reference to the Genesis 6 record illustrates that "animals" were included in whatever cross-species experiments were being conducted, and that this activity resulted in judgment from God. The Book of Enoch also supports this record, saying that after the fallen angels merged their DNA with women, they "began to sin against birds, and beasts, and reptiles, and fish" (7:5,6). The Old Testament contains associated reference to genetic mutations, which developed among humans following this activity, including unusual size, physical strength, six fingers, six toes, animal appetite for blood and even lion-like features among men (2 Sam 21:20; 23:20)."
---
Hezbollah movement triples number of rockets - report Russian News & Information Agency (July 9, 2008) - Israel's state-controlled radio claimed Wednesday that Islamic Hezbollah has increased its rocket arsenal threefold since the start of an armed conflict with Israel two years ago. Kol Israel radio made the claims citing Israel intelligence sources and said that Hezbollah now has 40,000 rockets capable of reaching Israel. Prime Minister Ehud Olmert told a cabinet meeting Wednesday that the increase in weapons by Shiite Hezbollah was in violation of UN Resolution 1701, which ended the 34-day war in 2006. The UN resolution called for the disarming of all militias and the prevention of gun-running and smuggling operations in Lebanon. Over the past few days, Israeli Defense Minister Ehud Barak has raised the issue with foreign ministers from France, Germany and Italy. According to Kol Israel, he indicated that Israel would not tolerate violations of peace agreements, which could damage "the fragile balance on the Israeli border."
| Israel | Islam | Isaiah 17 |
---
Hezbollah uprising exposed it as Iran's puppet in Lebanon Ya Libnan (June 9, 2008) - Ahmadinejad and the Iranian Shiite mullahs executing Khomeini's will to export the "Islamic revolution" remain on their self-assigned mission to slay the "Great Satan," the U.S. They were finding their campaign stumbling in all the pertinent places throughout the Sunni-dominated Mideast. This forced the Iranians to concentrate on multi-religious Lebanon in order to compensate for the major grounds lost lately in Iraq. The projection of Iranian power comes mainly in the form of Hezbollah. Hezbollah's most recent pretext to disrupt and dominate the nation was simple decisions of sovereignty by the Lebanese government on May7, including extending control over the Hezbollah communications network. Hezbollah refused. The group launched an armed revolt in Beirut, conquering districts, trashing government buildings, burning TV stations, and looting the city at will. But six days of violent confrontations between the well-armed and trained Hezbollah fighters and untrained individual Lebanese did not lead to the fall of the government or plunge the country in complete chaos as it was intended. Lebanese citizens improvised strategies to defend their neighborhoods. Hezbollah fighters lacked necessary logistical support in order to remain in the areas they invaded. So Hezbollah had to hand over the zones back to the Lebanese army. The Arabs, realizing the gravity of the Iranian assault, started an initiative culminating in a summit in Qatar. Ultimately, the factional and governmental representatives left with the Doha Accord. Pacification returned to the smoldering streets of Beirut. more...
| Iran | Israel | Islam | Isaiah 17 | Gog/Magog |
---
Defense officials: UN Resolution 1701 on the verge of collapse The Jerusalem Post (July 9, 2008) - United Nations Security Council Resolution 1701, passed to stop the Second Lebanon War, is on the verge of collapse as Syria continues to rearm Hizbullah, senior defense officials warned Tuesday night ahead of a scheduled security cabinet meeting on Wednesday. Prime Minister Ehud Olmert will convene the cabinet to discuss the rearmament of Hizbullah since the Second Lebanon War and to discuss ways to curb the flow of weapons from Syria to the guerrilla group. During the meeting, the ministers will be briefed by Military Intelligence on Hizbullah's rehabilitation and preparation for another round of violence with Israel. Defense officials said Israel's only course of action at present was to attempt to place pressure on diplomatic officials from European countries that contribute to UNIFIL. "Syria is rearming Hizbullah at a rapid pace and this is proof that 1701 has completely failed," one official said. The peacekeeping force's mandate will be up for renewal next month and Israel is looking to see if it will be possible to make changes that will give the force more freedom to prevent Hizbullah's rearmament.
| Israel | Islam | Isaiah 17 |
---
Congress' approval plunges to 9 percent WorldNet Daily (July 8, 2008) - A major tracking poll for the first time shows Americans' approval of Congress has dipped below 10 percent. The most recent Rasmussen Reports survey calculates a mere 9 percent say Congress is doing a good or excellent job, while a majority of Americans, 52 percent, believe it is doing a poor job, which also ties a record high. Against President Bush's much-publicized poor approval ratings, today's poll shows Congress' numbers have plunged to less than a third of the president's. The Democrat-controlled Congress enjoys its highest rating among Democrat respondents, 13 percent of whom rated the Congress favorably. Only 8 percent of Republicans were willing to say Congress is doing a good job, while an almost non-existent 3 percent of unaffiliated voters gave Congress a positive rating. The polling company also asked respondents if they thought Congress has passed any legislation in the last six months to improve life in the U.S.. Just 12 percent said yes, while 62 percent said Congress has done nothing to improve life in America. A further 55 percent said it was unlikely that Congress would do anything in the near future to address important problems facing the nation. Despite dismal ratings for the Democratic Congress, another Rasmussen Report released today shows Americans are unwilling to vote the majority party out of office. When given the choice, 47 percent of voters said they would vote for their district's Democratic candidate, while 34 percent said they would vote Republican. In a related Rasmussen Reports survey, Democratic presidential candidate Barack Obama holds a 6 percent lead over rival John McCain (46 percent to 40 percent) in a poll released today, and President Bush scored a 32 percent approval rating in a poll released last week.
| America |
---
EU Governments Endorse Capability Plan for Future Military Needs, Pledge Joint Efforts European Defense Agency (July 8, 2008) - European Union governments today endorsed a Capability Development Plan (CDP) defining the future military needs and priorities of European Security and Defence Policy (ESDP) and agreed to use it to guide future national defence investment decisions and to seek opportunities to collaborate so as to address their short-to-longer-term military requirements coherently. The CDP, developed over the past 18 months by the European Defence Agency, its 26 participating Member States (pMS), the EU Military Committee and the EU Council General Secretariat, contains a significant body of analysis from which conclusions and an initial tranche of practical proposals for action have been derived. It was presented to a meeting of the EDA's Steering Board, made up of directors of capability planning from the 26 pMS. "The CDP provides the picture all Member States need to take into account when planning future capability development agendas and finding the right balance between ambition and resources. Linking theory to practice is a job for everyone," said Javier Solana, Head of the Agency. "It is quite clear, however, that the CDP is not a supranational military equipment or capability plan which aims to replace national defence plans and programmes. It should support, not replace national decision-making," he added. The CDP is an attempt to address the well-documented fragmentation in demand for European military capabilities, caused in part by a lack of coordinated military requirements and comprehensive priorities. It builds on the EDA's Long-Term Vision report, published in 2006. Among its principal conclusions are the importance of intelligence and information-sharing during operations in complex environments; the need for flexible and agile responses to unpredictable threats; the requirement to coordinate military and civilian activities in crisis management operations; and the challenge of recruiting talented and well-qualified personnel for the armed forces. more...
| EU/UN / 4th Kingdom | Solana |
---
Strong quake strikes southern Peru Breitbart.com (July 8, 2008) - A strong earthquake measuring 6.0 on the moment magnitude scale struck southern Peru near Arequipa early Tuesday, the US Geological Survey reported. The quake struck at a depth of 74 kilometers (46 miles) in a mountainous region 53 kilometers (33 miles) north-northwest of Arequipa and 721 kilometers (448 miles) southeast of Lima, the USGS said.
| Earth Changes |
---
World Bank: Biofuels lift food prices 75 percent CNet News (July 7, 2008) - Demand for biofuels in Europe and the United States has forced up food prices 75 percent around the world, according to a World Bank report that was leaked and published in The Guardian newspaper on Friday. The number stands in sharp contrast to the 3 percent contribution to higher food pricing estimated by the United States Department of Agriculture. Meanwhile, a study commissioned by food manufacturers pegs the contribution of biofuels on food prices at between 25 percent and 35 percent. (Click here for PDF). The reports will surely heat up the debate on biofuels policy one week before the scheduled G8 meeting in Japan. Both the U.S. and Europe have biofuels mandates to lessen dependence on imported fossil fuels. The World Bank argues that these policies have distorted the market for grains in three ways, according to The Guardian. First, crops that would have been sold for food have been diverted for biofuels production. Second, land is now being used for fuels rather than food. And third, the mandates have set off speculation in financial markets. "Without the increase in biofuels, global wheat and maize stocks would not have declined appreciably and price increases due to other factors would have been moderate," The Guardian quoted the report as saying. The World Bank earlier this year issued a warning on biofuels and blamed them, in part, for food crises in developing countries. The Guardian said that the food impact report was delayed for political reasons, specifically not to discredit the Bush Administration's strong support for biofuels, particularly corn-based ethanol. The wide disparity in analysis among the different parties is hard to decipher. At the very least, it demonstrates the public relations and political battles we can expect over the coming years between supporters and detractors of biofuels. more...
| 3rd Seal |
---
Report: Emirates calls on GCC countries to depeg currencies from US dollar The Jerusalem Post (July 6, 2008) - A newspaper in the United Arab Emirates says the tiny Gulf state's government is lobbying neighboring countries to depeg their currencies from the US dollar to curb inflation. The National, which is owned by the Abu Dhabi ruling family, reported Sunday that the UAE is calling on all six Gulf Cooperation Council member states to "rethink" their monetary policy amid soaring inflation in the oil-rich region. It cited an internal report by Abu Dhabi's Department of Planning and Economy. The GCC members are Saudi Arabia, Qatar, Kuwait, the United Arab Emirates, Bahrain and Oman. All of their currencies are pegged to the dollar except Kuwait, which depegged its currency, the dinar, from the dollar in May 2007 in favor of a basket of currencies.
| Islam | America | Economic Crisis |