News for November 11, 2008
---
Earthquake Data Shows Frightening Trend The Horizon Project (November 11, 2008) - Brent Miller from the Horizon Project research team provided several indicators to watch for over 18 months ago on the national Coast to Coast AM radio show that would indicate world changing events could be very close. One such indicator was that historic (causing death and destruction) from high-level earthquakes would increasingly strike in diverse places as the globes tectonic system undergoes unprecedented changes. A new graph charted from US Geological Survey data shows this disturbing trend to be true as deadly and destructive quakes have suddenly skyrocketed in only the last few years.
The believed reason behind the increase in deadly quakes is that large scale geological disturbances have usually struck in unpopulated areas; however, due to global earth changes that are all related to forecasted global devastation, we see a puzzling change in what was once relatively stabilized regions becoming unpredictable in regards tectonic movement.
For those that study prophecy, this earthquake trend eerily echoes ancient religious records that state "Earthquakes will occur in diverse places" as mankind nears what some believe will be events resulting in massive loss of life. Mr. Miller was back on the Coast to Coast AM radio show the night of November 10 to discuss research updates for the rapidly approaching earth changing events and how (if any) these events are related to ancient prophecies from several past civilizations.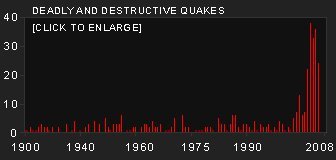 | Earth Changes |
Matthew 24:3-14
And as he sat upon the mount of Olives, the disciples came unto him privately, saying, Tell us, when shall these things be? and what shall be the sign of thy coming, and of the end of the world? And Jesus answered and said unto them, Take heed that no man deceive you. For many shall come in my name, saying, I am Christ; and shall deceive many. And ye shall hear of wars and rumours of wars: see that ye be not troubled: for all these things must come to pass, but the end is not yet. For nation shall rise against nation, and kingdom against kingdom: and there shall be famines, and pestilences, and earthquakes, in divers places. All these are the beginning of sorrows. Then shall they deliver you up to be afflicted, and shall kill you: and ye shall be hated of all nations for my name's sake. And then shall many be offended, and shall betray one another, and shall hate one another. And many false prophets shall rise, and shall deceive many. And because iniquity shall abound, the love of many shall wax cold. But he that shall endure unto the end, the same shall be saved. And this gospel of the kingdom shall be preached in all the world for a witness unto all nations; and then shall the end come.
---
Mexico deadlier than Iraq WorldNet Daily (November 11, 2008) - Drug-related bloodshed has killed more than 4,400 people across Mexico this year – a body count that has already exceeded the U.S. military death toll of 4,192 in the Iraq war since March 20, 2003. Violence involving soldiers, police and gangs has resulted in murders of 387 people in the first two weeks of October alone, and 58 killings were reported on Nov. 3, the day drug hitmen ambushed and killed two police officers with grenades and guns. The violence is not letting up in Mexico, where brutal murders are reported daily. This month is no exception.
On Election Day, a jet carrying Interior Secretary Juan Camilo Mouriño, the second highest official of the Mexican government, crashed in Mexico City. Fourteen people, including Mouriño, were killed, and 40 were injured. Many people believe the plane was a cartel target because top crime-fighting officials were aboard, including former Assistant Attorney-General José Luis Santiago Vasconcelos – an official whose name was found on a hit list. Mexican authorities claim there is no evidence that the plane was targeted. But according to a survey published by the Milenio newspaper, 56 percent of Mexicans are refusing to believe the plane crash was an accident, even if police determine so.
This week, two disabled police officers were shot to death in Juarez, across the border from El paso, Texas. They were part of a special unit to help disabled people, the Associated Press reported. One officer was nearly blind while the other was wheelchair-bound.
Twelve police officers were murdered in the first week of November. Mexican gunmen armed with automatic rifles and grenades also riddled police chief Juan Manuel Pavon Felix and three other men with bullets in Nogales just last week, while another police chief, Alejandro Parada, was shot to death Friday.
Another man was handcuffed, decapitated and put into a plastic bag hanging from a Juarez bridge. His head was found in another bag in a nearby plaza. Kidnappers also murdered a 5-year-old boy in Mexico City by injecting his heart with acid.
Gunfire erupted Friday after Mexican drug gangs clashed inside a Mazatlan prison, killing five people. According to a Reuters report, guns and drugs are common in most Mexican prisons filled with drug and organized-crime convicts. This weekend also marked bloody deaths of 10 people – including policemen – in Tijuana. Drug hitmen killed three of the men in drive-by shootings, the San Diego Union-Tribune reported.
Meanwhile, Mexican police captured the country's most feared death squad boss, Jaime "The Hummer" Gonzales this week, along with the largest arms collection in Mexico history – 540 rifles, 165 grenades, 500,000 rounds of ammunition and 14 sticks of TNT – all near the U.S. border. The FBI said Gonzales is suspected of ordering dozens of hitmen to Reynosa for a confrontation with U.S. police, London's Telegraph reported.
Security analyst Fred Burton at the Austin, Texas-based Stratfor firm, a private intelligence and analysis company, told Voice of America he is concerned that the violence is spilling into the U.S. "If you talk to the border sheriffs, which I do – if you talk to the police departments along the border, they will tell you they have a significant problem with cross-border abductions, murders, the homicide rate, and it impacts on us all in the United States," Burton said. Santa Cruz County Sheriff Tony Estrada told Green Valley News, "When they go after cops, this is scary. It's the work of brazen, seemingly fearless executioners." He said the violence can easily spill over into the U.S.: "The border is an invisible line."
Meanwhile, the U.S. State Department issued a travel advisory in October for Americans who visit Mexico. Public shootouts, muggings, murders and bank robberies are rampant – even in broad daylight – and Mexican criminals harass U.S. travelers along border regions. "Some recent Mexican army and police confrontations with drug cartels have taken on the characteristics of small-unit combat, with cartels employing automatic weapons and, on occasion, grenades," the State Department warned.
Meanwhile, Mexican officials have launched a desperate campaign to draw American tourists back into Juarez after many decided to stay away from the region, the Associated Press reports. Billboards tout the city as the "land of encounters."
| Signs of the Times | America |
---
Interview: Single EU defence 'not for all' Euractiv (November 11, 2008) - It is impossible to conceive 'Defence Europe' as a project for all 27 member states because they do not all share "similar ambitions", French Defence Minister Hervé Morin told EurActiv France in an exclusive interview.
Nevertheless, there are grounds for increased cooperation between particular member states. "Our idea is to put a number of proposals on the table, in the knowledge that some will be well-received by a limited number of countries rather than all 26," noted Morin, underlining that this was how Europe was built in many other policy areas.
Morin is confident, nonetheless, that agreement can be reached among the 27 to raise military and public awareness of the need for a European defence capacity or "military Erasmus". The project is expected to focus on military training, fostering exchange between young European officers on coordinating evacuations of European nationals and on surveillance of European maritime areas. "We are confident that the proposals tabled will be adopted," said Morin, explaining that the French EU Presidency had received positive feedback regarding the planned measures.
Morin was also upbeat about information received from the Bush administration, which he said had changed its stance on European defence. Quoting Robert Gates, his US counterpart, the French minister noted that "there is no longer any American hostility to the creation of 'Defence Europe'. They have understood that it is a means of improving global military capabilities".
The defence minister explained that in designing a "system that nobody could block," the French Presidency had ensured that every member state could "decide upon its own participation". For example, Hungary, Romania and Bulgaria will not participate in the multinational airlift fleet based on the A400M, Morin explained, but they will benefit in terms of balancing their transportation deficiencies.
| EU/UN / 4th Kingdom | NewWorldOrder | America |
---
Gordon Brown calls for new world order to beat recession Telegraph UK (November 10, 2008) - Mr Brown will call on fellow world leaders to use the current worldwide economic downturn as an opportunity to thoroughly reform international financial institutions and create a new "truly global society" with Britain, the US and Europe providing leadership. His call comes ahead of an emergency summit of world leaders and finance ministers from 20 major countries, the G20, in Washington next weekend. Mr Brown will say that the Washington meeting must establish a consensus on a new Bretton Woods-style framework for the international financial system, featuring a reformed International Monetary Fund which will act as a global early-warning system for financial problems.
The original Bretton Woods agreements, signed in Bretton Woods, New Hampshire in 1944, established post-war international monetary protocols governing trade, banking and other financial relations among nations, including fixed exchange rates and the IMF.
Mr Brown's plan for strengthening the global economy 60 years later involves recapitalisation of banks to permit the resumption of normal lending to households and businesses, better international co-ordination of fiscal and monetary policy and a new IMF fund to help struggling economies and stop financial problems spreading between nations. He also wants agreement on a world trade deal and reform of the international financial system based on principles of "transparency, integrity, responsibility, sound banking practice and global governance with co-ordination across borders".
As Britain moves into a painful recession Mr Brown has staked his own leadership on helping to find a way out of the global crisis. In a speech to City financiers at the annual Lord Mayor's banquet in London he will say: "The British Government will begin to begin a new Bretton Woods with a new IMF that offers, by its surveillance of every economy, an early warning system and a crisis prevention mechanism for the whole world. "The alliance between Britain and the US, and more broadly between Europe and the US, can and must provide leadership, not in order to make the rules ourselves, but to lead the global effort to build a stronger and more just international order. "My message is that we must be internationalist not protectionist, interventionist not neutral, progressive not reactive and forward-looking not frozen by events. We can seize the moment and in doing so build a truly global society."
Mr Brown has already discussed IMF reforms with French President Nicolas Sarkozy and German Chancellor Angela Merkel and has called on countries including China and the oil-rich Gulf states to fund the bulk of an increase in the IMF's bailout pot. The Prime Minister wants the markets to be subjected to morality and ordinary people's interests are put first. He believes that in electing Barack Obama, US voters have showed their belief in a "progressive" agenda of government intervention to help families and businesses through the current crisis. He will say: "Uniquely in this global age, it is now in our power to come together so that 2008 is remembered not just for the failure of a financial crash that engulfed the world but for the resilience and optimism with which we faced the storm, endured it and prevailed."
However, the head of the IMF played down expectations of a new Bretton Woods system ahead of the G20 summit. Dominique Strauss-Kahn, the IMF's managing director, said: "Expectations should not be oversold. Things are not going to change overnight. Bretton Woods took two years to prepare. A lot of people are talking about Bretton Woods II. The words sound nice but we are not going to create a new international treaty."
The European Union has called for an overhaul of the IMF with French President Nicolas Sarkozy, whose country holds the EU's rotating presidency, saying: "We want to change the rules of the game". The US, however, has been more lukewarm on the possibility of radical change.
| EU/UN / 4th Kingdom | NewWorldOrder | America | Economic Crisis |
---
European Air Transport Fleet Launched European Defense Agency (November 10, 2008) - European Defence Ministers, meeting in the Steering Board of the European Defence Agency, launched today concrete initiatives and projects for improving European military capabilities. Decisions were taken on programmes related to air transport, maritime surveillance and helicopters, amongst others.
"This is the concrete follow-up to the discussions which took place at the Informal EU Defence Ministers meeting in Deauville early October. We are seeing today that the Agency can very quickly translate political intentions into concrete proposals. These programmes will create tangible European capabilities and improve the capacity for crisis management operations", said Head of the Agency Javier Solana, who chaired the meeting.
European Air Transport Fleet
European Defence Ministers launched today EDA work on establishing a European Air Transport Fleet (EATF). A Declaration of Intent on participation in the initiative was signed by Defence Ministers of Belgium, Czech Republic, France, Germany, Greece, Italy, Luxembourg, Netherlands, Portugal, Romania, Slovakia and Spain.
The EATF aims at reducing European air transport shortfalls by pooling aircraft such as the A400M and C130. Participation can take different forms: making aircraft available; purchasing, providing or exchanging flying hours; or to provide and benefit from shared and/or pooled support functions (training, maintenance, etc.). Milestones have been set with the aim of reaching EATF initial operational capability by the next decade. "The EATF Declaration is most welcome, as pooling European aircraft and services will improve the lift capabilities and alleviate a significant European shortfall", said Alexander Weis, the Agency's Chief Executive.
Maritime Mine Counter-Measures
The Steering Board also launched two other projects. Ten Member States (Belgium, Estonia, Finland, France, Germany, Netherlands, Poland, Portugal, Romania and Sweden) plus Norway will work closely together in an EDA project for the future replacement of their maritime mine counter-measures capabilities in an EDA project. Activities will commence with an assessment phase, leading to recommendations for the selection of systems solutions and addressing all relevant aspects. Mine counter-measures in littoral sea areas has been identified as one of the initial 12 prioritised actions in the context of the Agency's Capability Development Plan (CDP).
Future Unmanned Aerial System
Another project, related to Maritime Surveillance, is the launch of work for a Future Unmanned Aerial System. Based on common requirements, seven Member States (Finland, France, Germany, Poland, Portugal, Spain and Sweden) will begin the preparations for the development of an unmanned aerial system, which will be able to take off and land on a ship's deck. This future system will increase the capability for wide area surveillance in support of ESDP operations, a need which has been identified in the Capability Development Plan.
Space-based Earth Surveillance System
Five Member States (Belgium, France, Germany, Greece, Spain) signed a Letter of Intent on the second generation of space-based imaging capacity. This Multinational Space-based Imaging System for surveillance, reconnaissance and observation (MUSIS) project aims at continuity of service from 2015 onwards. The MUSIS partners intend to launch an EDA Category B project on the basis on their initiative, which will be open for other Member States' participation.
Helicopters
The Steering Board endorsed a roadmap for the Helicopter Tactics Training Programme, part of the Agency's work to improve availability of helicopters for ESDP operations. The contents of this programme will be defined in the course of 2009, based on the results of two studies – focussing on the requirements – and the lessons learned from an exercise, to take place in France in spring 2009. The Programme itself will start in 2010. "The Agency is quickly progressing with its helicopter work. The Helicopter Tactics Programme is proving that in some cases training can provide additional capabilities in the short-term. Improving ESDP capabilities does not always require new equipment", said Alexander Weis, EDA's Chief Executive.
Ministers also took stock of the progress made on the Agency's work on upgrading helicopters, with the aim to offer a detailed menu with upgrade options by spring 2009.
Germany and France informed the Steering Board of their intent to bring their bilateral initiative for a Future Transport Helicopter into the Agency in the near future, opening up the project to other interested Member States. The project aims at developing intra-theatre transport helicopter for the 2020+ timeframe.
European Defence Research and Technology Strategy
Ministers endorsed the European Defence Research and Technology (EDRT) Strategy to enhance and develop more effective research collaboration to deliver timely the right technologies in support of military capabilities. The Strategy defines "ends" (key technologies to invest in), "means" (how to invest better, such as through improved R&T collaborations) and "ways" (roadmaps and action plans). Four of the 12 priority actions of the Capability Development Plan have been chosen for identifying potential R&T projects: Counter-Man Portable Air-Defence Systems (C-MANPADS), Mine Counter- Measures, Counter-Improvised Explosive Devices (C-IED) and Chemical, Biological and Radiological or Nuclear (CBRN) - specifically detection of biological weapons.
The EDRT Strategy completes the EDA work on its strategic framework. With the CDP as the overall strategic tool this framework consists of the EDRT Strategy, the Armaments Cooperation Strategy (endorsed in October 2008) and the European Defence Technological and Industrial Base Strategy (endorsed in May 2007).
Innovative Concepts and Emerging Technologies
Ten Member States (Cyprus, France, Germany, Greece, Hungary, Italy, Poland, Slovakia, Slovenia and Spain) plus Norway signed the Programme Arrangement for the Joint Investment Programme on Innovative Concepts and Emerging Technologies (JIP-ICET). The Programme aims at promoting basic research cooperation, for example on an integrated navigation architecture and on nanotechnologies for soldier protection.
Forum for Military Airworthiness Authorities
Ministers decided to create a European Union-wide Forum for Military Airworthiness Authorities. This Forum will be used to harmonise the different national military airworthiness regulations within the European Union in order to stop duplication of work, to reduce costs and to shorten timelines for multinational procurement.
Work Programme
The Steering Board approved the Agency's Work Programme for 2009. The focus of the Work Programme is on concrete projects, in particular related to the 12 prioritised actions stemming from the Capability Development Plan. The Agency will have a 2009 budget of € 30m, including € 8m operational budget for studies, and will recruit ten new staff. The budget was adopted by the General Affairs and External Relations Council in Defence Ministers formation.
Defence Data 2007
Ministers were informed on the results of the Agency's defence data-collecting for 2007 and on the assessment of the collective benchmarks for Defence R&T and equipment procurement. A dedicated brochure has been released.
EUROPEAN DEFENCE AGENCY
- Background information -
The European Defence Agency (EDA) was established by the Council on 12 July 2004. It is designed "to support the Council and the Member States in their effort to improve European defence capabilities in the field of crisis management and to sustain the ESDP as it stands now and develops in the future". More specifically, the Agency is ascribed four functions, relating to:
a) defence capabilities development;
b) armaments cooperation;
c) the European defence technological and industrial base and defence equipment market;
d) research and technology.
These functions all relate to improving Europe's defence performance, by promoting coherence in place of fragmentation.
The EDA is an Agency of the European Union. High Representative Solana is Head of the Agency, chairman of the Steering Board, which acts under the Council's authority and within the framework of guidelines issued by the Council.
| EU/UN / 4th Kingdom | Solana | NewWorldOrder |
---
Strong quake hits China's Qinghai region Reuters (November 10, 2008) - A strong earthquake measuring 6.5 hit a sparsely populated area in China's western province of Qinghai Monday, but there were no reports of deaths or injuries. The U.S. Geological Survey (USGS) originally put the magnitude of the quake at 6.7 but quickly revised it down to 6.5. China's Xinhua news agency put the magnitude of the tremor at 6.3. Buildings shook in the remote mining city of Golmud and the regional capital, Xining. State television said there had been no reports of deaths or injuries. "We are on the tenth floor, so I felt a very strong tremor 10 minutes ago, but there's been no damage," said a Xining government official who only gave her surname, Wang. The USGS said the epicenter of the quake was 161 km (101 miles)) north-northeast of Golmud at a depth of 9.9 km. Golmud is an industrial city that is dependent upon potassium mining. Xinhua said some mud houses in Da Qaidam, near the epicentre, had cracks in their walls and a few huts had collapsed. Schools have also been closed. Seven mining firms in the immediate vicinity had shut as a safety precaution, the Xinhua news agency said, listing coal mines and a base metals mine. An official at the province's largest lead-zinc miner, Western Mining, said the company had not received any reports of damage at its mines.
| Earth Changes |
---
Obama could reverse Bush orders on drilling, stem cells Breitbart (November 9, 2008) - Barack Obama is looking to reverse executive orders on oil drilling and stem cell research implemented by President George W. Bush, the president-elect's transition team said Sunday. The move could signal a swift change of course after eight years under the Bush administration, even as top aides stressed Obama's bipartisan aims and predicted the new cabinet could contain familiar faces, particularly at the Pentagon.
Both the incoming Democrats and outgoing Republicans have largely struck a tone of civility, with economic woes and the wars in Iraq and Afghanistan high on the list of priorities ahead of Obama's inauguration on January 20. But as Obama prepared for handover talks at the White House Monday, his transition chief John Podesta signaled that Obama could wipe away some hallmarks of the Bush years, including a ban on embyronic stem cell research and moves to open new lands to oil drilling. "I think across the board, on stem cell research, on a number of areas, you see the Bush administration, even today, moving aggressively to do things that I think are probably not in the interest of the country," Podesta told Fox. "We're looking at -- again, in virtually every agency to see where we can move forward, whether that's on energy transformation, on improving health care, on stem cell research," he said.
Podesta, who also served as White House chief of staff under president Bill Clinton, said he would not "preview decisions that he (Obama) has yet to make." However he pointed out that "as a candidate, Senator Obama said that he wanted all the Bush executive orders reviewed, and decide which ones should be kept, and which ones should be repealed, and which ones should be amended." Among the measures that Podesta raised were the Bush administration's move to authorize oil and gas drilling in the western state of Utah, and embryonic stem cell research which Bush has limited because he views it as destruction of human life. Obama is "a transformational figure, and I think he's going to transform the way government acts as we move forward," Podesta said.
Meanwhile the Democrat, who has already appointed a chief of staff and is mulling options for key posts in treasury and defense, is busily crafting a diverse cabinet, his transition team co-chair Valerie Jarrett said. "Throughout the campaign, president-elect Obama has talked about the importance of bipartisanship," she told NBC. "I'm confident his administration will include people from all perspectives," said Jarrett, a close aide to Obama who served as his Senate campaign finance director in 2004.
With the US military engaged on two fronts in Iraq and Afghanistan, a key question has been whether Obama would keep on Defense Secretary Robert Gates. "I think everything is a possibility right now," Jarrett said when asked if the new administration would consider keeping Gates in his post.
Jarrett also defended Obama's pick of tough-talking Congressman Rahm Emanuel as his chief of staff, saying he brought political savvy to the incoming administration. "No one can hit the ground running faster than Rahm Emanuel. He embraces president-elect Obama's philosophy. He's going to do an outstanding job," she said. House minority leader John Boehner has assailed Emanuel as an "ironic choice for a president-elect who has promised to change Washington, make politics more civil, and govern from the center."
Bush's chief of staff Josh Bolten said the White House was also working hard to ensure a seamless transition. "Because if a crisis hits on January 21, they're the ones who are going to have to deal with it. We need to make sure that they're as well prepared as possible," Bolten said on C-Span.
On Saturday, Bush applauded Obama's election victory as a "triumph" and said "he can count on my complete cooperation as he makes his transition to the White House." But while the president and president-elect have taken the high road, partisanship has not entirely disappeared among lawmakers, as Democrats revel in the seats they snatched from Republicans in the House of Representatives and Senate in last week's election. Asked whether he agreed with the notion of keeping Gates as defense secretary, Senate Majority leader Harry Reid said on CNN: "Sure. I think we need a good transition there." "Why wouldn't we want to keep him? He's never been a registered Republican," he added.
| America |
---
World has 100 days to fix crisis: EU leaders Economic Times (November 8, 2008) - European Union leaders backed a 100-day deadline by which the world's leading economies should decide urgent global finance reforms, French President Nicolas Sarkozy said on Friday. Sarkozy, who chaired a special meeting of EU nations, said the financial crisis and economic downturn required a quick deal on an overhaul at a Nov 15 summit in Washington bringing together leaders of the world's 20 largest industrialized nations and emerging economies. "We are in an economic crisis. We have to take this into account," Sarkozy said. "We have to react and we have no time to lose." "I'm not going to take part in a summit where there is just talk for talk's sake," Sarkozy told reporters after talks between the heads of the EU's 27 nations.
The EU is calling for a second global summit next spring to flesh out changes to the way the world economy is governed. They want to see far more supervision of big financial companies and are urging governments to jointly monitor them. They want to prevent a repeat of the Wall Street excesses that caused havoc in markets worldwide, and are bringing emerging economies China, India and Brazil on board for talks on shaping a new world economic order.
British Prime Minister Gordon Brown said the Washington talks should be a "decisive moment for the world economy." A text agreed by EU leaders says they want an early warning system that would watch for financial bubbles and prevent "world imbalances'', such as the swelling US trade deficit. They also suggest making the International Monetary Fund the world's financial watchdog, suggesting it be given more power to curb financial crises and give more money to aid countries in trouble.
The Europeans also want to close loopholes that allow some financial institutions to evade regulation, and ensure supervision for all major financial players, including ratings agencies or funds carrying high amounts of debt. The leaders in a declaration called for greater transparency in markets that would no longer omit "vast swathes of financial activity from auditable, certifiable accounts." It also said "excessive risk-taking must be overhauled," a reference to the sale of high-risk debt securities and executive pay that may reward risk-taking.
EU leaders will call on the Nov 15 summit to agree immediately on five principles: submit ratings agencies to more surveillance; align accounting standards; close loopholes; set banking codes of conduct to reduce excessive risk-taking; and ask the International Monetary Fund to suggest ways of calming the turmoil. To date, European governments alone have committed some 2 trillion euros ($2.6 trillion) in cash injections, bank deposit guarantees, interbank loan coverage and partial or full nationalization to prop up consumer and business confidence.
The damage done worldwide is fueling a search for a "new Bretton Woods", a reference to the post-World War II conference that shaped the international financial system. In Washington, there is little desire in the waning days of the Bush administration for a major overhaul of financial regulations. But the United States and European nations are no longer the only players. China and Brazil and India are jumping at the chance to join a major international effort.
G-20 finance officials nations will meet this weekend in Sao Paulo, Brazil, to prepare next week's summit. This may pave the way for emerging economies to play a larger role in global finance talks. France is suggesting bring them on board as members of the exclusive world club of G-8 industrialized nations which regularly meets to discuss the global economy.
| EU/UN / 4th Kingdom | NewWorldOrder | America | Economic Crisis |
---
Europe unveils its vision for global financial reform EU Observer (November 7, 2008) - EU leaders have agreed on a set of principles that should guide future talks on the reform of the global financial architecture, urging for more regulation and transparency in the sector that has delivered the world's biggest economic crisis since the Great Depression of the 1930s. "No financial institution, no market segmentation and no jurisdiction must escape proportionate and adequate regulation or at least oversight," states the document adopted at an extraordinary summit on Friday (7 November).
The list of desired measures will be presented at the G20 summit of industrialised and emerging economies on 15 November in Washington. The measures includes a call for transparency of financial transactions through revised accounting standards, an early warning system to tackle risks and a central role for the International Monetary Fund (IMF) "in a more efficient financial architecture."
"We don't want to move from the total lack of regulation to too much regulation," said French President Nicolas Sarkozy whose country currently holds the six-month presidency of the 27-strong Union.
He admitted that the three-hour debate with his EU counterparts was "pretty intense" but it did amount to a "united message" that they will send to other world powers next week.
"We will be defending a common position, a vision for restructuring our financial system," said the French leader.
Both Sweden and Britain reportedly expressed some unease about too much pro-regulation activism on France's part. German Chancellor Angela Merkel said that the EU agreed there would be no place for protectionism in the global talks next week.
The EU's scenario also included a chapter about the need to overhaul pay policy for company executives. UK Prime Minister Gordon Brown said that the issue of executive remuneration is "important and should be linked to long-term performance," although he did not endorse Belgian plans to limit executive pay-outs to a maximum of 12 months' salary.
"We are not for interventionism, we are for a good performance of the markets, we are for a social economy of the markets," commented European Commission President Jose Manuel Barroso.
Great expectations
Mr Sarkozy said that he had spoken to both outgoing US President George W Bush and his successor, Barack Obama, about next week's meeting in Washington. The document endorsed by all EU leaders states that within 100 days of the top-level global talks, measures to implement the principles desired by Europe should be drawn up. "It has to be a real historic meeting," said Mr Barroso.
The French leader argued that additional countries, such as Spain and the Netherlands, should be invited to the G20 meeting, adding that Paris, which as both a G7 member and current chair of the six-month rotating EU presidency temporarily has two seats at such meetings, will offer one of its two places to Madrid.
Meanwhile, Jean-Claude Juncker, Luxembourg's premier and finance minister as well as president of the Eurogroup, said he requested on Friday a single seat for the eurozone countries within the international financial institutions, with non-euro countries represented separately.
But he admitted that his idea was "too difficult for prime ministers to cope with", yet maintained confidence that this would happen eventually, as most of the EU countries, including the UK, will be part of the eurozone in 10 years.
He said he was "not offended" for not having been invited to the G20 meeting on 15 November - a day he would instead spend "between his bedsheets." Still, he criticised the fact that the EU has the tendency to be "over-represented" in the financial institutions, noting that the European Commission was not a G20 member, but will still take part in the global talks.
| EU/UN / 4th Kingdom | NewWorldOrder | America | Economic Crisis |
---
Netanyahu offers new peace vision YNet News (November 7, 2008) - Wooing centrist voters: Likud Chairman Benjamin Netanyahu told United States Secretary of State Condoleezza Rice Friday that he intends to adopt a new peace model should he be elected as Israel's next prime minister.
Netanyahu told Rice his model will combine diplomatic peace with economic peace, coupled with "accelerated development." He stressed that the peace model will be premised on improvement on the grassroots level and that would then move up to the leadership level.
The Likud chairman was referring to economic and trade ties between Israel and its neighbors that would ultimately prompt peace on the diplomatic front as well. His meeting with Rice in Jerusalem lasted 45 minutes.
During the meeting, the opposition chairman also expressed his gratitude to the Bush Administration, and specifically to the secretary of the state, for the American efforts to advance the Middle Eastern peace process. The two figures also discussed the Iranian threat.
Earlier Friday, the Iranian nuclear threat was also addressed by Defense Minister Ehud Barak, who said that Israel is convinced that Tehran is still pursuing nuclear weapons, while simultaneously deceiving the world via negotiations.
Speaking after his own meeting with Rice, Barak said he believed that the leaders of the free world are aware of these developments, which must be taken into account in any future decision. "As for Israel, we have said before that all options are open," he said.
| Israel |
---
Dollars lining up for 'civilian national security force'? WorldNet Daily (November 6, 2008) - President-elect Barack Obama raised questions during an election campaign stop in Colorado Springs when he asserted the U.S. needs a "civilian national security force" that would be as powerful, strong and well-funded as the Army, Marines, Navy and Air Force, but few of those questions have been answered.
But now one report is proposing a possible solution for part of the equation: From where would the money for such an organization come? Democrats in Congress now are floating the idea of cutting U.S. military spending by 25 percent, or $150 billion a year, and according to a report from blogger Jay Tea, that could be used for the new "security force." The idea to cut the military, proposed by Rep. Barney Frank, already is being opposed by Republicans.
Frank, D-Mass., recently told a newspaper the Pentagon will have to start choosing the cuts from its weapons programs because he wants to slash more than $150 billion from the estimated $607 billion in defense spending already approved for fiscal year 2008. U.S. Rep. Roscoe Bartlett, R-Md., argued America now is fighting terror worldwide, including active wars in Afghanistan and Iran, and that has stretched the capabilities of the military already. He warned cutting funding in such a drastic way would be irresponsible. "You know if we don't make the right decisions about the military nothing else will matter will it? Because if we don't have a free country then you know what do these other programs matter at all? That's the number one responsibility," he said.
The blogger, however, saw the plan linked this way: "Representative Barney Frank, apparently not content with his role in wreaking havoc on the nation's financial system, has announced that he will push for a 25 percent cut in defense spending. This could actually work hand-in-hand with one of Obama's proposals for a 'civilian National Security Force,' which he said would be as well-funded as the military. If the defense budget is slashed, then it makes it easier to fund a new organization at the same level."
On the FamilySecurityMatters.org website, blogger Peter Gadiel lamented the lack of information about Obama's plan and its accompanying implied threat. "Such an outfit would be worse than useless in any foreign action. Its only possible use could be for domestic purposes. Since we already have police forces, and the National Guard what could a 'Domestic National Security Force' possibly be used for? Suppressing dissent? We simply do not know," he wrote. It was in a July speech in Colorado Springs that Obama insisted the U.S. "cannot continue to rely only on our military in order to achieve the national security objectives we've set." A video of his comments is here:
Obama spokesmen have declined to return WND calls requesting an explanation. Joseph Farah, founder and editor of WND, used his daily column first to raise the issue and then to elevate it with a call to all reporters to start asking questions about it. "If we're going to create some kind of national police force as big, powerful and well-funded as our combined U.S. military forces, isn't this rather a big deal?" Farah wrote. "I thought Democrats generally believed the U.S. spent too much on the military. How is it possible their candidate is seeking to create some kind of massive but secret national police force that will be even bigger than the Army, Navy, Marines and Air Force put together? "Is Obama serious about creating some kind of domestic security force bigger and more expensive than that? If not, why did he say it? What did he mean?" Farah wrote.
His call generated intense Internet discussions. The Blue Collar Muse blog commented, "In 2007, the U.S. Defense budget was $439 billion. Is Obama serious about creating some kind of domestic security force bigger and more expensive than that? The questions are legion and the implications of such an organization are staggering! What would it do? According to the title, it's a civilian force so how would it go about discharging 'national security' issues? What are the Constitutional implications for such a group? How is this to be paid. … The statement was made in the context of youth service. Is this an organization for just the youth or are adults going to participate? How does one get away from the specter of other such 'youth' organizations from Nazi Germany and the former Soviet Union when talking about it?"
Obama's Colorado Springs speech was about a "call to service." WND also reported Obama's "Universal Voluntary Public Service" program promoted on his campaign website. According to an editorial in Investor's Business Daily, Obama plans to use an existing group called Public Allies as a model for his national effort. "Big Brother had nothing on the Obamas," said IBD. "They plan to herd American youth into government-funded re-education camps where they'll be brainwashed into thinking America is a racist, oppressive place in need of 'social change.'"
| NewWorldOrder | America |
---
Christians brace for gang-rape, slaughter WorldNet Daily (November 6, 2008) - Christians who have been persecuted by Hindu militants in 12 Indian states could face more bloodshed after another Hindu activist, Rashtriya Swayamsevak, was reportedly shot dead by Maoists this week.
India's Communist Party estimates that more than 500 Christians have been killed by Hindu mobs in Orissa, 12 times more than official government claims of only 40 homicides. One official said he personally authorized "cremation of more than 200 bodies" found in jungles after Christians were blamed for the death of Hindu leader Swami Laxmanananda Saraswati on Aug. 24. They continue to be persecuted even though Maoists openly admitted to murdering Saraswati. According to the Communist Party report, Hindu extremists may have used government machinery to "minimize the evidence and possibly destroy dead bodies."
Thousands of homes and churches have been destroyed, and tens of thousands of Christians have been forced to flee the violence. Mission Network News estimates 5,000 Christian homes have been burned, 200 churches ruined, 10,000 people remain in government-operated refugee camps, and tens of thousands are living in forests – many seriously wounded.
Religious rights group Barnabus Fund told the group Hindu militants "forced" Christians in Orissa to "convert" to Hinduism by threatening them with rape if they refused. Neighbors reportedly gang-raped a Hindu woman after her Christian uncle refused to renounce his faith, according to reports. Another Christian woman named Jaspina was told by neighbors, "If you go on being Christian, we will burn your house and your children in front of you." She and her family were forced to eat cow excrement to "purify" themselves of Christianity. Other Christians were doused with gasoline and told to participate in conversion ceremonies or be lit on fire. One Catholic nun has finally agreed to identify her attackers after she was gang-raped in Orissa in August. When she reported the crime, police warned her she could face consequences for her complaint. Authorities initially refused to make an arrest until the incident was publicized in a national newspaper. The nun claims policemen watched the attack without saying a word, and one officer appeared to be friends with one of her rapists.
Meanwhile, Pope Benedict XVI has called on government and religious leaders to come together and stop "cruel violence" against Christians. Other church leaders are denouncing government inaction following waves of bloodshed.
| Signs of the Times |
---
3 'Superbanks' Now Dominate Industry MSNBC (November 6, 2008) - The financial crisis that has been sweeping the globe has reshaped nearly every corner of the economy, but no industry has been altered more radically than banking. Several of the nation's biggest banks have failed or been absorbed by healthier institutions, leaving three giant "superbanks" with an unprecedented concentration of market power: Bank of America, JPMorgan Chase and Wells Fargo. While that may be good news for emerging giants and the failing companies they helped rescue, the new oligopoly raises troubling questions about regulation and competition, analysts and consumer advocates say.
"Bank fees are going up, up, up, and that's the danger to consumers as more of these banks consolidate," says Sally Greenberg, executive director of the National Consumer League. "It's difficult for the average person to get a bank account that doesn't involve fees, and if you get into financial distress you're cooked, and you'll be 'fee-ed' to death." According to a recently released banking fee study from Bankrate.com, ATM surcharges rose 11 percent this year to an average of $1.97, and the fee for a bounced checks rose 2.5 percent to an average $28.95. "Consumers are going to be victims of higher and more punitive fees," Greenberg predicts.
Moreover, many analysts worry about how federal and state authorities, who were unable to prevent the current financial industry meltdown, will be able to monitor the new giant banks that combine a wide range of operations from investment banking to consumer lending. "Large institutions are impossible to manage prudently, let alone regulate," says Amar Bhide, a professor at the Columbia Business School. In fact, existing federal banking laws say that no bank can have more than 10 percent of the domestic deposit market — a threshold recently surpassed by all three superbanks.
When asked whether the government would take any action, a Justice Department official was noncommittal. "It's always something we've looked at and will continue to look at," said spokeswoman Gina Talamona. "It's something we've looked at as part of our general antitrust review."
The reason limits on market share were put in place were so banks didn't get so big they'd become monopolies that could risk the whole economy, explains Atul Gupta, finance department chair for Bentley University in Boston. But now the government appears to be pushing banks in the direction of more consolidation. The Treasury is pouring some $250 billion of taxpayer money into healthy financial institutions, and some of that is being used by stronger banks to snap up weaker rivals. "The government is convinced that allowing any of these firms to fail would have catastrophic implications," says Gupta. "So the government is saying, 'This bank is in trouble, so I want this bank to buy that one.' And everyone holds their noses and hopes things work out."
In the current environment, such rapid consolidation is a "no brainer," says Gregory F. Udell, Chase Chair of Banking and Finance at the Indiana University Kelley School of Business. The risk of creating monopolies, he says, "is a lot less than the risk of having a lot of zombie institutions out there." He also points out that consolidation in the banking sector, though recently at a fever pitch, is nothing new. Indeed, the number of commercial banks and savings & loans in the United States has fallen in the past 20 years to 8,451 as of June, compared to 16,574 in 1988, according to FDIC data.
Espen Eckbo, finance professor at Dartmouth's Tuck School of Business, believes economies of scale will only help the troubled financial sector. He maintains the banking sector got into trouble because of out-of-control risk taking — not because banks got too big. His answer: "We need to educate the boards of these banks that ultimately are supposed to be a stopgap for these things. They need to have a bird's-eye view of the organization and understand if the left arm is taking on debt while the right arm is taking on debt. They have to oversee that." But some analysts are arguing that the current wave of consolidation could be followed by a move to break up the biggest banks. more...
| NewWorldOrder | America | Economic Crisis |
---
Obama and EU to reinvent global politics, pundit says EU Observer (November 6, 2008) - The Obama administration will play a big role in "reinventing" the international system, especially on the financial side, in strong partnership with the EU, US foreign policy expert David J. Rothkopf said on Wednesday.
A former trade offical in the Clinton administration and a consultant on foreign affairs and emerging markets, Mr Rothkopf was talking from Washington during a video-conference organized by the Brussels branch of the Carnegie Endowment for International Peace, an international think-tank associated with the US State Department. "President Obama will play a bigger role in re-inventing the international system than any other president before in past decades," Mr Rothkopf argued, with a number of organisations and treaties badly needing an "update" or to be replaced altogether – ranging from the stalled Doha round of trade talks known to the non-proliferation treaty, as well as outdated bodies such as the G7 or the International Monetary Fund that don't include the emerging economies such as China.
US-EU relations will "clearly" improve, with a second trip to Europe probably taking place in the first months of his mandate, Mr Rothkopf said. The tendency of the Democratic Party to be "more comfortable" with multi-lateralism and listening to its European partners will also contribute to improving relations, he said. But there was also a "necessity" for this partnership to improve, Mr Rothkopf argued. "We can't do things alone, we need partnerships and burden sharing. I would expect a debate within NATO about a broader role and sense of burden sharing," he said, mentioning Afghanistan as an example where European help is needed. "Problems within Europe are going to have an impact on this as much as US obligations are, to the extent that the EU is divided on some of the big issues of the time and on the nature of the common foreign policy and common defence policy," Mr Rothkopf added.
New global financial regulator and IMF reform
Mr Rothkopf emphasised the need for a global financial regulator – something the G20 meeting in Washington on 15 November is still unlikely to agree upon, with the outgoing Bush administration opposing this idea and the Obama team yet not in charge. But G20 leaders would probably agree to meet again in the first months of 2009, when both the creation of such a body, as well as the reform of the IMF could take a more concrete shape.
He spoke of a "regulatory renaissance" and of of "fusion capitalism", by which he means seeing European and Asian visions of capitalism and how markets are to be regulated take greater prominance on the international stage, and not just the so-called Washington Consensus. Yet on the down side, Mr Rothkopf warned against "blazing new trails on protectionism" that would isolate economies and only aggravate problems.
In terms of what a global financial regulator would look like, Mr Rothkopf mentioned the EU as an example of "creating super-national structures," while also noting the problem of enforcement. "Getting everybody in a room and agreeing on principles is easy – this is what we are probably going to get on 15 November – but next year we'll see whether we'll get institutions that have the ability to enforce new global standards on the international financial markets. That's going to be the challenge," he said.
Any financial agreement would also foresee a leadership role for the US, in coalition with the EU and other countries, Mr Rothkopf projected.
| EU/UN / 4th Kingdom | NewWorldOrder | America | Economic Crisis |
---
Volcano Erupts in Ethiopia AFP (November 5, 2008) - A volcano in Ethiopia's northeastern Afar region erupted on Monday, researchers said on Wednesday, prompting a minor earthquake and record lava flows covering 300 square kilometres. Addis Ababa University's Institute of Geophysics, Space Sciences and Astronomy said a volcano around the Arteale area spewed lava around noon on Monday. "Satellite pictures showed that the volcano covered a record area of 300 square kilometres," the institute said in a statement, adding that no major damage to infrastructure or population displacement were immediately reported. The institute said it subsequently monitored a small earthquake on the same site, around the Horn of Africa nation's famed Mount Arteale, the only active volcano in the area.
Five people were killed and more than 2,000 displaced when an eruption occurred in 2007 on the same mountain range. The Arteale range had been largely dormant for the previous six decades, but started to spew molten lava after a series of earthquakes rattled the region in September 2005. Experts have previously said the eruptions were caused by the expansion of tectonic plates under the Great Rift Valley, which for years has been regarded as highly susceptible to earthquakes and volcanic eruptions.
| Earth Changes |
---
Javier SOLANA, EU High Representative for the CFSP, congratulates Barack Obama on his election as President of the United States of America Council of the European Union (November 5, 2008) - Javier SOLA9A, EU High Representative for the Common Foreign and Security Policy (CFSP), made the following statement today following the Presidential elections in the United States of America:
"I want to congratulate Barack Obama on his impressive election victory. Elections are about political renewal. The campaign has been exciting and uplifting and the turnout impressive. The sense of renewal also applies to the transatlantic relations. Europeans and Americans are keen to open a new chapter in their relations.
President-elect Obama ran on a ticket of change. This is most welcome since many things in the world today need changing. Let us do that together.
Europe is willing and able to help. There is a high number of very complex global problems: from the Middle-East to Iran and Afghanistan and Pakistan, from climate change to nonproliferation. We need to address those problems together with determination and creativity.
President-elect Obama personifies what is good and impressive about America. He also personifies today's complex and globalized world where change is a constant. As we grapple with these problems, it is good to have someone who put change, empathy and good judgement at the heart of his campaign.
I am looking forward to working with President Obama and his administration."
| EU/UN / 4th Kingdom | Solana | America |
---
Ron Paul Warns Of Great Shift Toward Global Government Under Obama Infowars (November 5, 2008) - Texas Congressman and 2008 presidential candidate Ron Paul has warned that the euphoria surrounding the election of Barack Obama combined with the overwhelming fear of major international crises could facilitate a cataclysmic shift toward a new world order.
Appearing live on the Alex Jones show earlier today, the Congressman spoke of a feeling of dread surrounding the change of guard both in the White House and on Capitol Hill: "I do feel it but I don't think it's brand new, I didn't wake up with it, I've had it for a while, I don't think the election was a surprise, but the rhetoric is getting pretty strong and they are getting very bold." he commented.
Speaking on the stage management of the election, and calling it a "huge distraction" from real issues, the Congressman outlined how both candidates were pre-positioned by the elite interests with the knowledge that either would satisfactorily serve their agenda: "I think McCain was obviously a back up candidate in case something happened where Obama didn't win, they'd have been satisfied with McCain, but they have been positioning Obama for a long long time." "This started even before he announced he was running. Anybody who would have gotten that much favorable coverage for so long, you know that the plans are laid for him to be the individual that's going to be taking care of the corporate elite." the Congressman continued.
Paul also warned that Democrats gains within the House and the Senate make for a particularly worrying situation of absolute power, similar to that held by the Republican party eight years ago. "Just as a Republican Congress wouldn't say boo to a Republican Congress, you know that the Democratic Congress is NEVER going to stand up." "I think it is very dangerous and the first year is going to be the most dangerous year." Paul stated. "Just think of Bush's first year, he also had the 9/11 thing that he could use to scare everybody to death. And Obama will use the financial crisis, which will get worse, and there will be more military skirmishes around the world." Paul asserted. The Congressman also warned that many Republican representatives may go along with Obama just to win favor with the electorate and be seen to follow popular opinion.
Commenting on the much touted "International crisis" that luminaries such as Colin Powell, Joe Biden and Zbigniew Brzezinski have all guaranteed will occur within weeks of Obama entering the White House, the Congressman stated that he believes it may be a catalyst for a shift toward world government: "I think it's going to be an announcement of a new monetary order, and they'll probably make it sound very limited, they're not going to say this is world government, even though it is if you control the world's money and you control the military, which they do indirectly." "A world central bank, worldwide regulation and world control of the whole system, of all the commodities and all the natural resources, what else can you call it other than world government?"
"Obama wouldn't be there if he didn't toe the line, and when the meeting starts on November 15th for the new monetary system, this could be the beginning of the end of what's left of our national sovereignty." Paul said, also warning that the global media are already hailing Obama as the world's leader.
With Obama having previously announced that he will shift military attention to Pakistan, the Congressman also warned that the president elect will, thanks to the previous administration, have the necessary precedent to escalate the war on terror: "It's the philosophy of the Bush doctrine, which was that we have the right to preemptively strike anybody and then he even expanded that recently by saying we don't have to invade and conquer, but we have the right to go in and bomb anybody without their permission, and that's why we go into Pakistan and Syria, which are acts of war. So they have the tools to do it and the sentiment and most Americans are oblivious to what is happening."
Paul also suggested that any escalation could be facilitated by false flag events such as Gulf of Tonkin style incidents. Urging listeners not to lose faith in the campaign for liberty and the quest to restore and the Republic, Ron Paul spoke of reason to look ahead: "We have to look for sources of optimism... ultimately though all that happens to us is a result of philosophy and beliefs and convictions and that is where I think we have made some inroads. We have drawn attention to the importance of monetary policy, the importance of the central bank, the importance of how government causes so much problems, it's just that we're in the minority." Paul said.
"We have to continue to do what we are doing, you are in the business of passing on and spreading information, that, to me, is most crucial, getting more people engaged, more people understanding what the issues are, nothing else is more important than that. Then when you see an opportunity we have to turn this into political action." the Congressman concluded.
| NewWorldOrder | America | Economic Crisis |
---
Syria moves more tank-artillery forces south to Israel border Debkafile (November 5, 2008) - Lebanese sources and eye witnesses report Syrian tanks, artillery and commando units have taken up battle positions in four villages around Hasbaya opposite Mt. Hermon and northern Israel. According to DEBKAfile's military sources, Syrian tanks and artillery units continued to move into their new positions Sunday and Monday, Nov. 2-3, so completing their deployment the full length of the Syrian-Lebanese border. Elements of the Syrian 10th, 12th and 14th Divisions and the 3rd Army - withdrawn last week from the 600-km long Syrian-Iraq border - are now poised opposite Israeli positions holding the disputed Shebaa Farms enclave on Mt. Hermon.
Military sources say that whereas opposite the northeastern Tripoli region, Syrian forces are strung out in small clusters of 2 to 3 tanks one or more kilometers apart, their tank units are massed tightly opposite Mt. Hermon and northern Israel. There are other differences: Heavy Syrian armor is positioned well back from the front-line infantry and commando troops in the north, whereas tanks, artillery and special forces are deployed right up to the border opposite South Lebanon and Israel.
Western and Lebanese military observers relate Syria's military movements to Damascus' threats, growing more strident Sunday, of "painful punishment" for the US Oct. 26 raid in northern Syria unless Washington apologizes, clarifies its action and pays compensation. These observers stress that Damascus has no real expectation of a US apology or clarification, because Syria knows as well as the US that the target was its own forward military base for terrorist strikes in Iraq. While insisting that an innocent farm was attacked and the 8 people killed were all civilians, the Syrians are taking advantage of the Bush administration's silence to argue that Damascus has the same right as Washington to carry out cross-border attacks against "terrorist targets" i.e. in Lebanon and Israel. Damascus is winding the tensions up to a pitch where some military action against a US Middle East target or ally in Lebanon or Israel is becoming hard to avoid.
Senior IDF officers and some Western military sources are perplexed by the Israeli government's failure to pursue deterrent action against the Syrian tanks poised in battle array on its border. Instead, the outgoing prime minister Ehud Olmert is busy trying to reviving indirect talks with Syria before he quits, while defense minister Ehud Barak and Kadima leader Tzipi Livni appear unconcerned.
| Israel | Islam | Isaiah 17 |
---
More than 35 Qassams, mortars fired at Israel YNet News (November 5, 2008) - More than 35 Qassam rockets and mortar shells were fired at the western Negev communities early Wednesday, following an Israel Defense Forces operation in the Gaza Strip aimed at thwarting a terror attack. Two soldiers were moderately injured and four sustained light injuries after a mortar shell was fired at an IDF force during a raid in the Gaza Strip Tuesday night. Six Hamas operatives were killed in the operation, which concluded on Wednesday morning.
At least one rocket landed in central Ashkelon, and two others landed near the city. The Color Red alert system was activated moments before the fall. Two women and a 13-year-old girl suffered from shock and were evacuated to the Barzilai Medical Center in the city. There were no reports of damage. At first, reports spoke of six rockets and several mortars fired at the Eshkol Regional Council, but later reports confirmed massive rocket fire.
The resumption of the rocket fire caused great panic among parents in Ashkelon, who rushed to take out their children from the unfortified schools. "The parents are right, because we are simply abandoning our children who are exposed to missile fire," said the chairman of the parents committee in one of the schools. "I left my workplace and took my daughter home," one parent said. "I won't have her stay here one more minute, at least until she calms down."
On Tueday, the local security officers of the Gaza vicinity communities were informed that a resumption of the rocket fire from Gaza should be expected. Six mortar shells were fired at the Kissufim crossing during an IDF operation in the area, but no injuries or damage were reported in the incident.
Following a meeting of the Home Front Command to evaluate the situation it was decided not to call off the school day in Sderot and the Gaza vicinity communities. It was also agreed that the emergency procedures practiced by the civilian population in case of a rocket alert should be reviewed. Meanwhile, the Magen David Adom emergency services in the region have gone on high alert and will be operating in full capacity. more...
| Israel | Islam |
---
U.S. Treasury teaches 'Islamic Finance 101' WorldNet Daily (November 5, 2008) - The Treasury Department has announced it will teach "Islamic finance" to U.S. banking regulatory agencies, Congress and other parts of the executive branch today in Washington, D.C. – but critics say it is opening a door to American funding of Islamic extremism.
'Islamic Finance 101'
According to its announcement, the "Islamic Finance 101" forum is "designed to help inform the policy community about Islamic financial services, which are an increasingly important part of the global financial industry." The Treasury Department has collaborated with Harvard University's Islamic Finance Project to coordinate the event. The department says it expects about 100 people will attend the seminar. Some speakers include Assistant Secretary of the Treasury Neel Kashkari, senior adviser to Treasury Secretary Henry Paulson, Jr.; Harvard Business School professor Samuel Hayes; Mahmoud El-Gamal, chair of Islamic economics, finance and management at Rice University and Islamic finance adviser to the Treasury Department; Sarah Bell of the Federal Reserve Bank of New York; Yusuf Talal DeLorenzo, Shariah adviser and Islamic scholar; Michael McMillan, chair of the Islamic Legal Forum at the American Bar Association and professor of Islamic finance; and Rushdi Siddiqui, global director for the Dow Jones Islamic Market Indexes and vigorous advocate for Islamic finance.
Islamic finance is a system of banking consistent with the principles of Shariah, or Islamic law. It is becoming increasingly popular, having reached $800 billion by mid-2007 and growing at more than 15 percent each year. Wall Street now features an Islamic mutual fund and an Islamic index. However, critics claim anti-American terrorists are often financially supported through U.S. investments – creating a system by which the nation funds its own enemy.
Aiding the enemy
In his essay, "Financial Jihad: What Americans Need to Know," Vice President Christopher Holton of the Center for Security Policy writes, "America is losing the financial war on terror because Wall Street is embracing a subversive enemy ideology on one hand and providing corporate life support to state sponsors of terrorism on the other hand."
Holton refers to Islamic finance, or "Shariah-Compliant Finance" as a "modern-day Trojan horse" infiltrating the U.S. He said it poses a threat to the U.S. because it seeks to legitimize Shariah – a man-made medieval doctrine that regulates every aspect of life for Muslims – and could ultimately change American life and laws.
Shariah-compliant finance is becoming a major movement, because American banks and investors are seeking wealth from oil profits in the Middle East. Some advocates claim Islamic finance is socially responsible because it bans investors from funding companies that sell or promote products such as alcohol, tobacco, pornography, gambling and even pork.
However, Islamic financial institutions also require all industry participants to adhere to tenets of Shariah law. According to Nasser Suleiman's "Corporate Governance in Islamic Banking, "First and foremost, an Islamic organization must serve God. It must develop a distinctive corporate culture, the main purpose of which is to create a collective morality and spirituality which, when combined with the production of goods and services, sustains growth and the advancement of the Islamic way of life." Three nations that rule 100 percent by Shariah law – Iran, Saudi Arabia and Sudan – hold some of the most horrific human rights records in the world, Holton said. "This strongly suggests that Americans should strenuously resist anything associated with Shariah."
Tenets of Shariah
In his essay, "Islamic Finance or Financing Islamism," Alex Alexiev outlined the following tenets of Shariah taken from "The Reliance of the Traveler: The Classic Manual of Sacred Law":
A woman is eligible for only half of the inheritance of a man
A virgin may be married against her will by her father or grandfather
A woman may not leave the house without her husband's permission
A Muslim man may marry four women, including Christians and Jews; a Muslim woman can only marry a Muslim
Beating an insubordinate wife is permissible
Female sexual mutilation is obligatory
Adultery [or the perception of adultery] is punished by death by stoning
Offensive, military jihad against non-Muslims is a religious obligation
Apostasy from Islam is punishable by death without trial
Lying to infidels in time of jihad is permissible
'Useful idiots'
Alexiev writes that many Islamic financial institutions claim Shariah-Compliant Finance "derives its Islamic character from the strict observance of the ostensible Quranic prohibition of lending at interest, the imperative of almsgiving (zakat), avoidance of excessive uncertainty (gharar) and certain practices and products considered unlawful (haram) to Muslims …" However, he said, "[E]ven a casual examination of the reality of Islamic finance today reveals it to be a bogus concept practiced by deceptive ploys and disingenuous means by practitioners that are or should be aware of that, but remain predictably silent."
Shariah finance institutions that have funded militant Islamism for more than 30 years. Alexiev cites Islamic Development Bank's hundreds of millions of dollars in contributions to Hamas in support of suicide bombing. Bank Al-Taqwa and other banks and charities run by Saudi billionaires have funded al-Qaida activities.
Additionally, Shariah law mandates that Muslims donate 2.5 percent of their annual incomes to charities – including jihadists. When 400 banks regularly contribute to such charities, potential financial sums can be virtually limitless.
If Western banks endorse Shariah, they will "end up becoming what Lenin called useful idiots or worse to the Islamists," Alexiev writes. "And it is a very thin line between that and outright complicity in the Islamist agenda."
| Islam | NewWorldOrder | America | Economic Crisis |
---
Dems Target Private Retirement Accounts Carolina Journal Online (November 4, 2008) - Democrats in the U.S. House have been conducting hearings on proposals to confiscate workers' personal retirement accounts — including 401(k)s and IRAs — and convert them to accounts managed by the Social Security Administration. Triggered by the financial crisis the past two months, the hearings reportedly were meant to stem losses incurred by many workers and retirees whose 401(k) and IRA balances have been shrinking rapidly.
The testimony of Teresa Ghilarducci, professor of economic policy analysis at the New School for Social Research in New York, in hearings Oct. 7 drew the most attention and criticism. Testifying for the House Committee on Education and Labor, Ghilarducci proposed that the government eliminate tax breaks for 401(k) and similar retirement accounts, such as IRAs, and confiscate workers' retirement plan accounts and convert them to universal Guaranteed Retirement Accounts (GRAs) managed by the Social Security Administration.
Rep. George Miller, D-Calif., chairman of the House Committee on Education and Labor, in prepared remarks for the hearing on "The Impact of the Financial Crisis on Workers' Retirement Security," blamed Wall Street for the financial crisis and said his committee will "strengthen and protect Americans' 401(k)s, pensions, and other retirement plans" and the "Democratic Congress will continue to conduct this much-needed oversight on behalf of the American people."
Currently, 401(k) plans allow Americans to invest pretax money and their employers match up to a defined percentage, which not only increases workers' retirement savings but also reduces their annual income tax. The balances are fully inheritable, subject to income tax, meaning workers pass on their wealth to their heirs, unlike Social Security. Even when they leave an employer and go to one that doesn't offer a 401(k) or pension, workers can transfer their balances to a qualified IRA.
Mandating Equality
Ghilarducci's plan first appeared in a paper for the Economic Policy Institute: Agenda for Shared Prosperity on Nov. 20, 2007, in which she said GRAs will rescue the flawed American retirement income system (www.sharedprosperity.org/bp204/bp204.pdf).
The current retirement system, Ghilarducci said, "exacerbates income and wealth inequalities" because tax breaks for voluntary retirement accounts are "skewed to the wealthy because it is easier for them to save, and because they receive bigger tax breaks when they do."
Lauding GRAs as a way to effectively increase retirement savings, Ghilarducci wrote that savings incentives are unequal for rich and poor families because tax deferrals "provide a much larger 'carrot' to wealthy families than to middle-class families — and none whatsoever for families too poor to owe taxes."
GRAs would guarantee a fixed 3 percent annual rate of return, although later in her article Ghilarducci explained that participants would not "earn a 3% real return in perpetuity." In place of tax breaks workers now receive for contributions and thus a lower tax rate, workers would receive $600 annually from the government, inflation-adjusted. For low-income workers whose annual contributions are less than $600, the government would deposit whatever amount it would take to equal the minimum $600 for all participants.
In a radio interview with Kirby Wilbur in Seattle on Oct. 27, 2008, Ghilarducci explained that her proposal doesn't eliminate the tax breaks, rather, "I'm just rearranging the tax breaks that are available now for 401(k)s and spreading — spreading the wealth."
All workers would have 5 percent of their annual pay deducted from their paychecks and deposited to the GRA. They would still be paying Social Security and Medicare taxes, as would the employers. The GRA contribution would be shared equally by the worker and the employee. Employers no longer would be able to write off their contributions. Any capital gains would be taxable year-on-year.
Analysts point to another disturbing part of the plan. With a GRA, workers could bequeath only half of their account balances to their heirs, unlike full balances from existing 401(k) and IRA accounts. For workers who die after retiring, they could bequeath just their own contributions plus the interest but minus any benefits received and minus the employer contributions.
Another justification for Ghilarducci's plan is to eliminate investment risk. In her testimony, Ghilarducci said, "humans often lack the foresight, discipline, and investing skills required to sustain a savings plan." She cited the 2004 HSBC global survey on the Future of Retirement, in which she claimed that "a third of Americans wanted the government to force them to save more for retirement."
What the survey actually reported was that 33 percent of Americans wanted the government to "enforce additional private savings," a vastly different meaning than mandatory government-run savings. Of the four potential sources of retirement support, which were government, employer, family, and self, the majority of Americans said "self" was the most important contributor, followed by "government." When broken out by family income, low-income U.S. households said the "government" was the most important retirement support, whereas high-income families ranked "government" last and "self" first (www.hsbc.com/retirement).
On Oct. 22, The Wall Street Journal reported that the Argentinean government had seized all private pension and retirement accounts to fund government programs and to address a ballooning deficit. Fearing an economic collapse, foreign investors quickly pulled out, forcing the Argentinean stock market to shut down several times. More than 10 years ago, nationalization of private savings sent Argentina's economy into a long-term downward spiral.
Income and Wealth Redistribution
The majority of witness testimony during recent hearings before the House Committee on Education and Labor showed that congressional Democrats intend to address income and wealth inequality through redistribution.
On July 31, 2008, Robert Greenstein, executive director of the Center on Budget and Policy Priorities, testified before the subcommittee on workforce protections that "from the standpoint of equal treatment of people with different incomes, there is a fundamental flaw" in tax code incentives because they are "provided in the form of deductions, exemptions, and exclusions rather than in the form of refundable tax credits."
Even people who don't pay taxes should get money from the government, paid for by higher-income Americans, he said. "There is no obvious reason why lower-income taxpayers or people who do not file income taxes should get smaller incentives (or no tax incentives at all)," Greenstein said.
"Moving to refundable tax credits for promoting socially worthwhile activities would be an important step toward enhancing progressivity in the tax code in a way that would improve economic efficiency and performance at the same time," Greenstein said, and "reducing barriers to labor organizing, preserving the real value of the minimum wage, and the other workforce security concerns . . . would contribute to an economy with less glaring and sharply widening inequality."
When asked whether committee members seriously were considering Ghilarducci's proposal for GSAs, Aaron Albright, press secretary for the Committee on Education and Labor, said Miller and other members were listening to all ideas.
Miller's biggest priority has been on legislation aimed at greater transparency in 401(k)s and other retirement plan administration, specifically regarding fees, Albright said, and he sent a link to a Fox News interview of Miller on Oct. 24, 2008, to show that the congressman had not made a decision.
After repeated questions asked by Neil Cavuto of Fox News, Miller said he would not be in favor of "killing the 401(k)" or of "killing the tax advantages for 401(k)s."
Arguing against liberal prescriptions, William Beach, director of the Center for Data Analysis at the Heritage Foundation, testified on Oct. 24 that the "roots of the current crisis are firmly planted in public policy mistakes" by the Federal Reserve and Congress. He cautioned Congress against raising taxes, increasing burdensome regulations, or withdrawing from international product or capital markets. "Congress can ill afford to repeat the awesome errors of its predecessor in the early days of the Great Depression," Beach said.
Instead, Beach said, Congress could best address the financial crisis by making the tax reductions of 2001 and 2003 permanent, stopping dependence on demand-side stimulus, lowering the corporate profits tax, and reducing or eliminating taxes on capital gains and dividends.
Testifying before the same committee in early October, Jerry Bramlett, president and CEO of BenefitStreet, Inc., an independent 401(k) plan administrator, said one of the best ways to ensure retirement security would be to have the U.S. Department of Labor develop educational materials for workers so they could make better investment decisions, not exchange equity investments in retirement accounts for Treasury bills, as proposed in the GSAs.
Should Sen. Barack Obama win the presidency, congressional Democrats might have stronger support for their "spreading the wealth" agenda. On Oct. 27, the American Thinker posted a video of an interview with Obama on public radio station WBEZ-FM from 2001.
In the interview, Obama said, "The Supreme Court never ventured into the issues of redistribution of wealth, and of more basic issues such as political and economic justice in society." The Constitution says only what "the states can't do to you. Says what the Federal government can't do to you," and Obama added that the Warren Court wasn't that radical.
Although in 2001 Obama said he was not "optimistic about bringing major redistributive change through the courts," as president, he would likely have the opportunity to appoint one or more Supreme Court justices.
"The real tragedy of the civil rights movement was, um, because the civil rights movement became so court focused that I think there was a tendency to lose track of the political and community organizing and activities on the ground that are able to put together the actual coalition of powers through which you bring about redistributive change," Obama said.
| NewWorldOrder | America | Economic Crisis |
---
French EU defence plan is not anti-NATO, minister says EU Observer (November 4, 2008) - The US is still critical of the EU's common security and defence policy, a pet project of the bloc's French presidency, but French interior minister Michelle Alliot-Marie defended the initiative on Monday as not being aimed against NATO.
Challenged by the deputy chairman of the NATO military committee, Lt. Gen. Karl Eikenberrry to explain France's view on the transatlantic link in the enhanced EU security and defence policy, Ms Alliot-Marie said "there are countries who don't have confidence in this [transatlantic] dialogue and believe a strong European security and defence policy is aimed at minimizing NATO, but I believe the opposite." She stressed that the EU is better adapted to deal with certain conflicts, while in others "NATO power" is needed. Both were addressing a 100-odd audience at the "Security and Defence Days" conference in Brussels on Monday evening.
Mr Eikenberry made acidic remarks about the EU's ability to plan, deploy and conduct successful missions, stressing that out of the bloc's 20 missions so far, five were short-term operations in Congo. "I'm not questioning the value of those missions, they were successful in the relief of pressing humanitarian problems, but what is the overarching strategic thinking in the EU with regard to the Congo?"
He also criticized the EU's "overwhelming preference for soft power" and lack of deployable troops despite massive spending on defence. "European security in this century depends on peace and stability abroad. This is a paradigm shift often stated but still not evident in terms of policies and strategic choices. The current European strategy does not articulate clear regional priorities or comprehensive integrated responses to trans-national threats," he said.
The NATO deputy chairman nevertheless underlined that in the US there is openness towards a closer cooperation between his organisation and the European Union. "President's Sarkozy's notion of bringing more Europe into NATO is pushing against a door that is already wide open," he argued.
French defence minister Herve Morin told the Financial Times on Monday that the mood in Washington had changed, after president Sarkozy announced that France would become a full member of NATO. "It took hours of conversation for the Americans to realise that France wasn't trying to set up a rival operation and that European defence could actually bolster the capabilities of the transatlantic alliance as a whole," Mr Morin had told FT.
Mr Morin also criticised British opposition to establishing a headquarters in Brussels for the EU's common security and defence policy (ESDP). "I appreciate British pragmatism but we have a situation where we have numerous headquarters - in Britain, France, Germany, Italy and now even Greece - and that costs us money," he said.
More ESDP even without Lisbon Treaty
Meanwhile, German conservative MEP Karl von Wogau, the chairman of the European Parliament's sub-committee on security and defence argued at a parliament hearing on Monday, that the failure of the Lisbon treaty, rejected in the Irish referendum, is no impediment for building up the ESDP. The treaty would have allowed more EU power in the field of security and defense, which still remains a core competence of national governments, the MEP said. But he referred to the creation in 2004 of the European Defence Agency (EDA), an EU body aimed at helping the bloc's governments to co-ordinate and prioritise defence spending, as an example of how the ESDP can proceed without Lisbon.
Nick Witney, former EDA chief, argued the same line, while praising France's efforts to re-energize the ESDP. He also stressed the need for a common headquarters in Brussels, capable of strategic planning for the EU's different missions.
UK opposes Brussels headquarters
France's push for a common headquarter is being challenged by the UK argument that the EU can draw on NATO's planning capabilities and its 17,000-strong European headquarter in Mons, some 70 km south of Brussels.
This is enshrined in the current EU treaty of Nice, which says that "when a given crisis gives rise to an EU-led operation making use of NATO assets and capabilities, the EU and NATO will draw on the so-called "Berlin Plus arrangements." "These arrangements cover three main elements that are directly connected to operations and which can be combined: EU access to NATO planning, NATO European command options and use of NATO assets and capabilities."
| EU/UN / 4th Kingdom | NewWorldOrder | America |
---
Obama Tells Abbas: I Support Dividing Jerusalem Israel National News (November 4, 2008) - Democratic presidential candidate Senator Barack Obama privately expressed his support for a new Arab state within Israel's current borders, including eastern Jerusalem, during his meeting with Palestinian Authority Chairman and Fatah leader Mahmoud Abbas in Ramallah this summer.
According to a report published Tuesday in the Lebanese newspaper al-Ahbar, Obama told Abbas that he supports a PA state, and Arab "rights to east Jerusalem" as well. The sources said Abbas and PA Prime Minister Salam Fayyad "heard the best things they ever heard from an American president" during the meeting. However, said sources quoted in the report, the candidate asked them to keep his declaration a secret.
PA spokesman Nimar Hamad said he had no comment on the remarks, other than to describe the briefing Abbas and Fayyad had given to the presidential hopeful. Later official PA reaction to the report categorically denied that Obama had made the statements attributed to him.
"The Palestinian Authority views the American elections as an internal matter and does not favor one person over another," he said in an official statement. "The PA hopes that the next American president will fulfill his commitment towards the Palestinians and pressure Israel."
Abbas, Fayyad and the rest of the Arab world are clearly hoping for an Obama victory, however. Hamas sources quoted in the article said that Arabs fear new wars would break out in the Middle East if Republican candidate Senator John McCain wins, but they believe there will be an official peace agreement with an Obama White House.
Mixed Messages in Gaza
PA Arabs who live in Gaza were reportedly celebrating in the streets with impromptu demonstrations, waving Hamas flags in anticipation of an Obama win, according to Voice of Israel government radio. But officials for the terrorist group that controls the region were skeptical that a change in the White House would lead to a change in facts on the ground. Hamas spokesman Fawzi Barhum was quoted by Voice of Israel as saying that voters who would have to choose between Obama and McCain were being presented with two "awful" options.
The group's Damascus-based political bureau chief, Khaled Mashaal, softened the statement by saying the group is prepared to work with any U.S. president and would welcome any change in American policy, especially if it corrected what he referred to as a "bias" toward the Jewish State.
| Israel | Islam | Dividing the Land | America |
---
Summary of remarks by Javier Solana, EU High Representative for the CFSP, at the Ministerial Meeting of the Barcelona Process: Union for the Mediterranean Council of the European Union (November 4, 2008) - On Tuesday, the plenary session was focussed on the concrete project areas on which the partners will work in priority: de-pollution of the Mediterranean, maritime and land highways, civil protection, alternative energies and the Mediterranean Solar Plan, higher education and research, the Mediterranean Business Development Initiative. During the working lunch, the Ministers discussed regional issues, including the Middle East Peace Process.
The High Representative said: "Today we have made an important step forward. The world in which we live today is a globalized world in which we need global solutions for the common challenges we are facing. The Union for the Mediterranean will contribute to solve important issues.
The qualitative change we have made today is very important and significant. We have six good project areas. We have now the responsibility to work quickly and efficiently. We will be judged on how we progress on those projects. It is very important to have adequate mechanisms that allow 43 countries to adopt decisions swiftly."
FINAL DECLARATION
Marseille, 3-4 November 2008
The Paris Summit of the 'Barcelona Process: Union for the Mediterranean' (Paris, 13 July 2008) injected a renewed political momentum into Euro–Mediterranean relations. In Paris, the Heads of State and Government agreed to build on and reinforce the successful elements of the Barcelona Process by upgrading their relations, incorporating more co-ownership in their multilateral cooperation framework and delivering concrete benefits for the citizens of the region. This first Summit marked an important step forward for the Euro-Mediterranean Partnership while also highlighting the EU and Mediterranean partners' unwavering commitment and common political will to make the goals of the Barcelona Declaration – the creation of an area of peace, stability, security and shared prosperity, as well as full respect of democratic principles, human rights and fundamental freedoms and promotion of understanding between cultures and civilizations in the Euro-Mediterranean region – a reality. It was decided to launch and/or to reinforce a number of key initiatives: De-pollution of the Mediterranean, Maritime and Land Highways, Civil Protection, Alternative Energies: Mediterranean Solar Plan, Higher Education and Research, Euro-Mediterranean University and the Mediterranean Business Development Initiative.
Ministers propose that as from Marseille the "Barcelona Process: Union for the Mediterranean'' should be called "Union for the Mediterranean".
Ministers decide that the League of Arab States shall participate in all meetings at all levels of the Barcelona Process: Union for the Mediterranean, therefore contributing positively to the objectives of the process, namely the achievement of peace, prosperity and stability in the Mediterranean region.
Ministers reaffirm their commitment to achieve a just, comprehensive, and lasting solution to the Arab-Israeli conflict, consistent with the terms of reference of the Madrid Conference and its principles, including land for peace, and based on the relevant U SC resolutions and the Road Map. Ministers also stress the importance of the Arab Peace Initiative and underline their support for efforts to promote progress on all tracks of the Middle East Peace Process.
Ministers stress that the Barcelona Process: Union for the Mediterranean is not intended to replace the other initiatives undertaken in the interests of the peace, stability and development of the region, but that it will contribute to their success.
Ministers welcome the positive role played by the EU in the Middle East Peace Process, notably in the framework of the Quartet. They reaffirm their commitment to support the ongoing Israeli-Palestinian negotiations in order to conclude a peace treaty resolving all outsanding issues, including all core issues without exceptions, as specified in previous agreements. They welcome the commitment of both parties to engage in vigorous, ongoing and continous negotiations making every effort to conclude a peace agreement based on the Annapolis process, as agreed in November 2007. They also encourage the parties to intensify their efforts on the path of direct dialogue and negotiation in the fulfilment of the two states solution: a safe and secure Israel, and a viable, sovereign and democratic Palestinian State, living side by side in peace and security. Final status issues have to be agreed upon by the parties. ...
Ministers welcome and support the indirect peace talks between Israel and Syria under the auspices of Turkey and encourage all efforts deployed to achieve stability, peace and security in the region.
Ministers welcome the establishment of diplomatic relations between Syria and Lebanon.
Ministers reiterate their condemnation of terrorism in all its forms and manifestations, regardless of the perpetrators, and their determination to eradicate it and to combat its sponsors and reaffirm their commitment to fully implement the Code of Conduct on Countering Terrorism adopted in the Barcelona Summit on 28th ovember 2005 in order to enhance the security of all citizens within a framework that ensures respect for the rule of law and human rights, particularly through more effective counterterrorism policies and deeper cooperation to dismantle all terrorist activities, to protect potential targets and to manage the consequences of attacks. They also reiterate the complete rejection of attempts to associate any religion, civilization or culture with terrorism and confirm their commitment to do their utmost effort with a view to resolving conflict, ending occupation, confronting oppression, reducing poverty, promoting human rights and good governance, improving intercultural understanding and ensuring respect for all religions and beliefs.
Ministers reaffirm their common aspiration to achieve peace as well as regional security according to the Barcelona Declaration of 1995, which, inter alia, promotes regional security by acting in favour of nuclear, chemical and biological nonproliferation through adherence to and compliance with a combination of international and regional non-proliferation regimes and arms control and disarmament agreements such as NPT, CWC, BWC, CTBT and/or regional arrangements such as weapons-free zones, including their verification regimes, as well as by fulfilling in good faith their commitments under arms control, disarmament and non-proliferation conventions.
The parties shall pursue a mutually and effectively verifiable Middle East Zone free of weapons of mass destruction, nuclear, chemical and biological, and their delivery systems. Furthermore the parties will consider practical steps to prevent the proliferation of nuclear, chemical and biological weapons as well as excessive accumulation of conventional arms; refrain from developing military capacity beyond their legitimate defence requirements, at the same time reaffirming their resolve to achieve the same degree of security and mutual confidence with the lowest possible levels of troops and weaponry and adherence to CCW; promote conditions likely to develop good-neighbourly relations among themselves and support processes aimed at stability, security, prosperity and regional and sub-regional cooperation; consider any confidence and security-building measures that could be taken between the parties with a view to the creation of an "area of peace and stability in the Mediterranean", including the long term possibility of establishing a Euro-Mediterranean pact to that end. more...
| Israel | Islam | Dividing the Land | EU/UN / 4th Kingdom | Solana | NewWorldOrder | 1st Seal |
---
Mediterranean Union agrees on HQ, Arab-Israeli role AFP (November 4, 2008) - Foreign ministers from the new Mediterranean Union struck a deal Tuesday for Barcelona to host the forum's headquarters and for Israel and the Arab League to take part side-by-side. The Union's 43 member states held two days of talks in the port of Marseille to end a four-month deadlock on the two contentious issues, which threatened to hamstring the fledgling organisation. French Foreign Minister Bernard Kouchner and Egyptian Foreign Minister Ahmed Abul Gheit, whose countries currently co-chair the forum, announced the breakthrough at a joint news conference in the southern French city. "It wasn't supposed to work, and yet it did," said Kouchner, adding: "The essential points were accepted completely and without reservation by all 43 states" in the Union for the Mediterranean.
Ministers from the Mediterranean's mainly-Arab southern rim agreed to back the Spanish city of Barcelona's candidacy to host the Union in exchange for the post of secretary-general going to a southern member. They also clinched a deal on granting the Arab League a full-time seat at the forum -- a key demand of Arab members, strongly opposed by Israel which feared the pan-Arab group would try to block its involvement. "The Arabic participation will take place in every meeting with the right to speak at all levels," said Abul Gheit, although it will have no right to vote. Israel agreed to the Arab League's role in exchange for one of five deputy secretary-general posts for an initial three-year period, possibly renewable. The deputy posts will rotate between three European members and two southern ones, and will initially be held by the Palestinian Authority, Greece, Malta and Italy, alongside Israel, according to the final declaration. The text -- with likely technical amendments -- still has to be formally ratified however by the two co-presidents of the Union, French President Nicolas Sarkozy and his Egyptian counterpart Hosni Mubarak.
Launched at a Paris summit in July, the new union brings together EU members with states from north Africa, the Balkans, the Arab world and Israel in a bid to foster cooperation in one of the world's most volatile regions.
An Israeli diplomat said it agreed to the Arab League "compromise" on the basis it would be able to play a front-seat role in setting up the fledgling Union, and hopefully build bridges around the Mediterranean. But she warned "the Barcelona Process can never replace direct bilateral negotiations" to resolve Israel's conflicts with Arab nations. A spokesman for the Arab League also warned that its participation would not lead to normalisation with Israel, Egyptian state news agency MENA reported.
EU foreign policy chief Javier Solana said he was "delighted" by the accord on Barcelona, while EU external relations commissioner Benita Ferrero-Waldner called it a "logical choice." The Mediterranean capital of Spain's Catalonia region, Barcelona lent its name to the 13-year-old Barcelona Process, a previous EU regional initiative that stalled in part over Arab-Israeli disputes. In exchange for hosting its headquarters, Spain also agreed to drop the tag "Barcelona Process" from the name of the new forum.
France, which championed the Union, hoped that by basing it on modest regional projects, such as cleaning up pollution in the Mediterranean, it would be able to sidestep the trap of regional disputes. Priorities set out in the declaration include fighting pollution in the Mediterranean, solar energy, building land and sea highways and cooperation on higher education and research.
The Marseille accord, clinched after months of tough negotiations, rescues the forum from the threat of looming deadlock, but it also amounts to formally recognising tensions over the Israeli-Palestinian conflict. And the highly-political compromise to create five deputies to the secretary-general is a far cry from the slimmed-down, nimble governing structure at first envisaged for the Union.
| Israel | Islam | EU/UN / 4th Kingdom | Solana | NewWorldOrder | 1st Seal |
---
Is a 'Global Superorganism' in our Future C|Net News (November 3, 2008) - I'm catching up after a week's vacation to places which, I'm happy to report, still don't speak Internet. So pardon for being late to comment, but Kevin Kelly's latest piece, "Evidence of a Global SuperOrganism" is a must read. Kelly's post is nuanced and complex and I hesitate to reduce his thesis to a simple (and simplistic) summary. Suffice it to say, though, he posits the ultimate emergence of a global digital superorganism. His point of departure is the uncontroversial assumption that the sum of the world's connected computational devices creates what essentially is a "superorganism of computation with its own emergent behaviors."
"I define the One Machine as the emerging superorganism of computers. It is a megasupercomputer composed of billions of subcomputers. The subcomputers can compute individually on their own, and from most perspectives these units are distinct complete pieces of gear. But there is an emerging smartness in their collective that is smarter than any individual computer. We could say learning (or smartness) occurs at the level of the superorganism.
But this transformation remains a work in progress. Kelly suggests that the One Machine will pass through four developmental levels, en route from its beginnings as a "plain superorganism" into something approaching consciousness. These phases include:
I. A manufactured superorganism
II. An autonomous superorganism
III. An autonomous smart superorganism
IV. An autonomous conscious superorganism
In one respect, his argument reminded me of Ray Kurzweil's writings on how machine intelligence, represented by the totality of information-based technologies, will eventually outnumber human intelligence. The idea being a merger of our biological existence with technology. Here is how Kurzweil puts it in The Singularity is Near:
"It's a future period during which the pace of technological change will be so rapid, its impact so deep, that the human life will be irreversibly transformed...Our version 1.0 biological bodies are likewise frail and subject to a myriad of failure modes, not to mention the cumbersome maintenance rituals they require. While human intelligence is sometimes capable of soaring in its creativity and expressiveness, much human thought is derivative, petty, and circumscribed. The Singularity will allow us to transcend these limitations of our biological bodies and brains."
"We will gain power over our fates. Our mortality will be in our own hands. We will be able to live as long as we want (a subtly different statement from saying we will live forever). We will fully understand human thinking and will vastly extend and expand its reach. By the end of this century, the non-biological portion of our intelligence will be trillions of trillions of times more powerful than unaided human intelligence."
There's obviously no small amount of disagreement about the likely direction this will take. Letting your imagination go entirely, one might even construct a science fiction outcome in which the machines take control and snuff out the human race. The apocalyptic finish makes for the flashier headline but I thought Nova Spivack had as good an idea as any I've seen about where this is heading.
"Because humans are the actual witnesses and knowers of what the OM does and thinks, the function of the OM will very likely be to serve and amplify humans, rather than to replace them. It will be a system that is comprised of humans and machines working together, for human benefit, not for machine benefit. This is a very different future outlook than that of people who predict a kind of "Terminator-esque" future in which machines get smart enough to exterminate the human race. It won't happen that way. Machines will very likely not get that smart for a long time, if ever, because they are not going to be conscious. I think we should be much more afraid of humans exterminating humanity than of machines doing it."
| Technology |
---
Time for Israel to appoint a king, scholar says Israel Today (November 2, 2008) - Renowned Israeli biblical scholar and historian David Solomon last week said that conditions in Israel today are ripe for replacing democracy with theocratic monarchy and appointing a king. Speaking to Israel National Radio, Solomon said that the leadership and religious crises currently facing Israel mirror those during the time of the Prophet Samuel. Millennia ago, the people of Israel turned to Samuel to help them replace their form of government with a monarchy in order to alleviate the nation's problems. Just as then, many Israelis today might view a theocratic monarchy as a viable answer to Israel's "disastrous absence of genuine political and spiritual and religious leadership," said Solomon.
| Israel |
---
Russia determined to broaden interaction with Islamic world - Medvedev Interfax-Religion (October 28, 2008) - President Dmitry Medvedev has sent greetings to the fourth meeting of the Russia - Islamic World strategic vision group in Jeddah, Saudi Arabia, the Kremlin reported on Tuesday. "Russia's developing cooperation with the Islamic states remains highly dynamic. Your Group is playing no small part in this," Medvedev writes.
"Russia, a country with observer status in the Organization of the Islamic Conference, intends to abide firmly to its course to expand active interaction with the Islamic world. I think in connection with this, that a broad discussion of the initiative to further develop interregional dialogue, proposed by King Abdallah bin Abd al-Aziz Al Saudi of Saudi Arabia, is of crucial importance, taking into account a significant role the religious factor is playing in international affairs," he said.
"I am also convinced, that the implementation of the Russia-proposed idea of forming a consultative council of religions under UN aegis, will help strengthen the moral principles of world politics, facilitate deeper inter-confessional communication and, in a broader context, promote the dialogue of civilizations," the Russian president writes.
"The illusion of the uni-polar world is becoming a thing of the past in front of our eyes. Forums like yours can contribute significantly to the search for ways to make the situation in the world healthier and to attain a new level of global partnership," Medvedev said.
"I am convinced that Russia's active interaction with the Islamic world will help build a fairer system of international relations, where the factor of force will finally stop playing the role of universal instrument of settling all emerging problems," he said. The message of greetings was read out at the meeting by Tatarstan President Mintimer Shaimiyev on behalf of the Russian president.
| Islam | Gog/Magog |
---
Rebbetzin Esther Jungreis: Prepare for the Coming of Messiah Israel National News (October 27, 2008) - Internationally renowned Jewish inspirational speaker Rebbetzin Esther Jungreis warns that we are feeling the "birth pangs of the Mashiach," with limited time to save ourselves from dark prophecies surrounding his arrival.
In an exclusive interview on Israel National Radio's popular new show Mah Nishma with host Gavriel Sanders, Rebbetzin Jungreis, who is the founder of the successful 'Hineni' Jewish outreach organization and author of many books including the recently published 'Life is a Test: How to Handle Life's Challenges Successfully', addressed the fear that people feel as turbulent global events begin to make their mark on Jews and their allies around the world.
The birthpangs of the Messiah
"Anyone who has been just looking around and has his or her eyes open must be frightened. Things are happening that just don't make sense. Overnight, our cherished institutions, our icons, have collapsed. We don't understand it. People blame this one and that one. It's not just in the United States, it's all over the world, and we have so many natural disasters, and so much illness. What is happening?"
Rebbetzin Jungreis says G-d is bringing the world closer to redemption in a process called "chevlei Mashiach" – the labor pains of the arrival of the Messiah. "Now labor pains, you know, could be very, very painful…as the birth becomes more imminent, the pain becomes more intense, to the point where the mother can not bear it anymore, and just when she thinks she can not bear it, it's 'Mazal Tov!', and the baby is born."
'The generation of the dog'
Based on the writings of ancient Jewish sages, Jungreis concludes that this generation is replete with the signs that are prophesied to hail the coming of the Messiah, including endemic impudence, followership, idol worship, disasters, and war. "All our [sages] agree…they do not want to be present for the chevlei Mashiach, the birth pangs, because the birth pangs are going to be very painful… It's going to be a generation that will abound in chutzpah [audacity]. Chutzpah will be colossal. Families will be fragmented. Children will turn against parents, parents against children. The elderly will not be respected. Youth will be worshipped.
"… The generation will be like the generation of the dog. What does that mean? The dog runs ahead but always looks back to see if the master is behind him. Similarly, people don't have their own opinions today. What is the media saying? The media is controlling the world…"
According to Rebbetzin Jungreis, the greatest idol worship of this generation is money, an obsession which causes the Western world to ignore the lurking danger posed by Islamist terror against Israel and the United States. "We have been very blessed, perhaps there was never in history such a wealthy Jewish generation as ours was. But there was no Hakaras HaTov, no credit to Hashem. "My strength did all this". We became arrogant, we became chutzpahdik, we forgot Hashem… Imach shemam [their names be obliterated], the sons of Ishmael, every minute it's "Allah". The sons of Esav, "the Lord," every minute. Their leadership is always speaking the name of G-d. Am Yisrael … they heard the word of Hashem panim el panim, face to face - has forgotten its G-d."
The propensity of the world to worship money is so great, says Rebbetzin Jungreis, that the murder of six million Jews during the Holocaust, Iran's effort to attain a nuclear weapon, and the rise of fascist and anti-Western powers can be attributed to it. "[Following the US stock market crash in 1929] America was so absorbed, Hitler had the playground of the world at his disposal, and no one stopped him," she says. "Too late did America and the world wake up. Early thirties – no one intervened with Hitler. They were all absorbed in a financial crisis.
"Fast forward. We have a financial crisis now. Ahmadinejad has the entire world at his disposal, came to New York, made the most toxic, poisonous accusations… if you had made those accusations against Muslims they would have burned down New York City, everyone would have been apologizing. Jews? No problem. He says it, and nobody even looks up, no one looks up. And in addition to him, all the rogue nations, all the demagogues, all the new Hitlers got into the act. Russia woke up again, back to its old tricks, making treaties with Chavez of Venezuela, right here in our own hemisphere. And of course, there is always North Korea. And America is worried about the stock market."
Ahmadinejad, Islamist terror - all part of prophecy
Islamist terror, says Rebbetzin Jungreis, is also predicted in the 9th century (Gregorian calendar) Jewish work, ' Pirkei d'Rabbi Eliezer,' which prophesied that before the coming of Messiah in the end of days, Ishmael – who is described as a brutal, wild man – will rule the world. Rebbetzin Jungreis attributes Arab terror in Israel, the Islamization of Europe, and the welcoming of Iranian President and vocal anti-Zionist Mahmoud Ahmadinejad in New York to the ancient prophetic writing.
"Ahmadinejad comes to New York, and he has the audacity, the chutzpah to proclaim … in public, at the UN, that it's Zionist Jews who are responsible for the financial crisis in the world, that they are manipulating the world, they're controlling the world… And guess what: The entire world is silent, no outcry, no outrage, no one says anything, and he – just for good measure – he adds that Israel is this cesspool that has to be destroyed, annihilated. No outcry, not a word."
Ahmadinejad himself has a role in the unfolding arrival of the Messiah, says Jungreis, and was also predicted to wield lethal power during the end of days. "You know it says in Yalkut Shimoni that right before Mashiach will come, during Chevlei Mashiach, the king of Persia, now what is Persia? Persia is today's Iran. The king of Persia is going to have a weapon that is going to terrorize the entire world."
'Hashem is hiding'
The current low spiritual state of the Jewish People has caused G-d to hide His face from them, says Rebbetzin Jungreis, who says this concealment is meant to provoke the Jewish People to search for Him.
"In parshas Vayelech… Hashem tells Moshe Rabbeinu that in the future, there will come a generation who will forget Hashem, and terrible sufferings will come upon them. And finally they will say 'you know why this is happening? Ein Eloka, G-d is not with us. G-d is not in our midst.' And then it says … " I will continue to hide My face." Dichotomous. If we admit that G-d is not with us, then why is G-d hiding? … That puts the onus of responsibility upon G-d – it's Your fault. You are not with us. We have to say 'We are not with Hashem! We are not with our Torah! We are not with our Mitzvot! We are responsible."'
Rebbetzin Jungreis says G-d's concealment is a crucial element in developing the proper relationship with Him, with the key to understanding it being found in the biblical story of Adam and Chava [Eve].
"What was the first sin of Adam and Chava?. We say that we ate from a fruit that was forbidden? No! Hashem was ready to negotiate that. The first sin was scapegoating!. 'The woman who You gave to be with me, it's her fault, she made me do it.' Not only was Adam scapegoating, he was an ingrate. And Chava, what did she say? 'It was the serpent.' And that's when Hashem said 'That's it. That's it. Out! Gan Eden is over.' And that is what we are doing. But listen to the chesed [kindness] Hashem said. 'I will hide My face.'
"When a mother goes with her toddler to the supermarket, let's say, and the toddler has a temper tantrum, and he doesn't want to go out unless he gets candy, what does the mother do? She says 'Okay, I'm leaving, you will have to stay here by yourself," and she goes away. Is she really going away? Of course not. She is keeping an eye on her baby, but she pretends to go away so the child should seek her out and run after her. So Hashem says 'I'm hiding' but if you're hiding, you want somebody to find you. There's a beautiful mashal [parable] from a Rebbe who was walking on the street and he sees a little boy crying, and he says 'why are you crying my little child?' 'I'm crying because I'm playing hide-and-seek and nobody's looking for me.'… Hashem is hiding, but He wants us to find Him. And we are not looking for Him, so what are we doing? Whose fault was it?" For part two of the article, click here.
| Iran | Israel | Islam | Gog/Magog | America | Economic Crisis |
---
Ireland to work with EU lawyers on Lisbon opt-outs EU Observer (October 17, 2008) - Irish Taoisach Brian Cowen said his government is consulting with EU council legal services on drafting possible "opt-outs" to the Lisbon treaty, speaking after an EU summit in Brussels on Thursday (17 October). "We are prepared to go into that process in good faith," he said, the Irish Times reports, with the structure of the European Commission, EU military integration, taxation and civil rights the likely areas of concern.
The Irish leader also underlined his personal support for the Lisbon document and used Iceland's financial meltdown to show the benefits of EU and eurozone membership. "There is a huge body of opinion - not shared by the Irish people as things stand - that sees the need for stronger institutions, for better decision-making processes, for more effective decision-making to make sure we can deal with challenges that transcend national boundaries," Mr Cowen said. "I wouldn't like to think what the situation would be if we ended up like them [Iceland] with our own currency," he added. "The access to the resources of the ECB [European Central Bank] far outweighs the resources of the Irish central bank or Iceland's central bank."
Ireland rejected the Lisbon treaty in a referendum in June, causing a headache for the country's pro-European Fianna Fail government, with 22 other EU states having already completed ratification. The Irish leader on the first day of the EU summit pledged to come up with a road map for getting out of the situation in time for the EU summit in December.
But any future solution is unlikely to be in place in time for the June 2009 European elections, in a situation that will see 12 EU states lose 15 MEPs between them in order to comply with exisiting Nice treaty rules. A debate in Ireland's upper house - the Seanad - on Thursday saw senator Eugene Regan, a lawyer and a member of the equally pro-European Fine Gael opposition party, suggest the EU runs the elections on Lisbon rules anyway. "I don't believe any constitutional issue arises here. I do think it is a problem that we have created," he said.
| EU/UN / 4th Kingdom |
---
The Third Temple Israel National News (August 31, 2008) - Rabbi Shlomo Riskin appeared so elated it seemed as if he would jump from his stationary standing position and sing praise to the Almighty right then and there. And all for the seemingly simple act of being fitted by a... tailor. Yet, the "tailor" wasn't just any tailor, but Rabbi Yisrael Ariel of the Temple Institute in Jerusalem. Rabbi Ariel and his colleagues carefully took the measurements of Rabbi Riskin and several other rabbis, all kohanim, to eventually outfit them with the priestly garments according to the exact specifications in the Torah. Yehuda Glick, the Temple Institute's Director, beamed, "Today, in this room, kohanim are being measured for the first time in 2,000 years for the type of garments they will be wearing in a rebuilt Temple."
The Third Temple of the Third Jewish Commonwealth. This was the latest endeavor that the rabbis and yeshiva students of the Temple Institute have been working towards for years. Not if, but when (as they delight in proclaiming) the Third Temple is finally dedicated and construction has begun, they'll be ready to supervise the holy project down to every possible specification spelled out in the Torah. And they're quite serious about it. If tomorrow the Temple should suddenly appear by Divine intervention, they'll be ready to head in and begin their work. They've been ready for years. They've devoted their lives to creating the Third Temple. In the meantime they'll make all the necessary preparations, even to the point of taking clothing measurements of distinguished rabbis chosen from among the kohanim, so that when the day finally arrives they'll have the proper priestly attire to move into the Temple and initiate the rituals described in the Bible.
It's easy to dismiss such rabbis as merely tilting at windmills, preparing for a distant time when there might be a Third Temple. To the student of history, or perhaps even to the chosen rabbis themselves, the physical reality of the Third Temple may seem distant, but it still appears a lot closer than it was a hundred years ago. A century ago there was no State of Israel. It was only a dream. The Jewish presence in the land was minimal, the country was desolate, the inhabitants hostile. And yet a small group of idealists decided to begin working towards the goal of a Jewish return and Jewish statehood at a time when few thought it was possible.
"If you will it, it is no dream." Theodor Herzl internalized that ethos, then devoted his life to seeing it through. Everything he did towards the goal of creating a Jewish state, however small, insignificant or even utterly ridiculous it appeared at the time, ultimately mattered in the end. Herzl and his followers created what others had for centuries deemed impossible, a Jewish state in the ancient Jewish homeland. They weren't satisfied with simply waiting and praying and hoping, they worked and prepared for the Jewish state that they knew they could create. "The Maccabeans will rise again," declared Herzl in the last paragraph of his book The Jewish State. He didn't speculate or theorize. He used the phrase "will rise again" as a point of fact. And so it was.
Yet, in retrospect, there were very few in the early 20th Century who would have seriously thought that a powerful affluent Jewish state, feared and respected by its neighbors, would become a reality in the decades to come. But Herzl believed it. He predicted it. He willed it. "In fifty years time everyone will know it," said Herzl of the future Jewish state. And now we have rabbis and yeshiva devotees working diligently to prepare for the rebuilding of the Third Temple. They see time as a sequence of events on their side - the Jews return to the Promised Land, the Jewish state is reborn; surrounding hostile nations try to destroy Israel, the Jewish people reclaim Jerusalem and the Temple Mount. Those are the obvious events. Less obvious are the more subtle realities that add up - the rebuilding of the Jewish Quarter; Jews steadily moving into the Old City; even the Temple Mount tunnel excavations.
But alas, those big mosques are still situated on the Temple Mount. For now. So in the meantime, they pray and wait - and prepare for that inevitable day when the Third Temple will be rebuilt. They know. They've learned from history. If you will it, it is no dream.
| Israel | Islam | Temple Mount |
---
Getting the World to Hate Israel Israel National News (August 25, 2008) - As part of evaluating the competitive landscape of the popularity of nations, in a process referred to in marketing circles as "place branding", Israel, to no one's great surprise, comes up short in brand likeability, ranking last out of 35 nations included in an August 2006 survey conducted by nation-branding expert Simon Anholt; even less attractive to respondents than Indonesia, Estonia and Turkey.
How could this have happened to a country that is the Middle East's only thriving democracy and that enjoys a remarkably robust economy which has spawned some 1,000 startup high-tech companies, for example, second only to the US? How, in short, would you go about making the world hate Israel? This is how you would accomplish that objective if you were an enemy of Israel:
Even after 60 years of its existence, you question the fundamental right of Israel to even exist and regularly, though falsely, condemn it for being created "illegally" - through the "theft" of Palestinian lands and property - and thus decide, because of its original sin, that it has no "right to exist" and is merely a Zionist "regime."
You make 'Palestinianism' into a virtual cult whose members offer a world-wide reverence for the Palestinian cause and repeat without end that their nationalistic striving is inviolable, a basic human right. Of all the 100 million refugees who were dispersed around the globe and were re-assimilated since World War II, you chose only the Palestinians to languish, as if in amber, in barbaric refugee camps where their lives are used as political fodder to denounce the existence of an Israel that supposedly has deprived them of a home.
You have the United Nations set up an agency, the UNRWA, whose sole function is to make sure that this one group of refugees in the whole world are coddled, advocated for, and repeat, mantra-like, that a human "right of return" has been sanctified and assured by international law for the Palestinians. Give only this group of refugees a collective, as opposed to individual, right of return, and not only to those refugees who supposedly lived in and left what is now Israel, but all of their descendants, as well.
You use the General Assembly and the Human Rights Council of the United Nations to repeatedly demonize and delegitimize Israel, making it a pariah in the world community and issuing an edict that equates Zionism with racism. In 2006-07, if you are the Human Rights Council, you pass one hundred percent of your condemnatory resolutions against Israel.
You inculcate Palestinian children, nearly from birth, with seething, blind, unrelenting and obsessive hatred of Jews and the "Zionist regime," so that kindergarteners graduate with blood-soaked hands while toting plastic AK-47s and dedicate their lives to jihad, while older children are recruited to hide explosives on their bodies to transform themselves into shahids - a new generation of kindling for radical Islam's cult of death.
When Israel launches a military strike against nests of terrorists or in response to ceaseless rocket barrages, you term their response "disproportionate," another escalation in the "cycle of violence," a violation of human rights, aggressive, militaristic, with Apache gunships "pounding" terrorist neighborhoods.
If you are the Palestinian media, and members of the world media who are either intentionally biased or willing to be duped by anti-Israel propaganda, you repeatedly report on supposed Israeli human rights violations, such as an alleged "massacre of the 21st century," a horrible war crime and example of "genocide" committed by Israel against Palestinians in the village of Jenin.
You talk about the Israeli security barrier as an "apartheid wall" and describe it as a massive, soaring, unbroken division through Palestinian neighborhoods and communities, overlooking the fact that the wall is towering and solid concrete only in those regions that have been repeatedly assaulted by terrorism, and that 90 percent of the hundreds of miles of barrier is comprised merely of wire fence.
You use the "apartheid wall" image to create a broader misconception about the Palestinians living under a South African-style apartheid regime, disingenuously equating race restrictions that blacks lived under in Soweto with the open society of Israel, in which Israeli Arabs have more rights than in any Arab state and are asked only not to murder Jews in their midst.
On campuses where a coddled and insulated professoriate often express antipathy for the perceived ills of capitalism, the usurpation of "Palestine" by Israel, and the denial of the civil and economic rights of the Palestinians, you contend that Israel's very existence is not at all about self-determination (something you deem appropriate only for the Palestinians) and all about greed, globalism, colonialism, exploitation, and undeserved political and economic might.
You fund Middle Eastern Studies centers on university campuses and use them as anti-Israel, anti-American "think tanks" where scholarship is tainted with ideology and singularly focused on the Palestinian cause. You fund the active and vocal Muslim Students Association on campuses across the US that hold "Israel Apartheid Week" and "Holocaust in the Holy Land" festivals at which propaganda, Jew-hatred, apologies for terrorism and further demonizing of Israel take place.
In the Arab world, you play fast and loose with history in your attempt to create a historical narrative conforming to your own political agenda, erasing any link between Palestine and the Jews. Though Jerusalem is mentioned not once in the Koran and over 669 times in the Jewish Bible, you claim that Jerusalem is now the "third holiest site to Muslims," that, as Yasser Arafat announced at Camp David in 2000, the Temple Mount was never a Jewish site, that Jews now "occupy" Muslim lands.
If you are in the Muslim world or the netherworld of Jew-haters, you question the actual extent and truthfulness of the Holocaust, first complaining that the Palestinians should not have been made to suffer the loss of their homeland because of the German's extermination of European Jewry - leading in some part to the creation of Israel - and then at other times questioning whether the Holocaust even occurred and accusing Zionists of using the fictitious event as a way to falsely extract sympathy from the world community and force them into giving Palestine away to the Jews.
You write academic books questioning the strength of the "Israel Lobby," and wonder out loud if Jewish influence and wealth forces us to lose credibility and threatens America's national security on behalf of Israel.
You do all of these things as part of a concerted effort and also as random, independent efforts on the part of Israel's enemies, and you do it for the 60 years of Israel's existence, and then you are shocked - shocked! - when Israel is shown to rank unfavorably in surveys which measure the public perception of nations and how they compare to one another in the world community. But you are pleased, because you know that if Israel cannot be annihilated with armaments and rockets, perhaps you can make it cease to exist simply by making the entire world loathe it for being what it is.
| Israel |
---
Romans Chapter 13 Chuck Baldwin (August 10, 2008) - It seems that every time someone such as myself attempts to encourage our Christian brothers and sisters to resist an unconstitutional or otherwise reprehensible government policy, we hear the retort, "What about Romans Chapter 13? We Christians must submit to government. Any government. Read your Bible, and leave me alone." Or words to that effect.
No doubt, some who use this argument are sincere. They are only repeating what they have heard their pastor and other religious leaders say. On the other hand, let's be honest enough to admit that some who use this argument are just plain lazy, apathetic, and indifferent. And Romans 13 is their escape from responsibility. I suspect this is the much larger group, by the way.
Nevertheless, for the benefit of those who are sincere (but obviously misinformed), let's briefly examine Romans Chapter 13. I quote Romans Chapter 13, verses 1 through 7, from the Authorized King James text:
"Let every soul be subject unto the higher powers. For there is no power but of God: the powers that be are ordained of God. Whosoever therefore resisteth the power, resisteth the ordinance of God: and they that resist shall receive to themselves damnation. For rulers are not a terror to good works, but to the evil. Wilt thou then not be afraid of the power? do that which is good, and thou shalt have praise of the same: For he is the minister of God to thee for good. But if thou do that which is evil, be afraid; for he beareth not the sword in vain: for he is the minister of God, a revenger to execute wrath upon him that doeth evil. Wherefore ye must needs be subject, not only for wrath, but also for conscience sake. For this cause pay ye tribute also: for they are God's ministers, attending continually upon this very thing. Render therefore to all their dues: tribute to whom tribute is due; custom to whom custom; fear to whom fear; honor to whom honor."
Do our Christian friends who use these verses to teach that we should not oppose President Bush or any other political leader really believe that civil magistrates have unlimited authority to do anything they want without opposition? I doubt whether they truly believe that.
For example, what if our President decided to resurrect the old monarchal custom of Jus Primae Noctis (Law of First Night)? That was the old medieval custom when the king claimed the right to sleep with a subject's bride on the first night of their marriage. Would our sincere Christian brethren sheepishly say, "Romans Chapter 13 says we must submit to the government"? I think not. And would any of us respect any man who would submit to such a law?
So, there are limits to authority. A father has authority in his home, but does this give him power to abuse his wife and children? Of course not. An employer has authority on the job, but does this give him power to control the private lives of his employees? No. A pastor has overseer authority in the church, but does this give him power to tell employers in his church how to run their businesses? Of course not. All human authority is limited in nature. No man has unlimited authority over the lives of other men. (Lordship and Sovereignty is the exclusive domain of Jesus Christ.)
By the same token, a civil magistrate has authority in civil matters, but his authority is limited and defined. Observe that Romans Chapter 13 clearly limits the authority of civil government by strictly defining its purpose: "For rulers are not a terror to good works, but to the evil . . . For he is the minister of God to thee for good . . . for he is the minister of God, a revenger to execute wrath upon him that doeth evil."
Notice that civil government must not be a "terror to good works." It has no power or authority to terrorize good works or good people. God never gave it that authority. And any government that oversteps that divine boundary has no divine authority or protection.
Civil government is a "minister of God to thee for good." It is a not a minister of God for evil. Civil magistrates have a divine duty to "execute wrath upon him that doeth evil." They have no authority to execute wrath upon him that doeth good. None. Zilch. Zero. And anyone who says they do is lying. So, even in the midst of telling Christians to submit to civil authority, Romans Chapter 13 limits the power and reach of civil authority.
Did Moses violate God's principle of submission to authority when he killed the Egyptian taskmaster in defense of his fellow Hebrew? Did Elijah violate God's principle of submission to authority when he openly challenged Ahab and Jezebel? Did David violate God's principle of submission to authority when he refused to surrender to Saul's troops? Did Daniel violate God's principle of submission to authority when he disobeyed the king's law to not pray audibly to God? Did the three Hebrew children violate God's principle of submission to authority when they refused to bow to the image of the state? Did John the Baptist violate God's principle of submission to authority when he publicly scolded King Herod for his infidelity? Did Simon Peter and the other Apostles violate God's principle of submission to authority when they refused to stop preaching on the streets of Jerusalem? Did Paul violate God's principle of submission to authority when he refused to obey those authorities who demanded that he abandon his missionary work? In fact, Paul spent almost as much time in jail as he did out of jail.
Remember that every apostle of Christ (except John) was killed by hostile civil authorities opposed to their endeavors. Christians throughout church history were imprisoned, tortured, or killed by civil authorities of all stripes for refusing to submit to their various laws and prohibitions. Did all of these Christian martyrs violate God's principle of submission to authority?
So, even the great prophets, apostles, and writers of the Bible (including the writer of Romans Chapter 13) understood that human authority--even civil authority--is limited.
Plus, Paul makes it clear that our submission to civil authority must be predicated on more than fear of governmental retaliation. Notice, he said, "Wherefore ye must needs be subject, not only for wrath, but also for conscience sake." Meaning, our obedience to civil authority is more than just "because they said so." It is also a matter of conscience. This means we must think and reason for ourselves regarding the justness and rightness of our government's laws. Obedience is not automatic or robotic. It is a result of both rational deliberation and moral approbation.
Therefore, there are times when civil authority may need to be resisted. Either governmental abuse of power or the violation of conscience (or both) could precipitate civil disobedience. Of course, how and when we decide to resist civil authority is an entirely separate issue. And I will reserve that discussion for another time.
Beyond that, we in the United States of America do not live under a monarchy. We have no king. There is no single governing official in this country. America's "supreme Law" does not rest with any man or any group of men. America's "supreme Law" does not rest with the President, the Congress, or even the Supreme Court. In America, the U.S. Constitution is the "supreme Law of the Land." Under our laws, every governing official publicly promises to submit to the Constitution of the United States. Do readers understand the significance of this distinction? I hope so.
This means that in America the "higher powers" are not the men who occupy elected office, they are the tenets and principles set forth in the U.S. Constitution. Under our laws and form of government, it is the duty of every citizen, including our elected officials, to obey the U.S. Constitution. Therefore, this is how Romans Chapter 13 reads to Americans:
"Let every soul be subject unto the [U.S. Constitution.] For there is no [Constitution] but of God: the [Constitution] that be [is] ordained of God. Whosoever therefore resisteth the [Constitution], resisteth the ordinance of God: and they that resist shall receive to themselves damnation. For [the Constitution is] not a terror to good works, but to the evil. Wilt thou then not be afraid of the [Constitution]? do that which is good, and thou shalt have praise of the same: For [the Constitution] is the minister of God to thee for good. But if thou do that which is evil, be afraid; for [the Constitution] beareth not the sword in vain: for [the Constitution] is the minister of God, a revenger to execute wrath upon him that doeth evil. Wherefore ye must needs be subject, not only for wrath, but also for conscience sake. For this cause pay ye tribute also: for [the Constitution is] God's minister, attending continually upon this very thing. Render therefore to all their dues: tribute to whom tribute is due; custom to whom custom; fear to whom fear; honor to whom honor."
Dear Christian friend, the above is exactly the proper understanding of our responsibility to civil authority in these United States, as per the teaching of Romans Chapter 13.
Furthermore, Christians, above all people, should desire that their elected representatives submit to the Constitution, because it is constitutional government that has done more to protect Christian liberty than any governing document ever devised by man. As I have noted before in this column (See more), Biblical principles form the foundation of all three of America's founding documents: The Declaration of Independence, The U.S. Constitution, and The Bill of Rights. As a result, Christians in America (for the most part) have not had to face the painful decision to "obey God rather than men" and defy their civil authorities.
The problem in America today is that we have allowed our political leaders to violate their oaths of office and to ignore, and blatantly disobey, the "supreme Law of the Land," the U.S. Constitution. Therefore, if we truly believe Romans Chapter 13, we will insist and demand that our civil magistrates submit to the U.S. Constitution. Now, how many of us Christians are going to truly obey Romans Chapter 13?
| America |