---
Audio related to changes in and around the earth.
This text will be replaced by the flash music player.
---
---
Two earthquakes rattle remote Alaska Reuters (November 29, 2008) - Two moderate earthquakes rattled remote locations in Alaska on Friday, according to the U.S. National Earthquake Center. A magnitude 5.3 quake struck 13 miles west northwest of the Alaska town of Anchor Point, which is about 200 miles south of Anchorage. About a minute later, a magnitude 5.1 quake occurred about 28 miles southwest of Cantwell, Alaska, which is about 200 miles north of Anchorage. Magnitude 5 quakes can cause considerable damage, but there were no immediate reports of injury or damage.
| Earth Changes |
---
Mag 6.2 Quake Strikes Off Coast of Northern California Bloomberg (November 28, 2008) - An earthquake of magnitude 6.2 struck off California's northern coast, the U.S. Geological Survey said in an e-mailed alert. The temblor struck at 5:43 a.m. local time today, at a depth of 62 miles (100 kilometers), the USGS said. The quake took place 133 miles west of Eureka, California, the monitoring agency said. No tsunami is expected from the undersea quake, the USGS the West Coast and Alaska Tsunami Warning Center said in a separate alert.
| Earth Changes |
---
Strong quake hits waters off western Indonesia Associated Press (November 28, 2008) - A powerful earthquake struck waters off western Indonesia late Saturday, but local officials said there was no risk of a tsunami. The U.S. Geological Survey said the quake had a preliminary magnitude of 6.8 and hit 160 kilometres southwest of Bengkulu, a city on Sumatra island. It was centred 26 kilometres beneath the ocean floor. There was no risk of a tsunami, said Fauzi, an official with Indonesia's geological agency. Like many here, he only uses one name.

There were no immediate reports of damage or injuries, and residents in Bengkulu, which is frequently hit by quakes, showed few signs of panic, said Haris Said Hakim, a geological agency official based in the city. Often powerful temblors send people fleeing their homes and running to high ground. Indonesia is prone to seismic upheaval due to its location on the so-called Pacific "Ring of Fire," an arc of volcanoes and fault lines encircling the Pacific Basin. In December 2004, a massive earthquake off Sumatra triggered a tsunami that battered much of the Indian Ocean coastline and killed more than 230,000 people.
| Earth Changes |
---
Arkansas Could See High-Magnitude Earthquake: Expert Associated Press (November 28, 2008) - A series of small earthquakes that rattled central Arkansas in recent weeks could be a sign of something much bigger to come. By this weekend, seismologists hope to install three measurement devices to gather data about future temblors in the area. That information could show whether the rumbles come from heat-related geological changes or from an undiscovered fault -- which could mean a risk of substantial earthquakes in the future. "The potential for generating a high-magnitude earthquake is real," said Haydar Al-Shukri, director of the Arkansas Earthquake Center at the University of Arkansas at Little Rock.

Five earthquakes ranging in magnitude from 2.2 to 2.7 have hit central Arkansas this month. Quakes with a magnitude of 2.5 to 3 are typically the smallest felt by people. While hundreds of earthquakes occur each year, including several in Arkansas, the location of the recent ones give Al-Shukri pause. Arkansas quakes generally occur in the state's northeast corner, part of the New Madrid Seismic Zone, where three temblors with magnitudes of around 8 struck during the winter of 1812 and smaller ones continue today. But central Arkansas does not have any seismic history, Al-Shukri said. "It is abnormal. It is significant," he said. "We need to carefully watch this activity."

The area does not have any permanent seismograph, so researchers asked the University of Memphis in Tennessee if they could use its portable equipment. The nearest seismographs aren't close enough to provide the detailed readings scientists need to determine what could be causing the tremors or properly locate their origin, said Scott Ausbrooks, the geohazard supervisor for the Arkansas Geological Survey. "I don't know if you've looked at a map of where these events are located, but they've got a scatter on them," he said. "We're thinking this is probably the inherited error built in when you try to locate events of this small a magnitude from that far away."

Ausbrooks said officials would install the three seismographs around Magnet Cove, a Hot Spring County community near where a magnitude-2.7 earthquake hit on Nov. 1. Residents told police dispatchers they heard what sounded like an explosion.

One possible culprit could be a hydrothermal quake, caused by extremely hot fluid pushing into rocks under the surface. The hot fluid percolates into the cracks of the rocks and causes movement, Al-Shukri said. That theory matches the geologic history of the area. Central Arkansas is home to Hot Springs, a city that grew up around its namesake spas. The springs have 143-degree waters rushing to the surface continuously. If that's the case, the earthquakes likely wouldn't pose a drastic danger to the area, Al-Shukri said. At their strongest, such quakes reach only a magnitude of 5, the U.S. Geological Survey's threshold for "moderate."

However, if the earthquakes are caused by a previously unknown fault, that could mean a much more powerful temblor in the future. A recently discovered fault in eastern Arkansas near Marianna caused an earthquake with a magnitude of between 7.2 and 7.5 in the past 5,000 years, Al-Shukri said. That could cause widespread, heavy damage. "Now, it's not active, but in geologist time, that's yesterday," he said.

Ausbrooks wouldn't speculate on what could be causing the earthquakes, saying he wanted to see what data the seismographs capture. However, he acknowledged an unknown fault could be running through the area. "There are numerous faults across the state, both known and unknown," Ausbrooks said. "This area has got a lot of faults associated with it from the mountain building of the Ouachitas, but they're considered inactive."
| Earth Changes |
---
Hurricane Season Blows Away Records Associated Press (November 27, 2008) - The 2008 Atlantic hurricane season, which ends Sunday, seemed to strike the United States and Cuba as if on redial, setting at least five weather records for persistence and repeatedly striking the same areas. "It was pretty relentless in a large number of big strikes," said Georgia Tech atmospheric sciences professor Judith Curry. "We just didn't have the huge monster where a lot of people lost their lives, but we had a lot of damage, a lot of damage."

Data on death and damage are still being calculated, but the insurance industry recorded at least $10.6 billion in losses this hurricane season. That includes $8.1 billion in insured damage from Hurricane Ike, which ranked as the seventh most expensive catastrophe in the United States history, according to Mike Barry of the Insurance Information Institute in New York.

Three records showed the hurricane season's relentlessness. Six consecutive named storms — Dolly, Edouard, Fay, Gustav, Hanna and Ike — struck the U.S. mainland, something that had not been seen in recorded history. It's also the first time a major hurricane, those with winds of at least 111 mph, formed in five consecutive months, July through November. And Bertha spun about for 17 days, making it the longest lived storm in July.

Two records involve storms hitting the same places repeatedly. Rain-heavy Fay was the only storm to hit the same state — Florida — four times, leaving heavy flood damage in its wake. A record three major hurricanes smacked Cuba: Gustav, Ike and Paloma.

Upper air currents helped storms get bigger and focused them into a few places — Cuba and the U.S. Gulf Coast — said Gerry Bell, the top hurricane forecaster at the National Oceanic and Atmospheric Administration's Climate Prediction Center. Five of the six storms that hit the United States this season struck the Gulf Coast. And that repeat-tracking of storms to the same place — and with it increased likelihood of landfall — is typical of years when the hurricane season is on overdrive, like this year, Bell said.

This year wasn't the busiest ever. It merely tied for the fourth most named storms in history with 16. The 2005 season shattered all records with 28 tropical storms and hurricanes. The 2008 season was busy largely because of the natural cycles of high and low storm activity that last anywhere from 25 to 40 years. "This one started in 1995. Based on the historical record, we're right in the middle of an active era," Bell said. An average season has 11 named storms, six of which become hurricanes. This year there were eight hurricanes, of which five - Bertha, Gustav, Ike, Omar and Paloma — became major hurricanes. Three of those — Gustav, Ike and Paloma — made "extreme" Category 4, where winds have to be at least 131 mph. "That's a lot," Bell said. "But it's typical of a very active season such as what we saw."

Curry said this year's large number of Category 4 storms indicates a "signal" of global warming. But Bell said the science is not quite clear on that. At the National Hurricane Center one thing is clear. Meteorologist and spokesman Dennis Feltgen said: "We're glad it's over."
| America | Earth Changes |
---
The Famine of 2009 Daily Kos (November 27, 2008) - Last week I received a very concerned call from South Dakota farmer and agronomist Bryan Lutter. "Neal, we're out of propane!" I figured this was personal distress – he and his family farm over three square miles of land and I know this has been a tough year for many people. He promptly corrected my misconception when I tried to console him. "No, everybody is out, all three grain elevators, we can't get fuel for the bins, and we're coming in real wet this year."

There are equally dramatic issues due to the bankruptcy of Verasun and the apparent insolvency of the nation's largest private crop insurance program. Payments that would have come in June or July of a normal year are still not dispersed at the end of November and this has grim implications for next year's crop.

I started digging into the details and unless I'm badly mistaken people are going to be starving in 2009 over causes and conditions being set down right now. It's a complex, interlocking issue, and I hope I've done a good job explaining it below the fold ...

(I just submitted my personal story and a vision for the nation at change.gov - I sure hope someone is listening over there.)

The Dakotas have faced fuel restrictions for at least the last two years. They're at the far end of the pipeline network and after complete outages in 2007 everyone orders their diesel well in advance. Vehicle tanks are kept fuller and the on farm tanks are not allowed to run low. Gasoline supply dynamics have changed as well; British Petroleum shuttered three hundred stations in the area, citing the high cost of trucking fuel to the locations from the pipeline terminals.

This year propane is in short supply. Rural homes in that part of the world are heated with propane and the grain elevator and on farm drying require it to bring corn moisture down for storage. There is no sense that homes will go cold this year, at least not due to supply issues; the grain drying season is a short period of intense usage that will draw to an end within the next week. Pray to whatever higher power you recognize that the unheard of figure of 18% of the crop still in the field is brought in before the snow flies.

The Dakotas were very wet this year and the corn is coming in at 22% moisture. A more usual number would be 18% and for long term storage it must be dried to 14% to avoid spoilage. That doubling in the moisture reduction needed, an 8% drop instead of 4%, pretty much doubles the amount of propane used. Right now the harvest is at a dead stop. What can be dried has been and what is left can't even be combined without the fuel to make it ready for storage; it would all just spoil in the bin if put up wet.

I wondered if this was a spot problem in that particular part of South Dakota, but Bryan said it was widespread – he'd talked to farmers as far away as St. Louis and they were reporting similar issues.I made a few calls to try to figure out how broad the problem was. I ended up talking to Rollin Tiefenthaler at fuel dealer Al's Corner in Carroll, Iowa about the issue.

The Iowa crop comes matures earlier and is brought in earlier, so that is done, but he confirms that propane is being trucked long distances because local terminals have outages. They did have one farmer's cooperative run out of propane and they scrambled to get them enough, but in general it wasn't a problem. These are plains cooperatives, operations with thirty employees, dozens of vehicles, and tens of millions of dollars in inventory and commodities under management, so one running out of fuel is a problem that would affect a whole county.

Diesel has been a bigger concern for them – instead of the thirty mile drive to the Magellan pipeline terminal in Milford they're running as far as Des Moines or Omaha, each about two hours away, and the added time and cost for running more trucks is eating them alive.

The die has already been cast in the Dakotas, they'll either get the crop in or they won't. If they don't and it winters in the field they not only lose 40% of the yield on that ground they lose 20% of next year's yield in soy beans. The corn makes an excellent snow fence, trapping drifts six feet high, and they're slow to clear in the spring. The farmers have to wait until it's dry enough to plant before they can finish bringing in the corn crop, then they plant their soy, and that delay cuts into the growing degree days available for the soy beans and thusly we see the yield drop.

A few of you might not be from farm state and thusly won't know the normal work flow. The corn crop is still partially in the field, but the soy beans are already done. Soy matures and dries earlier, so it gets tended first. There would never been an instance of soy being left to overwinter just based on crop timing and I don't think the small, thin stocks with relatively fragile pods would prove to be terribly durable under snow banks.

I wrote earlier about the famine potential we face due to the underfertilization of the wheat crop. Wheat that gets enough ammonia is 14% protein, if it is unfertilized closer to 8%, and that 43% reduction in total plant protein is going to cause unimaginable suffering in places like Egypt, where half of the population gets subsidized bread. Global end of season per capita wheat stocks have been about seventy pounds my entire life, except the last three years where they've dropped to only forty pounds. One mistake in this area and one of the four horsemen gets loose, certainly dragging his brothers along behind. That mistake may already have been made in the lack of wheat fertilization this fall.

The fall nitrogen fertilizer application has been 10% of the norm. A typical year would see 50% put on in the fall and 50% in the spring. During fertilizer application season the 3,100 mile national ammonia pipeline network runs flat out and the far points on the network experience low flow both fall and spring. If they try to jam 90% of the fertilization into a period of time when the system can only flow a little more than half of the need much of our cropland will go without in the spring of 2009.

Finances as much as weather are the issue with regards to fertilization this fall. Crop prices have fallen to half of what they were, ammonia prices have dropped but ammonia suppliers here, receiving 75% of their supply from overseas, still have product in their storage tanks purchase at the historical highs last spring and summer.

When farmers plant they record the acreage and they purchase crop insurance - $20 to $40 an acre depending on the crop. If they have a failure they file a claim, an adjustor contacts them, and they get a check to cover the deficit. Some of this runs through the U.S. Department of Agriculture and some of it is through private insurers.

My conversations with farmers earlier this week lead me to believe that the largest private insurer, Des Moines Iowa's Rain and Hail Agricultural Insurance may be insolvent. Flooding claims from this spring were filed and payments would have typically been received by the end of June or beginning of July. It's now the end of November and payments are not being dispersed. Individual farmers are told there was something wrong with their paperwork, but this is nonsense – some of these guys have been farming thirty years and they all didn't forget how to fill out a simple form all at the same time. Iowa did have its second five hundred year flood in a decade and a half this spring which certainly has something to do with the situation, but I suspect Wall Street's sticky fingers got hold of Rain & Hail's assets, just as they've done to every pension fund and state run municipal investment pool.

So, we're already facing what Bryan Lutter calls "the mother of all fertilizer shortages" next spring and on top of that local banks won't lend to farmers.

The local bank was quite willing to lend to a farmer on a crop despite the weather related risks just like they'd lend on a car despite the driving risks. So long as the asset was insured the risk was deemed manageable. There were sure to be losses here and there, but they'd be administrative hassles associated with well known risks. If the auto insurance companies were viewed as untrustworthy no one would be getting a car without 100% down at the dealership and the same rule is now in effect for farmers.

Farmers without financing can't afford nitrogen fertilizer at $1,000 a ton, which translates to $100 an acre at current application rates. They won't be paying $300 for a bag of 80,000 hybrid corn kernels, again a $100 per acre expense. The average farm size in Iowa is four hundred acres and planting to harvesting would run about $120,000.

This looks incredibly bad. Bryan and I are both puzzled as to why the mainstream media isn't covering this. Perhaps the need to sell Christmas season advertising trumps the need for the public to know about the troubles that are brewing.

This is already 1,600 words and I haven't even touched Verasun. Executive summary? The nation's second largest ethanol maker took corn from farmers, went bankrupt without paying many of them, and a whole lot of family farms are going to be foreclosed upon in short order if something isn't done.
| America | Earth Changes | 3rd Seal |
HOLLY NOTE: Weather, as we have warned for the past year has taken a terrible toll on crops. Floods, hail and tornadoes hammered America's breadbasket. Drought is killing California's huge agriculture belt and hitting crops in the Southeast this year. Decimated bee populations added to crop decline. Grain reserves are non-existent. Compounding matters, fuel, seed and equipment have all risen sharply in recent years.

Daily news address rampant concerns over rice, wheat, corn and soybean shortages. And now food rationing and hoarding is creeping into reality... Riots and food protests have already hit many nations: South Africa, Pakistan, Lebanon, Gaza, Kenya, Nicaragua, Mexico, Bahrain, the Emirates, Italy, Russia, Indonesia, Egypt in addition to Haiti, Cameroon, Senegal, the Ivory Coast, Mauritania, Bolivia, Peru, Thailand, Somali, Ethiopia, Burkina Faso, Uzbekistan, Yemen, India, and the Philippines. After the Mexican tortillas riots last year, corn tortillas prices rose another 18%. Despite lower fuel prices at the pump, food prices are expected to rise in 2009.

With food shortages threatening to become the biggest crisis of the 21st century, you can bet food riots are coming to America. In fact, top trend forecaster, Gerald Celente, warns on coming US food riots.

Stock up now - buy in bulk - and pack for long-term storage grain products, flour, rice, beans, powdered milk and any other foods you regularly consume. The longer you delay, prices are only going to escalate, your options will dwindle, along with selection. Please do this before your options close. When reading news articles, it is our hope you'll read beyond the headlines and hear the unspoken message - a quiet urging to prepare.
---
---
Powerful earthquake off Sumatra BBC (November 22, 2008) - A powerful earthquake has struck off the Indonesian island of Sumatra, reports say. Indonesia's meteorology agency said the quake had a magnitude of 6.7, while the US Geological Survey put its strength at 6.8. The undersea quake was at a depth of 23km (14.3 miles) and the epicentre was 142km south-west of the city of Bengkulu, the agency said. There have been no reports of any damage or casualties.

The earthquake struck at 2101 local time (1601 GMT) and was followed 10 minutes later by an aftershock with a magnitude of 5.7. The Pacific Tsunami Warning Centre said there was no threat of a widespread tsunami. However, it said there was a "very small possibility of a local tsunami."

No panic

Haris Said Hakim, a geological agency official based in Bengkulu, said there was no sense of panic in the city. Last week Indonesia launched a tsunami warning system, although experts say it will not be fully operational until 2010.

Indonesia is prone to seismic activity due to its location on the so-called Pacific "Ring of Fire," an arc of volcanoes and fault lines that encircle the Pacific Basin. A massive earthquake off Sumatra in December 2004 triggered a tsunami which swept across the Indian Ocean, killing more than 230,000 people.
| Earth Changes |
---
Cosmic Rays from Mysterious Source Bombarding Earth Universe Today (November 19, 2008) - Scientists have discovered an unidentified source of high-energy cosmic rays bombarding Earth from space. They say it must be close to the solar system and it could be made of dark matter. "This is a big discovery," says John Wefel of Louisiana State University and Principal Investigator for ATIC, Advanced Thin Ionization Calorimeter, a NASA funded balloon-borne instrument high over Antarctica. "It's the first time we've seen a discrete source of accelerated cosmic rays standing out from the general galactic background."

The new results show an unexpected surplus of cosmic ray electrons at very high energy — 300-800 billion electron volts — that must come from a previously unidentified source or from the annihilation of very exotic theoretical particles used to explain dark matter. "This electron excess cannot be explained by the standard model of cosmic ray origin," said Wefel. "There must be another source relatively near us that is producing these additional particles."

According to the research, this source would need to be within about 3,000 light years of the sun. It could be an exotic object such as a pulsar, mini-quasar, supernova remnant or an intermediate mass black hole. "Cosmic ray electrons lose energy during their journey through the galaxy," said Jim Adams, ATIC research lead at NASA's Marshall Space Flight Center in Huntsville, Ala. "These losses increase with the energy of the electrons. At the energies measured by our instrument, these energy losses suppress the flow of particles from distant sources, which helps nearby sources stand out."

The scientists point out, however, that there are few such objects close to our solar system. "These results may be the first indication of a very interesting object near our solar system waiting to be studied by other instruments," Wefel said.

An alternative explanation is that the surplus of high energy electrons might result from the annihilation of very exotic particles put forward to explain dark matter. In recent decades, scientists have learned that the kind of material making up the universe around us only accounts for about five percent of its mass composition. Close to 70 percent of the universe is composed of dark energy (so called because its nature is unknown). The remaining 25 percent of the mass acts gravitationally just like regular matter, but does little else, so it is normally not visible.

The nature of dark matter is not understood, but several theories that describe how gravity works at very small, quantum distances predict exotic particles that could be good dark matter candidates. "The annihilation of these exotic particles with each other would produce normal particles such as electrons, positrons, protons and antiprotons that can be observed by scientists," said Eun-Suk Seo, ATIC lead at the University of Maryland, College Park.

The 4,300-pound ATIC experiment is carried to an altitude of about 124,000 feet above Antarctica using a helium-filled balloon about as large as the interior of the New Orleans Superdome. The goal of the project is to study cosmic rays that otherwise would be absorbed into the atmosphere.
| Earth Changes |
Is The Dark Star Bombarding Us With Electrons? I don't know, but if indeed we are nearing the time of the coming day of the Lord and if that indeed involves a brown dwarf star causing the signs of the sixth seal is accurate, perhaps this celestial body coming up from the South ecliptic of the solar system is the mysterious source. I'll be the first to admit that's a lot of ifs, but I have to say what I think considering all the other signs of the times. I don't know, but it's the first thing that came to mind.
---
Indonesia Issues Tsunami Warning after Strong 7.7 Mag Earthquake Times Online (November 16, 2008) - Indonesia issued a tsunami warning today after a strong earthquake struck in the area of northern Sulawesi, but rapidly downgraded the threat. The quake had a magnitude of 7.7 and struck in the Gorontalo area of Sulawesi island at a shallow depth of 10 km (6.2 miles).

Indonesia had launched its early warning system only last week in order to prevent a repeat of the tsunami disaster of 2004 when waves caused by an undersea earthquake killed a quarter of a million people across Asia. The $130 million (£84 million) Indonesian Tsunami Early Warning System, built with German technology and funded by five foreign governments, is designed to broadcast tsunami warnings within minutes of such an earthquake, using seabed sensors, land-based seismometers and satellite positioning equipment.

However, only two of the ten necessary buoys are in place and 22 will be needed to make the most of the system. About 170,000 of the victims on Boxing Day 2004 were in Indonesia's Aceh province, parts of which were inundated within 15 minutes of the earthquake. Its victims received no warning. Today's alert came after an initial report from the US Geological Survey.
| Earth Changes |
---
Earthquake Data Shows Frightening Trend The Horizon Project (November 11, 2008) - Brent Miller from the Horizon Project research team provided several indicators to watch for over 18 months ago on the national Coast to Coast AM radio show that would indicate world changing events could be very close. One such indicator was that historic (causing death and destruction) from high-level earthquakes would increasingly strike in diverse places as the globes tectonic system undergoes unprecedented changes. A new graph charted from US Geological Survey data shows this disturbing trend to be true as deadly and destructive quakes have suddenly skyrocketed in only the last few years.

The believed reason behind the increase in deadly quakes is that large scale geological disturbances have usually struck in unpopulated areas; however, due to global earth changes that are all related to forecasted global devastation, we see a puzzling change in what was once relatively stabilized regions becoming unpredictable in regards tectonic movement.

For those that study prophecy, this earthquake trend eerily echoes ancient religious records that state "Earthquakes will occur in diverse places" as mankind nears what some believe will be events resulting in massive loss of life. Mr. Miller was back on the Coast to Coast AM radio show the night of November 10 to discuss research updates for the rapidly approaching earth changing events and how (if any) these events are related to ancient prophecies from several past civilizations.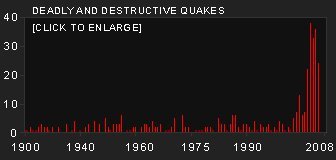 | Earth Changes |
Matthew 24:3-14
And as he sat upon the mount of Olives, the disciples came unto him privately, saying, Tell us, when shall these things be? and what shall be the sign of thy coming, and of the end of the world? And Jesus answered and said unto them, Take heed that no man deceive you. For many shall come in my name, saying, I am Christ; and shall deceive many. And ye shall hear of wars and rumours of wars: see that ye be not troubled: for all these things must come to pass, but the end is not yet. For nation shall rise against nation, and kingdom against kingdom: and there shall be famines, and pestilences, and earthquakes, in divers places. All these are the beginning of sorrows. Then shall they deliver you up to be afflicted, and shall kill you: and ye shall be hated of all nations for my name's sake. And then shall many be offended, and shall betray one another, and shall hate one another. And many false prophets shall rise, and shall deceive many. And because iniquity shall abound, the love of many shall wax cold. But he that shall endure unto the end, the same shall be saved. And this gospel of the kingdom shall be preached in all the world for a witness unto all nations; and then shall the end come.

The term "sorrows" in the Greek is odin, meaning "pang or throe, especially of childbirth." In childbirth, the birth pangs increase in both frequency and intensity until the travail is over and the baby is born. This is how events of the end are described, including earthquakes, famines, pestilences and political tensions. This chart just brings to light one aspect, the earthquakes in diverse places.
---
Strong quake hits China's Qinghai region Reuters (November 10, 2008) - A strong earthquake measuring 6.5 hit a sparsely populated area in China's western province of Qinghai Monday, but there were no reports of deaths or injuries. The U.S. Geological Survey (USGS) originally put the magnitude of the quake at 6.7 but quickly revised it down to 6.5. China's Xinhua news agency put the magnitude of the tremor at 6.3. Buildings shook in the remote mining city of Golmud and the regional capital, Xining. State television said there had been no reports of deaths or injuries. "We are on the tenth floor, so I felt a very strong tremor 10 minutes ago, but there's been no damage," said a Xining government official who only gave her surname, Wang. The USGS said the epicenter of the quake was 161 km (101 miles)) north-northeast of Golmud at a depth of 9.9 km. Golmud is an industrial city that is dependent upon potassium mining. Xinhua said some mud houses in Da Qaidam, near the epicentre, had cracks in their walls and a few huts had collapsed. Schools have also been closed. Seven mining firms in the immediate vicinity had shut as a safety precaution, the Xinhua news agency said, listing coal mines and a base metals mine. An official at the province's largest lead-zinc miner, Western Mining, said the company had not received any reports of damage at its mines.
| Earth Changes |
---
Volcano Erupts in Ethiopia AFP (November 5, 2008) - A volcano in Ethiopia's northeastern Afar region erupted on Monday, researchers said on Wednesday, prompting a minor earthquake and record lava flows covering 300 square kilometres. Addis Ababa University's Institute of Geophysics, Space Sciences and Astronomy said a volcano around the Arteale area spewed lava around noon on Monday. "Satellite pictures showed that the volcano covered a record area of 300 square kilometres," the institute said in a statement, adding that no major damage to infrastructure or population displacement were immediately reported. The institute said it subsequently monitored a small earthquake on the same site, around the Horn of Africa nation's famed Mount Arteale, the only active volcano in the area.

Five people were killed and more than 2,000 displaced when an eruption occurred in 2007 on the same mountain range. The Arteale range had been largely dormant for the previous six decades, but started to spew molten lava after a series of earthquakes rattled the region in September 2005. Experts have previously said the eruptions were caused by the expansion of tectonic plates under the Great Rift Valley, which for years has been regarded as highly susceptible to earthquakes and volcanic eruptions.
| Earth Changes |
---
Hailstorm sparks 'absolute chaos' BBC News (October 30, 2008) - East Devon and parts of Cornwall have been hit by serious flooding after a night of storms, including severe rain and heavy hail. Devon and Somerset fire service described the situation in the Ottery St Mary area as "absolute chaos". Police said that a pregnant woman, who had gone into labour, had to be rescued from a car and about 25 people have been rescued from their homes. An evacuation centre has been set up at the hospital in Ottery St Mary.

A police spokesman said: "There have been a series of weather-related road collisions. "This included a road accident near Honiton with a female giving birth who had to be transported by ambulance to the Royal Devon and Exeter Hospital." He said "many" vehicles, including a 38ft-long (11.6m) lorry, had been trapped in flood water. Devon and Somerset Fire and Rescue Service said 25 people had been rescued from flooded homes in Ottery St Mary and Feniton. Susanne Reed, from the fire control centre, said it was the worst flooding she had seen in 25 years. "It has been absolute chaos, it started just after midnight when we were out rescuing people stuck in their cars in flood water.

The town had been preparing for a carnival this weekend, ahead of its annual Tar Barrel Rolling festival on 5 November. Devon and Cornwall police warned motorists that roads in the area were "treacherous" and a number of routes had been closed because of flooding or ice. In Boscastle in Cornwall six premises were flooded overnight because of a blocked storm drain. Heavy rainfall has also led to problems with surface water on Cornwall's roads. The Environment Agency has flood warnings in place on the Rivers Otter, Axe, Clyst, Coly, Culm, Isle and Yarty in Devon.
| Earth Changes |
---
Snow blankets London for Global Warming debate The Register (October 29, 2008) - Snow fell as the House of Commons debated Global Warming yesterday - the first October fall in the metropolis since 1922. The Mother of Parliaments was discussing the Mother of All Bills for the last time, in a marathon six hour session. In order to combat a projected two degree centigrade rise in global temperature, the Climate Change Bill pledges the UK to reduce its carbon dioxide emissions by 80 per cent by 2050. The bill was receiving a third reading, which means both the last chance for both democratic scrutiny and consent.

The bill creates an enormous bureaucratic apparatus for monitoring and reporting, which was expanded at the last minute. Amendments by the Government threw emissions from shipping and aviation into the monitoring program, and also included a revision of the Companies Act (c. 46) "requiring the directors' report of a company to contain such information as may be specified in the regulations about emissions of greenhouse gases from activities for which the company is responsible" by 2012.

Recently the American media has begun to notice the odd incongruity of saturation media coverage here which insists that global warming is both man-made and urgent, and a British public which increasingly doubts either to be true. 60 per cent of the British population now doubt the influence of humans on climate change, and more people than not think Global Warming won't be as bad "as people say". Both figures are higher than a year ago - and the poll was taken before the non-summer of 2008, and the (latest) credit crisis.

Yet anyone looking for elected representatives to articulate these concerns will have been disappointed. Instead, representatives had a higher purpose - demonstrating their virtue. And for the first 90 minutes of the marathon debate, the new nobility outdid each other with calls for tougher pledges, or stricter monitoring. Gestures are easy, so no wonder MPs like making them so much. It was all deeply sanctimonious, but no one pointed out that Europe's appetite for setting targets that hurt the economy has evaporated in recent weeks - so it's a gesture few countries will feel compelled to imitate.

The US Senate has Senator James Inhofe, but in the Commons, there wasn't an out-and-out sceptic to be found. It was 90 minutes before anyone broke the liturgy of virtue. When Peter Lilley, in amazement, asked why there hadn't been a cost/benefit analysis made of such a major change in policy, he was told to shut up by the Deputy Speaker. (And even Lilley - one of only five out of 653 MPs to vote against the Climate Bill in its second reading - felt it necessary to pledge his allegiance to the Precautionary Principle.)

It fell to a paid-up member of Greenpeace, the Labour MP Rob Marris, to point out the Bill was a piece of political showboating that would fail. While professing himself a believer in the theory that human activity is primarily the cause of global warming, he left plenty of room for doubt - far more than most members. The legislation was doomed, Marris said. Marris had previously supported the 60 per cent target but thought that 80 per cent, once it included shipping and aviation, wouldn't work. We could have a higher target, or include shipping and aviation, but not both. He compared it to asking someone to run 100m in 14 seconds - which they might consider something to train for. Asking someone to run it in ten seconds just meant people would dismiss the target. "The public will ask 'why should we bother doing anything at all?'"

Out of bounds

The closest thing to a British Inhofe is Ulsterman Sammy Wilson, Democratic Unionist Party, who'd wanted a "reasoned debate" on global warming, rather than bullying, and recently called environmentalism a "hysterical psuedo-religion". Wilson described the Climate Bill as a disaster, but even colleagues who disagree with his views of environmentalism are wary of the latest amendments.

The Irish Republic is likely to reap big economic gains if it doesn't penalise its own transport sector as fiercely as the UK pledges to penalise its own in the bill. Most Ulster MPs were keenly aware of the costs, and how quickly the ports and airports could close, when a cheaper alternative lies a few miles away over the border. Tory barrister Christopher Chope professed himself baffled by the logic of including aviation and shipping. If transportation was made more expensive, how could there be more trade?

"As we destroy industry we'll be more dependent on shipping and aviation for our imports!" he said. "When the history books come to be written people will ask why were the only five MPs... who voted against this ludicrous bill," he said. It would tie Britain up in knots for years, all for a futile gesture, Chope thought. However, Tim Yeo, the perma-suntanned Tory backbencher who wants us to carry carbon rationing cards, said it would "improve Britain's competitiveness". He didn't say how.
| EU/UN / 4th Kingdom | Earth Changes |
---
Strong quake hits Indonesia's Sulawesi island Reuters (October 20, 2008) - A strong earthquake with a magnitude of 6.5 hit Indonesia's Sulawesi island on Monday but there were no immediate reports of any deaths or damage, an official at the national quake agency said. The epicentre of the quake lay at a depth of 33 km (21 miles) and about 96 km (60 miles) southwest of Tolitoli town in Central Sulawesi province, Anas Fauzi, an analyst at the agency in Jakarta, said. He said no tsunami warning had been issued. Earthquakes are frequent in Indonesia which lies in an area of intense seismic activity where several tectonic plates collide.
| Earth Changes |
---
Powerful quake rattles Tonga Breitbart (October 19, 2008) - A powerful earthquake hit near the South Pacific archipelago of Tonga on Sunday, but there was no tsunami alert and no immediate report of injuries, Australian seismologists said. The 6.8-magnitude quake struck at a relatively shallow depth of 10 kilometres (six miles) and hit east of the Tongan capital of Nuku'alofa, Geoscience Australia said.

An AFP correspondent said the Tongan capital shook for about two minutes but said she did not see any damage, and no tsunami alert was issued for the island nation. "We've got it at a magnitude 6.8 and very shallow," seismologist Clive Collins told AFP. "There's been some light shaking in Nuku'alofa." The US Geological Survey and the Hong Kong Observatory registered the magnitude at 7.1.

Collins said no tsunami alert has been issued for Australia, but added: "We haven't had any other reports of anything from that quake." He said any tsunami generated by the quake would likely have occurred within about 15 minutes of the quake, which hit at about 0510 GMT.

"It's not that big an earthquake," he said. "But I add to that it very much depends on local conditions." "It's possible that there's some small islands that might have experienced something... but we probably won't know about it for a long time. "If there was something very large in a large populated area, we probably would have heard of it."
| Earth Changes |
---
6.5 earthquake sparks panic in southern Mexico Breitbart (October 16, 2008) - A 6.5 magnitude earthquake struck Mexico's Chiapas state Thursday, sparking panic in the town of Tapachula, near the Mexico-Guatemala border, local civil protection officials and US scientists said. Mexican officials, who estimated the strength of the temblor at 6.2 using the Richter scale, said there were no immediate reports of damage. The US Geological Service (USGS) measured the quake at 6.5, using the more reliable Moment Magnitude scale. The earthquake struck at a depth of 75.2 kilometers (46.7 miles), 40 kilometers (25 miles) south-southwest of Tapachula, the USGS said.
| Earth Changes |
---
More than 60,000 affected in Tibet quake Xinhuanet (October 11, 2008) - An earthquake followed by some 1,000 aftershocks has affected more than 60,000 people in the Tibet Autonomous Region this week, the local government said in a news conference Saturday.

Since Monday's 6.6-magnitude quake struck Damxung County in Lhasa, more than 1,000 aftershocks have been monitored, including one that measured 5.4 on the Richter scale, said Gong Puguang, vice president of the regional government. 61,231 people in the region's capital have been affected and 989 houses collapsed, said Gong. More than 4,800 people have been relocated out of the quake zone.

The quake-hit areas include Lhasa, Xigaze and Shannan regions, where 28 km of road and 11 bridges were damaged. So far, ten people have been confirmed dead. 54 others sustained injuries, one third of those injuries are serious. The central government allocated 10 million yuan (1.46 million U.S. dollars), 11,000 tents, quilts, and other quake relief materials to the affected area. The items were being distributed as traffic and telecommunication resumed in the area. The local government is evaluating economic losses from the disaster. Seismologists predict more aftershocks will hit the county but the force is unlikely to exceed 5.5 on the Richter scale.
| Earth Changes |
---
Quake shakes British Virgin Islands CNN (October 11, 2008) - A 6.1-magnitude earthquake shook the British Virgin Islands at 6:40 a.m. ET Saturday, according to the U.S. Geological Survey. There was no immediate information about possible damage. The quake was centered about 50 miles (81 km) north of Little Harbour, British Virgin Islands, at a depth of 18 miles (29 km), the USGS said.
| Earth Changes |
---
Kyrgyzstan hit by magnitude 6.3 earthquake: US seismologists Breitbart.com (October 5, 2008) - A strong magnitude 6.3 earthquake struck southern Kyrgyzstan Sunday near the Chinese and Tajik borders, seismologists in the United States reported. The temblor shook the region at 15:52 GMT with the epicenter 55 kilometers (35 miles) east-southeast of Sary-Tash, Kyrgyzstan at a depth of 35 kilometers (22 miles).
| Earth Changes |
---
Spotless Sun: Blankest Year of the Space Age Newsmax (October 1, 2008) - Astronomers who count sunspots have announced that 2008 is now the "blankest year" of the Space Age. As of Sept. 27, 2008, the sun had been blank, i.e., had no visible sunspots, on 200 days of the year. To find a year with more blank suns, you have to go back to 1954, three years before the launch of Sputnik, when the sun was blank 241 times. "Sunspot counts are at a 50-year low," says solar physicist David Hathaway of the NASA Marshall Space Flight Center. "We're experiencing a deep minimum of the solar cycle."

An image, taken by the Solar and Heliospheric Observatory (SOHO) on Sept. 27, 2008, shows a solar disk completely unmarked by sunspots. For comparison, a SOHO image taken seven years earlier on Sept. 27, 2001, is peppered with colossal sunspots, all crackling with solar flares: image. The difference is the phase of the 11-year solar cycle. 2001 was a year of solar maximum, with lots of sunspots, solar flares and geomagnetic storms. 2008 is at the cycle's opposite extreme, solar minimum, a quiet time on the sun.

And it is a very quiet time. If solar activity continues as low as it has been, 2008 could rack up a whopping 290 spotless days by the end of December, making it a century-level year in terms of spotlessness. Hathaway cautions that this development may sound more exciting than it actually is: "While the solar minimum of 2008 is shaping up to be the deepest of the Space Age, it is still unremarkable compared to the long and deep solar minima of the late 19th and early 20th centuries." Those earlier minima routinely racked up 200 to 300 spotless days per year.

Some solar physicists are welcoming the lull. "This gives us a chance to study the sun without the complications of sunspots," says Dean Pesnell of the Goddard Space Flight Center. "Right now we have the best instrumentation in history looking at the sun. There is a whole fleet of spacecraft devoted to solar physics -- SOHO, Hinode, ACE, STEREO and others. We're bound to learn new things during this long solar minimum."

As an example he offers helioseismology: "By monitoring the sun's vibrating surface, helioseismologists can probe the stellar interior in much the same way geologists use earthquakes to probe inside Earth. With sunspots out of the way, we gain a better view of the sun's subsurface winds and inner magnetic dynamo."

"There is also the matter of solar irradiance," adds Pesnell. "Researchers are now seeing the dimmest sun in their records. The change is small, just a fraction of a percent, but significant. Questions about effects on climate are natural if the sun continues to dim."

Pesnell is NASA's project scientist for the Solar Dynamics Observatory (SDO), a new spacecraft equipped to study both solar irradiance and helioseismic waves. Construction of SDO is complete, he says, and it has passed pre-launch vibration and thermal testing. "We are ready to launch! Solar minimum is a great time to go."

Coinciding with the string of blank suns is a 50-year record low in solar wind pressure, a recent discovery of the Ulysses spacecraft. The pressure drop began years before the current minimum, so it is unclear how the two phenomena are connected, if at all. This is another mystery for SDO and the others.
| Earth Changes |
---
7.3 quake strikes outer New Zealand islands International Herald Tribune (September 29, 2008) - A 7.3-magnitude earthquake struck near New Zealand's remote and largely uninhabited Kermadec Islands early Tuesday, New Zealand's GNS Science geological agency said. New Zealand's Ministry of Civil Defense issued no tsunami warning following the quake, while the Pacific Tsunami Warning Center said in a bulletin on its Web site that "no destructive widespread tsunami threat exists based on historical earthquake and tsunami data" for the Kermadec area. Only the Kermadec's Raoul Island is inhabited, with up to six New Zealand Department of Conservation workers living there at any time. The Hong Kong Observatory said the quake was centered about 630 miles south-southwest of Nuku'alofa, Tonga and was recorded in Hong Kong at 4:19 a.m. Tuesday, New Zealand time. The U.S. Geological Survey put the magnitude of the quake at 7.0 and said its depth was 12.5 miles.
| Earth Changes |
---
Four dead, 26 injured in Iran quake near oil port Hot News Turkey (September 10, 2008) - The U.S. Geological Service said the quake's magitude was 6.1 and it struck at 1100 GMT about 53 km (33 miles) west-southwest of Bandar Abbas, which is home to an oil refinery and the country's main navy base. "All our rescue groups are on alert in Bandar Abbas and (nearby) Qeshm island. We have sent groups to the area. There is the possibility of casualties and fatalities," Hazbavi earlier told Reuters. Iranian reports variously described the quake as 6.0 and 7.5 on the Richter scale. The earthquake in southern Iran was 7.5 on richter scale, Iran's Fars News Agency said, citing Iranian official. State television said the tremor lasted about 30 seconds but was followed by at least 10 aftershocks, the most powerful measuring 4.8 on the Richter Scale. Iran's state-owned Press TV described the tremor as strong but said there were no reports of casualties. "Its centre was Bandar-e Khamir. It might have damaged old parts of the place but we still don't have any (casualty) reports," an Interior Ministry official told Reuters. more...
| Iran | Earth Changes |
---
A Magnitude 6.5 Earthquake Strikes Mid-Atlantic Ridge Region EMSC-CSEM (September 10, 2008)
| Earth Changes |
---
Mag. 7.0 Earthquake Hits Northern Japan Associated Press (September 10, 2008) - A magnitude 7.0 earthquake hit northern Japan on Thursday morning, triggering a small tsunami that apparently caused no damage, Japan's Meteorological Agency said. There were no immediate reports of injuries. The agency said the quake hit at 9:21 a.m. off the eastern coast Hokkaido, Japan's northernmost island at a depth of about 12.4 miles. A 4-inch tsunami rippled at the shore about 35 minutes after the quake. A warning had been issued for a tsunami of up to 20 inches along the eastern coast of Hokkaido and the northeastern coast of Japan's main island of Honshu. Authorities ordered people to stay away from beaches. National broadcaster NHK showed footage of the coastal area, but there did not appear to be any damage. The report said the force of the quake had not broken windows or knocked items from shelves.
| Earth Changes |
---
7.0 Magnitude Earthquake Hits off Vanuatu Xinhuanet (September 9, 2008) - A strong earthquake measuring 7.0 on the Richter scale struck off the coast of the South Pacific island nation of Vanuatu early Tuesday, the U.S. Geological Survey reported. No tsunami warning was issued by the Pacific Tsunami Warning Center and there were no immediate reports of casualties or damage. The quake, which occurred at 05:52 a.m. Tuesday Vanuatu local time (19:52 GMT Monday), was centered about 225 km north of Luganville on the island of Santo, northern Vanuatu, at a depth of121.8 km. Another quake of 6.6 magnitude was recorded on Monday.
| Earth Changes |
---
Freak hailstorm turns part of tropical Kenya white Reuters (September 3, 2008) - A huge hailstorm turned parts of central Kenya white, thrilling residents most of whom had never experienced such conditions, officials said on Wednesday. Hailstorms are usual in some parts of Kenya, which straddles the equator, but the ferocity of the storm in Busara, 255 km (158 miles) northwest of the capital was unprecedented. Excited villagers pelted each other with snowballs while some ate pieces of the icy sheet that formed over an entire hillside. "We thought a big white sheet had been spread, so we decided to come and see for ourselves. We thought that it was Jesus who had come back," one villager told reporters. Kenya's Meteorological Department said Tuesday's storm was caused by the convergence of cold air currents from the Indian Ocean and warm air currents from the Congo. "The hailstones falling on the ground joined together to form expansive sheets of ice or snow flakes occupying a large area, 30 acres," a statement by the meteorologists said. More than 12 hours after the storm, the forested hillside was still white despite the hot tropical sun. "In fact this thing is very sweet, we have never seen anything like this. We like the ice so much because with the sun being hot, you take it and you feel satisfied," resident Simon Kimani said. The only snow to be seen in normally sunny Kenya is on top of the country's highest mountain, 5,199-metre (17,057 ft) Mount Kenya.
| Earth Changes |
---
South-west China hit by new quake BBC News (August 31, 2008) - An earthquake in south-western China has killed 22 people and injured more than 100, state media says. The 6.1 magnitude earthquake struck at 1630 local time (0730 GMT), close to the town of Panzhihua in Sichuan province, near the border with Yunnan. Xinhua news agency reported that attempts to assist survivors were being hampered by heavy rain. Both provinces were severely affected by a devastating earthquake in May which left almost 70,000 people dead. Xinhua reported that more than 100,000 houses had been damaged or destroyed by the latest quake and some people had been trapped in the ruins. "Locals in the county rushed out into the open. Cracks appeared on house walls and many windows were broken," said one local official. Communications were reported to be disrupted, making it difficult for authorities to accurately assess the extent of the damage. Major reconstruction efforts have been under way in Sichuan province since the 12 May earthquake, which left about five million people homeless.
| Earth Changes |
---
Officials prepare for Gustav, Hanna The Washington Times (August 29, 2008) - Bush administration officials, sensitive to Friday's anniversary of Hurricane Katrina falling just days before the Republican National Convention, said Thursday that they will be far better prepared than they were three years ago if a pair of tropical storms turn into the Gulf of Mexico this weekend. "We feel we are more ready this year than we have ever been before," said Rear Adm. Brian Salerno, Coast Guard assistant commandant for marine safety, security and stewardship. The National Hurricane Center is predicting that Tropical Storm Gustav will become a major hurricane after it enters the warm waters of the Gulf. Tropical Storm Hanna formed behind Gustav Thursday morning. Gustav is expected to reach landfall at 8 a.m. Tuesday, the second day of the Republican National Convention in Minneapolis-St. Paul, and will serve as a reminder that Hurricanes Katrina and Rita in 2005 killed more than 1,000 people in New Orleans and across the Gulf Coast and that the Bush administration's response was widely criticized as inadequate and too slow.
| America | Earth Changes |
---
Powerful Magnitude 7 Quake Rocks Siberia Fox News (August 27, 2008) - Russian emergency officials say a powerful earthquake has struck a Siberian region that includes Lake Baikal, but no casualties were immediately reported. The magnitude 7 quake occurred at around 10:35 a.m. (0135 GMT) on Wednesday. Its epicenter was the southern tip of Lake Baikal, west of the Siberian city of Irkutsk. The Russian television channel NTV reported that the quake caused thousands of frightened residents at apartment compounds and other buildings in Irkutsk to run onto the streets. A spokeswoman for the local branch of the Emergency Situations Ministry says the quake did not cause any casualties or major damage. Baikal is the world's largest freshwater lake by volume and a popular tourist destination.
| Earth Changes |
---
Tornado touches down south of Denver KRDO (August 24, 2008) - At least four tornadoes touched down southeast of Denver today, the eve of the Democratic National Convention. The twisters caused no substantial damage. Authorities say one twister touched down about 20 miles southeast of downtown Denver, between Castle Rock and Parker. Television footage showed a dusty twister spinning through relatively open country, with scattered houses nearby. Three more twisters touched down in the area, but the exact location of thoses weren't immediately known. The National Weather Service issued a flash flood warning for Jefferson County after the twisters. There was no immediate word of flooding damage. The storm also brought more than an inch of pea-sized hail.
| America | Earth Changes |
From a United Press International story: "I've never seen anything like it," Park County Coroner Sharon Morris told the newspaper. "And I've been here 25 years."
---
Ocean dead zones become a worldwide problem Associated Press (August 14, 2008) - Like a chronic disease spreading through the body, "dead zones" with too little oxygen for life are expanding in the world's oceans. "We have to realize that hypoxia is not a local problem," said Robert J. Diaz of the Virginia Institute of Marine Science. "It is a global problem and it has severe consequences for ecosystems." "It's getting to be a problem of such a magnitude that it is starting to affect the resources that we pull out of the sea to feed ourselves," he added. Diaz and co-author Rutger Rosenberg report in Friday's edition of the journal Science that there are now more than 400 dead zones around the world, double what the United Nations reported just two years ago. "If we screw up the energy flow within our systems we could end up with no crabs, no shrimp, no fish. That is where these dead zones are heading unless we stop their growth," Diaz said in a telephone interview. The newest dead areas are being found in the Southern Hemisphere — South America, Africa, parts of Asia — Diaz said. Some of the increase is due to the discovery of low-oxygen areas that may have existed for years and are just being found, he said, but others are actually newly developed. Pollution-fed algae, which deprive other living marine life of oxygen, is the cause of most of the world's dead zones. Scientists mainly blame fertilizer and other farm run-off, sewage and fossil-fuel burning. Diaz and Rosenberg, of the University of Gothenburg in Sweden, conclude that it would be unrealistic to try to go back to preindustrial levels of runoff. "Farmers aren't doing this on purpose," Diaz said. "The farmers would certainly prefer to have their (fertilizer) on the land rather than floating down the river." He said he hopes that as fertilizers become more and more expensive farmers will begin seriously looking at ways to retain them on the land. New low-oxygen areas have been reported in Samish Bay of Puget Sound, Yaquina Bay in Oregon, prawn culture ponds in Taiwan, the San Martin River in northern Spain and some fjords in Norway, Diaz said. A portion of Big Glory Bay in New Zealand became hypoxic after salmon farming cages were set up, but began recovering when the cages were moved, he said. A dead zone has been newly reported off the mouth of the Yangtze River in China, Diaz said, but the area has probably been hypoxic since the 1950s. "We just didn't know about it," he said. Some of the reports are being published for the first time in journals accessible to Western scientists, he said. Nancy N. Rabalais, executive director of the Louisiana Universities Marine Consortium, said she was not surprised at the increase in dead zones. "There have been many more reported, but there truly are many more. What has happened in the industrialized nations with agribusiness as well that led to increased flux of nutrients from the land to the estuaries and the seas is now happening in developing countries," said Rabalais, who was not part of Diaz' research team. She said she was told during a 1989 visit to South America that rivers there were too large to have the same problems as the Mississippi River. "Now many of their estuaries and coastal seas are suffering the same malady." "The increase is a troubling sign for estuarine and coastal waters, which are among some of the most productive waters on the globe," she said.
| Earth Changes |
---
Third Aleutian Volcano Erupts Explosively USGS (August 8, 2008) - Kasatochi Volcano in Alaska's Aleutian Islands erupted explosively Aug. 7, sending an ash plume more than 35,000 feet into the air and forcing two biologists from the U.S. Fish and Wildlife Service to evacuate the island. "Kasatochi went from a quiet volcano to an explosive eruption within 24 hours and with very little warning," said USGS volcano scientist Marianne Guffanti. "We are thankful our colleagues were able to get out before the eruption began. They were rescued just in time by a local fishing boat." Kasatochi is the third volcano to erupt in the Aleutian Islands in three weeks. Okmok Volcano erupted unexpectedly and explosively on July 12, followed by Cleveland Volcano, 100 miles away, on July 21. Both volcanoes sent ash plumes skyrocketing and caused commercial airline flights to be diverted or cancelled. Scientists relied on seismic instruments on other volcano networks in the area to detect activity at Kasatochi volcano. "Fortunately, the existing seismic networks on nearby volcanoes picked up the activity at Kasatochi volcano," said Tom Murray, scientist-in-charge of the Alaska Volcano Observatory (AVO). "They were installed with funding from the Federal Aviation Administration to reduce the hazard to aviation from volcanic ash. These networks were crucial in recognizing that this volcano had entered the first stage of a major eruption." "Our hope is to have monitoring equipment on all volcanoes that pose the greatest threats to public safety," said Guffanti. "Satellite imagery is useful to see the big picture of what is happening and what is going into the atmosphere. But direct instrumentation, such as placing seismic monitors around a volcano, will help give an early warning and give people more time to plan for hazardous events." Scientists are working around the clock to monitor the volcanoes and keep the public and emergency responders informed.
| America | Earth Changes |
---
Strong quake hits China's Sichuan ahead of Games Reuters (August 5, 2008) - A strong earthquake rocked the western Chinese provinces of Sichuan and Gansu on Tuesday, killing one person and injuring 23 near the site of May's devastating quake that killed at least 70,000 people. The Olympic torch was paraded in the capital of Sichuan on Tuesday on its journey to Beijing, where the Games open on Friday. The 6.0-magnitude quake was epicentered in Sichuan's Qingchuan county, 1,253 km (778 miles) southwest of Beijing, the U.S. Geological Survey said. Five people were seriously injured in the tremor, which had toppled a bridge cutting off a national highway, and cut roads to at least three villages, the official Xinhua news agency said. Authorities had mobilized 200 paramilitary troops and militia to conduct relief and rescue work, but they would have to enter affected areas by foot, Xinhua said. The county's Communist Party secretary was leading a team to the area and the scale of the damage was still being investigated, the agency said. Qingchuan, badly hit by May's 7.9 magnitude earthquake, has suffered a number of strong aftershocks in recent months. more...
| Earth Changes |
---
5.5 magnitude earthquake hits Indian Ocean Reuters (August 5, 2008) - A 5.5 magnitude earthquake struck the Indian Ocean, 176 miles north-northeast of India's Andaman Islands at 6:08 a.m. EDT on Tuesday, the U.S. Geological Survey reported. The temblor had a depth of 24.2 miles, USGS said. No tsunami warning had been issued.
| Earth Changes |
---
Huge Chunk Snaps Off Storied Arctic Ice Shelf Globe And Mail (July 29, 2008) - A four-square-kilometre chunk has broken off Ward Hunt Ice Shelf - the largest remaining ice shelf in the Arctic - threatening the future of the giant frozen mass that northern explorers have used for years as the starting point for their treks. Scientists say the break, the largest on record since 2005, is the latest indication that climate change is forcing the drastic reshaping of the Arctic coastline, where 9,000 square kilometres of ice have been whittled down to less than 1,000 over the past century, and are only showing signs of decreasing further. "Once you unleash this process by cracking the ice shelf in multiple spots, of course we're going to see this continuing," said Derek Mueller, a leading expert on the North who discovered the ice shelf's first major crack in 2002. Dr. Mueller was part of a team monitoring ice along the northern coast of Ellesmere Island last April that discovered deep new cracks - 18 kilometres long and 40 metres wide - on the edge of Ward Hunt Ice Shelf, a 350-square-kilometre mass of ice that joins tiny Ward Hunt Island to the bigger Ellesmere. The cracks indicated a split was likely coming. more...
| Earth Changes |
---
California 'dodges bullet' as 5.4 earthquake rocks region Breitbart.com (July 29, 2008) - A 5.4 magnitude earthquake shook Southern California on Tuesday, spooking millions from Los Angeles to San Diego in a juddering reminder of the region's vulnerability to seismic shocks. No major injuries or damage were reported following the quake, which struck at 11:42 am (1842 GMT) near the town of Chino Hills, 33 miles (50 kilometers) east of Los Angeles at a depth of 7.6 miles (12 kilometers), the US Geological Survey said. The tremor was felt across Los Angeles, with the office block housing AFP's bureau on Sunset Boulevard in Hollywood swaying and shuddering after the quake. Offices and restaurants could be seen evacuating workers and customers. The quake, which was followed by 27 minor aftershocks, rippled across California and Nevada, rattling city officials in San Diego, tourists in Disneyland and residents as far east as Las Vegas, officials said. California Governor Arnold Schwarzenegger said the region had been lucky to avoid a major disaster.
"Thank God that there have not been any reports of serious injuries or damage to properties," Schwarzenegger said. "This reminds us once again that in California we have to be prepared for anything and everything." Henry Renteria, the director of California's Office of Emergency Services, said he expected to receive reports of minor damage as the day progressed. "But luckily, I think we dodged a bullet here, and have not seen any major issues with this event," Renteria told reporters. USGS official Kate Hutton said the earthquake was unlikely to have caused major damage to buildings. "Things will have fallen off shelves, but I'd be surprised to see some structural damage," Hutton told reporters. Hutton said the chance of the quake being a foreshock to a bigger temblor were five percent. "Most of that risk is in the first day," she said. "Actually, most of the risk is in the first two hours, but by the time you get 24 hours after the earthquake it's down to about one percent." Los Angeles' acting mayor Wendy Greuel said five people suffered minor injuries, including two people who were trampled as they evacuated a building. more...
| America | Earth Changes |
---
One dead as three quakes hit China's disaster area Breitbart.com (July 24, 2008) - One person was killed and at least 17 injured on Thursday as three powerful earthquakes hit the area of China's southwest that was devastated by a massive tremor in May, local authorities said.
The three quakes rattled a rural, mountainous area of Sichuan province, the US Geological Survey said, where the May 12 quake struck leaving more than 87,000 people dead or missing. One person was killed in Thursday's quakes and at least 17 people were injured, including six seriously, the Sichuan Provincial Earthquake Bureau said in a statement on its website. The local earthquake bureau said that 360 homes had collapsed and several roads had been damaged or destroyed in the quakes, which hit within a few kilometres of each other where Sichuan borders Gansu province. The area was severely damaged in the May quake but that appeared to help reduce casualties on Thursday, as most people were living in tents after losing their homes in the earlier disaster, according to reports in the Chinese press. A reporter for China's official Xinhua news agency based in Chengdu, the capital of Sichuan, said the third tremor was felt there and lasted for around 20 seconds. However there were no reports of damage in Chengdu. The first quake struck at 3:54 am (1954 GMT Wednesday) with a magnitude of 5.8 and at a depth of 10 kilometres, the US Geological Survey said. The second quake hit at 1:30 pm, with a magnitude of 4.8 and a depth of 10 kilometres, according to the USGS. The third quake hit at 3:09 pm with a magnitude of 5.5 and also a depth of 10 kilometres. The 8.0-magnitude earthquake in Sichuan on May 12 killed 69,197 people and left 18,209 others missing, according to the government. The quake sparked international help from rescue teams and an enormous domestic relief effort. Following the May 12 earthquake more than 12,600 aftershocks have rattled the region with at least 25 measuring greater than 5.0 on the Richter scale, and five between 6.0 and 6.9, the China Earthquake Administration has said.
| Earth Changes |
---
Strong Quake Jolts Northern Japan Newsmax (July 23, 2008) - Japan's weather agency says a strong earthquake with a preliminary magnitude of 6.8 struck off the northern Japanese coast. The Meteorological Agency says there was no danger of a tsunami, or seismic waves, from the 12:26 a.m. (11:26 a.m. EDT) quake, which occurred about 75 miles below the ocean's surface off the coast of Iwate. There were no immediate reports of damage or injuries. Japan is one of the world's most earthquake-prone countries.
| Earth Changes |
---
Strong Earthquake Rocks Solomon Islands The Australian (July 19, 2008) - A STRONG earthquake struck off the Solomon Islands today but there were no immediate reports of damage and a tsunami alert was not issued. The magnitude 6.7 undersea quake struck at 8.27pm local time (7.27pm AEST), 287km east of Kira Kira on San Cristobal island. It is 527km east of the capital Honiara, the US Geological Survey said. It occurred at a depth of 38km, the organisation said. The Pacific Tsunami Warning Centre in Hawaii did not issue an alert for the region. An 8.0-magnitude earthquake in the western Solomons in April last year triggered a tsunami that killed more than 50 people and displaced thousands.
| Earth Changes |
---
Quake Off East Coast of Japan Shakes Tokyo Buildings Bloomberg.com (July 19, 2008) - A magnitude-7.0 earthquake struck off Japan's eastern coast, the U.S. Geological Survey said on its Web site. There were no reports of injuries or damage, public broadcaster NHK said. The quake struck at 11:39 a.m. Japan time, 125 kilometers (75 miles) east-northeast of Iwaki, a city 180 kilometers north of Tokyo, at a depth of 27 kilometers, the USGS said. Japan's weather agency issued a tsunami alert for coastal areas, warning of waves of up to 50 centimeters (20 inches) from the quake, which shook buildings in central Tokyo. The agency removed the warning at 1:20 p.m. local time. Coastal areas of Miyagi and Fukushima prefectures were hit by waves of up to 20 centimeters about one hour after the earthquake hit, NHK reported. Japan, which experiences about 20 percent of the world's earthquakes annually, lies in a zone where the Eurasian, Pacific, Philippine and North American tectonic plates meet and occasionally shift, causing quakes. Twelve people died and 10 remain missing after a 6.8- magnitude earthquake in the north of Japan last month, according to the government's Fire and Disaster Management Agency.
| Earth Changes |
---
Earthquake near Rhodes felt in Israel The Jerusalem Post (July 15, 2008) - Tremors of a powerful earthquake with an epicenter near the Greek island of Rhodes were felt throughout Israel on Tuesday morning. According to Israeli reports, the quake measured 6.8 on the Richter Scale, and was felt in Israel at 6:35 a.m, primarily in the northern and central parts of the country. While nobody was wounded in Israel and no damage was reported, in Greece a 56-year-old woman was killed after falling down a flight of stairs while she ran towards safety. The Athens Geodynamic Institute said the quake struck at 6:26 a.m. (0326 GMT) with its epicenter located 445 kilometers (275 miles) southeast of Athens, beneath the seabed south of Rhodes, and was also felt on the islands of Santorini and Crete. The US Geological Survey gave the magnitude as 6.4. Magnitudes often differ in the first hours and days after an earthquake. Local authorities in the affected areas appealed for calm, and seismologists said that while Rhodes lies in a seismically active area, major aftershocks were not expected. The quake occurred at a depth of about 70 kilometers (about 45 miles). Recently in Israel, Health Ministry director-general Prof. Avi Yisraeli issued a letter to all hospitals, health funds and Magen David Adom asking them to ensure that they are prepared for the possibility of an earthquake in the North. However, when contacted by The Jerusalem Post, Yisraeli said there was absolutely no evidence of an imminent earthquake in the North, despite reports of some unusual seismic activity of some 500 mini-quakes ranging from two to five on the Richter scale in southern Lebanon during the past four months, most of which were not felt anywhere.
| Earth Changes |
---
Strong quake hits Taiwan Breitbart.com (July 13, 2008) - An earthquake with a magnitude of 6.1 struck Taiwan late Sunday, the United States Geological Survey said. The quake struck at 10:58 pm local time (1458 GMT) and was centred 188 kilometres (120 miles) south of T'ai-tung in Taiwan, the USGS reported, at a depth of 10 kilometres.
| Earth Changes |
---
Chile's Llaima volcano rumbles into action Breitbart.com (July 11, 2008) - Chile's imposing southern Llaima volcano roared into action Thursday, spewing rocks, lava and clouds of ash and putting six nearby communities under a red alert, the National Emergency office said. "Activity has strengthened, but it is all taking place in the Calbuco river sector, where we have all precautionary measures in place," Cautin Province Governor Andres Jouannet told reporters. He said the 3,125-meter (10,253-foot) volcano 700 kilometers (1,100 miles) south of Santiago erupted in the predawn hours, after six months of quiet following its initial eruption on January 1. "You can see three (lava) flows heading for the Calbuco river, which is constantly being monitored for abnormal levels," the office said in a statement. It said six communities in the vicinity of the volcano a week ago were placed under a red alert, pending immediate evacuation should the situation worsen. Llaima was Chile's second erupting volcano this year, after the 1,000-meter (3,280-foot) Chaiten volcano, 100 kilometers (65 miles) further south awoke after centuries of lying dormant in May.
| Earth Changes |
---
Strong quake strikes southern Peru Breitbart.com (July 8, 2008) - A strong earthquake measuring 6.0 on the moment magnitude scale struck southern Peru near Arequipa early Tuesday, the US Geological Survey reported. The quake struck at a depth of 74 kilometers (46 miles) in a mountainous region 53 kilometers (33 miles) north-northwest of Arequipa and 721 kilometers (448 miles) southeast of Lima, the USGS said.
| Earth Changes |
---
Magnitude 7.5 Earthquake Strikes in Sea Off Russia Bloomberg.com (July 5, 2008) - A magnitude 7.5 earthquake struck beneath the Sea of Okhotsk today, the U.S. Geological Survey said. No tsunami alert was issued. The earthquake happened at 1:12 p.m. local time, 384 kilometers (239 miles) west-northwest of Petropavlovsk- Kamchatskiy in Russia, and 2,273 kilometers north-northeast of Tokyo, the USGS said on its Web site. The quake was 605 kilometers beneath the earth's surface.
| Earth Changes |
---
Israel authorities warn hospitals to prepare for earthquake Breitbart.com (June 30, 2008) - A strong earthquake could soon rock Lebanon and parts of Israel, authorities said on Monday, urging health officials in northern Israel to make preparations for such an event. "The probability of an earthquake of a magnitude of up to six on the Richter scale, originating in Lebanon and being felt in Israel has increased," the health ministry said in a letter sent to medical officials in northern Israel. Since February, abnormal seismic activity has been noted in southern Lebanon, which had suffered some 500 minor earthquakes in a three-month period, health ministry director-general Avi Yisraeli said in the letter. "In May, the tremors have become more intense and were felt in northern Israel," he said adding that "should an earthquake of such magnitude hit northern Israel, it may cause substantial infrastructural damage in the area. "All medical facilities and organisations must do everything they can to enhance the level of readiness," Yisraeli said in the letter published by the ministry on Monday. Similar concern was issued by Lebanon's national scientific research centre. The secretary general of the centre, Moueen Hamz, told AFP in Beirut that 800 tremors ranging in magnitude from 2.3-5.1 degrees on the Richter scale had shaken the south Lebanon regions of Tyre and Nabatiyeh since February 12. "The tremors increased significantly in May and June," he said, urging the Lebanese authorities to take "serious prevention measures." Experts in Lebanon expect a quake of between five and six degrees on the Richter scale to strike, like the tremor that shook Lebanon in 1956 killing 136 people and destroying 6,000 houses, Hamze said. Some seismologists in Israel say that quakes have historically rocked the region every eight decades, and the last one was nearly 81 years ago. About 300 people were killed in Jerusalem and nearby Jericho by the July 11, 1927 temblor. A similar quake measuring seven on the Richter scale and with an epicentre in the Hula Valley, today in northern Israel, devastated the town of Safed and killed some 4,000 people in 1837.
| Israel | Earth Changes |
---
6.7 Earthquake Rattles South Sandwich Islands AFP (June 30, 2008) - A strong 6.7-magnitude earthquake struck Monday near the South Sandwich Islands, a remote British territory near Antarctica and South America's southern tip, the US Geological Survey said. The earthquake, which was 10 kilometers (six miles) deep, took place 283 kilometers (176 miles) southeast of Bristol Island and 2,374 kilometers (1,476 miles) southeast of Punta Arenas, Chile, the USGS said. The quake occurred at 0617 GMT, USGS said.
| Earth Changes |
---
6.7-Magnitude Earthquake Rocks India's Andaman Islands Fox News (June 27, 2008) - The Indian Meteorological Department says a 6.7-magnitude earthquake has stuck the Andaman Islands off the east coast of India. The office said the undersea quake struck at 5:40 p.m. Friday. A police officer in Port Blair, the capital of the Andaman Islands, said the quake shook the islands causing panic among people. S. M. Tiwari said there were no reports immediate reports of damage of injuries and that no tsunami alert had been issued. The remote islands were among the many areas devastated by the 2004 Indian Ocean tsunami.
| Earth Changes |
---
Rift Extends for 15 Km Along Ground After Tohoku Earthquake Mainichi Daily News (June 27, 2008) - A rift extending for about 15 kilometers has appeared on the surface of the ground in five districts following the magnitude 7.2 earthquake that struck Japan's Tohoku region on June 14, it has emerged. The rift, creating a step 40 to 50 centimeters high, was confirmed Thursday in a survey by the National Institute of Advanced Industrial Science and Technology. In the Mochikorogashi district of Koromogawa-ku in Oshu, Iwate Prefecture, a zigzag fault has appeared in the surface through two rice paddies, with the land on the west side about 45 centimeters higher. Across four of the five points, a rift extending for about 10 kilometers has appeared along an old fault on the border between Iwate and Miyagi prefectures. "There's a possibility that this fault caused the earthquake, but with an earthquake of this size it wouldn't be unusual for a step of about 2 meters to appear on the surface," said Masayuki Yoshimi, a member of the National Institute of Advanced Industrial Science and Technology. "There is also a possibility that another fault caused the earthquake and the effects of that caused this rift to appear on the surface."
| Earth Changes |
---
Millions displaced after east Indian floods

Russian News & Information Agency (June 19, 2008) - More than two million people have been left homeless after floods swept across eastern India over the past week, national radio reported on Thursday. Unexpected heavy rain began lashing the area last Thursday, nearly two weeks ahead of the monsoon season, which usually occurs in the country from early July to September. So far, at least 35 people have been killed and some 800 villages have been flooded. Over 350,000 people from the flooded villages have taken shelter in camps set up by the Indian government. Troops have been deployed in the worst-hit areas. Weather forecasters predict more rain in the next 24 hours in West Bengal and Orissa.
| Earth Changes |
---
Mississippi levee buckles under rising waters

Breitbart (June 17, 2008) - Rising waters burst through an overtaxed levee on the Mississippi River Tuesday, sending gushing torrents into an Illinois town as the sodden US midwest reels from days of epic flooding. The levee break left Highway 34 at Gulfport, on the Illinois side of the Mississippi River, under water prompting officials to close a bridge to the neighboring town of Burlington and creating havoc for commuters. News reports said a flash flood warning was in effect Tuesday in Henderson County, Illinois as a result of surging waters from the levee break. More than 1,000 Illinois National Guard troops were working alongside hundreds of inmates from the state's prisons to shore up levees throughout the state, a spokeswoman with the Illinois Emergency Management Agency told CNN. "We were very, very disappointed that this levee broke today," said emergency official Patti Thompson, adding the imposing Mississippi, "is a very powerful river and it can be hard to harness" even in drier times, let alone during record flooding. Officials had anticipated that the levees could be a weak point and had sought to shore them up with sand bags, she said, adding: "We have been focusing quite a bit on all of these levees." President George W. Bush vowed Tuesday to help flood-ravaged states get back on their feet, and was due to tour neighboring devastated Iowa on Thursday. "I fully understand people are upset when they lose their home. A person's home is their most valued possession," Bush said, adding he had been briefed by administration officials on the disaster. "We want to work with state and local folks to have a clear strategy to help people find -- get back into a place that -- where they can live," the president said, adding that housing and fresh water were the top priorities. Bush, who was sharply criticized for the administration's slow response to Hurricane Katrina in New Orleans in 2005, is to visit Iowa with a federal disaster response team. "I'm going to take our team down to meet with the folks in Iowa," he said, adding, "unfortunately I've been to too many disasters as president." more...
| America | Earth Changes |
---
Earthquake caused strong vertical shaking Daily Yomiuri Online (June 15, 2008) - The violent earthquake that struck the Tohoku region Saturday morning reportedly caused a violent up-and-down shaking that lasted about two minutes, triggering landslides in mountainous areas. Some reports have been received of vehicles being swallowed up by landslides. The quake, which measured upper 6 on the Japanese seismic intensity scale of 7 in areas including Oshu, Iwate Prefecture, also damaged hotels and stores, injured children at a nursery school, blocked roads and jolted a bus carrying 27 people heading off on vacation. It severely disrupted transport networks in many areas and sparked the automatic shutdown of the Tohoku Shinkansen line. With aftershocks continuing, the damage from the temblor seems to be worsening with the passage of time. The bus carrying 27 holidaymakers, including employees of a life insurance company from Ishinomaki, Miyagi Prefecture, was hit by the earthquake as it crossed a bridge between Natori and Sendai in the prefecture. The passengers were heading to Sendai Airport to go on a company vacation. Twenty-five passengers reportedly were injured. A pale-looking passenger who suffered a neck injury said the bus bounced three or four times as it was traveling. A landslide blocked off National Highway Route 397 near Ishibuchi Dam in Oshu, Iwate Prefecture, about 20 kilometers from JR Mizusawa Station. A 58-year-old Sendai company employee was climbing a mountain in the area when the quake struck at 8:43 a.m. "I'd been climbing for about 30 minutes when water suddenly gushed out like a fountain from the middle of a swamp," the man said from the point to which he had descended near the dam. "I thought I was going to die, but I managed to get back to the bottom after an hour." Six children and a teacher at a nursery school in Oshu were injured by broken glass from windowpanes that shattered in the quake. A wall at a store in Yuzawa, Akita Prefecture, collapsed onto the pavement. "There was a huge thumping noise before the wall collapsed," said a 43-year-old woman who runs a butcher shop in the city. "I've never felt it shake like that before." more...
| Earth Changes |
---
Major earthquake shakes northern Japan MSNBC (June 13, 2008) - A powerful 6.9-magnitude earthquake rocked northern Japan early Saturday, killing at least two people and forcing authorities to close highways and stop high-speed trains. There were also reports of injuries at a day care center, aboard a bus, and some people cut by broken glass. Authorities said two nuclear power plants in the area were not damaged and continued to operate normally, national broadcaster NHK reported. There was no danger of a tsunami. The 8:43 a.m. quake was centered in the northern prefecture of Iwate about 280 miles north of Tokyo. The meteorological agency issued a warning of a second quake, and a 5.6-magnitude aftershock hit the same area, but it was unclear whether the warning preceded the aftershock. Japan was experimenting with an earthquake warning system. Footage from the closest large city, Sendai, showed the quake shook surveillance cameras for 30 seconds. NHK interviewed an official from Miyagi prefecture, where Sendai is located, who said he saw tiles coming off the roofs of some homes. "It was scary. It was difficult to stand up," said Sachiko Sugihara, a convenience store worker in the town of Oshushi in Iwate prefecture in a separate interview with NHK. "The TV fell over and the refrigerator shook." more...
| Earth Changes |
---
Flooding Hits Historic 500-Year Levels in Iowa Fox News (June 12, 2008) - The National Weather Service called flooding in Cedar Rapids, Iowa, a "historic hydrologic event" Thursday as the swollen river poured over its banks at 500-year flood levels, forcing the evacuation of nearly 4,000 homes. The National Weather Service issued a flood warning for the Cedar River in east central Iowa Thursday, saying residents should expect "unprecedented river crests" and calling the situation serious. One of the Cedar Rapids, Iowa, levees already has broken. "The rest of the levees in the city have not broken down but what the problem is is the water went way up over the top — well over a foot over the top of the levees," Dave Koch, the city's public information officer, told FOX News, adding "it's a 500-year flood and it just overwhelmed us." The Midwest has been inundated with floods in recent days, with a man dying Thursday in Albert Lea, Minn., after his vehicle fell into a flooded stream. Two others were rescued. Officials estimated that 100 blocks in Cedar Rapids were under water. "We're just kind of at God's mercy right now, so hopefully people that never prayed before this, it might be a good time to start," Linn County Sheriff Don Zeller said. "We're going to need a lot of prayers and people are going to need a lot of patience and understanding." The problems in Cedar Rapids came a day after frantic sandbagging enabled the upstream cities of Cedar Falls and Waterloo to narrowly avoid widespread flooding. Despite several days spent preparing for the approaching high water, Cedar Rapids couldn't avoid being hit hard. Rescuers had to use boats to reach many of the residents stranded in 3,900 homes. "There are homes, there are businesses, police department, fire department — we're all under water," Koch said. more...
| America | Earth Changes |
---
Earthquake swarm picks up again in northern Nevada Breitbart.com (June 8, 2008) - A months-long swarm of earthquakes picked up again Sunday as a string of minor temblors rattled Reno, causing downtown high-rises to sway and knocking items off walls and shelves. There were no immediate reports of injuries or major property damage after about 20 minor quakes reported on the western edge of Reno over 12 hours ending about noon. Magnitude-3.9 and 3.6 quakes struck within a couple minutes of each other shortly before 11 a.m. and were preceded by 3.2 and 3.0 quakes early Sunday, said researchers at the seismological laboratory at the University of Nevada, Reno. "I was thinking, 'Here we go with the big one,'" said Daryl DiBitonto, a Reno resident who felt the quake at home. "Late in the morning, I thought the whole house was going to come down. Every time I feel a 3, I think it's going to be the big one. Totally, everyone is on edge again." Diane dePolo, a lab seismologist, said it was the strongest sequence of quakes in the past month and signaled a pickup in activity after a recent lull. "We had a little pickup in activity on Tuesday and nothing significant until today," dePolo said. "We are monitoring them, but we can't say if it'll get better or worse. There is no way to predict earthquakes." Seismologists had urged residents of northern Nevada's largest city to prepare for a bigger event after a 4.7 quake on April 25, the strongest in a swarm that began Feb. 28. That quake swept store shelves clean, cracked walls in homes and dislodged rocks on hillsides, but there were no reports of injuries or widespread, major damage. The swarm, which has produced thousands of mostly minor quakes, had prompted some residents in the densely populated quake zone to spend nights outside in campers and trucks. "We live in earthquake country, and the threat is never over," dePolo said. "We encourage people to be prepared." Nevada is the third most seismically active state in the U.S. behind California and Alaska. Reno's last major quake measured 6.1 on April 24, 1914.
| America | Earth Changes |
---
|
Earth Changes |
---
Earthquake swarm picks up again in northern Nevada Associated Press (June 8, 2008) - A months-long swarm of earthquakes picked up again Sunday as a string of minor temblors rattled Reno, causing downtown high-rises to sway and knocking items off walls and shelves. There were no immediate reports of injuries or major property damage after about 20 minor quakes reported on the western edge of Reno over 12 hours ending about noon. Magnitude-3.9 and 3.6 quakes struck within a couple minutes of each other shortly before 11 a.m. and were preceded by 3.2 and 3.0 quakes early Sunday, said researchers at the seismological laboratory at the University of Nevada, Reno. "I was thinking, 'Here we go with the big one,'" said Daryl DiBitonto, a Reno resident who felt the quake at home. "Late in the morning, I thought the whole house was going to come down. Every time I feel a 3, I think it's going to be the big one. Totally, everyone is on edge again." Diane dePolo, a lab seismologist, said it was the strongest sequence of quakes in the past month and signaled a pickup in activity after a recent lull. "We had a little pickup in activity on Tuesday and nothing significant until today," dePolo said. "We are monitoring them, but we can't say if it'll get better or worse. There is no way to predict earthquakes." more...
| America | Earth Changes |
---
Strong Quake Shakes Western Greece The Earth Times (June 8, 2008) - A strong quake struck western Greece on Sunday but initial reports from the region mentioned no casualties and only minor damage. The epicentre of the quake was put at some 35 kilometres north- east of the city of Patras, some 150 kilometres west of the capital Athen,s but was felt throughout all of Greece. The Thessaloniki Geodynamic Institute said the quake measured 6.5 points. Radio reports said residents fled into the streets in panic. But there were no initial reports of casualties.
| Earth Changes |
---
Powerful storms swamp U.S. Midwest, spawn tornadoes Reuters (June 7, 2008) - Heavy rains caused flooding that forced hundreds of evacuations in Indiana, and a tornado raked Chicago's suburbs on Saturday as violent thunderstorms pummeled the already soggy U.S. heartland, authorities said. The U.S. Coast Guard was called out to help rescue stranded homeowners and motorists, and near-record flooding was forecast for rivers and creeks in western and central Indiana. "We are getting a lot of rain and water. There are a lot of roads that are impassable. We are urging people to sit tight and stay off the roads," said John Erickson of Indiana's Department of Homeland Security. Some roads and highways were inundated and part of Interstate 70 had washed away, Indiana authorities said. No one had been seriously injured in the flooding but Indiana Gov. Mitch Daniels declared an emergency in 10 more counties, added to the 41 counties declared earlier. Some dams were in jeopardy, according to local media reports, following the latest round of heavy spring storms that have delayed farmers' planting schedules in several U.S. heartland states. In Illinois, Saturday's storms were accompanied by at least one tornado that skipped across suburbs and farm fields South of Chicago. The twister ripped roofs off several homes and apartment buildings, toppled semi-trailer trucks and tore down power lines, authorities said. At least one person was injured and some 29,000 households were without power. Tornadoes also struck in Iowa and Wisconsin, capping a season that has seen a parade of storms spawning tornadoes, hail and destructive winds. According to the weather service, 112 people have died in tornadoes since the beginning of the year, the most in the United States in a decade. more...
| America | Earth Changes |
---
Natural Disasters Up More Than 400 Percent in Two Decades Natural News (June 5, 2008) - The number of natural disasters around the world has increased by more than four times in the last 20 years, according to a report released by the British charity Oxfam. Oxfam analyzed data from the Red Cross, United Nations and researchers at Louvain University in Belgium. It found that the earth is currently experiencing approximately 500 natural disasters per year, compared with 120 per year in the early 1980s. The number of weather-related disasters in 2006 was 240, compared with 60 in 1980. At the same time, the number of geologically related natural disasters has held steady. Oxfam has attributed the increasing disaster rate to global warming. "We are talking about some very unusual floods in West Africa, very unusual floods in East Africa, extraordinary floods in Mexico and parts of Central America, and heat waves in Greece [and] eastern Europe," report author John Magrath said. "This is no freak year," said Oxfam director Barbara Stocking. "It follows a pattern of more frequent, more erratic, more unpredictable and more extreme weather events that are affecting more people." Between 1985 and 1994, Oxfam found that 174 million people were affected by disasters each year. In the following decade, this figure increased by 70 percent to 254 million people per year. more...
| Earth Changes |
Matthew 24:3-8
And as he sat upon the mount of Olives, the disciples came unto him privately, saying, Tell us, when shall these things be? and what shall be the sign of thy coming, and of the end of the world? And Jesus answered and said unto them, Take heed that no man deceive you. For many shall come in my name, saying, I am Christ; and shall deceive many. And ye shall hear of wars and rumours of wars: see that ye be not troubled: for all these things must come to pass, but the end is not yet. For nation shall rise against nation, and kingdom against kingdom: and there shall be famines, and pestilences, and earthquakes, in divers places. All these are the beginning of sorrows.

The term "sorrows" above refers to birth pangs, where contractions take place far apart and as the moment of childbirth comes, the contractions get more intense and closer together. If this is the time of the end, these things are only going to get worse. More detail on how at the coming times page.
---
Magnitude 5.3 aftershock hits quake-battered China News Tribune (June 5, 2008) - More than 10,000 people were moved to higher ground Thursday as water continued to rise in a brimming lake formed by landslides from China's May 12 earthquake and another strong aftershock rocked the quake-battered region. There were no immediate reports of damage or injuries following the 5.3 aftershock in Sichuan province. Meanwhile, Premier Wen Jiabao arrived by helicopter Thursday afternoon in the town of Mianyang downstream from Tangjiashan lake to oversee attempts to drain the water. It was his third trip to the quake zone. "Now is a critical moment for the Tangjiashan quake lake, and the most important thing is to ensure there are no casualties," Wen was quoted as saying by the official Xinhua News Agency. The lake was formed above the devastated town of Beichuan after rocks and soil blocked the route of the Tongkou river. Xinhua reported that water was still more than four feet below a diversion channel carved to drain the lake and it was not clear whether other measures were being taken to control the steadily rising water level. more...
| Earth Changes |
---
6.8 Earthquake Strikes in Pacific Ocean Near Taiwan Telegraph UK (June 1, 2008) - Taiwan's Central Weather Bureau says the magnitude 6.8 quake hit at around 9:57 a.m. on Sunday. It was faintly felt in Taiwan. The bureau says the epicenter was located at the Pacific Ocean about 140 miles south of the eastern island of Lanyu, which is about 180 miles southeast of the capital, Taipei. The epicenter was as deep as 29 miles below the ocean surface.
| Earth Changes |
---
Earthquake rocks Iceland damaging buildings Reuters (May 29, 2008) - A strong earthquake rocked Iceland on Thursday, damaging roads and buildings in one town and sending frightened residents running into the streets. Police in Selfoss, 31 miles southeast of the capital Reykjavik, said they had received no reports of injuries and that damage to buildings in the area had been relatively minor. The U.S. Geological Survey said the quake struck at 3:46 p.m. (11:46 a.m. EDT), 6.2 miles beneath the earth's surface. In Selfoss, a small southwestern town near the quake's epicenter, dozens of panicking people poured into the streets. "I didn't know what was happening. All of a sudden, I felt the ground moving and saw the shelves shaking and walls in the store shaking," said Kolbrun Sigurdardottir, a clothing store clerk in the town. "I ran out into the street, which was filled with people. A pregnant lady next to me was terrified. We're still shaking with nerves, but I'm glad everybody is okay," she told Reuters. Iceland is renowned for its fierce geophysical temper. The island, which sits on a fault line, is dotted with geysers and volcanoes. Earthquakes of magnitudes up to 7.1 have shaken the island in the past. The quake hit a day before a planned visit to Iceland by U.S. Secretary of State Condoleezza Rice. State Department spokesman Sean McCormack, who was with Rice at a conference in Sweden on Thursday, said the visit would go ahead. The Iceland Meterological Office said Thursday's was the strongest quake to hit the country since two large quakes in 2000, which followed 88 years of relative seismic inactivity. "This is by far the largest since then," said Einar Kjartansson, a geophysicist at the office. The main quake was followed by several smaller aftershocks, he said. Iceland sits on two shifting plates far beneath the earth's surface, known as the Eurasian plate and the North American plate, which are moving away from each other, not converging, Kjartansson said. The strongest quakes tend to happen where plates are knuckling up against each other, as they do in California. more...
| Earth Changes |
---
US nears record tornado year; meteorologists don't know why International Herald Tribune (May 27, 2008) - Another week, another rumbling train of tornadoes that obliterates entire city blocks, smashing homes to their foundations and killing people even as they cower in their basements. With the year not even half done, 2008 is already the deadliest tornado year in the United States since 1998 and seems on track to break the U.S. record for the number of twisters in a year, according to the National Weather Service. Also, this year's storms seem to be unusually powerful. But like someone who has lost all his worldly possessions to a whirlwind, meteorologists cannot explain exactly why this is happening. "There are active years and we don't particularly understand why," said research meteorologist Harold Brooks at the National Severe Storms Lab in Norman, Okla. Over the weekend, an extraordinarily powerful twister ripped apart Parkersburg, Iowa, destroying 288 homes in the town of about 1,000 residents, said Gov. Chet Culver. At least four people were killed there. Among the buildings destroyed were City Hall, the high school, and the lone grocery store and gas station. Some of those killed were in basements. The brutal numbers for the U.S. so far this year: at least 110 dead, 30 killer tornadoes and a preliminary count of 1,191 twisters (which, after duplicate sightings are removed, is likely to go down to around 800). The record for the most tornadoes in a year is 1,817 in 2004. In the past 10 years, the average number of tornadoes has been 1,254. "Right now we're on track to break all previous counts through the end of the year," said warning meteorologist Greg Carbin at the Storm Prediction Center, also in Norman. And it's not just more storms. The strongest of those storms — those in the 136-to-200 mph range — have been more prevalent than normal, and lately they seem to be hitting populated areas more, he said. At least 22 tornadoes this year have been in the top part of the new Enhanced Fujita scale, rating a 3 (for "severe") or a 4 ("devastating") on the 1-to-5 scale. The twister that devastated Parkersburg was a 5 — the first in the U.S. since a tornado nearly obliterated Greensburg, Kan., just over a year ago. The Parkersburg tornado was the strongest to hit Iowa in 32 years. more...
| America | Earth Changes |
---
Earthquake rocks central Colombia BBC News (May 25, 2008) - A 5.7 earthquake has killed at least six people in central Colombia, causing landslides and shaking buildings. Its epicentre was located about 55km (34 miles) from the capital Bogota, near the town of Villavicencio, the US Geological Survey reports. Bogota residents ran outside fearing buildings would fall, then stood around dazed in the rain, correspondents say. The victims are reported to have been killed when rocks from a landslide hit the cars they were travelling in. At least 15 houses and a church were reported to have been damaged, says the Efe news agency. Cololmbian President Alvaro Uribe said the six people, including two children, were killed on the road between Bogota and Villavicencio. They were travelling in two cars that were hit by landslides, he told reporters. At least eight other people were reported injured. Bogota Mayor Samuel Moreno told local radio some buildings in the city were slightly damaged. "The report we have so far is that it was strong and some structures have suffered damage," he said. One government building in Bogota was evacuated after the quake sent a shower of bricks tumbling off one of its walls, Reuters adds. In 1999, a earthquake measuring six struck Colombia's coffee-growing region, killing about 1,000 people. The last comparable death toll from a Colombian quake prior to that was in 1875 when about 1,000 people died near Cucuta.
| Earth Changes |
---
Lethal storms kill 8 in Iowa and Minnesota Associated Press (May 26, 2008) - Half of this small town lay in ruins or heavily damaged Monday following a deadly tornado that ripped apart a stretch of northern Iowa. The Sunday afternoon twister killed six people in Iowa, four of them in Parkersburg and two others in nearby New Hartford. In neighboring Minnesota, a child was killed by violent weather in a suburb of St. Paul. "You really are overwhelmed when you see it," Iowa Gov. Chet Culver said at a news conference Monday after touring the Parkersburg area. "You can't imagine this kind of devastation, homes completely gone. And to see people trying to sort through their belongings is very difficult." Rescuers continued picking through the wreckage in search of possible victims but officials said they were hopeful that no one else remained to be found. In addition to those killed, about 70 people were injured, two of them in critical condition. Officials counted 222 homes destroyed, 21 businesses destroyed and more than 400 homes damaged. Among the buildings destroyed were city hall, the high school and the town's sole grocery store and gas station. That's about half of the homes in Parkersburg destroyed or severely damaged, said Butler County Sheriff Jason Johnson. "There's so much hurt here, I don't know where to start," said U.S. Sen. Chuck Grassley, who owns a farm near New Hartford. more...
| America | Earth Changes |
---
China aftershock destroys 71,000 homes; 1 killed Associated Press (May 25, 2008) - A powerful aftershock destroyed tens of thousands of homes in central China on Sunday, killing two people and straining recovery efforts from the country's worst earthquake in three decades. More than 480 others were injured. Meanwhile, soldiers rushed with explosives to unblock a debris-clogged river threatening to flood homeless quake survivors. The fresh devastation came after a magnitude 6.0 aftershock — among the most powerful recorded since the initial May 12 quake, according to the U.S. Geological Survey. The China National Seismic Network said the aftershock was the strongest of dozens in the nearly two weeks after the disaster. The new tremor killed two people and injured more than 480 others, 41 seriously, the official Xinhua News Agency said. Some 71,000 homes that had survived the original quake were leveled, and another 200,000 were in danger of collapse from the aftershock that caused office towers to sway in Beijing, 800 miles away. Before the aftershock, the Cabinet said the confirmed death toll from the disaster had risen to 62,664, with another 23,775 people missing. Premier Wen Jiabao has warned the number of dead could surpass 80,000. more...
| Earth Changes |
---
Earthquake rocks central Colombia BBC News (May 25, 2008) - A 5.7 earthquake has killed at least six people in central Colombia, causing landslides and shaking buildings. Its epicentre was located about 55km (34 miles) from the capital Bogota, near the town of Villavicencio, the US Geological Survey reports. Bogota residents ran outside fearing buildings would fall, then stood around dazed in the rain, correspondents say. The victims are reported to have been killed when rocks from a landslide hit the cars they were travelling in. At least 15 houses and a church were reported to have been damaged, says the Efe news agency. Cololmbian President Alvaro Uribe said the six people, including two children, were killed on the road between Bogota and Villavicencio. They were travelling in two cars that were hit by landslides, he told reporters. At least eight other people were reported injured. Bogota Mayor Samuel Moreno told local radio some buildings in the city were slightly damaged. "The report we have so far is that it was strong and some structures have suffered damage," he said. One government building in Bogota was evacuated after the quake sent a shower of bricks tumbling off one of its walls, Reuters adds. In 1999, a earthquake measuring six struck Colombia's coffee-growing region, killing about 1,000 people. The last comparable death toll from a Colombian quake prior to that was in 1875 when about 1,000 people died near Cucuta.
| Earth Changes |
---
Tornadoes tear up Colorado The Washington Times (May 23, 2008) - Tornadoes touched down in northern Colorado and southern Wyoming yesterday, damaging buildings, flipping vehicles and killing at least one person. The National Weather Service said a large tornado touched down just after noon near Platteville, Colo. about 50 miles north of Denver. It then moved north through or near several towns, tearing the roofs off buildings, downing power lines and crumpling farm equipment. A second tornado touched down later in near Johnstown, Colo. about 10 miles northwest of Platteville, the weather service reported. There were no immediate reports of injuries. Windsor, Colo., a farm town of about 16,000, appeared the hardest hit. Video footage showed a dark gray funnel perhaps a quarter-mile wide near the town with heavy hail and rain. At least one residential neighborhood in Windsor appeared to have suffered heavy damage. Television footage showed several rail tanker cars on their sides in downtown Windsor. more...
| America | Earth Changes |
---
Rare Tornado Strikes Southern California Fox News (May 22, 2008) - The National Weather Service has issued a tornado warning for parts of Southern California as the region is being pounded by wild weather including torrential downpours. The weather service said at 4:38 p.m. Thursday that Doppler radar was tracking a tornado moving south near Moreno Valley in Riverside County. A KABC-TV helicopter in the area has shown an overturned big rig blocking a highway and a half-dozen freight cars toppled over on nearby railroad tracks.
| America | Earth Changes |
---
31,000 scientists reject 'global warming' agenda WorldNet Daily (May 19, 2008) - More than 31,000 scientists across the U.S. – including more than 9,000 Ph.D.s in fields such as atmospheric science, climatology, Earth science, environment and dozens of other specialties – have signed a petition rejecting "global warming," the assumption that the human production of greenhouse gases is damaging Earth's climate. "There is no convincing scientific evidence that human release of carbon dioxide, methane, or other greenhouse gases is causing or will, in the foreseeable future, cause catastrophic heating of the Earth's atmosphere and disruption of the Earth's climate," the petition states. "Moreover, there is substantial scientific evidence that increases in atmospheric carbon dioxide produce many beneficial effects upon the natural plant and animal environments of the Earth." The Petition Project actually was launched nearly 10 years ago, when the first few thousand signatures were assembled. Then, between 1999 and 2007, the list of signatures grew gradually without any special effort or campaign. But now, a new effort has been conducted because of an "escalation of the claims of 'consensus,' release of the movie 'An Inconvenient Truth' by Mr. Al Gore, and related events," according to officials with the project. "Mr. Gore's movie, asserting a 'consensus' and 'settled science' in agreement about human-caused global warming, conveyed the claims about human-caused global warming to ordinary movie goers and to public school children, to whom the film was widely distributed. Unfortunately, Mr. Gore's movie contains many very serious incorrect claims which no informed, honest scientist could endorse," said project spokesman and founder Art Robinson. WND submitted a request to Gore's office for comment but did not get a response. Robinson said the dire warnings about "global warming" have gone far beyond semantics or scientific discussion now to the point they are actually endangering people. "The campaign to severely ration hydrocarbon energy technology has now been markedly expanded," he said. "In the course of this campaign, many scientifically invalid claims about impending climate emergencies are being made. Simultaneously, proposed political actions to severely reduce hydrocarbon use now threaten the prosperity of Americans and the very existence of hundreds of millions of people in poorer countries," he said. more...
| Earth Changes |
---
Last-days 'birth pains' have begun WorldNet Daily (May 16, 2008) - The world has endured an almost mind-numbing series of shocks in recent weeks, from the unprecedented swarm of tornadoes across the American Midwest to the death and destruction wrought by Cyclone Nargis as it tore a path through Myanmar, better known as Burma. There were 368 documented tornadoes in the U.S. in January and February of this year, shattering the previous record of 243 over that two-month period, set in 1999. February's total of 232 tornadoes also shattered previous records. Cyclone Nargis ripped Burma apart, killing at least 128,000, according to Red Cross estimates, and creating some 2.5 million refugees. Al Gore was quick to blame global warming. In an interview on NPR to plug his appropriately named book on global warming, "Assault on Reason," he told host Terry Gross: "And as we're talking today, Terry, the death count in Myanmar from the cyclone that hit there yesterday has been rising from 15,000 to way on up there to much higher numbers now being speculated. . … And last year a catastrophic storm last fall hit Bangladesh. The year before, the strongest cyclone in more than 50 years hit China – and we're seeing consequences that scientists have long predicted might be associated with continued global warming." Maybe. But Germany's Institute of Marine Scientists says we're in for a 10-year period of global cooling. There sure seems to be a lot of opposition to what is supposed to be "settled science." Global warming can't explain away the devastating earthquake that all but flattened a huge portion of western China. The death toll from Monday's quake is approaching 20,000, with twice that number still listed as missing. According to the U.S. Geological Survey, Monday's earthquake was the 25th "significant" earthquake registered so far this year. Back in 1969, the year I wrote "The Late, Great Planet Earth," the USGS identified a total of seven "significant earthquakes." I had noted in 1969 that there was a slight but discernible increase in worldwide earthquake activity since Israel's rebirth in 1948. During the entire decade of the 1970s, the USGS recorded a total of 44 earthquakes it classified as "significant." The following decade, from January 1980 to December 1989, the USGS recorded 47 significant earthquakes. That is for the entire decade. From 1990 through the end of 1999, the USGS records 57 significant earthquakes. From 2000 thru to Monday's earthquake in Sichuan, China, the USGS recorded an astonishing 109 earthquakes of at least magnitude 7.0 and 13 earthquakes measuring between 8.0 and 9.9 on the Richter Scale. On the other side of the world, the long-dormant Chaitan volcano erupted May 2 for the first time, say geologists, in more than 7,000 years. The BBC reported that a government volcano expert warned there could be a big eruption at any time. "There could be a major explosion that could collapse the volcano's cone," said Luis Lara of the National Geologic and Mining Service. The United Nations Food and Agriculture Organization warned that Iran had "detected" a new highly pathogenic strain of wheat stem rust. The U.N. said the fungal disease could spread to other wheat-producing states in the Near East and western Asia that provide one-fourth of the world's wheat supply. The new strain, called Ug99, is capable of infecting up to 90 percent of the existing strains of wheat worldwide – and once infected, crop losses range between 70 percent and total loss. Coupled with the losses already sustained as a result of the typhoon-related flooding in Java, Bangladesh, and India and from agricultural pests and diseases in Vietnam, it starts to add up. Last year, Australia suffered its second consecutive year of severe drought and a near complete crop failure; heavy rains reduced production in Europe; Argentina suffered heavy frost; and Canada and the U.S. both produced low yields. Food riots have broken out in Egypt, Haiti and several African states, including Mauritania, Cameroon, Cote d'Ivoire, Burkina Faso and Senegal. Meanwhile, the drums of war continue to beat around the planet. Iran's Mahmoud Ahmadinejad renewed his threat to destroy Israel this week. Hezbollah took over West Beirut, while the Arab world mourned the catastrophe of Israel's 60th birthday with threats of annihilation of the Jewish state. In Israel, President Bush again warned that allowing the Iranian regime to obtain nuclear arms would be "unforgivable," signaling a continuation along a path that can only lead to an eventual war that will engulf the whole Middle East. When Jesus was asked by His disciples to tell them what "signs" would precede His return at the end of the age, He warned that "nation shall rise against nation, and kingdom against kingdom, and there will be famines, plagues and earthquakes in various places," He said (Matthew 24 and Luke 21). Using an analogy immediately understandable to all peoples in all nations, he said of these signs, "All these are the beginning of birth pains." Jesus used a Greek word for the labor pains of a woman about to give birth. Jesus knew that every generation could understand the illustration. His meaning is clear. Just as a woman experiences birth pains that increase in frequency and intensity just before giving birth, so ALL the signs of His return would increase in frequency and intensity just before His return. Hey, for he first time in history, all of the signs have appeared together in the same time frame and are increasing in frequency and intensity. That, coupled with the fulfillment of the great predicted sign that Israel became a nation again after 2,000 hopeless years of worldwide dispersion, indicates that Jesus Christ is already at the door ready to return. Are you ready?
| Earth Changes |
---
New rumbling from Chilean volcano worries experts Reuters (May 15, 2008) - Chile's Chaiten volcano groaned, rumbled and shuddered on Thursday, raising new concerns among authorities, as lightning bolts pierced the huge clouds of hot ash hovering ominously above its crater.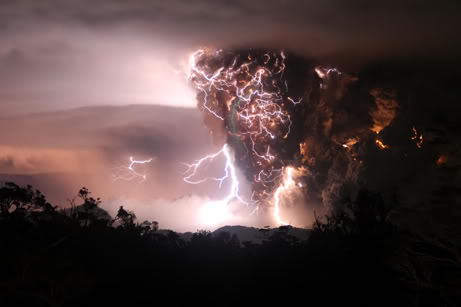 Chile's National Emergency Office, ONEMI, said heavy ash kept shooting from the volcano in southern Chile as it generated small tremors. On the ground, heavy flooding hit the area around Chaiten as falling ash swelled rivers, overflowing their banks. "There's been additional volcanic activity that we're really worried about," regional governor Sergio Galilea told reporters. The Chaiten volcano, 760 miles (1,220 km) south of the capital Santiago, started erupting on May 2 for the first time in thousands of years, spewing ash, gas and molten rock into the air. The government on Wednesday declared the town of Chaiten, only six miles (10 km) from the erupting volcano, off-limits for three months and reported that about 90 percent of the town had been flooded by the Blanco and Raya Rivers. "The flooding has receded in terms of water. But there's a lot of material left, more mud than water," Galilea said. Rains are normal during the southern hemispheric winter in Patagonia, but the deluge of volcanic ash has caused nearby rivers to breach their banks. No deaths have resulted, but thousands of people have been evacuated within a 30-mile (48-km) radius, including the 4,500 residents of Chaiten. The column of ash above the volcano, kept aloft by the pressure of constant eruptions, rose as high as 20 miles (32 km) early in the eruption but has since fallen back to about 4.5 miles (7 km). more...
| Earth Changes |
---
Experts: Twisters Getting Larger, Deadlier ABC News (May 12, 2008) - As communities rebuild after deadly tornadoes bulldozed their way from Oklahoma to Georgia and North Carolina over the weekend, experts say that this tornado season is bigger and deadlier than last year's, with little relief in sight. Seventy-seven tornadoes tore through the country the past few days, according to preliminary reports at the National Oceanic and Atmospheric Administration Storm Prediction Center. In Georgia, more than 180,000 people were left without power, while 15 fatalities were reported in Missouri. This year's count is already twice the number of tornadoes logged during last year's U.S. tornado season, which generally runs from mid-spring to early summer. "So far, in terms of the number of tornadoes, this is one of the most active years to date," said Harold Bloom, a meteorologist at the National Severe Storms Laboratory in Norman, Okla. Tornadoes develop from large, powerful thunderstorms known as super cell thunderstorms. "One super cell thunderstorm can move many miles and can produce several tornadoes, a family of tornadoes," said Henry Margusity, a meteorologist at Accuweather. "These thunderstorms will produce one tornado. It will develop, mature and dissipate and another will fall right behind it. & You're getting a lot of these very large thunderstorms developing." The larger thunderstorms are producing more families of tornadoes earlier than before and the tornadoes themselves are staying on the ground longer than ever before in regions outside of "tornado alley," Margusity said. Kansas, Oklahoma and parts of Texas officially make up this area, although the southeastern United States experiences its fair share of tornadoes during the season. With more tornadoes have come more deaths. So far, 96 people have died this year. Last year, the entire tornado season end with 81 fatalities. "This year everything's been shifted to the east, & which is why we've seen a higher death toll," he said. "They're happening in very highly populated areas of our country." "The damage that you see is just incredible," he added. more...
| Earth Changes | America |
---
Etna Volcano Rumbles Back to Life in Sicily Breitbart.com (May 13, 2008) - The Etna volcano in Sicily rumbled back to life on Tuesday with a "seismic event" followed by a burst of ash, volcanologists said three days after minor eruptions shook the cone. A "seismic event provoking a strong explosion was recorded Tuesday at 0424 GMT (6:42 am local) in parts of the peak of the volcano," the National Geophysics and Vulcanology Institute in Sicily's Catania region said in a statement. The explosion on Etna, Europe's tallest active volcano at 3,295 metres (10,810 feet), was followed by a rain of ash on the southeast crater, "where significant gas emissions are occurring," the statement said. The institute dispatched experts on Tuesday to the site, but "the phenomenon currently represents no danger to people or property," it said. Saturday's eruption, accompanied by streams of lava, was also at the volcano's southeast crater. The last eruption of Mount Etna was in November 2007, two months after another eruption forced a temporary closure of nearby Catania airport due to flowing lava and clouds of ash. The last major eruption was in 2001.
| Earth Changes |
---
Tornado season deadliest in a decade USA Today (May 13, 2008) - The USA has been ravaged through mid-May by a near-record number of tornadoes that has pushed the death toll — including 47 killer twisters over the weekend — to a 10-year high. The deaths of 98 people attributed to tornadoes this year has made 2008 the deadliest year thus far for tornadoes since 1998 and the seventh deadliest since modern recordkeeping began in 1950, The Weather Channel said. Such a rate could make 2008 the year with the most tornadoes since 1950. "We are on a pace that continues a record number" of twisters, said Greg Forbes, severe weather expert at The Weather Channel. Violent storms over the weekend that spawned tornadoes left at least 22 people dead from the southern Plains states eastward to Georgia, including seven deaths in the tiny town of Picher, Okla., and 10 deaths in Seneca, Mo. Storms remained active Sunday night as they swept eastward. The National Weather Service said tornado watches were in effect for southern Georgia into northern Florida, as well as south central Virginia, much of North Carolina and northern South Carolina. The National Weather Service takes weeks to confirm actual numbers of tornadoes but The Weather Channel said it believes there were 47 separate twisters as of May 11 putting the count for the year at 636. That is second only to the No. 1 year of 1999, when 669 tornadoes hit through the same date, Forbes said. As for deaths by tornado, this year has seen the most through May 11 since 115 were killed by tornado in 1998, Forbes said. That year ended with 130 total deaths because of tornadoes. Meteorologists say wind conditions and weather patterns have been ideal for creating twisters this year. The jet stream, a shifting river of air at high altitudes, has been moving from the southwestern USA toward the Great Lakes and pulling moist air from the Gulf of Mexico. The contrast between the warm southern air and cold air aloft creates winds that can spin turn into twisters. more...
| Earth Changes | America |
---
Report: Death toll in China quake exceeds 12,000 Associated Press (May 13, 2008) - Soldiers hiking over landslide-blocked roads reached the epicenter of China's devastating earthquake Tuesday, pulling bodies and a few survivors from collapsed buildings. The death toll of more than 12,000 was certain to rise as the buried were found. Rescuers worked through a steady rain searching wrecked towns across hilly stretches of Sichuan province that were stricken by Monday's magnitude-7.9 quake, China's deadliest in three decades. Tens of thousands spent a second night outdoors, some sleeping under plastic sheeting, others bused to a stadium in the city of Mianyang, on the edge of the disaster area. Street lamps were switched on in Mianyang on Tuesday night, but all the buildings were dark and deserted after the government ordered people out of them for fear of aftershocks. Security guards were posted at apartment blocks to keep people out. The industrial city of 700,000 people — home to the headquarters of China's nuclear weapons design industry — was turned into a thronging refugee camp, with residents sleeping outdoors. "I'm cold. I don't dare to sleep, and I'm worried a building is going to fall down on me," said Tang Ling, a 20-year-old waitress wrapped in a borrowed pink down jacket and camped outside the Juyuan restaurant with three co-workers. "What's happened is so cruel. In one minute to have so many people die is too tragic." As night fell, a first wave of 200 soldiers entered the town of Wenchuan, near the epicenter, trudging across ruptured roads and mudslides, state television said. Initial reports from troops said one nearby town could account for only 2,300 survivors out of 9,000 people, China Central Television said. At least 12,012 deaths occurred in Sichuan alone while another 323 died in five other provinces and the metropolis of Chongqing, state media reported. That toll seemed likely to jump sharply as rescue teams reached hard-hit towns. The devastation and ramped-up rescue across large, heavily populated region of farms and factory towns strained local governments. Food dwindled on the shelves of the few stores that remained open. Gasoline was scarce, with long lines outside some stations and pumps marked "empty." more...
| Earth Changes |
---
Severe storms cause damage in 4 Southern states Associated Press (May 9, 2008) - Amber Parker watched on television as the storm near her home grew into a tornado threat. Then, when the roaring wind outside suddenly fell silent, she grabbed her two toddlers and rushed to get under the stairwell. "We just got inside the door frame when I was pushed inside ... then everything went," said Parker, tears welling in her eyes as she described the chaotic scene during a brief discussion with reporters near her demolished home in central North Carolina. Neighbors helped the 36-year-old Parker and her two children — a 2-year-old and a 3-year-old — out of the ruins that used to be their home, and the three survived with barely a scratch. "We're blessed," she said. The powerful storm system that swept through the Southeast and the mid-Atlantic states late Thursday and into early Friday produced two tornados. In North Carolina, the storm left one person dead, several injured and scores of homes and businesses damaged. Donald Ray Needham, 51, of Jackson Springs, died when his truck overturned in a parking lot just west of Greensboro, authorities said. They said three others were injured, one when the storm knocked down a wall at a distributing business, and two others when their vehicles flipped off the road. In Greensboro, some homes and businesses on the outskirts of town were damaged, and two FedEx airplanes were pitched off the tarmac and into an airport construction site. No one was injured at the airport. And while officials scoured through wreckage when daylight arrived Friday, they found no new injuries or fatalities. "I thought we were going to come back to something a lot worse than what we have out there," said David Douglas, assistant chief for the Greensboro Fire Department. "It could have been much worse than it was." The National Weather Service reported preliminary indications that the Greensboro tornado clocked in as a category EF2 on the Enhanced Fujita scale, meaning the funnel was packing winds between 111 and 135 mph. Earlier Thursday, an apparent tornado wrecked a shopping area in Mississippi and strong winds flipped a mobile home in Alabama. In south-central Tennessee, at least four homes and a few barns were reported damaged. The storm made its way to Virginia and Maryland late Thursday and early Friday, leaving between 75 and 100 homes in northeastern Virginia damaged — about 30 of them severely, said Stafford County spokeswoman Cathy Riddle. She said two people were injured; one of them was taken to a hospital and later released. Dozens of residents were taken to a temporary shelter at a middle school. Weather service officials confirmed Friday that a tornado also touched down Thursday night in Franklin and Henry counties in western Virginia. The EF1 twister, with winds of 86 to 95 mph, downed trees and damaged homes in a mile-long path, officials said. Portions of northern and central Virginia and southern Maryland remained under a flood warning Friday morning. more...
| America | Earth Changes |
---
Burma death toll worse than Tsunami The Sun (May 9, 2008) - THE death toll in cyclone-ravaged Burma could hit 500,000 – more than twice the total killed by the Boxing Day Tsunami. Last night's warning came as it emerged that 17 Britons, including ex-pats and backpackers, were still missing. The UN World Food Programme said on Friday it would resume aid flights, despite the military government's seizure of deliveries at Yangon airport. "The World Food Programme has decided to send in two relief flights as planned tomorrow, while discussions continue with the government of Myanmar on the distribution of the food that was flown in today, and not released to WFP", said Nancy E. Roman, WFP's communications and public policy director. The UN food agency had previously said it would suspend aid flights over the seizure today. The shipments of 38 tonnes of high-energy biscuits, enough to feed 95,000 people, were intended to be loaded on trucks and sent to the inundated Irrawaddy delta where most of the estimated 1.5 million victims of Cyclone Nargis need food, water and shelter. Sources said 200,000 people were already dead or dying. But the figure could rise to HALF A MILLION through disease and hunger if the nation's hardline army rulers continue to block aid for the devastated lowlands of the Irrawaddy Delta. That would dwarf the 230,000 deaths across South East Asia in the 2004 catastrophe. Nyo Ohn Myint, of exiled opposition party The National League for Democracy, told The Sun at a border crisis centre: "Much of this will be a man-made disaster, caused by the military regime. "The bodies need to be collected and burnt as soon as possible or disease will claim many more lives. But the government has organised nothing and its 400,000 soldiers are doing nothing while undistributed aid piles up. "They are hoping bodies will be washed out to sea so the final count is smaller – but it could kill half a million people within a matter of weeks. The world must know what is going on." Disaster struck on Saturday when 120mph Cyclone Nargis forced ashore waves up to 20ft high. The Irrawaddy town of Labutta – population 80,000 – was wiped off the map. Local doctor Aye Kyu told how families clung to trees as their homes were swept away. He said: "I asked survivors how many there were left. They said about 200." A spokesman for the UN Office for the Coordination of Humanitarian Aid said: "The entire lower delta region is under water. Teams are talking about bodies floating around. This is a major, major disaster." The UN World Food Programme said up to a million may have been left homeless in the vital "rice bowl" farming region alone. In the city of Bogalay, 95 per cent of homes are thought to have been destroyed. In the township of Dedaye, south of the main city Rangoon, desperate kids scavenged among the debris of their homes for anything useful to survival. On the outskirts of Rangoon forlorn families, including a mother cradling her screaming baby, queued for emergency handouts of rice. In Britain, International Development Secretary Douglas Alexander told MPs the situation was "grave". more...
| Earth Changes |
Keep praying!
---
Strong quake rocks Tokyo Herald Sun (May 8, 2008) - A SERIES of strong earthquakes including one with a magnitude of 6.7 hit the Tokyo area early today, cutting off power to more than 2000 homes and causing light injuries, officials and reports said. Japan's meteorological agency warned that more moderate aftershocks could strike, although there were no fears of a tsunami. The strongest earthquake hit at 1.45am (2.45am AEST) in the Pacific Ocean off Ibaraki prefecture, some 100km northeast of Tokyo. Public broadcaster NHK said that two people were lightly injured, including an 18-year-old boy who was hit by his falling stereo speaker. Power was cut off to 2100 households, the network said, quoting local officials. The impact was strongest in Ibaraki and adjacent Tochigi prefecture where the earthquake measured lower-five on the seven-point Japanese scale - strong enough to crack holes in weak buildings. more...
| Earth Changes |
---
Magnitude 6.7 earthquake jolts eastern Japan Reuters (May 7, 2008) - A earthquake with a preliminary magnitude of 6.7 jolted eastern Japan early on Thursday, and was felt over a wide area, including in Tokyo, Japan's meteorological agency said. The quake, at 1:45 a.m. (1645 GMT, Wednesday), was centered in the Pacific Ocean east of Tokyo. There were no immediate reports of injuries or damage after the quake, which measured 5 on the Japanese scale of 7 in some parts northeast of Tokyo, NHK said. No tsunami damage was expected from the quake but there may be slight sea level changes, the agency said on its website.
| Earth Changes |
---
Full evacuation ordered around Chile volcano MSNBC (May 6, 2008) - The long-dormant Chaiten volcano blasted ash some 20 miles into the Andean sky on Tuesday, forcing the last of thousands to evacuate and fouling a huge stretch of the South American continent. A thick column of ash climbed into the stratosphere and blew eastward for hundreds of miles (kilometers) over Patagonia to the Atlantic Ocean, closing schools and a regional airport. Citizens of both countries were advised to wear masks to avoid breathing the dangerous fallout. Chilean officials ordered the total evacuation of Chaiten, a small provincial capital in an area of lakes and glacier-carved fjords just six miles (10 kilometers) from the roiling cloud. Interior Minister Edmundo Perez said anyone still in the area should "urgently head to ships in the bay to be evacuated." More than 4,000 people were evacuated over the weekend and 350 more headed out Tuesday. Also emptied was the soot-coated border town of Futaleufu, about 75 miles (120 kilometers) from the volcano. The five-day-old eruption is the first in 9,370 years, said Charles Stern, a volcanologist at the University of Colorado-Boulder who has studied Chaiten. He said the nearby town could end up buried, much like the Roman city of Pompeii following Mount Vesuvius' eruption in 79 A.D. Volcanic material from Chaiten's last eruption measured up to 5 feet in places. "What happens after today is anybody's guess," Stern said. While volcanologists around the world eagerly awaited data on the scope of the eruption, one local expert got an up-close look when he accompanied police and air force teams over the 3,950-foot (1,200 meter) peak. Volcanologist Juan Cayupi told The Associated Press by telephone that Chaiten's two small craters have morphed into a large, single crater. Lava was rising within the crater but has not yet spilled over, said Luis Lara, another volcanologist with the government's Geology and Mining Service. more...
| Earth Changes |
Massive volcanic cloud creeps over Argentina, Chile Breitbart.com (May 8, 2008)
---
Relief slow for victims in cyclone-hit delta MSNBC (May 6, 2008) - Myanmar's Irrawaddy delta remained largely cut off from the rest of the world Tuesday, four days after a cyclone unleashed winds, floods and high tidal waves on the densely populated region, killing nearly 22,000. State radio reported that more than 41,000 others were missing in the wake of Asia's deadliest storm since 1991. With the death toll expected to mount and as many as 1 million possibly left homeless, the international community was poised to deliver aid to the military-ruled country, which normally keeps out most foreign officials and restricts their access inside the country. Some aid agencies reported their assessment teams had reached areas of the largely isolated region but said getting in supplies and large numbers of aid workers would be difficult. Images from state television showed large trees and electricity poles sprawled across roads and roofless houses ringed by large sheets of water in the Irrawaddy River delta, which is regarded as Myanmar's rice bowl. "From the reports we are getting, entire villages have been flattened and the final death toll may be huge," Mac Pieczowski, who heads the International Organization for Migration office in Yangon, said in a statement. Power remained cut for the fourth day for almost all 6.5 million residents of Yangon, the country's largest city, while water supply was restored in only a few areas. Buddhist monks and Catholic nuns wielding knives and axes joined residents in clearing roads of ancient, fallen trees that were once the city's pride. Concerns mounted over the lack of food, water and shelter in the delta as well as diseases spawned by Cyclone Nargis in a country with one of the world's poorest health systems. President Bush urged Myanmar's military rulers on Tuesday to accept U.S. disaster response teams that so far have been kept out and said the United States stood ready to "do a lot more" to help. "The military junta must allow our disaster assessment teams into the country," Bush told reporters. He said he was prepared to make U.S. naval assets available to help in search and rescue efforts. "So our message is to the military rulers: let the United States come and help you help the people," Bush said. The White House later announced $3 million in aid after an initial pledge of $250,000 on Monday. more...
| Earth Changes |
Pray for them! Also check out Gospel for Asia on the ground there now and taking donations. "We are facing at least six months of continuous work ministering to the people. This is a tremendous opportunity for us to reach out in love to them just like we did after the tsunami in 2004."
---
Search Under Way for Missing in Boryeong, S.Korea Tidal Wave The Korea Times (May 5, 2008) - Rescuers were unable to find additional survivors Monday in seas off a breakwater in Jukdo, Boryeong, South Chungcheong Province, where a giant tidal wave claimed nine lives and injured 27, Sunday. About 700 personnel, alongside divers and helicopters were mobilized from early Monday morning to search for 13 people still listed as missing. Local authorities initially announced a total of 50 had been swept into the seas by the abnormally high tidal wave, but concluded the actual number was uncertain as the former was based on witnesses' statements. The exact cause of the tidal wave is still puzzling meteorologists and experts. The Korean Meteorology Administration (KMA) said a fast moving underwater current being blocked by the breakwater could have created the wave. However, oceanographers refute this, saying the breakwater was incidental to the incident. "No earthquakes were detected at the time and the velocity of the wind then ranged between 0.5-4 meters per second. Thus, weather conditions were not directly responsible for the tidal wave,'' the KMA said Sunday, adding "it might have been a man-made disaster.'' But professors of oceanography said the artificial structure had nothing to do with the incident. Prof. Lee Jong-seop at Pukyong National University said the breakwater had stood there for a long time, but no other waves had been reported in the past. "This means other unaccountable factors triggered the event.'' Also, Prof. Choi Byeong-ho at Sungkyunkwan University said that he didn't think the breakwater caused the wave. "We need to review various factors to discover its origin,'' he said. Witnesses said the tidal wave that slammed into the breakwater was at least 10 meters high. "The sea water receded at once like an ebb tide and then a high wave smashed into the breakwater and rocks sweeping anglers and tourists into the sea,'' a witness said.
| Earth Changes |
---
Unnatural Grid Appears in Nevada Earthquakes Stan Deyo (May 2, 2008) - When we first posted an image last Saturday showing numerous earthquakes hitting Reno's Crystal Peak golf course, it was interesting. However, it was nothing compared to the very distinctive earthquake grid that's formed in Nevada. This simply can't be a natural event. There are many – literally hundreds – of earthquakes on this main image, but you can't truly appreciate the number until you look at the individual maps. To do so, click any of the circles on the map below and you'll see many earthquakes hidden in this onslaught. The unmistakable grid pattern looks as though the quakes were deliberately targeted. Check this high altitude view of the Reno earthquake "explosions". Red arrows indicate areas of highest earthquake density on the grid. One would have to ask, why would Crystal Peak Golf course be targeted?
| America | Earth Changes |
You really have to go to the link and check out the grid of earthquakes. It certainly is bizarre. What does it mean? Beats me, but the existence of a pattern certainly catches the attention.
---
Quake series stresses Reno-area residents USA Today (April 30, 2008) - Residents here are being shaken, literally, by an ongoing series of earthquakes, which experts warn could be a precursor to a major seismic event. Since late February, hundreds of earthquakes have rattled parts of west Reno. The strongest quake — with a magnitude of 4.7 — hit shortly before midnight last Friday, cracking walls and breaking windows, according to the Nevada Seismological Laboratory. More than 200 additional small quakes have followed, the lab reported, including two Monday evening and some small earthquakes Tuesday. "My nerves are shot. I can't do it anymore," said Cindy Thomas of Mogul, a community west of Reno. She and husband Larry moved to a relative's house in the southern part of Reno, away from where the quakes have clustered. She plans to stay away "as long as it takes." Scientists at the seismological laboratory — who met with Nevada Gov. Jim Gibbons on Tuesday — say the Reno earthquake swarm is unusual. That's because a primary earthquake usually is followed by aftershocks diminishing in strength. These quakes started out small and the general trend shows them building in strength. A magnitude-6 quake hitting Reno "wouldn't be a scientific surprise," said John Anderson, the lab's director. Any earthquake measuring above a magnitude of 6 is considered a strong earthquake, according to the U.S. Geological Survey. Reno-area police and fire agencies have plans in place to respond to a major earthquake, and the state is ready to jump to the aid of Washoe County should one occur, said Gary Derks, operations officer for the Nevada Division of Emergency Management. Aaron Kenneston, emergency manager for Washoe County, is encouraging residents to prepare for a serious quake by stocking up on food, batteries, flashlights, first-aid supplies and at least 1 gallon of water per family member. Joe Bernardo spent last Friday night sweeping up broken glass inside his home, only to be jolted awake by another quake about 4:30 a.m. Monday. "Sleep-deprived? Yeah, you could say that," said Bernardo, 63. Sandy Jung and her husband are sleeping in a motor home for safety. Previously a California resident, Jung said she's accustomed to earthquakes, and has experienced bigger ones than are occurring in Reno. "But not swarms of them. Not day after day after day," Jung said. "It's getting very tiresome."
| America | Earth Changes |
---
Virginia residents inspect twister damage Associated Press (April 29, 2008) - Weary residents and business owners, some awakening in emergency shelters, braced themselves to see what was left of their homes and livelihoods Tuesday after three tornadoes smashed houses, piled cars on each other and injured more than 200 people. One twister in this city outside Norfolk cut a zigzagging path 25 miles long through residential areas, obliterating some homes in sprays of splintered lumber while leaving others just a few feet away untouched. Search teams with dogs found no sign of deaths or any additional injured victims, Suffolk City Fire Chief Mark Outlaw said. Several roads were closed Tuesday morning, and traffic was backed up leading into downtown Suffolk, a city of approximately 80,000 outside Norfolk. Of the 200 injured, only six were listed in critical condition and six were listed as serious. Officials listed 125 Suffolk homes and 15 buildings as uninhabitable. The National Weather Service confirmed that tornadoes struck Suffolk, Brunswick County, about 60 miles west, and Colonial Heights, about 60 miles northwest. Meteorologist Bryan Jackson described Suffolk's as a "major tornado." The Brunswick County tornado was estimated at 86 mph to 110 mph, and cut a 300-yard path, Jackson said. It struck first, at about 1 p.m., said Mike Rusnak, a weather service meteorologist in Wakefield. The second struck Colonial Heights around 3:40 p.m., he said. The tornado believed to have caused damage over a 25-mile path from Suffolk to Norfolk touched down repeatedly between 4:30 and 5 p.m., Rusnak said. more...
| America | Earth Changes |
---
Mississippi River Flooding Dooms Farmers Associated Press (April 28, 2008) - 855,750 acres are under water, the worst since 1973. Farmers here are experiencing water torture as they wait for the flooded Mississippi River to recede and give them a chance to salvage what's left of what might have been the best season in memory. The muddy Mississippi is at levels not seen in more than three decades, putting hundreds of thousands of acres of farmland under water. It's impossible to gauge overall agricultural losses at this point, federal and state officials say, but most agree the cost will be expensive and the damage extensive. At Pig Willie's barbecue joint, a cinderblock and cement floor affair attached to a gas station along Highway 61 as the blacktop begins its long, flat run through the Delta, independent farmers recently gathered for lunch and to share their blues. "Right here in this room it will cost over $1 million," Karsten Simrall said of the difficulties facing farmers. They are wagering potential profits offered by some of the richest soil in the country against the whims of the mercurial Mississippi. "It'll take us five years to get out of this. It's going to put people out of business," Simrall said. "There's no telling what's going to happen." The U.S. Army Corps of Engineers says a total of 855,750 acres are under either Mississippi floodwater or backwater from the Yazoo River, which drains much of the board-flat Mississippi Delta into the Mississippi River. About 273,000 of those flooded acres are cleared for wheat, cotton, soybeans, corn and other crops. Simrall recently knocked a hole in a levee his family built more than a century ago to protect their land north of Vicksburg. After failing to keep water out, he feared it will keep in receding floodwaters. The flood hit just as farmers were preparing to harvest wheat and plant corn, soybeans and cotton. Some, like farmer Brad Bradway, were forced to watch as water crept inch by inch over his 110 acres of wheat until his fields sat under 8 feet of water. more...
| America |
---
Earthquake rattles Mexico City CNN (April 27, 2008) - A moderate earthquake of 5.8 magnitude struck southwestern Mexico on Sunday night, according to the U.S. Geological Survey. Rafael Abreau of the USGS said there were no reports of damage from the earthquake, which was centered about 54.5 miles (87.7 kilometers) below ground, and about 100 miles (161 kilometers) south-southwest of Mexico City. Abreau said the USGS had received reports that the earthquake had been felt in the country's capital. Because of the depth of the earthquake, Abreau said, "we may see some minor damage." "Yes, it scared us," Julio Lara, 38, a parking attendant in downtown Mexico City told The Associated Press. "It was strong." The earthquake struck at 7:06 p.m. local time (8:06 p.m. ET).
| Earth Changes |
---
5.2-Magnitude Earthquake Rocks Midwest Fox News (April 18, 2008) - Residents across the Midwest were awakened Friday by a 5.2 magnitude earthquake that rattled skyscrapers in Chicago's Loop and homes in Cincinnati but appeared to cause no major injuries or damage. The quake just before 4:37 a.m. was centered six miles from West Salem, Ill., and 45 miles from Evansville, Ind. It was felt in such distant cities as Milwaukee, Des Moines, Iowa, and Atlanta, nearly 400 miles to the southeast. "It shook our house where it woke me up," said David Behm of Philo, 10 miles south of Champaign, Ill. "Windows were rattling, and you could hear it. The house was shaking inches. For people in central Illinois, this is a big deal. It's not like California." In Mount Carmel, Ill., 15 southeast of the epicenter, a woman was trapped in her home by a collapsed porch but was quickly freed and wasn't hurt, said Mickie Smith, a dispatcher at the police department. The department took numerous other calls, though none reported anything more serious than objects knocked off walls and out of shelves, she said. Also in Mount Carmel, a two-story apartment building was evacuated because of loose and falling bricks. Police cordoned off the building, a 1904 school converted to residences. Bonnie Lucas, a morning co-host at WHO-AM in Des Moines, said she was sitting in her office when she felt her chair move. She grabbed her desk, and then heard the ceiling panels start to creak. The shaking lasted about 5 seconds, she said. The quake is believed to have involved the Wabash fault, a northern extension of the New Madrid fault about six miles north of Mount Carmel, Ill., said United States Geological Survey geophysicist Randy Baldwin. The last earthquake in the region to approach the severity of Friday's temblor was a 5.0 magnitude quake that shook a nearby area in 2002, Baldwin said. "This is a fairly large quake for this region," he said. "They might occur every few years." more...
| Earth Changes |
---
Jet Streams Are Shifting And May Alter Paths Of Storms And Hurricanes Science Daily (April 17, 2008) - The Earth's jet streams, the high-altitude bands of fast winds that strongly influence the paths of storms and other weather systems, are shifting--possibly in response to global warming. Scientists at the Carnegie Institution determined that over a 23-year span from 1979 to 2001 the jet streams in both hemispheres have risen in altitude and shifted toward the poles. The jet stream in the northern hemisphere has also weakened. These changes fit the predictions of global warming models and have implications for the frequency and intensity of future storms, including hurricanes. Cristina Archer and Ken Caldeira of the Carnegie Institution's Department of Global Ecology tracked changes in the average position and strength of jet streams using records compiled by the European Centre for Medium-Range Weather Forecasts, the National Centers for Environmental Protection, and the National Center for Atmospheric Research. The data included outputs from weather prediction models, conventional observations from weather balloons and surface instruments, and remote observations from satellites. Jet streams twist and turn in a wide swath that changes from day to day. The poleward shift in their average location discovered by the researchers is small, about 19 kilometers (12 miles) per decade in the northern hemisphere, but if the trend continues the impact could be significant. "The jet streams are the driving factor for weather in half of the globe," says Archer. "So, as you can imagine, changes in the jets have the potential to affect large populations and major climate systems." Storm paths in North America are likely to shift northward as a result of the jet stream changes. Hurricanes, whose development tends to be inhibited by jet streams, may become more powerful and more frequent as the jet streams move away from the sub-tropical zones where hurricanes are born. The observed changes are consistent with numerous other signals of global warming found in previous studies, such as the widening of the tropical belt, the cooling of the stratosphere, and the poleward shift of storm tracks. This is the first study to use observation-based datasets to examine trends in all the jet stream parameters, however. more...
| Earth Changes |
---
Earthquake Hits Aleutian Islands China View (April 16, 2008) - An earthquake measuring 6.5 on the Richter scale hit Aleutian Islands at 02:04 p.m. local time ( 0604 GMT) on Wednesday, according to a bulletin released by the Hong Kong Observatory. The epicenter was initially determined to be 52.0 degrees north latitude and 179.1 degrees east longitude, about 870 km west of Unalaska Island, Alaska of the United States.
| Earth Changes |
---
Unusual earthquakes measured off Oregon Associated Press (April 12, 2008) - Scientists listening to underwater microphones have detected an unusual swarm of earthquakes off central Oregon, something that often happens before a volcanic eruption — except there are no volcanoes in the area. Scientists don't know exactly what the earthquakes mean, but they could be the result of molten rock rumbling away from the recognized earthquake faults off Oregon, said Robert Dziak, a geophysicist for the National Oceanic and Atmospheric Administration and Oregon State University. There have been more than 600 quakes over the past 10 days in a basin 150 miles southwest of Newport. The biggest was magnitude 5.4, and two others were more than magnitude 5.0, OSU reported. On the hydrophones, the quakes sound like low thunder and are unlike anything scientists have heard in 17 years of listening, Dziak said. Some of the quakes have also been detected by earthquake instruments on land. The hydrophones are left over from a network the Navy used to listen for submarines during the Cold War. They routinely detect passing ships, earthquakes on the ocean bottom and whales calling to one another. Scientists hope to send out an OSU research ship to take water samples, looking for evidence that sediment has been stirred up and chemicals that would indicate magma is moving up through the Juan de Fuca Plate, Dziak said. The quakes have not followed the typical pattern of a major shock followed by a series of diminishing aftershocks, and few have been strong enough to be felt on shore. The Earth's crust is made up of plates that rest on molten rock, which are rubbing together. When the molten rock, or magma, erupts through the crust, it creates volcanoes. That can happen in the middle of a plate. When the plates lurch against each other, they create earthquakes along the edges. In this case, the Juan de Fuca Plate is a small piece of crust being crushed between the Pacific Plate and North America, Dziak said.
| Earth Changes |
---
Forecasters Predict 'Well Above Average' Hurricane Activity for 2008 Season Fox News (April 10, 2008) - Fasten your seatbelts, it's gonna be a bumpy hurricane season. That's the latest word from a team of Colorado State University forecasters, who predict the nation's Atlantic coast will experience a hurricane season "well above average." "Current oceanic and atmospheric trends indicate that we will likely have an active Atlantic basin hurricane season," said William Gray, who heads the university's forecast team. The forecasters predict at least 15 named storms will form in the Atlantic basin between June 1 and Nov. 30. Eight of the storms are predicted to become hurricanes, and of those eight, four are expected to develop into intense or major hurricanes with sustained winds of 111 mph or greater. "Based on our latest forecast, the probability of a major hurricane making landfall along the U.S. coastline is 69 percent compared with the last-century average of 52 percent," said Phil Klotzbach, a member of the forecast team. "We are calling for a very active hurricane season this year, but not as active as the 2004 and 2005 seasons." The 2005 season — the year of Katrina, Rita, Wilma, Dennis and Emily — caused a record $128 billion in damage, with at least 2,280 reported deaths. The 2004 season was one of the deadliest, with at least 3,100 deaths and more than $50 billion in damage. The Colorado State team reported that current conditions in the Atlantic basin are very favorable for an active hurricane season. The current warm sea surface temperatures in the Atlantic are likely to continue in the tropical and North Atlantic during 2008. Additionally, the team expects neutral or weak La Nina conditions in the tropical Pacific, which, combined with a predicted warm north and tropical Atlantic, is a recipe for enhanced Atlantic basin hurricane activity. These factors are similar to conditions that occurred during the 1950, 1989, 1999, and 2000 seasons. The average of these four seasons had well above-average activity, and Klotzbach and Gray predict the 2008 season will have similar activity. more...
| America | Earth Changes |
---
"Doomsday Seed Vault" in the Arctic Global Research (April 1, 2008) - One thing Microsoft founder Bill Gates can't be accused of is sloth. He was already programming at 14, founded Microsoft at age 20 while still a student at Harvard. By 1995 he had been listed by Forbes as the world's richest man from being the largest shareholder in his Microsoft, a company which his relentless drive built into a de facto monopoly in software systems for personal computers. In 2006 when most people in such a situation might think of retiring to a quiet Pacific island, Bill Gates decided to devote his energies to his Bill and Melinda Gates Foundation, the world's largest 'transparent' private foundation as it says, with a whopping $34.6 billion endowment and a legal necessity to spend $1.5 billion a year on charitable projects around the world to maintain its tax free charitable status. A gift from friend and business associate, mega-investor Warren Buffett in 2006, of some $30 billion worth of shares in Buffet's Berkshire Hathaway put the Gates' foundation into the league where it spends almost the amount of the entire annual budget of the United Nations' World Health Organization. So when Bill Gates decides through the Gates Foundation to invest some $30 million of their hard earned money in a project, it is worth looking at. No project is more interesting at the moment than a curious project in one of the world's most remote spots, Svalbard. Bill Gates is investing millions in a seed bank on the Barents Sea near the Arctic Ocean, some 1,100 kilometers from the North Pole. Svalbard is a barren piece of rock claimed by Norway and ceded in 1925 by international treaty (see map). On this God-forsaken island Bill Gates is investing tens of his millions along with the Rockefeller Foundation, Monsanto Corporation, Syngenta Foundation and the Government of Norway, among others, in what is called the 'doomsday seed bank.' Officially the project is named the Svalbard Global Seed Vault on the Norwegian island of Spitsbergen, part of the Svalbard island group. The seed bank is being built inside a mountain on Spitsbergen Island near the small village of Longyearbyen. It's almost ready for 'business' according to their releases. The bank will have dual blast-proof doors with motion sensors, two airlocks, and walls of steel-reinforced concrete one meter thick. It will contain up to three million different varieties of seeds from the entire world, 'so that crop diversity can be conserved for the future,' according to the Norwegian government. Seeds will be specially wrapped to exclude moisture. There will be no full-time staff, but the vault's relative inaccessibility will facilitate monitoring any possible human activity. Did we miss something here? Their press release stated, 'so that crop diversity can be conserved for the future.' What future do the seed bank's sponsors foresee, that would threaten the global availability of current seeds, almost all of which are already well protected in designated seed banks around the world? Anytime Bill Gates, the Rockefeller Foundation, Monsanto and Syngenta get together on a common project, it's worth digging a bit deeper behind the rocks on Spitsbergen. When we do we find some fascinating things. The first notable point is who is sponsoring the doomsday seed vault. Here joining the Norwegians are, as noted, the Bill & Melinda Gates Foundation; the US agribusiness giant DuPont/Pioneer Hi-Bred, one of the world's largest owners of patented genetically-modified (GMO) plant seeds and related agrichemicals; Syngenta, the Swiss-based major GMO seed and agrichemicals company through its Syngenta Foundation; the Rockefeller Foundation, the private group who created the "gene revolution with over $100 million of seed money since the 1970's; CGIAR, the global network created by the Rockefeller Foundation to promote its ideal of genetic purity through agriculture change. CGIAR and 'The Project' As I detailled in the book, Seeds of Destruction, in 1960 the Rockefeller Foundation, John D. Rockefeller III's Agriculture Development Council and the Ford Foundation joined forces to create the International Rice Research Institute (IRRI) in Los Baños, the Philippines.1 By 1971, the Rockefeller Foundation's IRRI, along with their Mexico-based International Maize and Wheat Improvement Center and two other Rockefeller and Ford Foundation-created international research centers, the IITA for tropical agriculture, Nigeria, and IRRI for rice, Philippines, combined to form a global Consultative Group on International Agriculture Research (CGIAR). CGIAR was shaped at a series of private conferences held at the Rockefeller Foundation's conference center in Bellagio, Italy. Key participants at the Bellagio talks were the Rockefeller Foundation's George Harrar, Ford Foundation's Forrest Hill, Robert McNamara of the World Bank and Maurice Strong, the Rockefeller family's international environmental organizer, who, as a Rockefeller Foundation Trustee, organized the UN Earth Summit in Stockholm in 1972. It was part of the foundation's decades long focus to turn science to the service of eugenics, a hideous version of racial purity, what has been called The Project. To ensure maximum impact, CGIAR drew in the United Nations' Food and Agriculture Organization, the UN Development Program and the World Bank. Thus, through a carefully-planned leverage of its initial funds, the Rockefeller Foundation by the beginning of the 1970's was in a position to shape global agriculture policy. And shape it did. Financed by generous Rockefeller and Ford Foundation study grants, CGIAR saw to it that leading Third World agriculture scientists and agronomists were brought to the US to 'master' the concepts of modern agribusiness production, in order to carry it back to their homeland. In the process they created an invaluable network of influence for US agribusiness promotion in those countries, most especially promotion of the GMO 'Gene Revolution' in developing countries, all in the name of science and efficient, free market agriculture. Genetically engineering a master race? Now the Svalbard Seed Bank begins to become interesting. But it gets better. 'The Project' I referred to is the project of the Rockefeller Foundation and powerful financial interests since the 1920's to use eugenics, later renamed genetics, to justify creation of a genetically-engineered Master Race. Hitler and the Nazis called it the Ayran Master Race. The eugenics of Hitler were financed to a major extent by the same Rockefeller Foundation which today is building a doomsday seed vault to preserve samples of every seed on our planet. Now this is getting really intriguing. The same Rockefeller Foundation created the pseudo-science discipline of molecular biology in their relentless pursuit of reducing human life down to the 'defining gene sequence' which, they hoped, could then be modified in order to change human traits at will. Hitler's eugenics scientists, many of whom were quietly brought to the United States after the War to continue their biological eugenics research, laid much of the groundwork of genetic engineering of various life forms, much of it supported openly until well into the Third Reich by Rockefeller Foundation generous grants.2 The same Rockefeller Foundation created the so-called Green Revolution, out of a trip to Mexico in 1946 by Nelson Rockefeller and former New Deal Secretary of Agriculture and founder of the Pioneer Hi-Bred Seed Company, Henry Wallace. The Green Revolution purported to solve the world hunger problem to a major degree in Mexico, India and other select countries where Rockefeller worked. Rockefeller Foundation agronomist, Norman Borlaug, won a Nobel Peace Prize for his work, hardly something to boast about with the likes of Henry Kissinger sharing the same. In reality, as it years later emerged, the Green Revolution was a brilliant Rockefeller family scheme to develop a globalized agribusiness which they then could monopolize just as they had done in the world oil industry beginning a half century before. As Henry Kissinger declared in the 1970's, 'If you control the oil you control the country; if you control food, you control the population.' Agribusiness and the Rockefeller Green Revolution went hand-in-hand. They were part of a grand strategy which included Rockefeller Foundation financing of research for the development of genetic engineering of plants and animals a few years later. John H. Davis had been Assistant Agriculture Secretary under President Dwight Eisenhower in the early 1950's. He left Washington in 1955 and went to the Harvard Graduate School of Business, an unusual place for an agriculture expert in those days. He had a clear strategy. In 1956, Davis wrote an article in the Harvard Business Review in which he declared that "the only way to solve the so-called farm problem once and for all, and avoid cumbersome government programs, is to progress from agriculture to agribusiness." He knew precisely what he had in mind, though few others had a clue back then--- a revolution in agriculture production that would concentrate control of the food chain in corporate multinational hands, away from the traditional family farmer.3 A crucial aspect driving the interest of the Rockefeller Foundation and US agribusiness companies was the fact that the Green Revolution was based on proliferation of new hybrid seeds in developing markets. One vital aspect of hybrid seeds was their lack of reproductive capacity. Hybrids had a built in protection against multiplication. Unlike normal open pollinated species whose seed gave yields similar to its parents, the yield of the seed borne by hybrid plants was significantly lower than that of the first generation. That declining yield characteristic of hybrids meant farmers must normally buy seed every year in order to obtain high yields. Moreover, the lower yield of the second generation eliminated the trade in seed that was often done by seed producers without the breeder's authorization. It prevented the redistribution of the commercial crop seed by middlemen. If the large multinational seed companies were able to control the parental seed lines in house, no competitor or farmer would be able to produce the hybrid. The global concentration of hybrid seed patents into a handful of giant seed companies, led by DuPont's Pioneer Hi-Bred and Monsanto's Dekalb laid the ground for the later GMO seed revolution.4 In effect, the introduction of modern American agricultural technology, chemical fertilizers and commercial hybrid seeds all made local farmers in developing countries, particularly the larger more established ones, dependent on foreign, mostly US agribusiness and petro-chemical company inputs. It was a first step in what was to be a decades-long, carefully planned process... Plant breeders and researchers are the major users of gene banks. Today's largest plant breeders are Monsanto, DuPont, Syngenta and Dow Chemical, the global plant-patenting GMO giants. Since early in 2007 Monsanto holds world patent rights together with the United States Government for plant so-called 'Terminator' or Genetic Use Restriction Technology (GURT). Terminator is an ominous technology by which a patented commercial seed commits 'suicide' after one harvest. Control by private seed companies is total. Such control and power over the food chain has never before in the history of mankind existed. This clever genetically engineered terminator trait forces farmers to return every year to Monsanto or other GMO seed suppliers to get new seeds for rice, soybeans, corn, wheat whatever major crops they need to feed their population. If broadly introduced around the world, it could within perhaps a decade or so make the world's majority of food producers new feudal serfs in bondage to three or four giant seed companies such as Monsanto or DuPont or Dow Chemical. That, of course, could also open the door to have those private companies, perhaps under orders from their host government, Washington, deny seeds to one or another developing country whose politics happened to go against Washington's. Those who say 'It can't happen here' should look more closely at current global events. The mere existence of that concentration of power in three or four private US-based agribusiness giants is grounds for legally banning all GMO crops even were their harvest gains real, which they manifestly are not. These private companies, Monsanto, DuPont, Dow Chemical hardly have an unsullied record in terms of stewardship of human life. They developed and proliferated such innovations as dioxin, PCBs, Agent Orange. They covered up for decades clear evidence of carcinogenic and other severe human health consequences of use of the toxic chemicals. They have buried serious scientific reports that the world's most widespread herbicide, glyphosate, the essential ingredient in Monsanto's Roundup herbicide that is tied to purchase of most Monsanto genetically engineered seeds, is toxic when it seeps into drinking water.9 Denmark banned glyphosate in 2003 when it confirmed it has contaminated the country's groundwater.10 The diversity stored in seed gene banks is the raw material for plant breeding and for a great deal of basic biological research. Several hundred thousand samples are distributed annually for such purposes. The UN's FAO lists some 1400 seed banks around the world, the largest being held by the United States Government. Other large banks are held by China, Russia, Japan, India, South Korea, Germany and Canada in descending order of size. In addition, CGIAR operates a chain of seed banks in select centers around the world. CGIAR, set up in 1972 by the Rockefeller Foundation and Ford Foundation to spread their Green Revolution agribusiness model, controls most of the private seed banks from the Philippines to Syria to Kenya. In all these present seed banks hold more than six and a half million seed varieties, almost two million of which are 'distinct.' Svalbard's Doomsday Vault will have a capacity to house four and a half million different seeds. more...
| NewWorldOrder | Earth Changes |
---
Prepare for the Worst, Because Solar Storms Are About to Get Ugly Wired (March 24, 2008) - Every 11 years or so, the sun gets a little pissy. It breaks out in a rash of planet-sized sunspots that spew superhot gas, hurling clouds of electrons, protons, and heavier ions toward Earth at nearly the speed of light. These solar windstorms have been known to knock out power grids and TV broadcasts, and our growing reliance on space-based technology makes us more vulnerable than ever to their effects. On January 3, scientists discovered a reverse-polarity sunspot, signaling the start of a new cycle — and some are predicting that at its peak (in about four years) things are gonna get nasty. Here's a forecast for 2012. Detours Clumps of ions in the atmosphere could interfere with GPS. Satellite signals are slowed by bumping into particles, meaning your trusty navigator may lose its way. Remember those colorful paper things called maps? Falling Satellites Increased solar energy heats Earth's atmosphere, causing it to expand. That's a drag on low-flying satellites and can even knock them out of orbit. A solar storm in 1979 deposited Skylab on Australia. Layovers in Alaska Particles are drawn to Earth's magnetic poles, right through popular flight paths. Electrons absorb the energy in shortwave signals, causing radio blackouts — and unscheduled stops in Anchorage. Light Shows Auroras occur when waves of charged particles light up gases in the upper atmosphere. As more particles stream in, the so-called aurora oval grows, bringing the "northern lights" as far south as Key West.
| Earth Changes |
---
Climate facts to warm to The Australian (March 22, 2008) - Last Monday - on ABC Radio National, of all places - there was a tipping point of a different kind in the debate on climate change. It was a remarkable interview involving the co-host of Counterpoint, Michael Duffy and Jennifer Marohasy, a biologist and senior fellow of Melbourne-based think tank the Institute of Public Affairs. Anyone in public life who takes a position on the greenhouse gas hypothesis will ignore it at their peril. Duffy asked Marohasy: "Is the Earth still warming?"
She replied: "No, actually, there has been cooling, if you take 1998 as your point of reference. If you take 2002 as your point of reference, then temperatures have plateaued. This is certainly not what you'd expect if carbon dioxide is driving temperature because carbon dioxide levels have been increasing but temperatures have actually been coming down over the last 10 years."
Duffy: "Is this a matter of any controversy?"
Marohasy: "Actually, no. The head of the IPCC (Intergovernmental Panel on Climate Change) has actually acknowledged it. He talks about the apparent plateau in temperatures so far this century. So he recognizes that in this century, over the past eight years, temperatures have plateaued ... This is not what you'd expect, as I said, because if carbon dioxide is driving temperature then you'd expect that, given carbon dioxide levels have been continuing to increase, temperatures should be going up ... So (it's) very unexpected, not something that's being discussed. It should be being discussed, though, because it's very significant."
Duffy: "It's not only that it's not discussed. We never hear it, do we? Whenever there's any sort of weather event that can be linked into the global warming orthodoxy, it's put on the front page. But a fact like that, which is that global warming stopped a decade ago, is virtually never reported, which is extraordinary."
Duffy then turned to the question of how the proponents of the greenhouse gas hypothesis deal with data that doesn't support their case. "People like Kevin Rudd and Ross Garnaut are speaking as though the Earth is still warming at an alarming rate, but what is the argument from the other side? What would people associated with the IPCC say to explain the (temperature) dip?"
Marohasy: "Well, the head of the IPCC has suggested natural factors are compensating for the increasing carbon dioxide levels and I guess, to some extent, that's what skeptics have been saying for some time: that, yes, carbon dioxide will give you some warming but there are a whole lot of other factors that may compensate or that may augment the warming from elevated levels of carbon dioxide.
"There's been a lot of talk about the impact of the sun and that maybe we're going to go through or are entering a period of less intense solar activity and this could be contributing to the current cooling."
Duffy: "Can you tell us about NASA's Aqua satellite, because I understand some of the data we're now getting is quite important in our understanding of how climate works?"
Marohasy: "That's right. The satellite was only launched in 2002 and it enabled the collection of data, not just on temperature but also on cloud formation and water vapor. What all the climate models suggest is that, when you've got warming from additional carbon dioxide, this will result in increased water vapour, so you're going to get a positive feedback. That's what the models have been indicating. What this great data from the NASA Aqua satellite ... (is) actually showing is just the opposite, that with a little bit of warming, weather processes are compensating, so they're actually limiting the greenhouse effect and you're getting a negative rather than a positive feedback."
Duffy: "The climate is actually, in one way anyway, more robust than was assumed in the climate models?"
Marohasy: "That's right ... These findings actually aren't being disputed by the meteorological community. They're having trouble digesting the findings, they're acknowledging the findings, they're acknowledging that the data from NASA's Aqua satellite is not how the models predict, and I think they're about to recognize that the models really do need to be overhauled and that when they are overhauled they will probably show greatly reduced future warming projected as a consequence of carbon dioxide."
Duffy: "From what you're saying, it sounds like the implications of this could be considerable ..."
Marohasy: "That's right, very much so. The policy implications are enormous. The meteorological community at the moment is really just coming to terms with the output from this NASA Aqua satellite and (climate scientist) Roy Spencer's interpretation of them. His work is published, his work is accepted, but I think people are still in shock at this point."
If Marohasy is anywhere near right about the impending collapse of the global warming paradigm, life will suddenly become a whole lot more interesting. A great many founts of authority, from the Royal Society to the UN, most heads of government along with countless captains of industry, learned professors, commentators and journalists will be profoundly embarrassed. Let us hope it is a prolonged and chastening experience. more...
| Earth Changes |
Since plants breathe CO2, and volcanic eruption produce more of it in a short time than long-term vehicle emissions, it seems logical and appears to be that the planet would have been created to deal with this. As these findings point out though, CO2 emissions and global warming have less to do with each other than solar activity and global warming do. Makes sense to me. However, the fear and guilt of humans destroying their home can be used to cause knee-jerk actions such as higher taxes and other control mechanisms that end up filtering money to "fixing the problem." Blind action lacks intelligent reaction though and with facts like this, those that stick to their guns demanding further restrictions and taxes because we're destroying the planet are going to have a harder time fooling those that know the facts. The question is, will the media make the facts widely known? Let's see...

Regarding weather changes, it doesn't require a constant increase in temperature for bizarre weather patterns to emerge, just changes in solar activity. Over the past 100 years the Sun's activity has been increasing and this data would point to that coming to a plateau now.
---
6.9 Magnitude Earthquake Strikes Philippine Islands Region Reuters (March 3, 2008) - A strong earthquake of 6.9 magnitude struck in the ocean off the east coast of the Philippines on Monday night, but so far there have been no reports of damage, officials said. The quake, which struck at 10:11 p.m. local time (1411 GMT), was centered about 175 km (110 miles) east-southeast of Pandan, Catanduanes in the central Philippines at a depth of 24.2 km (15 miles), according to the U.S. Geological Survey. In an earlier report, the USGS said the earthquake was magnitude 7.0. and its depth was 33 km (20.5 miles). "We have not received reports of damages but we are still checking," said Ed Laguerta, chief vulcanologist in the central Bicol region. "We have advised officials to watch out for waves along coastal areas but there is no tsunami warning." The Pacific Tsunami Warning Center said a Pacific-wide tsunami was not expected, but it noted that earthquakes of this size sometimes generate local tsunamis that affect areas within 60 miles (100 km) of the epicenter.
| Earth Changes |
---
Extreme weather kills 13 in Europe Breitbart.com (March 2, 2008) - Hurricane-strength winds howled across Europe over the weekend, killing 13 people and leaving a trail of destruction as cars were blown off the road, roofs were ripped off and trees fell like matchsticks. The storm, dubbed "Emma" by forecasters, brought with it winds of up to 200 kilometres (125 miles) an hour and heavy rains as it ripped its way across central Europe. As the winds eased slightly on Sunday Germany reported five people dead, Austria four, the Czech Republic two and Poland two. In Rhineland-Palatinate in western Germany a driver was crushed when a tree fell on his car, while a 72-year-old man in Bavaria perished when a gust of wind pushed his car into the path of an oncoming lorry, police said. In Baden-Wuerttemberg a 19-year-old man was killed in another head-on collision caused by the wind, while in Saxony a 48-year-old woman died and four people were injured in a car crash caused by snow and strong winds. In Saxony-Anhalt in eastern Germany a 48-year-old man died when winds made him lose control of his minivan on the motorway. Six people were hurt when their bus was blown off the road and into a ditch in Bavaria, while rail passengers had a lucky escape near Bonn when their train hit a tree that had fallen on the line, ripping a large hole in the locomotive. Across Germany, roads and railway lines were closed, roofs were ripped off houses, cars were overturned and power lines put out of action. Authorities said tens of millions of euros (dollars) worth of damage has been caused. The southern state of Bavaria was particularly badly hit, with 150,000 homes without electricity and heavy rain causing flooding, police said. In Austria, where winds reached up to 166 kilometres per hour, two German tourists were killed on Saturday in separate incidents in the western province of Tyrol. In the central Salzburg province, a taxi passenger was killed by rockfall apparently caused by the storm and a woman was crushed in Lower Austria when a tree squashed her car. Some 10,000 homes in Upper Austria were without power, roads and sections of motorway had to be shut down and rail services around the country were severely disrupted. Two people were also killed in the Czech Republic, emergency services said. more...
| Earth Changes |
---
Magnitude 6.4 Earthquake Hits Islands South of Tokyo Bloomberg (February 27, 2008) - A magnitude 6.4 earthquake struck a group of Japanese islands south of Tokyo at 4:54 p.m. local time, the U.S. Geological Survey said on its Web site. The quake hit near the island of Iwoto, formerly known as Iwo Jima, 1,005 kilometers (603 miles) south of Tokyo and was 14 kilometers deep, the USGS said. The magnitude was initially put at 6.6. There were no immediate reports of casualties or damage. There's no danger of a destructive tsunami from the quake, although small sea-level changes are possible, the Japan Meteorological Agency said on its Web site. Japan lies in a zone where the Eurasian, Pacific and Philippine plates meet and is one of the world's most earthquake-prone countries. Earthquakes of magnitude 5 or more can cause considerable damage, depending on their depth.
| Earth Changes |
---
Quake warning as fault line 'under stress' icWales (February 26, 2008) - The fault line that spawned the 2004 Indian Ocean tsunami has ruptured nearly 20 times this month, with three strong quakes in the last 24 hours alone. The activity shows the stress the seam is under and could be a warning of worse to come, scientists say. Kerry Sieh, a US professor who has studied the fault for more than 10 years, likened the seam to a length of rope in an imaginary tug of war between a group of men and an elephant. "One by one, two by two, the men are getting worn out and are letting go of the rope. That puts more stress on each of the remaining men," he wrote. "Who knows which one will let go next, or whether they will let go all at once?"
| Earth Changes |
---
Big quake strikes off Indonesia: seismologists Breitbart.com (February 25, 2008) - A strong 6.7-magnitude earthquake struck off Indonesia's Sumatra island early Tuesday, the US Geological Survey said, sparking a local tsunami alert. The quake, the second off Sumatra in 12 hours, struck at 1:06 am (1806 GMT) at a depth of 35 kilometres (22 miles), 164 kilometres southwest of Sumatra's Padang, the survey said. There were no initial reports of damage or injuries. On Monday afternoon a 7.2-magnitude quake struck off the west coast of Sumatra, briefly triggering a tsunami alert, seismologists said, but there were no reports of damage. Last Wednesday, a strong 7.5-magnitude quake rocked Indonesia's Aceh province, at the tip of Sumatra, killing three people and seriously injuring 25 others on remote Simeulue island. The Indonesian archipelago sits on the Pacific Ring of Fire, where continental plates collide and cause frequent seismic and volcanic activity. Indonesia was the nation worst hit by the earthquake-triggered Indian Ocean tsunami in December 2004, which killed some 168,000 people in Aceh.
| Earth Changes |
---
6.3-Magnitude Earthquake Strikes Nevada Fox News (February 21, 2008) - A strong earthquake shook rural northeastern Nevada Thursday, damaging a town's historic district but sparing residents from any serious injuries. The magnitude of the quake, initially estimated at 6.3, was later revised to 6.0 by the U.S. Geological Survey's National Earthquake Information Center in Golden, Colo. The quake, which struck at 6:16 a.m., was centered in a sparsely populated area 11 miles southeast of Wells near the Nevada-Utah line. It was felt across much of the West, from northern Idaho and Utah to Southern California, officials said. At least five less severe aftershocks were reported. "Definitely a lot of people felt this, and if they were sleeping, they were awoken," said USGS geophysicist Carrieann Bedwell. The most serious damage was reported in Wells' largely unoccupied historic district, Elko County Undersheriff Rocky Gonzalez said. Brick facades tumbled off several buildings, signs fell and windows broke, and some vehicles parked on the street were damaged by falling debris, KELK Radio in Elko reported. Dan Burns, spokesman with the Nevada Division of Emergency Management, said transportation and safety personnel were inspecting roads, bridges and dams in the area for structural damage. Burns said at least two buildings in historic area had partially collapsed, and two main water lines had ruptured. A Flying J Truck Stop was evacuated because of a propane leak, Gonzalez said, but no fires broke out. The leak was contained by midmorning. more...
| America | Earth Changes |
---
Quake in Indonesia Kills 3, Injures 25 Breitbart.com (February 20, 2008) - A powerful earthquake struck western Indonesia on Wednesday, killing at least three people, injuring 25 others, and damaging several buildings, officials said. No tsunami was detected. The U.S. Geological Survey said the quake had a preliminary magnitude of 7.6 and struck under the island of Simeulue off the western coast of Sumatra—the region worst hit in the 2004 Indian Ocean tsunami. Minutes after the quake hit, the Pacific Tsunami Warning Center issued a bulletin saying parts of the Sumatran coast closest to the epicenter were at risk of a possible tsunami. However, it canceled the alert two hours later, saying sea gauges had not detected any large waves. Rustam Pakaya, the head of the Indonesian Health Ministry's disaster center, said "many" buildings on Simeulue were damaged and three people were killed. He said at least 25 others were seriously injured. The quake was felt across much of western and northern Sumatra island, witnesses said. Many people fled their homes. "Everything shook very strongly for more than a minute, and I ran along with the others. I heard people screaming in panic," said Aceh resident Ahmad Yushadi. Indonesia, the world's largest archipelago with a population of 235 million people, is prone to seismic upheaval because of its location on the "Ring of Fire," an arc of volcanos and fault lines encircling the Pacific Basin. The fault that ruptured Wednesday off the coast of Sumatra is particularly deadly. A magnitude-9 quake there in 2004 triggered a tsunami that killed more than 230,000 people in a dozen countries, most of them on Sumatra. Three months later, an 8.7 quake farther down the fault killed 1,000 on the islands of Nias and Simeulue.
| Earth Changes |
---
5.0 Quake Shakes Calif.-Mexico Border NewsMax (February 19, 2008) - An estimated 5.0-magnitude earthquake has shaken the U.S.-Mexico border region near San Diego. The Imperial County Sheriff's Department says there have been no immediate reports of injuries or damage. Authorities in Mexico say they are checking for damage and injuries. The U.S. Geological Survey says Tuesday's quake struck about 2:40 p.m. 21 miles southeast of the U.S. border city of Calexico. Three other quakes with magnitudes of 5.4, 5.1 and 5.0 have rattled the area in the past two weeks, causing blackouts and temporarily knocking out cell phone service.
| Earth Changes |
---
Damaging Tornadoes Touch Down in South Breitbart.com (February 18, 2008) - Rescue crews searched door-to-door for people trapped in wreckage after a tornado crashed through town, part of a wild weekend of weather that also included rain, snow and flooding in the Midwest. No fatalities were immediately reported in Prattville, outside Montgomery, but two people were critically injured, said Fire Department official Dallis Johnson. Twenty-seven people had minor injuries, officials said. About 200 homes were damaged or destroyed. A curfew began as darkness fell Sunday. A 35-bed mobile hospital unit was set up outside a Kmart to treat victims with minor to moderate injuries so that hospitals could take those with serious injuries, Dr. Steve Allen said. Toppled utility poles and storm debris littered the area. Shelters opened at churches, and school buses shuttled storm victims out of the stricken area to the city center. David Shoupe, 18, assistant manager at Palm Beach Tan, said he and a co-worker barely made it into a laundry room before the roof fell in and the wind tossed shopping carts aloft. "Soon as we turned the corner, the roof collapsed everywhere except the laundry room," Shoupe said, standing beside his car, which had its front windshield cracked by debris and the other windows shattered. About 9,000 homes and businesses lost power in Prattville. The tornado was part of storms that swept across the South, damaging homes elsewhere in Alabama and in the Florida Panhandle. A tornado destroyed four homes in Escambia County, Fla. About 60 other homes, businesses and storage buildings were damaged to varying degrees, said county spokeswoman Sonya Daniel. Residents hustled to clear debris, cover broken windows and spread tarpaulins on roofs. "I expected to hear the roof blow off as bad as that wind was blowing," Willie Chastang, 58, told the Pensacola News Journal. Across the border in Escambia County, Ala., two houses were destroyed by a possible tornado in rural Dixie, the Weather Service said. The storm damaged some structures in Covington County, Ala., and toppled trees, said Jeremie Shaffer, assistant director of the county emergency management agency. Freezing rain and snow fell across the southern two-thirds of Wisconsin, still weary from a major snowstorm that stranded hundreds of motorists and snarled travel for days. Numerous crashes were reported, and authorities urged people to stay off roads. The National Weather Service issued a blizzard warning for much of Iowa and Wisconsin, as well as flood warnings in parts of the two states. The conditions forced shopping malls, libraries and churches to close. Democratic presidential candidates Hillary Rodham Clinton and Barack Obama postponed or canceled campaign stops ahead of Tuesday's primary. Heavy snow and slush closed Kansas City International Airport for almost six hours, the longest closure in its 35-year history, authorities said. Dozens of flights were canceled. The severe weather in the South comes on the heels of a tornado outbreak this month that killed more than 50 people in several states, including Alabama.
| America | Earth Changes |
---
Earthquake Damages Temple Mount and Shechem Unsealed Prophecy (February 17, 2008) - An earthquake shook Israel at 12:37 PM Friday. The only damage reported in Israel was on the Temple Mount and near Shechem (Nablus).The earthquake measured 5.3 on the Richter scale; its epicenter was located in northeastern Lebanon. Earlier last week an earthquake measuring 4.1 was felt in northern Israel, also originating from Lebanon, near its northern city of Tyre.A large hole opened up on the Temple Mount during Friday's earthquake, which was soon covered by officials from the Wakf Islamic Authority that administers the mosques built atop Judaism's holiest site. The only other reported damage in the Holy Land was incurred between Palestinian Authority-controlled Shechem (Nablus) and Jenin, where an old home collapsed, blocking the main road to the village of Khufin. The village is not far from the site of the Biblical Joseph's Tomb, which was set ablaze by Muslim vandals last week. At least five people were injured and two homes were destroyed in southern Lebanon as a result of Friday's quake. Wakf officials tried to blame Israel for the 6-foot by 5-foot hole, which is about three feet deep, claiming it was caused by Israel, which it accuses of tunneling beneath the Temple Mount. They demanded an end to all Israeli excavations in the area. Though several excavation projects are taking place around the Western Wall Plaza, none of them entail tunneling past the wall itself and beneath the mount. The Wakf's official position is that there was never a Jewish Temple on the Temple Mount and has gone to great efforts to erase archaeological evidence of Judaism's historical ties to the site. Western Wall Rabbi Shmuel Rabinowitz issued a statement rejecting the Muslim claims. "These are mendacious reports without a grain of truth," he said, adding that work in the Temple Mount compound would be contrary to Jewish law. "Such claims are a desecration and cause hatred and incitement for no reason whatsoever," Rabbi Rabinowitz said. He stressed that work on the Rambam (Mughrabi) Gate ramp to the Temple Mount is vital for the safety of those who visit the Western Wall and called on the authorities to finish the work speedily.
| Israel | Islam | Temple Mount | Earth Changes |
---
Southern Mexico Coast Hit by 6.4-Magnitude Earthquake NewsMax (February 11, 2008) - A 6.4-magnitude earthquake struck the southern Pacific coast of Mexico today, prompting the national oil company to shut down its largest refinery. There were no reports of injuries or major damage. The earthquake hit at 6:50 a.m. local time, 40 miles (60 kilometers) northwest of the town of Tonala, Chiapas, the U.S. Geological Survey said on its Web site. Tonala is located between the states of Chiapas and Oaxaca. The temblor was 72 miles deep. State oil monopoly Petroleos Mexicanos said it shut down its Salina Cruz refinery to assess potential damage. The refinery's 26 plants can process 290,000 barrels of crude daily and supply the entire Pacific coast, according to the Petroleos Mexicanos Web site. The earthquake ``was pretty strong,'' Luis Manuel Garcia Moreno, the state's deputy secretary of civil protection, said in a telephone interview from Tuxtla Gutierrez, Chiapas. ``So far, we have had no reports of material damages or wounded.'' The quake was the strongest of the 40 in Chiapas this year, said Garcia Moreno. It followed a 5.1-magnitude quake that shook a remote area in Baja California yesterday and a 5.4-magnitude temblor in the same state last week that left 400,000 people without power and shut down factories, according to the Associated Press. Today's quake was centered about 390 miles southeast of Mexico City, along the Pacific coast below Acapulco. The shock was felt in the capital as well as in the states of Tabasco, Veracruz, Puebla and the State of Mexico, Mexico City-based Grupo Televisa SA reported. more...
| Earth Changes |
---
Magnitude-4.9 Hits Baja California NewsMax (February 11, 2008) - A magnitude-4.9 earthquake rocked the northern Baja California region of Mexico near the U.S. border on Monday, just days after the region was hit by a magnitude-5.4 temblor, authorities said. Monday's quake, which occurred around 10:30 a.m. PST, was centered about 20 miles southeast of the border town of Mexicali at a depth of nearly 4 miles, according to the U.S. Geological Survey. The epicenter was 23 miles south-southeast of the U.S. city of Calexico. The magnitude was revised down from an initial magnitude of 5.1. There were no immediate reports of damage or injuries on the U.S. side, according to the Imperial County Sheriff's Department and Calexico police. The quake was felt in California in parts of San Diego, Imperial and Orange counties and as far away as Yuma, Ariz., about 50 miles from Calexico, according to the USGS. Late Friday, the Mexicali area was shaken by a magnitude-5.4 quake that shut down factories and knocked out electricity for 400,000 people. The latest temblor was likely an aftershock of the magnitude-5.4 event last week, said Julie Martinez, a geophysicist at the National Earthquake Information Center in Golden, Colo. A swarm of smaller quakes, ranging from magnitudes 2.5 to 2.9, preceded Monday's temblor. At least five aftershocks were recorded including one registering a magnitude-3.6, the USGS said.
| Earth Changes |
---
While We Slept, Disaster Didn't Holly Deyo (February 8, 2008) -
DISASTERS ROCKET UP - While were busy with life last year, upheaval raged. An astounding 950 natural disasters struck around the world according to Munich Re, the global reinsurance company. Though no mega-catastrophes developed as large as Hurricane Katrina, the number of devastating events shot through the roof. 'Unlucky' 2007 demolished 2006's numbers - the next highest disaster-rated year. It racked up another 100 events jumping 10%. WICKED COLD - January '07 brought a crippling widespread freeze to California dropping temps overnight into the 20s. In just two weeks, frigid weather killed off $1.5 billion of citrus, berries, and vegetables. Then a freak Spring freeze extending from the Midwest through the South, took another $2 billion of our fruit and wheat crops. Because these Arctic temps were accompanied by high winds, it rendered all the normal crop-protection methods useless. MEGA-DROUGHT - For the entire year of 2007, record drought severely impacted water supplies and reduced major food supplies around the world. Drought continuously hammered Australia killing crops and livestock. The most shattering effect was seen when Aussie farmers, unable to cope, committed suicide. GLOBAL HEAT - It might seem strange to talk about heat waves during 2008's unprecedented snows and bitterly cold temps, but rocketing temps struck worldwide just months ago. Not only did Greece, Italy, Albania, Bulgaria, Romania and Turkey experience record-breaking temperatures, most of Asia sweltered in blistering weather too. Ditto for the Americas. more...
| Earth Changes |
---
Ecuador volcano blows its top, forces 1,450 from homes Breitbart.com (February 6, 2008) - Ecuador's Tungurahua volcano exploded into action Wednesday, spewing red-hot lava, rocks and a 10-kilometer (six-mile) high plume of ash that forced 1,450 people from their homes, officials said. "The eruption is going on right now and continues to generate pyroclastic flows" of red-hot gas, ash and rocks down the volcano's western flank, Geophysical Institute director Hugo Yepez told reporters. The 5,029-meter (16,500-foot) mountain, 135 kilometers (84 miles) south of the capital Quito, began erupting with a series of loud explosions in the pre-dawn hours, waking more than 20,000 people living in 10 towns and villages in its surroundings. The eruption so far has caused no injuries or damage, outside of tonnes of ash deposited on buildings and roads in Quero forcing its inhabitants to wear masks. But some 400 families living closest to the volcano have been evacuated as a precaution. "Most of the population has left, but we've got 12 families in Bilbao who refuse to leave and we're talking to them. If necessary, we'll use force" to evacuate them, said Tungurahua Province Governor Fernando Gonzalez. Ecuadoran President Rafael Correa has put the region under a state of emergency to release federal funds and assistance programs. Shelters and emergency centers in Tungurahua and nearby Chimborazo and Bolivar provinces have been put on standby in case the eruption takes a turn for the worse, said Internal and External Security Minister Gustavo Larrea. "The volcano has now gone into a period of zero-activity, and that's not good news. It could mean a bigger explosion is in store in the next minutes or hours. But we're ready," Larrea told reporters. The Tungurahua volcano has been active since last month, with up to 30 explosions, earthquakes or rumblings per hour that forced 1,000 people to relocate to safer areas. Wednesday's eruption, however, was similar to an August 2006 eruption that killed six people, buried several communities under ash and made 6,500 people homeless, the Geophysical Institute reported.
| Earth Changes |
---
Tornadoes rip through South, killing 48 Associated Press (February 6, 2008) - One man pulled a couch over his head. Bank employees rushed into the vault. A woman trembled in her bathroom, clinging to her dogs. College students huddled in dormitories. Tornado warnings had been broadcast for hours, and when the sirens finally announced that the twisters had arrived, many people across the South took shelter and saved their lives. But others simply had nowhere safe to go, or the storms proved too powerful, too numerous, too unpredictable. At least 54 people were killed and hundreds injured Tuesday and Wednesday by dozens of tornadoes that plowed across Mississippi, Arkansas, Tennessee, Kentucky and Alabama. It was the nation's deadliest barrage of twisters in almost 23 years. "We had a beautiful neighborhood. Now it's hell," said Bonnie Brawner, 80, who lives in Hartsville, a community about an hour from Nashville where a natural gas plant that was struck by a twister erupted in spectacular flames up to 400 feet high. The storms flattened entire streets, smashed warehouses and sent tractor-trailers flying. Houses were reduced to splintered piles of lumber. Some looked like life-size dollhouses, their walls sheared away. Crews going door to door to search for bodies had to contend with downed power lines, snapped trees and flipped-over cars. Cattle wandered through the debris near hard-hit Lafayette (pronounced luh-FAY-et). At least 12 people died in and around the town. "It looks like the Lord took a Brillo pad and scrubbed the ground," said Tennessee Gov. Phil Bredesen, who surveyed the damage from a helicopter. Hundreds of houses were damaged or destroyed. Authorities had no immediate cost estimate of the damage. President Bush gave assurances his administration stood ready to help. Teams from the Federal Emergency Management Agency were sent to the region and activated an emergency center in Georgia. "Loss of life, loss of property — prayers can help and so can the government," Bush said. "I do want the people in those states to know the American people are standing with them." Students took cover in dormitory bathrooms as the storms closed in on Union University in Jackson, Tenn. More than 20 students at the Southern Baptist school were trapped behind wreckage and jammed doors after the dormitories came down around them. Danny Song was pinned for an hour and a half until rescuers dug him from the rubble. "We looked up and saw the funnel coming in. We started running and then glass just exploded," he said. "I hit the floor and a couch was shoved up against me, which may have saved my life because the roof fell on top of it." more...
| America | Earth Changes |
---
Tsunami alert as quake hits Indonesia Herald Sun (January 30, 2008) - A STRONG 6.6-magnitude earthquake rocked the eastern Indonesian province of Maluku today, prompting the issuing of a tsunami alert, Indonesia's Meteorological and Geophysics Board said. The earthquake, which struck at 6.32pm AEDT, was centred 300km northeast of the East Timorese capital Dili, some 23km under the floor of the Banda Sea, the office said. "There is a tsunami potential,'' the statement said. "The quake has tsunami potential because it was shallow, at 23 kilometres. The area that should be on alert is around Timor,'' Suharjono, from the geophysics headquarters here, told ElShinta radio. The US Geological Survey put the magnitude of the quake at 6.2, at a depth of only 10km under the sea floor. Witnesses in Dili that the quake was not strongly felt there. Indonesia sits on the Pacific "Ring of Fire'' where continental plates meet, causing frequent seismic and volcanic activity. The archipelago nation was hardest hit by the earthquake-triggered Asian tsunami in December 2004. Some 168,000 people alone were killed in Aceh province on the northern tip of Sumatra.
| Earth Changes |
---
Blair Wants Mideast Peace in 2008 Associated Press (January 27, 2008) - Former British Prime Minister Tony Blair told the final session of the World Economic Forum on Sunday that he wants an Israeli-Palestinian peace deal and a pact on climate change by the end of 2008. Sharing the same level of ambition, Nobel Peace Prize laureate Elie Wiesel called for China to open its doors to the Dalai Lama and for an end to the conflict in Sudan's Darfur region. The final session of this year's forum seemed to shrug off any pessimism about what can be achieved in the coming months despite fears that the U.S. economic downturn could lead to a global recession. "The mood was moderately optimistic because we have many, many opportunities," said Klaus Schwab, the forum's founder. "But if we do not address the challenges, one day even the greatest opportunities will not be enough to guarantee our continuation as humankind if you look at climate change, terrorism, poverty." The five-day political and economic brainstorming session that brought nearly 2,500 of the world's movers and shakers to this Swiss ski resort was short on "glitz" this year - with the exception of rock star Bono and Oscar-winning actress Emma Thompson, who are both also anti-poverty campaigners. Politically, there was much talk about whether President Bush's goal of a peace treaty between Israel and the Palestinians by the end of the year will be reached. "I would like to see an agreement that gives us the prospect of a lasting peace between Israel and Palestine because I do think that would be the greatest signal of reconciliation with which the 21st century could start," said Blair, who is now the chief envoy for the key international Mideast mediators known as the Quartet. Wiesel said he also wanted to see Mideast peace this year, and "to alleviate the suffering in Darfur which has become the capital of human suffering in the world today." "I'd like China to open its doors to the Dalai Lama so I could accompany him to go to Tibet. That would be a great, great victory," Wiesel said, as the audience burst into applause. Blair said he'd also "like to see us get the climate change deal or framework of it." PepsiCo Inc. (PEP) chief Indra Nooyi said she'd also like to see "a climate policy" and efforts to bring down rising food prices. more...
| Israel | Islam | EU/UN / 4th Kingdom | Earth Changes |
---
US warns EU on using climate change as pretext Boston.com (January 22, 2008) - The United States warned the European Union yesterday against using climate change as a pretext for protectionism, setting the stage for trans-Atlantic tension over a new package of EU measures to combat global warming. The pointed comments by the US trade representative, Susan Schwab, after talks in Brussels, came just two days before the European Commission introduced its proposals for cutting EU emissions at least 20 percent from 1990 levels by 2020. "We have been dismayed at a variety of suggestions where we have seen the climate and the environment being used as an excuse to close markets," Schwab said after discussions with Peter Mandelson, her European counterpart. President Nicolas Sarkozy of France has called for a carbon tax on imports to ensure that European companies that need to comply with tough environmental rules are not undercut by foreign competitors whose governments are not capping carbon emissions. EU officials were not expected to propose such a measure tomorrow but were expected to keep alive the possibility of a so-called border tax to keep European industries competitive. The EU pledge to protect European industry by 2011 at the latest will be aimed at assuaging powerful lobby groups from sectors like steel and aluminum manufacturing, which say they are facing higher costs than their overseas competitors because of the EU's determination to lead the world in climate protection. Even so, EU officials hope to be able to avoid the issue, not least because any European border tax could be challenged at the World Trade Organization. Instead, EU officials hope that other developed countries like the United States, which did not sign the Kyoto climate treaty, will join an international treaty by the end of the decade, making protectionist measures unnecessary. more...
| EU/UN / 4th Kingdom | NewWorldOrder | America | Earth Changes |
---
Colombia's Galeras volcano erupts Associated Press (January 18, 2008) - A volcano erupted violently in southwestern Colombia Thursday, spewing ash miles into the sky and prompting the evacuation of several thousand people living nearby. There were no immediate reports of injuries or serious property damage after the 14,110-foot Galeras volcano began erupting about 8 p.m. and cascading lava lit up the night sky. About 8,000 people live in areas near the volcano where Pasto's mayor ordered an evacuation but "most of the city is not in danger," Fernando Gil, director of Colombia's Seismological Network, told The Associated Press by phone. "It's still erupting," Gil said more than two hours after its initial eruption. Gil estimated that the ash cloud reached five miles into the air. He called it the most severe eruption of Galeras since the volcano reactivated in 1989. "Depending on the wind direction it's going to spread ashes over the entire area." "Most of (Galeras') eruptions are violent and short," he noted. He said Thursday's eruption had produced some lava flows that did not extend far from the volcano's crater. A 1993 eruption of the volcano, near the border with Ecuador, killed nine people, including five scientists who had descended into the crater to sample gases. In November 2005, the volcano spewed ash that fell about 30 miles away.
| Earth Changes |
---
Rare winter tornado reported in Ark. Associated Press (January 8, 2008) - A tornado was reported blowing across eastern Arkansas Tuesday, a day after a freak cluster of January twisters sprung up in the unseasonably warm Midwest and demolished houses, knocked a railroad locomotive off its tracks and shuttered a courthouse. The twister swept through Pope County, the National Weather Service said. One person was killed, said Tommy Jackson, a spokesman for the Arkansas Department of Emergency Management. Others were injured, said Jim Campbell, Assistant Director for Pope County 911. "We've got some homes damaged, trees and roads and stuff like that," he said. The tornadoes came as record high winter temperatures were reported across wide areas of the country. Tornadoes were reported or suspected Monday in southwest Missouri, southeastern Wisconsin, Arkansas, Illinois and Oklahoma. Two people were killed in Missouri. Bill Lischka was drinking coffee at a restaurant in Caledonia, Ill., when he heard something he didn't expect in January: a tornado siren. "Next thing you know ... a tornado just popped right out of the clouds," Lischka said. Al Ost said he "prayed like a sissy" as he fled to the basement of his house in Boone County, Ill. The storm damaged a barn on his property, he told the Rockford Register Star. Hardest hit was a subdivision in Wheatland, about 50 miles southwest of Milwaukee, where at least 55 homes were damaged, Kenosha County sheriff's Lt. Paul Falduto said Tuesday morning. "With the light of day it always looks worse than at night," Falduto said. Thirteen people were injured in the county, none seriously. "I have never seen damage like this in the summertime when we have potential for tornadoes," Sheriff David Beth said. "To see something like this in January is mind-boggling to me." The only other recorded January tornado in Wisconsin was in 1967 and it was Illinois' first since 1950, the National Weather Service said. However, tornadoes are not unknown elsewhere, with 141 twisters in January 1999 in Arkansas, Louisiana and Tennessee, according to weather service records. Kenosha County Circuit Judge Bruce E. Schroeder, presiding over opening testimony in a murder trial, said he couldn't believe it when a deputy said the courtroom had to be evacuated because of a tornado warning. "It's a first," he said while waiting with 300 people in the basement. "I've actually had ... warnings occur during jury trials before and frankly I just ignored them. But not in January." more...
| Earth Changes |
---
Indonesia mud volcano breaches barrier and sparks panic Reuters (January 4, 2008) - A mud volcano that forced more than 15,000 people to abandon their homes on the Indonesian island of Java in 2006 has breached the barriers built to contain it, causing further damage, police said. Residents in Porong in East Java province fled from their homes in panic late on Thursday when hot, foul-smelling mud began to flow into the area, covering the nearby railway tracks and a main road. "At least 10 vehicles were buried by one-meter (yard) deep mud, including mine," said Andi Yudianto, a local traffic police chief. The newly affected area is about 20 km (12 miles) from Surabaya, Indonesia's second-largest city. But thousands of homes and factories in an area four times the size of Monaco have been submerged by the hot mud since it first started to erupt in May 2006. The disaster occurred about 200 meters from a gas exploration well operated by PT Lapindo Brantas, just two days after an earthquake hit the city of Yogyakarta in Central Java. There has been a dispute over whether the mud volcano was caused by the gas drilling well or by the earthquake. Lapindo is partly owned, through various other companies, by the family of Aburizal Bakrie, a cabinet minister and businessman. The Bakrie family last year topped the Forbes' list for the wealthy in Indonesia. The government has tried several schemes to halt the flow, including dropping giant concrete balls into the crater, but the hot mud continues to spurt out. Ahmad Zulkarnain, a spokesman for a government body managing the mudflow, said it had been unable to reinforce the 10-metre thick and 5-metre high dyke built to contain the mudflow because there had been no agreement on compensation with the owner of the land where the defenses are situated. "We had been worrying about this for some time. It is vulnerable, especially during the rainy season," he told Reuters. more...
| Earth Changes |
---
Trends to a New World Order: Part 1 Transnational Elites and Pernicious Globalization Old-Thinker News (January 3, 2008)
"Countless people... will hate the new world order... and will die protesting against it... When we attempt to evaluate its promise, we have to bear in mind the distress of a generation or so of malcontents..." - H.G. Wells, The New World Order (1939)
As we enter the new year of 2008, themes of a "global community" and a "unified global approach" are becoming more prevalent. When keeping an eye on current events and reading various think tank projections regarding the future of the world, a sobering picture begins to emerge. Forecasts are being made of a world in which a sharp divide exists between the elite and the rest of humanity. Advanced technology offers those who can afford it a means of personalized "auto-evolution". "Pernicious globalization" takes its toll on the world and global elites thrive, leaving the rest of us in the dust. Increasingly open borders, unchecked immigration and trends to world governance cause communal conflict between various groups. The middle class becomes revolutionary as economic hardship hits hard on millions of Americans. Dictators utilize life extension technologies to prolong their reign of terror. A computer simulation offers government agencies and corporations a system to test marketing strategy and psychological operations on a virtual mirror of the real world in real time. "Gen-rich" and "Gen-poor" classes emerge to form a new "biological caste system". All of this would make for a thrilling Sci-Fi novel, but these trends come not from science fiction - though science fiction has proven to be a prophetic precursor to these developments -, but from present day realities seen by the U.K. Ministry of Defense, the CIA and other prominent individuals in the fields of technology, science and government. This short two part report will attempt to answer these questions: What impact has globalization had on us and how will it effect us in the future? How do present day trends in technology, globalization, politics and government relate to the prospect of a New World Order?
The New World Order
A "New World Order" has been heralded by global elites for many years. We are told by these elites that trends to a system of world governance are only natural, that national sovereignty must be eliminated. James Paul Warburg, speaking before the US Senate in 1950, stated that, "We shall have World Government, whether or not we like it. The only question is whether World Government will be achieved by conquest or consent." Globalization and advances in technology have undoubtedly impacted our lifestyles, world-views, and lives dramatically. A "global outlook" has planted itself in our society, but more so among elites. Zbigniew Brzezinski writes of this global outlook in his 1970 book, Between Two Ages: America's Role in the Technetronic Era,
"A global human consciousness is for the first time beginning to manifest itself... we are witnessing the emergence of transnational elites... composed of international businessmen, scholars, professional men and public officials. The ties of these new elites cut across national boundaries, their perspectives are not confined by national traditions..." [1]
The dissemination and injection of globalist ideology into the collective vocabulary and consciousness of society has been a leading goal of such transnational elites. Regional governance in conjunction with regional economic systems inside a world government has also been a long term goal of globalist organizations. In order for these regional systems to operate smoothly and to be generally accepted, think tanks have undertaken projects of social engineering on a massive scale to rid the population of "outdated" ideas of national sovereignty. [2] The Woodrow Wilson International Center for Scholars hosted a conference in 2002 which was dedicated to the development of strategies to overcome such "outdated" ideas. The political, social and economic integration of the United States, Canada, and Mexico into a union similar to the European Union was discussed. America was acknowledged by the conference panelists as being one of the largest obstacles to globalist planning. Expanding the definition of "we", framing integration in a non threatening manner and a "winner at the polls" were some of the suggested social engineering strategies. A summary of the conference states,
"Further economic, political, and social integration will depend on how citizens of the three countries define their national identities and the degree to which they are willing to cede some of their countries' sovereignty to a larger entity." [3]

"Foreign policy... provides three things for a nation's citizens: sovereignty, security, and identity. Sovereignty dictates that the state's citizens and government ("we") decide policy, identity defines "who we are" as a nation, and security protects a nation's sovereignty and identity. Governments must convince citizens that the regional project is consistent with these three values by expanding the definition of the "we." [4]
As we enter the new year of 2008, themes of a "global community" and a "unified global approach" are becoming more prevalent. The United Nations has recently begun an initiative to bring more into agreement with the "global consciousness" with a comic book geared towards children. Marvel Comics has teamed up with the UN to create a comic book that will teach children "...the value of international cooperation." [5] Another example comes from the London based think tank mi2g, which released a statement in late December of 2007 that stated in part,
"One world: The global community of nations is realizing that regardless of the complex global risk we wish to address, we all have to come together. The mantra of a "unified global approach" is becoming essential whether it is countering climate chaos and environmental degradation... advanced technologies -- bio, info, nano, robo & AI -- ... financial systems and systemic risk; or transhumanism and ethics..." [6]
Combating climate change with a "global unified approach" is a concept that Richard Haass, president of the Council on Foreign Relations, is quite familiar with. In an article carried in the Taipei times, Haass writes that sovereignty must become weaker in a globalized world faced with climate change,
"Some governments are prepared to give up elements of sovereignty to address the threat of global climate change..."

"Globalization thus implies that sovereignty is not only becoming weaker in reality, but that it needs to become weaker. States would be wise to weaken sovereignty in order to protect themselves..." [7]
more...
| EU/UN / 4th Kingdom | Technology | NewWorldOrder | America | Earth Changes |
---