---
Click map below for larger version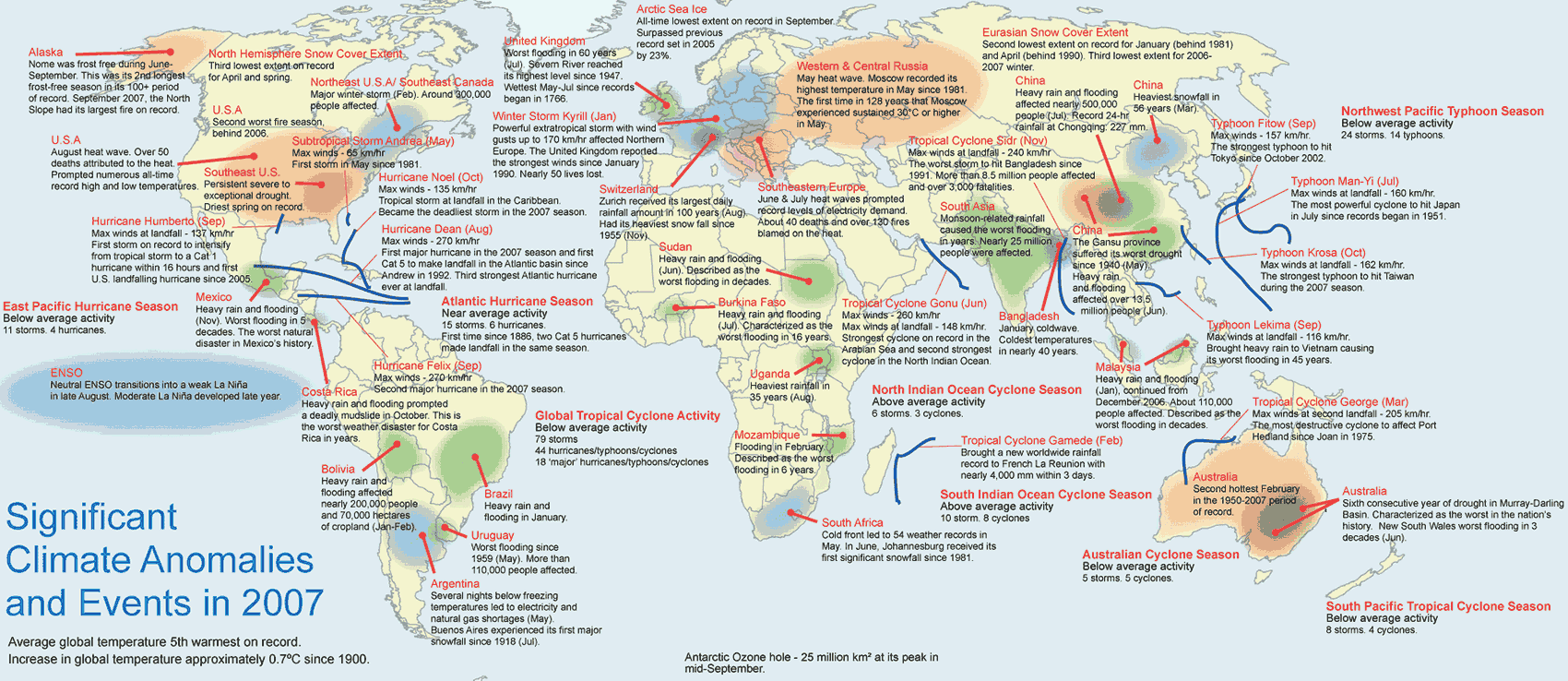 2007 a Year of Weather Records in U.S. Breitbart.com (December 29, 2007) - When the calendar turned to 2007, the heat went on and the weather just got weirder. January was the warmest first month on record worldwide—1.53 degrees above normal. It was the first time since record-keeping began in 1880 that the globe's average temperature has been so far above the norm for any month of the year. And as 2007 drew to a close, it was also shaping up to be the hottest year on record in the Northern Hemisphere. U.S. weather stations broke or tied 263 all-time high temperature records, according to an Associated Press analysis of U.S. weather data. England had the warmest April in 348 years of record-keeping there, shattering the record set in 1865 by more than 1.1 degrees Fahrenheit. It wasn't just the temperature. There were other oddball weather events. A tornado struck New York City in August, inspiring the tabloid headline: "This ain't Kansas!" In the Middle East, an equally rare cyclone spun up in June, hitting Oman and Iran. Major U.S. lakes shrank; Atlanta had to worry about its drinking water supply. South Africa got its first significant snowfall in 25 years. And on Reunion Island, 400 miles east of Africa, nearly 155 inches of rain fell in three days—a world record for the most rain in 72 hours. Individual weather extremes can't be attributed to global warming, scientists always say. However, "it's the run of them and the different locations" that have the mark of man-made climate change, said top European climate expert Phil Jones, director of the climate research unit at the University of East Anglia in England. Worst of all—at least according to climate scientists—the Arctic, which serves as the world's refrigerator, dramatically warmed in 2007, shattering records for the amount of melting ice. 2007 seemed to be the year that climate change shook the thermometers, and those who warned that it was beginning to happen were suddenly honored. Former Vice President Al Gore's documentary "An Inconvenient Truth" won an Oscar and he shared the Nobel Peace Prize with the Intergovernmental Panel on Climate Change, an international group of thousands of scientists. The climate panel, organized by the United Nations, released four major reports in 2007 saying man-made global warming was incontrovertible and an urgent threat to millions of lives. Through the first 10 months, it was the hottest year recorded on land and the third hottest when ocean temperatures are included. Smashing records was common, especially in August. At U.S. weather stations, more than 8,000 new heat records were set or tied for specific August dates. More remarkably that same month, more than 100 all-time temperature records were tied or broken—regardless of the date—either for the highest reading or the warmest low temperature at night. By comparison only 14 all-time low temperatures were set or tied all year long, as of early December, according to records kept by the National Climatic Data Center. For example, on Aug. 10, the town of Portland, Tenn., reached 102 degrees, tying a record for the hottest it ever had been. On Aug. 16, it hit 103 and Portland had a new all-time record. But that record was broken again the next day when the mercury reached 105. Daily triple-digit temperatures took a toll on everybody, public safety director George West recalled. The state had 15 heat-related deaths in August. Portland was far from alone. In Idaho, Chilly Barton Flat wasn't living up to its name. The weather station in central Idaho tied an all-time high of 100 on July 26, Aug. 7, 14 and 19. During 2007, weather stations in 35 states, from Washington to Florida, set or tied all-time heat records in 2007. Across Europe this past summer, extreme heat waves killed dozens of people. And it wasn't just the heat. It was the rain. There was either too little or too much. more...
| Earth Changes |
---
New England digs out after record snowfall Reuters (December 14, 2007) - New England dug out on Friday from a record-setting storm that dumped 10 inches of snow on Boston, more than the city typically sees in the entire month of December. Thursday's storm hit hours before the afternoon commute, snarling roadways and leaving some travelers -- many of whom left their offices early only to face the storm's full force on the road -- stranded for hours during their trips home. Others had to abandon their cars or sleep in them after running out of fuel, local media reported. More than 400 flights were canceled at Boston Logan International Airport. The National Weather Service said the region could expect another blast over the weekend, when a second storm is expected to drop 6 inches of snow and sleet starting on Saturday evening. "It is a powerful Northeaster," said Charlie Foley, a meteorologist at the National Weather Service in Taunton, Massachusetts. "The difference in this storm is that it is going to occur during the overnight hours and on the weekend, so we wouldn't expect it to have the impact that this thing yesterday did. Thursday's snowfall set a new one-day record for December 13, and was more than the 7.8 inches that typically falls during the entire month of December. Foley said temperatures were expected to reach 40 degrees Fahrenheit (4 C) on Friday, warm enough to melt some of the snow. Logan Airport had returned to normal operations by Friday, with about 41 outbound flights canceled, said spokesman Phil Orlandella. "The airlines will have to play catch up for a couple of days," Orlandella said. "It's not a madhouse here, things are moving pretty well." He said airport management did not yet know how their operations would be affected by the coming weekend storm.
| Earth Changes |
---
Gore: US blocking climate talks progress Associated Press (December 13, 2007) - Nobel laureate Al Gore accused the United States on Thursday of blocking progress at the U.N. climate conference, and European nations threatened to boycott U.S.-led climate talks next month unless Washington compromises on emissions reductions. The former vice president urged delegates to take urgent action to reduce emissions of greenhouse gases blamed for global warming, and told them that the next U.S. president will likely be more supportive of international caps on polluting gases. "My own country, the United States, is principally responsible for obstructing progress here in Bali," said Gore, who flew to Bali from Oslo, Norway, where he received the Nobel Peace Prize for helping alert the world to the danger of climate change. Asked about Gore's charge, Kristen Hellmer, a member of the American delegation in Bali, said: "The U.S. is being open and working very constructively with the other countries that are here. We are rolling our sleeves up and really working to come up with a global post-2012 framework." Earlier, the United Nations warned that time was running out for an agreement aimed at launching negotiations for a successor to the Kyoto Protocol when it expires in 2012 and the talks in Bali were in danger of "falling to pieces." The United States, Japan and several other governments are refusing to accept language in a draft document suggesting that industrialized nations consider cutting emissions by 25 percent to 40 percent by 2020, saying specific targets would limit the scope of future talks. European nations said they may boycott a U.S.-led climate meeting next month unless Washington compromises. "No result in Bali means no Major Economies Meeting," said Sigmar Gabriel, top EU environment official from Germany, referring to a series of separate climate talks initiated by President Bush in September. "This is the clear position of the EU. I do not know what we should talk about if there is no target." The European Union and others say the proposed emissions caps reflect the measures scientists say are needed to rein in global warming and head off predictions of rising sea levels, worsening floods and droughts, and the extinction of plant and animal species. The U.S. invited 16 other major economies, including European countries, Japan, China and India, to discuss a program of what are expected to be nationally determined, voluntary cutbacks in greenhouse gas emissions. more...
| America | Apostasy | Earth Changes |
---
Tropical Storm Olga kills at least eight in Caribbean Breitbart (December 12, 2007) - In the Dominican Republic, rescuers found numerous people clinging to trees or perched on their rooftops as floodwaters rose, according to the governor of Santiago province, Jose Izquierdo. The northern city of Santiago, the country's second largest, was the worst hit as waters gushing from a dam further swelled an already overflowing river. "Officially there are seven people dead in this city and 24,500 people displaced by evacuations across the country, because of rivers bursting their banks and landslides, said Juan Manuel Mendez, who heads the Emergency Operations Center. In addition, dozens of communities were cut off from the rest of the country, he said. An estimated 5,000 homes were affected, many of them completely destroyed, officials said. "We are facing a very difficult situation," said provincial senator Francisco Dominguez Brito. In Puerto Rico, one man was killed Wednesday when his car was buried under a landslide near San Juan, police said. In Haiti, which shares the island of Hispaniola with the Dominican Republic, officials said the storm left serious damage, though there were no immediate reports of fatalities. Olga slammed the Caribbean country on Tuesday, almost two weeks after the Atlantic hurricane season officially ended. The storm weakened on Wednesday as it swirled over open water, but it continued to dump rain that could cause more "life-threatening flash floods and mud slides in Hispaniola," the Miami-based National Hurricane Center said. At 1500 GMT Wednesday, maximum sustained winds were recorded at 64 kilometers (40 miles) and the center of the storm was 120 kilometers (75 miles) south of Guantanamo, Cuba. The six-month Atlantic hurricane season officially ended on November 30, and it is rare for tropical storms to form after that. The Dominican Republic already had been hit hard by Tropical Storm Noel, which slammed the country in late October, killing at least 85 people. Olga is the 15th named storm to form in the Atlantic this year. In all six of the storms became hurricanes, including two that hit land with rare fury, reaching the topmost intensity five with maximum sustained winds of more than 249 kilometers (155 miles) per hour. In August, Hurricane Dean killed at least 29 people in a rampage through the Caribbean and Mexico. The following month, Hurricane Felix killed about 150 people and wrought a trail of devastation along Nicaragua's impoverished Caribbean coast.
| Earth Changes |

Nobel laureates propose global CO2 tax

EU Observer (December 12, 2007) - While the international community struggles to reach agreement on how to further tackle climate change at a meeting in Bali, former US vice president Al Gore and the UN's Intergovernmental Panel on Climate Change (IPCC) have received the Nobel Peace Prize for their efforts to increase knowledge about the effects of human activities on global warming. "We have a window of nearly seven years, said IPCC chairman Rajendra Pachauri, who accepted the prize on behalf of the panel in the Norwegian capital of Oslo. "The time to doubt science is over", he said, adding that by 2015 at the latest green house gasses must start declining if the world is to escape a climate catastrophe. Thousands of scientific experts have worked on the panel since 1988 and brought forward more and more evidence of human activities causing climate change. Experts estimate that 20 percent of greenhouse gases alone comes from raising animals for human consumption. When asked what he does on a personal level to fight climate change, Mr Pachauri said he wears warm clothing, is a vegetarian and takes care to limit his use of electricity. Meanwhile, Mr Gore said that "the threat of climate crises is real, rising, imminent and universal" in his acceptance speech before over 400 prominent Norwegians and leading members of the climate panel. Mr Gore and Mr Pachauri, an Indian scientist, are going directly from the celebrations in Oslo to join the Bali conference. "We need to complete a bold mandate there next Friday [14 December] that calls for a visionary treaty to be completed, ratified and brought into effect everywhere in the world by the beginning of 2010 – more than two years sooner than presently contemplated" Mr Gore said. He said that world leaders must meet every three months until such a new treaty is completed. The 2007 Nobel laureates also suggested a price on CO2 pollution "so that the markets can help us make rational decisions about how to sharply reduce it". "The problem with CO2 is it is completely invisible to the economy", Mr Gore said. "I'm strong in favour of a CO2 tax - a large one, with the money raised given back in a progressive repay. If you want to cut your tax, you cut your pollution," he said. But he said he did not think the UN would be "capable" of managing such a tax. more...
| America | Apostasy | Earth Changes |
So I would like to know how taxing the population is going to cool the sun down and increase the magnetic field of the earth, which has been steadily degrading since first measured. If Mars is also heating up, do our emissions really cause that too? How is taking money from the population going to fix or change anything outside of our control? The facts are too obvious to be missed by those pushing the blame humanity agenda and so I smell a conspiracy. What can be accomplished in the long run is that by uniting the world to save the earth with the idea that we are the cause of global warming, a uniting consciousness can be developed based on fear and lack of understanding so that as the global "all worship the same God" plans progress, the combination of it all will lead to the acceptance of the antichrist as a god to be worshipped when he is revealed with lying signs and wonders. In the meantime, the wealth can be redistributed to whatever methods those controlling taxes decide. The facts of what is causing global warming on Earth, Mars and throughout the solar system cannot be fixed by more money because these factors are completely out of the control of humanity, even the self-glorifying scientific humanists can't fix what is about to happen. See History Repeating: Mankind's Fall of Pride There is another side to this as well from those who see the futility, but these scientists probably aren't in on the agenda. While I don't believe global warming is a "non-problem," I do believe there is nothing that can be done to change it. The globe IS warming, but the cause may not be our physical pollution - rather our spiritual pollution. Global Warming and the Day of the Lord: Skeptical Scientists Urge World To 'Have the Courage to Do Nothing' At UN Conference excerpt:
"The UN conference is a complete waste of our time and your money and we should no longer pay the slightest attention to the IPCC (Intergovernmental Panel on Climate Change,)" Monckton added. (LINK) Monckton also noted that the UN has not been overly welcoming to the group of skeptical scientists. "UN organizers refused my credentials and appeared desperate that I should not come to this conference. They have also made several attempts to interfere with our public meetings," Monckton explained. "It is a circus here," agreed Australian scientist Dr. David Evans. Evans is making scientific presentations to delegates and journalists at the conference revealing the latest peer-reviewed studies that refute the UN's climate claims. "This is the most lavish conference I have ever been to, but I am only a scientist and I actually only go to the science conferences," Evans said, noting the luxury of the tropical resort. (Note: An analysis by Bloomberg News on December 6 found: "Government officials and activists flying to Bali, Indonesia, for the United Nations meeting on climate change will cause as much pollution as 20,000 cars in a year." - LINK) Evans, a mathematician who did carbon accounting for the Australian government, recently converted to a skeptical scientist about man-made global warming after reviewing the new scientific studies. (LINK) "We now have quite a lot of evidence that carbon emissions definitely don't cause global warming. We have the missing [human] signature [in the atmosphere], we have the IPCC models being wrong and we have the lack of a temperature going up the last 5 years," Evans said in an interview with the Inhofe EPW Press Blog. Evans authored a November 28 2007 paper "Carbon Emissions Don't Cause Global Warming." (LINK) more...
Study says humans not heating up the planet One News Now (December 11, 2007) - A new peer-reviewed study disputes the claim of former Vice President Al Gore and other green activists that global warming is caused by human activity and constitutes a "planetary emergency." The study -- conducted by climate scientists at the University of Rochester, the University of Alabama, and the University of Virginia -- finds that atmospheric warming patterns, or "fingerprints," over the last 30 years are not caused by greenhouse gas emissions. The report is published in the December issue of the International Journal of Climatology. Results from the study greatly contradict the findings of the United Nations Intergovernmental Panel on Climate Change (IPCC). Dr. S. Fred Singer, professor emeritus of environmental science at the University of Virginia -- and president of the Science and Environmental Policy Project -- says he is "fairly" sure that the current warming trend is due to changes in the activities of the sun. "The sun is constantly active, emitting particle streams that carry magnetic fields; and they in turn have an influence on the climate of the earth," he says. Singer says he and other global warming skeptics have grown accustomed to claims that they are beholden to the oil and gas industry. "Of course that's not only untrue, but it's completely immaterial," says Singer. "In other words, we are using the data that is furnished by the IPCC. They are published, we use only published work. What we are basically doing is to make a comparison of model results and observations." The report concludes that carbon dioxide is not a pollutant and therefore "attempts to control CO2 emissions are ineffective and pointless -- but very costly."
| Earth Changes |
7.6 quake hits South Pacific Disaster News Network (December 9, 2007) - A powerful 7.6-magnitude earthquake struck Sunday deep in the South Pacific, the U.S. Geological Survey reported. The Japan Meteorological Agency measured the quake at 7.9. Both agencies said no tsunami warning was issued. "This earthquake is too deep inside the earth to generate a significant tsunami," the Pacific Tsunami Warning Center said. The USGS noted that the temblor occurred in a remote area and that no damage or casualties were expected. The quake was felt across a wide area of New Zealand's North Island. The quake struck at 7:28 p.m. Sunday local time (2:28 a.m. Sunday EST). It was centered about 215 miles north of Raoul Island, the largest island in the Kermadec Islands. The location was also 370 miles from Tonga and 870 miles northeast of Auckland, New Zealand. It occurred at a depth of 116 miles, the USGS said. The location of the quake was in a highly active seismic area where large temblors occur on a regular basis. Other than a few conservation officials on Raoul Island, the Kermadec Islands are uninhabited. A 7.4 quake in May 2006 in the same region was also widely felt throughout New Zealand.
| Earth Changes |
---
Strong quake jolts Indonesia Associated Press (December 7, 2007) - An earthquake on Friday rattled Indonesia's resort island of Bali, where thousands of people were gathering for a U.N. climate change conference. There were no immediate reports of damage or injuries. The 5.4-magnitude tremor was centered 150 miles southwest of Bali, the U.S. Geological Survey said on its Web site. It struck around 6 miles beneath the ocean floor. The quake could be felt in Bali, where more than 10,000 people were attending a two-week conference about rising global temperatures, which scientists say could lead to severe droughts and flooding, melting ice caps and rising seas, and the extinction of animals. The walls and floors of massive tents set up in a sprawling complex of five-star hotels shook for around 10 seconds, but officials said they did not have any reports of injuries or damage. The quake was not strong enough to trigger a tsunami warning. Indonesia, the world's largest archipelago, is prone to seismic upheavals due to its location on the so-called Pacific "Ring of Fire," an arc of volcanos and fault lines encircling the Pacific Basin. In December 2004, a massive earthquake struck off Sumatra island, triggering a tsunami that killed more than 230,000 people in a dozen countries, including 160,000 people in Indonesia's westernmost province of Aceh.
| Earth Changes |
---
Report: World food prices to rise Associated Press (December 4, 2007) - Food prices are set to rise around the globe after years of decline, with climate change making it harder for the world's poorest to get adequate food, according to a report released Tuesday. Rising global temperatures as well as growing food consumption in rapidly developing countries such as China and India are pressuring the world food system, meaning that food prices will rise for the foreseeable future, according to the International Food Policy Research Institute. Joachim von Braun, the director of the Washington-based research group, said food prices have been in a declining trend since scientists began developing high-yield plant varieties decades ago, "but the days of falling food prices may be over." "The last time the world experienced such food price increases was in 1973 to 1974 ... but today the situation is completely different. For one, the climate risk and climate change situation has increased, the climate vulnerability has increased," von Braun told reporters in Beijing. The institute said in a report that hunger and malnutrition could rise as poor agricultural communities most sensitive to the environment, such as in Africa, are hurt. Dependency on food imports will also increase as cereal yields decline in those countries. The world's agricultural production is projected to decrease by 16 percent by 2020 due to global warming, the report said, with land used for certain crops shrinking. For example, it said land to grow wheat could almost disappear in Africa. It said growing demand in rapidly developing countries such as China and India for processed food and expensive meat and dairy products is driving up prices for those goods, as well as for staple grains used to feed cattle. In addition, switching to crops used for biofuels will also reduce the amount of available food and increase prices, it said. Trade barriers for food should be eliminated, especially in developed nations, the report recommended, so small farmers can earn more money. "A world facing increased food scarcity needs to trade more, not less," the report said. The European Union and the United States have been reluctant to cut support for their own farmers and reduce trade barriers in world trade talks. more...
| Earth Changes |
UN kicks off Bali climate conference Associated Press (December 3, 2007) - Faced with melting polar ice caps and worsening droughts, climate experts at a massive U.N. conference Monday urged quick action toward a new international pact stemming an increasingly destructive rise in world temperatures. A key goal of the two-week conference, which opened with delegates from nearly 190 countries in attendance, will be to draw a skeptical United States into an agreement to cut emissions of carbon dioxide and other so-called greenhouse gases. While the U.S. delegation declared it would not be a "roadblock" to a new agreement, Washington remains opposed to steps many other countries support, such as mandatory emissions cuts by rich nations and a target for limiting the rise in global temperatures. The American position suffered a blow Monday when the new Australian prime minister signed papers to ratify the Kyoto Protocol climate pact. The move leaves the U.S. — the world's top emitter of greenhouse gases — as the sole industrial power not to have joined. Conference leaders urged delegates to move quickly to combat climate change. "The eyes of the world are upon you. There is a huge responsibility for Bali to deliver," said Yvo de Boer, the executive secretary of the conference. "The world now expects a quantum leap forward." The conference kicked off amid growing global momentum for dramatic action to stop rising temperatures that scientists say could lead to swamping of coastal areas and islands by higher oceans, the wiping out of species, economic havoc and a spike in natural disasters such as storms, fires and droughts. The Bali meeting will be the first major conference of its kind since former Vice President Al Gore — due to arrive next week — and a U.N. scientific council won the Nobel Peace Prize in October for their environmental work. The immediate aim will be to launch negotiations toward a pact to replace the Kyoto Protocol when it expires in 2012, and set an agenda for the talks and a deadline. The U.N. says such an agreement should be concluded by 2009 in order to have a system in place in time. more...
| EU/UN / 4th Kingdom | Earth Changes |
---
Yet another earthquake shakes Israel Israel Today (December 2, 2007) - A mild earthquake was felt throughout central Israel on Sunday morning, the fourth tremor to hit the region in the last two weeks. The Geophysical Institute of Israel reported that the latest earthquake had registered at 4.0 on the Richter scale, and that its epicenter was the Dead Sea. Last Saturday, a 4.1 earthquake originating in Israel's central coastal plain strongly shook the country. Earlier that week, two mild earthquakes again centered on the Dead Sea struck the region. Israeli experts have been warning of a large-scale earthquake for years, and of the widespread damage it is expected to cause due to a general failure to comply with safety building regulations.
| Israel | Earth Changes |
According to Bible prophecy, there is some serious earthquakes coming both to Israel and the whole earth. One time is regarding the two witnesses:

Revelation 11:9-13
And they of the people and kindreds and tongues and nations shall see their dead bodies three days and an half, and shall not suffer their dead bodies to be put in graves. And they that dwell upon the earth shall rejoice over them, and make merry, and shall send gifts one to another; because these two prophets tormented them that dwelt on the earth. And after three days and an half the spirit of life from God entered into them, and they stood upon their feet; and great fear fell upon them which saw them. And they heard a great voice from heaven saying unto them, Come up hither. And they ascended up to heaven in a cloud; and their enemies beheld them. And the same hour was there a great earthquake, and the tenth part of the city fell, and in the earthquake were slain of men seven thousand: and the remnant were affrighted, and gave glory to the God of heaven.
---
Earth's tropics belt expands Associated Press (December 2, 2007) - Earth's tropical belt seems to have expanded a couple hundred miles over the past quarter century, which could mean more arid weather for some already dry subtropical regions, new climate research shows. Geographically, the tropical region is a wide swath around Earth's middle stretching from the Tropic of Cancer, just south of Miami, to the Tropic of Capricorn, which cuts Australia almost in half. It's about one-quarter of the globe and generally thought of as hot, steamy and damp, but it also has areas of brutal desert. To meteorologists, however, the tropics region is defined by long-term climate and what's happening in the atmosphere. Recent studies show changes that indicate an expansion of the tropical atmosphere. The newest study, published Sunday in the new scientific journal Nature Geoscience, shows that by using the weather definition, the tropics are expanding toward Earth's poles more than predicted. And that means more dry weather is moving to the edges of the tropics in places like the U.S. Southwest. Independent teams using four different meteorological measurements found that the tropical atmospheric belt has grown by anywhere between 2 and 4.8 degrees latitude since 1979. That translates to a total north and south expansion of 140 to 330 miles. One key determination of the tropical belt is called the Hadley circulation, which is essentially prevailing rivers of wind that move vertically as well as horizontally, carrying lots of moisture to rainy areas while drying out arid regions on the edges of the tropics. That wind is circulating over a larger area than a couple decades ago. more...
| Earth Changes |
This is a sign that the earth is heating up. Just remember so are the other planets because there's been increased sun activity over the last 100 years. The most logical and scriptural reason I came to is presented in Global Warming and the Day of the Lord.
---
Powerful quake shakes Caribbean, one dead Breitbart.com (November 30, 2007) - A powerful 7.4-magnitude earthquake shook several Caribbean holiday islands, destroying buildings and killing at least one person and causing widespread panic. Thousands of residents fled their homes on the French island of Martinique and in Barbados after the earthquake struck late Thursday. The quake, which was felt as far as Venezuela and the US territory of Puerto Rico, left at least two people injured in Martinique, while Barbados' emergency services chief was hurt while helping the population, police said. One third of Martinique and thousands in Guadeloupe lost electricity. One elderly woman died after suffering a heart attack in the panic of the moment in Martinique, security officials said. The US Geological Survey said the quake's epicenter was about 23 kilometers (14 miles) northwest of Martinique, causing buildings to collapse on the French island and Barbados. Police helicopters flew over Martinique to search for casualties. "For the moment, a building and a bank have collapsed," a Martinique police official told AFP. While no casualties were reported in the French territory of Guadeloupe, police said fires were reported in the main city of Pointe-a-Pitre. Hospitals were functioning normally except Hospital de Trinite, where an eight-storey tower developed large cracks after the quake. "We have rarely seen anything like this. This lasted for more than 30 seconds. The last time round was in 1970 and it was less powerful," a local resident said. In Paris, French Interior Minister Michele Alliot-Marie summoned an emergency meeting to consider relief measures. The earthquake was 143 kilometers (89 miles) deep, causing no threat of a destructive tsunami, according to the US-based Pacific Tsunami Warning Center. more...
| Earth Changes |
---
Strong Earthquake Shakes Japan Mail & Guardian (November 26, 2007) - A 6,2-magnitude earthquake hit near the city of Iwaki in Japan on Monday, the United States Geological Survey (USGS) said, revising it to a slightly stronger quake than it initially reported. Strong earthquakes have also hit Indonesia and India since Sunday, killing at least three people in central Indonesia. The quake in Japan was centred 68km north-east of Iwaki, Honshu, and struck at 1.51pm GMT at a depth of 27km, the USGS said. The agency earlier said the quake was a magnitude six, and was centred 72km north-east of Iwaki, striking at a depth of 39km.

Indonesia
In central Indonesia, at least three people were killed and 45 injured when powerful earthquakes struck off the coast of Sumbawa island on Sunday, a Health Ministry official said on Monday. Several buildings, including a health clinic, collapsed in the island's Bima district, said Rustam Pakaya, head of the ministry's crisis centre. "The casualties are likely to increase and we are still assessing the situation." The quakes affected the eastern side of Sumbawa island, a rugged volcanic island that gets fewer tourists than neighbouring Lombok and Bali. The first quake of magnitude 6,7 struck 48km north-west of Raba in Sumbawa just after midnight, an official at the country's meteorological agency said. A second quake of 6,8 struck about four hours later in the same area, triggering a brief tsunami warning, the official added. The USGS put the second quake at magnitude 6,3. An earthquake measuring six also struck off the coast of Sumatra island in the early hours of Monday, about 100km south-west of Mukomuko in Bengkulu, the local meteorology agency said. There was no tsunami warning. On Sunday, a quake with a 6,2 magnitude hit the same area.
India
An earthquake measuring 4,3 hit the Indian capital and its surrounding areas at dawn on Monday, shaking high-rise buildings, the weather office and witnesses said. The epicentre of the tremor, felt at 11.13pm GMT, was near the border of New Delhi and the neighbouring state of Haryana, which surrounds the capital on its north, west and south. The USGS put the time of the earthquake at 11.17pm GMT and said it measured 4,6, and was at a depth of 10km. One local TV channel said there were some cracks in buildings near the epicentre but the report could not be independently confirmed. There were no reports of any major damage elsewhere across the city of 14-million people. People in many areas were shaken out of their beds and gathered in open spaces as their doors and windows rattled violently, the Hindi-language Star News channel said. A tremor of a similar magnitude hit India's financial capital of Mumbai and the surrounding Konkan region on Saturday but caused no damage.
| Earth Changes |

---
More churches preaching 'environmental gospel' One News Now (November 26, 2007) - A movement called Interfaith Power and Light offers ministers sermon tips on how to convert churchgoers into environmental activists. One program encourages people to switch to energy efficient light bulbs on each night they light a holiday candle for Advent or Hanukkah. Virginia's chapter has focused on developing a three-hour training program for congregations that asks members to calculate their carbon footprints and pledge a 10 percent reduction. A movement called "Cool Congregations" is afoot in Tennessee, where members of different congregations meet to discuss the connection between faith and environment and then spread the green gospel to their houses of worship.
| Earth Changes |
Ephesians 5:1-8
Be ye therefore followers of God, as dear children; And walk in love, as Christ also hath loved us, and hath given himself for us an offering and a sacrifice to God for a sweetsmelling savour. But fornication, and all uncleanness, or covetousness, let it not be once named among you, as becometh saints; Neither filthiness, nor foolish talking, nor jesting, which are not convenient: but rather giving of thanks. For this ye know, that no whoremonger, nor unclean person, nor covetous man, who is an idolater, hath any inheritance in the kingdom of Christ and of God. Let no man deceive you with vain words: for because of these things cometh the wrath of God upon the children of disobedience. Be not ye therefore partakers with them. For ye were sometimes darkness, but now are ye light in the Lord: walk as children of light:
The truth is that Earth is not the only planet in our solar system that is warming. It is therefore not an internal cause but a result of increased activity in the sun for the last 100 years gradually. So what the heck am I talking about regarding the spiritual pollution? Scripture says in the end-times the love of many will grow cold. Just read Matthew 24 to see the pre-signs to the end-times arrival. If the greatest love one can show is to give their life for a friend, John 15:13-19, then it follows that true love is selfless. So the love of many growing cold is a selfish attitude pervading society. Today's world teaches you to "look out for number one" and to "do what you want." This is also why Christians will be hated because we hold to the belief that the Bible is the Word of God and it condemns them. As peaceful as true Christians are told to be, we will become the enemy more and more as we hold to standards that others enjoy not keeping, the shadows of love.
What is potentially causing the global warming is the result of the electro-magnetic interactions of the celestial bodies connected to our sun and the cause of the sixth seal. If you watch the "new science" link at the beginning of these comments there are several videos, most notably the Thunderbolts of the Gods video that explains the electro-magnetic nature of the universe. The Bible says that God spoke the universe into existence and now it seems that what our voice frequencies lie on is also what produces light at higher frequencies and that our universe's physical structure is the result of frequency if string theory is correct. The sixth seal describes celestial events of the sun going dark and the moon turning to blood and the stars rolling up like a scroll and fall from the sky. This heralds the coming wrath of God.
When Yeshua comes we are told in Matthew 24:36-39 and Luke 17:26-31 that His coming is with the same sudden destruction of the day of the Lord, 1 Thessalonians 5:1-11, following these same signs. Joel 2:31 These are laid out as the sixth seal in Revelation 6:12-17. The day of the Lord is the beginning of God's wrath on the children of disobedience. This is the wrath we are promised to escape. That wrath is coming because of the spiritual condition of the earth living by the works of the flesh rather than the fruits of the Spirit. Galatians 5 So in a way humanity is the cause of the global warming, but it is coming because God's plan for humanity's redemption will play out exactly as He foretold it would in the Bible. But giving money to government to "fix" anything is not going to work because they cannot turn down the intensity of the sun and our exhaust doesn't get to Mars or Venus which are also heating up. See chart
Repentance, that is what I think the church's stance should be to avert global warming. Of course it is prophesied to happen so we will never stop it, but God has promised our escape from it if we accept the sacrifice of Yeshua's death on the cross for our sins and following resurrection. Let us stop trusting in men and trust more in YAHWEH.
---
Natural disasters have quadrupled in two decades: study Breitbart.com (November 25, 2007) - More than four times the number of natural disasters are occurring now than did two decades ago, British charity Oxfam said in a study Sunday that largely blamed global warming. "Oxfam... says that rising green house gas emissions are the major cause of weather-related disasters and must be tackled," the organization said, adding that the world's poorest people were being hit the hardest. The world suffered about 120 natural disasters per year in the early 1980s, which compared with the current figure of about 500 per year, according to the report. "This year we have seen floods in South Asia, across the breadth of Africa and Mexico that have affected more than 250 million people," noted Oxfam director Barbara Stocking. "This is no freak year. It follows a pattern of more frequent, more erratic, more unpredictable and more extreme weather events that are affecting more people." She added: "Action is needed now to prepare for more disasters otherwise humanitarian assistance will be overwhelmed and recent advances in human development will go into reverse." The number of people affected by extreme natural disasters, meanwhile, has surged by almost 70 percent, from 174 million a year between 1985 to 1994, to 254 million people a year between 1995 to 2004, Oxfam said. Floods and wind-storms have increased from 60 events in 1980 to 240 last year, with flooding itself up six-fold. But the number of geothermal events, such as earthquakes and volcanic eruptions, has barely changed. Oxfam urged Western governments to push hard for a deal on climate change at a key international meeting that runs December 3-14 on the Indonesian island of Bali. Rich Western nations and the United Nations must act to "make humanitarian aid faster, fairer and more flexible and to improve ways to prepare for and reduce the risk of disasters," it said. The United Nations Framework Convention on Climate Change conference in Bali aims to see countries agree to launch a roadmap for negotiating cuts in climate-changing carbon emissions from 2012. The Oxfam study was compiled using data from the Red Cross, the United Nations and specialist researchers at Louvain University in Belgium.
| Earth Changes |
---
Earthquake felt across Israel YNet News (November 20, 2007) - Two earthquakes, measuring 3 and 4.2 on the Richter scale, were felt across Israel on Tuesday morning. The Geophysical Institute of Israel (GII) reported that the quakes shook the entire country and originated in the northern Dead Sea. According to the Magen David Adom rescue services, there were no reports of injuries or damage. The first quake was felt at around 11:19 am and the second one at 11:30 am. Ynet received reports from readers in Jerusalem, Tel Aviv, Haifa and southern Israel, who said that they had felt their houses shake for several seconds. Rami Hopshteter, manager of the GII, explained that "this was a moderate earthquake, but was strong enough to be felt in many areas across the country. We received reports that the quake was felt in Haifa, Ashkelon, and of course Jerusalem, which is close to the quake's origin. We are certain that our Jordanian neighbors also felt it. "The quake is not surprising," he added, "As there is a lot of activity in the Dead Sea area… However, it is impossible to draw any clear conclusions about the future. The State of Israel has been preparing for an earthquake since 1999, but more can be done to improve out preparedness." Sidra Muoio from Ma'aleh Adumin, near Jerusalem, reported that the quake "lasted for about 10 seconds and the whole house shook". Dina Dagan, manager of the Bainkini beach in the northern Dead Sea, also felt the quake. "It was really scary. Everything started shaking and I suddenly saw a huge wave ascend from the Dead Sea and it looked like it was headed toward me. "It only lasted several seconds, but it was terrifying, like something you see in the movies. I experienced a few minutes of real anxiety. The quake today was not as strong as last time, but it was nonetheless scary." "Everyone felt it, but we remained calm," said Eilon from his workplace in Herzliya. "It lasted between five to 10 seconds." more...
| Israel | Earth Changes |
---
More quakes rock northern Chile Breitbart.com (November 18, 2007) - More heavy aftershocks shook northern Chile Sunday following last week's deadly 7.7-magnitude earthquake, as the government said it was working to restore water supplies and to prevent disease outbreaks. Two moderate shocks registering 5.5-5.6 on the moment magnitude scale hit early Sunday, one east of Arica close to the border of Peru, and a second offshore 60 kilometers (40 miles) north-northwest of the coastal city of Antofagasta, the US Geological Survey, which monitors events worldwide, reported. To the north in Peru, a temblor hit the southern province of Pisco, near Ica, which was already hard hit by an August 15 quake, the Geophysical Institute of Peru said. The temblor in Peru hit at 1234 GMT and there were no immediate reports of injuries. The city of Tacna near the Chilean border meanwhile was rocked by a 5.4 quake on the Richter scale. Saturday, eight quakes were registered between 4.6 and 6.0 magnitude in the Antofagasta area, according to the USGS. Two people were killed and some 15,000 injured and 4,000 structures damaged in Wednesday's major quake. On Sunday Chile's National Emergencies Office said it was restoring water services in the affected region, but that supplies would be rationed to prevent heavily damaged pipes from collapsing, especially in Tocopilla, a port town of 24,000 inhabitants, one of the worst hit by the quake. Water was being trucked in and health officials were arranging vaccinations for Hepatitis A for children in the area. Meanwhile, up the Pacific coast in Ecuador, just the rumor that an earthquake had hit there Sunday prompted locals in the town of Esmeraldas to panic, many of them taking to the streets. Local media reported that one person died of a heart attack there after someone drove by on a motorbike inaccurately warning townspeople a tsunami was coming. more...
| Earth Changes |
Luke 21:25,26
And there shall be signs in the sun, and in the moon, and in the stars; and upon the earth distress of nations, with perplexity; the sea and the waves roaring; Men's hearts failing them for fear, and for looking after those things which are coming on the earth: for the powers of heaven shall be shaken.
---
Bangladeshi cyclone kills at least 1,723 Associated Press (November 18, 2007) - The death toll from Bangladesh's most devastating storm in a decade climbed to at least 2,300 on Sunday and relief officials warned the figure could jump sharply as rescuers reach more isolated areas. Teams from international aid organizations worked with army troops in a massive rescue effort that drew help from around the world. Rescue workers cleared roads of fallen trees and twisted roofs to reach remote villages, but tents, rice, water and other relief items were slow to arrive. Hungry survivors, thousands of whom were left homeless, scrambled for food. The death toll rose as officials made contact with coastal regions cut off by the storm, said Selina Shahid of the Ministry of Food and Disaster Management. District officials compile the figures, which are far from precise, based on reports from police, public hospitals, military officials, relief workers and aid agencies, said Mohammad Golam Mostafa of the Disaster Management Ministry. The Bangladesh Red Crescent Society, the Islamic equivalent of the Red Cross, said that it believed the toll could hit 10,000 once rescuers reach islands off the coast of the low-lying river delta nation. Mohammad Abdur Rob, chairman of the society, said the estimate came from the assessments of thousands of volunteers taking part in the rescue operations across the battered region. "We have seen more bodies floating in the sea," Zakir Hossain, a fisherman from the country's southwest said, after reaching shore with two decomposing bodies he and other fishermen had found. Squatting in a muddy field with his wife, 45-year-old farmer Asad Ali said their their 5-year-old daughter, the couple's only child, had been fatally crushed beneath their toppled thatched hut in Barguna, one of the hardest-hit districts. He said a helicopter had dropped packages of food but he had received little assistance. Mobs swarm below the helicopters every time one is spotted. "I've been here waiting for hours for something to eat," he said. "What I've got so far are a few cookies. Not enough." Government officials defended the relief efforts and expressed confidence that authorities are up to the task. "We have enough food and water," said Shahidul Islam, the top official in Bagerhat, a battered district close to Barguna. "We are going to overcome the problem." more...
| Earth Changes |
---
World on the verge of climate catastrophe: UN chief The Times of India (November 17, 2007)

- UN Chief Ban Ki-moon called on Saturday for urgent action on global warming, warning the world is on the verge of a catastrophe, as top scientists were due to issue a new report on climate change for policymakers. "We all agree. Climate change is real, and we humans are its chief cause. Yet even now, few people fully understand the gravity of the threat, or its immediacy," the UN chief wrote in a commentary in the International Herald Tribune. "I have always considered global warming to be a matter of utmost urgency. Now I believe we are on the verge of a catastrophe if we do not act." Ban noted recent acceleration in the melting of glaciers and polar ice, and pointed out that the collapse of an at-risk Antarctic ice shelf could raise sea levels by up to six metres (18 feet), inundating costal cities New York, Mumbai and Shanghai. "I am not scare-mongering. But I believe we are nearing a tipping point," wrote the UN chief. Ban will preside over the presentation Saturday in Valencia, Spain of the UN Intergovernmental Panel on Climate Change's (IPCC) landmark report intended to help policymakers facing tough decisions on cutting pollution from fossil fuels, shifting to cleaner energy and bolstering defences against drought, flood, storms and other problems set to intensify through climate change. He characterised the report's conclusions as "encouraging." "The over-arching message: we can beat this. There are real and affordable ways to deal with climate change," wrote Ban.
| EU/UN / 4th Kingdom | NewWorldOrder | Earth Changes |
When the prime force behind global governance is ignoring the facts of global warming (ie the source being increased solar activity that is warming the other planets too) and trying to urge action that will result in higher taxes to fix a problem that can only be fixed if they figured out how to turn the sun's activity down is a big warning sign to me. Of course I expect this and I even expect that the world will fall for it and submit to more taxation that will fill the coffers of the New World Order to assist them in controlling the population by fear even more. This is how a blinded population lacking Truth and facts ignorantly walk off the cliff like lemmings based on a false trust of the government working to lead the world away from God and into hell. Some may not even know they are doing it, but make no mistake about it, Lucifer is behind those who do know exactly what they are doing and he is the master of deception. The following is spoken of Israel, but it is true for all humanity who strays from God's perfect ways of selfless love. How much does our current state ring true to this as well? Are we really a "Christian nation," or just a bunch of disobedient children fulfilling the desires of our hearts? This is why God's wrath is coming. Ephesians 5:1-8

Hosea 4:1-11
Hear the word of the LORD, ye children of Israel: for the LORD hath a controversy with the inhabitants of the land, because there is no truth, nor mercy, nor knowledge of God in the land. By swearing, and lying, and killing, and stealing, and committing adultery, they break out, and blood toucheth blood. Therefore shall the land mourn, and every one that dwelleth therein shall languish, with the beasts of the field, and with the fowls of heaven; yea, the fishes of the sea also shall be taken away. Yet let no man strive, nor reprove another: for thy people are as they that strive with the priest. Therefore shalt thou fall in the day, and the prophet also shall fall with thee in the night, and I will destroy thy mother. My people are destroyed for lack of knowledge: because thou hast rejected knowledge, I will also reject thee, that thou shalt be no priest to me: seeing thou hast forgotten the law of thy God, I will also forget thy children. As they were increased, so they sinned against me: therefore will I change their glory into shame. They eat up the sin of my people, and they set their heart on their iniquity. And there shall be, like people, like priest: and I will punish them for their ways, and reward them their doings. For they shall eat, and not have enough: they shall commit whoredom, and shall not increase: because they have left off to take heed to the LORD. Whoredom and wine and new wine take away the heart.
Magnitude 7.7 quake hits northern Chile Reuters (November 14, 2007) - A powerful magnitude 7.7 quake hit mineral-rich northern Chile on Wednesday, injuring at least 20 people, damaging buildings and halting operations at some of the world's biggest copper mines. Copper prices jumped by as much as 6.29 percent to $3.3040 a pound on the New York Mercantile Exchange's COMEX division as huge copper mines reported they were without power. The quake made buildings sway hundreds of miles away in neighboring countries and the Chilean capital Santiago. Officials said there were no reports of deaths, but at least 20 people were injured when roofs caved in and balconies crumbled on weaker, older buildings, mostly in Tocopilla, 75 miles north of coastal mining city Antofagasta. "One of the most affected zones could be Tocopilla where some houses in the western part of town, which are made of lighter materials, have been affected and we have some injured people," Deputy Interior Minister Felipe Harboe said on television. Television images showed cars crushed under the concrete awning of a hotel in Antofagasta, where power and phone services were knocked out by the quake. Frightened residents stood in the streets. "People ran out into the streets because of how prolonged the quake was. There was a lot of alarm but no material or human damage," said Police Chief Hernan Tamayo in Arequipa, a town farther north near the Peruvian border. The United States Geological Service, or USGS, said the quake, 36.7 miles deep, was centered 66 miles west of the town of Calama and struck at 12:40 p.m. local time. The quake was initially reported at 7.8 magnitude by the U.S. agency and later verified at 7.7. Just two hours later, a second quake of 5.7 magnitude struck. The USGS said this quake, 25.5 miles deep, was centered 36 miles northwest of Antofagasta and struck at 1744 GMT. The second quake was initially reported at 6.0 magnitude by the agency and later verified at 5.7.
more...
| Earth Changes |
---
Remnant of Yellowstone volcano rising: study Reuters (November 9, 2007) - A big blob of molten rock appears to be pushing up remnants of an ancient volcano in Yellowstone National Park in Wyoming, scientists reported on Friday. They say no volcanic explosion is imminent -- that already happened 642,000 years ago, creating the volcanic crater known as a caldera where part of Yellowstone Lake sits. But satellite readings show just how volcanically active the area remains, the researchers reported in the journal Science. From the middle of 2004 through 2006, the floor of the caldera rose 7 inches at a rate of 2.8 inches a year -- the biggest rise ever measured, they reported. "There is no evidence of an imminent volcanic eruption or hydrothermal explosion. That's the bottom line," University of Utah seismologist Robert Smith said in a statement. "A lot of calderas worldwide go up and down over decades without erupting." Yellowstone is North America's largest volcanic field, produced by what is known as a hotspot, a plume of hot and molten rock squirting up from 400 miles beneath the planet's surface. Monstrous eruptions took place there starting 2 million years ago but activity bubbles along much more calmly now -- akin to similar volcanic fields such as the Campi Flegrei just outside Naples in Italy. Beneath the field lies what is known as a magma chamber, which is actually similar to a wet sponge in structure. "Our best evidence is that the crustal magma chamber is filling with molten rock," Smith said. "But we have no idea how long this process goes on before there either is an eruption or the inflow of molten rock stops and the caldera deflates again." Heat from the chamber warms the park's hundreds of hot springs and geysers, including "Old Faithful," perhaps the world's best-known geyser. Established in 1872 as the first U.S. national park, Yellowstone also stretches to parts of Montana and Idaho.
| Earth Changes |
---
U. scientists say Yellowstone caldera may be filling with magma The Salt Lake Tribune (November 8, 2007) - The floor of the Yellowstone caldera has risen at a rate faster than has ever been observed before, according to a new study that gives further proof that "ground deformation" at the park resembles the gently heaving chest of a slumbering giant. The likely cause of the uplift is a volcanic intrusion of molten rock that has moved upward 50 to 60 miles and flattened into a pancake the size of Los Angeles a few miles below the surface, according to a study to be published Friday by University of Utah scientists. Meanwhile, further research is needed to investigate the role hot water and gases play in the mysterious rise and subsidence of Yellowstone, the marquee national park famous for its geothermal features. The new findings in no way should be construed as a harbinger of a natural disaster. "There is no evidence of an imminent volcanic eruption or hydrothermal explosion. That's the bottom line," said seismologist Robert B. Smith, the study's lead author and a U. professor of geophysics. "A lot of calderas worldwide go up and down over decades without erupting." Still, the floor of the Yellowstone caldera rose 7 inches during the 30-month study period that concluded at the end of 2006. The 2.8-inch-per-year rate of uplift was much more rapid than had ever been observed since scientists began recording Yellowstone's ground movement in 1923. Previously, the most rapid uplift occurred from 1976 to 1985, when the bulge grew less than an inch a year, according to the article titled, "Accelerated Uplift and Magmatic Intrusion of the Yellowstone Caldera, 2004 to 2006," in the Nov. 9 edition of Science. "Our best evidence is that the crustal magma chamber is filling with molten rock," Smith said. "But we have no idea how long this process goes on before there either is an eruption or the inflow of molten rock stops and the caldera deflates again." Yellowstone overlies a "hotspot" in the earth's crust that has produced massive eruptions, at least 140 over the past 16 million years. Hundreds of miles below, scientists believe, is a massive plume of magma that occasionally releases blobs of molten rock that rise and fill the chamber under the Yellowstone caldera. more...
| Earth Changes |
Thank you Debbie for the story! She also shared a personal story that I think is also showing increased activity:

I thought that you might be interested in these two articles that was in the Salt Lake Tribune the past few days. While my parents were recently in Yellowstone, a geyser they were standing by shot up about 120 feet into the air. Park rangers came running from every direction and said to my mom and dad, "you just witnessed history in the making, this thing hasn't gone off in over 80 years". When we took our granddaughters a few months later, we were told that their has been "very unusual activity this season" and that they aren't quite sure what to make of it.
---
Villagers flee slopes as sensors show one of Indonesia's deadliest volcanos has begun erupting Santa Barbara News-Press (November 3, 2007) - Villagers fled the slopes of one of Indonesia's deadliest volcanos Saturday after seismic readings indicated that an eruption had started after weeks of heightened activity. The volcano in the heart of densely populated Java island was shrouded in fog and no visual confirmation of the apparent eruption was possible before night fell, government seismologist Umar Rosadi said. By early Saturday evening, detecting instruments close to the crater were still operating, indicating any eruption had not been large enough to damage them, he said. There were no reports of injuries or damage. Scientists said it was impossible to predict whether larger eruptions were on the way. Scores of people, including women hauling babies in slings, descended from the mountain in police trucks and on bicycles and motorcycles. Some were in tears, and many wore masks to protect against volcanic ash. ''I am afraid because the authorities say this eruption will be worse than the ones that have come before,'' said Marsini, resident of a village three miles from the crater. ''They say there may be poisonous gas. I am leaving now.'' Rosadi and another government scientist said official monitors had left their posts after detecting continuous tremors, indicating an eruption had begun. For weeks, authorities have warned of an impending eruption and pleaded with villagers to move to tent camps or government buildings. Thousands have evacuated villages closest to the crater but many people have insisted on staying behind to tend to crops or look after their houses. Some apparently believe a local myth stating if they stayed at home without switching indoor lights on or speaking in a loud voice then the mountain would not erupt. In 1990, Mount Kelud killed more than 30 people and injured hundreds. In 1919, a powerful explosion that could be heard hundreds of miles away destroyed dozens of villages and killed at least 5,160. Scientists fear a buildup of magma under Kelud's crater lake could trigger a violent blast, sending a torrent of mud, ash and rock careering down the side of the 5,679-foot mountain. The mountain has been on its highest alert status for more than two weeks, but in the last 48 hours the intensity of the quakes and the temperature of its lake have exceeding those in the days preceding the 1990 blast, scientists say. Indonesia has about 100 active volcanos, more than any nation. The country is spread across 17,500 islands and is prone to volcanic eruptions and earthquakes because of its location on the so-called ''Ring of Fire'' - a series of fault lines stretching from the Western Hemisphere through Japan and Southeast Asia. At least three are currently erupting elsewhere in the country, including Mount Anak Krakatau, which lies of the northern tip of Java island. The mountain was formed after the famous Krakatau volcano erupted in 1883 killing thousands, but it is not seen as at risk of a major blast. more...
| Earth Changes |
---
5.6-strong quake shakes San Francisco Bay area; none hurt The Jerusalem Post (October 31, 2007) - A magnitude-5.6 earthquake shook the San Francisco Bay area Tuesday night, rattling homes and nerves, but there were no immediate reports of serious damage or injuries. The moderate temblor struck shortly after 8 p.m., about 9 miles northeast of San Jose, according to the US Geological Survey. Residents reported feeling the quake as far east as Sacramento and as far north as Sonoma. The California Highway Patrol has received no reports of damage or injuries, spokesman Tom Marshall said. It was the strongest tremor in the Bay Area since 1989, when a magnitude-7.1 quake killed 62 people. The epicenter of the quake was near Alum Rock, in the Diablo Range foothills east of San Jose - not far from the home of San Jose Mayor Chuck Reed. Pictures fell off the walls of Reed's house, but the mayor said there was no major damage there. "It was a pretty strong ride here, a lot of shaking but nothing broken," Reed told The Associated Press in a phone interview from his home. "I've talked to a few people and we have no reports of injuries or damage. There was a lot of shaking, but it wasn't the big one." Amrit Shergill, a night cashier at Alum Rock Shell gasoline station in San Jose, said there was no damage other than some small items that toppled off a shelf - but the intensity of the shaking sent her outside and crouching on the sidewalk. "My God, I felt like running because the roof might come down on my head," said Shergill, who was born in India. "I've never felt anything like this in 16 years in the United States." Rod Foo, a resident of south San Jose, about 10 miles from the epicenter, said everything in his house shook for several seconds, but the electricity never went out and his telephone was still working. "I could hear it coming up the street before it hit the house," said Foo, a former reporter with the San Jose Mercury News. "I thought it was the kids messing around at first, then I felt the house shaking and I knew it was an earthquake. ... It was rattling for a long time and really loud." The USGS reported 10 aftershocks, the biggest with a preliminary magnitude of 2.1. more...
| Earth Changes |
---
Mini-Earthquake Sets Off Predictions of a Larger One Israel National News (October 18, 2007) - The Patzael region in the central Jordan Valley, just 20 kilometers north of Jericho, was touched by a small earthquake on Saturday night, registering 3.0 on the Richter scale. A similar quake occurred in the same area two months ago. On Sunday morning, researchers at Tel Aviv University presented a new study on the timeline of earthquakes throughout history. No precise future earthquake dates can be extrapolated from the data, but the researchers say one is on the way - as no major quake has hit the danger area between the Dead Sea and the Kinneret in centuries. "It's like the first winter rain," said Dr. Shmuel Marko, who took part in the study. "The longer the dry summer lasts, the closer the first rain is. Here, as well: The quiet is worrisome. The longer we go without a large quake, the more we can expect one." On the other hand, experts have said that Israel's earthquakes are in general less frequent than those in other quake-prone regions such as California, Japan and Turkey. Israel is located along the Syria-Africa rift, a friction point between two subterranean plates and is therefore considered earthquake-prone. In 1927, some 250 people were killed in an earthquake that hit Jericho and central Israel. In November 1995, a 6.2 quake caused injuries to several people in Eilat. A minor quake, 5.0 on the Richter scale, hit Israel in February 2004, shaking buildings in many cities and even causing damage to the Knesset building. No one was reported hurt. The northern city of Tzfat was hit by two earthquakes in recent centuries, in 1759 and in 1837. The latter one killed at least 2,000 people, when residents were buried under the ruins of their homes and help did not arrive for days.
| Israel | Earth Changes |
---
Possibility of volcanic activity near Quesnel excites scientists Vancouver Sun (October 15, 2007) - Scientists are headed tomorrow to an area 75 kilometres west of Quesnel to install seismological equipment aimed at determining whether a "swarm" of small earthquakes are evidence of a forthcoming burst of molten lava -- potentially the first volcanic activity in the province in two centuries. "It's pretty exciting to see this," John Cassidy, earthquake seismologist with Natural Resources Canada, confirmed in an interview. "The earthquakes are continuing, even today. We should have some answers soon." The story began last Wednesday when existing seismological equipment located, appropriately enough, at Thunder Mountain began recording earthquake activity. Since then, there have been more than 100 small earthquakes -- most of them magnitude 1.0 or less on the Richter scale, but as big as 3.1 -- including an average of one per hour over the past 24 hours. The activity is located 20 kilometers west of Nazko Cone, which last erupted 7,200 years ago and is currently being mined for scoria, used for light-weight aggregate, landscaping and ground cover, and in agricultural and horticultural applications as a soil additive. The new seismic equipment is expected to be installed as early as Tuesday right on top of the earthquake activity, allowing scientists to better determine the depth and direction of the activity. Upward movement could be evidence the lava is working its way to the surface, causing small earthquakes as it muscles its way through the earth's rocks. "That's one option," Cassidy said. "We don't know if it's caused by magma at depth or if it's tectonic -- just an earthquake in an unusual area, because we haven't seen earthquakes here before. "It may turn out to be a little swarm of earthquakes in an unusual spot, but it may turn out to the be reawakening of a volcano, which is really exciting." Even if lava is on its way, it could be take weeks or months to reach the surface, Cassidy said, noting it took Mount St. Helens in Washington about two months to finally blow its top in 1980.
| Earth Changes |
---
Foreshadowing of Wormwood - Meteorite crash leaves 66ft-wide crater, toxic fumes, water contamination Daily Mail (September 19, 2007) - It has all the hallmarks of a 1950s B-movie - a remote location, mysterious lights in the sky, a crater that appeared from nowhere, and a disease that spread like the plague through locals. But this is no science fiction film. Officials in Peru yesterday revealed that 200 people had fallen sick after an object from space crashed into the south of the country over the weekend. The incident has echoes of The Andromeda Strain - the Michael Crichton thriller in which a crashed satellite brings an extra-terrestrial plague to the Earth. While no scientists are seriously suggesting that aliens are to blame, the incident has left many baffled. On Saturday morning locals saw a fireball plummeting from the sky and heard it smash into the desolate Andean plain close to Carancas, near the Bolivian border. Believing a plane had crashed, they raced to the site to discover a crater around 66ft wide and 16ft deep. Soon after, many began to complain of headaches, vomiting and sore throats. Farm animals were also affected - left staggering, gasping and with eyes watering. By Tuesday, 200 people were ill, said Jorge Lopez, the director of the local health department, who blamed a meteorite. "This is caused by the gas they have inhaled after the crash," he said. The mystery deepened when local news reports said two "calcium life-forms" were found in the crater. One excited radio reporter said: "They think they've found spacemen." The bodies turned out to be the remains of dead animals buried before the object hit. "We are all very worried," said villager Jorge Ballestas. "People wonder if it is safe to drink the water, or eat the food." An engineer from the Peruvian Nuclear Energy Institute said no radiation had been detected. Scientists from San Andres University in La Paz said analysis of sand samples from the crater showed it could be a meteorite which was blasted to dust by the impact. However, other meteor experts are unconvinced. Dr Caroline Smith of the Natural History Museum in London, said: "It's the third incident like this in Peru in the last few years - and none have turned out to be meteorites. "It's far more likely to have a been caused by the explosion of gases that build up naturally under the ground. "In that part of Peru, you might get a build up of methane or hydrogen sulphide, both of which have an eggy smell and which could cause health problems." She suspects the light in the sky seen around the time of the crash was unrelated and was probably caused by a fireball - a large meteor that produces a spectacular display as it burns up in the sky.
| Earth Changes |
---
Magnitude 8.0 quake hits Indonesia's Sumatra

Reuters (September 12, 2007) - An earthquake measuring 8.O struck Indonesia's Sumatra region on Wednesday, the United States Geological Survey said. The quake had the potential to cause a tsunami, an Indonesian meteorological agency official said, putting the magnitude at 7.9. Some offices in Jakarta were evacuated after the tremors were felt. Witnesses in Singapore and Thailand said they also felt the quake.
| Earth Changes |
---
Twin storms pack dangerous winds Associated Press (September 4, 2007) - Felix walloped Central America's remote Miskito coastline and Henriette slammed into resorts on the tip of Baja California as a record-setting hurricane season got even wilder Tuesday with twin storms making landfall on the same day. Atlantic and Pacific hurricanes making landfall on the same day is unprecedented, according to National Hurricane Center records dating back to 1949. Felix roared ashore before dawn as a Category 5 storm along Nicaragua's remote northeast corner — an isolated, swampy jungle where people get around mainly by canoe. The 160 mph winds peeled roofs off shelters and a police station, knocked down electric poles and stripped humble homes to a few walls. "The metal roofs are coming off like straight razors and flying against the trees and homes," Lumberto Campbell, a local official in Puerto Cabezas, near Felix's landfall, told Radio Ya shortly before his phone line went dead. Emergency official Samuel Perez said most of the port's buildings were damaged and the dock was destroyed, although there were no reports of deaths. By late afternoon, Felix had weakened to a Category 1 storm with winds of 75 mph. But forecasters were still worried that the tempest would do great damage inland over Honduras and Guatemala, threatening mudslides. Up to 25 inches of rain was expected to drench the mountain capitals of Tegucigalpa and Guatemala City, where shantytowns cling precariously to hillsides. Towns across Honduras were flooding, and residents waded through waist-deep, garbage-strewn water in La Ceiba, on the northern coast. In 1998, Hurricane Mitch parked over the same region for days, causing deadly flooding and mudslides that killed nearly 11,000 people and left more than 8,000 missing. "The major concern now shifts to the threat of torrential rains over the mountains of Central America," said senior hurricane specialist Richard Pasch at the National Hurricane Center in Miami. more...
| Earth Changes |
---
Toll rises in South Asia floods Reuters (August 26, 2007) - Flood victims in eastern India were eating raw wheat flour to survive as devastating monsoon flooding in South Asia continued to spread misery among millions. Nearly 2,000 people have been killed by snake bites, drowning, diarrhea and in house collapses since July when swollen rivers burst their banks, inundating huge areas in eastern India and Bangladesh. The toll rose by 74 over the weekend. In India's impoverished state of Bihar, villagers were eating wheat flour after mixing it with water because they could not cook, underlying the inadequacy of government relief efforts, even after weeks of flooding. "My family has been chewing flour soaked in water to survive as we do not have access to firewood to make rotis (bread)," said Genu Sada, 90, in Begusarai district on Sunday. At least 60 bodies were found by authorities since Saturday, pushing the death toll to 480 in Bihar since floods began in mid-July, officials said. Angry at meager relief supplies, villagers blocked roads on Saturday evening at eight places in the state, demanding more food, witnesses said. "We are doing whatever we can to help the people in crisis," said Satish Chandra Jha, a senior government official. more...
| Earth Changes |
---
Earth Changes presented by Stan Deyo StanDeyo.com (August 23, 2007) Re: Coast to Coast AM Show - The following links give you a quick, bottom line look at today's concerns. There are many other sources available, but these give you a comprehensive overview without chasing around the Net. We have included information for our Canadian friends where available. —Holly Deyo
| Earth Changes |
There are many great links on this page to current earth changes and the bizarre weather currently happening around the globe. There are Earthquake, severe weather, space weather, tornado, fires, hurricanes, volcano, drought, tsunami, and flooding as well as the attempts to silence scientists regarding global warming. No it is not humans causing it. If it were, then somehow we are also polluting Mars, Saturn, and the other planets who are also showing increased temperatures and energy. The commonality for all these is the sun.
---
Top alert on Indonesia volcano Reuters (August 20, 2007) - Lava and hot gas clouds have begun erupting from an Indonesian volcano, threatening hundreds of people living in nearby villages, an official said on Monday. Saut Simatupang, the head of Indonesia's Vulcanology Survey, said nearly 600 people had evacuated their homes in an area south-east of Mount Karangetang. Simatupang said the alert status for the volcano was raised to maximum at the weekend after hot clouds started moving eastwards, posing a threat to hundreds of people. The 1,827 meter (5,994 feet) peak, on the diving resort island of Siau off Sulawesi and 2,325 km (1,445 miles) north-east of the capital Jakarta, is one of Indonesia's most active volcanoes. "At least hundreds of the 30,000 people living on the island are at grave risk," Simatupang said by telephone from his office in the city of Bandung. "We have recommended evacuation for entire districts and we are pushing for the complete evacuation of at least two villages located 5 km (3 miles) from the volcano's crater." Simatupang said he received reports saying lava had already spread more than 1 km down the volcano's slopes. Another volcano 175 km south of Mount Karangetang has also been spewing ash and sending debris down its slopes. But Simatupang said that Mount Soputan, which lies on the northern tip of the Sulawesi island, was no threat to nearby villages. Indonesia has the highest number of active volcanoes of any country, sitting on a belt of intense volcanic and seismic activity known as the "Pacific Ring of Fire."
| Earth Changes |
---
Arctic Sea Ice Coverage Drops to Record Low Fox News (August 18, 2007) - There was less sea ice in the Arctic on Friday than ever before on record, and the melting is continuing, the National Snow and Ice Data Center reported. "Today is a historic day," said Mark Serreze, a senior research scientist at the center. "This is the least sea ice we've ever seen in the satellite record and we have another month left to go in the melt season this year." Satellite measurements showed 2.02 million square miles of ice in the Arctic, falling below the Sept. 21, 2005, record minimum of 2.05 million square miles, the agency said. Click here to visit FOXNews.com's Natural Science Center. Sea ice is particularly low in the East Siberian side of the Arctic and the Beaufort Sea north of Alaska, the center reported. Ice in the Canadian Archipelago is also quite low. Along the Atlantic side of the Arctic Ocean, sea ice extent is not as unusually low, but there is still less than normal, according to the center located in Boulder, Colo. The snow and ice center is part of the Cooperative Institute for Research in Environmental Sciences at the University of Colorado. It receives support from NASA, the National Oceanic and Atmospheric Administration and the National Science Foundation. Scientists began monitoring the extent of Arctic sea ice in the 1970s when satellite images became available. The polar regions have long been of concern to climate specialists studying global warming because those regions are expected to feel the impact of climate change sooner and to a greater extent than other areas. more...
| Earth Changes |
---
Strong earthquake strikes eastern Indonesia The Jerusalem Post (August 17, 2007) - A strong undersea earthquake struck eastern Indonesia on Friday, the US Geological Survey and local officials said. No tsunami warning was issued and there were no immediate reports of damage. The temblor had a preliminary magnitude of 6.2 and hit 230 kilometers (145 miles) southeast of Ambon, the capital of Maluku province, said Suhardjono, an official at Indonesia's Meteorological and Geophysics Agency who goes by only one name. The USGS said the quake struck 10 kilometers (6 miles) beneath the Banda Sea, but local officials put the depth at around 60 kilometers (40 miles). The reason for the discrepancy was not clear. "We have not received any reports of damage," Suhardjono said, adding that the agency did not issue a tsunami warning because the quake was not strong enough to trigger waves.
| Earth Changes |
---
Earthquake in Peru kills hundreds Reuters (August 16, 2007) - Rescuers searched collapsed homes and churches in Peru on Thursday for more victims of a massive earthquake that killed hundreds, cracked and cut off roadways and left thousands without power. Peru's civil defense agency said at least 337 people perished and 1,300 were injured in the 7.9-magnitude quake and the death toll was expected to rise. Many people were forced to sleep outside in the hardest-hit region of Ica on the coast south of the capital, Lima. The area was hit by several strong aftershocks. The huge tremor cracked highways and cut power and telephones. Rockslides blocked some roads, as well. "The first impression of the team is that damage is severe, especially to houses," said Giorgio Ferrario, the South America representative for the International Federation of the Red Cross and Red Crescent Societies. "We know for the moment, according to local authorities, that at least 35O people are dead, but the toll will certainly rise as search and rescue operations continue," he said. A fire department official said at least four people were trapped when the main tower of the Senor de Luren church in the city of Ica, home to some 120,000 people, was toppled. Rescuers struggling to move south toward Ica were initially hampered by gaping crevasses that fractured portions of the Pan-American Highway, a major coastal route. Radio reports on Thursday said traffic was getting through to the damaged area. "I was with my children when the movement started and then the walls collapsed. My house was destroyed," Milagros Meneses, 35, told Reuters in the city of Canete, south of Lima, where at least two people were killed. "The hospital gave me a tent for my kids to sleep in." more...
| Earth Changes |
On Coast To Coast AM August 15, 2007, Jim Berkland discussed this Peru quake saying high gravity forces from the Sun and Moon have effects on the Earth's core pressure, and may have contributed to this 7.9 quake. He shared his further quake predictions for the rest of 2007: October 24-31, November 22-29, and December 21-28 are the windows of time when places such as the Bay Area, Los Angeles, and Washington-Oregon are particularly vulnerable and could see quakes that range from 3.5 to 6.5 on the Richter scale. Additional reporting: Peru earthquake kills 400
---
First hurricane of 2007 season forms in Atlantic Reuters (August 16, 2007) - Tropical Storm Dean strengthened into the 2007 Atlantic storm season's first hurricane on Thursday as it revved up over warm waters and raced toward the Caribbean, the U.S. National Hurricane Center said. The hurricane, with top sustained winds of 80 miles per hour (130 kph) by 8 a.m EDT/1200 GMT, was expected to strengthen further in the next few days and could pass to the south of Jamaica on its way to Mexico's Yucatan peninsula as a powerful and dangerous Category 4 storm. Category 3 to 5 hurricanes on the five-step Saffir-Simpson scale, such as Katrina, Rita and Wilma in the devastating 2005 Atlantic storm season, are generally the most destructive storms. Dean was expected to pass the French islands of Martinique and Guadeloupe as it entered the Caribbean, the Miami-based hurricane center said. Hurricane warnings were posted for the islands of Dominica and St. Lucia by their governments, and hurricane watches were set for Martinique and Guadeloupe. A hurricane watch means hurricane conditions can be expected within 36 hours and a warning means hurricane conditions are possible in 24 hours. Barbados was put under a tropical storm warning, the hurricane center said and Montserrat, Antigua, St. Kitts and Nevis, Barbuda, St. Vincent and St. Maarten under tropical storm watches. At 8 a.m. EDT/1200 GMT, Dean's center was about 415 miles east of Barbados and about 510 miles east of Martinique. The hurricane was moving west at about 24 mph (39 kph).
| Earth Changes |
Related to this story is what James McCanney reported on August 9th on his radio program (mp3 file) regarding the planet alignment and the electrical nature of the universe and how that affects earth's weather. As I reported a while ago, meteorologists were reporting a large 2007 hurricane season this year. Just a week ago or so they changed that stance and now our first hurricane is forming in the midst of this planet alignment James McCanney reported could cause an increase in hurricanes and earthquakes from the 12th through the 18th of August. For more on the electrical nature of the universe, watch Thunderbolts of the Gods.
---
Hurricane Flossie storms toward Hawaii Associated Press (August 13, 2007) - Hurricane Flossie roared toward Hawaii on Monday with its sustained wind increased to 140 mph, though forecasters said the Category 4 storm would weaken before passing by the islands. The hurricane was expected to pass about 70 miles south of the island of Hawaii late Tuesday or early Wednesday, but by then cooler water should weaken it to a Category 1 hurricane, with sustained wind of at least 74 mph. Meteorologists cautioned that even a slight change of course in the unpredictable storm could take it closer to land. At 11 a.m. EDT, Flossie was about 495 miles southeast of Hilo, on the Big Island of Hawaii, with maximum sustained wind near 140 mph, up from 135 mph earlier in the day, the Central Pacific Hurricane Center said. It was moving west-northwest at about 15 mph. Emergency workers had mobilized Sunday afternoon to prepare for the potentially devastating hurricane, Hawaii Island Mayor Harry Kim said. "You always prepare for the worst case scenario and hope for the best," Kim said. Even though the eye of the storm may miss the Hawaiian islands, Flossie could still bring strong wind and heavy rain to the islands, forecasters said. The southeastern shore of the Big Island of Hawaii could see waves of 8 to 12 feet, forecasters said, with the surf rising during the day Monday and peaking Tuesday. The island's South Point is the southernmost area of the United States. The last time a hurricane hit Hawaii was in 1992, when Iniki ravaged Kauai, killing six people and causing $2.5 billion in damage. more...
| Earth Changes |
---
Tropical Depression 4 forms in Atlantic: NHC Reuters (August 13, 2007) - Tropical Depression 4 formed in the far eastern Atlantic Ocean and could strengthen into a tropical storm during the next 24 hours, the U.S. National Hurricane Center said on Monday. In an outlook issued at 11 a.m. EDT, the NHC said the center of the depression was located about 520 miles (837 km) west-southwest of the southernmost Cape Verde Islands and about 2,000 miles east of the Lesser Antilles. The depression is moving toward the west near 21 miles per hour with maximum sustained winds near 35 mph, and could develop into a storm with winds of 39-73 mph in the next 24 hours. The NHC will name the next tropical storm Dean. The NHC expects to issue another advisory at 5 p.m.
| Earth Changes |
This may be related to a celestial alignment reported by James McCanney on his August 9, 2007 radio program (mp3). With our growing understanding of the electrical nature of the universe, it's easy to see how this kind of alignment could affect weather on the earth. Now after a quiet hurricane season, he believes that from the 12th of August to the 18th we could see some severe weather, now this tropical depression has formed.
---
Tornado strikes New York borough of Brooklyn International Herald Tribune (August 9, 2007) - It took experts a while to confirm what many in southwestern Brooklyn knew had descended on their neighborhoods as a new workday dawned. It was a tornado - the first to hit the New York borough since modern record-keeping began - and it turned whole sections of Brooklyn upside down. Roofs were torn off houses. More than 30 families were forced from their homes. Tall trees as thick as men were yanked out by the roots. No one was seriously injured, but cars were turned sideways, awnings and aluminum siding shredded, and countless windows and windshields shattered, in a destructive rain of bricks and branches and water Wednesday. Lanie Mastellone was drinking her coffee about 7 a.m. in her apartment on the top floor of her two-story house when she sensed that her windows were going to blow in. She went toward the front of the house, and as she passed from one room to another the ceilings collapsed. "I passed my living room, I passed my dining room, I go to the bedroom," Mastellone said. "They were going one at a time. It was coming from the back forward." Mastellone, a widow who lives alone, was more puzzled than terrified. "It was almost unemotional," she said. "I was still thinking, 'Maybe my roof is leaking?' I think denial is a wonderful thing sometimes." Still, she knew she had to get out. "I grabbed my wedding ring and my cellphone," she said. She opened her apartment door, stepped out into the hallway and looked up. "That's when I realized I had no roof," she said. She was not the only one. Two houses away, the roof looked as if it had exploded. Most of it was lying in the street.
| Earth Changes |
---
Indonesia's West Java hit by strong earthquake Reuters (August 8, 2007) - A powerful earthquake struck a coastal area in Indonesia's West Java on Thursday, sparking panic in many parts of the densely inhabited island, although there were no immediate reports of damage or casualties. The quake was too deep to prompt a tsunami warning, said Robert Cessaro at the United States National Weather Service's Pacific Tsunami Warning Centre. An official at Indonesia's Meteorological agency said by telephone that it struck an area on the northern coast of West Java. "There has been no damage or casualties reported so far," the official said by telephone, adding that the quake could be felt as far away as Padang in Sumatra and the resort island of Bali. The quake with a magnitude of 7.4, according to the U.S. Geological Survey, struck just after midnight and could be felt by residents in the capital Jakarta, as well as in the nearby city of Bandung and in the town Yogyakarta in central Java. The ancient royal city of Yogykarta was devastated by an earthquake that killed more than 5,700 people just over a year ago. The U.S. agency said on its Web site the quake struck at 1704 GMT and said its epicenter was 110 km (68.4 miles) from Jakarta at a depth of 282.1 km. Residents in an apartment block in central Jakarta described feeling the tower shake three to four times and then said people rushed out of the building. The Indonesian Meteorological agency put the quake at 7.0 on the Richter scale and said it struck 75 km northwest of the coastal city of Indramayu at a depth of 286 km. Indonesia suffers frequent earthquakes, lying on an active seismic belt on part of the so-called "Pacific Ring of Fire."
| Earth Changes |
---
U.N.: 2007 seeing record extreme weather MSNBC (August 7, 2007) - The world experienced a series of record-breaking weather events in early 2007, from flooding in Asia to heat waves in Europe and snowfall in South Africa, the United Nations weather agency said Tuesday. The World Meteorological Organization said global land surface temperatures in January and April were likely the warmest since records began in 1880, at about 3 degrees Fahrenheit higher than average for those months. There have also been severe monsoon floods across South Asia, abnormally heavy rains in northern Europe, China, Sudan, Mozambique and Uruguay, extreme heat waves in southeastern Europe and Russia, and unusual snowfall in South Africa and South America this year, the WMO said. "The start of the year 2007 was a very active period in terms of extreme weather events," Omar Baddour of the agency's World Climate Program told journalists in Geneva. While most scientists believe extreme weather events will be more frequent as heat-trapping carbon dioxide emissions cause global temperatures to rise, Baddour said it was impossible to say with certainty what the second half of 2007 will bring. "It is very difficult to make projections for the rest of the year," he said. more...
| Earth Changes |
---
Powerful 7.3 Earthquake Rattles Vauatu Reuters India (August 2, 2007) - A powerful magnitude 7.3 earthquake rattled the Pacific nation of Vanuatu on Thursday, cracking roads and disrupting power supplies, but did not cause major damage, local authorities said. The quake occurred at 0409 locally on Thursday about 45 km southeast of the central island of Santo at a depth of around 150 km below the Pacific Ocean surface. "It's a pretty good size, but it's deep and there is no tsunami threat. It's aways out to sea," Geophysicist Robert Cessaro at the Hawaii-based Pacific Tsunami Warning Center told Reuters. Jesse Benjamin, a spokesman for the Vanuatu government meteorological office, said the quake was felt strongly on Santo. "There are cracks in the roads, cracks in the offices, the power went down and computers, but we do not expect major damage," he said from the capital Port Vila. | Earth Changes |
---
Bulusan volcano spews ash anew, causing panic in the Philippines International Herald Tribune (July 30, 2007) - The Bulusan volcano in the central Philippines spewed ash early Tuesday, blanketing fields and villages as far as five kilometers (three miles) away, but there was no immediate sign of a major eruption, scientists said. The 1,560-meter (5,150-foot) Mount Bulusan has been showing signs of unrest with on-and-off ash and steam explosions since March 2006. "We are keeping an eye on some villages in Juban and Irosin town. An ash explosion can occur there anytime," said Bella Tubianosa from the Philippine Institute of Volcanology and Seismology. She said the latest burst sent ash falling five kilometers (three miles) west of the volcano, which is in Sorsogon province about 390 kilometers (240 miles) southeast of Manila. Television reports said the ash column caused panic in the surrounding area, with residents running out of their homes. Villagers have been warned not to venture into a four-kilometer (2.5-mile) "permanent danger zone" around the volcano. Broadcaster ABS-CBN said the military was expected to enforce an evacuation of people from Bulusan's immediate vicinity. Since it last ejected ash on May 12, the mountain's northeastern slope has swelled slightly and abnormally high numbers of earthquakes have been recorded, according to the Philippine volcanology institute. The Philippine archipelago lies on the Pacific Ocean's "Ring of Fire," where volcanic activity and earthquakes are common. In December, typhoon-triggered mudslides along the slopes of nearby Mayon volcano buried entire villages, killing more than 1,000 people. | Earth Changes |
---
500 dead in China's worst flooding ever Breitbart.com (July 30, 2007) - China is facing its worst flooding ever with more than 500 people killed among 200 million affected, the Red Cross said Monday. Nearly five million residents have been evacuated from their homes because water levels have risen dangerously high along China's main rivers, while more flash floods, downpours and landslides are expected in the coming days, the International Federation of Red Cross and Red Crescent Societies said. "Over the past two months, more than 200 million people have been affected and over 500 have been killed nationwide by the worst flooding ever to hit the country," it said. | Earth Changes | China summer storm deaths approach 700
---
LEAD: M7.0 quake hits off Indonesia's eastern Malukus+ Breitbart.com (July 26, 2007) - Indonesia issued a tsunami warning, lifted later, after a 7.0 earthquake hit off the Maluku Islands at about 2:40 p.m. Thursday. There have been no immediate reports of casualties or damage. The U.S. Geological Survey put the quake's epicenter in the Molucca Sea about 223 kilometers north of the North Maluku provincial capital Ternate, about 950 km west southwest of Davao on the southern Philippine island of Mindanao and 44.6 km under the seabed. The quake was also felt in the North Sulawesi provincial capital Manado, about 240 km east of Ternate. "I am outside my office now, because everything -- glasses, helmets -- were shaking," a man in Manado told the Jakarta-based private radio station Elshinta. An hour after the quake, no tsunami was reported and the Jakarta-based Meteorological and Geophysics Agency lifted the tsunami warning. Indonesia, with more than 17,000 islands, is prone to earthquakes. In December 2004, a powerful earthquake and subsequent tsunami killed about 200,000 people in Aceh Province and tens of thousands of others in Thailand, Sri Lanka, India and other areas around the perimeter of the Indian Ocean. A magnitude 8.7 earthquake jolted Nias Island, off Sumatra to the south of Aceh, in March 2005 killing more than 800 people. And a strong earthquake also rocked Yogyakarta and surrounding Central Java cities on May 27 last year, killing about 5,800 people. more... | Earth Changes |
---
China quake prompts evacuation of 8,250 Reuters (July 22, 2007) - An earthquake in a remote region of northwest China brought down more than 2,100 houses and prompted the evacuation of 8,250 people, Xinhua news agency said on Sunday. The 5.7-magnitude quake jolted a county in the north of the vast Xinjiang region, bordering Kazakhstan, on Friday. Xinhua quoted an official as saying no one had died. The quake hit Tekes county, with its epicentre in a mountainous region 430 km (270 miles) from Urumqi, the capital of Xinjiang. "Rescuers have displaced 8,250 residents as their houses, most of which are mud-brick, either collapsed or became dangerous," the official was quoted as saying. China is struck by frequent earthquakes, most hitting remote rural areas. | Earth Changes |
---
Floods kill at least 100 across China Reuters (July 22, 2007) - More than 100 people have died in floods and landslides in China, and tens of thousands have fled their homes in the east, where dykes are in danger of being breached by a swollen river. Severe flooding has hit about half of China since the start of the summer, killing hundreds in what has become the deadliest rainy season in years. Natural disasters, mostly floods, have killed more than 800 people so far this year. Television pictures for days have shown villagers wading chest high through muddy water and old people being carried from their inundated homes. Fifty-nine people have died after rainstorms in mountainous Yunnan province in the southwest, Xinhua news agency said on Sunday. Rain has destroyed more than 4,000 houses and damaged thousands of hectares of crops. A 176-km (110-mile) highway linking Tengchong county in Yunnan and Myanmar has been severed by flows of mud and rock. At least 40 people have died in storms in Shandong province on the east coast. Dozens have died in the central Chongqing region which President Hu Jintao visited at the weekend, urging the local government to ensure victims had clothing, food, shelter, power and drinking water. The already swollen middle and lower reaches of the Huai river, China's third longest, face a severe test in the east with the water level expected to stay dangerously high for at least a further 10 days, Xinhua said. more... | Earth Changes |
---
Floods Cause More Misery Across Britain Sky News (July 21, 2007) - The emergency services are taking the strain tonight as many parts of Britain remain under water. It is more than 24 hours since storms swept across the country, dumping huge amounts of rain on already saturated ground, leading to widespread flooding in dozens of towns. Oxfordshire, Worcestershire, Warwickshire and Gloucestershire have been worst hit counties. But other areas have also suffered. The Prime Minister has praised the emergency services, and insisted no one could have predicted the extent of the deluge. Gordon Brown said the emergency services and armed forces were doing all they could to help the victims and are doing a "superb" job. The Environment Agency has issued five flood warnings for the River Avon - people stranded in Stratford-upon-Avon have had to be evacuated by helicopter. Around 200 people are still in emergency accommodation in Gloucester after being stranded by the flood waters. That figure is down from 2,000. Worcestershire and Herefordshire have been badly hit, with the fire service receiving more than 1,000 calls in the past 24 hours. Lifeboat crews were called in to help with the rescue operation. Local officials in Evesham have appealed for volunteers to help fill sandbags to hold back floodwater that forced 800 people from their homes. Hundreds of families who spent the night in their cars on the M5 should soon be on the move after the motorway finally reopened. Train passengers were stranded in Oxford and Banbury and flooded residents were moved into council offices. Seventy homes and offices have been evacuated in Buckingham because of rising waters. Emergency services in Gloucestershire have confirmed that one month's rain fell in just two hours. They received 1,600 emergency calls in nine hours - five times the normal amount - and a "major incident" was declared. Baroness Young, chief executive of the Environment Agency, told Sky News: "These are the sorts of rain falls we experience in the past every 100 years, every 150 years, sometimes every 200 years - they're very extreme." more... | Earth Changes |
---
Quake jolts San Francisco Bay area Associated Press (July 20, 2007) - An earthquake jolted San Francisco Bay area residents awake early Friday, breaking glass and rattling nerves, although there were no immediate reports of injuries. The earthquake was recorded about 2 miles east of Oakland and had a preliminary magnitude of 4.2, according to the U.S. Geological Survey. It could be felt for up to 10 seconds on both sides of the San Francisco Bay after striking shortly after 4:40 a.m. More than 1,000 customers in the Oakland area lost power, a Pacific Gas & Electric Co. spokesman said. Crews were investigating the outages. A dispatcher at the Oakland Police Department said police were getting calls about alarms going off. In Berkeley, an employee at a Safeway grocery store said two large windows broke but there were no injuries. | Earth Changes |
---
Pacific Quake Series Intrigues Scientists The Honolulu Advertiser (July 17, 2007) - Scientists are intrigued by a cluster of earthquakes that circled the Pacific during the past two days, but seismologists don't believe most of them are related. From late Saturday night, the edges of the Pacific Ocean felt tremors of magnitude 5.0 or greater in the area of Japan and the Philippines to the west, the Aleutians to the north, the Galapagos to the east, and Vanuatu and Papua New Guinea to the south. "It's been pretty exciting," said Charles "Chip" McCreery, director of the Pacific Tsunami Warning Center in 'Ewa Beach. Only a quake Sunday afternoon, Hawai'i time, off Japan caused local damage. At least nine people were reported killed. None of the recent shakers generated Pacificwide tsunami likely to affect Hawai'i. Most of the earthquakes were comparatively weak, but it is unusual to see so many in the 5 and 6 range clustered together. McCreery said it is unlikely that quakes in, say, Japan and in the Aleutian chain thousands of miles away are related. "We think these are random clusters" and that it was just happenstance that a dozen of them occurred within two days, he said. For some in the quake-watching community, what's more interesting is what hasn't been happening. It's been an unusually long time — nearly four months — since there has been a big earthquake of magnitude 7 or more anywhere in the world. The last one was a 7.1 quake March 25 in Vanuatu. Again, that doesn't necessarily mean a bigger one is coming, or that one isn't. There was a four-month lag last year, which ended with a 7.1 quake that killed two people in Taiwan on Dec. 26, 2006. more... | Earth Changes |
---
Japan Hit By Second Quake in a Day, Reactor Damaged (Update1) Bloomberg.com (July 16, 2007) - Two earthquakes struck Japan today, damaging a nuclear reactor, toppling houses and causing a fire. Seven people were killed and more than 800 were injured by the first quake, NHK television reported on its Web site. A second magnitude 6.8 earthquake struck in the Sea of Japan 457 kilometers (284 miles) northwest of Tokyo at 11:17 p.m. local time, the U.S. Geological Survey reported on its Web site. The earlier quake, around 250 kilometers northwest of Tokyo, had triggered tsunami warnings and caused buildings to sway for several minutes around 10:15 a.m. No tsunamis are expected from the second earthquake, the Pacific Tsunami Warning Center said in a statement. Tokyo Electric Power Co. said that a nuclear reactor at its Kashiwazaki-Kariwa power plant in Niigata was damaged by the first quake. Two cracks opened in its reactor No. 6, causing radioactive water to leak into the ocean, the company said on its Web site. The leaked water had no effect on the environment, according to the power company. NHK showed images of houses with collapsed roofs, cracked highways and a train carriage derailed at a station in the coastal city of Kashiwazaki. Other nuclear reactors at the Kashiwazaki-Kariwa plant were automatically shut down when the tremors began, Tokyo Electric said. Japan yesterday began cleaning up after being battered for three days by Typhoon Man-Yi, which caused three deaths, injured scores of people and disrupted air and rail transport. Many offices are shut today for Marine Day, a national holiday. As of noon local time, 21,541 households in Niigata prefecture were without power, the Trade Ministry said in an e- mailed statement. Supply of natural gas, a typical cooking fuel in Japan, was cut to 34,000 houses, the statement said. Prime Minister Shinzo Abe cut short an election campaign stop in the southern city of Nagasaki to fly to Kashiwazaki, the area hardest hit by the quake, Kyodo News reported. The government earlier set up an emergency task force and sent Kensei Mizote, minister in charge of disaster management, to inspect quake-hit areas, it said. East Japan Railway Co., the country's largest train operator, halted part of its Shinkansen bullet train services, said Takahiro Kikuchi, a company spokesman. Services on the Joetsu line between the Echigo Yuzawa resort area and Niigata on the Japan Sea coast remained suspended as of 3 p.m., while trains resumed service between Tokyo and Echigo Yuzawa. Service was also restored on the Tohoku and Nagano bullet train lines, which connect Tokyo with northern Japan and the central prefecture of Nagano. Local trains operated by JR East, as the company is known, derailed at Kashiwazaki station and in the Yoneyama Tunnel in Niigata, Kikuchi said. No one was injured, he said. The Niigata area was hit by a quake in October 2004 that killed at least 33 people and injured 2,900. It forced East Japan Railway to shut a section of the Joetsu bullet train line for two months and damaged a semiconductor plant in the area operated by Sanyo Electric Co. Sanyo, which halted the plant today, will resume production tomorrow, Sanyo spokesman Akihiko Oiwa said via phone. ``There is no damage to the building and no workers were injured,'' he said. Matsushita Electric Industrial Co., the world's largest consumer-electronics maker, had no serious damage at its plants, spokesman Akira Kadota said. Its Niigata factory makes facsimile and copying machines, according to the company's Web site. Japan, one of the world's most earthquake-prone countries, is located in a zone where the Eurasian, Pacific, Philippine and North American tectonic plates meet and occasionally shift, causing earthquakes. Quakes of magnitude 5 and more can cause considerable damage. | Earth Changes |
---
Powerful typhoon causes mass blackout, injuries in Japan Breitbart.com (July 13, 2007) - A powerful typhoon hit Japan's southern Okinawa island Friday, cutting power to nearly 100,000 homes and grounding hundreds of flights. Man-Yi, the fourth typhoon of the season, lashed the subtropical island, whipping up waves of 12 metres (40 feet) off the Okinawa coasts and turning over trucks in roads. Seven people have been injured in Okinawa from the typhoon since the storm approached Thursday, although none of them were in serious condition, according to police and the crisis management office. Men trying to clear the damage clung to trees to withstand the violent wind and rain, which was so forceful it uprooted trees and knocked over large fences, television footage showed. The storm cut off electricity supply to 99,400 households in the Okinawa archipelago. "The winds are so strong. Our staff are on standby at branch offices, waiting for the winds to calm down," a spokeswoman at Okinawa Electric Power said. The injured people included a 48-year-old man who fell six metres when he was fixing a television antenna on his roof, officials said. Heavy rain was also reported in parts of the Japanese mainland, with 79 millimetres (3.16 inches) drenching the city of Hyuga on the southern island of Kyushu in one hour alone, raising fears of landslides. Man-yi, described as "extremely strong" by the meteorological agency, is packing wind gusts of up to 252 kilometres an hour (156 miles an hour). The storm remained over the island 50 kilometres (30 miles) north of the Okinawan capital of Naha at midday and was moving north at 20 kilometres (12 miles) an hour. The typhoon may cross the Tokyo region early Sunday after lashing western Japan, the meteorological agency said, warning of torrential rain, flooding and landslides. more... | Earth Changes |
---
China faces record flooding Macedonian Radio & Television (July 12, 2007) - At least 131 people have been killed and another 31 are missing after floods and landslides caused by two weeks of torrential rain in China. The floods had forced the evacuation of 1.2 million people and affected some 36 million in seven provinces since June 28, the Ministry of Civil Affairs reported on its website. More than 99,000 houses were destroyed and 407,000 were damaged in the seven provinces of Jiangsu, Anhui, Henan, Hubei, Sichuan, Chongqing and Shaanxi, the ministry said. Damage to buildings, crops and infrastructure caused direct economic losses estimated at 9.9 billion yuan ($1.3 billion), it said. | Earth Changes |
---
Thousands flee Indonesian volcano as top alert declared Breitbart.com (July 10, 2007) - Some 8,500 people have fled the slopes of an Indonesian volcano after it spewed ash, smoke and debris, as the volcanology office raised its warning to the highest level. The office said volcanic activity at Mount Gamkonora, about 2,700 kilometres (1,600 miles) northeast of Jakarta, prompted it to raise its warning level to "alert" which means an eruption is imminent. Spot fires were visible and the crater spewed burning material up to 15 metres (yards) from the crater, the office said. People nearby heard two thunderous booms and the column of smoke rising from the crater reached up to 2,500 metres, the office said on its website. It said that as of early Monday, 8,439 people had moved off the slopes of the 1,635-metre (5,461-foot) volcano, which last erupted in 1987. It was unclear how many remained on the slopes and were at risk. Local official Penta Libela said authorities were helping with the evacuation of villagers and had prepared four safe shelters. "It is not an official evacuation program. The population panicked because of the eruption and fled on their own and as the local government, we are merely helping by providing more vehicles and assigning temporary shelters," Libela said early Monday. Indonesia sits on the so-called "Pacific Ring of Fire," where continental plates meet, causing frequent volcanic and seismic activity. The archipelago nation has the world's highest number of active volcanoes. Gamkonora has erupted 12 times since records have been kept. The volcano typically spews heat clouds, or pyroclastic flows, along with lava streams toward villages in the west and northwest of Halmahera island, rather than exploding, the volcanology website said. | Earth Changes |
---
Thousand of new volcanoes revealed beneath the waves New Scientist (July 9, 2007) - The true extent to which the ocean bed is dotted with volcanoes has been revealed by researchers who have counted 201,055 underwater cones. This is over 10 times more than have been found before. The team estimates that in total there could be about 3 million submarine volcanoes, 39,000 of which rise more than 1000 metres over the sea bed. "The distribution of underwater volcanoes tells us something about what is happening in the centre of the Earth," says John Hillier of the University of Cambridge in the UK. That is because they give information about the flows of hot rock in the mantle beneath. "But the problem is that we cannot see through the water to count them," he says. Satellites can detect volcanoes that are more than 1500 m high because the mass of the submerged mountains causes gravity to pull the water in around them. This creates domes on the ocean's surface that can be several metres high and can be detected from space. But there is a multitude of small volcanoes that have gone undetected. The only way of identifying them is to manually find their outline on sonar measurements taken from ships. Since the late 1960s, research vessels have been criss-crossing the oceans using sonar instruments to measure the depth of the ocean floor. They have generated 40 million kilometres of linear profiles showing the topography of the ocean bed between 60° North – the latitude of southern Alaska – and 60° South – corresponding to the tip of Patagonia. But until now, no one had been able to sift through them all. So, Hillier and a colleague designed a computer programme that was able to analyse the huge amount of data and identify volcano-like shapes in the sonar lines. The programme found 201,055 volcanoes over 100m tall. Previously, satellite data had identified 14,164 volcanoes over 1500 m high. Hillier then extrapolated the data to estimate how many volcanoes exist beyond the areas the research vessels sounded out. He estimates there are about 39,000 volcanoes that are higher than 1000 m, leaving nearly 25,000 yet to be directly discovered. more... | Earth Changes |
---
Strong quake hits Southern Mexico Breitbart.com (July 6, 2007) - A strong earthquake shook southernmost Mexico late Thursday, knocking out power to large parts of Chiapas state and causing panic among residents, according to seismologists. People rushed from their homes in fear in several areas of southern Mexico, but no injuries were reported and Chiapas public security secretary Daniel Rogue told AFP that there was only "light damage to some buildings" in the state. In Tuxtla Gutierrez, the state capital, power went off, ceilings fell and windows broke in the commercial district, where dozens of people fled terrified into the street in search of safety. Electricity services also shut down in Oaxaca, according to reports. Seismologists at the National Autonomous University of Mexico said it was a 6.2 quake and the US Geological Survey measured the quake at 6.1 in magnitude, indicating a strong earthquake apt to cause damage and injuries. The magnitude reading was based on the Moment Magnitude scale, now used by US seismologists, which measures the area of the fault that ruptured and the total energy released. The quake hit at 8:09 pm Thursday (0109 GMT Friday), at a depth of 125 kilometers (78 miles) 40 kilometers (25 miles) west and southwest of Tuxtla Gutierrez, Chiapas, Mexico and 390 kilometers (240 miles) northwest of Guatemala City. Jesus Duran, a spokesman for the state oil company Pemex, told Reforma newspaper there was no damage reported at the company's refinery in Salina Cruz. "All of the plants are normal .... there are no problems," he said. Authorities in three states ordered evacuations of buildings and businesses. On April 13, a quake of 6.2 magnitude hit Mexico without causing major damage. The epicenter of the earthquake was located in the southern state of Guerrero near the Pacific coast. | Earth Changes |
---
Tornado kills 14, injures 146 in eastern China Reuters (July 4, 2007) - A tornado swept across eastern China, killing 14 people and injuring 146, state media reported on Wednesday, the latest casualties from bad weather that has devastated parts of the country this summer. The tornado hit three villages around Tianchang in Anhui province on Tuesday, destroying more than 100 houses, the official Xinhua news agency said. The bodies of seven people had been recovered from the rubble. State television showed footage of uprooted trees, toppled electric poles and a truck blown into a river. Of the 93 injured, 35 were in serious condition, Xinhua said. A further 200 people had been evacuated. Seven people were killed in Gaoyou city in neighboring Jiangsu province, the agency said, adding that 53 were injured. "Winds and heavy rain cut off power and telecommunications, ripped off rooftops and uprooted thousands of trees," a Gaoyou government official was quoted as saying. more... | Earth Changes |
---
Drought Is Sapping the Southeast, and Its Farmers The New York Times (July 4, 2007) - Northern Alabama has become acre after acre of shriveled cornstalks, cracked red dirt for miles and days of unrelenting white heat. The region's most severe drought in over a century has farmers here averting their gaze from a future that looks as bleak as their fields. The drought is worst here, but it is wilting much of the Southeast, causing watering restrictions and curtailed crops in Georgia, premature cattle sales in Mississippi and Tennessee, and rivers so low that power companies in the region are scrambling and barges are unable to navigate. Fourth of July fireworks are out of the question in many tinderbox areas. Hay to feed livestock is in increasingly short supply, watermelons are coming in small and some places have not had good rain since the start of the year. On Monday, Dennis Bragg, the biggest farmer in Madison County, the drought's center, clutched a scrawny, leathery cornstalk half as high as it should be, barely reaching his waist. A healthy one should now be towering over him, according to the calendar. "This right here is going to be a zero," Mr. Bragg said, pushing the puny thing away. "This is what we call a weed." The field of muted green will be a loss. Down the road, he stopped his truck at a barren hillside that should be carpeted with green soy plants. "I tend not come over here and look at it," he said, bending his head. "This whole hill never came up because of the drought." In the browning corn fields here, the light breeze makes a tindery noise as it rustles the dry stalks. Struggling to pay their bills, farmers here in the Tennessee Valley say they are burning through cash reserves and staring at bankruptcy, as last year's dry weather turned into a singeing drought this year. Gleaming steel grain bins that should be full of corn ready to become ethanol are virtually empty. Cattle sales are several times normal; the farmers have nothing to feed them. Harvest day's expected small returns will be make-or-break time, farmers here say. more...
| Earth Changes | America |
The third seal is the black horse and speaks of famine. With all the weather changes due to global warming, the slightest changes in ocean currents and wind currents can affect crops like this. I think it is these kinds of events due to increased solar activity that will help bring about famine in the near future. Of course I hope I'm wrong, but the timing would seem to fit in the next couple years.
---
Summer under a cloud as weather turns angry in London This is London (July 4, 2007) - Looming angrily over London, this is the massive cloud that brought weather havoc to the capital. Within an hour, its devastating work was done. Hailstones the size of marbles had battered Battersea and flashfloods caused chaos in Clapham. Lightning lit up the blackened sky. Taken from the 17th floor of the London Television Centre on the South Bank, this stunning picture shows the enormity of the cloud that heralded Tuesday's storms - the latest in this summer of dramatic contrasts. Only four miles away the tennis at Wimbledon was rained off yet again as the weather was blamed for a big fall in this year's attendance. Two girls aged 13 and 15 were treated for serious burns after being struck by lightning at the end of the school day at Ipswich High School. The East of England Ambulance Service said the strike had blown the girls' shoes apart. 'They were struck simultaneously,' said a spokesman. 'They both had entry and exit wounds on their arms and feet.' He said the girls, who remained conscious throughout their ordeal, had not suffered life-threatening injuries. The stormy start to July follows the third wettest June on record. According to Met Office statistics, 105.3mm or 41ins of rain fell last month. Only 1912 and 1982 were wetter. Moments after its passing, the sunshine-was out again. Commuters battling-their way home in the evening rush hour shook out soaking umbrellas and shrugged off steaming raincoats. Nick Ricketts of the Met officesaid: 'There had been an extended period of cold wet weather. When the sun finally arrived, it warmed the surface temperature and that mix caused the storms to begin.' Don't put away your umbrella (or sunscreen) just yet. According to the weathermen, our mixed-up summer hasn't finished with us. more with pictures... | EU/UN / 4th Kingdom | Earth Changes |
---
NASA Satellite Captures First View of 'Night-Shining Clouds' NASA (June 28, 2007) -
A NASA satellite has captured the first occurrence this summer of mysterious shiny polar clouds that form 50 miles above Earth's surface. The first observations of these "night-shining" clouds by a satellite named "AIM" which means Aeronomy of Ice in the Mesosphere, occurred above 70 degrees north latitude on May 25. People on the ground began seeing the clouds on June 6 over Northern Europe. AIM is the first satellite mission dedicated to the study of these unusual clouds. These mystifying clouds are called Polar Mesospheric Clouds, or PMCs, when they are viewed from space and referred to as "night-shining" clouds or Noctilucent Clouds, when viewed by observers on Earth. The clouds form in an upper layer of the Earth's atmosphere called the mesosphere during the Northern Hemisphere's summer season which began in mid-May and extends through the end of August and are being seen by AIM's instruments more frequently as the season progresses. They are also seen in the high latitudes during the summer months in the Southern Hemisphere. Very little is known about how these clouds form over the poles, why they are being seen more frequently and at lower latitudes than ever before, or why they have been growing brighter. AIM will observe two complete cloud seasons over both poles, documenting an entire life cycle of the shiny clouds for the first time. "It is clear that these clouds are changing, a sign that a part of our atmosphere is changing and we do not understand how, why or what it means," stated AIM principal investigator James Russell III of Hampton University, Hampton, Va. "These observations suggest a connection with global change in the lower atmosphere and could represent an early warning that our Earth environment is being changed." AIM is providing scientists with information about how many of these clouds there are around the world and how different they are including the sizes and shapes of the tiny particles that make them up. Scientists believe that the shining clouds form at high latitudes early in the season and then move to lower latitudes as time progresses. The AIM science team is studying this new data to understand why these clouds form and vary, and if they may be related to global change. Once the summer season ends in the Northern Hemisphere around mid- to late August, the Southern Hemisphere spring season starts about three months later in the period around mid- to late November. AIM will then be watching for shining clouds in the Southern Hemisphere from November through mid-March when that season ends. AIM and is managed at Goddard Space Flight Center, Greenbelt, MD and the AIM Project Data Center is located at Hampton University.
| Earth Changes |
Could these odd recent developments that are getting brighter have to do with the increased solar activity that is heating up earth and the other planets?
---
Worldwide flooding Google News Search (June 29, 2007) - This is actually a bunch of stories found by typing "floods" into Google news. This highlights just how much flooding is going on around the world. Pakistan, Australia, Brittain, Victoria, and Texas are all dealing with flooding issues currently. | Earth Changes |
---
The wrath of 2007: America's great drought The Independent (June 11, 2007) - America is facing its worst summer drought since the Dust Bowl years of the Great Depression. Or perhaps worse still. From the mountains and desert of the West, now into an eighth consecutive dry year, to the wheat farms of Alabama, where crops are failing because of rainfall levels 12 inches lower than usual, to the vast soupy expanse of Lake Okeechobee in southern Florida, which has become so dry it actually caught fire a couple of weeks ago, a continent is crying out for water. In the south-east, usually a lush, humid region, it is the driest few months since records began in 1895. California and Nevada, where burgeoning population centres co-exist with an often harsh, barren landscape, have seen less rain over the past year than at any time since 1924. The Sierra Nevada range, which straddles the two states, received only 27 per cent of its usual snowfall in winter, with immediate knock-on effects on water supplies for the populations of Las Vegas and Los Angeles. The human impact, for the moment, has been limited, certainly nothing compared to the great westward migration of Okies in the 1930 - the desperate march described by John Steinbeck in The Grapes of Wrath. Big farmers are now well protected by government subsidies and emergency funds, and small farmers, some of whom are indeed struggling, have been slowly moving off the land for decades anyway. The most common inconvenience, for the moment, are restrictions on hosepipes and garden sprinklers in eastern cities. But the long-term implications are escaping nobody. Climatologists see a growing volatility in the south-east's weather - today's drought coming close on the heels of devastating hurricanes two to three years ago. In the West, meanwhile, a growing body of scientific evidence suggests a movement towards a state of perpetual drought by the middle of this century. "The 1930s drought lasted less than a decade. This is something that could remain for 100 years," said Richard Seager a climatologist at Columbia University and lead researcher of a report published recently by the government's National Oceanic and Atmospheric Administration (NOAA). While some of this year's dry weather is cyclical - California actually had an unusually wet year last year, so many of the state's farmers still have plenty of water for their crops - some of it portends more permanent changes. In Arizona, the tall mountains in the southern Sonoran desert known as "sky islands" because they have been welcome refuges from the desert heat for millennia, have already shown unmistakable signs of change. more...
| Earth Changes | America |
The third seal is famine. With the bee disappearances and the weather changes, if this drought is truly as bad as they believe it will become, along with the financial issues of America, the power of this nation could be very much diminished. Additionally there is the possibility of terrorism as well. The terrorists have a definite desire to see America's influence disappear. Outside of America, here's a story about Yemen's recent locust outbreak putting their crops at risk.
---
Small earthquake reported in Victoria AAP (June 11, 2007) - An earthquake measuring 3.2 on the Richter scale has shaken the town of Myrtleford in Victoria's north-east. The tremor was detected about 6am (AEST) on Monday, and lasted only a couple of seconds, Geoscience Australia said. Seismologist Phil Cummins said the earthquake occurred 45km south-east of the town and did not cause any damage. "We estimate a magnitude of 3.5, and was not large enough to cause damage," Mr Cummins said. "It appears to have been shallow, but the depth is uncertain (at this time)." Mr Cummins said that shock waves could be felt in the area, but he did not expect any further earthquakes in the coming days. He said small quakes like this were common in Australia, even though the country was not on the edge of a plate boundary. The Indian-Australian plate was being pushed north and was colliding with the Eurasian, Philippine and Pacific plates, he said. "That sort of creates a compression of the plate, and it squeezes it," Mr Cummins said. "In this area (Myrtleford), it is pretty much squeezed in an east-west direction, so due to that squeezing the stress in the Earth's crust gradually builds up until it is eventually released." According to Geoscience Australia, there was a small earthquake, which measured 2.5 on the Richter scale recorded on June 6, near Foster, 140km south-east of Melbourne. On May 28, a quake measuring 2.5 occurred near Grantville, in Victoria's south-east. | Earth Changes |
---
3.9 earthquake shakes parts of southern Utah Deseret News (June 11, 2007) - A 3.9 magnitude earthquake centered about 18 miles from Enterprise and about 50 miles from Ivins shook areas of southern Utah about 7 p.m. The earthquake's epicenter was 0.1 miles below ground, according to University of Utah seismograph reports. No damage had been reported by late Sunday, emergency dispatchers said. | Earth Changes |
---
Mild earthquake hits Bengkulu Antara News (June 11, 2007) - A tectonic earthquake measuring 4.8 on the Richter scale jolted Indonesia's Bengkulu province early Monday (00:24 am) but no damage and victims were reported. The epicentre of the quake was located at 3.98 degree south latitude and 101.68 degree east longitude, Coordinator of the Meteorology and Geophysics Agency's Bengkulu provincial office Adjat Sudrajat said here Monday. The position of the tremor was 87 kilometers south west of Lais subdistrict, Kaur district, Bengkulu province at a depth of 33 kilometers from the sea surface. Bengkulu is among areas in Indonesia vulnerable to earthquakes. Almost everyday, mild quakes measuring less than 3.0 on the Richter scale occur in the province but are not felt by local people. According to Adjat, Bengkulu has three areas of fault prone to quakes -- Kepahiang, Ketahun and Siberut. He added that the three areas belonged to the Semangko fault or the Sumatra fault which triggered a 5.8 magnitude quake in West Sumatra on March 6, 2007. Adjat called on the local people to be always on the alert against possible earthquakes which could rock Bengkulu any time. Bengkulu was hit by a tectonic earthquake measuring 7.3 on the Richter scale in June 2000 killing 96 people, injuring thousands of others and devastating public facilities as well as houses and causing financial losses of about Rp400 billion. | Earth Changes |
---
An earthquake with a preliminary magnitude of 5.0 jolted Wajima, Ishikawa Prefecture Kyodo News (June 11, 2007) - An earthquake with a preliminary magnitude of 5.0 jolted Wajima, Ishikawa Prefecture, early Monday, the Japa Meteorological Agency reported. No tsunami warning was issued. There were no immediate reports of casualties or damage from the 3:45 a.m. quake. The quake measured 4 on the Japanese seismic intensity scale of 7 in the city of Wajima and the town of Wajimamonzen in Ishikawa Prefecture and 3 in the city of Himi, Toyama Prefecture. | Earth Changes |
---
Earthquake rattles portions of Indonesia The Honolulu Advertiser (June 10, 2007) - The timing of Gov. Linda Lingle's visit to Indonesia for meetings with tsunami experts and government officials on emergency preparedness seems eerily coincidental. An earthquake assigned a preliminary magnitude of 5.0 jolted portions of Indonesia about 950 miles northwest of Jakarta about 5 a.m. Hawaii time Saturday morning. The were no reports of injuries, damage or a tsunami resulting from the temblor, which was centered in Indonesia's Simeulue Region. | Earth Changes |
---
Cyclone lashes Oman as Iran battens down AFP (June 6, 2007) - Cyclone Gonu lashed Oman on Wednesday as thousands of people were evacuated in the Gulf state and neighbouring Iran for the strongest tropical storm to hit the region in 30 years. As Gonu -- the Maldives word for a bag made of palm fronds -- hit the Omani capital strong winds snapped tree branches and blew over street signs. Roads were flooded and thick fog blanketed out the mountains encircling the city. Heavy rain and wind led to flights being suspended at Muscat airport, but the cyclone has so far not affected shipping in the Strait of Hormuz through which at least a quarter of world oil supplies passes, officials said. Oil experts said any impact on world oil prices would be temporary provided facilities in the area stayed intact. "If shipping is halted through Hormuz, I think there is going to be a panic in world oil markets and prices could shoot to as high as 80 dollars, but of course for a very short period," Kuwaiti oil expert Kamel al-Harami said. The streets of Muscat were almost deserted save for all-terrain vehicles after police asked people to stay indoors and thousands of residents were evacuated, but the storm weakened steadily after making landfall. Omani television showed rising seawater advancing some 500 metres (yards) inland, flooding coastal roads in the Sohar region 200 kilometres (125 miles) northwest of Muscat. The ministry of transport said the ports of Sohar and Qabus in Muscat were closed. Cyclone Gonu initially packed winds of 260 kilometres (160 miles) an hour but they have now dropped dramatically to some 90 kilometres (50 miles), weather officials said. They said the cyclone was expected to be the strongest to hit the Arabian peninsula since 1977. more... | Iran | Earth Changes |
---
Gonu--Iran, Not Arabia? Accuweather.com (June 5, 2007) - The latest infrared satellite imagery (from the NRLMRY) shows Gonu to be a weakening (from 260-kph, Category 5 status, the only way would seem to be down!) tropical cyclone. Location is southeast of Ra's al Hadd, Oman, towards which it is headed. As of 0600 hours GMT, the JTWC reckoned Gonu to be a Category 4 storm packing highest sustained winds of 230-kph, or 125 knots. Movement was toward the northwest at 7 knots, or 13 kph. Since 0600 GMT, satellite imagery seems to show further weakening, maybe to Category 3 status as of this writing. Meantime, westernmost squalls have reached easternmost Oman with rain being observed as of 0600 GMT at Sur. There will be a lot more in this part of Oman before Gonu has run its course. Since leaving work Monday, some of the `fog` shrouding the future path of Gonu seems to have settled. Numerical forecasts are pointing towards a northward veering of Gonu AWAY from northeast Oman and TOWARDS southeastern Iran. And this is the latest take by forecasters at the JWC. Landfall, based upon their latest thinking, would happen Wednesday night, local time, in an area lacking any bigger cities. One town on the map in the suggested area of landfall is Humedan. As for me, I am leaning towards the northward turn, but I am nowhere near `in touch` enough to have a firm stand of my own. In the shorter term, the big question is impact upon Oman. The area of Sur is going to get a battering with severe winds and torrential rains. Elsewhere, impact is clearly dependent upon the exact path of Gonu's eye, with a few tens of kms north or south being the difference between a stormy day and a severe, destructive pounding. The farther northwest along the Oman coast (toward Masqat and beyond), the less the impact of Gonu is likely to be, even if it hugs the coast. In following the JTWC path, Masqat would certainly be spared the worst of Gonu's winds, although torrential rain and flooding could still prove serious. My thanks to Abdullatif for his emails. First, he told me of two May cyclones that struck Arabia from the southeast--in 1992 and 2002. These must have been significant storms at landfall, but they were never as strong as Gonu. Indeed, Abdullatif has stated that Gonu is, indeed, the first known Category-5 storm over the Arabian Sea. He is even watching carefully enough to detect wobbling in the eye path; he attributes this to thunderstorm pulsing over India and East Africa. more... | Earth Changes |
---
Exposing the secret agenda behind today's obsession with global warming" WorldNetDaily (March, 2007) - The U.N. recently announced global warming is leading inexorably to global catastrophe. Al Gore won the "best documentary" Oscar for his disaster film "An Inconvenient Truth." The news media beat the drum of "climate catastrophe" daily, all but ignoring scientists who say the threat is overblown or nonexistent. And across America, school children are frightened to death with tales of rising oceans, monster tornadoes, droughts and millions dying – all because of man-made global warming. However, hidden just beneath the surface of the world's latest environmental craze is a stunningly different reality, as the March edition of WND's acclaimed Whistleblower magazine documents. Titled "HYSTERIA: Exposing the secret agenda behind today's obsession with global warming," Whistleblower tells the rest of the story the "mainstream press" will never reveal. To begin with, those who believe the dire warnings of today's establishment press should know, as U.S. Sen. James Inhofe has pointed out, that "for more than 100 years, journalists have quoted scientists predicting the destruction of civilization by, in alternation, either runaway heat or a new Ice Age." Believe it or not, over the last century America's major media have predicted an impending global climate crisis four different times – each prediction warning that entire countries would be wiped out or that lower crop yields would mean "billions will die." In 1895, the panic was over an imminent ice age. Later, in the late 1920s, when the earth's surface warmed less than half a degree, the media jumped on a new threat – global warming, which continued into the late 1950s. Then in 1975, the New York Times' headline blared, "A Major Cooling Widely Considered to Be Inevitable." Then in 1981 it was back to global warming, with the Times quoting seven government atmospheric scientists who predicted global warming of an "almost unprecedented magnitude." Today, to cover all their bases, much of the press is changing its terminology from "global warming" to "climate change" or "climate catastrophe." That way they're covered either way: If the world gets colder, global warming is still at fault. But hot-and-cold press coverage is just the beginning. Whistleblower's "HYSTERIA" issue reveals exactly why so many scientists, journalists and others (even the president's speechwriters now have him pay lip service to "climate change") are so gripped by global warming fever. Here's a hint: As "Deep Throat" famously told Washington Post "Watergate" reporter Bob Woodward, "Follow the money." more... | Earth Changes |
---
Storms Cause Chaos Across Europe Herald Sun (May 29, 2007) - HEAVY storms, landslides, flash floods and lightning killed at least 23 people in Europe and Turkey, officials said. Nine people died in eastern Turkey, including six killed in severe flooding in mountainous Agri province near the Iranian border, where river waters were swollen by melting snows. Two more people were missing. In nearby Van province, a two-year-old child died when landslides triggered by heavy rain demolished a house. Two other girls also died and another person was injured after being struck by lightning. Six hikers died in Greece while trying to cross a river in the south. They were in a group of 18 people swept away by a flood wave in the rain-swollen Lousios river. Prosecutors charged the hike's organizers with involuntary manslaughter. In France, two divers and a yachtsman drowned yesterday off the western coast of Brittany in extreme weather. The yachtsman fell into the sea from his 21-metre boat in heavy seas. The two divers were part of a group of six who were caught up in strong waves. The others made it safely to shore. In northern Bosnia, two 11-year-old children, a boy and a girl, died after being struck by lightning on Saturday, local media reported. In Germany, three construction workers building a windmill in the eastern state of Brandenburg were killed yesterday when lightning hit a tractor they were sheltering under, police said. In Russia, by contrast, meteorologists said today was the hottest May day in Moscow since records began with temperatures hitting 32.7 degrees Celsius. The city's electricity system shifted into emergency mode to cope with demand, largely from people using air conditioners. Extreme weather - including drought, heavy storms, flooding and flash frost - have wreaked havoc across Europe this spring. Aside from the human toll, it has also destroyed crops and damaged infrastructure in France, Spain, Poland, Bulgaria, Turkey and other countries. | Earth Changes |
---
South Africa: Weather breaks records Cape Times (May 23, 2007) - THE icy weather of snow, hail and heavy rain that has swept across South Africa over the past few days has set 54 weather records. The South African Weather Service said 34 new records were set on Monday and another 20 yesterday. Almost all records were for the lowest maximum and minimum daily temperatures in towns across the country. Plettenberg Bay and Tsitsikamma both recorded their highest daily rainfall, at 68mm and 71.2mm respectively, on Monday. Plettenberg Bay recorded its lowest minimum temperature, 5.6°C, yesterday. Tsitsikamma had its lowest maximum temperature on Monday, 12.1°C, and its lowest minimum yesterday, 6.3°C. The lowest minimum temperature recorded was -6°C in Welkom, while the lowest maximum temperature was a mere 1.7°C in Barkly East. Both were recorded on Monday night. None of this week's records reached the lowest temperature yet recorded in South Africa - -18.6°C recorded at Buffelsfontein in the Eastern Cape in 1996. more... | Earth Changes |
---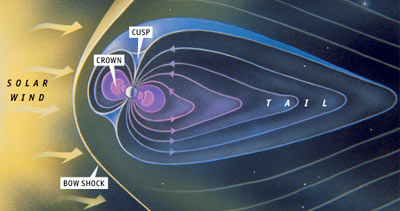 4.6-magnitude earthquake causes damage in Montana (May 9, 2007) - An earthquake damaged an apartment building and knocked bricks off the facades of Main Street buildings in southwestern Montana on Tuesday, authorities said. The 4.6 magnitude quake, reported at 9:46 a.m., was centered about nine miles northeast of Sheridan. It was felt in Helena and as far away as Idaho, according to the U.S. Geological Survey website. Students at Sheridan Elementary School were under their desks Tuesday morning, in some cases before teachers realized an earthquake was shaking the area, the school secretary said. "It was a hard jar, and really loud," said secretary Jenny Burke. "It was like somebody just shook the heck out of us for two seconds." The school was not damaged. One Sheridan family was evacuated from their damaged downtown apartment until it can be proven safe, said Frank Ford, Madison County's former emergency management director. Madison County Commissioner Jim Hart was on the third floor of the courthouse when the earthquake hit. "We all just kind of held onto the table for a second or two, and then went, 'We need to get out of here,"' Hart said. | Earth Changes |
---
Moderate earthquake hits northern Philippines (May 7, 2007) - An earthquake measuring 5.4 Richter scale rocked the northern Philippine city of Baguio and nearby areas on May 7, local TV reported. The quake was felt at Baguio and Ilocos Norte province before dawn Monday, the GMA TV reported. Quoting a report by the United States Geological Service (USGS), the TV said that the quake was recorded at about 2:27 a.m. Manila time. There were no immediate reports of casualties or damage to property in the quake, the TV reported. Epicenter of the quake was traced by the USGS to 105 km north- northwest of Baguio City, and 105 km south-southwest of Laoag City in Ilocos Norte, it added. | Earth Changes |
---
Fresh tornadoes pound central US (May 6, 2007) - A new wave of tornadoes has hit at least six counties in the central US, a day after a massive tornado devastated a small town in southern Kansas. One man was killed in the latest storms and 11 people injured in another Kansas town. More severe weather is expected. Rescuers are searching for survivors of the Greensburg tornado, which killed nine people and injured dozens more. US President George W Bush has declared parts of Kansas a disaster area and has pledged federal aid for reconstruction. "I'm confident this community will be rebuilt, to the extent we can help, we will. "The most important thing now is for our citizens to ask for the good Lord to comfort those who were hurt," the president said after attending church in Washington on Sunday. Kansas Senator Pat Roberts, who toured the devastated region, said: "It is no understatement or overstatement to say this town has been wiped off the face of the Earth." more... | Earth Changes |
---
Vanishing honeybees mystify scientists (April 22, 2007) - Go to work, come home. Go to work, come home. Go to work -- and vanish without a trace. Billions of bees have done just that, leaving the crop fields they are supposed to pollinate, and scientists are mystified about why. The phenomenon was first noticed late last year in the United States, where honeybees are used to pollinate $15 billion worth of fruits, nuts and other crops annually. Disappearing bees also have been reported in Europe and Brazil. Commercial beekeepers would set their bees near a crop field as usual and come back in two or three weeks to find the hives bereft of foraging worker bees, with only the queen and the immature insects remaining. Whatever worker bees survived were often too weak to perform their tasks. If the bees were dying of pesticide poisoning or freezing, their bodies would be expected to lie around the hive. And if they were absconding because of some threat -- which they have been known to do -- they wouldn't leave without the queen. Since about one-third of the U.S. diet depends on pollination and most of that is performed by honeybees, this constitutes a serious problem, according to Jeff Pettis of the U.S. Agricultural Research Service. "They're the heavy lifters of agriculture," Pettis said of honeybees. "And the reason they are is they're so mobile and we can rear them in large numbers and move them to a crop when it's blooming." Honeybees are used to pollinate some of the tastiest parts of the American diet, Pettis said, including cherries, blueberries, apples, almonds, asparagus and macadamia nuts. "It's not the staples," he said. "If you can imagine eating a bowl of oatmeal every day with no fruit on it, that's what it would be like" without honeybee pollination. Pettis and other experts are gathering outside Washington for a two-day workshop starting on Monday to pool their knowledge and come up with a plan of action to combat what they call colony collapse disorder. "What we're describing as colony collapse disorder is the rapid loss of adult worker bees from the colony over a very short period of time, at a time in the season when we wouldn't expect a rapid die-off of workers: late fall and early spring," Pettis said. The problem has prompted a congressional hearing, a report by the National Research Council and a National Pollinator Week set for June 24-30 in Washington, but so far no clear idea of what is causing it. "The main hypotheses are based on the interpretation that the disappearances represent disruptions in orientation behavior and navigation," said May Berenbaum, an insect ecologist at the University of Illinois, Urbana-Champaign. There have been other fluctuations in the number of honeybees, going back to the 1880s, where there were "mysterious disappearances without bodies just as we're seeing now, but never at this magnitude," Berenbaum said in a telephone interview. In some cases, beekeepers are losing 50 percent of their bees to the disorder, with some suffering even higher losses. One beekeeper alone lost 40,000 bees, Pettis said. Nationally, some 27 states have reported the disorder, with billions of bees simply gone. more...
| Earth Changes |
---
Colombia Volcano Erupts, Thousands Flee (April 19, 2007) - Thousands of people were evacuated after a long-dormant volcano erupted late Tuesday and again early Wednesday, provoking avalanches and floods that swept away houses and bridges. The Nevado del Huila volcano's eruptions were its first on record since Colombia was colonized by the Spanish 500 years ago. There are about 10,000 people living in the area around the volcano, and about 3,500 had been evacuated, Luz Amanda Pulido, director of the national disaster office, told The Associated Press after flying over the volcano in southwest Colombia. There were no reports of deaths or injuries. The eruption sent an avalanche of rocks down the volcano's sides and into the Paez and Simbola rivers, causing them to flood. "The bridges were swept away, the highway used by the indigenous in the zone was destroyed for various kilometers (miles) and the problem we have now is the lack of a route to deliver goods and medicines to the population," Police Gen. Orlando Paez said. Experts were not ruling out more eruptions. more... | Earth Changes |
---
Moderate quake jolts Japan's southern island (April 16, 2007) - A moderate earthquake with a preliminary magnitude of 5.2 shook a small island south of Tokyo, but there was no danger of a tsunami, the Meteorological Agency said Monday. The quake struck at 9:59 a.m. (0059 GMT) and was centered near Chichijima, about 960 kilometers (600 miles) south of Tokyo, about 70 kilometers (40 miles) underground, according to the agency. There were no immediate reports of injuries or damages, said Kenichi Mochida of the local town office. On Sunday, a magnitude 5.4 quake jolted Mie, in central Japan, injuring several people and damaging houses and a 400-year-old castle. Mie is about 320 kilometers (200 miles) southwest of Tokyo. In March, a magnitude 6.9 quake in northwestern Japan killed one and injured more than 200 people. Japan sits atop four tectonic plates and is one of the most earthquake-prone countries in the world. | Earth Changes |
---
Strong Earthquake Rocks Mexico (April 13, 2007) - An earthquake with a preliminary magnitude of 6.2 rocked Mexico early Friday, striking 60 miles north of Acapulco on the country's Pacific coast, the U.S. Geological Survey said. The quake - which hit about 1 a.m. local time - was strongly felt by residents in Acapulco - where tourists in hotels rushed out of their rooms and huddled together, fearing aftershocks. The quake was also felt in parts of Mexico City, where power was knocked out. There has been no word on injuries or damage. In Mexico City, the quake sent people out into the streets. It lasted less than a minute but was strongly felt by residents. Police patrolled streets while families waited out on the streets in their pajamas, fearing aftershocks. | Earth Changes |
---
Quake lifts Solomons island out of the sea (April 7, 2007) - The seismic jolt that unleashed the deadly Solomons tsunami this week lifted an entire island metres out of the sea, destroying some of the world's most pristine coral reefs. In an instant, the grinding of the Earth's tectonic plates in the 8.0 magnitude earthquake Monday forced the island of Ranongga up three metres (10 foot). Submerged reefs that once attracted scuba divers from around the globe lie exposed and dying after the quake raised the mountainous landmass, which is 32-kilometres (20-miles) long and 8-kilometres (5-miles) wide. Corals that used to form an underwater wonderland of iridescent blues, greens and reds now bleach under the sun, transforming into a barren moonscape surrounding the island. The stench of rotting fish and other marine life stranded on the reefs when the seas receded is overwhelming and the once vibrant coral is dry and crunches underfoot. Dazed villagers stand on the shoreline, still coming to terms with the cataclysmic shift that changed the geography of their island forever, pushing the shoreline out to sea by up to 70 metres. Aid agencies have yet to reach Ranongga after the quake and tsunami that killed at least 34 people in the Pacific archipelago but an AFP reporter and photographer on a chartered boat witnessed the destruction first hand. At Pienuna, on Ranongga's east coast, locals said much of their harbour had disappeared, leaving only a narrow inlet lined by jagged exposed coral reefs either side. Villager Harison Gago said there were huge earthquake fissures which had almost split the island in half, gesturing with his hands that some of the cracks were 50 centimetres (20 inches) wide. Further north at Niu Barae, fisherman Hendrik Kegala had just finished exploring the new underwater landscape of the island with a snorkel when contacted by the AFP team. He said a huge submerged chasm had opened up, running at least 500 metres (550 yards) parallel to the coast. On the beach at Niu Barae, the earthquake has revealed a sunken vessel that locals believe is a Japanese patrol boat, a remnant of the fierce fighting between Allied forces and the Japanese in WWII. more... | Earth Changes |
---
Mars Heats Up (April 4, 2007) - Mars is getting hotter. Measurements of the brightness of the planet's surface show that the thermometer has ratcheted up some 0.65 °C over a few decades. Lori Fenton at the Carl Sagan Center, Mountain View, California, and colleagues looked at maps of Mars's 'albedo', a measure of how much light reflects off a surface. By comparing a map from 1976-78 with one from 1999-2000, they found "some pretty dramatic changes", says Fenton. In particular, the southern highlands region of Mars had darkened significantly. The darkening is thanks to the clearance of light-coloured dust that covers the planet's darker bedrock, they propose. When the Sun's light hits dark rock it warms the surface, and the heat is kept in by the atmosphere. This warming kicks up winds, which swirl any dust around and can even make dust devils. This sweeps the light-coloured dust into pockets, revealing more bedrock and causing further heating. "The two processes that lift dust are being enhanced by the darkening of the surface, and those are the processes that darken the surface in the first place," says Fenton. Fenton then used a model of the planet's climate to infer the temperature change caused by this darkening. These models are very similar to those used to predict the weather on Earth, but with fewer parameters: Mars has no oceans or vegetation, and the effects of clouds are nowhere near as important as they are on Earth. more...
| Earth Changes |
Dang! Now our vehicle emissions are warming Mars too! Quick, give the government more money to throw at global warming! I think it's clear that more than just the earth is heating up now-a-days. Scientists don't understand everything, but I've been hearing some interesting theories about an electrical universe explaining the cooler internal temperature on the sun and how that electrical charge is present in all celestial bodies that interact with each other. Our solar system is connected to the galaxy and as we move around the galactic center of the Milky Way, that energy can change and shift causing the sun to get hotter and affecting all the planets in orbit. It also fits in with Bible prophecy and is only going to get stronger. For instance, I believe the fourth bowl could be a solar flare striking the earth with a weakened magnetic field around the earth. Electricity would effect that field and if that field were gone, most of our protection from the plasma from the sun would be gone. A solar flare timed just right could fulfill this prophecy. Revelation 16:8,9 "And the fourth angel poured out his vial upon the sun; and power was given unto him to scorch men with fire. And men were scorched with great heat, and blasphemed the name of God, which hath power over these plagues: and they repented not to give him glory."
---
6.2-magnitude earthquake hits northeast Afghanistan (April 3, 2007) - A 6.2-magnitude earthquake hit a remote and mountainous area of northeast Afghanistan on Tuesday morning, shaking buildings in the capital and as far away as Pakistan, Tajikistan and India. The earthquake in Badakhshan province was about 300 kilometers (200 miles) northeast of the capital, Kabul, where residents felt shaking buildings and ran outside their homes, and some windows were shattered. There were no immediate casualty reports. The U.S. Geological Survey said the 6.2-quake was centered 60 kilometers (40 miles) south of the provincial capital Faizabad and hit at 8:05 a.m. (0335 GMT). The quake was felt across northern Pakistan, including in the capital Islamabad, 450 kilometers (280 miles) away. It was also felt in Tajikistan and in the Indian and Pakistan-administered portions of Kashmir, where a severe earthquake in October 2005 left tens of thousands dead and caused widespread destruction. In Pakistan-controlled Kashmir, residents dashed out of shops and homes when the temblor struck Tuesday, and at least one boy was injured as he fell while running out of his school in the town of Dherkot. | Earth Changes |
---
Tsunami hits South Pacific's Solomons (March 31, 2007) - A bone-rattling undersea earthquake sparked a tsunami that sent 10-foot-high waves crashing into parts of the Solomon Islands on Monday, wiping out one village and killing at least 13 people. The death toll was expected to rise. Large waves struck the western town of Gizo, inundating buildings and causing widespread destruction within five minutes of the earthquake. "There wasn't any warning — the warning was the earth tremors," Alex Lokopio, the premier of the Solomon's Western Province, told New Zealand's National Radio. "It shook us very, very strongly and we were frightened, and all of a sudden the sea was rising up." Despite initial regionwide warnings, there was no repeat of the massive 2004 tsunami, when a magnitude 9 quake sent massive waves slamming into the coastlines of a dozen countries around the Indian Ocean's rim, killing or leaving missing about 230,000 people. Julian Makaa, spokesman for the Solomons National Disaster Management Office, said numerous villages in the country's remote west were reporting people being swept away as waves plowed through their communities. Reports remained sketchy because communications were reduced in many cases to scratchy two-way radio lines. Emergency officials have yet to be able to reach the area hit by the tsunami and communications with the area is limited. Alfred Maesulia, the information director in Prime Minister Manasseh Sogavare's office, said late Monday that 13 people had been killed and an unknown number were still missing. "Some people were seen floating on the sea during the big waves but it was very difficult to go near them," Maesulia told The Associated Press. "The number at the moment is 13. It's possible that number will increase, maybe double up or even more." Lokopio said he witnessed a large wave crashing into the island. "I saw the wave ... all of a sudden the water was just rising up and moved toward the island and hit all the houses on the coastal area, and all of their property was washed away to the open sea," he said. more... | Earth Changes |
---
Wild Weather Strikes Southern California (March 28, 2007) - A quick wintry blast brought fierce winds and cold temperatures to normally mild Southern California, but did little to quench the parched region. Tuesday's storm startled residents, who watched as clear morning skies quickly darkened and gusting winds ripped roofs off several buildings, capsized boats and downed power lines and trees. "I've never seen weather like this," said Larry Prantner, manager of Cavi at the Big Oaks Lodge restaurant in the Santa Clarita community of Saugus. "It's March and I'm wearing a coat and starting a fire at the fireplace." The storm was created by moisture and cool air sweeping through warmer, dry air, meteorologists at the National Weather Service said. Warmer temperatures were expected through the rest of the week. While the weather system sprinkled snow and hail across mountain and high desert communities, it wasn't nearly enough to make a dent in the huge shortfall of rain so far this year. "In most places, we got zero or trace amounts of rain," Bonnie Bartling, a National Weather Service specialist, told the Los Angeles Times. "Even in the mountains, we didn't get a whole lot of rain. This was mostly a wind system." Los Angeles is facing its driest year on record. Only 2.47 inches of rain have fallen in downtown Los Angeles since July 1. In a normal year, more than 13 inches of rain would have fallen by now. On Tuesday, winds tore off the roof of Orange County Fire Authority's aviation building in Fullerton and harbor patrol officers made numerous rescues involving capsized craft in Newport Bay and offshore. A large section of roof laminate and asphalt tile landed on four cars and caused minor damages, but no injuries, said Orange County fire Capt. Stephen J. Miller. He said fire crews also responded to numerous reports of downed trees and power lines. more... | Earth Changes |
---
Aftershocks keep Japan peninsula on edge (March 26, 2007) - Aftershocks kept residents of central Japan on edge on Monday, more than a day after a strong earthquake that killed one person, injured about 200 and flattened homes. Sunday's 6.9 magnitude quake, which struck the Noto peninsula in Ishikawa prefecture, about 300 km (190 miles) west of Tokyo, destroyed houses, buckled roads and cut off water and electricity supplies to thousands of homes. A 5.3 magnitude tremor, one of more than 200 aftershocks, struck early on Monday, and a 4.4 magnitude quake jolted the area in the early evening, Japan's Meteorological Agency said. Officials warned that more could occur. About 2,600 people spent the night in evacuation shelters and many were set to do so again on Monday. "The aftershocks kept me awake and I only slept about an hour," said Yoko Yamashita, 60, who spent Sunday night in a shelter in the hard-hit rural city of Wajima. About 5,600 households lacked tap water in Ishikawa on Monday afternoon and drinking water was being distributed. "I wanted water to clean my face and wash the rice (before cooking), but there wasn't enough," Yamashita said. Prime Minister Shinzo Abe told a parliamentary panel in Tokyo that 68 houses, many of them old wooden structures with heavy tile roofs, had been destroyed and another 164 badly damaged. The government's disaster agency put the total number of damaged houses at 564. An emergency relief team of firefighters that had been searching the rubble of collapsed houses confirmed that no one was trapped, an Ishikawa prefecture official said. Shogoro Hashimura, 81, hid under a table at the office of his sawmill in Wajima when Sunday's quake struck. "When I looked outside, my lorry was trapped under the rubble and woodchips and lumber were strewn all over," he said. The plight of Wajima's elderly highlights the vulnerability of Japan's ageing population when disasters strike. more... | Earth Changes |
---
Somalia: Earthquake, tsunami rock Puntland (March 25, 2007) - A powerful earthquake of unknown magnitude hit a northeastern Somalia town with many people unaccounted for overnight, local official said on Sunday. The tremble rocked Qandalla town of the semi-autonomous region of Puntland in northeastern Somalia. At least eight people are missing and are feared to have died in the quake. Saed Waberi, the chairman of Qandalla said the earthquake generated a tsunami which rocked the town mid last night causing casualties. Powerful ocean waves wiped out the town destroying many fishing boats. 16 people were rescued from the waves. It was for the first time that tsunami hit northeastern Somalia town of Qandalla since December 2004 when tsunami waves from as far as Indonisia hit Hafun district of Puntland settlements. Meanwhile the Somalia tragedy follows an earthquake of magnitude 7.1 which struck off the west coast of Japan's largest island, Honshu. At least one person was killed and 150 were reportedly injured by the tremor which was felt in the capital, Tokyo. A tsunami warning was issued for a short time in Ishikawa prefecture, with swell of up to 50cm reported. | Earth Changes |
---
Rumbling Indonesian Volcano Forces Evacuation (March 23, 2007) - Indonesia's rumbling Mount Batutara volcano has triggered the evacuation of about 15,000 people, an official said Friday. The villagers have left their homes on Lembata island, which lies in the Flores sea close to the restive volcano, local official Andreas Duli Manuk told AFP. Groundwater in the two affected villages of Buyasuri and Omesuri had suddenly turned salty, and there were rougher seas around the smoking volcano's home on the nearby deserted island of Komba, he said. Experts have raised Mount Batutara's alert level to the second of four possible levels, but say an eruption is not imminent. Fishermen and others who occasionally land on Komba have been warned to stay at least two kilometres (more than a mile) away. Indonesia sits on the so-called "Pacific Ring of Fire," where continental plates meet, causing frequent volcanic and seismic activity. | Earth Changes |
---
Forecaster sees active Atlantic hurricane season (March 21, 2007) - The Atlantic hurricane season will be exceptionally active this year, according to a British forecasting group, raising the possibility that killer storms like Hurricane Katrina could again threaten the United States. London-based forecaster Tropical Storm Risk on Tuesday said the six-month season, which begins on June 1, was expected to bring 17 tropical storms, of which nine will strengthen into hurricanes with winds of at least 74 miles per hour. Four of those are expected to become more destructive "intense" hurricanes, TSR said. The long-term average for the Atlantic is for 10 storms to form during the hurricane season and for six of those to reach hurricane strength. The United States emerged unscathed from the 2006 season after it spawned a below-average nine storms, of which five became hurricanes. Experts had universally -- and erroneously -- predicted 2006 would be a busy year for Atlantic storms. None of the hurricanes hit the United States, bringing welcome relief to beleaguered residents of the U.S. Gulf Coast, where Katrina killed 1,500 people, swamped New Orleans and caused about $80 billion in damage the year before. But TSR said current and projected climate signals indicate that Atlantic basin and U.S. landfalling hurricane activity will be 75 percent above the 1950-2006 average in 2007. TSR had predicted in December that Atlantic basin and U.S. landfalling hurricane activity would be just 60 percent above average this year. It raised the projected activity level because of the sudden dissipation in February of last year's El Nino weather phenomenon. An unusual warming of the eastern Pacific waters, El Nino events tend to suppress Atlantic storm activity. more...
| Earth Changes | America |
There is an author, Bill Koenig, who wrote the book Eye To Eye: Facing the Consequences of Dividing Israel. In it, he outlines the dates of political events in which America pushed to sign away Israel's land for peace and hurricanes Andrew and Katrina touching US soil on the very days that political deals were struck. Jeremiah 30:20 says, "Their children also shall be as aforetime, and their congregation shall be established before me, and I will punish all that oppress them." I think this should be a warning for the US. Given what is coming prophetically for Israel and the land-for-peace that is being pushed currently, I wouldn't be surprised if this year negates all the physical work that was done in New Orleans as it is still below sea level. Hopefully the spiritual work that has taken place will hold from all those who gave their time to reach out to those people who could possibly be facing a re-run of events.
---
Missing: a huge chunk of the earth's crust (March 5, 2007) - A team of British scientists has set sail on a voyage to examine why a huge chunk of the earth's crust is missing, deep under the Atlantic Ocean -- a phenomenon that challenges conventional ideas about how the earth works. The 20-strong team aims to survey an area some 3,000 to 4,000 metres deep where the mantle -- the deep interior of the earth normally covered by a crust kilometres thick -- is exposed on the sea floor. Experts describe the hole along the mid-Atlantic ridge as an "open wound" on the ocean floor that has puzzled scientists for the five or so years that its existence has been known because it defies existing tectonic plate theories of evolution. "We know so little about it," said Bramley Murton, a senior research scientist at Southampton's National Oceanography Center. "It's a real challenge to our established understanding of what the earth's surface looks like underneath the waves," he told Reuters by telephone from the brand new, hi-tech British research ship RRS James Cook. Mid ocean ridges are places where new oceanic crust is born, with red-hot lava spewing out along the seafloor. What scientists are keen to know is whether the crust was ripped away by huge geological faults, or whether it never even developed in the first place.The primary motivation for the project was to understand how the earth continues to evolve. "The area that we are looking at is part of a mountain range that spans thousands of square kilometres, but we are beginning to realize that there are probably millions of square kilometres where the ocean floor is missing," Murton said. The six week mission, led by geophysicist Roger Searle of Durham University and Chris MacLeod of Cardiff University's School of Earth, Ocean and Planetary Sciences, will recover sample cores of rock by drilling into the mantle using a rig lowered on to the sea floor. more...
| Earth Changes |
Once again, for those willing to listen, the Bible gives us the answer as to why it is like this. It all stems from what evolutionists have to deny, a world-wide flood. I just watched a video recently from my collection where the account of the flood was described according to scientific observations about the current world. Genesis 7:11, "In the six hundredth year of Noah's life, in the second month, the seventeenth day of the month, the same day were all the fountains of the great deep broken up, and the windows of heaven were opened." When God created the earth, He divided the waters, some above and some below. In order for the fountains of the deep to break open, they must have been sealed shut. It is believed that much of the surface of the earth was floating on these large pockets of water trapped under the earth. When the flood happened, great rifts broke open and the pressure from the land on the water caused the fountains of the deep to spray water miles into the air. This large amount of water, mixed with the collapsing of the earth where the water came from, was enough water when mixed with that above the earth to cover the whole earth. This explains the giant rifts and why they are there. Because there was a global flood, which also caused the layering of fossils and land, just like we can observe happening in river beds, etc. The same laws of physics were at work then that exist now. These are the fingerprints of God that never change and prove His existence and glory.
---
Sun Responsible for Global Warming (March 5, 2007) - Two new reports cast doubt on the manmade global warming theory and instead point to another cause for the recent warming of Earth — changes in the sun. One report from National Geographic News asserts, "Simultaneous warming on Earth and Mars suggests that our planet's recent climate changes have a natural — and not a human-induced — cause, according to one scientist's controversial theory." Data from NASA's Mars Global Surveyor and Odyssey mission in 2005 disclosed that the carbon dioxide "ice caps" near Mars' south pole had been shrinking for three consecutive summers. Habibullo Abdussamatov, head of the Pulkovo Astronomical Observatory in Russia, says the shrinking provides evidence that the current warming on Earth is being caused by changes in the sun, according to the National Geographic article. "The long-term increase in solar irradiance is heating both Earth and Mars," he said. "Manmade greenhouse warming has made a small contribution to the warming seen on Earth in recent years but it cannot compete with the increase in solar irradiance." The other report offers a mechanism behind the changes in the sun — variations in its magnetic field. Compiled by scientists at the Danish National Space Center, it maintains that the Earth's climate is strongly influenced by cosmic rays from exploded stars. The cosmic rays help make ordinary clouds, and high levels of rays and cloudiness cool the planet, while lower levels of radiation lead to milder temperatures, according to the Danish report, which is cited by Marc Morano, communications director for the U.S. Senate Committee on Environment & Public Works, on the committee's Web site. "Cosmic ray intensities — and therefore cloudiness — keep changing because the sun's magnetic field varies in its ability to repel cosmic rays coming from the galaxy before they reach the Earth," the Danish report by Henrik Svensmark, head of the Space Center, explains. | Earth Changes |
---
Lunar eclipse wows sky watchers (March 4, 2007) - Sky watchers across the world have been enjoying the first total lunar eclipse in more than three years. The eclipse began at 2018 GMT, with the Moon totally immersed in the shadow of the Earth between 2244 and 2358 GMT. During "totality" the Moon took on a reddish hue; the only light reaching its surface by this stage had been filtered through Earth's atmosphere. The eclipse was visible from the whole of Europe, Africa, South America, and eastern parts of the US and Canada. The copper-red Moon was visible across large areas of the UK thanks to clear skies. Robin Scagell, from the Society for Popular Astronomy, said that it was "one of the best lunar eclipses from Britain for years". "It was fascinating to watch the Moon's graceful movement through the shadow of the Earth and check its coppery glow," he said. The last total eclipse visible from the UK was back in May 2004, but it was obscured by cloudy skies. Lunar eclipses occur when the Sun, Earth and Moon are in a near-perfect line in space. The Moon travels through the long cone-shaped shadow that the Earth casts in space. At totality, the only light reaching the Moon's surface has been refracted through the Earth's atmosphere. more... | Earth Changes | This lunar eclipse came just before Purim March 4, 2007. Just something I noticed. I wish I could have seen it from Seattle. :(

---
French Scientist—Among First to Sound the Alarm on Global Warming—Changes His Mind, and His Position (March 2, 2007) - Claude Allegre, one of France's leading socialists and among her most celebrated scientists, was among the first to sound the alarm about the dangers of global warming. "By burning fossil fuels, man increased the concentration of carbon dioxide in the atmosphere which, for example, has raised the global mean temperature by half a degree in the last century," Dr. Allegre, a renowned geochemist, wrote 20 years ago in Cles pour la geologie.." Fifteen years ago, Dr. Allegre was among the 1500 prominent scientists who signed "World Scientists' Warning to Humanity," a highly publicized letter stressing that global warming's "potential risks are very great" and demanding a new caring ethic that recognizes the globe's fragility in order to stave off "spirals of environmental decline, poverty, and unrest, leading to social, economic and environmental collapse." In the 1980s and early 1990s, when concern about global warming was in its infancy, little was known about the mechanics of how it could occur, or the consequences that could befall us. Since then, governments throughout the western world and bodies such as the United Nations Intergovernmental Panel on Climate Change have commissioned billions of dollars worth of research by thousands of scientists. With a wealth of data now in, Dr. Allegre has recanted his views. To his surprise, the many climate models and studies failed dismally in establishing a man-made cause of catastrophic global warming. Meanwhile, increasing evidence indicates that most of the warming comes of natural phenomena. Dr. Allegre now sees global warming as over-hyped and an environmental concern of second rank. His break with what he now sees as environmental cant on climate change came in September, in an article entitled "The Snows of Kilimanjaro" in l' Express, the French weekly. His article cited evidence that Antarctica is gaining ice and that Kilimanjaro's retreating snow caps, among other global-warming concerns, come from natural causes. "The cause of this climate change is unknown," he states matter of factly. There is no basis for saying, as most do, that the "science is settled." more... | Earth Changes |
---
Mars Melt Hints at Solar, Not Human, Cause for Warming, Scientist Says (February 28, 2007) - Simultaneous warming on Earth and Mars suggests that our planet's recent climate changes have a natural—and not a human-induced—cause, according to one scientist's controversial theory. According to one scientist's controversial take, the simultaneous rise in temperatures on Earth and Mars indicates a natural—and not a human—cause for global warming. But the vast majority of experts maintain that humans are responsible for Earth's climate changes and that the Mars phenomenon is mere coincidence. (NASA) Earth is currently experiencing rapid warming, which the vast majority of climate scientists says is due to humans pumping huge amounts of greenhouse gases into the atmosphere. Mars, too, appears to be enjoying more mild and balmy temperatures. In 2005 data from NASA's Mars Global Surveyor and Odyssey missions revealed that the carbon dioxide "ice caps" near Mars's south pole had been diminishing for three summers in a row. Habibullo Abdussamatov, head of the St. Petersburg's Pulkovo Astronomical Observatory in Russia, says the Mars data is evidence that the current global warming on Earth is being caused by changes in the sun. "The long-term increase in solar irradiance is heating both Earth and Mars," he said. Abdussamatov believes that changes in the sun's heat output can account for almost all the climate changes we see on both planets. Mars and Earth, for instance, have experienced periodic ice ages throughout their histories. "Man-made greenhouse warming has made a small contribution to the warming seen on Earth in recent years, but it cannot compete with the increase in solar irradiance," Abdussamatov said. By studying fluctuations in the warmth of the sun, Abdussamatov believes he can see a pattern that fits with the ups and downs in climate we see on Earth and Mars. Abdussamatov's work, however, has not been well received by other climate "His views are completely at odds with the mainstream scientific opinion," said Colin Wilson, a planetary physicist at England's Oxford University. "And they contradict the extensive evidence presented in the most recent IPCC [Intergovernmental Panel on Climate Change] report." (Related: "Global Warming 'Very Likely' Caused by Humans, World Climate Experts Say" [February 2, 2007].) Amato Evan, a climate scientist at the University of Wisconsin, Madison, added that "the idea just isn't supported by the theory or by the observations." more... | Earth Changes |
---
Huge 'Ocean' Discovered Inside Earth (February 28, 2007) - Scientists scanning the deep interior of Earth have found evidence of a vast water reservoir beneath eastern Asia that is at least the volume of the Arctic Ocean. The discovery marks the first time such a large body of water has found in the planet's deep mantle. The finding, made by Michael Wysession, a seismologist at Washington State University in St. Louis, and his former graduate student Jesse Lawrence, now at the University of California, San Diego, will be detailed in a forthcoming monograph to be published by the American Geophysical Union. The pair analyzed more than 600,000 seismograms—records of waves generated by earthquakes traveling through the Earth—collected from instruments scattered around the planet. They noticed a region beneath Asia where seismic waves appeared to dampen, or "attenuate," and also slow down slightly. "Water slows the speed of waves a little," Wysession explained. "Lots of damping and a little slowing match the predictions for water very well." Previous predictions calculated that if a cold slab of the ocean floor were to sink thousands of miles into the Earth's mantle, the hot temperatures would cause water stored inside the rock to evaporate out. "That is exactly what we show here," Wysession said. "Water inside the rock goes down with the sinking slab and it's quite cold, but it heats up the deeper it goes, and the rock eventually becomes unstable and loses its water." The water then rises up into the overlying region, which becomes saturated with water [image]. "It would still look like solid rock to you," Wysession told LiveScience. "You would have to put it in the lab to find the water in it." more...
| Earth Changes |
I saw a video recently on the flood and how it happened. The Bible talks about oceans of the deep breaking open. This video showed it really well, I'll have to see if I can figure out what it was and let you know for those interested.
---
Solar flares might knock out cell phones (February 17, 2007) - Solar flare activity is expected to build for the next three years to a crescendo that some scientists say could be cataclysmic, causing a telecommunication blackout that would down mobile phones and navigational systems. "The solar flares are expected to be at its maximum intensity by the year 2010," Markus Aschwanden, a solar physicist at the Solar and Astrophysics Laboratory, Lockheed Martin Advanced Technology Center, told the Hindu News. "These solar flares and Coronal Mass Ejections from the sun have the ability to travel all the way to the earth and create a black-out of cellular phone services and navigational systems like the GPS. Solar flares and CMEs occur when magnetic energy built up in the Sun's atmosphere is suddenly released. The flares carrying high amount of energy, travel at high speeds and reach the Earth in a matter of hours. "If a solar flare or a CME collides with the Earth, it can cause a geomagnetic storm," Aschwanden said, adding large geomagnetic storms have caused electrical power outages and damaged communication satellites. "A few years back, these solar flares destroyed the satellite Galaxy 4." That outage in 1998 resulted in widespread loss of pager service and numerous other communication problems. For more details, see the complete report in Joseph Farah's G2 Bulletin. | Earth Changes |
---
Deadly Storms Sweep Nation (February 13, 2007) - A blast of wind-driven snow and plunging temperatures created headaches for travelers Tuesday across the Midwest with canceled flights and slick, slushy roads. In the south, a powerful storm and likely a tornado hit the New Orleans area, killing one and injuring at least 15 others. A blizzard warning was in effect until midnight for counties north of Indianapolis, and up to a foot of snow was possible across Indiana's midsection. As the storm pushed eastward, the National Weather Service issued winter storm watches and warnings extending from Iowa and Missouri across the Ohio Valley into parts of New England. Snow was already falling in the mid-Atlantic states by midmorning. WBBM-TV meteorologist Ed Curran says 5 to 8 inches of snow can be expected in the Chicago and western suburbs, but south of Interstate 80 in both Illinois and Indiana, 8 to 13 inches may fall. Chicago's O'Hare International Airport canceled over 400 flights Tuesday, said city aviation department spokeswoman Wendy Abrams. Midway Airport canceled about 100 flights. A handful of flights also were canceled at the Indianapolis International Airport, and about 20 percent of the flights out of Cincinnati's main airport were canceled because of poor conditions elsewhere, spokesmen said. Schools were canceled or delayed in several states. Northeast Ohio was expecting up to 10 inches of snow Tuesday, plus 10 more by Wednesday night, when temperatures were expected to plummet to low single digits, meteorologists said. Illinois was expecting accumulations of 12 inches. more... | Earth Changes |
---
60,000 evacuated from flooded central Mozambique (February 12, 2007) - Soldiers and relief workers using helicopters and canoes have evacuated 60,000 people from the flooded Zambezi River Valley in central Mozambique, where more than 100,000 others are at risk. More rains are forecast and floodgates that must be opened to save the wall of a massive hydroelectric dam will add to the dangers this week. About 100 people have drowned or been electrocuted by fallen power lines and hundreds of thousands have been forced from their homes in torrential rains that have swamped a large area of southern Africa from Angola in the west to Mozambique in the east with Malawi, Zambia and Zimbabwe in between. Thousands of acres of crops have been destroyed. Bridges have collapsed and roads have been swept away. The Zambezi, a floodplain river that crosses the continent and has three major dams, burst its banks weeks ago. Its swollen waters and those of its tributaries came together at Mozambique's north-western Cahora Bassa hydroelectric dam. Officials began discharging water from the overflowing dam, which covers more than 1,000 square miles, at a rate of up to 353,000 cubic feet a minute last week. More floodgates must be opened this week to prevent the dam wall from bursting, authorities said. That will unleash walls of water that will bear down the Zambezi and sweep into the centre of the country. The Mozambicans are co-ordinating with water authorities in Zambia, where dams and reservoirs are also near capacity. The director of Mozambique's National Disasters Management Office, Paola Zucula, said 60,000 people had been evacuated from the Zambezi Valley in the past three days. more... | Earth Changes |
---
Snow isn't over 'til it's over (February 12, 2007) - The snow squalls that have buried Redfield and its neighbors up to their stop signs finally tapered off Monday, but forecasters warned that another storm system was on the way. Unofficially, the past week of lake-effect storms dumped 12 feet, 2 inches of snow at Redfield. If that number checks out, it would break the state record of 10 feet, 7 inches of snow that fell in nearby Montague over seven days ending Jan. 1, 2002, said Steve McLaughlin, a meteorologist for the National Weather Service in Buffalo. A weather service representative was sent to Redfield on Monday to verify the total. Residents of this hardy upstate New York village seem unfazed by the weather, and a bit surprised by all the attention. Their economy thrives on snowmobilers and cross-country skiers, and they usually average 270 inches of snow for the season — more than 22 feet. "It's snow. We get a lot of it. So what?" said Allan Babcock, owner of Shar's Country Diner in this Oswego County village of 650 people. The nearby community of Parish had recorded 115 inches of snow by early Sunday. Mexico had 103 inches, North Osceola had 99 and Scriba 94. The city of Oswego had 85 inches. A cold front finally stifled the lake-effect snow squalls created by persistent wind picking up moisture from Lake Ontario to the west. | Earth Changes |
---
2 earthquakes felt in Israel (February 10, 2007) - Two earthquakes measuring 3.6 and 4.5 on the Richter Scale were felt from the Negev Desert to the Sharon region in central Israel at around 12:15 a.m. Saturday. No injuries or damage were reported. Rami Hofstetter of the Geophysical Institute of Israel told Ynet that the earthquakes were small to moderate in magnitude, adding that the epicenter was on the Jordanian side of the Dead Sea. The earthquakes occurred about a minute apart, he said. "The chair I was sitting on began to wobble," a Rishon Letzion resident recounted, "but the house itself did not shake." Aharon Deutch of Tel Aviv told Ynet "I live on the 6th floor; I was lying in bed when I felt the room start shaking." A Netanya resident said the earthquake that hit the area lasted about two minutes. In 2004 an earthquake measuring 5.1 on the Richter Scale rattled the country; several injuries were reported and a number of buildings were damaged. more... | Israel | Earth Changes |
---
N.Y. Weathers 100-Plus Inches of Snow (February 10, 2007) - Sunshine provided a respite Saturday for residents of an area buried by more than 8 feet of snow, but the blue sky turned gray in the blink of an eye during the afternoon as another intense snow squall cut visibility almost to zero. "This is bad," said 67-year-old Dave DeGrau, who has operated an auto repair shop on Main Street for 45 years. "We had a very easy winter until now. Last fall during hunting season it rained every time I went out. I kept saying 'I'm glad this isn't snow.' Now, it's snow." Persistent bands of lake-effect snow squalls fed by moisture from Lake Ontario have been swinging up and down this part of central New York along the lake's eastern shore since last Sunday. The National Weather Service said Parish - about 25 miles northeast of Syracuse - reached a milestone early Saturday with 100 inches of snow during the past seven days. Unofficial reports pegged totals at 123 inches in Orwell and 122 in Redfield, but those numbers include snow from another storm a couple of days before the current weather system. All three towns are in Oswego County. A warning in effect until Monday morning said 2 to 4 more feet of snow was possible with wind gusting up to 24 mph. "That's all we need," Mike Avery said as he took a brief break from loading dump trucks with snow to be hauled to a pile outside town. "It's getting monotonous." The fluffy new snow was a magnet for snowmobilers, but stopping was out of the question. "You can't stop or you're done," said Dan Hojnacki, 23, of Syracuse, after he ground to a halt in a field. "I never got stuck until today, and I've been snowmobiling for 10 years." more... | Earth Changes |
---
Earthquake Rattles Cuba, No Injuries (February 5, 2007) - An earthquake registering 6.1 on the Richter Scale rocked eastern Cuba and parts of the Caribbean Sunday, the U.S. Geological Survey said. The strong quake was centered south of Manzanillo in Granma province rattled several nations in the region, Cuba's Prensa Latina news agency reported Monday. No one was reported hurt. Several regions of Cuba were affected by the tremors as well as parts of Jamaica and the Caiman Islands. | Earth Changes |
---
Bright lights reported over Midwest skies (February 5, 2007) - From southeastern Wisconsin to as far as Des Moines, Iowa and St. Louis, people reported seeing balls of fire, possibly meteors, streaking across the sky last night. No major meteor showers were expected in the northern hemisphere on Sunday night, said Jim Lattis, director of the University of Wisconsin-Madison astronomy department's Space Place. But he said it was possible that a minor shower may have been what prompted calls to authorities. The National Weather Service's Sullivan office said reports were called in from Iowa, northern Illinois and on up to Green Bay. Dozens of people throughout the St. Louis region and Illinois reported small objects that looked like bright lights or something burning, with flaming tails behind some of them, said Ken Tretter, with the Missouri State Highway Patrol in St. Louis. In Wisconsin, a Waukesha County dispatch supervisor said two callers reported a sighting around 8:15 p.m. The Winnebago County Sheriff's Department said it received calls from Oshkosh, Ripon, Appleton, Neenah, and Pulaski, among others. A preliminary report Sunday indicated that the lights were from a meteor, said Maj. April Cunningham, a spokeswoman for North American Aerospace Defense Command, or NORAD, which watches for airborne threats to the United States and Canada. "We had a pilot reporting seeing a meteor and that's really all the information we have tonight," Cunningham said. | Earth Changes |
---
Global Warming: The Cold, Hard Facts? (February 5, 2007) - Global Warming, as we think we know it, doesn't exist. And I am not the only one trying to make people open up their eyes and see the truth. But few listen, despite the fact that I was one of the first Canadian Ph.Ds. in Climatology and I have an extensive background in climatology, especially the reconstruction of past climates and the impact of climate change on human history and the human condition. Few listen, even though I have a Ph.D, (Doctor of Science) from the University of London, England and was a climatology professor at the University of Winnipeg. For some reason (actually for many), the World is not listening. Here is why. What would happen if tomorrow we were told that, after all, the Earth is flat? It would probably be the most important piece of news in the media and would generate a lot of debate. So why is it that when scientists who have studied the Global Warming phenomenon for years say that humans are not the cause nobody listens? Why does no one acknowledge that the Emperor has no clothes on? Believe it or not, Global Warming is not due to human contribution of Carbon Dioxide (CO2). This in fact is the greatest deception in the history of science. We are wasting time, energy and trillions of dollars while creating unnecessary fear and consternation over an issue with no scientific justification. For example, Environment Canada brags about spending $3.7 billion in the last five years dealing with climate change almost all on propaganda trying to defend an indefensible scientific position while at the same time closing weather stations and failing to meet legislated pollution targets. No sensible person seeks conflict, especially with governments, but if we don't pursue the truth, we are lost as individuals and as a society. That is why I insist on saying that there is no evidence that we are, or could ever cause global climate change. And, recently, Yuri A. Izrael, Vice President of the United Nations sponsored Intergovernmental Panel on Climate Change (IPCC) confirmed this statement. So how has the world come to believe that something is wrong? ... Another cry in the wildenerness is Richard Lindzen's. He is an atmospheric physicist and a professor of meteorology at MIT, renowned for his research in dynamic meteorology - especially atmospheric waves. He is also a member of the National Academy of Sciences and has held positions at the University of Chicago, Harvard University and MIT. Linzen frequently speaks out against the notion that significant Global Warming is caused by humans. Yet nobody seems to listen. I think it may be because most people don't understand the scientific method which Thomas Kuhn so skilfully and briefly set out in his book "The Structure of Scientific Revolutions." A scientist makes certain assumptions and then produces a theory which is only as valid as the assumptions. The theory of Global Warming assumes that CO2 is an atmospheric greenhouse gas and as it increases temperatures rise. It was then theorized that since humans were producing more CO2 than before, the temperature would inevitably rise. The theory was accepted before testing had started, and effectively became a law. more... | Earth Changes |
---
Possible tornadoes leave 14 dead in Florida (February 2, 2007) - At least 14 people were killed early Friday as severe thunderstorms and at least one tornado struck central Florida, flattening dozens of homes and a church, causing power outages and lifting a tractor trailer into the air, officials said. Lake County spokesman Christopher Patton confirmed the 14 deaths to The Associated Press. Eleven deaths were reported in Paisley and three in Lady Lake, he said, both towns in Lake County about 50 miles northwest of Orlando. No further details were available. Gov. Charlie Crist declared a state of emergency for Volusia, Sumter, Lake and Seminole counties. State emergency manager Craig Fugate estimated that hundreds of homes were destroyed. "Our priority today is search and rescue," Crist told reporters in Tallahassee at the state Emergency Operations Center. Chairs, beds and clothes were strewn about yards, with debris hanging from trees. Some homes were tossed from their foundations, while others had their roofs ripped off. Authorities blocked access to neighborhoods because of downed power lines and possible gas line ruptures. "The most dangerous tornado scenario is a threat for killer tornadoes at night, and that was the case," said Dave Sharp, a National Weather Service meteorologist in Melbourne. The Lady Lake Church of God was demolished in the storm, its pews, altar and Bibles left in a jumbled, leveled mess. The 31-year-old, steel-reinforced structure was built to withstand 150-mph winds, the Rev. Larry Lynn said. By daybreak, parishioners gathered on the lot where the church once stood, hugging each other and consoling Lynn. They planned to clear the debris and hold Sunday services on the empty lot. "That's just the building, the people are the church. We'll be back bigger and stronger," Lynn said. Damage also was severe in The Villages retirement community, where Lee Shaver shielded his wife Irene with his body while huddling in a closet as the roof peeled off their home. Fence posts launched as projectiles were embedded into the wall of their home, Irene Shaver said. "Every muscle and bone in my body shook," said Lee Shaver, 54. "We don't know what to do. We have no cell phones, wallets, IDs." more... | Earth Changes |
---
Climate of 2006 (February 2, 2007) - The 2006 average annual temps for the contiguous U.S. was the warmest on record and nearly identical to the record set in 1998. Seven months in 2006 were much warmer than average, including December, which ended as the fourth warmest December since records began in 1895. The 2006 annual average temperature was 55°F - 2.2°F (1.2°C) above the 20th Century mean and 0.07°F (0.04°C) warmer than 1998 making 2006 the third warmest year on record. After a cold start to December, the persistence of spring-like temperatures in the eastern two-thirds of the country during the final two to three weeks of 2006 made this the fourth warmest December on record in the U.S., and helped bring the annual average to record high levels. For example, the monthly average temperature in Boston was 8°F above average, and in Minneapolis-St Paul, the temperature was 17°F above average for the last three weeks of December. Even in Denver, which had its third snowiest December on record and endured a major blizzard that brought the city to a standstill during the holiday travel season, the temperature for the month was 1.4°F warmer than the 1971-2000 average. Five states had their warmest December on record (Minnesota, New York, Connecticut, Vermont, New Hampshire) and no state was colder than average in December. The unusually warm start to this winter reflected the rarity of Arctic outbreaks across the country as an El Niño episode continued in the equatorial Pacific. A contributing factor to the unusually warm temperatures throughout 2006 also is the long-term warming trend, which has been linked to increases in greenhouse gases. This has made warmer-than-average conditions more common in the U.S. and other parts of the world. It is unclear how much of the recent anomalous warmth was due to greenhouse-gas-induced warming and how much was due to the El Niño-related circulation pattern. It is known that El Niño is playing a major role in this winter's short-term warm period. U.S. and global annual temperatures are now approximately 1.0°F warmer than at the start of the 20th century, and the rate of warming has accelerated over the past 30 years, increasing globally since the mid-1970's at a rate approximately three times faster than the century-scale trend. The past nine years have all been among the 25 warmest years on record for the contiguous U.S., a streak which is unprecedented in the historical record. (NOAA / National Climatic Data Center) Image in link | Earth Changes |
---
Two New Books Confirm Global Warming is Natural; Not Caused By Human Activity (January 30, 2007) - Two powerful new books say today's global warming is due not to human activity but primarily to a long, moderate solar-linked cycle. Unstoppable Global Warming Every 1500 Years, by physicist Fred Singer and economist Dennis Avery was released just before Christmas. The Chilling Stars: A New Theory of Climate Change, by Danish physicist Henrik Svensmark and former BBC science writer Nigel Calder (Icon Books), is due out in March. Singer and Avery note that most of the earth's recent warming occurred before 1940, and thus before much human-emitted CO2. Moreover, physical evidence shows 600 moderate warmings in the earth's last million years. The evidence ranges from ancient Nile flood records, Chinese court documents and Roman wine grapes to modern spectral analysis of polar ice cores, deep seabed sediments, and layered cave stalagmites. Unstoppable Global Warming shows the earth's temperatures following variations in solar intensity through centuries of sunspot records, and finds cycles of sun-linked isotopes in ice and tree rings. The book cites the work of Svensmark, who says cosmic rays vary the earth's temperatures by creating more or fewer of the low, wet clouds that cool the earth. It notes that global climate models can't accurately register cloud effects. The Chilling Stars relates how Svensmark's team mimicked the chemistry of earth's atmosphere, by putting realistic mixtures of atmospheric gases into a large reaction chamber, with ultraviolet light as a stand-in for the sun. When they turned on the UV, microscopic droplets—cloud seeds—started floating through the chamber. "We were amazed by the speed and efficiency with which the electrons [generated by cosmic rays] do their work of creating the building blocks for the cloud condensation nuclei," says Svensmark. The Chilling Stars documents how cosmic rays amplify small changes in the sun's irradiance fourfold, creating 1-2 degree C cycles in earth's temperatures: Cosmic rays continually slam into the earth's atmosphere from outer space, creating ion clusters that become seeds for small droplets of water and sulfuric acid. The droplets then form the low, wet clouds that reflect solar energy back into space. When the sun is more active, it shields the earth from some of the rays, clouds wane, and the planet warms. Unstoppable Global Warming documents the reality of a moderate, natural, 1500-year climate cycle on the earth. The Chilling Stars explains the why and how. | Earth Changes |
---
Earthquake Rocks Australian Island (January 30, 2007) - An earthquake with a preliminary magnitude of 6.7 rocked the coast of Australia's remote Macquarie Island Tuesday, the U.S. Geological Survey said. The quake struck at 2:54 p.m. local time and was centered six miles below the seabed. Stuart Koyanagi, a geophysicist at the Pacific Tsunami Warning Center at Ewa Beach, Hawaii, said the quake was unlikely to generate a major Pacific-wide tsunami. "Normally at this magnitude we don't expect any kind of destructive tsunami," he said. Clive Collins, a seismologist at Geoscience Australia, said the Macquarie Island earthquake involved two tectonic plates moving against each other horizontally, rather than vertically, and was unlikely to displace the large quantity of water needed to generate a tsunami. "It's most unlikely there would be any tsunami," he said. "It's a fairly large earthquake and it's fairly shallow, but we don't think there's any risk." The isolated, sparsely populated island lies about 835 miles south of the island state of Tasmania, and serves as a base for Australian expeditions to Antarctica. | Earth Changes |
---
100 Pound Chunk of Ice Crushes Mustang in Tampa, FL Secondary article (January 29, 2007) - Town 'N Country, Florida - Neighbors heard a whistling sound is what they described before noticing that a neighbor's car was severly damaged. The Ford Mustang had a 100 pound block of ice sitting in the backseat. The back end of the car was caved in. The only explanation from neighbors is the ice fell from the sky. Hillsborough deputies do not believe it was a criminal activity. The 20-year-old owner of the car is upset and did not want to talk to Tampa Bay's 10 News. His father says he has not seen anything like it before. Neighbors have pieces of the ice chunk in their refrigerators. The owner of the car is in possession of the major chunk of ice.
| Earth Changes |
A taste of what is to come... Revelation 16:21, "From the sky huge hailstones of about a hundred pounds each fell upon men. And they cursed God on account of the plague of hail, because the plague was so terrible."
---
Activists Trying to Silence Global Warming Skeptics (January 24, 2007) - Climate change skeptics - and journalists who report on them - have become the target of a campaign aimed at stifling legitimate debate at a time when Congress is planning an aggressive new environmental push. This is the assessment of environmental scientists and free market advocates who see a concerted effort to silence and de-fund think tanks that publish material challenging "prevailing global warming orthodoxy." Leftist activists masquerading as scientists are promoting false notions of "consensus" in an effort to back calls for mandatory caps on CO2 and other "greenhouse gas" emissions, they argue. Jeff Kueter, president of the George C. Marshall Institute (GMI) said "rational and open" discussion of climate change science that includes dissenting voices is in danger of being short-circuited, at the expense of sound science and free speech. Kueter told Cybercast News Service the assault on groups like the GMI amounted to "censorship." He said the notion of scientific consensus on global warming masked "real disputes that exist in the science over the quality of data." Bonner Cohen, author of "The Green Wave: Environmentalism and Its Consequences" said in an interview with Cybercast News Service that the censorship campaign hinges on two key components - a call for congressional oversight leading effectively to "show trials" aimed at discrediting global warming skeptics and an assault on press freedom. more...
| Earth Changes | America |
I've commented on my position on this before, but since it's come up some more, I would just like to point out that the data doesn't lie, the earth is warming up. However, so is the temperature on Mars and other planets evidenced by the shrinking polar icecaps on Mars. Also, the sun has had increased energy output since the middle of last century. See chart here. I highly doubt that humans caused either of those, and there is more evidence than that saying this global warming is actually solar system warming. That doesn't mean we don't help some, but certainly not to the extent that things are changing now. I don't debate earth changes, I've been tracking them for some time now. However, it's not our fault and I believe it's a sign of the end. I just watched Kent Hovind's theory of creation based on scripture and he brought up a good point. Our magnetic field has been deteriorating since we started measuring it. It has never gotten stronger, only weaker. This means less plasma from the sun is deflected. Increased atmospheric temperatures will mess with weather patterns. It could also affect things on this earth we don't realize over time. 2 Peter 3:3-7, "Knowing this first, that there shall come in the last days scoffers, walking after their own lusts, And saying, Where is the promise of his coming? for since the fathers fell asleep, all things continue as they were from the beginning of the creation. For this they willingly are ignorant of, that by the word of God the heavens were of old, and the earth standing out of the water and in the water: Whereby the world that then was, being overflowed with water, perished: But the heavens and the earth, which are now, by the same word are kept in store, reserved unto fire against the day of judgment and perdition of ungodly men." God's wrath is coming and things will not continue as they always have. We don't have millions of years before the sun burns out, we have years before God's wrath is poured out on all them that dwell on the whole earth. Luke 21:34-36
---
Major Earthquake Hits Northeastern Indonesia (January 21, 2007) - A 7.3-magnitude earthquake struck Sunday about in the Molucca Sea about 100 miles east of Sulawesi Island in northeastern Indonesia, the U.S. Geological Survey said. The quake was large enough to cause a tsunami, the Pacific Tsunami Warning Center said in a statement, but no tsunami warning was immediately issued. The epicenter of the major quake was about 80 miles from the city of Ternate, in north eastern Indonesia, it said. It had a depth of more than six miles below the ocean floor. An official with the Pacific Tsunami Warning Center in Hawaii told The Associated Press that a basin-wide tsunami -- one that travels a great distance or across an ocean -- isn't expected, though a tsunami near the earthquake's site is "always possible." "Given the size of the earthquake, we think a basin-wide tsunami isn't likely, though a local tsunami could be possible," said Brian Shiro, a geophysicist at the tsunami center. Indonesia, the world's largest archipelago, is prone to seismic upheaval due to its location on the so-called Pacific "Ring of Fire," an arc of volcanos and fault lines encircling the Pacific Basin. | Earth Changes |
---
Ice storms, snow, floods, tornado wallop US killing 13 (January 14, 2007) - Freezing rain, snow, sleet, flash floods and at least one tornado walloped the United States this weekend, killing at least 13 people in accidents on slick roads as a massive storm front blanketed much of the country. The storm was expected to continue through at least Tuesday. The ice, wind and snow downed trees, traffic signals and power lines, blocked roads and forced the cancellation of hundreds of flights. Churches cancelled Sunday services and businesses closed early or did not open at all. Ten people died in Oklahoma where slippery highways caused more than 200 accidents, the Oklahoman newspaper reported. A state of emergency was declared and the National Guard was called out in the midwestern state of Missouri declared after an ice storm knocked power out to more than 200,000 homes on a bitterly cold weekend. Emergency shelters and hotels were filled by people trying to warm up and a nursing home had to be evacuated because of the freezing temperatures, local media reported. more... | Earth Changes |
---
Comoros Volcano Erupts (January 13, 2007) - Mount Karthala, which overlooks the capital of the Comoros islands, has begun erupting, producing a red glow over the top of the volcano. The eruption is similar to the previous one that in May 2006 saw fiery jets of lava shoot into the main crater of the only active volcano on the Indian Ocean archipelago, according to the Karthala Observatory. The Comoros Government has set up a crisis team to monitor the situation, as the 2,361-metre volcano on the main island of Grand Comore is just 15 kilometres from Moroni. In November 2005, Karthala spewed huge plumes of ash that blanketed the island and temporarily deprived its 250,000 inhabitants of drinkable water. In April 2005, nearly 10,000 villagers living at the base of the mountain fled their homes after similar emissions of ash sparked widespread fears of drinking contaminated water. Mount Karthala last had an overflow magma eruption in 1977, when lava destroyed the village of Singani, 20 kilometres south of Moroni, and toxic gas was released into the air but did not cause any deaths. | Earth Changes |
---
Montserrat volcano shoots ash 5 miles up (January 8, 2007) - The volcano that destroyed Montserrat's capital in 1997 shot a cloud of ash more than five miles into the sky on Monday, and one of the island's chief scientists said the blast was "a warning call." The government has advised about 50 families on the northwestern side of the volcano's base that their homes were at risk from flows of blistering gas and debris if the dome collapses. Gov. Deborah Barnes Jones said she would sign an evacuation order Monday making it illegal for people to remain in the area. The blast, accompanied by increased seismic rumbling, released gases and steam from inside a lava dome that has grown rapidly over the last week, said Dr. Vicky Hards, director of the Montserrat Volcano Observatory. "I think it was a warning call ... of what it can do," Hards said. The explosion around sunrise also sent a flow of volcanic material cascading two miles down the northwest flank, but did not immediately threaten any of the British Caribbean island's 5,000 inhabitants, Hards said. Sirens alerted people to listen to the radio for updates. more... | Earth Changes |
---
Click map below for larger version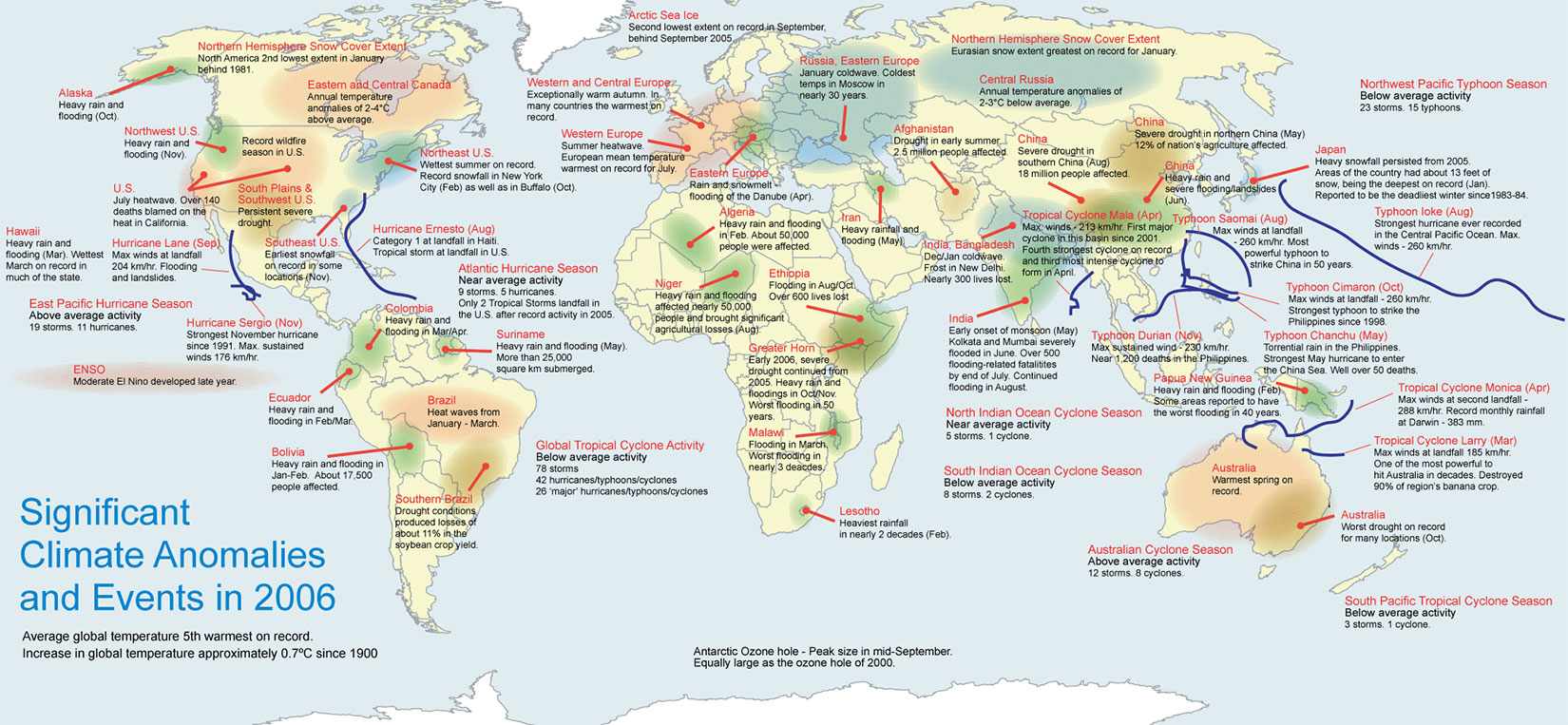 Record number of dangerous natural phenomena hits Russia in 2006 (December 28, 2006) - This year Russia has registered the highest number of unfavorable and dangerous natural phenomena in the history of meteorological observation, a director of Russia's Hydrometeorology Center said Thursday. Roman Vilfand said that between January and November, 371 dangerous natural phenomena - including extreme cold, heat waves, strong winds and driving rains - were registered throughout Russia. "The year also ends unusually with the abnormally warm weather in late November and early December, when plants even began to bloom in some areas," Vilfand said. Earlier, the Federal Service for Hydrometeorology and Environmental Monitoring said extreme deviations in weather patterns were observed before, but over the past decade they have become more and more frequent. Following near-record low temperatures during last winter's cold spell, which saw the mercury plummet to -31°C (-23.8°F) January 19 - one degree above the all-time low for Moscow - European Russia experienced record warm temperatures this month. But Vilfand said this year's unusually warm start of winter in Russia should not be associated with global warming. Rather, he said, the reason for this year's unusual weather was a strong anticyclone over Greenland, which 'orchestrated' the weather over European Russia. | Earth Changes |
---
Philippines Braces Itself For New Typhoon as World Vision Continues to Provide Essential Aid (December 8, 2006) - A new typhoon warning has been issued by forecasters to the central Philippines, barely days after the worst storms and mudslides to hit Bicol region in forty years, saw more than one thousand killed and the lives of over one and a half million people affected. The second typhoon in 10 days, this time it is heading for provinces in Visayas and Mindanao regions. This warning comes at a period when international aid and development agency World Vision continues to provide essential relief assistance to the already devastated communities, including a number of Child-Friendly Spaces. Protected areas providing children with a safe place where they can play and re-establish a normal routine. At 11:00am today, Friday 8 December, tropical storm "Seniang" is gaining strength and speed as it approaches the Samar-Leyte provinces, increasing the threat to these areas. Seniang has a maximum sustained wind speed of 85kph near the center and gusting up to 100kph. World Vision Philippines Humanitarian and Emergency Affairs Coordinator, Jose Bersales, has promptly alerted ADP (Area Development Programmes) regional coordinators in Visayas and Mindanao about the approaching typhoon. more... | Earth Changes |
---
No Winter for Europe (December 7, 2006) - Central Europe is experiencing its warmest winter in 500 years and the Alps haven't been this warm in over a millenneum. Ski resorts are suffering, as are the bears. Only two weeks before the official start of winter, Europe is sweating. An unusually warm autumn -- which was last week credited for Germany's fourth quarter economic surge -- is forcing ski resorts to market hiking holidays, and bears to seek out places cold enough to hibernate. Indeed, Germany is experiencing its warmest autumn in 500 years. Germany's average temperature from September to November this year was 12 degrees Celsius (54 degrees Fahrenheit), a full 3.2 Celsius degrees higher than the median temperature from 1961 to 1990. Scientists are basing the claim on temperature records -- collected as far back as 1659 -- and information derived from other sources like monks' journals in old monasteries. "Weather historians have assembled all the available information for each given month," Jürg Luterbacher, a climate researcher with the University of Bern climate researcher, told SPIEGEL ONLINE. More importantly, Germany's not alone. "An exceptionally warm autumn in a region proves very little," Luterbacher told the online magazine Nature. "But the data are consistent for the whole of Europe -- from Iceland to Greece." more... | Earth Changes | Remember that the fourth bowl judgment is scorching by fire from the sun. Also, over the past 50+ years, the energy level in the entire solar system has been increasing as evidenced by the changes happening in ALL the planets around our sun and the sun itself. See image I believe this explains much of the earth changes that are happening. Increased atmospheric temperature due to increase solar activity translates to complete changes in weather patterns and ocean currents. We can also see increased volcanic activity as volcanoes all around the ring of fire are waking up. Massive earthquakes have happened and killed thousands. The volcanic activity demonstrates something is happening with the crust around the ring of fire to wake these volcanoes up. Perhaps it started with the earth-ringer earthquake in Sumatra in December 2004? At any rate, expect things to get more bizarre and out of the ordinary. Weather patterns are not going to be the same.
---
Warmed-up oceans reduce key food link (December 6, 2006) - In a "sneak peak" revealing a grim side effect of future warmer seas, new NASA satellite data find that the vital base of the ocean food web shrinks when the world's seas get hotter. And that discovery has scientists worried about how much food marine life will have as global warming progresses. The data show a significant link between warmer water — either from the El Nino weather phenomenon or global warming — and reduced production of phytoplankton of the world's oceans, according to a study in Thursday's journal Nature. Phytoplankton are the microscopic plant life that zooplankton and other marine animals eat, essentially the grain crop of the world's oceans. Study lead author Michael Behrenfeld, a biological oceanographer at Oregon State University, said Wednesday that the recent dramatic drop in phytoplankton production in much of the world's oceans is a "sneak peak of how ocean biology" will respond later in the century with global warming. "Everything else up the food web is going to be impacted," said oceanographer Scott Doney of the Woods Hole Oceanographic Institute. He was not involved in the study. more... | Earth Changes | Matthew 24:7,8 "For nation shall rise against nation, and kingdom against kingdom: and there shall be famines, and pestilences, and earthquakes, in divers places. All these are the beginning of sorrows."
---
Second Volcano Erupts in Russia's Far East in 2 Days (December 5, 2006) - A second volcano on the Kamchatka Peninsula in Russia's Far East has erupted, spewing ash up to an altitude of 5,000 meters (26,500 feet), a local seismology center spokesman said Tuesday. The Shiveluch volcano last erupted in September 2005, the spokesman said. He added that the resulting plume poses no threat to the local residents of a village 30 kilometers (19 miles) from the volcano, but that there is a danger to aircraft flying near the mountain. Shiveluch, the northernmost active volcano on Kamchatka, is the second to erupt on the Pacific peninsula in two days. Local emergency services reported Monday that the Karymsky volcano has increased its activity, spewing ash up to an altitude of 6,900 meters (22,637 feet). Karymsky is one of Kamchatka's most active volcanoes, and rises to 1,486 meters (4,875 feet) above sea level in the southeast part of the peninsula. According to experts, there are more that 150 volcanoes on Kamchatka, 29 of them active. | Earth Changes |
---
Earthquake Hits Hawaii's Big Island (November 24, 2006) - An earthquake with a magnitude of at least 4.5 struck off the northwest coast of the Big Island on Thursday in the same area where two stronger temblors struck last month. The quake, centered about 11 miles northwest of Puuanahulu, shook homes on the Big Island, Maui and Oahu, but it did not produce a tsunami threat, according to the Pacific Tsunami Warning Center. The U.S. Geological Survey estimated its magnitude at 5.0; the Tsunami Warning Center estimated it at 4.5. Boulders and other debris forced the temporary closure of Highway 19 near Laupahoehoe on the Big Island, said state Department of Transportation spokesman Scott Ishikawa. There were isolated power outages in Kona on the Big Island, but no other damages were immediately reported. Magnitude 6.7 and 6.0 earthquakes shook the islands Oct. 15, causing power outages, bridge collapses and road closures. Those quakes caused an estimated $200 million in damages. | Earth Changes |
---
Mag. 8.3 "Bell Ringer" Slams Northern Japan, Small Tsunami Followed (November 15, 2006) - A powerful undersea earthquake prompted tsunami warnings Wednesday for Japan, Russia and Alaska, but the danger appeared to pass after a series of tiny waves hit the northern Japanese coast. Several thousand people fled to higher ground on Japan's northernmost island of Hokkaido. The waves, however, did not swell higher than 16 inches and rapidly diminished in size, and Japan's meteorological agency later withdrew its tsunami warning after about three hours, although it urged continued caution. A tsunami warning posted for coastal areas of Alaska was later canceled, as were watches for the northern tip of British Columbia and precautionary advisories for the states of Washington, Oregon and California. A watch was in effect for Hawaii. The agency told Japanese coastal residents to flee to higher ground after initially predicting that a 61⁄2-foot tsunami would hit the Pacific coast of its northernmost island of Hokkaido and main island of Honshu after 9:10 p.m. (7:10 a.m. EST). A wave that hit the port of Nemuro on Hokkaido at 9:29 p.m. was measured at 16 inches, and live video from the area showed calm seas. A few minutes later, a second, 8-inch wave hit the nearby port of Kushiro, the agency said, and the waves got progressively smaller. The Alaska Tsunami Warning Center said a 7.8-inch wave hit Shemya Island and a 3-inch wave hit Amchitka Island in the Aleutian chain. A magnitude 9.1-magnitude earthquake off the coast of Indonesia on Dec. 26, 2004, caused a tsunami as high as 33 feet that killed at least 213,000 people in 11 countries. more... | Earth Changes |
---
Global Warming Causing Disease to Rise (November 14, 2006) - A warmer world already seems to be producing a sicker world, health experts reported Tuesday, citing surges in Kenya, China and Europe of such diseases as malaria, heart ailments and dengue fever. "Climate affects some of the most important diseases afflicting the world," said Diarmid Campbell-Lendrum of the World Health Organization. "The impacts may already be significant." Kristie L. Ebi, an American public health consultant for the agency, warned "climate change could overwhelm public health services." The specialists laid out recent findings as the two-week U.N. climate conference entered its final four days, grappling with technical issues concerning operation of the Kyoto Protocol, and trying to set a course for future controls on global greenhouse gas emissions. Scientists attribute at least some of the past century's 1-degree rise in global temperatures to the accumulation in the atmosphere of carbon dioxide and other heat-trapping gases, byproducts of power plants, automobiles and other fossil fuel-burning sources. The Kyoto accord requires 35 industrial nations — not including the United States, which rejects the pact — to reduce such emissions by an average 5 percent below 1990 levels by 2012. President Bush says such emissions cuts would harm the U.S. economy and complains that poorer countries also should be covered. more... | Earth Changes |
---
Strong Quake Hits Off Papua New Guinea (November 7, 2006) - An earthquake with a magnitude of 6.3 struck off the New Britain region of Papua New Guinea on Wednesday, seismologists said. The US Geological Survey (USGS) said the quake struck 178 kilometres east of Kandrian, in New Britain, at 3:38 am (1738 GMT). There were no immediate reports of casualties after the quake. The USGS rated the earthquake at a magnitude of 6.3 and said it hit at a depth of 10 kilometres. | Earth Changes |
---
Bulusan Explodes; Ash Blankets 16 Villages in 3 Towns (October 30, 2006) - Restive Bulusan volcano belched ash anew on Monday, but scientists said there was no evidence it was gearing up for a major eruption. The 1,560-meter (5,149-foot) Mount Bulusan exploded before noon, spewing ash for 30 minutes up to a kilometer (0.6 mile) into the cloudy sky, said Philippine Institute of Volcanology and Seismology (Phivolcs) director Renato Solidum. He said rainwater converted into steam could have triggered the explosion. It was the fourth ash explosion since Bulusan showed signs of renewed restiveness this month. Despite the latest activity, Solidum said Bulusan's alert status, which is at the lowest level, will not be raised. "We don't see any rise in a new batch of magma" or evidence of an imminent eruption, he added. more... | Earth Changes |
---
Earthquake with Preliminary Magnitude of 6.8 Strikes off Coast of Japan (October 23, 2006) - An earthquake with a preliminary magnitude of 6.8 rattled a group of Japanese islands in the Pacific Ocean south of Tokyo early Tuesday, Japan's weather agency said. No tsunami warning was issued. The quake struck at about 6:18 a.m. (2318 GMT) and was centered near the Ogasawara island group, about 483 miles south of Tokyo, the Meteorological Agency said. The quake was extremely shallow, said agency official Toshiyuki Suzuki. There were no immediate reports of injuries or damage from the quake, he added. Japan sits atop four tectonic plates and is one of the most earthquake-prone countries in the world. | Earth Changes |
---
Strong quake shakes northern Japan, no tsunami warning issued (October 11, 2006) - An earthquake with a preliminary magnitude of 6.0 shook northern Japan Wednesday morning, but it had nothing to do with reports of a possible nuclear test by North Korea, the Meteorological Agency said. The quake, which struck at 8:58 a.m. (2358 GMT Tuesday), was centered off the coast of Fukushima. Fukushima is 240 kilometers (150 miles) northeast of Tokyo, the agency said in a statement. There were no danger of tsunami, it said. Agency official Yukihiro Watanabe said that the tremor was a genuine quake centered near Japan and had nothing to do with reports of Pyongyang's possible second nuclear test. more... | Earth Changes |
---
Ash from Philippine volcano blankets two towns (October 11, 2006) - Ash from a central Philippine volcano blanketed eight villages and parts of two towns on Wednesday but scientists said an eruption was unlikely. Mount Bulusan blasted a thick column of ash three kilometers (1.8 miles) into the sky late Tuesday, after nearly four months of relative calm, alarming residents of nearby villages, officials said. Philippine Institute of Volcanology and Seismology director Renato Solidum said the ash was blown toward the nearby towns of Irosin and Bulusan, and that at least eight villages were blanketed in up to 5 mm (0.2 inches) of ash. Solidum said there has been no other activity since the ash explosion, and the institute maintained the lowest alert level for the volcano. more... | Earth Changes |
---
El Salvador declares alert after volcano begins rumbling (October 11, 2006) - Authorities in El Salvador declared an alert on Tuesday for an area around the Chaparrastique volcano after the peak began rumbling ominously. Interior Minister Rene Figueroa urged about 45,000 people who live within an area roughly 4 square kilometers (1.4 square miles) around the peak to be ready for a possible call for evacuations. Seismologist Carlos Pullinger said the volcano had been experiencing relatively small, imperceptible tremors for days, but that in the last several hours had emitted "continuous, abnormal vibrations.'' Such vibrations are sometimes observed before an eruption. The 2,129-meter (7,025-foot) volcano, located about 145 kilometers (90 miles) east of San Salvador, the capital, erupted in 1976. San Miguel, one of the country's largest cities, is located 50 kilometers (30 miles) from the volcano. more...
| Earth Changes |
Volcanoes are waking up all around the ring of fire. There's some good links to see what I'm talking about on the earth changes link. Map
---
Earthquake Rocks Koryak Causing Power Blackout (October 6, 2006) - An earthquake measuring 5.1 points on the Richter scale occurred in the Koryak Autonomous Area on Wednesday evening, nobody has been hurt, the Kamchatka branch of the geophysical service of the Russian Academy of Sciences (RAN) told Itar-Tass on Thursday. The quake epicentre was located some 30-40 kilometres northwest of the Tilichiki settlement of the Olyutorsky district of the area at a depth of 1.7 kilometres. According to the press service of the Koryak administration, two boiler houses, a diesel power station and two transformer substations came to a standstill in the Tilichiki and Korf settlements, which left without electricity supply the local musical school, central district hospital in Tilichiki and apartment blocks in three streets. Heating and electric power supply has been for the most part restored at present. Governor of the Koryak autonomy Oleg Kozhemyako urgently flew to the area to control the situation. The autonomy's Olyutorsky district was stricken by a strong earthquake measuring 7.9 points on the Richter scale on April 21. The Tilichiki and Korf settlements were the worst hit, their life support systems were broken and houses damaged. The systems have been restored, but recurrent earth tremors there are possible during another year. The Duma (legislature) of the autonomy will consider in the short run the issue of the closure of these settlements as they are located in the seismic and tsunami dangerous zone. Local residents have already supported liquidation of the settlements and scientists arrived at the conclusion that Korf and Tilichiki are unfit for dwelling. | Earth Changes |
---
North American Earthquakes Over Last 72 Hours — Calif. busy (October 6, 2006) - This list is not complete due to the early hour. I will try to update several times daily. Because Alaska is showing elevated activity, quakes 3.0 and larger are now included. Shakers of "interesting" magnitude are highlighted in purple, generally reserved for events 3.0 and greater, but June include others at the editor's discretion. Until further notice, the past 72 hours of EQs will be posted. There have been an unusually high number of shaker notices sent 1, 2 and sometimes 3 days after the fact which likely did not make the list. If you check these 48 hours lists regularly, you'll notice that today's is considerably longer than most. This is due to covering a longer time frame as well as including the "added" quakes. more... | Earth Changes |
---
High-Risk Warning for Mt. Ruapehu (October 5, 2006) - The Department of Conservation has issued a high risk warning for the crater basin at Mt. Ruapehu, following a possible small eruption there on Wednesday night. A series of small earthquakes at the Crater Lake broke a cable at the lake centre, generating a call-out to a lahar response team. DoC's community relations officer for Tongariro-Taupo, Dave Wakelin, says the warning was issued on Thursday morning, in case more volcanic activity follows. He says a team of scientists is en route to the mountain to try to ascertain what affect the earthquakes had on the lake. DoC says it is unclear whether there was a lahar; but if there was, it was a very small one. The lahar team was stood down half an hour after the call-out. 1ST REPORTED QUAKES SINCE 1995 The call-out was triggered by a series of small volcanic earthquakes - the first reported since 1995, when the Crater Lake was displaced. Previous call-outs were due to storms, an avalanche, and melting snow. Brad Scott, from the Institute of Geological & Nuclear Science (GNS) at Wairakei, told Morning Report that the quakes measured about magnitude 3. | Earth Changes |
---
Maine Quake Causes Dramatic Drop in Well Water Level (October 3, 2006) - A minor earthquake that shook parts of Maine at 8:07 p.m. local time Monday caused water to drop 2.5 feet at a U.S. Geological Survey monitoring well. Nearly 17 hours later, the water level was still dropping, scientists announced today. Hydrologists call the change in the well "dramatic," and said well-water users might notice changes in their drinking water. The preliminary magnitude 3.9 earthquake was the third such event to shake the state in the past few weeks. It was centered about 4 miles south-southeast of Bar Harbor, or 45 miles southeast of Bangor. A magnitude 2.5 earthquake on Sept .28 and a magnitude 3.4 on Sept. 22 were centered in the same location. "It isn't unusual for earthquakes to cause minor changes in water levels in wells, but this is the most memorable in Maine in the last decade," said USGS hydrologist Gregory Stewart. "Users of well water could notice cloudy water and possibly a change in availability of water." more... | Earth Changes |
---
Eastern Venezuela Shakes to 6.1 Richter Scale Earthquake (October 1, 2006) - Venezuela's earthquake watch organization (Funvisis) president, Gustavo Malave says last Friday's tremor was felt on the eastern coast of Venezuela and in Caracas, specifically in Chacao municipality. "The fault that caused the earthquake of 1997 is known as the Pilar Fault and according to experts analyzing the earthquake, we thought that a fault occurred in the sea, parallel to Pilar between Paria Peninsula and Araya and extending east towards Trinidad and Tobago." Malave says that after analyzing this event and knowing the depth is 44 km., experts feel that this tremor is related to a cut below the Caribbean Plate that gives origin to the Lesser Antilles and every time there is a movement of the plate importance seismic movements take place. Meanwhile, Civil Protection (PC) director, Colonel Antonio Rivero has ordered a full investigation to discover whether there was any material or human damage recorded in the eastern region of the country, where the tremor was felt 6.1. Rivero says it will take some time to complete a full report, because there are many isolated villages in vulnerable areas in eastern Venezuela. more... | Earth Changes |
---
Solar flares will disrupt GPS in 2011 (September 29, 2006) - Navigation, power and communications systems that rely on GPS satellite navigation will be disrupted by violent solar activity in 2011, research shows. A study reveals Global Positioning System receivers to be unexpectedly vulnerable to bursts of radio noise produced by solar flares, created by explosions in the Sun's atmosphere. When solar activity peaks in 2011 and 2012, it could cause widespread disruption to aircraft navigation and emergency location systems that rely heavily on satellite navigation data. Particularly intense solar activity occurs roughly every 11 years due to cyclic changes to the Sun's magnetic field – a peak period known as the solar maximum. Solar flares send charged particles crashing into the outer fringes of the Earth's atmosphere at high velocity, generating auroras and geomagnetic storms. more...
| Earth Changes |
According to the dates arrived at through the merging of the 14,000 days, Rosh Hashanah, and the exact day prophecies of Daniel and John, this time frame of 2011, 2012 is exactly when the fourth bowl would be poured out.
---
6.7 Quake Near Samoa Generates Small Tsunami (September 28, 2006) - A massive earthquake struck Thursday under the Pacific Ocean floor near Samoa generating a tsunami that could have been destructive if it had been closer to land, authorities said. No damage was reported. U.S. Geological Survey reported the quake as having a preliminary magnitude of 6.7 and striking 27 miles beneath the sea floor about 185 miles southwest of Pago Pago at about 7:20 p.m. local time. The Hawaii-based Pacific Tsunami Warning Center reported the temblor as magnitude 7 and recorded an 3-inch rise in sea levels near the epicenter. "Sea level readings indicate a tsunami was generated," the center said in a bulletin posted on the Internet. "It may have been destructive along coasts near the earthquake epicenter." more... | Earth Changes |
---
Sun's Activity Increased in Past Century, Study Confirms (September 26, 2006) - The energy output from the Sun has increased significantly during the 20th century, according to a new study. Many studies have attempted to determine whether there is an upward trend in the average magnitude of sunspots and solar flares over time, but few firm conclusions have been reached. Now, an international team of researchers led by Ilya Usoskin of the Sodankylä Geophysical Observatory at the University of Oulu, Finland, may have the answer. They examined meteorites that had fallen to Earth over the past 240 years. By analyzing the amount of titanium 44, a radioactive isotope, the team found a significant increase in the Sun's radioactive output during the 20th century. Over the past few decades, however, they found the solar activity has stabilized at this higher-than-historic level. Prior research relied on measurements of certain radioactive elements within tree rings and in the ice sheets covering Greenland and Antarctica, which can be altered by terrestrial processes, not just by solar activity. The isotope measured in the new study is not affected by conditions on Earth. The results, detailed in this week's issue of the journal Astronomy & Astrophysics Letters, "confirm that there was indeed an increase in solar activity over the last 100 years or so," Usoskin told SPACE.com. more...
| Earth Changes |
Why "earth changes?" Because the sun directly affects how the earth changes. This is something in the global warming camp that has been overlooked because of a myopic view that fails to look outside of our planet for an explanation as to why the planet is heating up. I've mentioned this several times before and shared the picture that shows solar system-wide changes. Related story: Global Temperature Highest in Millennia
---
Maine Hit with NINE Earthquakes (September 22, 2006) - Mount Desert Island residents awoke to the earth moving Friday, and the shaking didn't stop until several hours later. Monitors recorded five hours of earthquake activity with the biggest being a Magnitude 3.5 quake at 6:39 a.m. about one mile southwest of the middle of Bar Harbor, said John Ebel, director of Massachusetts' Weston Observatory. There were roughly nine additional temblors starting at 5:21 a.m. before the main quake and continuing through 10:20 a.m., Ebel said. The biggest quake was of a magnitude that could be felt miles away, he said. There were no reports of injuries or property damage. New England averages about one or two earthquakes that are above 3.5 Magnitude each year, Ebel said. Maine already recorded a 3.8-Magnitude earthquake in the northern part of the state on July 14, he said. more... | Earth Changes |
---
North American Earthquakes Over Last 72 Hours (September 22, 2006) - This list is not complete due to the early hour. I will try to update several times daily. Because Alaska is showing elevated activity, quakes 3.0 and larger are now included. Shakers of "interesting" magnitude are highlighted in purple, generally reserved for events 3.0 and greater, but June include others at the editor's discretion. Until further notice, the past 72 hours of EQs will be posted. There have been an unusually high number of shaker notices sent 1, 2 and sometimes 3 days after the fact which likely did not make the list. If you check these 48 hours lists regularly, you'll notice that today's is considerably longer than most. This is due to covering a longer time frame as well as including the "added" quakes. more... | Earth Changes |
---
Mount St. Helens Update (September 22, 2006) - Current status is Volcano Advisory (Alert Level 2 ) Aviation color code ORANGE : Growth of the new lava dome inside the crater of Mount St. Helens continues, accompanied by low rates of seismicity, low emissions of steam and volcanic gases, and minor production of ash. During such eruptions, changes in the level of activity can occur over days to months. The eruption could intensify suddenly or with little warning and produce explosions that cause hazardous conditions within several miles of the crater and farther downwind. Small lahars could suddenly descend the Toutle River if triggered by heavy rain or by interaction of hot rocks with snow and ice. These lahars pose a negligible hazard below the Sediment Retention Structure (SRS) but could pose a hazard along the river channel upstream. Earthquake list for St. Helens more... | Earth Changes |
---
Powerful Quake Hits Panay, Philippines (September 22, 2006) - A powerful earthquake measuring 6 on the Richter scale took place Friday morning near Panay, the Philippines. A statement issued by the Malaysian Meteorological Services Department said the earthquake occurred in east Panay, some 230km west of Cebu and 641km northeast of Malaysian Sandakan sea. A strong earthquake measuring 6.0 on the Richter scale also occurred near Santiago in Argentina and both earthquakes did not trigger tsunamis nor did they cause material or human losses. MTQ 22-Sep-2006 15:36 | Earth Changes |
---
Colorado State Professor Disputes Global Warming is Human-Caused (September 19, 2006) - Global warming is happening, but humans are not the cause, one of the nation's top experts on hurricanes said Monday morning. Bill Gray, who has studied tropical meteorology for more than 40 years, spoke at the Larimer County Republican Club Breakfast about global warming and whether humans are to blame. About 50 people were at the talk. Gray, who is a professor at Colorado State University, said human-induced global warming is a fear perpetuated by the media and scientists who are trying to get federal grants. "I think we're coming out of the little ice age, and warming is due to changes to ocean circulation patterns due to salinity variations," Gray said. "I'm sure that's it." Gray's view has been challenged, however. Roger Pielke Jr., director of the Center for Science and Technology Policy Research at the University of Colorado, said in an interview later Monday that climate scientists involved with the Intergovernmental Panel on Climate Change concluded that most of the warming is due to human activity. "Bill Gray is a widely respected senior scientist who has a view that is out of step with a lot of his colleagues'," Pielke said. But challenging widely held views is "good for science because it forces people to make their case and advances understanding." more...
| Earth Changes |
I agree that global warming is not the fault of our over pollution for several reasons. First of which, volcanoes are also a cause of ozone-depleting emissions as well as affecting temperatures through the greenhouse and haze effects.. Volcanoes are erupting all around the ring of fire lately and more are becoming active as time goes on. See it here. Second, as this picture shows, energy throughout our whole solar system is on the rise. Venus has had a 2500% increas in auroral brightness in less than 30 years, the sun has had more activity since 1940 than in previous 1150 years, and Mars polar ice caps are melting as well. There are more scientifically observed changes as well. So tell me logically, if we only live on earth and all the other planets in our solar system are showing evidence of increased activity, are we to blame for that too? Is our vehicle emissions reaching Mars? Maybe with all the increased volcanic activity and solar activity, the earth is naturally increasing in temperature, and the weather is following suit? This is exactly what the Bible says would happen before the end. Matthew 24:3-7
---
Israel Shaken by Second Quake in 8 Days (September 18, 2006) - The second minor earthquake in just over a week shook central Israel Sunday morning, causing no injury or damage. The Home Front Command has issued instructions in the event of a larger quake. The earthquake, which was felt at 11:25 AM, measured 4 on the Richter scale - slightly less powerful than the 4.5 quake felt last Saturday morning. Jerusalemites reported the tremors to local municipal hotlines in the minutes following the quake – the epicenter of which was in the Dead Sea region. more...
| Earth Changes |
There is going to be "a great shaking in the land of Israel" when God destroys the Gog/Magog armies too. Ezekiel 38:18-23
---
Study: Earth and Space Weather Connected (September 12, 2006) - Space weather in the upper reaches of the atmosphere is affected by weather conditions down here on Earth, a new study suggests. Using a combination of satellite imagery and computer simulations, researchers found that tides of air created by intense thunderstorms over South America, Africa and Southeast Asia are altering the structure of the ionosphere, the topmost layers of the atmosphere where space weather occurs. The finding, detailed in the Aug. 11 issue of Geophysical Research Letters, is surprising because scientists didn't think the ionosphere and the troposphere—the lower part of the atmosphere where terrestrial weather happens—affected one another. "This discovery will help improve forecasts of turbulence in the ionosphere, which can disrupt radio transmissions and the reception of signals from the Global Positioning Satellite," said study leader Thomas Immel of the University of California, Berkeley. more... | Earth Changes |
---
Strong quake rocks Southwest Florida (September 10, 2006) - An unusually strong earthquake in the Gulf of Mexico rocked southwest Florida today, provoking worried calls from nearly 2,000 people in the state and from as far away as North Carolina, geologists said. No damage or injuries were reported, though many residents of the region experienced dishes that rattled all by themselves and swimming pools that suddenly developed rolling waves. The 6.0 magnitude quake struck at 10:56 a.m. EDT and was centered 259 miles west of Bradenton and 397 miles from Miami. Sally Mayse of Bradenton was riding her bike on a local causeway when she felt a vibration and her two-wheeler wobbled. She thought it was a tractor-trailer but none was in sight. Then, she figured it was her imagination. more... | Earth Changes |
---
Scientists Watch Volcanic Bulge on Oregon's South Sister (September 10, 2006) - For a decade or so a volcanic bulge has been pushing up over 150 square miles near the South Sister, at perhaps an inch a year. Here magma has pushed up the ground, has been rising an inch or so a year since about 1997, a rise invisible to the naked eye. It began to slow last year, but scientists still watch the area, which has some of the more active magma in the Cascades. The bulge near the 10,358-foot mountain is the only rising ground along the Cascade range, said Dan Dzurisin, a geologist with the U.S. Geological Survey's Cascade Volcano Observatory in Vancouver, Wash. "What we think is there is a place where magma is slowly rising from deeper in the Earth," he said. "It's accumulating there, and it's inflating or causing the rocks around it to be pushed aside." It could go on or some time or be early signs of a possible eruption. more... | Earth Changes |
---
Another Volcano Rumbles — Alert Level Raised (September 10, 2006) - Scientists have raised the alert level at a rumbling volcano on Indonesia's Sumatra island after it showed signs of increased activity, but a major eruption is not imminent, an official said Sunday. Sensors on the slopes of Mount Talang in west Sumatra picked up increased volcanic activity and a buildup of gases, but the mountain did not send debris or lava down its slopes, said Dalipa Marjusi, an official at a monitoring post. "There is a possibility of a major eruption, but it is not imminent," he said. The 2,800-meter (9,186-foot) mountain was spewing brownish smoke some 250 meters (820 feet) into the air on Sunday, after the alert was raised to the second-highest level a day earlier, but nearby towns and villages were in no danger, Marjusi said. more... | Earth Changes |
---
Moderate Earthquake Felt in Israel (September 9, 2006) - Tel Aviv, Jerusalem, Jordan Valley and the Dead Sea regions shook from an earthquake measuring 4.4 on the Richter scale Saturday. No injuries or damage was reported following the moderate earthquake. The quake began at 7:58 AM. The epicenter of the quake was located near the Jewish town of Maaleh Ephraim, in the Jordan Valley region of Samaria. Tremors were felt as far away as Jerusalem, Tel Aviv and Amman, Jordan. more... | Earth Changes |
---
Europe's Largest Volcano Erupting (September 9, 2006) - During the night between Wednesday and Thursday lava reached the base of the crater and overflowed, heading towards the desert lands of Bove Valley. As of Friday the lava front was at an altitude of 9,350 feet, and experts have advised that the activity poses no threat to people or houses. The eruption is associated with lava explosions, which have been throwing incandescent material out of the crater. | Earth Changes |
---
The Gray Ooze That Ate the Indonesian Villages (September 7, 2006) - For more than three months, the hot, noxious goop has spewed up through a crack in the earth at a natural-gas exploration site, swamping everything in its path. The expanding, surreal gray lake with the stench of rotten eggs has enveloped more than 10 square miles of land in eastern Java, Indonesia's most densely populated island. The flow has forced 8,000 to 10,000 people from their homes, engulfed about a dozen factories, contaminated fish farms and intermittently closed a major highway. Confusion has reigned over how to stop it. An effort to drill a series of relief wells was slow to begin and has thus far failed. With the mud continuing to gush, emergency crews have scrambled to put up earthen barriers to contain and redirect the flow away from villages. Some of the dams already have been breached, and officials are running out of space. In a country reeling from a string of natural disasters, this man-made fiasco has thrown a fresh, harsh light on an overwhelmed government struggling to counter accusations of corruption and ineptitude. more... | Earth Changes |
---
Drought Shrivels Worldwide Wheat Supply (August 30, 2006) - Analysis - From Australia to Argentina, erratic weather is slashing wheat crops of the major producers, which is threatening to push up prices to multi-year highs and making it difficult for countries to replenish stocks. While the world's carryover stocks could cushion the blow, the crop woes coincide with rising demand from Europe and India, which is grappling a with a huge shortfall. Appetite for feed wheat for livestock is also likely to grow as mills cut the usage of corn because its price has soared on strong demand from ethanol makers. "It is going to be a year of tight supplies," said Mark Samson, vice president for South Asia of the U.S Wheat Associates. "And with expectations of high world prices, more hedge funds are increasingly paying attention to this market." The interest of investment funds in grains is growing and helping to push up prices. The Deutsche Bank Fund now allocates 22.5 percent of its investment funds to wheat and corn trading. "Wheat prices are firm now and could still go higher," said Antonio Moraza, president of Pilmico Foods Corporation, a Philippines-based flour milling firm. more...
| Earth Changes |
I believe this may be a sign of the times. Revelation 6:5,6 talks about a time of famine, or shortage of wheat and barley. Given the other signs, could this be what is spoken of? We'll have to see how this develops.
---
'Minor' Earthquake Grabs Attention of Thousands (August 29, 2006) - It's being called a minor earthquake --- but boy did it get the attention of thousands of residents on Oahu and Molokai. Last night at 8:09 --- an earthquake with a magnitude of 3.7 rocked many in homes, restaurants and shopping malls. From Haleiwa to Hawaii Kai folks were still talking about the quake. "I was in my chair and I heard a bang and my chair jumped," says Ted Tesman, Hawaii Kai resident. "We live up in Pupukea and we were having dinner and the whole house moved --- everything in the kitchen everything," says Adi Cohen, North Shore resident. "It was like a huge like a sonic boom or something," says Debbie Tesman, Hawaii Kai resident. Even scientists were rattled. "The whole house started to shake and the dog looked up at the ceiling and wondered what in earth is going on," says Gerard Fryer, Pacific Tsunami Warning Center. "what was going on" was something that doesn't happen often --- an earthquake off Oahu. "Very few --- I mean these have all occurred since I've been working but the last time we had anything in this general vicinity -- was 2002," says Stuart Weinstein, Pacific Tsunami Warning Center. more... | Earth Changes |
---
Natural Disasters Rising With Staggering Consequences (August 13, 2006) - Natural disasters that have multiplied worldwide since the 1950s will increase in frequency due to climate change, a conference has been told. Professor Hartwig de Haen, retired assistant director-general of the United Nation's Food and Agriculture Organisation, said that each year 79,000 people died and 200 million more were directly affected by natural disasters such as droughts and floods. And the annual global damages bill had reached $AU90 billion, he said. Prof de Haen, speaking at the International Association of Agricultural Economists (IAAE) conference on the Gold Coast on Sunday, said the number of natural disasters had been growing rapidly, impacting especially hard on the very poor. "The costs associated with natural disasters are difficult to estimate," Prof de Haen said. "However, there is sufficient evidence that they have increased several-fold since the 1950s and strong indications that this trend will continue. "Scientific predictions point to a further increase in the frequency and intensity of hazards, with a five-fold global cost increase over the next fifty years, mainly due to climate change and to further concentration of the world's population in vulnerable habitats." more... | Earth Changes |
---
Drought in Texas Staggers Farmers; Losses at More Than $4.5B (August 12, 2006) - Direct economic losses from the current drought are estimated to have eclipsed the $4 billion mark in Texas, far surpassing the damage done when it stopped raining in 1998 and reminiscent of the infamous 1950s dry spell, Texas Cooperative Extension economists said Friday. "It's every bit as bad as it was in parts of the state during the worst of the '50s," extension agronomist Travis Miller said Friday, explaining that the intensity of the current 18-month drought has been similar to the severest times of that six-year drought. Worse, there's not much hope for many producers even if the weather suddenly changes. "If it rained now, it would be too late for the main crops," said extension economist Carl Anderson, adding that the total economic impact could be around $8 billion when effects on related businesses — mostly in rural areas — are considered. more... | Earth Changes |
---
St. Helens Brewing Again? (August 15, 2006) - Picture of thermal readings of St. Helens dome | Earth Changes |
---
Quake Shakes Sea Floor in South Pacific (August 15, 2006) - A magnitude 6.5 earthquake shook the sea floor in the South Pacific on Tuesday, but there was no tsunami warning, officials said. The quake struck about 110 miles southwest of Macauley Island, which is located in New Zealand's uninhabited Kermadec Islands, said the New Zealand geological agency, GNS Science. The islands are about 500 miles northeast of Auckland, New Zealand's biggest city. GNS Science said the quake may have been felt in New Zealand's North Island, but there were no immediate reports of damage. | Earth Changes |
---
Magnitude 6.1 Quake Strikes Indonesia (August 15, 2006) - A 6.1 magnitude earthquake struck in eastern Indonesian on Tuesday, but there was no threat of a tsunami, officials said. The quake was centered beneath the Banda Sea about 120 miles southwest of Ambon, the capital of Maluku province, the U.S. Geological Survey said on its Web site. The tremor was not felt by residents in the region and there were no reports of damage or casualties, said Aprilianto, an official at a Jakarta-based Meteorological and Geophysics Agency. The quake did not have the potential to cause a destructive tsunami, he said. Indonesia, the world's largest archipelago, is prone to seismic upheaval due to its location on the so-called Pacific "Ring of Fire," a string of volcanoes and fault lines encircling the Pacific Basin. | Earth Changes |
---
Philippine volcano shows signs of imminent eruption (August 14, 2006) - Mount Mayon, a volcano in the central Philippines, showed signs a major eruption was imminent as it belched smoke and spewed burning rocks and mud, scientists said on Sunday. Four explosions have been recorded since Saturday. One mild eruption shot gray ash columns into the air and sent heated volcanic debris cascading down Mayon's slopes, said the Philippine Institute of Volcanology and Seismology (Phivolcs). "This could be the beginning of a big bang events," Ed Laguerta, a vulcanologist, told reporters. more... | Earth Changes |
---
Ethiopia Flood Death Toll Reaches 250 (August 11, 2006) - The death toll from Ethiopia's worst ever flash floods climbed to 250 Thursday and was expected to rise as crews searched for more bodies, authorities said. Six days after a river burst its banks following torrential rains more than 10,000 people were still homeless and 300 remained missing. The search from the flooding that hit Dire Dawa, about 310 miles east of the capital, Addis Ababa, has stretched for nearly 20 miles along the river. Police spokesman Binyam Fikru told The Associated Press that the floods were blamed for 250 deaths. "This is the worst flood that we have ever recorded,'' Fikru said. "We are no longer looking for survivors. We are now concentrating on finding dead bodies.'' More than 600 rescuers have been using earth movers and their bare hands to dig through mud and debris after the deluge, which washed away people, cars, trees and entire buildings. more... | Earth Changes |
---
Buildings Evacuated As Earthquake Rattles Mexico (August 11, 2006) - A moderate earthquake rocked Mexico City on Friday, causing skyscrapers to sway and frightening residents. There were no immediate reports of major damage or injuries. The U.S. Geological Service estimated the earthquake had a preliminary magnitude of 5.9 and was centered in Michoacan, 125 miles southwest of the capital. There were no initial reports of major damage in the city, and electric and telephone service were not interrupted. Hundreds of Mexico City residents ran into the streets when the quake hit. Radio reports said the city seemed fine. The quake didn't appear to knock out electricity or phone service. | Earth Changes |
---
Typhoon Slams China, Over 1.5 Million Evacuated (August 10, 2006) - Typhoon Saomai, the most powerful storm to hit China in five decades, raged ashore Thursday and churned across the crowded southeast, killing at least two people, wrecking houses and capsizing ships after 1.5 million residents were evacuated. Damage was expected to be widespread in areas that were still recovering from Tropical Storm Bilis, which claimed more than 600 lives last month. Saomai, with winds of up to 135 mph, hit land in China in the coastal town of Mazhan in Zhejiang province, the official Xinhua News Agency said. The area is about 950 miles south of the Chinese capital, Beijing, which wasn't affected. The Zhejiang provincial weather bureau said it was the most powerful storm to strike China since the founding of the communist government in 1949, Xinhua said. more... | Earth Changes |
---
Quake strikes Vanuatu, Philippine volcano spews (August 8, 2006) - The earth was shaking around the globe yesterday as a strong earthquake jolted the island of Vanuatu in the South Pacific, prompting tsunami warnings, and the Mayon volcano in the Philippines appeared on the verge of an eruption. The Vanuatu quake hit at 9:18 a.m. local time about 50 miles from Vanuatu's largest island, Espiritu Santo, in the north of the island chain, the U.S. Geological Survey said. Meanwhile, six sharp explosions roared in the Mayon volcano, sending ash columns high into the sky and forcing the evacuation of 50,000 people. The Philippine Institute of Volcanology and Seismology raised the alert to level 4, saying an explosive eruption appeared imminent. Level 5 represents an ongoing eruption. Army trucks and other government vehicles have been deployed to ferry residents to at least 30 evacuation centers. Lava has been flowing at the volcano since July 14. Mayon is one of the Philippines' 22 active volcanoes. Its most violent eruption, in 1814, killed more than 1,200 people and buried a town in mud. A 1993 eruption killed 79 people. The Philippines is in the Pacific "Ring of Fire," where volcanic activity and earthquakes are common. An earthquake with a magnitude of 5.8 on the Richter scale also struck a group of remote Japanese islands. more...
| Earth Changes |
I've heard reports of earthquake activity around Rainier and St. Helens too. Not to mention all the other volcanoes going off around the ring of fire.
---
Methane Burps and Heat Waves: Global Warming Made Visible (August 4, 2006) - Visualization can be a powerful aid to realization, and two such aids to realizing the great and imminent danger of global warming have just come to light. One paints a remarkable picture of the output of an immense supercomputer hidden in the basement of a futuristic government building in the foothills of the Colorado Rockies that requires a special pass. The other reveals a scene on the sea floor off the coast of California, previously requiring SCUBA gear and a waterproof map. Now you can see both by just clicking on the "Video — click to watch" caption under the picture next to this story. more...
| Earth Changes |
This story is biased without looking outside of the earth, but I believe it shows well the increase over the past few years, but it's important when seeing the evidence of global warming that we recognize that this pattern of warming is occurring throughout our solar system. Why is that important? Because there's lots of special interest trying to get funds to "fix" the problem which isn't our fault to begin with as many claim. Mars has been experiencing global warming too, and I think it has more to do with the increased solar activity than our car pollution. Even the story admits that there is increased methane bubbling under the ocean all over the place, which contributes along with volcanoes to much of the ozone-depleting gases. While I would prefer to implement water cars that private inventors are working on, I'm not going to fall for the guilt trip. That said, I would much rather use water as fuel with water for exhaust than give money to the oil companies who buy it from enemy states in the Middle East who could potentially use that money against us. However, I think those "dark forces" would like to keep the servitude of the populous just like it is if not worse. Meanwhile, the love of many waxes cold.
---
California's Heat wave: "Freakish, Epochal, Unprecedented" (July 27, 2006) - The Great Heat Wave of 2006 was not just an epic meteorological event -- it was an epochal one, unprecedented in the north state's weather annals, meteorologists agree. It has been hotter for longer than ever before, and the weather patterns that caused the scorching temperatures were positively freakish. The region's last significant heat wave -- in 1972 -- lasted just two days, and never in the past has the Bay Area suffered through as many consecutive days of temperatures above 110. "We've had several one-day wonders over the years," said Cordelia-based consulting meteorologist Mike Pechner, "but nothing of this extent and duration. It has been truly extraordinary." "From an historical perspective, what happened in the nine Bay Area counties was particularly noteworthy," he said. "We didn't set many all-time temperature records in the Bay Area, but we did set records for the number of consecutive days with temperatures above 110." Before the current heat wave, Pechner said, there was no record of Bay Area temps hitting 110 degrees for three consecutive days. According to Pechner, who uses data from the National Weather Service and Bay Area Air Quality Management District, there were five consecutive days this month with temperatures above 110: July 21 (111 degrees, Vacaville), July 22 (114 degrees, Morgan Hill), and July 23 through July 25 in Rio Vista (110 degrees, 113 degrees, and 111 degrees, respectively). more... | Earth Changes |
---
Massive blackout continues in St. Louis (July 23, 2006) - Nearly a quarter-million homes and businesses still had no electricity Monday as the city struggled to recover from last week's devastating thunderstorms. The blackout kept air conditioners from running as temperatures soared into triple digits. Four deaths in the region had been blamed on the storms or the heat. As of Monday morning, about 231,000 homes customers were still without power, according to Ameren Corp. That was down from the more than a half-million homes and businesses that lost power when the storms struck last week. Some 4,000 utility workers from as far away as Arizona have been working around the clock to restore service. more... | Earth Changes |
---
Earthquake near Red Sea Opens Huge Rift on Land, Growing at Unprecedented Rate (July 22, 2006) - New satellite data shows the largest tear in the Earth's crust - seen in decades, if not centuries, and growing at an unprecedented rate - developing near the Red Sea., and if it continues, it could create a new ocean in Africa. So says a report in the BBC which states that the 37-mile long rift was sparked by an earthquake in September. Dr Tim Wright from the University of Oxford, UK, is quoted as saying that if the ripping of the crust continued, the horn of Africa would eventually split off from the rest of the continent, in about a million years. "We think if these processes continue, a new ocean will eventually form," he told the BBC News website. "It will connect to the Red Sea and the ocean will flow in....It's the biggest rifting episode at least since the 1970s and possibly in hundreds of years. It's the first time we've been able to use satellite images to investigate the fundamental processes behind rifting." more...
| Earth Changes |
Expect to see more earthquakes in diverse places. Matthew 24:3-8
---
Lake Powell Barely Half Full — Continues to Shrink (July 20, 2006) - Lake Powell is barely half-full and taking a quarter less runoff than expected this year -- a sign the Colorado River basin remains in the grip of a multiyear drought, according to a new report from government hydrologists. For some, Lake Powell is proving its value, banking scarce water for dry years. Others say the reservoir may never refill and should be drained to reveal the glory of Glen Canyon. The effects of low water are everywhere, from the bathtub rings on canyon walls to Hite Marina, left high and dry and shut down in 2003. At Bullfrog, the boat launch resembles a tilted airport runway -- a concrete slab more than a quarter-mile long. It had to be extended twice, in 2003 and 2004, by a combined 660 feet, to reach its current 1,568-foot length. The launch will go out of business if the water drops another 29 feet, officials say. more... | Earth Changes |
---
Thirty Injured By High Winds at Busch Stadium (July 19, 2006) - Thirty people were injured as high wind blew out press box windows, overturned portable concession stands and ripped the tarp at new Busch Stadium right before the start of Wednesday night's game between the Atlanta Braves and St. Louis Cardinals. The Cardinals won 8-2. Five fans were taken to hospitals, according to Norm Corley, a supervisor with Accu-Care, which handles medical issues at the stadium. One of them had a dislocated hip, another a dislocated shoulder, two had back injuries and a fifth had a seizure apparently unrelated to the storm, Corley said. The start of the game was delayed 2 hours, 12 minutes as crews righted the concession stands, cleaned up debris and mopped flooded areas. "This is the worst," said longtime fan Carol Backs-Wenneman of nearby St. Libory, Ill. "I was wondering if the new stadium would hold up." The strong storm, with wind near 80 mph, also knocked windows out of a rooftop restaurant downtown, downed trees and power lines and sprayed construction equipment and billboards along interstate highways. It was unclear if the wind was the result of tornados. Gary Christmann, a St. Louis emergency official, said it appeared the damage came from "a lot of straight-line winds." more... | Earth Changes |
---
Magnitude 3.6 Quake Closes Mount St. Helens Again (July 19, 2006) - A magnitude 3.6 earthquake shook Mount St. Helens Tuesday morning, one of the largest earthquakes recorded during the ongoing eruption, the U.S. Geological Survey said. The 9:56 a.m. quake triggered significant rock falls from the lava dome and crater walls that sent plumes of dust to the rim. Lava has continued to push into the crater -- most recently forming a sheer rock fin -- since the 8,364-foot mountain reawakened with low-level seismic activity in September 2004. That prompted closure of the mountain to climbers. The crater was formed by the volcano's May 18, 1980, eruption, which killed 57 people and blasted about 1,300 feet off the 9,677-foot peak. The volcano reopens to climbers on Friday. The National Volcanic Monument limits the number of climbers to 100 a day and requires a permit available online through the Mount St. Helens Institute.
| Earth Changes |
It's only a matter of time I believe. With all the volcanic activity increasing all around the ring of fire and the increased earthquake activity both at St. Helens and Rainier, we should be prepared with at least food and water. It never hurts!
---
Almost 500,000 Without Power in St. Louis (July 20, 2006) - Powerful storms left nearly half a million homes and businesses without power early Thursday with the region expecting another day of 100-degree heat. The summer storm that tore through the Midwest on Wednesday ripped roofs off buildings, toppled trees and injured more than 30 people. The city's light rail system was down, and a building partially collapsed, injuring at least two people. At least 486,000 customers lost power, according to utility company AmerenUE. Winds near 80 mph blew out press box windows and ripped the tarp at the new Busch Stadium before the start of a baseball game between the Atlanta Braves and St. Louis Cardinals. Five fans were taken to hospitals and at least 25 others were also injured, according to Norm Corley, a supervisor with Accu-Care, which handles medical issues at the stadium. The wind was also knocked windows out of a rooftop restaurant, downed trees and power lines, and ripped off a section of roof off Lambert- St. Louis International Airport. MetroLink, the city's light rail system, was down said Police Chief Joe Mokwa. "This is one of the worst storms we can all remember to hit the city of St. Louis in recent years," St. Louis Mayor Francis Slay said. | Earth Changes |
---
Europe Gasps as Heat wave Temperatures Soar (July 19, 2006) - Much of western Europe sweltered under tropical temperatures Wednesday, as a heat wave claimed its seventh victim since the start of the week. Authorities in the eastern French town of Macon said a 53 year-old road-labourer died overnight of "malign hyperthermia" after working outside in temperatures of 33 degrees Centigrade (91.4 Fahrenheit). Two elderly people died Tuesday in southwestern France as a result of the heat, and in the Netherlands two people died on the opening day of an annual walking event at Nijmegen. In Spain a man who died of heat exhaustion in the northwest region of Galicia was the second to succumb after a man died in Murcia in the southeast on Sunday. | Earth Changes |
---
Ecuador Volcanic Eruption Destroys 19,000 Hectares of Farmland (July 19, 2006) - The Ecuadorian President's Office said on Tuesday that the Tungurahua Volcano, currently erupting in central Ecuador, had destroyed 19,000 hectares of farmland. Tungurahua had destroyed 12,000 hectares in Chimborazo and 7,000 in Tungurahua, the Foreign Ministry said. The 5,029-meter-high volcano, which is showering the region with ash and burning hot lava, entered a critical phase on Friday that might last for months or years. It has devastated villages that have maize, potato, cereal and livestock farms and affected more than 13,000 people. | Earth Changes |
---
Indonesia Death Toll Passes 500 (July 19, 2006) - The death toll in the Indonesian tsunami has risen to at least 520, fuelling questions over why no warning was given ahead of the disaster. Government officials said they received a warning that the island of Java was threatened by a tsunami following an underwater earthquake off the coast. But they said they were unable to pass on the warning to coastal areas. A fresh earthquake hit the island on Wednesday, but no injuries or major damage have been reported so far. The epicentre of the latest quake was under the sea off Java's southwestern coast, and buildings shook in surrounding areas as far away as the capital Jakarta. more... | Earth Changes |
---
Scientists Consistently Disagree on Global Warming - Despite Media Hype (July 17, 2006) - ". . . what the public fails to grasp is that the claims neither constitute support for alarm, nor establish man's responsibility for the small amount of warming that has occurred." In a recent report in LiveScience, reporter Sara Goudarzi contends that global climate change "has gone from being a scientific actuality to a political wedge issue, used as a cudgel by parties of all persuasions to point fingers and score points. Consequently, many people, including scientists and politicians, can't seem to arrive at an agreement on the issue." As a result, LiveScience recently reached out to several experts and visionaries for their views on this controversial topic and dug up published comments of others. About 11 "experts" were questioned, each giving their opinion on the cause of global warming. They (the speakers) range everywhere, from Al Gore, who has released a film on global warming, to Richard Lindzen, professor of meteorology at Massachusetts Institute of Technology, who says, "However, what the public fails to grasp is that the claims neither constitute support for alarm, nor establish man's responsibility for the small amount of warming that has occurred. In fact, those who make the most outlandish claims of alarm are actually demonstrating skepticism of the very science they say supports them." "It isn't just that the alarmists are trumpeting model results that we know must be wrong. It is that they are trumpeting catastrophes that couldn't happen even if the models were right as justifying costly policies to try to prevent global warming." more...
| Earth Changes |
My two cents... Global warming is a reality, it's just not us that's doing it. Here is a chart showing scientific observation of the increase in energy throughout the whole solar system. I doubt our vehicle emissions have anything to do with decreased polar icecaps on Mars or increased activity of the sun. (which is a much more logical and scientific explanation for why the earth changes are happening.
---
Quake Triggers Indonesian Tsunami; 5 Dead (July 17, 2006) - A powerful 7.7 magnitude earthquake sent a 6-foot-high tsunami crashing into a beach resort on Indonesia's Java island Monday, killing at least five people and causing extensive damage to hotels, restaurants and homes, the president and witnesses said. People ran up a hill to escape the wave on Pangandaran beach in west Java, a woman who identified herself only as Teti told el-Shinta radio station. "All the houses are destroyed along the beach," she said. "Small hotels are completely destroyed and at least one restaurant was washed away." President Susilo Bambang Yudhoyono told reporters that at least five people were killed. The tsunami followed a quake that struck deep beneath the Indian Ocean 150 miles southwest of Java's western coast at 3:24 p.m. local time, causing tall buildings to sway as far off as the capital Jakarta. more... | Earth Changes |
---
Lava Flow Increasing From Philippine Volcano (July 17, 2006) - The flow of lava from Mayon volcano has increased, a sign of greater unrest inside the volcano southeast of the Philippine capital, officials warned on Sunday. The increase in the flow of lava has been accompanied by a rise in the amount of sulfur dioxide emitted by Mayon, the Philippine Institute of Volcanology and Seismology said in its latest advisory. "One likely scenario is a shift from lava extrusion to explosive eruption," the institute warned, saying this would be accompanied by deadly mudflows of volcanic ash. The government is still maintaining its six-kilometer (nearly four-mile) radius permanent danger zone around the volcano where no one is supposed to enter, the institute said. However local officials and residents said that some farmers were continuing to farm the fertile slopes around Mayon despite the warning. more... | Earth Changes |
---
Heat Wave Has Much of Nation Sizzling (July 17, 2006) - Temperatures soared into the upper 90s and higher Sunday from coast to coast, bringing out heat warnings, wilting athletes and driving others into the shade. The choking heat was expected to continue for the next few days, and the hot air was moving toward the East Coast, meteorologists said. Illinois Gov. Rod Blagojevich said Sunday that the state would make more than 130 office buildings available as cooling centers beginning Monday. Minnesota Gov. Tim Pawlenty had ordered the National Guard out to help firefighters as temperatures even in the normally cool northern part of the state pushed 100 degrees amid very dry conditions. more... | Earth Changes |
---
Geologists Predict The Worst (July 4, 2006) - So the warnings of harsher heat waves, stronger hurricanes and rising seas fail to impress. How about volcanic eruptions in the Arctic, or a tsunami off the coast of Newfoundland? The latest scientific discipline to enter the fray over global warming is geology. And the forecasts from some quarters are dramatic -- not only will the earth shake, it will spit fire. A number of geologists say glacial melting due to climate change will unleash pent-up pressures in the Earth's crust, causing extreme geological events such as earthquakes, tsunamis and volcanic eruptions. A cubic metre of ice weighs nearly a tonne and some glaciers are more than a kilometre thick. When the weight is removed through melting, the suppressed strains and stresses of the underlying rock come to life. University of Alberta geologist Patrick Wu compares the effect to that of a thumb pressed on a soccer ball -- when the pressure of the thumb is removed, the ball springs back to its original shape. Because the earth is so viscous the rebound happens slowly, and the quakes that occasionally shake Eastern Canada are attributed to ongoing rebound from the last ice age more than 10,000 years ago. more... | Earth Changes |
---
How Volcanic Activity Influences Climate (July 3, 2006) - A great deal of recent attention has been placed on the impact of human activities on climate change. However, very little attention has been placed on natural causes of climatic variations. In reality, there are many natural influences on climate change, with most (variations in solar output comes immediately to mind) dwarfing the contribution by humans. One natural influence that garners considerable attention is volcanic activity. The surface of the earth is comprised of about twenty major crustal plates, and many minor ones. These crustal plates move very slowly relative to one another. The rate of movement is about the same rate at which your fingernails are growing. While this seems inconsequential, over very long periods of time, the rate of movement changes the face of earth. For instance, there was no Atlantic Ocean only 200 million years ago (the blink of an eye in earth time). One of the consequences of crustal motion is volcanic activity. Volcanic processes have always been important to the atmosphere. The primordial atmospheric composition resulted from the out-gassing of molten rock as the earth cooled and the molten material hardened. This led to an atmosphere rich in the rather inert gas nitrogen, and CO2. Over time, the composition of the atmosphere changed, primarily though the proliferation of plant life extracting CO2 and respirating oxygen. more... | Earth Changes |
---
Shakin' Up Southern Calif. — Earthquake Activity Increasing (July 2, 2006) - Since June 27, the area in and around Salton City, CA has seen a dramatic increase in shakers. The following list contains 87 quakes ONLY with the reference to Salton City ranging in magnitude from 1.0 - 4.3. If you included quakes say, in Westmorland or Joshua Tree or Ocotillo, to name a few, the list would be considerably bigger. Most of these earthquakes are occurring on the San Jacinto Fault. Much shorter than the San Andreas Fault, the San Jacinto is west and somewhat parallel to it. more... | Earth Changes |
---
Freak NY Tornado Flips Truck on Highway (July 1, 2006) - Adrian Roman didn't know what hit him. Driving west on the Thruway through Cheektowaga, Roman's tractor-trailer was plucked off the pavement Friday afternoon and tossed into the concrete median by a tornado. Nearby, on Walden Avenue, two men were inside a construction trailer that was rolled into the street. Two women were in a sport utility vehicle that momentarily was tilted on its side, glass spraying from a broken window. Roman, who suffered a minor arm injury, later was interviewed in Erie County Medical Center by Trooper Lynette Menna of the State Police barracks in Buffalo. "He didn't see it," Menna related. "He thought something hit his back end." Weather forecasters didn't see it coming, either. The National Weather Service in Buffalo was watching a line of thunderstorms moving southeast from Toronto, across the Niagara Peninsula and into Niagara County. A thunderstorm warning was issued. more... | Earth Changes |
---
Northern Calif Earthquake Activity Continues (July 1, 2006) - Heightened seismic activity continued along the North Coast last week, with 10 earthquakes — three of them magnitude 3.0 or larger — reported through Thursday. The largest earthquakes occurred between 44 and 73 miles off the coast, two west of Petrolia and another west of Ferndale. Temblors of 3.0 and 3.2 magnitude shook the Mendocino fault zone Wednesday and Thursday, with a 3.2 magnitude earthquake between the Mendocino fault zone and the seaward edge of the Cascadia subduction zone reported Sunday. In all, 10 earthquakes have been recorded locally in the past seven days, and more than 300 have been reported statewide. | Earth Changes |
---
The Big One … Overdue! (June 28, 2006) - Video of expected San Andreas shaking 15 MB Experts have known for some time that Southern California is overdue for a sizeable quake as tension continues to build around the San Andreas fault line. Could this be the year of the Big One? It has been 12 years since the last strong earthquake struck California. On three separate occasions over the past 35 years, significant release of tension along the San Andreas fault has led to disruptive earthquakes in Southern California. In 1971, a temblor registering 6.6 on the Richter scale struck in the San Fernando region. Eighteen years later, I happened to have arrived in Pasadena the day a temblor rippled through San Francisco—Oct. 17, 1989. It was a fearful sight watching the images of roads and bridges whipping in the air like so much spaghetti as the pent-up energy released along the great San Andreas fault rippled across the Bay area. Although that quake registered 7.1 on the scale, its epicenter was in a sparsely populated area. Thankfully the damage was not too substantial. The most destructive of the three occurred in the early hours of the morning of Jan. 17, 1994. A earthquake registering 6.7 hit Northridge, Calif. It was the most damaging quake to strike the U.S. since the great 1906 San Francisco earthquake. That 1994 quake is rated one of the worst natural disasters in U.S. history in terms of total financial loss, comparable to Hurricane Andrew in 1992. more... | Earth Changes |
---
How Melting Glaciers Alter Earth's Surface, Spur Quakes, Volcanoes (June 9, 2006) - Imagine the surface of Earth as a giant trampoline that accumulated a slab of ice over the winter, and you can get a sense of what a growing number of scientists say is in store for the planet as glaciers keep melting. Once the trampoline's ice turns to water that drips over the edges in the warm days of spring, the concave elastic slowly rebounds to its original flat shape. That's how Earth responds as glaciers retreat, and the consequences promise to be ... interesting. The reason is that one cubic meter of ice weighs just over a ton, and glaciers can be hundreds of meters thick. When they melt and the water runs off, it is literally a weight off Earth's crust. The crust and mantle therefore bounce back, immediately as well as over thousands of years. That "isostatic rebound," according to studies of prehistoric and recent earthquakes and volcanoes, can make the planet's seismic plates slip catastrophically, and cause magma chambers that feed volcanoes to act like bottles of shaken seltzer. "It's unavoidable that glacial retreat will induce tectonic activity," says geoscientist Allen Glazner of the University of North Carolina, Chapel Hill. more... | Earth Changes |
---
Massive Algae Bloom Swirls Off West Coast (June 29, 2006) - Scientists are worried that global warming might have contributed to creating an algae bloom off the west coast of Vancouver Island that is so big it can be seen from space. At the Institute of Ocean Sciences in North Saanich, researchers are tracking the swirling mass that runs the length of the Island's west coast. They believe it consists mainly of coccolithophore, a naturally occurring, single-cell phytoplankton. It's the biggest algae bloom institute physicist Jim Gowen has seen. "The bloom is good in that it means there are lots of nutrients out there for things to grow," he said. "But what we're worried about is that if global warming is going to really kick in and start warming everything up, then the prediction has to be that we'll see more of these things more often. It's certainly worrying when you see the biggest one, because you think that it's a sign things are getting worse." more...
| Earth Changes |
Coast to Coast AM on 6-29-06 discussed the current earth changes that are happening all over the world. One of the topics was this algae bloom visible from space around Vancouver Island in the Pacific Northwest. There is also the same kind of situation off Ireland and in the Black Sea. This is the result of heated water, and possibly evidence of activity on the faultline.
---
U.S. Senate Committee Calls For Release Of Supposed 19 Scientist Names Who Praised Global Warming Movie - Says AP Made Incorrect Claims (June 28, 2006) - The June 27, 2006 Associated Press (AP) article titled "Scientists OK Gore's Movie for Accuracy" by Seth Borenstein raises some serious questions about AP's bias and methodology. The AP chose to ignore the scores of scientists who have harshly criticized the science presented in former Vice President Al Gore's movie An Inconvenient Truth. In the interest of full disclosure, the AP should release the names of the "more than 100 top climate researchers" they attempted to contact to review An Inconvenient Truth. AP should also name all 19 scientists who gave Gore "five stars for accuracy." AP claims 19 scientists viewed Gore's movie, but it only quotes five of them in its article. AP should also release the names of the so-called scientific "skeptics" they claim to have contacted. The AP article quotes Robert Correll, the chairman of the Arctic Climate Impact Assessment group. It appears from the article that Correll has a personal relationship with Gore, having viewed the film at a private screening at the invitation of the former Vice President. In addition, Correll's reported links as an "affiliate" of a Washington, D.C.-based consulting firm that provides "expert testimony" in trials and his reported sponsorship by the left-leaning Packard Foundation, were not disclosed by AP. more... | Earth Changes |
---
Weather Makes Earth Wobble (June 27, 2006) - Weather can have many effects, from sinking a city to causing whole hillsides to slip away. Now scientists say changes in the weather cause small wobbles in the entire planet's spin. As it rotates, the Earth wobbles on its axis like a spinning top. And like a top as it slows down, the planet develops a host of different wobbles, ranging in period from a few minutes to billions of years. Some of the major wobbles are well studied, such as the 433-day Chandler wobble and the annual wobble, which together can tilt the Earth's axis up to 30 feet from its nominal center. One long-term change alters which point of light deserves to be called the North Star every few millennia. However, smaller variations, lasting a week or so, have proved more difficult to study, partly because they're masked by the more prominent wobbles. But from November 2005 to February 2006, the Chandler and annual wobbles essentially cancelled each other out. This allowed Sebastien Lambert of the Royal Observatory of Belgium and colleagues to study the minor variations and determine why they occur when they do. more... | Earth Changes |
---
Glaciers are melting at their fastest rate for 5,000 years (June 27, 2006) - Mountain glaciers are melting faster now than at any time in the past 5,000 years because of an unprecedented period of global warming, a study has found. Ice cores taken from mountains as far apart as the Andes in South America and the Himalayas in Asia have revealed how climate change is leading to a full-scale retreat of the world's tropical glaciers. Scientists have warned that human activities over the past 100 years may have nudged the global climate beyond a critical threshold which could see most of the highest ice caps disappearing within the near future. Melting glaciers in South America and Asia not only contribute to rising sea levels, they are also vital sources of freshwater for many millions of people who live within their range at lower altitudes, the scientists said. more... | Earth Changes |
---
Huge Asteroid to Fly Past Earth July 3 (June 26, 2006) - An asteroid possibly as large as a half-mile or more in diameter is rapidly approaching the Earth. There is no need for concern, for no collision is in the offing, but the space rock will make an exceptionally close approach to our planet early on Monday, July 3, passing just beyond the Moon's average distance from Earth. Astronomers will attempt to get a more accurate assessment of the asteroid's size by "pinging" it with radar. And skywatchers with good telescopes and some experience just might be able to get a glimpse of this cosmic rock as it streaks rapidly past our planet in the wee hours Monday. The closest approach occurs late Sunday for U.S. West Coast skywatchers. The asteroid, designated 2004 XP14, was discovered on Dec. 10, 2004 by the Lincoln Laboratory Near Earth Asteroid Research (LINEAR), a continuing camera survey to keep watch for asteroids that may pass uncomfortably close to Earth. more...
| Earth Changes |
This large asteroid isn't going to hit earth, but an asteroid that big could certainly be carrying with it some chunks it that could be closer to the earth. If you're interested, I'd recommend NASA's Near Earth Object Program website.
---
Scientists Find Giant Bubbles Surrounding the Earth (June 21, 2006) - According to a CNN report, the space above earth -- where Earth's magnetic field meets a constant stream of particles flowing out from the sun -- is "fizzling with activity as bubbles of super-hot gas constantly grow and pop around Earth." Reporter Robert Roy Britt notes that the newfound bubbles -- which can expand to about 620 miles -- are technically called density holes. Researchers first thought they had an instrument glitch when the spacecrafts passed through bubbles, adds Britt. more... | Earth Changes |
---
Mag. 5.5 - Queen Charlotte Islands Region (June 20, 2006) - A magnitude 5.5 earthquake struck the Queen Charlotte Islands region in the Pacific Northwest at 3:02 AM PST. more... | Earth Changes |
---
Scientists Warn of Immense Solar Storm Threat (May 4, 2006) - As the world scrambles to prepare for hurricanes and earthquakes of unprecedented strength, some scientists say the sun poses an equal threat, with predictions calling for a 2012 sun storm of immense proportions. If the idea of a solar storm sounds too much like the stuff of sci-fi, consider this: a single large solar flare has a million times more energy than the largest earthquake, according to Space.com. The vast space between the Earth and the Sun is filled with electrically-charged particles, radiation, magnetic fields, and electromagnetic energy that could play havoc with Earth in the event of elevated solar output. The last great solar super storm was 145 years ago. But, this event provides little context given our very recently-adopted dependence on satellite-based technologies. more...
| Earth Changes |
Personally, I think that a directed sun flare along with a weakened magnetic field will be the fulfillment of the fourth bowl of God's wrath described in Revelation 16:8,9 - "And the fourth angel poured out his vial upon the sun; and power was given unto him to scorch men with fire. And men were scorched with great heat, and blasphemed the name of God, which hath power over these plagues: and they repented not to give him glory."
---
Earthquake Activity Increases In Alaska, California (June 16, 2006) - Alaska and California normally experience many minor earthquakes, but activity for the past few days has been running higher than normal. Geologists are not certain what the higher numbers of small quakes mean, but they continue to closely monitor the situation. The Alaska Earthquake Information Center (AEIC) reports that, on Wednesday, June 14, 2006, at 4:18 am UTC (June 13, 8:18 pm ADT) a strong magnitude 6.4 earthquake occurred in the Rat Islands region of the Aleutian Islands. The AEIC's report on the earthquake states: "The mainshock (M6.4) was situated 87 kilometers (54 miles) southeast of Buldir Island. The epicenter was located at 51.86N and 176.92E at shallow depth. This earthquake is the largest to occur in this region since the magnitude 6.8 event on June 14, 2005. ... The AEIC located over a hundred aftershocks of the M6.4 event within the first two days of the sequence. The largest aftershock of magnitude 5.9 occurred 30 minutes after the main shock. "The June 14, 2006 earthquake occurred near the margin of the rupture zone of the M7.7 earthquake of November 17, 2003. The M7.7 event ruptured the boundary between the subducting Pacific and overriding North American plates (approximate extent of the rupture zone is shown by the black line). This region, where the two plates are being forced directly into one another, is one of the world's most active seismic zones. Over one hundred earthquakes of magnitude seven or larger have occurred along this boundary in the past hundred years. more... | Earth Changes |
---
4.7 Mag. Felt: Light Earthquake in No. California (June 15, 2006) - 4.7 earthquake 6 miles East of San Martin, CA. more... | Earth Changes |
---
Geyser, Inactive Since '98, Erupts (June 14, 2006) - Lee Whittlesey and Betsy Watry heard it before they saw it. "It was like a jet plane," Whittlesey said. The two were hiking near the edge of Norris Geyser Basin in Yellowstone National Park on Saturday, looking for remnants of an old hotel. Around 5 p.m. they heard the roar, turned around and saw Ledge geyser, the second-largest at Norris and dormant since 1998, erupting full-bore, sending a plume of steam about 100 feet in the air. "I've been in the park 30 years and this was the first time I'd seen Ledge erupt," said Whittlesey, who is Yellowstone's historian. "Now I can check that one off." Watry, who works for the Yellowstone Association, said they were shocked at the show that unfolded about a quarter-mile away. "We just stood there stunned and watched it for a while," she said. The eruption coincided with other out-of-the-ordinary activity at Norris over the weekend, including the eruption of other sporadic geysers and changes in the water at the surface. more... | Earth Changes |
---
New Quake at Mt. St. Helens Sends Steam, Ash 15,000 Feet High (June 12, 2006) - A small earthquake was recorded at 9:04 p.m. Friday, according to the U.S. Geological Survay. The magnitude 3.2 quake was followed by reports of steam and an ash plume. An airline pilot then reported a steam plume rose to an altitude of about 15,000 feet. U.S. Geological Survey spokesman Jim Vallance said the quake was probably caused by a large rockfall from the lava dome inside the crater. Most likely some hot rock mixed with snow causing the steam. The small amount of ash in the plume was probably kicked up by the rock fall, he said. A similar event on May 29th melted some snow and ice in the crater and also sent up a plume to about the same altitude, he said. Seismic activity at the mountain has now returned to normal. | Earth Changes |
---
Spring of 2006 Warmest On Record In Canada, Says Environment Canada (June 11, 2006) - The spring of 2006 has been the warmest in Canada since record-keeping began, according to preliminary data from Environment Canada. Average temperatures have been 3 degrees C above normal, consistent with a trend that has seen temperatures rise 1.6 degrees C since 1948. The trend has been accelerating, with five of the warmest springs on record occurring in the last decade, the federal data show. Last winter was the warmest on record with temperatures 3.9 degrees above normal. more...
| Earth Changes |
This article goes on to put an environmentalist slant on the data retrieved, placing the "blame" for this global warming on us for our pollution. While I agree pollution is bad, I disagree that we are the cause of global warming. The evidence is given by the scientific evidence found throughout our whole solar system. There is a solar system-wide increase in radiation of light measured from all the planets as well as other measurements that show that while the earth's global temperature is increasing, so is Mars. Venus has had a 2500% increase in auroral brightness and global atmospheric changes in less than 30 years, and every planet has some dramatic increase. The sun has had more activity since 1940 than in the previous 1150 years. For more data on these measurements, go here. Clearly, those stuck only observing the earth are going to miss these facts and blame the changes on us because cars are relatively new to the scene. Don't be deceived by this ploy. One volcano eruption produces more greenhouse gasses than a years-worth of car pollution in Los Angeles. Look how many are becoming active in the earth changes page. It's a ploy to get public funds for an apparent problem that can't be fixed. It takes more money from our pockets and puts it into the hands of the rich and powerful. They use fear to manipulate the masses. Be wary of fear-mongering to get money. Look at the WHOLE spectrum of evidence, not just what's directly in front of you. (ie, examine the whole solar system before saying the only place affected is earth.) There are no traffic jams on Mars, but it's in the same predicament as earth.
---
Record meteorite hit Norway (June 9, 2006) - As Wednesday morning dawned, northern Norway was hit with an impact comparable to the atomic bomb used on Hiroshima. At around 2:05 a.m. on Wednesday, residents of the northern part of Troms and the western areas of Finnmark could clearly see a ball of fire taking several seconds to travel across the sky. A few minutes later an impact could be heard and geophysics and seismology research foundation NORSAR registered a powerful sound and seismic disturbances at 02:13.25 a.m. at their station in Karasjok. Farmer Peter Bruvold was out on his farm in Lyngseidet with a camera because his mare Virika was about to foal for the first time. more... | Earth Changes |
---
55 Die in China's Worst Flooding in 30 years (June 8, 2006) - At least 55 people have been killed and 12 are missing amid the worst flooding in eastern China in three decades, the government said on Thursday. More rain was forecast, with a trough of low pressure bringing more unsettled weather to coastal areas. At least 378 000 people have already been evacuated from the provinces of Fujian, Guangdong and Guizhou due to floods prompted by an unusually heavy seasonal monsoon, the Ministry of Civil Affairs said. Fujian has recorded 28 flood deaths since the end of May, with the other two provinces reporting 11 each. Other provinces further inland and to the north have also reported scattered deaths and flood damage. more... | Earth Changes |
---
11,000 Flee Indonesia Volcano (June 6, 2006) - Officials evacuated 11,000 villagers from around Mount Merapi volcano as it shot out lava and superheated clouds of gas, authorities said Tuesday. The mountain's lava dome has swelled in recent weeks, raising fears that it could suddenly collapse and send scalding clouds of fast-moving gas and debris into populated areas. The government of nearby Magelang district mobilized more than 40 trucks and cars to evacuate about 11,000 villagers from three subdistricts near the foot of the mountain, said Edy Susanto, a district official. He said the villagers were taken to temporary shelters, including school buildings. "Of course it is dangerous. But we don't know for sure whether the lava dome will collapse," said Subandriyo, a government volcanologist who uses only one name. Red-hot lava flowed as far as a half-mile from the mountain's crater, while gas clouds called pyroclastic flows streamed as far as 1½ miles down its southwestern slope, Subandriyo said. The 9,800-foot mountain is one of the world's most active volcanoes. more... | Earth Changes |
---
Volcano Erupts in South Japan (June 6, 2006) - Sakurajima, one of Japan's most active volcanoes, has erupted near the southern Japanese city of Kagoshima. Smoke and ash rose high above the island's northern peak 1 117m high as residents of the nearby capital of Kagoshima prefecture looked on. Over 600 000 people live in the shadow of the volcano which is only a few kilometres off the port serving Kagoshima city. Thousands of small explosions occur each year on Sakurajima, throwing ash thousands of kilometres into the sky. The last major eruption occurred in 1914, though most of the residents fled before the volcano engulfed several islands nearby and swallowed part of the bay of Kagoshima. The UN has designated Sakurajima as a mountain worthy of particular study due to the presence of a highly densely populated city nearby. The city conducts regular evacuation drills, and a number of shelters have been built where people can take refuge from falling volcanic debris. | Earth Changes |
---
Peru Volcano Activity Has Authorities Preparing Evacuation (June 5, 2006) - Authorities in southern Peru said Monday they are evacuating about 480 families due to an increase in seismic activity at the Ubinas volcano. "We are currently at work readying shelters for the temporary evacuation of the inhabitants of five communities," Cristala Constantinides, president of the Moquegua region where the Ubinas volcano is located, told the press. The regional authority said that they are collecting tents, blankets and whatever else is needed to move the families, while at the same time they have asked the National Police of Peru and the army to put their vehicles at the service of the evacuation effort. Volcano experts put the Ubinas area on orange alert (medium intensity level of seismic activity) on Saturday, after registering several explosions since May 31, including one that spewed glowing hot lava 200 meters (656 feet) into the air. In April, the last time the Ubinas volcano registered an alarming increase in seismic activity, its crater doubled in size to 80 meters (262 feet) in less than a week and more than 200 people fled from their homes by their own means. Toxic emissions from the volcano on that occasion caused the death of about 50 llamas and alpacas. As many as 40 people, most of them farmers and ranchers in the valley near Ubinas, experienced conjunctivitis and/or respiratory problems as a result of the volcanic discharge. more... | Earth Changes |
---
Strong Earthquake Hits Off Tonga (June 2, 2006) - A strong earthquake with an estimated magnitude of 6.1 struck Friday near the Pacific islands of Tonga, the US government said. The U.S. Geological Survey said the epicenter of the quake, which occurred at 0731 GMT, was located 363 kilometres (226 miles) west of the island nation's capital Nuku'alofa. No reports of casualties or damage were immediately available. | Earth Changes |
---
Ocean Vortex 'Death Trap' Discovered (June 2, 2006) - A MASSIVE ocean vortex discovered off the West Australian coast is acting as a "death trap" by sucking in huge amounts of fish larvae and could affect the surrounding climate. A team of scientists from The University of Western Australia Murdoch University, CSIRO and three American, French and Spanish research institutions announced the discovery of the vortex after a month-long research voyage in the ocean just west of Rottnest Island. Led by Dr Anya Waite, a biological oceanographer from UWA, the 10-member team found the vortex – 200km in diameter and 1000m deep – spinning at speeds up to 5kph just off the Rottnest Canyon. Dr Waite said the vortex, shaped like a giant child's spinning top, was created by current movement down the coast and is one of the largest ever found off of WA. Visible from space, the vortex is acting as a "death trap" by sucking in fish larvae from closer to the shore, she said. more... | Earth Changes |
---
'Moderate' Earthquake Rattles New Brunswick (June 1, 2006) - Residents of western New Brunswick woke up to the ground shaking Thursday morning as the region was hit by what experts called a "moderate" earthquake. The quake, which had a magnitude of 3.6, hit at approximately 6:30 a.m. ADT. It originated 25 kilometres southeast of the village of Perth-Andover, near the Maine border. There were no immediate reports of damage. "We heard a rumbling from a distance, almost as though a train or a jet was low," said Richard Newman, who lives in nearby Bristol. "And then, maybe a second or two, there was a rattling underneath our feet and the house shook and the dishes shook, and the windowpanes shook." more... | Earth Changes |
---
Indonesia Quake Death Toll at 5,427 (May 30, 2006) - International relief efforts picked up on Tuesday for survivors of a weekend earthquake that killed more than 5,000 people on Indonesia's Java island, with over a score of countries now involved. Planes carrying vital supplies from abroad reached the stricken region, while the airport at the ancient royal capital of Yogyakarta re-opened to commercial traffic despite a heavily damaged terminal. A plane carrying a 40-member Chinese medical team as well as five tonnes of medical supplies landed early on Tuesday at Solo, some 60 km (40 miles) north of Yogyakarta province, Xinhua news agency reported. The quake's official death toll had reached 5,427 as of Tuesday morning, according to the government's Social Affairs Department. The 6.3 magnitude quake left more than 130,000 homeless by one estimate, many without shelter and short of food. Many survivors who were injured or whose homes were destroyed have been staying on the grounds of hospitals and mosques or in makeshift shelters beside the rubble of their houses. The tremor early on Saturday was centred just off the Indian Ocean coast near Yogyakarta, the former Javanese royal capital. The United Nations Children's Fund (UNICEF) said 20,000 people were injured and more than 130,000 left homeless, of which 40 percent were children. more... related story: 647,000 Indonesians displaced by quake | Earth Changes |
---
Geologists Warn Indonesia Quake Could Awaken Nearby Volcano (May 30, 2006) - Geologists warned Tuesday that simmering Mount Merapi volcano could blow its top in the wake of the powerful quake that devastated swathes of Indonesia's main island of Java. "Theoretically as well as statistically, there is a very large possibility that tectonic activities trigger or increase volcanic activities," said Syamsulrizal, who works at Indonesia's national vulcanology office. Quake activity near a dormant volcano may "switch it on," while already active volcanoes could see more intense rumblings, said the head of the office's department for disaster risk evaluation. Since Saturday's 6.3-magnitude earthquake, seismologists have noted increased flows of lava and heat clouds at Merapi, just north of the temblor's epicentre. Authorities had already issued a red alert ahead of a possible eruption and shelter camps were set up to house more than 24,000 people evacuated from its slopes. more... | Earth Changes |
---
Reports of Over 3,000 Killed by Earthquake in Indonesia (May 29, 2006) -
"The area struck by the quake is densely-populated. The Indonesian Red Cross estimates some 200,000 people fled their homes after it hit early on Saturday morning." According to a BBC report, an earthquake measuring about 6.2, has claimed the lives of more than 3,000 people in Indonesia on Saturday. The quake hit around 25km (15 miles) south of the city of Yogyakarta, the US Geological Survey (USGS) said. The hospitals in the area have been overwhelmed by the thousands of people injured, and many are feared to be still trapped under the rubble. In addition, the quake may have triggered the Mount Merapi volcano, which is also part of the Pacific "ring of fire." The report stated, "there was an eruption soon after the quake which sent debris some 3.5km (2 miles) down its western side." more... | Earth Changes |
---
Comoros Volcano Erupts, Spews Lava (May 28, 2006) - Lava spewed from a volcano on the Indian Ocean island of Grande Comore on Sunday, lighting up the sky and sending scores of frightened residents onto the streets. Residents of Moroni, the capital of the Comoros islands, said they could see lava at the top of 2,361-metre (7,746-ft) Mount Karthala, one of the world's largest active volcanoes. "When I saw Karthala glowing we came out to see what was going on but I really don't know, I'm worried," said 35-year-old Houmadu Saindou. Karthala last erupted in April 2005, affecting as many as 40,000 residents and forcing thousands to flee in fear of poisonous gas and a possible magma flow. It was the volcano's first eruption in more than decade on the archipelego nation, 300 km (190 miles) off the coast of east Africa. Volcano scientist Hamidou Nassor said Sunday's activity also amounted to an eruption but it was too soon to tell how dangerous this one would be. more... | Earth Changes |
---
Volcano's Lake Turns From Blue to Red (May 28, 2006) - WELLINGTON, New Zealand - A lake atop a rumbling volcano on the South Pacific island of Ambae has changed color from blue to bright red, puzzling scientists. Mount Manaro, one of four active volcanos on the island nation of Vanuatu, has been showing signs of erupting for only the second time in 122 years. "We are still ... trying to understand this change of color in the lake from blue to red," Geology and Mines Department director Esline Garae said by telephone Monday from Vanuatu's capital, Port Vila. She said two scientists on Ambae Island were monitoring Lake Vui as well as seismic activity on the 5,000-foot Mount Manaro. If the change of color "comes from new activity in the ground or just chemical change in the lake _ these are two things I want to know from those guys before I can say anything" about the danger posed by the volcano, she said. Mount Manaro last erupted in November 2005, forcing half the island's 10,000 inhabitants to evacuate their villages. An 1884 eruption killed scores of villagers. New Zealand volcanologist Brad Scott said Lake Vui's color was "quite a spectacular red," but what had caused it "is the $64,000-question." He said water samples from the lake would help determine what was happening in the crater and below it. The color change could be a chemical process or gas from molten volcanic rock or something else coming into the lake, he said. Three other volcanos in Vanuatu _ Lopevi, Yasur and a two-crater volcano on Ambryn Island called Marum and Benbow _ have spewed rocks, ash, smoke and steam in recent weeks. Vanuatu, formerly the New Hebrides Islands, is made up of 13 main islands located about 1,400 miles east of Australia. | Earth Changes |
---
Where Have All the Icebergs Gone? (May 25, 2006) - The British-funded Ice Patrol is usually busy in May, protecting shipping from rogue bergs. But it's all gone alarmingly quiet this year, as Michael Park discovers. A mere 1,000 feet above the frigid waters of the North Atlantic the debate began in earnest. The pilot of the US Coast Guard's sturdy C130 plane believed the object which had appeared on both of the plane's radars was an iceberg. One of two young but experienced ice observers on board disagreed. To definitively identify the target, the plane started to descend to a mettle-testing 400 feet. This was part of the mission, and what is demanded of the staff of the International Ice Patrol (IIP) by the hundreds of ships that traverse this relatively small part of the ocean and rely on its findings for their safety. Ever since the Titanic struck what was actually one of more than 350 icebergs drifting amid the northern Atlantic shipping lanes in April, 1912, the US Coast Guard has undertaken annual iceberg patrols to help protect passenger and freight vessels that sail through the congested waters east of Canada and down the east coast of America. "Before we started there were 113 recorded sinkings caused by icebergs," says Michael Hicks, the present Commander of the International Ice Patrol. "There have only been 19 since (omega) the Titanic sank, and all of those were vessels that chose to ignore our warnings." In the past, in a single year, more than 2,000 icebergs have been spotted, tracked and on occasion ineffectually bombed by aircraft, in order to prevent calamitous disasters at sea. Yet in other years, including this one, few if any bergs manage to migrate south from the Arctic Circle. If the unidentified floating object below the approaching plane is in fact an iceberg, it will be the first one seen in the shipping lanes since May 2005 °© a situation perplexing to oceanographers but emboldening to those shouting loudly about the effects of climate change. "I've been trying to understand the variability for years," says Don Murphy the IIP's veteran oceanographer. "And every year that goes by I get another year of experience and realise how little we really know." more... | Earth Changes |
---
Montserrat's Volcano Threatens Region with Tsunamis (May 24, 2006) - Around 7:20am, Saturday, 20 May 2006, residents of Montserrat witnessed the first dome collapse pyroclastic flow as it reached the sea. All eyes turned to the sky. Scientists at the Montserrat Volcano Observatory (MVO) say they recorded signals of increased activity around 6am, Saturday morning. Expecting that this dome collapse episode could go on for hours, the biggest concern was the possibility of explosive periods triggering pyroclastic flows into Tyres Ghaut, which is the upper reaches leading into the Belham River Valley. Residents of Salem, Olveston, and Old Towne reported stones falling in those communities. Head of the MVO, Dr. Sue Loughlin, confirmed that there was heavy ashing with accompanying small stones on the northwestern side of the island, especially in these villages. more...
| Earth Changes |
This is one of many indicators that the tectonic plates are becoming more active around the world. Volcanoes are waking up all over the place. This could mean more potential for earthquakes all around the 'ring of fire' and elsewhere. The Pacific Northwest, San Francisco, and L.A. could be hit at any time. There is also the dangers in the Pacific Northwest of St. Helens and Mt. Rainier, both volcanoes, both with increased tremors and in the case of St. Helens, small eruptions and the rebuilding dome.
---
Ark. Residents Urged to Prepare for Quake (May 24, 2006) - Federal and state emergency officials are encouraging Arkansas residents to prepare now for a possible earthquake. The United States Geological Survey considers Arkansas among the states with a "high earthquake risk" because of activity in the New Madrid fault zone. The fault runs from Marked Tree to near Cairo, Ill., and while it remains active, most of the quakes are too small to be felt at the surface. Win Henderson, a spokesman for the Federal Emergency Management Agency at Little Rock, said Monday the agency wanted to issue a reminder to residents because catastrophic earthquakes are so unpredictable. "It could be tomorrow. It could be 60 years. We don't know," Henderson said. In 1811-12, the faults produced some of the strongest temblors ever known to have struck the continental United States. Scientists say similar quakes could kill and injure thousands from St. Louis to Memphis, Tenn., and into northwest Mississippi, but they're uncertain about how much strain and movement is occurring along the fault zone. more... | Earth Changes |
---
Millions of US Coastal Residents Not Taking Hurricane Threat Seriously: Poll (May 19, 2006) - One year after the deadly Hurricane Katrina devastated New Orleans, millions of Americans in hurricane-prone areas are paying little heed to the threats posed by the powerful storms, according to a survey Tuesday. "Katrina was quite a national wake-up call, yet it seems too many residents are still asleep," said Max Mayfield who heads the Miami-based National Hurricane Center (NHC). Mayfield said a Mason-Dixon opinion poll conducted for the NHC showed that 56 percent of the people in areas at risk along the US Gulf and Atlantic coasts do not feel vulnerable to a hurricane, and 83 percent have not strengthened their homes to resist the dangerous storms. "The most disturbing, is that 13 percent say they would not evacuate even if ordered to leave," said Mayfield. Hurricane Katrina killed over 1,500 people along the US Gulf coast last year, many of them New Orleans residents who had not followed evacuation orders. Forecasters believe 17 tropical storms, including nine hurricanes, could form during the six-month Atlantic cyclonic season that starts on June 1. more... | Earth Changes |
---
Typhoon Chanchu Barrels Towards Hong Kong, Southern China (May 17, 2006) - with development in Hong Kong, ADDS Taiwan warning /// Typhoon Chanchu barrelled towards Hong Kong and southern China Tuesday after claiming at least 41 lives in the Philippines and becoming the strongest storm on record to enter the South China sea in May. At 6:00 pm (1000 GMT), Chanchu was centered about 440 kilometers (273 miles) south-southeast of Hong Kong and was moving north at 18 kilometers per hour towards the city and the eastern part of southern China's Guangdong province, the Hong Kong Observatory said. In Hong Kong, signs that warn residents to prepare for a possible typhoon could be seen outside ferry terminals and in office buildings. Although the air was still calm with only thin drizzle on Tuesday afternoon, officials at the Observatory predicted stronger winds and heavy rains later Tuesday or Wednesday morning, when it will consider raising its alert level. "The intensity of the typhoon remains at 130 kilometers per hour. So it's a very intense typhoon. We expect local wind to strengthen gradually today," said Pon Hoi-to, senior scientific officer at the Observatory. more... | Earth Changes |
---
Quake Rocks Islands Near New Zealand (May 16, 2006) - A powerful earthquake hit deep under the South Pacific late Tuesday near an uninhabited chain of islands north of New Zealand, and it rocked a wide area of the country, but no damage or injuries were reported. The Pacific Tsunami Warning Center issued a bulletin saying the magnitude 7.4 quake had not generate a destructive Pacific-wide tsunami but warned it could spawn a small tsunami within 60 miles of its epicenter. The U.S. Geological Survey said the quake hit at 10:39 p.m. (6:39 a.m. EDT) about 90 miles below the seabed, and was centered about 180 miles south-southwest of Raoul Island, which is 712 miles northeast of New Zealand's largest city, Auckland. more... | Earth Changes |
---
Indonesia's Merapi Volcano Explodes with Gas (May 15, 2006) - Indonesia's Mount Merapi volcano exploded with clouds of hot gas and ash rain early on Monday, sending some villagers who had been reluctant to leave scurrying for safety. Gray ash covered some vegetation and rooftops in the area of Ketep, 10 kms (six miles) from the base of the mountain, and many houses appeared deserted after residents evacuated. Not everyone was gone, however. Some people cleaned ashes off their houses and others opened shops, while commercial mini-buses continued to run. The mountain "has exploded already", the head of the Merapi section at the Center of Vulcanological Research and Technology in Yogyakarta told Reuters. more... | Earth Changes |
---
Ecuador Volcano Shows Signs of Activity (May 15, 2006) - Ecuador's Tungurahua volcano is emitting its loudest and most frequent explosions since it rumbled back to life nearly seven years ago after eight decades of inactivity, scientists said. The volcano registered 133 explosions of vapor and gas between Wednesday and Friday, Ecuador's Geophysics Institute reported. But the increased activity was not necessarily a sign of an imminent eruption, said Hugo Yepes, the institute's director. "It has been rumbling constantly in the last six years, always registering explosions, emitting ash," he told The Associated Press. more... | Earth Changes |
---
Northeast Floods Spark States of Emergency (May 15, 2006) - Torrential rain forced hundreds of people from their homes in parts of New England on Sunday, as water flowed over dams and washed out roads. The governors of New Hampshire and Massachusetts declared states of emergency, activating the National Guard to help communities respond to the storm. Maine's governor also declared a state of emergency for one county. "It's a very serious situation," said New Hampshire Gov. John Lynch, adding that forecasters were predicting 12 to 15 inches of rain by the end of the storm in parts of southern New Hampshire. "It continues to change and the situation continues to worsen." A dam in Milton, N.H., was in danger of failing, which could send a 10-foot wall of water downstream, the National Weather Service said in a bulletin. People downstream were being evacuated in the town. The state Office of Emergency Management said at least a dozen dams were being closely watched. In Massachusetts, cars were pulled from flooded streets in downtown Peabody, about 20 miles north of Boston, and about 300 people were evacuated from an apartment complex for seniors. About 150 residents in Melrose, Mass., had to leave their homes after sewage lines were overwhelmed, backing up into houses, said Massachusetts Gov. Mitt Romney. About 10 communities in the northeast section of the state opened temporary shelters, Romney said. more... | Earth Changes |
---
'Powerful' Volcano Eruption in Russia's Far East (May 9, 2006) - A volcano on the Kamchatka peninsula in far eastern Russia erupted Tuesday in a powerful explosion that spewed smoke and ash up to 15 kilometers (nine miles) into the air and sent red-hot lava flowing down the volcano's slopes, news agencies reported. The eruption posed no immediate danger to populated areas on the remote peninsula but aircraft were advised to skirt far around the vicinity while authorities said tourists and hunters should not approach any closer than 20 kilometers (12 miles) to the volcano, ITAR-TASS said. A massive cloud from the eruption was blowing east over the Pacific Ocean at an altitude of around eight kilometers (five miles) and had already spread over a distance of up to 700 kilometers (435 miles), the agency said, quoting experts at the Russian Academy of Sciences. more...
---
Plankton Blooms Linked to Quakes (May 9, 2006) - Concentrations of the natural pigment chlorophyll in coastal waters have been shown to rise prior to earthquakes. These chlorophyll increases are due to blooms of plankton, which use the pigment to convert solar energy to chemical energy via photosynthesis. A joint US-Indian team of researchers analysed satellite data on ocean coastal areas lying near the epicentres of four recent quakes. Details of the research appear in the journal Advances in Space Research. The authors say the chlorophyll blooms are linked to a release of thermal energy prior to an earthquake. This causes the sea surface temperature to rise and increases the surface latent heat flux - the amount of energy moving from the surface to the air due to evaporation. And in turn, there is enhanced upwelling - the process by which cold, nutrient-rich water is transported from the deep sea to the surface. more...
---
5,000 Indonesians Evacuated, First Lava Oozes From Mount Merapi (May 5, 2006) - More than 5,000 Indonesians have fled their homes around simmering Mount Merapi, officials said Thursday, as the first lava flow oozed from the volcano. Lava spilled at 2:00 am (1900 GMT Wednesday) from a new lava dome that has grown on top of Mount Merapi, which has been on stand-by alert for three weeks, said Muzani from Yogyakarta's Vulcanology office. "The lava flowed for about 200 meters (yards)," he told AFP. For the first time, a fixed burning spot was also seen from the village of Ndeles, one of the villages highest on the fertile slops of the volcano, from 4:00 am, he said.
---
Large Aftershock Hits Tonga a Day After Major Quake (May 5, 2006) - A series of aftershocks with magnitudes of up to 6.0 rocked the island nation of Tonga a day after a massive 7.9 quake triggered tsunami warnings across the Pacific, US monitors said Thursday. The US Geological Survey, based in the US state of Colorado, reported 12 quakes measuring between 4.4 and 6.0 that shook the region in the 24 hours following the major temblor that sparked tsunami panic in New Zealand. The respected USGS, which had earlier put the magnitude of the main quake at 8.0, also downgraded it to 7.9, while the Pacific Tsunami Warning Center revised its own reading from 7.8 to 7.9, scientists told AFP. But while a strong quake measuring 6.0 hit about 135 kilometers (85 miles) east of the main Tongan island of Nuku'alofa at 1125 GMT Thursday, no fresh tsunami warnings were issued. more...
---
Massive Rock Slab Growing Out of Mount St. Helens' Crater (May 5, 2006) -
Watch short movie of it growing! If the skies are clear as forecast, volcano watchers who turn out for the reopening of the Johnston Ridge Observatory on Friday will get a spectacular view of a hulking slab of rock that's rapidly growing in Mount St. Helens' crater. It's jutting up from one of seven lobes of fresh volcanic rock that have been pushing their way through the surface of the crater since October 2004. The fin-shaped mass is about 300 feet tall and growing 4 feet to 5 feet a day, though it occasionally loses height from rock falls off its tip, said Dan Dzurisin, a geologist at the U.S. Geological Survey. The rock in the crater began growing last November, steadily moving west and pushing rock and other debris out of its way as it goes. Mount St. Helens, located in the Cascades of Washington state, has been quietly erupting since a flurry of tiny earthquakes began in late September 2004. Scientists initially mistook the quakes as rainwater seeping into the hot interior of the older lava dome. But it soon became clear that magma was on the move, confirmed by the emergence of fire-red lava between the old lava dome and the south crater rim a few weeks after the seismic activity began. The volcano has continued pumping out lava ever since. Eventually, scientists expect the volcano will rebuild its conical peak, which was obliterated in the May 18, 1980 eruption that left 57 people dead. The current growth of the new lava dome has been accompanied by low seismicity rates, low emissions of steam and volcanic gases and minor production of ash, the USGS said.
---
Unusual Weather Pattern Halts Yaquina Bay Regatta (May 5, 2006) - The Yaquina Bay Yacht Club's annual Loyalty Day Regatta, held Saturday and Sunday in Newport's Yaquina Bay, began under light wind conditions, leading some to question whether gusts would pick up enough to carry the day's races. By 2 p.m. Saturday afternoon, however, a bizarre squall had arrived, drastically changing weather conditions from sunny, blue skies at 1:50 p.m. - when average wind speeds were clocked at 7 miles per hour - to cold, grey conditions at 2 p.m., when sheets of rain and mist were driven by winds averaging 22 mph - bringing an abrupt wind speed increase of at least 15 mph within a span of only 10 minutes. The uncharacteristic storm blew in from the north rather than the south, where central coast residents usually look for systems of cold, wet weather; and was accompanied by a slight increase in barometric pressure, divergent from the usual barometric drop that often portends an incoming storm. By 7 p.m., picturesque conditions had returned, replacing the damp cold of the afternoon with a soft blue sky and mild 10-mph winds.
---
Scientists warn of solar storm threat (May 4, 2006) - "The heavens assumed an almost blood red appearance, while here and there long streaks of light shot up from the horizon to the zenith," The New York Herald reported after the solar storm of 1859. Scientists say in less than a decade, it will likely happen again on a more devastating scale. As the world scrambles to prepare for hurricanes and earthquakes of unprecedented strength, some scientists say the sun poses an equal threat, with predictions calling for a 2012 sun storm of immense proportions. If the idea of a solar storm sounds too much like the stuff of sci-fi, consider this: a single large solar flare has a million times more energy than the largest earthquake, according to Space.com. The vast space between the Earth and the Sun is filled with electrically-charged particles, radiation, magnetic fields, and electromagnetic energy that could play havoc with Earth in the event of elevated solar output. The last great solar super storm was 145 years ago. But, this event provides little context given our very recently-adopted dependence on satellite-based technologies. Last month, experts convened in Colorado during Space Weather Week (April 25-28) to discuss the issues surrounding the approaching 2012 event. If the storm turns out to be at the same scale as the one in 1859, economic disaster would ensue, with immediate costs around the $20 billion mark. more...
---
Hurricane Alley Heats Up (May 2, 2006) - Water temperatures in areas where hurricanes form in the Atlantic Ocean have warmed up over the past century and human activity could be the reason, scientists report. To develop into a hurricane, a tropical storm needs its primary fuel—water—to be at least 80 degrees Fahrenheit (26.5 Celsius). Previous studies suggest that warmer temperatures can fuel stronger storms. Long-term trends show that global ocean surface temperatures have warmed up in the past century, and that this is helping to create stronger hurricanes. A hurricane spawning region in the Atlantic Ocean off the coast of Africa has experienced more extreme temperature variation than other areas, according to new computer simulations that tease out the long-term change from other known variations that can last decades. The water temperature in this "hurricane alley" has risen several tenths of a degree Celsius over the 20th century. "This very long-term increase in temperature may seem small but is comparable in magnitude to shorter time-scale, multi-decadal changes that many scientists now believe contribute strongly to an increase in hurricane activity in the Atlantic," said study team member Thomas Knutson, a meteorologist at the Geophysical Fluid Dynamics Laboratory in Princeton. more...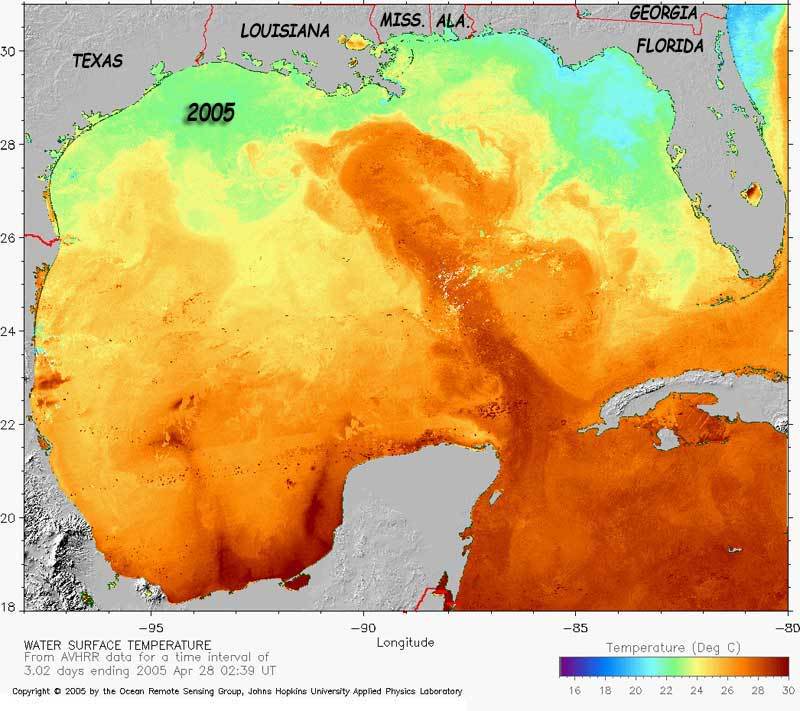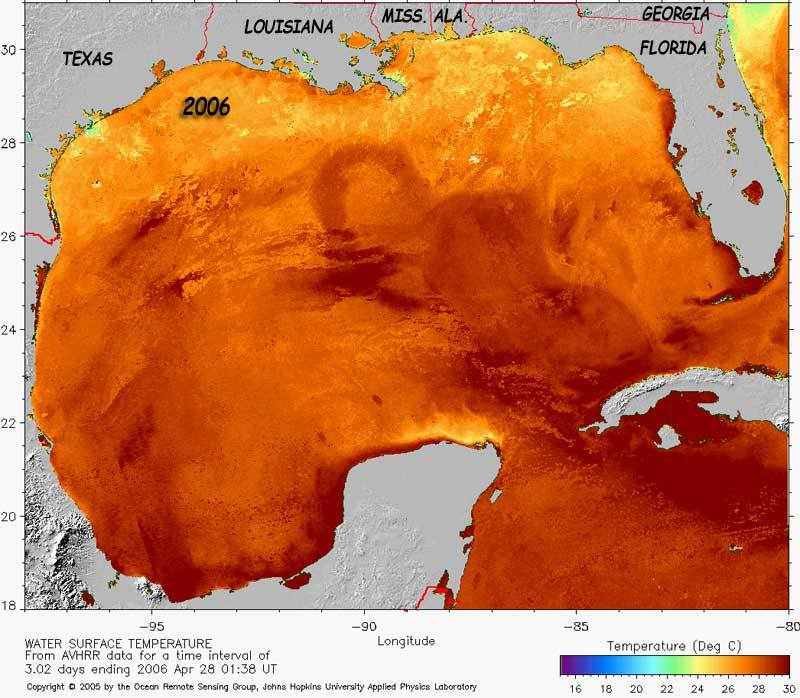 ---
3 Earthquakes Strike Tonga Islands: Tsunami Warning Issued (May 3, 2006) - A magnitude 8.0 earthquake struck early Thursday near the South Pacific nation of Tonga, prompting tsunami warnings for as far away as Fiji and New Zealand. The warning was lifted after a tsunami of less than 2 feet was recorded. There were no reports of injuries or damage from the quake or tsunami. The Pacific Tsunami Warning Center in Honolulu lifted its warning for all areas within two hours. It said there was no data indicating that the 4:26 a.m. earthquake generated a giant wave. View other recent earthquakes
---
Three Earthquakes Hit Northern Chile (May 2, 2006) - A strong earthquake hit northern Chile near Copiapo on Sunday, the US Geological Survey reported. The 6.4 magnitude quake struck 55 kilometers (34 miles) northwest of the town of Copiapo or 724 kilometers (450 miles) north of Santiago, at 1917 GMT, the USGS reported. The tremor occurred six kilometers (3.7 miles) below the surface. The quake was followed nine minutes later by a moderate, 5.2 magnitude quake at a depth of 10 kilometers (six miles) off the shore of Atacama, 710 kilometers (440 miles) north of Santiago at 1926 GMT, USGS said.
---
Hot Clouds Pose Deadliest Threat From Indonesian Volcano Merapi (April 25, 2006) - Super-hot clouds that would rush down the slopes of Indonesia's Mount Merapi burning everything in their path in the event of an eruption pose the deadliest threat to the people living nearby, scientists said Monday. The 2,914-meter (9,616-foot) rumbling volcano has been on standby alert for more than a week, one level below that which would require a mandatory evacuation for more than 29,000 people living around its fertile slopes. more...
---
Nicaraguan Volcano San Cristobal Spews Cinders Gas (April 25, 2006) - The San Cristobal volcano near here has entered an eruption phase with cinder and gases spewing from its crater amid increased seismic activity, according to the Nicaraguan Institute of Territorial Studies (Ineter) Monday. The volcano, 120 kilometers (75 miles) northeast of Managua, has had "moderate explosions in its crater that have released gases and volcanic cinder" carried by winds toward towns 25 kilometers (16 miles) away, the institute said. more...
---
Volcano Wakes Up Russian Far East (April 24, 2006) - Mount Ebeko, a volcano on the island of Paramushir, which belongs to the Northern Kuril chain in Russia's Far East, has started emitting vapor and gas, a local emergencies official said Monday. "A weather station in Severo-Kurilsk, a town seven kilometers (about 4 miles) away, has reported that the volcano was emitting vapor and gas," the spokesman said, adding that a team of researchers from the Volcanology and Seismology Institute based on the Kamchatka Peninsula was monitoring the volcano. more...
---
Australia, now very strong Category 5 (April 23, 2006) - This situation continue to deteriorate along the north coast of Australia. It is hard to imagine a worse situation in this area as Australian cyclones almost never reach this strength. Monica is currently much stronger than 1974's Cyclone Tracy which is the benchmark storm for the area. As far as I can tell, Monica may be the most intense cyclone to ever impact the region or even Australia. However, records are hard to find. After striking Queensland a few days ago, Monica has crossed Gulf of Carpentaria and is strafing the coast of the Northern Territory. All of this comes as part of a recent string of cyclone strikes across the country. more...
---
Quake jolts eastern Japan (April 21, 2006) - An earthquake with a preliminary magnitude of 5.6 on the Richter scale rocked eastern Japan early Friday but there were no immediate reports of injuries or damage. The quake jolted the Izu Peninsula and Tokyo at 2.50am (1750 GMT Thursday), the Japan Meteorological Agency said. Its focus was about 10 kilometers (six miles) below the Pacific Ocean, east of the peninsula, Kyodo News reported the agency as saying. A weaker tremor with a preliminary magnitude of 3.9 occurred in the same area 16 minutes later. No tsunami warnings were issued. Japan, which lies at the junction of four tectonic plates, has about 20 percent of the world's powerful earthquakes, frequently jolting Tokyo and other major cities. On Thursday a moderate earthquake measuring 4.2 on the Richter scale occurred in the central prefecture of Tochigi, 100 kilometers (60 miles) north of Tokyo.
---
Magnitude 7.7 Quake Rattles Remote Russia (April 21, 2006) - A major earthquake shook a sparsely populated region of Russia's Far East on Friday, injuring more than 30 people but causing no deaths and minimal damage, officials said. The U.S. Geological Survey and Japan's Meteorological Agency estimated the temblor on Kamchatka Peninsula to be 7.7 magnitude. It hit around 12:30 p.m. local time in the Koryak region, nearly 4,000 miles east of Moscow and 625 miles north of the largest city in the area, Petropavlovsk-Kamchatsky, said Oleg Kotosanov, a duty officer with the regional Emergency Situations Ministry. more...
---
Belching volcano sparks alarm (April 21, 2006) - A volcano in southern Peru threw plumes of smoke high into the sky today, prompting authorities to declare an "orange alert" to encourage villagers to evacuate the area. Most farming families who live on the slopes of the Ubinas volcano had resisted calls to leave their homes since it rumbled back to life about two weeks ago, even though many have reported breathing problems and poisoned livestock. "Ashes fell all over the place ... in my home, even in my bed. Now my throat, my head and my eyes hurt," resident Benita Mamani said of the volcano's more violent activity earlier this week. Ubinas, located in the Moquegua region some 900km south of Lima, has been belching smoke and ashes sporadically for most of the month after nearly four decades of inactivity.
---
Huge ice chunks fall in California (April 19, 2006) - Twice in one week large chunks of ice have inexplicably fallen from the sky in California, leaving experts mystified. In Loma Linda, Calif., Thursday a chunk of ice the size of a microwave oven came crashing through the roof of a recreation center, the San Francisco Chronicle reported. The ice then fragmented into several opaque, white chunks. No one was injured in the incident. "I've been in the fire service for 31 years. I've heard and read about these things, but I've never seen this in person,'' Rolland Crawford, division chief of the Loma Linda Fire Department, told the paper. April 8 in Oakland a similar ice ball plunged to earth in a field at a park, making a 2-foot crater in the ground. A typical explanation may involve ice falling from an airplane, but ice caused by leaks from a plane's lavatory is blue in color and these objects were white. Myriad other hypotheses have been offered, with one scientist even blaming global warming. more...
---
Floods threaten 160,000 in southeastern Europe (April 18, 2006) - A swollen tributary of the Danube river rose to a record level in Hungary and Serbia, threatening at least 160,000 people and 50,000 homes as southeasthern Europe battled massive floods. Emergency crews scrambled to bolster the banks of the Tisza River that flows into Serbia from Hungary Tuesday after it reached its highest level in parts of the two countries already hit by flooding of the Danube. Further downstream in Romania, the rising Danube forced authorities to evacuate more than 4,700 people, mainly in the southern towns of Calarasi and Fetesti. In neighbouring Bulgaria, thousands of volunteers joined army troops to strengthen embankments along the surging Danube with sandbags. The situation was expected to worsen across the Balkans within hours, with heavy rainfall forecast later Tuesday or Wednesday, adding to the melting snow which has contributed to the flooding. more...
---
Strong earthquake off west coast of Sumatra (April 20, 2006) - A strong earthquake measuring 5.9 on the Richter scale struck off the western coast of northern Sumatra in Indonesia on Thursday, the Meteorology and Geophysics Agency in Jakarta said. The quake, centered 33 kilometres (20 miles) under the floor of the Indian Ocean some 300 kilometres west of Simeulue, was only moderately felt on the island, said Hardiyanto of the agency's office in the capital Jakarta. There were no reports of injuries or damage from the quake, which struck at 2:36 am local time (20:36 GMT). more...
---
Indonesians on Slopes of Mt. Merapi Prepare for Eruption (April 17, 2006) - Indonesia was preparing Monday for the possible evacuation of nearly 30,000 people living on the slopes of Java's simmering volcano Mount Merapi, officials and reports said. Vulcanologists have declared alert stage two, one level below ordering an evacuation of the 29,000 residents and two below a full eruption, Media Indonesia newspaper reported. Central Java Governor Mardiyanto said all districts on the slopes of the 2,914-metre (9,616-feet) volcano were preparing to coordinate relief and rescue efforts in the event of an eruption, the state Antara news agency reported. Villagers have set up early warning teams to monitor the volcano -- Indonesia's second most active -- around the clock, he added. more...
---
Volcano-Like Tremors Detected Near San Andreas (April 14, 2006) - Tremors within the Earth are usually--but not always--related to the activity of a volcano. Now, such vibrations have been recorded nowhere near a volcano, but at a geologic observatory at the San Andreas Fault. Scientists believe the fault tremors may be related to activity at a subduction zone--a place where one of Earth's constantly moving tectonic plates slips beneath another. To determine whether the San Andreas Fault is moving with the tremors, scientists with the San Andreas Fault Observatory at Depth (SAFOD) are installing instruments to measure the tremors' activity. Located near Parkfield, Calif., SAFOD is part of the EarthScope Project, an effort to study the North American continent's geology. more...
---
Scientists: Sumatra Quake Longest Ever Recorded (May 20, 2005) - Dramatic new data from the December 26, 2004, Sumatran-Andaman earthquake that generated deadly tsunamis show the event created the longest fault rupture and the longest duration of faulting ever observed, according to three reports by an international group of seismologists published Thursday in the journal "Science." "Normally, a small earthquake might last less than a second; a moderate sized earthquake might last a few seconds. This earthquake lasted between 500 and 600 seconds (at least 10 minutes)," said Charles Ammon, associate professor of geosciences at Penn State University.
---
Sumatra quake's awesome power 9.3 temblor ripped 800-mile gash in Earth's crust (May 20, 2005) - The monster earthquake that ravaged Sumatra and the Andaman Islands in December, killing 300,000 people in a tsunami that crossed the entire Indian Ocean, was of such epic proportions that even scientists accustomed to puzzling out the complexity of Earth's behavior are awed. They warn that similar disastrous earthquakes may lie ahead. Consider the almost unbelievable effects of the quake revealed by the latest analyses:
Without warning, it ripped a deep gash in the Earth's crust for more than 800 miles, and the rupture sped from south to north at more than a mile and a half per second.
It made the entire Earth "ring like a bell" as its seismic signals caused the planet's crust to vibrate in oscillations picked up by seismographs worldwide -- from instruments emplaced in the steppes of Russia to others buried beneath the Antarctic ice sheet.
It triggered an 11-minute swarm of 14 small quakes nearly 7,000 miles away, near the slopes of Alaska's unstable Mount Wrangell volcano.
It released the energy of 100 billion tons of TNT -- more than the power of a thousand 1-megaton hydrogen bombs.
The waves of the tsunami it created were so high as they crossed the Indian Ocean that satellites orbiting overhead had no trouble identifying them through radar measurements of the wave troughs.
"The sheer size of the event is so awesome. It is nature at its most formidable, and it has been humbling to all of us who have studied it," said Thorne Lay, director of the Institute of Geophysics and Planetary Physics at UC Santa Cruz, who organized the scientific teams that conducted the seismic autopsy. "Even among seismologists, we call this a monster earthquake." Roger Bilham, a leading geophysicist at the University of Colorado, saw the quake as a warning: "This should be a wake-up call that conservative seismic forecasts may not serve society well," Bilham said.
---
Related Topics: