This page is to track the news related to the the eventual attack on Israel by Russia, Turkey, Iran, and other Islamic nations. Read the Bible study of Ezekiel 38,39 for more detailed information.

I have begun to use a different site to share the Watchman Newsletter from December 2008 and on. Some stories will be archived there, but for the most part anything from November 2008 and before will remain here.

This page may take some time to load. For size reasons I have archived topics by year: |2007|2008|
---
Iran, Lebanon sign 5-year security pact The Jerusalem Post (November 27, 2008) - Iran and Lebanon have signed a security agreement, according to which Iran will supply the Lebanese army with weapons and equipment over the next five years, the London-based daily A-Sharq Al-Awsat reported. The agreement between the two nations was signed during Lebanese President Michel Suleiman's two-day visit to Teheran, which ended on Tuesday.

The visit focused on security and defense cooperation, as well as on regional and international matters of mutual concern, an Iranian source revealed to the paper. "Iran announced its readiness to supply Lebanon with defensive weapons, to be agreed upon in the framework of a defensive strategic system the Lebanese will formulate," a Lebanese source said. The two sides agreed to conduct ministerial visits to Teheran and Beirut in the near future. Iranian President Mahmoud Ahmadinejad also promised to visit Beirut soon, added the Lebanese source.

During his visit, Suleiman was accompanied by the ministers of foreign affairs, interior, labor, economy and trade, industry, and expatriates. Each of the ministers met with his Iranian counterpart to discuss mutual interests. By supplying the Lebanese army with weapons, Iran will thus be responsible for arming Lebanon's two major armed forces: the national army, and Hizbullah, The Media Line's analysts indicate.

Since the summer war of 2006 between Israel and Hizbullah, the Lebanese Islamic resistance movement has tripled its force, Israeli Defense Minister Ehud Barak said earlier this week. Hizbullah now holds 42,000 missiles and rockets, which it received from Iran, some of which can reach Israel's nuclear reactor in Dimona, almost 300 kilometers south of the Israeli-Lebanese border, Barak said.
| Iran | Israel | Islam | Gog/Magog |
---
Iran Urges Lebanese to Unite Against Israel FOCUS News Agency (November 26, 2008) - Iran, a main backer of Lebanon's Shi'ite group Hezbollah, urged the Lebanese people Tuesday to unite to confront Israel, the Islamic Republic's arch foe, Reuters informed. Iran's Supreme Leader Ayatollah Ali Khamenei made the comments to Lebanese President Michel Suleiman during a visit to Iran that included touring an exhibition by the Defense Ministry, Iranian media reported. "Iran believes the capability of all Lebanese groups should be at the service of (Lebanon's) power and unity to confront the danger of the Zionist regime," Khamenei told Suleiman, the official IRNA news agency reported.

Iranian officials often call Israel the Zionist regime. Suleiman, a Maronite Christian, was elected president in a May parliamentary vote after an 18-month standoff between the U.S.-backed government and the Hezbollah-led opposition. Under Lebanon's power-sharing system the presidency is held by a Christian while other top posts are taken by Sunni and Shi'ite Muslims and members of the Druze sect. "Holding talks among different Lebanese groups that are now led by the president is considered positive because Lebanon's bright future depends on national unity," Khamenei said.

Suleiman, a former army chief, was elected as part of an agreement brokered by Qatar in May to defuse the political crisis that had pushed Lebanon to the brink of civil war. Tehran has often praised Hezbollah, which has formidable guerrilla army, for fighting Israel in a 34-day war in 2006. Israel has accused Iran of supplying weapons to Hezbollah but Iran insists it only provides moral and political support. "Lebanon as a friendly and brotherly country in the region will always enjoy Iran's spiritual support," Parliament Speaker Ali Larijani told Suleiman, Iran's ISNA news agency reported.

Suleiman's trip included touring an exhibition showing off the Defense Ministry's capabilities, ISNA also said. Iranian Defense Minister Mostafa Mohammad Najjar announced Iran's readiness to "deepen and expand defensive ties between two states in line with the strengthening of Lebanon's security and increasing Lebanon's national and defensive capabilities." ISNA reported that Suleiman "expressed interest in expanding defensive cooperation and emphasized the need to strengthen the Lebanese army's defensive power in confronting any kind of threat, foreign aggression and terrorism." Khamenei said Iran would "always be on Lebanon's side" and said he hoped talks during the visit would strengthen ties. Suleiman, who left Tuesday, also met Iranian President Mahmoud Ahmadinejad during his two-day visit.
| Iran | Israel | Islam | Gog/Magog |
---
Faltering EU Deal Strengthens Islam Hurriyet News (November 26, 2008) - Turkey's bid for eventual European Union membership is likely to fail and this will further boost Islamist and nationalist tendencies already strong in the society. "Over the next 15 years, Turkey's most likely course involves a blending of Islamic and nationalist strains, which could serve as a model for other rapidly modernizing countries in the Middle East," said the "Global Trends - 2025" report published Thursday by the National Intelligence Council, or NIC, which brings together all 16 U.S. spy agencies.

Mathew Burrows, NIC counselor and principal organizer of the report, speaking at the Foreign Press Center here a day later, was asked how the U.S. intelligence community predicted that Turkey would be more Islamic and nationalist over the next 15 to 20 years. "We base this on quite a few talks we have had with experts both here and abroad, and our observations of trends happening now in Turkey," Burrows said. "What we see in Turkey today is the development of an Islamist, modernizing tradition that is very strong and successful, combined with what has always been a very strong nationalist tradition," he said.

About Turkey's EU prospects, Burrows said, "we are cautious, I mean, and somewhat pessimistic, I would say, about whether Turkey will ever be in the EU." "And we are worried about that relationship going sour," he said. "We would expect that to reinforce some of this nationalist thinking and Islamist traditions and tendencies." Turkey's pro-secular state establishment, including the military and the ruling Justice and Development Party whose roots are in political Islam have been bickering over secularism-related matters in recent years. The party's votes in legislative elections have climbed from 36 percent in 2002 to 47 percent in 2007.

Secularism to decline

The NIC said it expected secularism in the Middle East to decline, in line with the Turkish example. "In the Middle East, secularism, which also has been considered an integral part of the Western model, increasingly may be seen as out of place as Islamic parties come into prominence and possibly begin to run governments," NIC said in the Global Trends report. "As in today's Turkey, we could see both increased Islamization and greater emphasis on economic growth and modernization." The NIC report also said it expected to see the political and economic power of Indonesia, Iran, and Turkey, all non-Arab Muslim countries, increase over the next couple of decades.
| Islam | Gog/Magog | EU/UN / 4th Kingdom |
---
Iran, Syria tauten grip on Lebanon, Tehran woos Christian president DEBKAfile (November 22, 2008) - Tehran and Damascus are going all out to get their hooks into Lebanon's Christian politicians and wean them away from their' traditional ties with the West. President Michel Suleiman this week accepted an Iranian invitation to visit Tehran this month, while another Lebanese Christian leader, Hizballah's ally Gen. Michel Aoun, arranged to visit Damascus.

DEBKAfile's Middle East sources report that the Iranians are forging ahead with a campaign to bind the region's Christian minorities to their Shiite wagon for challenging Sunni domination. Their first quarry is Lebanon's powerful community. Arrangements were finalized Monday with the Iranian ambassador in Beirut Reza Shibani for president Suleiman to spend two days in Tehran on Nov. 24-25. Aoun will visit Damascus at the same time. Their country is meanwhile encircled by Syrian military forces, a factual pointer to Bashar Assad's real intentions regarding peace.

Although these developments bode ill for Israel too, they were left out of the sweeping 2009 prognosis which the Israeli Military Intelligence chief Maj. Amos Yadlin delivered in Tel Aviv Monday, Nov. 17. Neither did he look ahead to the likelihood that Iran would be able to assemble a nuclear weapon next year, notwithstanding more than a decade of international diplomacy and sanctions.

Senior Israeli intelligence circles commented that the evaluations heard from Yadlin Monday were less attuned to reality than to the estimated positions of the incoming US president Barack Obama's Middle East team and Olmert-Livni policies. Like them, he omitted to address the agendas which Tehran and Damascus are actively pursuing. Tehran launched its pursuit of Christian minorities by inviting the Lebanese Maronite leader Aoun to Tehran on Oct. 13, through Hizballah's good offices.

The gambit worked: The Lebanese leader returned home proclaiming Iran the strongest world power between the Persian Gulf and China and predicting that his trip would bear fruit in six months. In the first week of November, Tehran heaped full honors on the Lebanon's ex-president, the pro-Syrian Christian Emil Lahoud, when he arrived with a 60-man retinue. Michel Sleiman can expect no less.

The assumption in Israeli ruling circles that Syria as peace partner will deliver a "Lebanese dowry" is therefore fallacious. Assad plans to squeeze whatever he can from Israel and the new US administration in the coin of territory and backing for his regime, while not giving up an iota of his schemes with Tehran. For now, no one is paying attention to the Syrian-Iranian jaws snapping shut on Lebanon.
| Iran | Israel | Islam | Isaiah 17 | Gog/Magog |
---
Russia to Sell Heavy Arms to Lebanon Israel National News (November 10, 2008) - Following a meeting last week between leading Lebanese legislator Sa'ad Hariri and Russian leaders, Hariri was quoted by Russian media this weekend as saying Russia will sell heavy weaponry to Lebanon. Previously, Hariri said that he hoped Russia would help Lebanon claim Mt. Dov from Israel. Russia is expecting Lebanon to recognize the independence of the breakaway Georgian districts of Abkhazia and South Ossetia.

Hariri, the son of the assassinated popular former Prime Minister Rafik Hariri, represents the Western-backed majority in the Lebanese parliament. Russia will "help the Lebanese army," the Vremia Novosti newspaper quoted Hariri as saying, "which needs heavy weapons" such as tanks and artillery. American military aid, Hariri told Russian media, only consists of light arms.

Lebanese Defense Minister Elias Murr is to visit Moscow in coming weeks, when the details of the arms deal will be finalized. The Russian state arms export firm, Rosoboronexport, has been boycotted by the United States government for arms deals with Iran, North Korea and Syria.

In early October, Prime Minister Ehud Olmert met with Russian President Dmitry Medvedev and urged him not to approve the sale of weapons to Iran and Syria. It was imperative, he told the Russian leader, to "prevent weapons from Syria from reaching extremist elements in Lebanon, such as Hizbullah."

Mt. Dov and Abkhazia-S. Ossetia - Quid Pro Quo?

Last week, during an official visit to Moscow by Hariri and other legislators, Lebanese media strongly emphasized Hariri's expression of his appreciation for Russia's role in working towards an Israeli withdrawal from the Mt. Dov area (called "Shab'a Farms" in Lebanon) along the Israeli border with Lebanon. A report published by the Beirut-based English-language Daily Star was entitled, "Hariri Looks to Russia to Help Liberate Shab'a Farms", although the article itself did not present any direct quote on the matter from Lebanese or Russian officials.

After his meeting with Hariri, Foreign Minister Sergei Lavrov said that Russia was against foreign interference in Lebanese domestic affairs. It was not clear if he was referring to actions by Syria, Israel or other foreign interventions.

The Iran-controlled Lebanese terrorist organization Hizbullah, in the meantime, said recently that an Israeli withdrawal from Mt. Dov would only be a start. The group claims seven Arab villages in northern Israel are actually Lebanese. In any event, both Iran and Hizbullah have repeatedly made it clear that they do not believe Israel should exist at all, regardless of border demarcations. A Hizbullah spokesman said last week that the group would not give up it arms until Lebanon had another force capable of confronting Israel.

Touching on Lebanese policy towards matters in the Slavic states, Hariri was quoted as saying that Lebanon may well recognize the independence of the breakaway Georgian districts of South Ossetia and Abkhazia. The Russian Vremya Novostei newspaper quoted Hariri as saying, "We will fine tune contacts with South Ossetia and Abkhazia now. For example, delegations of [Lebanese] businessmen will be leaving for there soon." Russia has backed the secession of the regions from Georgia, including launching a war in their defense in August of this year.
| Islam | Gog/Magog |
---
Russia: A Future Radical Muslim Superpower? Front Page Magazine (November 9, 2008) - Frontpage Interview's guest today is Ilshat Alsayef, one of the founding members of Muslims Against Sharia. He was born in of the Asian republics of the former Soviet Union. A military officer for most of his adult life, Mr. Alsayef started his military career as a Second Lieutenant during the Soviet-Afghan war and retired as a Lieutenant-Colonel after the First Chechen War.
FP: Ilshat Alsayef, welcome to Frontpage Interview.
Alsayef: Thank you very much for having me here.
FP: Tell us about the state of radicalization of Muslims in Russia and other ex-Soviet republics.
Alsayef: There were two waves of radicalization of the ex-Soviet Muslims. The first wave started after the break-up of the Soviet Union in the early 1990s. After the fall of communism, former Soviet Asian republics, now independent countries (Kyrgyzstan, Tajikistan, Turkmenistan and Uzbekistan) as well as autonomous regions of Russia (Chechnya, Dagestan and Ingushetia), experienced a resurgence of religious freedom.
Not being able to freely practice their religion for a few generations, some of the local Muslims went overboard. Salafi groups like Hizb-ut-Tahrir, and later al Qaeda, became popular among newly-minted religious zealots. While the conflicts in Asian countries were mostly religious vs. secular, the Chechen conflict also had the independence element.
The second wave of radicalization started at the turn of the century. Some people claim that it was a result of the American War on Terror, which many Muslims interpret as the American War on Islam, but in reality the reason is skyrocketing oil revenues of Wahhabi states.
Centuries-old local mosques are being replaced by modern, Wahhabi-built mosques. Old imams who survived the communists are being replaced by Wahhabi clerics. This is not only true for predominantly Muslim countries like Tajikistan, but also for autonomous regions inside of Russia like Bashkiria and Tatarstan, where most people consider themselves more Russian than Muslim. You can see similar developments in former Yugoslavia, where moderate imams with little financial backing are being replaced by radicals with virtually unlimited financing.
If current demographic trends hold, Muslims in Russia may become a majority by the mid-century. And if current radicalization trends hold, Russia may become a war theatre comparable to Chechnya or Lebanon, but on a much larger scale.
FP: Expand for us a bit please on the demographic trends in Russia. Muslims may be the majority in Russia by mid-century? What will this mean?
Alsayef: The native Russian population is on the decline. About a year ago, the government started to provide a special subsidy for a second child; 250,000 rubles, which is about two average yearly salaries. Attracted by the economic opportunities, there is a steady stream of Muslims from the former Soviet republics and predominantly Muslim parts of the Russian Caucasus. Those Muslims tend to have much larger families than native Russian Muslims. Small Muslim communities of Moscow and St. Petersburg that comprised less 1% of the population 20 years ago have increased more than ten-fold.
The new generation of Muslims is more religious. Unfortunately, since most of the mosques are either completely or partially funded by the Wahhabis, the new generation is also more radical. 20 years ago, Russian Muslims were completely assimilated, both culturally and linguistically. The new generation tends to create its own communities. Those "enclaves" are easier radicalized.
If the trends of isolation and radicalization continue along with current demographic trends and rising oil prices, it is quite possible that by mid-century Russia will become a radical Muslim superpower.
FP: How can the current radicalization trend be stopped? The key is to stop skyrocketing oil revenues for Wahhabi states, yes? But how?
Alsayef: I could never understand why America spends a quarter of a trillion dollars a year on Persian Gulf oil while not using its own oil resources. Especially when some of this money goes to finance radical Islam worldwide (including in America itself) and the American economy suffers from high fuels prices.
Luckily, Russia does not have oil dependency. The long-term solution to stop the flow of petro-dollars to the Wahhabis is to create a non-petroleum energy solution. It will probably not happen in our lifetime, but it doesn't mean that it shouldn't be worked on today. The short-term solution is to combat radical Islam inside every democratic country. One part is to enact legislation to criminalize the spread of radical Islam. It is not an easy task, especially in America where Freedom of Speech is the cornerstone of the Constitution. However, some of the speech could be criminalized, i.e., a death threat to an individual. Advocating Sharia is a death threat to Democratic society. If you can protect an individual, you should be able to protect the society as a whole.
The other needed step is to empower moderate Muslims to combat Islamism in the public square. Unfortunately, neither the Russian nor the American government seems to distinguish between moderate Muslims and 'soft' Jihadis. In fact, Putin went so far as to condemn the publication of Prophet Mohammed cartoons.
While Russia is empowering Iran, America is empowering Saudi Arabia, which is even worse. On top of that, America is legitimizing 'soft' Jihadis and advance of Sharia by putting them in charge of government and academic programs and inviting them to major political events.
FP: Where exactly does Russia stand in the War on Terror? There is, for instance, much evidence that the Putin regime is in league with Islamists on many levels. (Click here to see Pavel Stroilov interview.)
Alsayef: I wouldn't call this evidence. When someone portrays that "FSB blew up four apartment blocks in Russia, and then were caught red-handed attempting to blow-up the fifth" as a fact, the rest of his "facts" must be taken with a grain of salt.
Did the FSB have the ability to blow up four buildings in Moscow? Absolutely. Would the FSB blow up those buildings? I find it highly improbable. Could the FSB get caught red-handed attempting to blow-up the fifth building? Absolutely not. Who would they get caught by? The cops? The cops can't touch them. By the FSB itself? Not bloody likely.
The "fact" that the FSB blew up those buildings is as much of a fact as the "fact" that the CIA blew up the Twin Towers. It is nothing more than a conspiracy theory, and Mr. Stroilov should know better than present it as a fact. The claim that "The Putin-Medvedev regime is doomed" shows that Mr. Stroilov seems to prefer wishful thinking to reality. Barring an act of God, Putin will rule Russia for a long time, no matter what title he comes up with, president, prime minister, or Tzar.
FP: Well, the connection between the FSB and the blow up of four buildings in Moscow appears to me to be pretty solid in terms of what I have studied, and the Twin Towers conspiracy theory analogy doesn't match in anyway. But we'll leave this for another forum. Pavel Stroilov is welcome to contribute to our pages on this issue if he wishes. Let's get to Putin and the tie to Islamists.
Alsayef: In terms of the tie between Putin to the Islamists, first, and pretty much the only one, is Bushehr. Everybody knows that the Iranian nuclear program, euphemistically speaking, goes beyond energy. The Russians know that. The Americans know that. Even the IAEA knows that. What the Russians don't seem to understand, or maybe simply don't care about, is that an Iranian-made nuke could be detonated in Moscow just as easily as it could be detonated in Washington.
Since I'm not privy to the Russian-Iranian nuclear deal, I might not be aware of some safeguards. For example, the Russians might control the weaponized nuclear material production and would be able to match the bomb signature to the reactor. However it is unlikely for Iranians to use a nuclear weapon without plausible deniability, therefore it probably will be given to a third party. This third party most likely would be a radical Islamic group that might ignore the wishes of its masters and detonate the bomb anywhere.
Second is Syria. Syria is a Muslim country and it has a fascist regime, but it is secular. However, Syria-Iranian proxy Hizballah is an Islamist group and weapons sold to Syria have been known to turn up in Hizballah arsenal.
Third is Venezuela. Again, Venezuela's government is hardly Islamist, but Chavez offered Venezuelan passports to radical Muslims who want to go to the United States. As for al-Zawahiri, being the FSB secret agent, that's just another unsubstantiated and highly improbable rumor.
FP: Russia's stance on the War on Terror?
Alsayef: If the terror is within Russian borders, Russia is very forcefully against it. The famous Putin's phrase about the terrorists is "budem mochit' v sortire" which roughly translates into "we'll whack them in the toilet." But if the terror is outside of Russia and it ties up American resources, then we have a different story. After all, Putin still sees America as Russia's main rival; the fact that the feelings are not mutual, is somewhat of an insult to him. Russia doesn't mind that much. However, the biggest threat to Russia is not America, it is radicalizing Muslim population within its own borders as well as in Russia's former satellites. Putin is focusing on America while overlooking a growing Islamist threat at home. As the last decades show, radicalization of Muslims always translates into bloodshed, but Putin's government seems to think that it is immune.
FP: Ilshat Alsayef, thank you for joining Frontpage Interview.
Alsayef: Thank you Jamie.
| Iran | Islam | Isaiah 17 | Gog/Magog |
---
Russia determined to broaden interaction with Islamic world - Medvedev Interfax-Religion (October 28, 2008) - President Dmitry Medvedev has sent greetings to the fourth meeting of the Russia - Islamic World strategic vision group in Jeddah, Saudi Arabia, the Kremlin reported on Tuesday. "Russia's developing cooperation with the Islamic states remains highly dynamic. Your Group is playing no small part in this," Medvedev writes.

"Russia, a country with observer status in the Organization of the Islamic Conference, intends to abide firmly to its course to expand active interaction with the Islamic world. I think in connection with this, that a broad discussion of the initiative to further develop interregional dialogue, proposed by King Abdallah bin Abd al-Aziz Al Saudi of Saudi Arabia, is of crucial importance, taking into account a significant role the religious factor is playing in international affairs," he said.

"I am also convinced, that the implementation of the Russia-proposed idea of forming a consultative council of religions under UN aegis, will help strengthen the moral principles of world politics, facilitate deeper inter-confessional communication and, in a broader context, promote the dialogue of civilizations," the Russian president writes.

"The illusion of the uni-polar world is becoming a thing of the past in front of our eyes. Forums like yours can contribute significantly to the search for ways to make the situation in the world healthier and to attain a new level of global partnership," Medvedev said.

"I am convinced that Russia's active interaction with the Islamic world will help build a fairer system of international relations, where the factor of force will finally stop playing the role of universal instrument of settling all emerging problems," he said. The message of greetings was read out at the meeting by Tatarstan President Mintimer Shaimiyev on behalf of the Russian president.
| Islam | Gog/Magog |
---
Rebbetzin Esther Jungreis: Prepare for the Coming of Messiah Israel National News (October 27, 2008) - Internationally renowned Jewish inspirational speaker Rebbetzin Esther Jungreis warns that we are feeling the "birth pangs of the Mashiach," with limited time to save ourselves from dark prophecies surrounding his arrival.

In an exclusive interview on Israel National Radio's popular new show Mah Nishma with host Gavriel Sanders, Rebbetzin Jungreis, who is the founder of the successful 'Hineni' Jewish outreach organization and author of many books including the recently published 'Life is a Test: How to Handle Life's Challenges Successfully', addressed the fear that people feel as turbulent global events begin to make their mark on Jews and their allies around the world.

The birthpangs of the Messiah

"Anyone who has been just looking around and has his or her eyes open must be frightened. Things are happening that just don't make sense. Overnight, our cherished institutions, our icons, have collapsed. We don't understand it. People blame this one and that one. It's not just in the United States, it's all over the world, and we have so many natural disasters, and so much illness. What is happening?"

Rebbetzin Jungreis says G-d is bringing the world closer to redemption in a process called "chevlei Mashiach" – the labor pains of the arrival of the Messiah. "Now labor pains, you know, could be very, very painful…as the birth becomes more imminent, the pain becomes more intense, to the point where the mother can not bear it anymore, and just when she thinks she can not bear it, it's 'Mazal Tov!', and the baby is born."

'The generation of the dog'

Based on the writings of ancient Jewish sages, Jungreis concludes that this generation is replete with the signs that are prophesied to hail the coming of the Messiah, including endemic impudence, followership, idol worship, disasters, and war. "All our [sages] agree…they do not want to be present for the chevlei Mashiach, the birth pangs, because the birth pangs are going to be very painful… It's going to be a generation that will abound in chutzpah [audacity]. Chutzpah will be colossal. Families will be fragmented. Children will turn against parents, parents against children. The elderly will not be respected. Youth will be worshipped.

"… The generation will be like the generation of the dog. What does that mean? The dog runs ahead but always looks back to see if the master is behind him. Similarly, people don't have their own opinions today. What is the media saying? The media is controlling the world…"

According to Rebbetzin Jungreis, the greatest idol worship of this generation is money, an obsession which causes the Western world to ignore the lurking danger posed by Islamist terror against Israel and the United States. "We have been very blessed, perhaps there was never in history such a wealthy Jewish generation as ours was. But there was no Hakaras HaTov, no credit to Hashem. "My strength did all this". We became arrogant, we became chutzpahdik, we forgot Hashem… Imach shemam [their names be obliterated], the sons of Ishmael, every minute it's "Allah". The sons of Esav, "the Lord," every minute. Their leadership is always speaking the name of G-d. Am Yisrael … they heard the word of Hashem panim el panim, face to face - has forgotten its G-d."

The propensity of the world to worship money is so great, says Rebbetzin Jungreis, that the murder of six million Jews during the Holocaust, Iran's effort to attain a nuclear weapon, and the rise of fascist and anti-Western powers can be attributed to it. "[Following the US stock market crash in 1929] America was so absorbed, Hitler had the playground of the world at his disposal, and no one stopped him," she says. "Too late did America and the world wake up. Early thirties – no one intervened with Hitler. They were all absorbed in a financial crisis.

"Fast forward. We have a financial crisis now. Ahmadinejad has the entire world at his disposal, came to New York, made the most toxic, poisonous accusations… if you had made those accusations against Muslims they would have burned down New York City, everyone would have been apologizing. Jews? No problem. He says it, and nobody even looks up, no one looks up. And in addition to him, all the rogue nations, all the demagogues, all the new Hitlers got into the act. Russia woke up again, back to its old tricks, making treaties with Chavez of Venezuela, right here in our own hemisphere. And of course, there is always North Korea. And America is worried about the stock market."

Ahmadinejad, Islamist terror - all part of prophecy

Islamist terror, says Rebbetzin Jungreis, is also predicted in the 9th century (Gregorian calendar) Jewish work, ' Pirkei d'Rabbi Eliezer,' which prophesied that before the coming of Messiah in the end of days, Ishmael – who is described as a brutal, wild man – will rule the world. Rebbetzin Jungreis attributes Arab terror in Israel, the Islamization of Europe, and the welcoming of Iranian President and vocal anti-Zionist Mahmoud Ahmadinejad in New York to the ancient prophetic writing.

"Ahmadinejad comes to New York, and he has the audacity, the chutzpah to proclaim … in public, at the UN, that it's Zionist Jews who are responsible for the financial crisis in the world, that they are manipulating the world, they're controlling the world… And guess what: The entire world is silent, no outcry, no outrage, no one says anything, and he – just for good measure – he adds that Israel is this cesspool that has to be destroyed, annihilated. No outcry, not a word."

Ahmadinejad himself has a role in the unfolding arrival of the Messiah, says Jungreis, and was also predicted to wield lethal power during the end of days. "You know it says in Yalkut Shimoni that right before Mashiach will come, during Chevlei Mashiach, the king of Persia, now what is Persia? Persia is today's Iran. The king of Persia is going to have a weapon that is going to terrorize the entire world."

'Hashem is hiding'

The current low spiritual state of the Jewish People has caused G-d to hide His face from them, says Rebbetzin Jungreis, who says this concealment is meant to provoke the Jewish People to search for Him.

"In parshas Vayelech… Hashem tells Moshe Rabbeinu that in the future, there will come a generation who will forget Hashem, and terrible sufferings will come upon them. And finally they will say 'you know why this is happening? Ein Eloka, G-d is not with us. G-d is not in our midst.' And then it says … " I will continue to hide My face." Dichotomous. If we admit that G-d is not with us, then why is G-d hiding? … That puts the onus of responsibility upon G-d – it's Your fault. You are not with us. We have to say 'We are not with Hashem! We are not with our Torah! We are not with our Mitzvot! We are responsible."'

Rebbetzin Jungreis says G-d's concealment is a crucial element in developing the proper relationship with Him, with the key to understanding it being found in the biblical story of Adam and Chava [Eve].

"What was the first sin of Adam and Chava?. We say that we ate from a fruit that was forbidden? No! Hashem was ready to negotiate that. The first sin was scapegoating!. 'The woman who You gave to be with me, it's her fault, she made me do it.' Not only was Adam scapegoating, he was an ingrate. And Chava, what did she say? 'It was the serpent.' And that's when Hashem said 'That's it. That's it. Out! Gan Eden is over.' And that is what we are doing. But listen to the chesed [kindness] Hashem said. 'I will hide My face.'

"When a mother goes with her toddler to the supermarket, let's say, and the toddler has a temper tantrum, and he doesn't want to go out unless he gets candy, what does the mother do? She says 'Okay, I'm leaving, you will have to stay here by yourself," and she goes away. Is she really going away? Of course not. She is keeping an eye on her baby, but she pretends to go away so the child should seek her out and run after her. So Hashem says 'I'm hiding' but if you're hiding, you want somebody to find you. There's a beautiful mashal [parable] from a Rebbe who was walking on the street and he sees a little boy crying, and he says 'why are you crying my little child?' 'I'm crying because I'm playing hide-and-seek and nobody's looking for me.'… Hashem is hiding, but He wants us to find Him. And we are not looking for Him, so what are we doing? Whose fault was it?" For part two of the article, click here.
| Iran | Israel | Islam | Gog/Magog | America | Economic Crisis |
---
Syria reportedly boosts troop deployment near Lebanese border The Jerusalem Post (October 31, 2008) - Syria has boosted its troop deployment near the Lebanese border up to the Beka valley region, the Lebanese As-Safir newspaper said Friday. Some 3,000 heavily armed troops were reportedly deployed in the area. A Lebanese army official was quoted as saying that Syria was deploying its troops along the border with eastern Lebanon "like it did in September on the northern border." However, he said the increased troop presence was aimed at stopping smuggling and apprehending fugitives along the Syrian-Lebanese border.
| Israel | Islam | Isaiah 17 | Gog/Magog |
---
Libya offers to host Russian military base Breitbart (October 31, 2008) - Libyan leader Moamer Kadhafi, who visits Moscow Friday for the first time since 1985, will offer to host a Russian naval base in his north African country, a Russian newspaper reported. "Libya is ready to host a Russian naval military base," the Kommersant reported, citing a source close to the preparations for Kadhafi's first visit here since the days of the Soviet Union.

The base could be located at the port of Benghazi, the source said. "The Russian military presence will be a guarantee of non-aggression against Libya from the United States, which is not in a hurry to embrace Kadhafi despite gestures of reconciliation," the newspaper said.

Kadhafi is scheduled to visit Russia from Friday to Sunday. Relations between Russia and Libya, a former pariah state that has pushed to get back into the international fold in recent years, showed signs of significant warming this year after a long chill. Earlier this month, a Russian warship docked in Tripoli as part of a global show of force that is to include joint naval exercises between Russia and Venezuela in the Caribbean in November.

In April, during a visit to Tripoli by then-president Vladimir Putin, Moscow agreed to cancel billions of dollars of Libyan Soviet-era debt in exchange for multi-billion-dollar contracts with Russian companies. During his visit, Russian gas giant Gazprom signed a cooperation agreement with Libya's national energy company while Russia's rail monopoly signed a 2.2-billion-euro contract to build a railway line in Libya. During the Cold War, Libya bought many of its weapons from Moscow.
| Islam | Isaiah 17 | Gog/Magog |
---
Iranian Nuke Scientist: Weekend Quake was a Nuclear Test Israel National News (October 30, 2008) - A weekend 5.0 Richter earthquake in Iran was actually a nuclear bomb test, says an Iranian nuclear scientist claiming to be working on the project. The report is an Israel Insider exclusive. This past Saturday night, southern Iran experienced what was reported as a significant earthquake - a seismic event measuring 5.0 on the Richter scale. Its epicenter was just north of the strategic Straits of Hormuz, which separates Iran from Abu Dhabi and Oman and which is the gateway to the Persian Gulf.

The report quotes an Iranian nuclear scientist who claims to be working in uranium enrichment for the project, and who said that the "quake" was actually an underground nuclear bomb test. Israel Insider adds that the test/quake was actually the second in a series. Nine days ago, a 4.8 Richter scale event occurred, with its epicenter only five kilometers away from the weekend tremor.

The Israel Insider source reports that two nuclear rockets are currently ready - and are intended for use against Israel in the coming months. If the report is correct, it would belie previous speculation that Iran would not begin nuclear testing until it had more nuclear-bomb production capability.

The geographical location of the test has several advantages. It is exposed to significant seismic activity, which could serve to mask nuclear tests; it is believed to be close to Iran's nuclear development facility; delivery and transport of material and personnel can be effected easily through the Hormuz Strait; and Iranian enemies would hesitate to bomb the area because that would threaten the flow of a substantial percentage of the world's oil.

Reuters reports Thursday morning that Iran has begun building a line of naval bases along its southern coast and up to the Straits of Hormuz.
| Iran | Islam | Isaiah 17 | Gog/Magog |
---
Solana's speech to Institute for Security Studies Consilium Europa (October 30, 2008) - Dear friends, Let me start our "tour d'horizon" with the financial crisis. It has been the emblematic event of 2008, putting all else into the background. It is worth analysing, especially for its consequences for foreign policy. Allow me to make some observations:

First, the diagnosis. This crisis has confirmed that globalisation remains the dominant force shaping our world. This really is a global crisis. It has spread at incredible speed. Functionally, from sub-prime mortgages to credit markets to the real economy. And geographically from the US to Europe to emerging markets. Not everyone is affected equally; but no one is immune.

In its wake, the balance between markets, states and individuals will have to be adjusted. But globalisation itself - that is the global spread of goods, people, ideas and technology - will not stop. The crisis has highlighted globalisation's central dilemma. Today's big problems are global in nature. But the main resources and legitimacy are located at the national level. In a way, European integration is an attempt to resolve this core dilemma.

Regarding, the policy response, the crisis has demonstrated - once more - the need for stronger global institutions. With goodwill and creativity a lot can and has been achieved. Through ad-hoc crisis management among political leaders, central bankers and others. But if we are honest we must admit that the existing architecture is not up to the task - neither in Europe, nor globally.

I have been convinced, for some time, and I have underlined that in different fora, that the current international system is inadequate. Now the case for deep reform has become overwhelming. This must start with the international financial institutions. But we need to go further.

From the UN and the G8 to the regimes and institutions dealing with the big issues of our time: nonproliferation, energy and climate change, migration. Hopefully, the obvious need to deepen cooperation in the area of finance will act as a catalyst for these necessary wider reforms.

In any case, this effort cannot be handed by the US plus Europe alone. Even the talk of us "leading" is misleading. Apart from changing formats, the mindset needs changing too. We better not see this as the Western powers inviting the others for coffee after our discussions. We need all relevant players "present at the creation" of the new system, to use Acheson's famous phrase. And we need to be ready to engage them seriously. Read the full story...


| Iran | Israel | Islam | Gog/Magog | EU/UN / 4th Kingdom | Solana | 1st Seal | America | Economic Crisis |
---
Egyptian War Games Cause For Concern in Israel, Lawmaker Says CNS News (October 29, 2008) - Israel is upset over Egyptian military exercises in which the simulated "enemy" is Israel, and some are calling on the U.S. to reconsider its aid to Egypt because of it. Israel and Egypt – two U.S. regional allies – signed a U.S.-sponsored peace treaty in 1979 – Israel's first with an Arab nation.

The Egyptian navy reportedly carried out the largest exercise in its history last week. Dubbed Victory 41, the military maneuvers marked the Egyptian sinking of the Israeli Naval vessel Eilat 41 years ago, in which 47 Israeli sailors were killed and 91 wounded. According to the daily Ha'aretz, Oct. 20 was set aside as a holiday marking the sinking of the Israeli vessel for the Egyptian naval forces. The paper also quoted the Egyptian Navy commander in chief Vice Admiral Mohad Mamish in an interview with the Arabic newspaper Al Ahram, saying that the Egyptian Naval vessels were outfitted with advanced missiles and the Navy had supply contracts with Germany, Russia and the U.S.

"Unfortunately now for more than 10 years most of the big [Egyptian] exercises are simulating war against Israel," said Dr. Yuval Steinitz, member of the Israeli Knesset's influential Foreign Affairs and Defense Committee. The first time was in 1996 when they imitated a war against "a little country that is bordering Egypt on the northeast," Steinitz told CNSNews.com on Wednesday. Looking on the map, it's clear who they were simulating the war against, he said. The only new thing this time is that it has been leaked to the press, said Steinitz.

On Wednesday, Israeli Prime Minister Ehud Olmert telephoned Egyptian President Hosni Mubarak to apologize for comments made by a right-wing Knesset member, who noted that Mubarak has never come on a state visit to Israel. Olmert told Mubarak that Israel considered him to be "a strategic partner and a close friend."

But there are signs of other strains in relations. The Hebrew daily Maariv reported on Tuesday that on a recent trip to Egypt, the director of the military/political and policy bureau of Israel's Ministry of Defense, told Egyptian Intelligence chief Omar Suleiman and Defense Minister Hussein Tantawi that Israel was concerned about Egypt carrying out of Egyptian army exercises "that are directed against an Israeli threat and that relate to it [Israel] as an enemy." (A translation was provided by the Independent Media Review and Analysis.)

Israel also is concerned that it has become the central focus for Egyptian officers in building their forces and by the lack of "any relations of any kind" between the Israeli and Egyptian armies, Gilad was quoted as saying. According to the paper, Tantawi said relations between the armies could improve in the future in tandem with progress in regional peace. He also said that security challenges obligate Egypt to build an effective deterrent force.

Steinitz said the military exercises, combined with massive Egyptian force building plus indoctrination of the military against Israel, was "something to be concerned about." He also said that despite the peace agreement between the two countries, Egypt is anti-Israel in most international bodies and is also educating the public "for hatred and not for peace."

Earlier this year, the Anti-Defamation League told the House Foreign Affairs Committee that its analysts had found the Egyptian press to be "a leading propagator of anti-Semitic images" for many years and that that trend was now spreading to other newspapers in the region.

Egypt is considered one of America's allies in the region and has been a mediator in the Israeli-Palestinian peace process. It is currently mediating reconciliation talks between the military Hamas group and the Fatah faction of Palestinian Authority Chairman Mahmoud Abbas. Read full story...
---
Mideast: Putting the 'Peace Puzzle' Together CBN News (October 28, 2008) - As U.S. presidential hopefuls John McCain and Barack Obama begin the last week of campaigning before next Tuesday's election, events shaping up in Israel, Syria and the Palestinian Authority will no doubt factor into the winning candidate's challenges in the White House.

Syrian officials continue to express their outrage over a U.S. military attack on Sunday, which killed eight people. Syrian Foreign Minister Walid Moallem, who accused America of "terrorist aggression," said his country has a right to respond in kind against the U.S. "The Americans did it in the daylight," Moallem said during a visit to London Monday. "This means it is not a mistake. Therefore, we are treating the matter as a crime and a terrorist act," he said.

While Syria claims the raid targeted civilians at a building construction site near the border with Iraq, the U.S. said the helicopter attack targeted the home of Abu Ghadiyah, the known head of a terrorist network funneling gunmen, weapons and cash across the border to bolster the insurgency against the Iraqi government. According to U.S. intelligence sources, Abu Ghadiyah is one of four senior al-Qaeda officials in Iraq who makes his home in Syria. The successful raid will have a "debilitating impact" on the terror group's smuggling network, one U.S. official said. It was the first U.S. military attack on Syrian soil since 2003, when U.S. troops invaded Iraq, evidence that the Syrian border remains a battleground. "We're taking matters into our own hands," one U.S. government official said, alluding to Syria turning a blind eye to terrorist activity.

Al-Qaeda is not the only Islamic terrorist group with ties to Syria. For years, Syria has facilitated Iranian weapons transfers to Lebanese-based Hezbollah terrorists across its border.

Syria's Ties with Hezbollah

On Sunday, Israeli Military Intelligence chief Major General Amos Yadlin briefed Cabinet ministers on Syria's ties with Hezbollah. "Assad currently trusts Hezbollah more than his own army," Yadlin said. "Hezbollah operatives are working from within Syria. The Syrians are loosing all restraints, Hezbollah access to almost all of their strategic capabilities," he said. "Currently, Assad is continuing to open up its warehouses to Hezbollah," Yadlin said, "turning into the arms granary" for the terror group.

According to Yadlin, Syria and Lebanon's recently renewed diplomatic ties are a cover up for a future takeover of the country. "Syria and Iran are buying the regime in Lebanon," he said. " are pouring substantial money into buying parliamentary representatives and into conducting dubious business deals," he said. "The Iranian offer to assist in the building of the Lebanese army is an and Hezbollah guise to take control of Lebanon," he said.

The Israeli-Palestinian Conflict

Meanwhile, despite Israeli President Shimon Peres' claim that Israel has never been closer to peace with its Arab neighbors, a look below the surface at the Israeli-Palestinian conflict tells a different story. PA President Mahmoud Abbas said Monday that Egyptian efforts to reconcile Fatah and Hamas are bearing fruit.

Abbas plans to travel to Saudi Arabia soon to relay his most recent discussions with Egyptian President Hosni Murbarak. "We have agreed with our Egyptian brothers on a program for national reconciliation," Abbas said. "Our brothers in Egypt will later publish the details. I want to stress that all the PLO factions have accepted the Egyptian program, which we fully support," he said.

Abbas also expressed pleasure with Peres' public support for the Saudi peace initiative, which he called an Islamic proposal - rather than an Arab proposal - because it is endorsed by so many Islamic countries. The plan calls for Israel to retreat to pre-1967 borders in exchange for "normalization" with Arab League member nations.

Hamas was less enthusiastic with Abbas's announcement. "President Abbas must reach an agreement with Hamas, not with the Egyptians," Hamas legislator Salah Bardaweel said. "Egypt is not a party to the conflict but a mediator. Abbas's confrontation is with Hamas. If he wants to end the conflict, he must reach an agreement with Hamas," he said.

"We don't believe that Abbas will have the courage to talk with Hamas because of Israeli and American pressure," Bardaweel said. "He is also surrounded by some advisors who won't even permit him to mention the name Hamas. That's why he's talking about agreement with Egypt and not Hamas," he said.

Meanwhile, Hamas said Israel's going to early elections shows that the peace process has failed. "Now the Israelis will use the elections as an excuse not to make any concessions to Mahmoud Abbas," Hamas spokesman Sami Abu Zuhri said. "They will claim they are too busy with the elections over the next few months." "This proves that Hamas was right when it said that the so-called peace process was a waste of time and that there's no point in negotiating with the occupation ," he said.

Despite claims by outgoing Israeli Prime Minister Ehud Olmert and others of like ilk, a closer look at Syrian, Palestinian and Arab League member nations shows that peace between Israel and her neighbors remains illusory. With Iran arming Hezbollah, Hamas and Syria to the hilt, genuine peace is far from reality on the ground.
| Iran | Israel | Islam | Dividing the Land | Isaiah 17 | Gog/Magog |
---
U.S. attacks inside Syria WorldNet Daily (October 26, 2008) - The U.S. Army today confirmed it carried out a raid inside a Syrian village near the Iraqi border, killing at least eight. Today's operation is the first in which American forces so openly attacked militants on Syrian soil, clearly broadening the scope of the U.S. military campaign in Iraq.

The U.S. has long accused Damascus of failing to stop insurgents from crossing from Syria into Iraq, where they purportedly attack coalition troops and return to safety zones inside Syria. An official Syrian spokesman confirmed earlier reports by the country's SANA state-run television, which reported U.S. helicopters were involved in an attack in Al-Sukkariya, some five miles from the Iraqi border.

Eyewitnesses told reporters they saw four helicopters hover overhead and then at least eight soldiers disembark, where they engaged a number of men at a civilian construction site. SANA reported: "Four American helicopters violated Syrian airspace around 16:45 local time (13:45 GMT) on Sunday." It claimed "American soldiers" who had emerged from helicopters "attacked a civilian building under construction and fired at workmen inside, causing eight deaths." "The helicopters then left Syrian territory towards Iraqi territory," reported SANA.

The reported incident took place near the Iraqi border city of Qaim, which the U.S. has labeled as a major crossing point for insurgents, weapons and money. A U.S. official confirmed the attack targeted what he said were elements of arobust foreign fighter logistics network operating in Syria and that due to Syrian inaction the U.S. was now "taking matters into our own hands."

There have been unconfirmed reports in the past of U.S. forces operating along the Syrian-Iraqi boarder and even entering hundreds of feet into Syria in pursuit of insurgents, but today's reported operation would be the largest yet.

Israeli security officials said the Jewish state was not involved in the operation. They said it was likely the U.S. attacked insurgent or al-Qaida elements that ran inside Syria. They said the operation, if confirmed, likely was to send a signal to Damascus that it is not immune from retaliation if it continues to allow insurgents to utilize the country.

Already Syria has summoned the U.S. and Iraqi envoys to Damascus to protest against what it called a U.S. military attack on its soil. According to Syrian sources speaking to WND, Syria conveyed a message to the U.S. claiming Syria does not support the insurgency and opposes any insurgent or al-Qaida elements operating on Syrian soil. Syria told the U.S. they were not upset America had attacked insurgents or al-Qaida elements, if indeed that was the target, but that their protest was against the U.S. operating on Syrian soil without prior permission.
| Israel | Islam | Isaiah 17 | Gog/Magog | America |
---
Russia blasts off back to the future Scotland on Sunday (October 26, 2008) - As they tracked Russian military maneuvers last week, the US government's Kremlin-watchers might have been forgiven for wondering if they were seeing recycled newsreels. A huge exercise, Stability 2008, spread tens of thousands of troops, thousands of vehicles and scores of combat aircraft across nearly all 11 time zones of Russian territory in the largest war game since the collapse of the Soviet Union. There was no specified enemy, but the Russian forces appeared to be enacting a nationwide effort to quell unrest along Russia's southern border – and to repulse a US-led attack by Nato forces, according to experts in Moscow and Washington.

In a grim finale, commanders launched three intercontinental ballistic missiles, the type that can carry multiple nuclear warheads. It was a clear signal of the drastic endgame the Kremlin might consider should its conventional forces not hold. One of the missiles flew more than 7,100 miles, allowing Russian officials to claim they had set a distance record.

If these images of Russian power projection appeared drawn from the dark decades of Dr Strangelove, the response from Washington was anything but. Defence secretary Robert Gates and admiral Mike Mullen, chairman of the joint chiefs of staff, provided the same sanguine reply, echoed down through the ranks of government analysts who have spent years reading Russian military journals and scrutinising classified satellite photographs.

The Russian military fell to Third World standards from neglect and budget cuts in the turbulent years when Boris Yeltsin was president, they say. The new Kremlin leadership is working to create a force that can actually defend the nation's interests.

The military has embarked upon a programme to buy modern weapons, improve training and healthcare for troops, trim a bloated officer corps and create the first professional class of sergeant-level, small-unit leaders since the Second World War.

That is not to say that the US will stop judging Russian behaviour in light of what it considers a clumsy, ill-advised invasion of the former Soviet republic of Georgia. Yet policymakers also say the Kremlin's efforts at military modernisation should not prevent co-operation on mutual concerns, including countering terrorism and halting nuclear proliferation.

Even a high-profile speech last month by President Dmitry Medvedev, ordering a military modernisation programme and the largest increases in defence spending since the death of the old USSR, was viewed in Washington as short on substance and designed more for a domestic political agenda. Medvedev declared that, by 2020, Russia would construct new types of warships and an unspecified air and space defence system. Military spending, he said, will leap 26% next year, bringing it to 1.3 trillion rubles (about £30bn), its highest level since the collapse of the Soviet Union – but still a fraction of US military spending.

American experts were unimpressed. "Russia is prone to make fairly grandiose announcements about its military," said a defence department official. "These programmes have long been in the works. They are not new plans."

Even so, analysts of Russian military affairs acknowledge that a military renaissance would allow the Moscow leadership to increase political pressure on former Soviet republics, as well as former Warsaw Pact allies that embraced Nato after the collapse of communism. "What the Russian leadership has discovered is proof of an old maxim: that a foreign policy without a credible military is no foreign policy," said Dale Herspring, a scholar on Russian military affairs at Kansas State University. Read full story...
| Israel | Islam | Isaiah 17 | Gog/Magog | America |
---
Security & Defense: 'We're in the midst of preparing the home front for war' The Jerusalem Post (October 16, 2008) - According to Deputy Defense Minister Matan Vilnai, the country is in one of the most complicated and dangerous periods of its history. And though he does not believe that Israel can be "wiped off the map," in spite of Iranian President Mahmoud Ahmadinejad's threats, he is increasingly concerned about the current political instability here, which he blames for delays in projects he deems essential, such as the revamping of the Home Front.

This week, as Israel marked the 35th anniversary of the Yom Kippur War - reviewing lessons learned from it - Vilnai gave The Jerusalem Post a lengthy interview, during which he covered a wide range of topics, from Labor's coalition talks with Kadima, to how Hizbullah chief Sheikh Hassan Nasrallah is a target, to the danger of holding public demonstrations calling for the release of Gilad Schalit.

The former deputy chief of General Staff and deputy commander of the elite commando unit, Sayeret Matkal, says that the IDF is at a most critical juncture. It is the only military in the world, he explains, that needs to be ready at any given moment to fight a guerrilla war in Lebanon, a terror war in the West Bank and a conventional war with Syria, and confront a possible existential threat from Iran.

Since taking up his post just over a year ago, Vilnai, 64, has been immersed in establishing the National Emergency Administration (NEA), which he founded to coordinate among all of the various emergency services, in the event of a missile onslaught. This is necessary, he says, because one of the problems encountered during the Second Lebanon War was that the cabinet had to meet several times to discuss how to get food to shelters in the North. But "the cabinet needs to run the war."

How do you view Israel's current strategic position in the Middle East?
There are existential threats today coming from farther away. The additional complication when dealing with Islamic radical terror is that the war is not just against terrorists, but against a population. In Gaza, you can hit Hamas, but it does not hurt Hamas, since the people there support Hamas. This is the same in Lebanon, where the civilian population supports Hizbullah. This makes the conflict much more complicated. As a result, what is needed is a combined military-diplomatic solution, as well as alliances with other countries.

Is there still a conventional threat?
It exists, and we need to prepare for it, so we can retain capabilities required for war with Syria, like on Yom Kippur exactly 35 years ago. We also need to retain the ability to fight Hizbullah and Iran over the horizon. Today, we need to know how to do different things [simultaneously], and this is difficult challenge. I can't remember such a complicated period in my 40 years in the defense establishment.

What poses the greatest threat?
The state of Israel. Establishing a new government is necessary for stability. The fact that the government changes every two years weakens us. A ministry that starts everything from scratch every two years cannot get anything done.

Are there ongoing processes in the Defense Ministry that will be harmed in the event that general elections are held now?
The change in regime harms and weakens us, and I believe it is of the utmost importance to continue with the same government today.

We are in the midst of preparing the home front for war and this is something that the government has spoken about for decades, but never dealt with or regulated properly. If we change the leadership of the Defense Ministry, I don't know what will happen. If we don't continue what we have been doing here for another two years, it will all go to waste.

What, for example?
The NEA and the annual home front exercises we started. I fear that if we aren't here, everything will go back to the way it was in the beginning. We need continuity.

What is the concept behind the NEA?
The responsibility for the home front has always been in the hands of the municipalities or the local and regional councils, but for years they shirked this responsibility. The concept behind the NEA is for the government offices and services to assist them. The IDF, Israel Police, Fire and Rescue Service, Magen David Adom, the Interior, Welfare and Health ministries will all work for the mayors and regional council heads to make sure that life continues, even during wartime.

The cabinet does not need to meet to discuss food distribution to bomb shelters. A mayor with the right assistance can do this on his or her own.

What will the next war look like?
The home front will be the main front of the war, whether it is missiles from Gaza, Lebanon, Syria or Iran.

Can there really be peace with Syria?
We need to break the axis of evil. It can be broken militarily, but the talks with Syria are meant to do this as well. Syria needs to cut off its ties with Iran. This is our condition, and this is the most important element. But it is not something that will happen immediately.

We saw other Syrian intentions with the nuclear facility that the air force destroyed last September.
I don't know what type of facility you are taking about, but that is why I said we need both elements - military and diplomatic. more...
| Iran | Israel | Islam | Isaiah 17 | Gog/Magog |
---
A Syrian Takeover of Lebanon? Gather (October 2, 2008) - The Middle East Times reported October 2 that Syria has been moving military forces to its border with Lebanon for nearly a week now, raising the question of whether or not Syria intends to once again overtly exercise control over its neighbor. Syria has long exercised influence over Lebanon, and only reluctantly withdrew its forces under international pressure in the wake of the assassination of former Lebanese Prime Minister Rafik Hariri. Syria is suspected by many of being responsible for the Hariri assassination. As noted by the Times, Syrian President Bashar Assad said at the time of Syria's withdrawal from Lebanon that the move did not mean Syria was done exercising its influence. The Times says, and most observers and analysts agree, that Syria continues to station thousands of covert intelligence personnel within Lebanon.
Lebanon is a problem for the entire region. Hezbollah operates freely from Lebanon, and Israel routinely violates Lebanese territory and airspace in an attempt to keep Hezbollah in check. The summer 2006 war between Hezbollah and Israel inflicted massive damage on Lebanon in a conflict that seemed to diminish some of the mystique surrounding Israeli military might in the region. A significant portion of the Lebanese Army is sympathetic to Hezbollah, and the Lebanese government is fragmented and, for all intents and purposes, dysfunctional. United Nations peacekeepers are present in southern Lebanon, and Iran exercises some influence as well.
Syria has been attempting in recent months to improve its standing in the region and in the eyes of the international community. Syria's alignment with Iran has been strained at times recently, and negotiations with Israel have not played very well with hard liners within the Syrian intelligence and military establishments. The key to much of Syria's power and wealth is its influence in Lebanon, as well as its degree of control over Lebanon, and it would not be far fetched to believe that Syria would move its military forces across the border.
If Syria did act, there would probably few repercussions, and any condemnations would be largely symbolic. Israel would not intervene, and probably could not if it wanted to. Politically, Israel is just too fragile at the moment. The United States is preoccupied with Afghanistan, Iraq, and a financial crisis at home, and the United Nations force in southern Lebanon is more for show than anything else. There is a window of opportunity right now for Syria to reestablish control over Lebanon. That window could close suddenly, and Syria may well be positioning itself to act before time runs out.
| Israel | Islam | Isaiah 17 | Gog/Magog |
---
Top Iran officials recommend preemptive strike against Israel Haaretz (October 22, 2008) - Senior Tehran officials are recommending a preemptive strike against Israel to prevent an Israeli attack on Iran's nuclear reactors, a senior Islamic Republic official told foreign diplomats two weeks ago in London. The official, Dr. Seyed G. Safavi, said recent threats by Israeli authorities strengthened this position, but that as of yet, a preemptive strike has not been integrated into Iranian policy.

Safavi is head of the Research Institute of Strategic Studies in Tehran, and an adviser to Supreme Leader Ali Khamenei. The institute is directly affiliated with Khamenei's office and with the Revolutionary Guards, and advises both on foreign policy issues. Safavi is also the brother of Yahya Rahim Safavi, who was the head of the Revolutionary Guards until a year ago and now is an adviser to Khamenei, and holds significant influence on security matters in the Iranian government.

An Israeli political official said senior Jerusalem officials were shown Safavi's remarks, which are considered highly sensitive. The source said the briefing in London dealt with a number of issues, primarily a potential Israeli attack on an Iranian reactor.

Safavi said a small, experienced group of officials is lobbying for a preemptive strike against Israel. "The recent Israeli declarations and harsh rhetoric on a strike against Iran put ammunition in these individuals' hands," he said. Transportation Minister Shaul Mofaz said in June that Israel would be forced to strike the Iranian nuclear reactor if Tehran continues to pursue its uranium enrichment program.

Safavi said Tehran recently drafted a new policy for responding to an Israeli or American attack on its nuclear facilities. While the previous policy called for attacks against Israel and American interests in the Middle East and beyond, the new policy is to target Israel alone. He added that many Revolutionary Guard leaders want to respond to a U.S. attack on Iranian soil by striking Israel, as they believe Israel would be partner to any U.S. action.

Safavi said that Iran's nuclear program is intended for peaceful purposes only, and that Khamenei recently released a fatwa against the use of weapons of mass destruction, though the contents of that religious ruling have not yet been publicized. Regarding dialogue with the United States and the West, Safavi said Iran's decision would be influenced by the results of the U.S. presidential elections next month, as well as by the Iranian presidential elections in June and the economic situation in the Islamic Republic.

Safavi also said that a victory by U.S. Democratic presidential candidate Barack Obama would pave the way for dialogue with Washington, while a John McCain presidency would bolster Iran's extreme right, which opposes dialogue. If conditions are favorable following the U.S. election, he said, Iran could draw back from President Mahmoud Ahmadinejad's declaration that "the nuclear case is closed," and put it back on the agenda.

Safavi said he believed that U.S. sanctions on Iran have run their course, and that there would be no point in strengthening them. Tehran would therefore demand "firm and significant" U.S. measures in return for stopping uranium enrichment. He also said Ahmadinejad is not guaranteed victory in the June 2009 elections, particularly given the dire economic situation in Iran. Still, Iranian experts believe his only real competition is former president Mohammad Khatami, who has not yet joined the race.

Safavi said the inflation rate in Iran is similar to that before the 1979 Islamic Revolution, but that unrest among civilians today is not as strong. This is because the current government uses oil revenues to help the poor, he said.
| Iran | Israel | Islam | Gog/Magog | America |
---
MEPs debate EU response to world crises with French president Sarkozy European Parliament (October 21, 2008) - At a debate with MEPs on the EU summit of 15-16 October, EU President-in-Office Sarkozy said the Russo-Georgian war and the financial crisis had strengthened the case for a united European response to major world problems. He rejected any idea that the EU should backtrack on its climate change commitments because of the crisis. While the main EP political groups broadly supported him, some felt the roots of the financial crisis went back a long way and queried the role of unbridled free markets.

Introducing the debate, the President of Parliament, Hans-Gert Pöttering, said that in the recent crises, Europe under the leadership of President Sarkozy had shown its ability to take coordinated, collective action. Without such action - and without the existence of the euro - "we would have been in a disastrous situation".

Georgia

The first subject considered by President Sarkozy, speaking on behalf of the European Council, was the Russo-Georgian war. While regarding the Russian reaction as "disproportionate", he also stressed it was a "reaction" to a previous "inappropriate" action. He then described the peace-making efforts carried out by himself on behalf of the EU. The Americans had thought "dialogue with the Russians is pointless" but in his view this was folly, since "Europe does not want another Cold War". He emphasised "it is Europe that has brought about peace", adding "it is a long time since Europe has played this sort of role in this kind of conflict".

World financial crisis: how to prevent a recurrence

Turning next to the world financial situation, Mr Sarkozy said "what was a serious crisis became a systemic crisis" with the collapse of Lehman Brothers. Moreover, the solutions now being found - in which Europe had taken the lead - simply amounted to "crisis management".

A key point was "how can we prevent a recurrence?". He had proposed to the UN General Assembly the creation of a "new global financial system" or "new Bretton Woods". The aim must be to "overhaul capitalism", not "by questioning the idea of a market economy" but observing certain principles: no bank working with state money must work with tax havens, all financial institutions must be subject to financial regulation, traders' bonus structures must not push them to take undue risks and the monetary system must be rethought. The USA and the EU had proposed a series of "summits on global governance", starting in November, involving first the G8 and then adding the G5, at which, he stressed, "Europe must speak with one voice".

Elsewhere in his speech, Mr Sarkozy returned to the financial crisis, saying it was undoubtedly now leading to an economic crisis and this too would require a "united European response". Among ideas he floated were measures to ensure that "European companies are not bought up by non-European capital while their stock exchange values are low" and the creation of sovereign wealth funds by each EU country. At a later point in the debate he pointed the finger at hedge funds and questioned the competence and independence of ratings agencies, pointing out that the latter were mainly US-based and perhaps Europe needed its own ratings agencies.

He also believed that "the eurozone cannot continue without clear economic governance". The European Central Bank must be independent but must be able to hold discussions with "an economic government" at head of state/government level.

No backsliding on energy/climate change

Mr Sarkozy's next topic was the future of the EU's energy and climate package. He rejected any idea "that the world should do less to combat climate change because of the financial crisis", saying "Europe must set an example" to the world. He recognised the difficulty some European countries were facing, especially those that are 95% dependent on coal, but some flexible solution must be found. Referring to the 20/20/20 targets, he described "respect for the climate change objectives" and "respect for the timetable" as essential.

Turning to the EU Immigration Pact, the French president said this was "a great example of European democracy" as, despite initial differences, the EU had agreed on a joint policy.

Lisbon Treaty

Lastly, the president argued that the recent crises with Georgia and the financial markets showed that "it would be a major mistake not to proceed with institutional reform" since Europe often needs "a powerful, rapid and united response", something which was difficult, for example, with the EU's six-month rotating presidency. The French presidency was thus looking to a roadmap to find a solution by December to the question of Irish ratification of the Lisbon Treaty. Concluding, he said "the world needs a Europe that speaks with a strong voice" and expressed appreciation to the EP for its "solidarity" in helping to create this sense of unity.

Commission President Barroso

President of the European Commission José Manuel Barroso said Mr Sarkozy's handling of the crisis had shown him as "dynamic as only he can be" and welcomed the fact that Europe was now working hand in hand with the US. He said "the EU should mould a global response with it values and interests".

He outlined a number of practical steps. He said the Commission would be looking at executive pay and derivatives. The feasibility of pan-Europe financial regulation would also be under review. He also signalled his forthcoming visit to China for talks saying: "The goal should be to devise a system of global financial governance adapted to the challenges of the 21st century – in terms of efficiency, transparency and representation."

Turning to the so called "real economy" he said that Europe faced a "serious economic slowdown" with jobs, incomes and order books affected. He went on to say: "There is no national road out of this crisis...we will swim or sink together. We must not give in to siren calls for protection. We must not turn our backs on globalisation or put our single market at risk."

He said that "European citizens need support - especially the vulnerable". To deal with the slowdown he called for "smart support" that would hit two targets at once. For example: "Helping the construction industry...but doing this by promoting an energy-efficient housing stock....Helping key industries like cars...but preparing them for tomorrow's markets of clean cars."

He told MEPs that there is "no national route out of this crisis" and that in Europe "we swim or sink together". He said that: "Europe shows its true colours in a crisis - in Georgia we stopped a war whilst with the financial crisis we are dealing with it."

He went on to say that: "There is no magic bullet to turn around the EU economy. What we have to do is take every option, explore every potential way in which EU policy can help Member States to seize every opportunity to put Europe on the road to growth. That is our task in the coming weeks. And it is a task I want to tackle together with the European Parliament." He finished by saying that it was: "The kind of occasion where the crisis calls into question old certainties and minds are more open to change."

Later, speaking after the main group speakers Mr Barroso said that analysis compiled by the Commission showed the crisis was triggered "by sectors that were not regulated in US". On climate change he said that with the financial crisis it would be "dramatically bad" if the EU backtracked on the 20/20/20 emission formula agreed last. He said that "the world - not just Europeans, are looking to us". Read full story...
---
Russian envoy: Tehran-Moscow ties in an unprecedented stage Islamic Republic News Agency (October 16, 2008) - Russian Ambassador to Tehran Alexander Sadonikov said here Wednesday that Iran-Russia relations are now in an unprecedented stage and mutual cooperation in the oil and gas sectors will get a boost in the near future. "Now, there are good and growing cooperation between the two countries in different economic and industrial sectors, an instance of which being Bushehr atomic power plant," Sadonikov told IRNA on the sidelines of his tour of the Teachers Training Center of Iran's technical and Vocational Organization. He said Iran, Russia and Azerbaijan have launched good cooperation in transportation sector, especially in the Caspian Sea, which will also be in favor of Europe and the region. He lauded Iran's progress in setting up such a big and developed center for technical and vocational purposes.
| Iran | Gog/Magog |
---
Swords and Shields: Russia shields Syria Space War (October 16, 2008) - Until Russia can revitalize its naval forces to a much larger degree, its deployments to the Mediterranean contribute more to symbolic and diplomatic activity than being a viable military counterweight to NATO in the region. Yet the Black Sea Fleet in the Med is a significant show of force and a diplomatic irritant and a potential threat to shipping in the Suez Canal and to America's ally Israel. The increased Russian naval presence in the region means that the Kremlin is seeking to cultivate Syria as a close regional ally, and is looking to secure additional bases for the Black Sea Fleet besides its current base in the Black Sea port of Sevastopol.

In addition, Russia would also be able to deploy electronic intelligence-gathering ships that could then improve its monitoring capabilities against NATO forces and Syria's ability to monitor NATO and Israeli transmissions, expanding the previous naval intelligence engagement during the Balkan wars. Finally, Russian naval forces could deter or disrupt Israeli naval or air assets deployed in wartime against Syria or Hezbollah in Lebanon.

Syria is pursuing new arms deals with Russia, including the purchase of the Mikoyan-Gurevich MiG-29 M2, MiG-31, the latest Sukhoi Su-30 version -- Flanker, Tor-M1 air defense systems, AT-14 antitank missiles, upgrades for Syria's aging T-62, T-72 and T-80 Main Battle Tanks, SA-5 Gammon anti-aircraft missile systems, and upgrading Syria's existing S-125 Air Defense systems to the Pechora-2A.

Iran is also involved in supporting Damascus. In 2007 alone Iran reportedly financed Syrian purchases of Russian arms to the tune of $1 billion. Iran and Syria, which have had a mutual defense treaty since 2004, train and equip Hezbollah, the biggest terrorist organization in the Middle East. Russia is cultivating both states as allies and as customers for Russian arms. What is particularly disturbing is that the Russian layered air defenses, both short-range TOR and long-range S-300 anti-aircraft systems, are capable of providing the defensive envelope to the mysterious Syrian nuclear research activities, as well as to the significant chemical weapons arsenal deliverable by Damascus' short-range ballistic missiles, such as Syrian-produced SCUD-C and SCUD-D and, potentially, Russian-made Iskander-E -- NATO designation SS-X-26.

Damascus has also acquired Pantsir-C1 air defense systems, which represent the current state of the art in Russian military air defense technology, but no deal has yet been reached. According to sources in Moscow, Russia is likely to equip Syria's Tartus naval base with S-300PMU-2 Favorit ballistic missiles and a radar system more sophisticated than Syria's current capabilities.

During the Cold War era, the Soviet Union boasted a global naval power projection capability with yearly naval maneuvers in the Caribbean and the North Fleet naval brigade in Conakry, Guinea, and Luanda, Angola. The 8th Operational Squadron of the Pacific Fleet had supply bases in Aden and Socotra in Yemen and Dahlak in Eritrea, and in Berbera in Somalia. After the five-day Aug. 8-Aug. 12 war in the former Soviet republic of Georgia in the Caucasus, the Russian Black Sea Fleet is planning to deploy in Abkhazia, at the ports of Ochamchira and Sukhumi. For Moscow today, Tartus is only the first step in the long road to a renewed global naval presence.
| Iran | Israel | Islam | Isaiah 17 | Gog/Magog |
---
From Syrian fishing port to naval power base: Russia moves into the Mediterranean Guardian UK (October 8, 2008) - Military foothold part of closer ties with Damascus. Move could deter Israel from attacks on Syria. During balmy evenings in the sleepy Syrian port of Tartous locals promenade along the seafront or suck on hookahs discussing the two great pillars of their society: business and family.

Politics, such as it is in the tightly controlled one-party state, rarely gets a mention, and certainly not in public. But few could fail to wonder about the foreign sailors dockside and the grey warship dominating a harbour that was once a trading hub of the Phoenician empire and is now the centre of a new projection of power, this time by Syria's old ally Russia.

Tartous is being dredged and renovated to provide a permanent facility for the Russian navy, giving Moscow a key military foothold in the Mediterranean at a time when Russia's invasion of Georgia has led to fears of a new cold war.

The bolstering of military ties between Russia and Syria has also worried Israel, whose prime minister, Ehud Olmert, was in Moscow yesterday seeking to persuade the Russian president, Dmitry Medvedev, to stop Russian arms sales to Syria and Iran. Mr Olmert later said he had received assurances that Russia would not allow Israel's security to be threatened, but offered no indication he won any concrete promises on Russian arms sales.

Igor Belyaev, Russia's charge d'affaires in Damascus, recently told reporters that his country would increase its presence in the Mediterranean and that "Russian vessels will be visiting Syria and other friendly ports more frequently".

That announcement followed a meeting between Medvedev and the Syrian president, Bashar al-Assad, at the Black sea port of Sochi in the immediate aftermath of Russia's victory over Georgian forces and its recognition of the breakaway provinces of South Ossetia and Abkhazia - actions Assad supported.

Now, with Ukraine threatening to expel Russia's Black sea fleet from its base in Sebastopol, the only route for the Russian navy into the Mediterranean, military cooperation between Moscow and Damascus appears to have taken on a new zeal.

"Israel and the US supported Georgia against Russia, and Syria thus saw a chance to capitalise on Russian anger by advancing its long-standing relations with Moscow," said Taha Abdel Wahed, a Syrian expert on Russian affairs. "Syria has a very important geographical position for the Russians. Relations between Damascus and Moscow may not yet be strategic, but they are advancing rapidly."

Tartous was once a re-supplying point for the Soviet navy at a time when Moscow sold Syria billions of dollars worth of arms. "Tartous is of great geopolitical significance considering that it is the only such Russian facility abroad," a former Russian navy deputy commander, Igor Kasatonov, said, following a meeting on September 12 in Moscow between the naval leaders from Russia and Syria.

Syrian-Russian relations cooled after the collapse of the Soviet Union. But they have taken on a new dynamic since Assad succeeded his father in 2000. After a state visit to Russia in 2005, he persuaded Moscow to wipe three-quarters off a £7.6bn debt Syria owed, mainly from arms sales.

Since then the two countries have been in talks about upgrading Syria's missile defences with Russia's advanced Strelets system, provoking condemnation from Israel, whose fighter jets in September 2007 flew unchallenged into north-east Syria to bomb a suspected nuclear site.

Last month Russia's foreign minister, Sergey Lavrov, said Moscow would consider selling Damascus new weapons that "have a defensive character and that do not in any way interfere with the strategic balance in the region". Though no defence pact has been signed between the two, as it has between Syria and Iran, observers suggest the very presence of Russian warships in Tartous would bolster Damascus's military standing in the region. "Israel would think twice about attacking Syria again with Russian ships stationed in Tartous," said Abdel Wahed, an analyst.

A senior Israeli colonel has also accused Russia of passing intelligence about Israel to Syria and indirectly to Hizbullah. Describing electronic eavesdropping stations on the Syrian side of the Golan Heights believed to be operated by Russian technicians, Ram Dor, information security chief for the armed forces, told an Israeli newspaper: "My assessment is that their facilities cover most of the state of Israel's territory. The Syrians share the intelligence that they gather with Hizbullah, and the other way around."

During the 2006 July war Hizbullah fighters used advanced Russian tank-buster missiles to cripple at least 40 of Israel's Merkava tanks, a key tipping point in a war that Israel later admitted it lost. The Russian embassy in Damascus could not be reached for comment.
| Israel | Islam | Isaiah 17 | Gog/Magog |
---
Iceland turns to Russia for bailout RIA Novosti (October 10, 2008) - Russia has agreed to bail out Iceland by granting this small island state a huge stabilization loan at an unbelievably low interest rate. Is it an act of wanton generosity, or a far-sighted geopolitical step? And in general, four billion euros, is it a lot or a little? The fate of Iceland has until recently not concerned Russia one bit. Now only a lazy person is not discussing the incredible sum the "island of stability" is going to inject into the economy of a sinking island of geysers.

Europe has meanwhile been discussing Iceland for a long time. Hedge-fund country, an example of liberal economic regulation and a model of a rapidly developing economy, Iceland was the first in the world to feel the impact of a full-bodied economic crisis. This happened at the end of 2007. Since this year began, Iceland's currency - the krona - has lost one-third of its value against the euro. Iceland's leading banks - Kaupthing, Glitnir and Landsbanki - have been marauded by international financial sharks. At the end of September, the country's authorities bought out (read, nationalized) Glitnir bank, and on October 7 Landsbanki, while on the same day Kaupthing bank received a 500 million euro loan from Iceland's National Bank. By the autumn of 2008 it had become clear Iceland might become the world's first country to suffer a default.

Why is the bubble of Iceland's economy bursting so loudly? It ballooned too rapidly, the IMF believes. In 2003-2007, the country's GDP had risen by 25%, with this robust growth fed mainly by outside borrowing. To attract foreign investments, the authorities strengthened the currency and ratcheted up interest rates (by the beginning of 2008, they were the highest in Europe - 15.5% per annum). The result was a monstrous misbalance: a modest GDP, on the one hand, and immense financial assets and tremendous liabilities, on the other. According to 2007 figures, Iceland's GDP was $16 billion, while its financial assets stood at 1,000% of GDP and an external debt of 550% of GDP.

With Iceland teetering on the brink of default, Russia's stabilization loan of four billion euros is a lifebelt, and a very sizeable one (on the evening of October 7, Finance Minister Alexei Kudrin acknowledged Russia's readiness to pay, although previously he had denied such claims by Iceland's National Bank). Judge for yourself: when, in May 2008, Iceland was drowning, the central banks of three Scandinavian countries - Sweden, Denmark and Norway - set up a special $2.3 billion rescue fund for Iceland. Now Russia alone is ready to fork over two and a half times as much for the same purpose. In other words, four billion euros by Iceland's standards is substantial.

In Russian eyes, it is a vast sum, too. And one pledged at a very fair rate. To judge from a release issued by Iceland's National Bank, Russia promised it at LIBOR+(0.3-0.5)%. This compares with LIBOR+1% at which the Russian Central Bank wants to offer loans to Russia's Vnesheconombank. At a time when Russian authorities hold crisis emergency meetings almost daily, this looks strange, to say the least. The man in the street would say this is no time for liberal loans when one's own existence is at stake. This man's response would not be quite right, in my opinion. Read full story...
There are several reasons why Russia should agree to issue the loan to Iceland. The first and overwhelming one is geo-economic. Leaders in many countries are gradually beginning to understand that a world caught in the maelstrom of a financial crisis could be saved only by cooperative efforts. This was a theme running through a three-day world policy conference in Evian; it will certainly be taken up at an annual meeting of the International Monetary Fund and World Bank.

WB chief Robert Zoellick only recently proposed that the G8 also include BRIC countries (Brazil, Russia, India and China), Mexico, Saudi Arabia and South Africa. World leaders more and more often speak of the need to shelve personal ambitions, put away political squabbles and do something.

To come to the aid of Iceland at such a time has been for Russia a decision prompted by stark necessity. Russia has a rich war chest of windfall oil money. By the end of September, its Central Bank had $566 billion in international reserves, and $32-plus billion in the National Welfare Fund and the Reserve Fund. Of course, Russia could sit it out on its "island of stability" and fight the crisis within its four walls. But in this case Russia risks suddenly discovering that the global financial storm whipped up even further by Iceland's hurricane has wiped out all its stockpiled reserves.

Most of Iceland's lenders are European banks. Should Iceland declare a default, the whole of Europe would go into a spin, and would drag Russia after it, which now has a chance to scrape its way out of the crisis the cheap way. It emerges that by saving Iceland, Russia is saving itself first.

Other considerations are less global and more pragmatic. Crises come and go, but allies (sometimes) remain. Iceland, a rapidly developing economy and a happy hunting ground for businessmen from many European countries, is certain to remember this gesture and take more kindly to Russian investments in the future. So far, Russia-Iceland trade has been $100 million per year. And it was only shortly before the crisis that Russian business (represented by Roman Abramovich and Oleg Deripaska) began exploring the country's investment possibilities. Now the price for entering Iceland's economy could prove very low. Besides, it makes a good staging post for flights to Latin America.
| Iran | Gog/Magog | EU/UN / 4th Kingdom | America | Economic Crisis |
Proverbs 22:7
The rich ruleth over the poor, and the borrower is servant to the lender.

This principle is how I believe the world will be forced into a global fix for the economic failures by those who are the lenders. Perhaps the servants will be offered a clean slate in exchange for participation in the new system. I wouldn't be surprised because ultimately the spirit behind this is not worried about making money, but pulling souls away from their Creator and according to scripture, those who accept the terms of the new cashless system that relies on a mark make not only an immediate decision, but one that affects their eternity.

Revelation 14:9-11
And the third angel followed them, saying with a loud voice, If any man worship the beast and his image, and receive his mark in his forehead, or in his hand, the same shall drink of the wine of the wrath of God, which is poured out without mixture into the cup of his indignation; and he shall be tormented with fire and brimstone in the presence of the holy angels, and in the presence of the Lamb: and the smoke of their torment ascendeth up for ever and ever: and they have no rest day nor night, who worship the beast and his image, and whosoever receiveth the mark of his name.

It seems to me the house of cards is falling and everything that they try to do in order to prop it back up fails to do anything to stop it. How close are we to being indentured servants as a nation who will be offered a new financial system as a way out? I don't know for sure, but there are already globalization talks going on for the financial system: Foreign economists urge 'global plan'
---
Syria 'boosts troops on border' BBC News (October 7, 2008) - Syria has reportedly moved more troops to its side of the eastern Lebanese border, weeks after boosting numbers along Lebanon's northern frontier. Reports said the troops had dug trenches and set up checkpoints in the northern Bekaa valley region. The Syrian authorities have not commented on the latest deployment. Damascus said earlier troop movements were aimed at combating smugglers. On Monday, the US warned Syria against a possible intervention in Lebanon.

Anti-Syrian Lebanese groups fear Damascus might use insecurity in northern Lebanon as a pretext for a military intervention. The Lebanese army says about 10,000 Syrian forces have been deployed on the border since 22 September when the first units moved in. Syria was the main power broker in Lebanon after the 1975-90 civil war but withdrew tens of thousands of troops from the country after popular pressure from opponents in Lebanon in 2005.

It says measures taken along the border are in line with agreements between Lebanon and Syria, which have been trying to normalise relations with support from France. In recent days, the US has established a bilateral military commission with Lebanon, aimed at building up the country's armed forces.
| Islam | Isaiah 17 | Gog/Magog |
---
Ministers okay Moscow's property claim The Jerusalem Post (October 5, 2008) - The cabinet on Sunday voted to transfer ownership of Sergei's Courtyard in downtown Jerusalem's Russian Compound to the Russian government. The move is the culmination of four years of negotiations, after then-Russian President Vladimir Putin, who is currently his country's prime minister, laid claim to the site on behalf of the Russian Orthodox Church. Sergei's Courtyard currently houses offices of the Agriculture Ministry and the Nature and National Parks Protection Authority, and the Jerusalem branch of the Society for the Protection of Nature in Israel.

On Monday, Prime Minister Ehud Olmert will begin a two-day trip to Moscow. Israeli officials expect the Russians to raise the question of the transfer of Russian church property in Jerusalem. Olmert had planned to visit Russia last month but the trip was put on hold due to the political uncertainty here. Israeli officials rejected assertions that an outgoing prime minister should not be making such a trip, saying it was approved by both Defense Minister Ehud Barak, and Foreign Minister Tzipi Livni. Iran's nuclear program and Israeli concerns over the sale of advanced Russian weapons to Syria are expected to top the talks' agenda.

The Legal Forum for the Land of Israel had said it would petition the High Court of Justice if the current caretaker government approves the transfer of Sergei's Courtyard. The group cited the decision by Supreme Court President Dorit Beinisch two weeks ago preventing the appointment of Supreme Court justices until a new government is formed. In a letter sent on Friday to the prime minister, Cabinet Secretary Ovad Yehezkel and Attorney-General Menahem Mazuz, the forum wrote: "A caretaker government is not entitled to take important and irreversible decisions that the incoming government will have to deal with."

The transfer of "important property in the center of Jerusalem to a powerful foreign state with interests in this region and imperial designs" was no less important than the appointment of Supreme Court justices, the forum wrote. Some Israeli officials had expressed concern that such a transfer could set a precedent for other property in the capital owned by the Russian, Greek and Roman Catholic churches. The Knesset and the Prime Minister's Office stand on land originally owned by the Greek Orthodox Church.

The site was built in 1890 to accommodate Russian pilgrims visiting the Holy Land and was named after Tsar Alexander II's son, Sergei Alexandrovich. Israel acquired some 90 percent of the Russian Compound in 1964, paying the former Soviet Union $3.5 million. The purchase was dubbed the Orange Deal because Israel, lacking hard currency, paid the Russians in citrus fruit. Sergei's Courtyard, however, was part of the remaining 10% not covered in the deal.
| Israel | Gog/Magog |
---
Syria poised to invade Lebanon WorldNet Daily (September 24, 2008) - New concerns are being raised by the possibility that Syria may launch troops into Lebanon by using a pretext of concern over assaults on a Lebanese faction sympathetic to the Syrian leadership, according to a report from Joseph Farah's G2 Bulletin. Confirmed reports reveal that there are some 10,000 Syrian special forces troops massed on the northern border of Lebanon. A small Alawite faction near the northern city of Tripoli, Lebanon, has been in repeated gun fights with Sunni militants. The area's majority population is Sunni. The Alawites are of the same tribe as Syrian President Bashar Assad. Most of Syria's top security and military officials also are Alawite.

The concern is that Syria forcibly would annex the northern part of Lebanon to protect the Alawites, an offshoot of Shia Islam which is associated closely with the Syrian-supported Shiite Hezbollah. The Iranian-backed Hezbollah has been fighting the Sunnis in support of the Alawite minority in northern Lebanon. The Alawites in Lebanon became influential while Syrian troops occupied Lebanon until 2005. The Syrian troops left following the February 2005 assassination of former Lebanese Prime Minister Rafiq Hariri.

The Syrian opposition, led by Hariri's son, Saad Hariri, places the blame of the father's assassination on the Syrian regime. The investigation to determine responsibility for Hariri's assassination still is under way. Saad Hariri heads the Sunni group that is fighting with the Alawites in Tripoli. In early September, Hariri, who heads the Sunni Future Movement in Lebanon, recently held talks with the head of the Alawite faction, Ali Eid. Eid is pro-Syrian while Hariri's Future Movement heads the anti-Syrian movement in Lebanon.

Tensions in Tripoli, however, have precluded any return to political stability in Lebanon despite efforts last May by Qatar to end a long power struggle between Hariri's anti-Syrian coalition and the pro-Syrian Hezbollah. The 10,000 Syrian special forces troops massed on the Syrian-Lebanese border are in positions on the northern Lebanese border in the hills overlooking the El-Kabir River, which forms the northern boundary of the two countries.
| Iran | Israel | Islam | Isaiah 17 | Gog/Magog |
---
Russia sends warships on military exercise in America's 'backyard' as the new Cold War intensifies Daily Mail UK (September 23, 2008) - Russian warships set off for the Caribbean yesterday for their first naval exercises on the U.S.'s doorstep since the Cold War. The vessels from the Northern Fleet, including nuclear missile cruiser the Peter the Great, left their base in Severomorsk to hold joint manoeuvres with Venezuela.

The exercises are seen as retaliation to U.S. plans to install a strategic missile shield in Poland and the Czech Republic. It is also thought to be a response to Western support for Georgia, which was invaded by Moscow last month. Last week, in a show of strength that echoed the Cold War, two Russian Tu-160 Blackjack strategic bombers flew over the Caribbean into Venezuela - a close ally of Russia. The Bush administration has accused the Kremlin of playing a 'dangerous game' by carrying out flights with strategic bombers near U.S. borders.

Igor Dygalo, an aide to the chief naval commander, said last night: 'A flotilla of Russia's Northern Fleet ships, including its flagship, the nuclear missile cruiser Peter the Great, destroyer Admiral Chabanenko and escorting ships have left Severomorsk, the Northern Fleet's base. 'As a part of this trip, Russian warships will take part in joint exercises with the Venezuelan navy.' The Admiral Chabanenko, a Russian anti-submarine destroyer, Udaloy II class, has also set sail for Latin America

Deputy Navy Commander Vice-Admiral Nikolai Karachun added: 'The ships are loaded with both training and live rounds, all is in good order and checked, the ships are technically sound, all crews are fully prepared, and spare parts are on board the warships and their escorts.'

Russia resumed strategic bomber patrol flights over the Pacific, Atlantic and Arctic oceans last August, following an order signed by then-President Vladimir Putin. Russian bombers have since carried out more than 90 strategic patrol flights and have often been escorted by Nato planes, including RAF interceptors. The flights were designed to show the once-feared Russian Military had regained its confidence and aggression since decaying in the post-Soviet era.

Military leaders in the country have also threatened to base bombers in Cuba, deliberately evoking comparisons with the 1962 Cuba missile crisis in which the USA and the Soviet Union came close to all-out war after the Red Army shipped missiles to the Caribbean island. President Hugo Chavez has embarked on a five-nation foreign tour which includes a red carpet visit to Moscow where he will be lauded for standing up the United States.

Kremlin prime minister Vladimir Putin's push to the Caribbean will act as a warning to the next U.S. president, to be elected in November, that despite the world current financial turbulence, Moscow is again a force to be reckoned with following a massive oil-fuelled economic recovery since the fall of the USSR. Military analyst Alexander Golts said: 'It's a show of the Kremlin irritation about the U.S. deployment to Georgia. It's a signal to the United States: you have broken into our zone of influence, and we will show you that we can enter yours.' He added that the small Russian squadron could not pose any threat to the United States. 'Without protection from the air, it makes a sitting duck,' he said. 'It's ridiculous to even talk about the Russian ships providing a counterweight to the U.S. Navy.' The Peter the Great is armed with SS-N-19 Shipwreck long-range anti-ship missiles. The warship will sail in an area where nine of every 14 barrels of imported oil to the US must transit.
---
Ten Russian warships have docked at Syrian port DEBKAfile (September 19, 2008) - Israeli military and naval commanders were taken by surprise by Rear Adm. Andrei Baranov's disclosure that 10 Russian warships are already anchored at the Syrian port of Tartus, DEBKAfile's military sources report. Moscow and Damascus have worked fast to put in place the agreement reached in Moscow on Sept. 12 by Russian navy commander, Adm. Vladimir Wysotsky and Syrian naval commander Gen. Taleb al-Barri to provide the Russian fleet with a long-term base at Syrian ports. Israel was not aware that this many vessels were involved in the deal.

What most worries Israeli military leaders is an earlier announcement by Adm. Wysotsky that Russia's Mediterranean assets would subjected to its Black Sea fleet command, thereby placing Russia's warships near Israel's shores at the service of Moscow's contest against the US and NATO in the Caucasian. It is feared that Israel will be dragged into another cold war. Rear Adm. Baranov disclosed that the warships in Tartus had brought engineering crews to widen and dredge the harbor to accommodate additional, fleet vessels. The crews were also working on expanding Latakia, another Syrian port, possibly for aircraft carriers or guided missile cruisers. The Russians are making no secret of their intention of using their naval presence in Syrian ports as a deterrent to a possible Israeli air strike against Syria.
| Israel | Isaiah 17 | Gog/Magog |
---
Syrian Tripwire For WWIII Op Ed News - Lord Stirling (September 19, 2008) - Russian Rear Admiral Andrei Baranov has disclosed that 10 Russian warships are already anchored at the Syrian port of Tartus. Russian engineering crews are widening and dredging the port to accommodate additional Russian warships. The Russians are making clear their intentions of using the large Russian naval presence in Tartus as a deterrent to Israeli air strikes against Syria using the powerful anti-air missiles on-board the Russian naval warships. These missile systems can sweep the sky over most of Syria and knock down Israeli F-15 and F-16 fighters.
This changes the balance of power in the air over Syria. This also places a tripwire for World War III in place in the Middle East. Any attack on Iran will also involve a war with Syria and Lebanon. This will now involve Russian military forces in direct support of the Iranian/Syrian alliance. Russia is a major nuclear power with the power to destroy every American and NATO city. George Bush has just agreed to sell Israel 1,000 very advanced American bunker buster bombs for use in the coming war with Iran, Syria, and Lebanon.
| Iran | Israel | Islam | Isaiah 17 | Gog/Magog |
Could these Russian warships assist in getting men and materiel from the North through Lebanon into the mountains of Israel? They certainly seem to be preparing for plenty of Russian ships to be there for something. What Lord Stirling calls WWIII, I believe will be cut short when God destroys the attackers in the mountains of Israel. This doesn't mean that elsewhere around the world there won't be issues. Remember that the second seal is men killing each other and the third is an apparent economic collapse. If you've just joined the newsletter, you can see where I think this is leading here and here. We could be seeing the unfolding of events that will lead to Israel rebuilding the temple and the coming abomination of desolation.
---
Bush Agrees to War on Iran Op Ed News - Lord Stirling (September 17, 2008) - The United States has agreed to sell to Israel 1,000 of the very advanced bunker buster GBU-39 bombs. This is a major development as the Bush Administration had denied previous recent Israeli requests for large numbers of this weapon system. The GBU-39 has a stand off range of 110 km and uses pop-out wings with extremely accurate fire and forget technology. It is capable of penetrating 90 cm of steel reinforced concrete. This indicates that the Israeli Government has succeeded in its request that America allow it to attack Iranian nuclear facilities. The GBU-39s will be used extensively in attacks on Iranian targets, as well as on Syrian and Hezbollah high value targets in both Syria and Lebanon.

The Israeli political landscape is about to change. I have been expecting former Israeli Prime Minister, and super war hawk, Benyamin Netanyahu to make a well timed major move. Current Israeli Prime Minister Ehud Olmert is about to resign due to his ongoing criminal troubles. Foreign Minister Tzipi Livni and Transport Minister Shaul Mofaz are in a tight battle to win the vote on Wednesday as Kadima Party Chairman, with the right to attempt to form a new government. However, it appears that Bibi Netanyahu has put together a deal with Labor Party leader, former PM and current Defense Minister Ehud Barak, and the ultra-religious Shas Party to form a government with Bibi as Prime Minister in a few days time. Count on Bibi Netanyahu lighting a blowtorch in the dry kindling that is the Middle East.

There is a real technical question if the GBU-39 can destroy all of the key known or suspected Iranian nuclear sites, as well as key military sites in Lebanon and Syria. The hardest sites are very well protected. Some experts think that several dozen to a hundred plus GBU-39s targeted at the same spot can take out even the deepest/most harden site; others say that a micro or mini nuke will be required.

The Israeli and American war planners may be counting on all sides refraining from the use of WMD. Rather like Saddam held back his 29 WMD armed (chemical and anthrax) Scud-type guided missiles during the First Gulf War and like Hezbollah did during the Second Lebanon War in 2006. If this is the strategy it is one very, very, massive risk to all involved. Read full story...
| Iran | Israel | Islam | Isaiah 17 | Gog/Magog |
---
Putin's Unholy Land Grab: Red Square In Jerusalem The Jewish Press (September 3, 2008) - Last month it took two tank divisions and a diversion of Olympian proportions for Vladimir Putin to subdue Georgia's fledgling democracy and seize two of its territorial regions. This month we may see Russia's new emperor claiming a prime slice of downtown Jerusalem for the KGB without even firing a shot.

I refer to a shady transfer to Putin of what is known as the Russian Compound - a 17-acre site between Jaffa and Hanevi'im roads, close to the Old City walls. According to a Foreign Ministry letter that has come into this writer's possession, the deal was agreed on between the two governments on December 12, 2007. The transaction could not be completed, however, until the land was transferred from Israel's Custodian General of land and property to the government itself.

According to the same Ministry letter, this final clearance was ratified by a Jerusalem court on August 27. Like so many other concessions on outposts and the security fence, this is yet another surrender concocted between the executive and the judiciary, without any parliamentary involvement or oversight.

According to the Israel Policy Forum, the Jewish state's judiciary is the most activist in the democratic world and dominates the elected branches of government, the legislative and the executive. The ultimate check on the judicial branch of government is the power of appointing judges, which is retained by the elected branches of government in the overwhelming majority of democracies. This enables the people's representatives to ensure that no judges with extreme views (including extreme views of their own political prerogatives) are appointed.

In Israel, such a check is nonexistent. Judges in Israel are appointed by a small committee controlled by the judges of the Supreme Court and their close allies in the Israeli bar. The process is secretive and subject to manipulation and abuse. It has led to the domination of the court by judges with strongly liberal views who have succeeded in alienating large segments of Israel's population.

Given Russia's close association with Iran and Syria, the prospect of its establishing an enclave in the heart of the Jewish capital is daunting indeed. It conjures up images of Arab terrorists fleeing into the compound and Israeli security personnel unable to pursue them without precipitating an international crisis. In many respects it would be tantamount to inviting a Russian spy ship to permanently dock right in the middle of an Israeli naval base.

The Russian Compound's commanding position made it the perfect staging ground for numerous conquests of Jerusalem from the Assyrians to Titus's Roman legions. From a Turkish cavalry parade ground in the Ottoman period it was developed in 1860 by the Imperial Orthodox Palestine Society to cater for large numbers of Russian pilgrims to the holy city. Read full story...
| Israel | Islam | Dividing the Land | Gog/Magog |
Thanks Geno, for forwarding the story to me. It seems to me that while Israel is dwelling in the land, everyone around her wants it for themselves. This is one of the primary reasons I'm not worried about an Iranian nuclear missile strike on Israel. Could it happen? I suppose, but according to Bible prophecy Israel is the center of what is going to happen and it seems that everyone wants to take it for themselves as a spoil, not totally destroy it for everyone. And we know, at least in the case of Jerusalem, that the man of sin will declare himself to be God there and the city will be taken over by his followers. So while a nuclear Iran is all the buzz in much of the news, my concern is more for other enemies of Iran than Israel, and regarding the nuclear issue I know what side Russia is on and they have plenty as well as other nations that I'm sure have given Iran what it needs under the table. Whatever happens, don't fear - these things must come to pass and in the end God will be glorified in it.

Ezekiel 38:10-16
Thus saith the Lord GOD; It shall also come to pass, that at the same time shall things come into thy mind, and thou shalt think an evil thought: And thou shalt say, I will go up to the land of unwalled villages; I will go to them that are at rest, that dwell safely, all of them dwelling without walls, and having neither bars nor gates, To take a spoil, and to take a prey; to turn thine hand upon the desolate places that are now inhabited, and upon the people that are gathered out of the nations, [Israel] which have gotten cattle and goods, that dwell in the midst of the land. Sheba, and Dedan, and the merchants of Tarshish, with all the young lions thereof, shall say unto thee, Art thou come to take a spoil? hast thou gathered thy company to take a prey? to carry away silver and gold, to take away cattle and goods, to take a great spoil? Therefore, son of man, prophesy and say unto Gog, Thus saith the Lord GOD; In that day when my people of Israel dwelleth safely, shalt thou not know it? And thou shalt come from thy place out of the north parts, thou, and many people with thee, all of them riding upon horses, a great company, and a mighty army: And thou shalt come up against my people of Israel, as a cloud to cover the land; it shall be in the latter days, and I will bring thee against my land, that the heathen may know me, when I shall be sanctified in thee, O Gog, before their eyes.
---
Syria-Russia naval cooperation grows YNet News (September 12, 2008) - Russia announced Friday it was renovating a Syrian port for use by the Russian fleet in what could signal an effort for a better foothold in the Mediterranean amid the rift with the United States over Georgia. Syria was Moscow's strongest Mideast ally during the Cold War. The alliance largely waned after the 1991 fall of the Soviet Union, though Russia has continued some weapons sales to Damascus. Syrian President Bashar Assad has increasingly reached out to Russia recently, including Seeking weapons and offering broader military cooperation. Friday's announcement was the first tangible sign of any new cooperation. The Itar-Tass news agency said Friday that a vessel from Russia's Black Sea fleet had begun restoring facilities at Syria's Mediterranean port of Tartus for use by the Russian military. The two countries' naval chiefs also met in Moscow on Friday and discussed "further strengthening mutual trust and mutual understanding between the two states' fleets," A Russian naval official, Igor Dygalo, told Itar-Tass. The Tartus renovations could signal an intention to have a long-term Russian naval presence there. In late August, Russia's ambassador to Damascus, Igor Belyev, said that Russian ships already patrol the area, but "a new development is that the Russian presence in the Mediterranean will become permanent." Syrian media made no mention of the Russian announcement Friday, and Syrian officials could not be reached for comment. Russian military experts said Tartus would be a considerable boost for operations in the Mediterranean. "It is much more advantageous to have such a facility than to return ships patrolling the Mediterranean to their home bases," Former Black Sea Fleet commander Adm. Eduard Baltin said, according to the Russian Interfax-AVN service. The former first deputy commander the Russian Navy, Adm. Igor Kasatonov, said Tartus "is of great geopolitical significance considering that it is the only such Russian facility abroad."
| Islam | Isaiah 17 | Gog/Magog |
---
Nasrallah: No peace in Middle East as long as Israel exists Haaretz (September 11, 2008) - The Hezbollah leader went on to say that his Lebanon-based guerilla group is stronger than ever and is prepared for its next confrontation with Israel. "Any Israeli attack on Lebanon, Iran, Syria or Gaza will be met with a fierce response," Nasrallah said. He added that Hezbollah has grown logistically and militarily stronger, claiming that all of Lebanon has united against a common enemy - Israel. One subject Nasrallah did not broach in the interview is the assassination last February of the group's second-in-command, Imad Mughniyeh. Nasrallah did not discuss how or when his group would avenge the killing. Recent Israeli intelligence reports, however, have suggested that Hezbollah is planning to abduct Israelis abroad as revenge for Mughniyeh's assassination.
| Iran | Israel | Islam | Isaiah 17 | Gog/Magog |
---
Russia proposes closer ties with OPEC AFP (September 9, 2008) - Russian Vice Premier Igor Sechin reached out to OPEC late Tuesday, calling for greater cooperation between the cartel and his country in a move linked by some analysts to the Georgia-Russia conflict. Sechin, who is chairman of Russia's biggest Russian oil group Rosneft, said a "draft memorandum of understanding" had been submitted to the Organisation of Petroleum Exporting Countries on closer cooperation between Russia and the group. "Cooperation with OPEC is one of the priorities of Russia," he said, according to a statement read out at the opening of a meeting of OPEC's 13 members here. He underscored that OPEC powerhouse Saudi Arabia and Russia were the largest oil producers in the world -- they are number one and two measured by output -- and referred to the "ambitious potential" of cooperation with the cartel. The timing of the visit to OPEC by such a senior Russian official is likely to raise eyebrows in consumer nations as relations between Moscow and the West deteriorate in the aftermath of the Russia-Georgia conflict in August. Any closer cooperation would vastly increase the market power of OPEC, which already pumps 40 percent of world oil, and would cause worries about the collective influence of the world's dominant oil producers. British Prime Minister Gordon Brown warned at the end of August that the West would not be held to ransom by hydrocarbon-rich Russia and urged Europe to find alternative sources of power to avoid "an energy stranglehold." Independent analyst John Hall, who runs an energy consultancy in London, said the move by Russia could be seen as part of a strategy by Moscow to find political allies after its military action in Georgia. "Russia is under pressure at from the US and European Union and is looking for allies around the world and it would strengthen its position to have an alignment with OPEC," he told AFP. Russia already has close ties with OPEC members Iran and Venezuela, who are also at odds with the United States. It has also lent support to the idea of a "gas OPEC", causing alarm in the European Union. David Kirsch, head of the market intelligence service at US-based energy consultancy PFC Energy, said Sechin's appearance was highly significant. "Sending Sechin here sends a strong signal about cooperation between OPEC and Russia," he said. "The statement is clear that Russia has its legitimate interests and will pursue them in energy markets." Sechin said part of the cooperation with OPEC would include providing for a "stable pricing environment" for producers and consumers. more...
| Islam | Gog/Magog |
---
Syria warns of 'catastrophic' effect of any Israeli strike on Iran Breitbart.com (September 2, 2008) - Syrian President Bashar al-Assad warned Tuesday that an attack by Israel on Iran would have catastrophic consequences for the entire world. "We think that Israel could try to launch attacks against Iran, even against Lebanon or Syria," he said in an interview with France 3 television. "Any attack by Israel or by anyone else will have catastrophic results not only on the region but on the whole world," he said. In recent months several Israeli politicians have talked of the possibility of a preemptive military strike against Iranian nuclear facilities to avoid any possibility of Tehran acquiring an atomic weapon. Iran has responded by threatening retaliatory strikes with its Shahab-3 missiles which have a nominal range of 2,000 kilometres (1,250 miles) -- enough to reach Israel.
| Iran | Israel | Islam | Isaiah 17 | Gog/Magog |
---
Israeli-Syrian peace talks postponed The Jerusalem Post (September 1, 2008) - French President Nicolas Sarkozy is scheduled to visit Damascus on Wednesday, a trip Israel had an indirect role in making possible because of its indirect talks with Syria, at a time when - ironically - the Israel-Syria track seems frozen. Turkish sources said Monday that there was no new date scheduled for the fifth round of indirect talks in Turkey between Syrian and Israeli negotiating teams, a round that was originally scheduled for last week, then postponed until this week, and now tentatively set for next week. Turkish sources told The Jerusalem Post last week that it was likely that the talks would be postponed until after Sarkozy's two-day trip to Damascus. The Syrians have expressed interest in US and French co-sponsorship of the talks, something which Sarkozy would like to see. In a speech to French ambassadors last week, Sarkozy said it was because Syria knew that France had excellent relations with Israel and the US that "Damascus wanted France to shoulder this unprecedented responsibility in due time." He said this would be discussed during his visit. The US, meanwhile, has shown no interest in involvement. Sarkozy's visit will be the first by a French leader to Damascus since former president Jacques Chirac cut ties with Syria following the assassination in February 2005 of former Lebanese prime minister Rafik Hariri, a close friend of Chirac. Diplomatic officials have said that Israel's decision to hold indirect talks with Syria gave a certain degree of "diplomatic cover" for Sarkozy to make overtures to Assad, with the argument being that if it was okay for Jerusalem to talk with the Syrians, then it was also okay for France. Turkish Prime Minister Recep Tayyip Erdogan is also scheduled to visit Damascus this week, expected to visit there on Thursday, the day that Sarkozy leaves. This has led to speculation that Erdogan wants to ensure that Turkey maintains its central role in the Israel-Syria talks. Turkish sources, however, said that the hastily scheduled Erdogan visit was likely connected more to the Russian-Georgian crisis, than to the Israeli-Syrian track. Turkey's decision to allow US warships through the Bosporus Straits to the Black Sea was slammed by Russia, and Moscow's displeasure was translated into long delays for Turkish exporters at the Russian border. Turkey hit back Monday, subjecting Russian imports into Turkey to additional searches. Russian Foreign Minister Sergei Lavrov is scheduled to arrive in Istanbul on Tuesday for a meeting that will focus on the rising tensions, and Erdogan's visit to Damascus - which is supporting Russia in its conflict with Georgia - is expected to focus on that issue. more...
| Israel | Islam | Isaiah 17 | Gog/Magog |
---
Solana: EU plans civilian mission in Georgia Xinhuanet (September 1, 2008) - The European Union (EU) is planning to deploy a civilian mission in Georgia to help monitor the ceasefire, EU top diplomat Javier Solana said on Monday. "I hope very much that by the next (summit) on the 15th of October, we will have all the decisions finalized" for the mission, he told reporters before a special EU summit on Georgia. A fact-finding mission of about 40 people are currently on the ground, Solana said. "We would like to have a new mission deployed soon" across areas controlled by Georgian troops to see that a France-brokered ceasefire agreement was properly implemented after the Georgia-Russia conflict over South Ossetia, he added. "It will be a mission in the hundreds, not a huge one," Solana said, adding that the Monday summit and an informal meeting of foreign ministers later this week will discuss the civilian mission and a plan to send peacekeepers. Georgia would expect the EU peacekeepers to replace Russian troops in South Ossetia and Abkhazia, where Russian peacekeepers have been present since an outbreak of violence in the early 1990s. However, the EU can not deploy military peacekeepers in the regions without a UN Security Council resolution. Russia, which has a veto power in the Council, has rejected such a notion. Last week, Moscow recognized the independence of the two breakaway Georgian regions, a move that has drawn strong condemnation from the West. Solana said he would soon go to Moscow and Tbilisi, capital of Georgia, to see how the EU could help settle the crisis.
| Gog/Magog | EU/UN / 4th Kingdom | Solana |
Summary of remarks by Javier SOLA9A, EU High Representative for the CFSP, after the meeting with Lado GURGE9IDZE, Prime Minister of Georgia
---
Hizbullah-Iran-Syria-Lebanon Axis Tightens Israel National News (August 24, 2008) - Hizbullah leader Hassan Nasrallah warned Sunday his terrorist army is much stronger than before the Second Lebanon War and can destroy Israel. He issued the threat at a Boy Scout ceremony as a response to Prime Minister Ehud Olmert's remark last week that "if Lebanon becomes a Hizbullah state, then we won't have any restrictions" in striking the country. The Prime Minister claimed that during the last war, Israel did not use all of its firepower because the enemy was Hizbullah and not its host country Lebanon. Lebanese Prime Minister Fuad Siniora has sent United Nations Secretary-General Ban Ki-Moon a letter protesting Olmert's remarks. Siniora, at a meeting with his Cabinet, accused Israel of "once again… threatening to launch a new attack on Lebanon, forgetting that the [Israeli] occupation was the core of the problem for Lebanon and the region." The flurry of threats and warnings came two days after a report in the Italian newspaper Corriere Della Sera that three Hizbullah leaders visited Russia in July to clinch a deal involving the purchase of anti-tank missiles and air-defense systems. Israel disclosed evidence during the Second Lebanon War that Hizbullah used advanced Russian anti-tank missiles smuggled from Syria, in violation of previous international agreements. Nasrallah said, in a speech televised by the Hizbullah-backed Al Manar satellite network, that his arsenal of weapons is so great that "the Zionists will think not one thousand times but tens of thousands of times before they attack Lebanon." The prospect of an Israeli attack on Iran's growing nuclear threat also played a hand in Hizbullah's latest threats. Mohammed Raad, the head of the terrorist party's political bloc in the Lebanese government, warned, "The first shot fired from the Zionist entity toward Iran will be met by a response of 11,000 rockets in the direction of the Zionist entity. This is what military leaders in the Islamic Republic [Iran] have confirmed." Hizbullah has become a stronger political force in Lebanon since the end of the war two summers ago, winning enough representation in the Cabinet to veto any major decisions. Syria, which aided Hizbullah in the Second Lebanon War, last week established diplomatic relations with Lebanon for the first time in history, providing Syrian President Bashar Assad with a stronger political base in Beirut's affairs after having withdrawn its military from Lebanon before the 2006 war. Syria has dominated Lebanese affairs for 30 years, and the West has joined Lebanese opponents of Syrian interference in Lebanese affairs in accusing Damascus of being behind the the 2005 assassination of anti-Syrian former Prime Minister Rafik Hariri. The new Lebanese government that gives Hizbullah more power assures Syria that it still can influence affairs in Lebanon, with the naming of Michel Suleiman as president. He is close to Syria and was the Lebanese army chief for 10 years during the Syrian army's control of the country. "It's a win-win situation," said Patrick Seale, a British expert on Syria told the Associated Press. "The Lebanese get diplomatic recognition and the Syrians get recognition of vital interests in Lebanon."
| Iran | Israel | Islam | Gog/Magog |
---
South Ossetia: Russia Intends to Absorb Georgian Region Fox News (August 29, 2008) - Officials in South Ossetia said Friday that Russia intends eventually to absorb the breakaway Georgian province. Russian President Dmitry Medvedev and the region's leader, Eduard Kokoity, discussed South Ossetia's future earlier this week in Moscow, South Ossetian parliamentary speaker Znaur Gassiyev said. Russia will absorb South Ossetia "in several years" or earlier, a position that was "firmly stated by both leaders," Gassiyev said. A Kremlin spokeswoman said she had no such information and declined immediate comment. Moscow has recognized South Ossetia and Abkhazia, a second separatist region of Georgia, as independent, drawing criticism from the West. Russia found itself unable to shore up its own international support when China and four former Soviet republics in Central Asia refused a Moscow appeal to recognize the territories. Russia accuses Georgia of starting the five-day war between the two countries earlier this month by attacking South Ossetia on Aug. 7. Russian Prime Minister Vladimir Putin says the U.S. instigated the fighting by encouraging Georgia to use force to rein in the separatist region. Gassiyev's deputy, Tarzan Kokoiti, said South Ossetia has the right to reunite with North Ossetia, which is part of Russia. "We will live in one united Russian state," he said.
| Gog/Magog |
---
Will Turkey Abandon NATO? Wall Street Journal (August 29, 2008) - Will Turkey side with the United States, its NATO ally, and let more U.S. military ships into the Black Sea to assist Georgia? Or will it choose Russia? A Turkish refusal would seriously impair American efforts to support the beleaguered Caucasus republic. Ever since Turkey joined NATO in 1952, it has hoped to never have to make a choice between the alliance and its Russian neighbor to the North. Yet that is precisely the decision before Ankara. If Turkey does not allow the ships through, it will essentially be taking Russia's side. Whether in government or in the military, Turkish officials have for several years been expressing concern about U.S. intentions to "enter" the Black Sea. Even at the height of the Cold War, the Black Sea remained peaceful due to the fact that Turkey and Russia had clearly defined spheres of influence. But littoral countries Romania and Bulgaria have since joined NATO, and Ukraine and Georgia have drawn closer to the Euro-Atlantic alliance. Ankara has expressed nervousness about a potential Russian reaction. The Turkish mantra goes something like this: "the U.S. wants to expand NATO into the Black Sea -- and as in Iraq, this will create a mess in our neighborhood, leaving us to deal with the consequences once America eventually pulls out. After all, if Russia is agitated, it won't be the Americans that will have to deal with them." Nonetheless, Ankara sided with fellow NATO members in telling Georgia and Ukraine that they would be invited to join the alliance -- albeit without any time frame. But now that Russia has waged war in part over this decision, the Turks will have to pick sides. Deputy chief of the Russian general staff Anatoly Nogoivtsyn already warned Turkey that Russia will hold Turkey responsible if the U.S. ships do not leave the Black Sea. Foreign Minister Sergei Lavrov will travel to Ankara on Monday to make clear that Russia means it. Russia is Turkey's largest trading partner, mostly because of Turkey's dependence on Russian gas. More important, the two countries share what some call the post-imperial stress syndrome: that is, an inability to see former provinces as fellow independent states, and ultimately a wish to recreate old agreements on spheres of influence. When Mr. Putin gave a speech in Munich last year challenging the U.S.-led world order, Turks cheered. The Turkish military even posted it on its Web site. President Abdullah Gül recently suggested that "a new world order should emerge." Turkey joined Russia at the height of its war on Georgia in suggesting a five-party "Caucasus Stability and Cooperation Platform." In other words, they want to keep the U.S. and the EU at arm's length. Both Russia and Turkey consider Georgia's American-educated president, Mikheil Saakashvili, to be crazy enough to unleash the next world war. In that view Turkey is not so far from the positions of France or Germany -- but even these two countries did not suggest that the Georgians sign up to a new regional arrangement co-chaired by Russia while the Kremlin's air force was bombing Georgian cities. Two other neighbors -- Azerbaijan and Armenia -- are watching the Turkish-Russian partnership with concern. Azeris remember how the Turks -- their ethnic and religious brethren -- left them to be annexed by the Soviets in the 1920s. Armenians already fear their giant neighbor, who they consider to have committed genocide against them. Neither wants to have to rely on Iran (once again) as a counterbalance to Russia. Oh, and of course, Iran had its own sphere-of-influence arrangements with the Soviets as well. Though Turkey and Iran are historic competitors, Turkey has broken with NATO countries recently by hosting President Mahmoud Ahmedinejad on a working visit. As the rest of NATO was preoccupied with the Russian aggression in Georgia, Turkey legitimized the Iranian leader amidst chants in Istanbul of "death to Israel, death to America." A few days later, Turkey played host to Sudan's Omar al-Bashir, who is accused of genocide by the rest of NATO -- but not by Russia or Iran, or by the Muslim-majority countries who usually claim to care so much about Muslim lives. Where is Turkey headed? Turkish officials say they are using their trust-based relations with various sides to act as a mediator between various parties in the region: the U.S. and Iran; Israel and Syria; Pakistan and Afghanistan, etc. It may be so. But as more American ships steam toward the Black Sea, a time for choosing has arrived.
| Islam | Isaiah 17 | Gog/Magog |
How would they react if Damascus were destroyed?
---
Russian Navy planning greater presence in Syria Boston.com (August 28, 2008) - The Russian Navy will make more use of Syrian ports as part of increased military presence in the Mediterranean, a Russian diplomat said yesterday. The announcement comes as tensions rise between Moscow and the West over Russia's role in Georgia. President Bashar al-Assad of Syria backed Russia's recent offensive on Georgia in support of a separatist province during a visit to Russia last week. "Our navy presence in the Mediterranean will increase. Russian vessels will be visiting Syria and other friendly ports more frequently," Igor Belyaev, the Russian charge d'affaires, told reporters in the Syrian capital. "The visits are continuing," he added. Russia relies on Syria's Tartous port as a main stopping point in the Mediterranean, although ties between the two countries have cooled since the collapse of Communism, when Moscow supplied Syria with billions of dollars worth of arms. Internet news sites have reported that a Russian naval unit, including the aircraft carrier Admiral Kuznetsov, docked at Tartous earlier this month. Belyaev would not be drawn on specifics, or whether new military agreements with Syria were reached during Assad's meeting with President Dmitry Medvedev of Russia today. Russian Foreign Minister Sergei Lavrov said last week Russia was prepared to sell Syria more arms as long as this does not disturb the "regional balance of power." Lavrov was referring to the position of Israel, which has a superior military and is widely believed to possess nuclear weapons. Syria, which is technically at war with the Jewish state, has embarked on a drive to upgrade its military in recent years.
| Islam | Isaiah 17 | Gog/Magog |
And why might Israel feel threatened by Syria enough to take action against Damascus? This buildup of military in the North of Israel might also explain a quick retaliation too. Russia just showed her military might in Georgia just North of Turkey, what if Turkey joined in a retaliation with Iran, who has been openly expressing the desire to wipe Israel off the map? Keep watching.
---
Iran's Ahmadinejad, Russia's Medvedev to hold talks Tehran Times (August 25, 2008) - Iranian President Mahmud Ahmadinejad will hold talks with his Russian counterpart Dmitry Medvedev on the sidelines the Shanghai Cooperation Organization (SCO) in Dushanbe which begins on Thursday. Ahmadinejad and Medvedev will talk about strengthening relations between the two countries and discuss regional and international issues, the Fars News Agency reported. This is the first time that two presidents meet each other. The SCO's eighth conference will be held on August 28 and 29. It will be attended by the presidents of China, Russia, Kazakhstan, Kyrgyzstan, Tajikistan and Uzbekistan as its permanent members, the heads of state from Iran, India, Mongolia plus Pakistani foreign minister as observers, and the leaders of Turkmenistan and Afghanistan as guests. The Shanghai Cooperation Organization (SCO) is an intergovernmental international organization founded in Shanghai on 15 June 2001 by six countries, China, Russia, Kazakhstan, Kyrgyzstan, Tajikistan and Uzbekistan. Its member states cover an area of about three fifths of Eurasia, with a population of 1.455 billion. Its working languages are Chinese and Russian. The organization's main objectives include strengthening confidence among the members, increasing political, scientific, cultural, and educational as well as energy, transportation, tourism cooperation between the member states.
| Iran | Gog/Magog |
---
Explosion severs Azerbaijan-Georgia-Europe fuel railway link DEBKAfile (August 24, 2008) - The train hit a mine Sunday, Aug. 24 at the village of Skra, 5 km west of Gori, on the main track of the railway line linking Eastern and Western Georgia – a vital trade route for oil exports from Azerbaijan to European markets. Responsibility for the sabotage has not been determined. The blast deals a serious blow to Georgia's efforts to recover from its ten-day war over South Ossetia in the face of the continuing Russian military presence. Georgian officials suggested Russian forces which pulled out of the area two days ago left a road mine on the railroad. Azerbaijan restored its oil consignments via Georgia only two days ago; their interruption during the fighting robbed the Saakasvhili government of valuable revenue, which the attack has suspended again. In another development Sunday, the guided missile destroyer USS McFaul docked at the Georgian port of Batumi carrying supplies such as blankets, hygiene kits and baby food. Two more US ships are due to dock later this week. The American vessels were supposed originally to put in at the Black Sea port of Poti, 80 km to the north, but changed direction to avoid meeting Russian troops who are fortifying their positions at Poti further up the coast. Russia says it entitled to keep its forces in a buffer zone around the breakaway territories of Abkhazia and South Ossetia, citing the truce and other international agreements as covering unspecified "additional security measures," over and above their pre-conflict positions. French President Nicolas Sarkozy, Moscow claims, approved the buffer zones which they organized before the ceasefire was signed (as revealed by DEBKAfile on Aug. 17) Russia acknowledges that Poti is outside the ceasefire's terms and its peacekeeping mandate. Saturday, the Russian missile cruiser Moskva returned to its base in Ukraine. DEBKAfile reported on Aug. 20 from official Russian sources that the warship was part of a large flotilla heading for the Mediterranean port of Tartus in Syria. The defense ministry in Moscow later detached the Moskva from the contingent and sent it back to the Black Sea.
| Gog/Magog | EU/UN / 4th Kingdom | America |
---
US concedes Kremlin's first military response in Georgia was "legitimate" DEBKAfile (August 22, 2008) - The US ambassador to Moscow, endorsing Russia's initial moves in Georgia, described the Kremlin's first military response as legitimate after Russian troops came under attack. This was the first positive statement by an American official about Moscow's first response to the Georgian invasion of South Ossetia, after a string of condemnations from the heads of the Bush administration. It came from US ambassador John Beyrle, who arrived in Moscow last month, in an interview published by the Russian daily Kommersant Friday, Aug. 22. DEBKA-Net-Weekly disclosed Friday in its lead article that Washington and Moscow are working quietly and intensively to set up a summit between President George W. Bush and Russian prime minister Vladimir Putin to bring crisis-ridden US-Russian relations back on an even keel. (Both Powers Push for a Bush-Putin Summit.) Ambassador Beyrle's words were the first public departure by a US official from the critical remarks of Moscow's conduct heard uniformly from Bush, Condoleezza Rice and Robert Gates. The ambassador said Washington had not sanctioned Georgia's initial actions when on Aug. 8, after a succession of tense skirmishes, Georgian forces attacked South Ossetia, triggering a massive Russian reaction when its peacekeepers came under fire. "We did not want to see a recourse to violence and force and we made that very, very clear," said Beyrle. "The fact that we were trying to convince the Georgian side not to take this step is clear evidence that we did not want all this to happen," he said. DEBKAfile: This was the first US admission that Georgia was the aggressor in South Ossetia and showed cracks in their hitherto solid support for president Mikhail Saakashvili. Beyrle said Washington still supports Russia's bid to join the World Trade Organization – an official departure from implied American threats to punish Moscow by international isolation. The US ambassador's interview was run in the same Russian paper which quoted Syrian president Bashar Assad on Wednesday, as announcing he was willing to accept Russian missile bases in his country. Beyrle's words look like a bid to halt the deterioration in Russo-American relations before they veer out of control in a second global arena. In another telling remark, the US ambassador said: "We have seen the destruction of civilian infrastructure, as well as calls by some Russian politicians to change the democratically-elected government of Georgia. That is why we believe that Russia has gone too far." The subtext here, say DEBKAfile's sources, is that if Moscow continues to pull troops out of Georgia and does not threaten the country's integrity and regime, Russian and US leaders can do business.
| Gog/Magog | America |
---
NATO Says Russia Has Cut All Military Ties With Western Alliance Fox News (August 21, 2008) - Russia has halted all military cooperation with NATO, the Western alliance said Thursday, in the latest sign of East-West tension over the invasion of Georgia. NATO spokeswoman Carmen Romero said the alliance had received notification through military channels that Russia's Defense Ministry had taken a decision "to halt international military cooperation events between Russia and NATO countries until further instructions." She said NATO "takes note" of the decision, but had no further reaction. On Tuesday, NATO foreign ministers said they would make further ties with Russia dependent on Moscow making good on a pledge to pull its troops back to pre-conflict positions in Georgia. However, they stopped short of calling an immediate halt to all cooperation. Under a 2002 agreement that set up the NATO-Russia Council, the former Cold War foes began several cooperation projects. They include sharing expertise to combat heroin trafficking out of Afghanistan, developing battlefield anti-missile technology, joint exercises and help with rescue at sea. Romero said she was unaware of any specific events under the cooperation agreement scheduled before early September. NATO itself decided last week to suspend plans for a Russian warship to join NATO counterterrorism patrols in the Mediterranean Sea, deciding it was inappropriate in the wake of the eruption of fighting in Georgia.
| Gog/Magog | EU/UN / 4th Kingdom | America |
---
Fear of new Mid East 'Cold War' as Syria strengthens military alliance with Russia Times Online (August 21, 2008) - Syria raised the prospect yesterday of having Russian missiles on its soil, sparking fears of a new Cold War in the Middle East. President Assad said as he arrived in Moscow to clinch a series of military agreements: "We are ready to co-operate with Russia in any project that can strengthen its security." The Syrian leader told Russian newspapers: "I think Russia really has to think of the response it will make when it finds itself closed in a circle." Mr Assad said that he would be discussing the deployment of Russian missiles on his territory. The Syrians are also interested in buying Russian weapons. In return Moscow is expected to propose a revival of its Cold War era naval base at the Syrian port of Tartus, which would give the Russian Navy its first foothold in the Mediterranean for two decades. Damascus and Moscow were close allies during the Cold War but the Kremlin's influence in the region waned after the collapse of the Soviet Union. Yesterday's rapprochement raised the possibility that Moscow intends to re-create a global anti-Western alliance with former Soviet bloc allies. Many in Israel fear that the Middle East could once again become a theatre for the two great powers to exert their spheres of influence, militarily and politically. And with Israel and the US providing military backing to Georgia, Russia appears set to respond in kind by supporting Syria. Already, Israeli observers worry that the chaos in the Caucasus may disrupt gas supplies to Europe and Turkey from the Caspian Sea region, creating a greater energy reliance on Iran and its vast reserves. The crisis could in turn allow Tehran to exploit splits in the international community and use Russia as a backer to advance its nuclear programme. Russia has wooed Syria in recent years, as it has tried to increase its influence in the Middle East and increase arms sales. Syria and Israel recently confirmed they had been holding indirect talks to reach a peace deal after decades of hostility. Part of Syria's motivation was to break the international isolation it has suffered for its strategic alliance with Tehran. A closer alliance with a resurgent Russia could afford Mr Assad a way out of any binding commitment. Some Israeli analysts even fear that it could encourage Syria to try to take back the Golan Heights, captured by Israel in 1967, by force. The Georgia conflict sparked a mocking speech with Cold War rhetoric by Sheikh Hassan Nasrallah, the Hezbollah leader, over the performance of Israeli-trained Georgian troops. One of the Israeli military advisers there was reserve Brigadier-General Gal Hirsch, who commanded a division in Israel's inconclusive war with Hezbollah in 2006, and who resigned his commission afterwards. "Gal Hirsch, who was defeated in Lebanon, went to Georgia and they too lost because of him," the Shia leader taunted. "Relying on Israeli experts and weapons, Georgia learnt why the Israeli generals failed. "What happened in Georgia is a message to all those the Americans are seeking to entangle in dangerous adventures."
| Iran | Israel | Islam | Isaiah 17 | Gog/Magog |
What are the chances of this Syrian-Russian alliance and fear in Israel that the growing instability for their nation because of the energy crisis and threats against her could lead to a pre-emptive attack on Damascus? And what are the chances that Russia and Iran would retaliate? Considering Turkey's recent attempts to reconcile Syria and Israel, would they consider Israel's action against Damascus worth declaring war against her with Russia and Turkey as prophesied? Keep watching.
---
Russia sends aircraft carrier to Syria Barents Observer (August 20, 2008) - The Russian aircraft carrier "Admiral Kuznetsov" is ready to head from Murmansk towards the Mediterranean and the Syrian port of Tartus. The mission comes after Syrian President Bashar Assad said he is open for a Russian base in the area. The "Admiral Kuznetsov", part of the Northern Fleet and Russia's only aircraft carrier, will head a Navy mission to the area. The mission will also include the missile cruiser "Moskva" and several submarines, Newsru.com reports. President Assad in meetings in Moscow this week expressed support to Russia's intervention in South Ossetia and Georgia. He also expressed interest in the establishment of Russian missile air defence facilities on his land. The "Admiral Kuznetsov" also last year headed a navy mission to the Mediterranean. Then, on the way from the Kola Peninsula and south, it stopped in the North Sea where it conducted a navy training exercise in the immediate vicinity of Norwegian offshore installations.
| Isaiah 17 | Gog/Magog |
---
Norway: Russia to cut all military ties with NATO Associated Press (August 20, 2008) - Russia has informed Norway that it plans to suspend all military ties with NATO, Norway's Defense Ministry said Wednesday, a day after the military alliance urged Moscow to withdraw its forces from Georgia. NATO foreign ministers said Tuesday they would make further ties with Russia dependent on Moscow making good on a pledge to pull its troops back to pre-conflict positions in Georgia. However, they stopped short of calling an immediate halt to all cooperation. The Nordic country's embassy in Moscow received a telephone call from "a well-placed official in the Russian Ministry of Defense," who said Moscow plans "to freeze all military cooperation with NATO and allied countries," Espen Barth Eide, state secretary with the Norwegian ministry said. Eide told The Associated Press that the Russian official notified Norway it will receive a written note about this soon. He said Norwegian diplomats in Moscow would meet Russian officials on Thursday morning to clarify the implications of the freeze. "It is our understanding that other NATO countries will receive similar notes," Eide said. The ministry said the Russian official is known to the embassy, but Norway declined to provide a name or any further identifying information. A Kremlin official declined to comment on the report, and the Russian ambassador to NATO did not reply to messages left on his cell phone. But the Interfax news agency, citing what it called a military-diplomatic source in Moscow whom it did not identify, reported that Russia is reviewing its 2008 military cooperation plans with NATO. Officials at NATO headquarters in Brussels said Moscow had not informed the alliance it was taking such a step. Washington described the reported move as unfortunate. more...
| Gog/Magog | EU/UN / 4th Kingdom | America |
---
As US Looks to Improve Ties, Libya Positions Itself in Russia's Corner CNS News (August 19, 2008) - At a time when the U.S. is moving towards full normalization of relations with Libya, Muammar Gaddafi's son has made it clear that the North African nation is looking to Russia as its strategic partner. In a little-noticed interview with Russia's Kommersant business daily, Seif al-Islam Gaddafi said Moscow's resurgence, demonstrated by this month's military incursion into Georgia, was a positive development for the Arab world. "What happened in Georgia is a good sign, which means America is no longer the sole world power setting the rules of the game," Gaddafi said. "Now there is balance in the world. Russia is being reborn, and we value that. It is very good for us, for all of the Middle East," he said. Gaddafi, who runs a charity called the Gaddafi Foundation, has frequently undertaken diplomatic missions on behalf of his father. The second oldest of seven sons, the 35-year-old is sometimes named as a possible successor to the unpredictable Libyan leader but has denied ambitions to rule the north African country – a position he reiterated in the Kommersant interview. The published interview appeared on the same day that the U.S. government announced a breakthrough agreement with Libya on compensation for terror victims, paving the way for the full normalization of bilateral ties. Asked whether his strong statements were not risking Libya's newly-improved ties with the U.S., Gaddafi told the Russian paper that although his country has good relations with both the West and Russia, "Libya chose Russia as its strategic partner." "Of course, Russia is our strategic partner, and we cannot compare it with any other country for closeness. That's obvious." Gaddafi said Libya backed Moscow's position that Georgia had initiated the recent conflict – by mounting an offensive against separatists in a Russian-backed breakaway province – and forced a Russian military response. Libya would back Russia in the U.N. Security Council, he said. Libya, which has been improving relations with the West since pledging to stop supporting terrorism and shutting down its non-conventional weapons programs, in January began a two-year stint on the council. Its conduct there has at times drawn strong criticism. more...
| Gog/Magog | America |
---
Report warns of global fallout from invasion of Georgia, faults U.S. intelligence World Tribune (August 19, 2008) - Russia's invasion of Georgia demonstrated Moscow's growing power and is making waves in the Middle East, a report by a leading U.S. analyst said. The report by the Institute for Contemporary Affairs asserted that Iran would be emboldened by Moscow's successful military campaign. "The long-term outcomes of the current Russian-Georgian war will be felt far and wide, from Afghanistan to Iran, and from the Caspian to the Mediterranean," the report, titled "The Russian-Georgian War: Implications for the Middle East," said. "The war is a mid-sized earthquake which indicates that the geopolitical tectonic plates are shifting, and nations in the Middle East, including Israel, need to take notice." Authored by Ariel Cohen, the report said Russia's strategic goals included increasing control of energy pipelines to Turkey. Cohen also warned Israel not to provoke Moscow or rely on U.S. support against Iran, Middle East Newsline reported. "U.S. expressions of support of the kind provided to Georgia — short of an explicit mutual defense pact — may or may not result in military assistance if/when Israel is under attack, especially when the attacker has an effective deterrent, such as nuclear arms deliverable against U.S. targets," the report said. "In the future, such an attacker could be Iran or an Arab country armed with atomic weapons. Israel can and should rely on its own deterrent — a massive survivable second-strike capability." The report criticized the U.S. intelligence community, which failed to detect Russian efforts to annex Georgia's Abkhazia and South Ossetia. Cohen, who warned that Ukraine was Moscow's next target, said the Bush administration did not prepare the Georgian military for a Russian attack. "This is something to remember when looking at recent American intelligence assessments of the Iranian nuclear threat or the unsuccessful training of Palestinian Authority security forces against Hamas," Cohen said. Cohen said a pro-Russian regime in Georgia would result in Moscow's full control of the Baku-Tbilisi-Ceyhan oil pipeline and the Baku-Erzurum natural gas pipeline, both of which reach Turkey. Israel has been receiving some of its oil from Ceyhan and has a "stake in the smooth flow of oil from the Caspian." The report said Russia financed and armed the Russian ethnic community in Georgia to foment unrest. Cohen compared this to Iran's use of proxies to attack Israel from Lebanon and the Gaza Strip. "This use of small, ethnically-based proxies is similar to Iran's use of Hizbullah and Hamas to continuously attack Israel," the report said. "Tbilisi tried for years to deal with these militias by offering a negotiated solution, including full autonomy within Georgia." Cohen, a senior researcher at the Washington-based Heritage Foundation, said Russia plans to extend its influence throughout the Middle East. He cited Russian Navy bases in the Syrian ports of Latakia and Tartous and plans to establish a presence in Libya. "Clearly, with the renewal of East-West tensions as a result of Russia's moves against Georgia, it will be much more difficult to obtain Moscow's agreement to enhance sanctions and international pressures on Iran," the report said. "The struggle to diplomatically halt its [Iran's] nuclear program will become far more difficult."
| Iran | Israel | Islam | Isaiah 17 | Gog/Magog |
This article really touches on several of the aspects of the sequence of events I believe will unfold according to Bible prophecy. The intelligence community failed to detect Russia's intentions/actions until they were unfolding and the "global community" didn't do anything but condemn the use of force, which sends a signal that Russia and others can get away with actions like this. Furthermore, Israel is told they would pretty much be on their own. Then it also says Israel should rely on its own deterrent, a massive second-strike capability. Is it too far-fetched to believe that Israel could make a pre-emptive strike given the very vocal intentions to run Israel into the sea?
---
Top Russian general names Israel as Georgian arms supplier The Jerusalem Post (August 19, 2008) - Russia's deputy army chief, Col.-Gen. Anatoly Nogovitsyn, accused Israel on Tuesday of arming the Georgian military with mines, explosive charges, special explosives for clearing minefields and eight kinds of unmanned aerial vehicles. "In 2007, Israeli experts trained Georgian commandos in Georgia and there were plans to supply heavy weaponry, electronic weapons, tanks and other arms at a later date, but the deal didn't work out," Nogovitsyn told a Moscow press conference. Nogovitsyn also said that the Russian soldiers had detained 20 mercenaries near the Georgian city of Poti, including three Arabs, all wearing Georgian army uniforms. Nogovitsyn also said that Israeli troops in 2007 had trained Georgian commando troops. He added that Russia had begun pulling its troops out of Georgia on Monday, in accordance with the French-brokered ceasefire. Georgia's Deputy Defense Minister Batu Kutelia said that Georgian corporals and sergeants train with German alpine units, the navy work with French instructors and special operations and urban warfare troops are taught by Israelis. An Israeli defense official told The Jerusalem Post recently that Israel had rejected frequent requests for arms from Georgia in the months leading up to the outbreak of hostilities with Russia. "Several months ago, we carried out an evaluation of the situation in Georgia and realized that Georgia and Russia were on a collision course. We have good relations with both, and don't want to back either in this conflict," the official said. "We therefore made a decision to drastically minimize sales of weapons to Georgia." Some of the Israeli sales with Georgia in the past included night-vision equipment, rifles and unmanned drones for gathering intelligence. Israel did not agree, however, to upgrade the drones to those that possess high intelligence-gathering capabilities, the defense officials said. Georgia's defense minister, Davit Kezerashvili, is a former Israeli who is fluent in Hebrew, and is said to have contributed to military cooperation.
| Israel | Gog/Magog |
---
Lisbon treaty would have helped in Georgia crisis, says France EU Observer (August 18, 2008) - French president Nicolas Sarkozy has used the ongoing crisis between Russia and Georgia to put the case for the EU's new treaty, currently facing ratification difficulties. In an opinion piece in Monday's edition of French daily Le Figaro, Mr. Sarkozy, who currently holds the EU's six month presidency, wrote that the Lisbon Treaty would have given the bloc the tools it needed to handle the Moscow-Tbilisi war. "It is notable that had the Lisbon Treaty, which is in the process of being ratified, already been in force, the European Union would have had the institutions it needs to cope with international crises." He named the most important innovations as being the "stable" European Council President - instead of the current half-yearly system - " a High Representative endowed with a real European diplomatic service and considerable financial means in order to put decisions into force in coordination with member states. " The short pitch for the Lisbon Treaty also revealed a little how the French president views the role of the EU's first long-term president of the EU - a post that can be held for up to five years. The treaty itself is ambiguous about the president's exact role with the potential for conflict rife with member states and EU officials divided about whether the position should be ceremonial or have real teeth. Entwined in this question is how much the president should represent the EU in external policy, a policy area that is foreseen for the EU's foreign policy chief. In the Figaro article, Mr. Sarkozy suggests that the president's position in such crises as the Russia-Georgia one would be one of "acting in close consultation with the heads of state and government most affected." This would very much put the President in the foreign policy field. It would also foresee a formal hierarchy among member states as it would give priority to those considered most affected. This kind of scenario has been predicted by some smaller member states who fear that the president would have an all-powerful role, reducing the say of certain governments, although the working principle of the bloc is that member states are equal. But Mr. Sarkozy's words of support for the Lisbon Treaty come amid doubt that it will ever come into force. Although ratified by the vast majority of national parliaments, it was rejected by Irish voters in a referendum in June. All member states need to ratify the document for it to go into place. At the moment, Dublin is considering its options. It could either put the treaty to another referendum or try and figure out a legal contortion allowing it to use parliamentary ratification only. But the January 2009 deadline by which governments had hoped to have the treaty in place is certain to be missed.
| Gog/Magog | EU/UN / 4th Kingdom |
I wonder if the unfolding of the Magog invasion will be what spurs the acceptance of the Lisbon Treaty in Europe out of fear of being unable to deal with situations such as this. It certainly seems that it could end up working in favor of the Lisbon Treaty and ultimately the center of power being designed to run from Europe. Keep watching!
---
Russia: Poland risks attack due to U.S. missiles MSNBC (August 15, 2008) - A top Russian general said Friday that Poland's agreement to accept a U.S. missile interceptor base exposed the ex-communist nation to attack, possibly by nuclear weapons, the Interfax news agency reported. The statement by Gen. Anatoly Nogovitsyn was the strongest threat that Russia issued against the plans to put missile defense elements in former Soviet satellite nations. Poland and the United States on Thursday signed a deal for Poland to accept a missile interceptor base as part of a system the United States said was aimed at blocking attacks by rogue nations. Moscow, however, felt it was aimed at Russia's missile force. "Poland, by deploying (the system) is exposing itself to a strike — 100 percent," Nogovitsyn, the deputy chief of staff, was quoted as saying. He added, in clear reference to the agreement, that Russia's military doctrine sanctions the use of nuclear weapons "against the allies of countries having nuclear weapons if they in some way help them." Nogovitsyn that would include elements of strategic deterrence systems, he said, according to Interfax. At a news conference earlier Friday, Nogovitsyn had reiterated Russia's frequently stated warning that placing missile-defense elements in Poland and the Czech Republic would bring an unspecified military response. But his subsequent reported statement substantially stepped up a war of words. more...
| Gog/Magog | America |
---
Lebanon, Syria open diplomatic relations The Jordanian Times (August 15, 2008) - Syrian President Bashar Assad and Lebanese President Michel Sleiman agreed on Wednesday to establish diplomatic relations between their countries at ambassadorial level, a Syrian official said. Damascus has been under pressure from the United States and other governments including France to treat its smaller neighbour more as a sovereign state by taking steps including opening a Beirut embassy and demarcating borders with Lebanon. "The two presidents... have instructed their foreign ministers to take the necessary steps in this regard, starting from today," Buthaina Shaaban, an adviser to President Assad said. Syria had dominated Lebanon until the 2005 assassination of former prime minister Rafiq Hariri triggered pressure for it to end a 29-year military presence in the country. Sleiman, who had been army chief before his election, was received at a hilltop palace overlooking Damascus. He was appointed head of Lebanon's military when Syria still controlled the country and describes his ties with Damascus as excellent. The two countries announced last month in Paris that they intended to open diplomatic relations for the first time since they gained independence in 1943. Wednesday's agreement formally set those ties on the highest level. It was Sleiman's first visit to Syria since his election in May as part of a Qatari-mediated deal that defused a bitter political conflict between an anti-Syrian majority coalition and an alliance of groups backed by Damascus. Syrian Foreign Minister Walid Mouallem told Lebanon's As-Safir newspaper that Sleiman's visit was "a starting point and a true foundation for future relations". Syria's opponents in Lebanon, including Saudi-backed politician Saad Hariri, have accused Damascus of assassinating Rafiq Hariri and other anti-Syrian figures and fomenting instability since its withdrawal. Syria denies the allegations. more...
| Islam | Isaiah 17 | Gog/Magog |
---
Iran, Turkey fail to reach deal on new pipeline Associated Press (August 14, 2008) - Iran and Turkey signed several cooperation agreements Thursday but failed to complete a deal for building a new natural gas pipeline — a project the United States has opposed. Washington argues an energy deal by NATO ally Turkey with Iran would send the wrong message while the West threatens Tehran with new economic sanctions over its refusal to halt uranium enrichment. The West believe Iran is trying to develop nuclear weapons, which Tehran denies. On Thursday, Iranian President Mahmoud Ahmadinejad and Turkish President Abdullah Gul witnessed the public signing of a series of agreements for cooperation in anti-drug efforts, environmental matters, transportation, tourism and culture. The two nations also issued a joint statement stressing their determination for further cooperation in energy but they couldn't come to agreement on construction of the proposed gas pipeline. "There are some snags," Turkey's interior minister, Besir Atalay, said without providing any details. Turkish Energy Minister Hilmi Guler said that "the negotiations will continue" on the pipeline project, which is aimed at ensuring reliable supply of Iranian natural gas to Turkey. Turkey already receives gas through an existing pipeline from Iran, but its flow often is sporadic during the winter. Relations between Turkey and Iran improved since Turkey's Islamic-rooted governing party took power in 2002. Previous Turkish governments had accused Iran of trying to export radical Islam to secular Turkey, which hopes to join the European Union. The United States also opposes plans for Turkish investment in Iran's South Pars gas fields and the possibility of the Islamic Republic selling its gas to European markets via an existing pipeline that carries gas to Europe through Turkey.
| Iran | Islam | Gog/Magog |
---
Russian Tanks Head for Tbilisi, Georgia, Despite Ceasefire Pledge Bridges for Peace (August 13, 2008) - Hours after a European Union ceasefire between Georgia and Russia appeared to be taking shape, Russian tanks rolled into the Georgian city of Gori on August 13, later pressing deeper as they headed towards the capital Tbilisi. To the west, Abkhazian separatist forces backed by Russian forces pushed out Georgian troops and even moved into Georgian territory itself, defiantly planting a flag and laughing that retreating Georgians had received American training in running away. The developments came less than 12 hours after Georgia's President Mikhail Saakashvilli said he accepted in principle a cease-fire plan brokered by French President Nicolas Sarkozy who arrived in the region and met with both Georgian and Russian leaders in an effort to restore calm. On Tuesday, Russian President Dmitry Medvedev declared that Russia would halt all of its military activities in Georgia. About 50 Russian tanks entered Gori on Wednesday morning, according to a top Georgian official, Alexander Lomaia. The city of 50,000 sits on Georgia's only significant east-west road near the South Ossetia border, a region where fierce fighting has taken place. Russia's deputy chief of General Staff Col.-Gen. Anatoly Nogovitsyn insisted Wednesday that no tanks were in Gori, adding that Russians went into the city to try to implement the truce with local Georgian officials but could not find any. The EU peace plan's concept of having both sides retreat to their original positions was running into the stark reality of Russian dominance on the battlefield.
| Gog/Magog |
---
Ahmadinejad in new Israel tirade before Turkey trip Reuters (August 13, 2008) - Iranian President Mahmoud Ahmadinejad launched a fresh verbal attack on Israel on Wednesday on the eve of a visit to Israel's close ally Turkey, saying Western countries should not support the Jewish state. The comments highlight the difficult path which Turkey, a member of NATO, must follow during the two-day visit which reflects its desire to remain on good terms with its neighbor and secure future energy needs. "Western countries should not support them (Israel) so much. The life of this regime has come to an end," Ahmadinejad said in comments translated into Turkish in a live interview broadcast by Turkey's NTV and CNN Turk channels. "Our position is clear on this issue. A referendum should take place in Palestine. If they withdraw from invaded lands it would be a good step," he said. Turkish President Abdullah Gul and Prime Minister Tayyip Erdogan have come under criticism at home and abroad for inviting Ahmadinejad. Ankara has said his visit was necessary given a standoff between Iran and the West over Tehran's disputed nuclear enrichment program, but analysts said the visit was more about ensuring centuries-old ties during a period of global tensions. Ahmadinejad said the talks on Iran's nuclear program were on a "good path".
| Iran | Israel | Islam | Gog/Magog |
I wonder just how close of an ally Turkey is with Israel, outside of the mainstream's presentation of their relationship. Considering what the Bible says, Turkey will be part of the attack on Israel. The implication is that they are brought with hooks in their jaws to the mountains of Israel. If my understanding of the sequence of events from Bible prophecy is accurate, could it be that Israel's attack of Damascus will be seen by Turkey as a betrayal considering Turkey's public image of trying to mediate a relationship between Israel and Syria? Would that be enough to draw the primarily Muslim nation of Turkey against Israel with Iran and Russia from the North through Lebanon? Keep watching.
---
'Syria and Hizbullah gaining strength' The Jerusalem Post (August 12, 2008) - Defense Minister Ehud Barak said on Tuesday that "it is not a coincidence that the IDF is holding intensive drills in the Golan Heights," adding that UNSC Resolution 1701 was not accomplishing what it set out to do. "Hizbullah has gained significant strength in the last couple of years," said Barak during an IDF Armored Corps drill in the North. "We are closely following a possible violation [of the resolution] caused by the transfer of advanced weapons systems from Syria to Hizbullah. The necessary preparations have been made, and regarding all the rest - I always prefer not to talk, rather to take action when the time comes." Barak expressed optimism with regards to the IDF's capabilities. "The army is regaining its strength, and coming back to the right morals, carrying out the right exercises and it is our obligation as the government to ensure that the proper means are available to carry out such drills in a correct and intensive manner." Referring to a proposed budget cut to the Defense Ministry, Barak said: "We live in a country where security and defense consist not just of tanks and planes, but also of fostering excellence and caring for the population through education and social welfare." Nonetheless, Barak emphasized that "security and defense take precedence over quality of life and in a country such as ours, we do not have the luxury of cutting the defense budget." The defense minister also addressed the Gaza ceasefire and the strengthening of the group. "So far, the ceasefire has proved promising," he said. "There have been ten instances where rockets were launched in the past 6 weeks, compared to the hundreds of attacks that occurred in the past. Every week that passes with the ceasefire in place enables us to gain strength and to maximize the possibility or the probability of bringing about the right conditions for the release of [captured IDF soldier] Gilad Schalit. Barak added that "in the meantime, the government must care for the social and economic infrastructure as well as the preparation of the home front in the Gaza periphery and the surrounding areas. more...
| Iran | Israel | Islam | Isaiah 17 | Gog/Magog |
---
Ex-communist states' backing for Georgia rooted in Soviet trauma Breitbart.com (August 12, 2008) - A traumatic history at the hands of the Kremlin and enduring fears of Russia are the root of the staunch backing for Georgia offered by Poland, the Baltic states and Ukraine, analysts say. In an unusual step Tuesday the leaders of ex-communist Poland, Lithuania, Latvia, Estonia and Ukraine went to Georgia for what they called a called a show of support for the former Soviet republic after Russia's assault. "Our visit is a sign of the solidarity of our five countries with the Georgian nation, which has been a victim of aggression," Poland's President Lech Kaczynski told reporters. "Once again, Russia has shown its true face," he said. On Saturday, Poland and the Baltic states had as "former captive nations" of the Soviet Union issued a joint statement calling on the EU and NATO to oppose Russia's "imperialist" policy towards Georgia. Fear of Russia cuts deep, said Bartosz Cichocki, an expert at the Polish Institute for International Affairs. "These nations still remember how in 1939 the Soviet army crossed into their territory to purportedly defend the rights of ethnic minorities," he said, referring to the invasion at the start of World War II, when Nazi Germany and the Soviet Union sealed a pact to carve up Poland and the Baltic states. "And they still remember their dependence on Moscow," which lasted five decades, he told AFP. Poland, which broke free from Moscow's orbit in 1989, and the Baltic states, which like Georgia and Ukraine were part of the Soviet Union until it collapsed 1991, are all firm supporters of Tbilisi. "In the Baltic states and Ukraine, independence is still seen as something fragile and not necessarily built to last. So if it's not defended actively, it can't last," Cichocki explained. Poland and the Baltic states are solidly anchored in the West. Warsaw joined NATO in 1999 and the EU in 2004, while the Baltic trio entered both in 2004. They back Georgia and Ukraine's efforts to obtain what they see as those crucial shields. "People are certainly afraid that Russia could attack Lithuania just like Georgia. And you see that kind of view among politicians," said Lithuanian political scientist Kestutis Girnius. While arguments rage between Moscow and Tbilisi about who started fighting, Poland and the Baltic states see Georgians as the victims. "We're Georgia's closest friend in the region. We've suffered the same kind of violence," senior Lithuanian foreign ministry official Zygimantas Pavilionis told AFP. The Baltic states were scarred by Soviet rule. On June 14, 1941, tens of thousands of their people were herded onto cattle trains and shipped out to the far eastern reaches of the Soviet Union, where many died. Moscow's deportation drive was cut short when the Nazis turned on their erstwhile allies on June 22, 1941, pushing the Red Army out of the Baltic states as they invaded the Soviet Union. In 1944, however, the Soviets ended the Nazis' own bloody occupation, and began a new wave of deportations lasting into the 1950s. Poles, meanwhile, remember the Soviet killing of some 22,000 Polish POWs in 1940 in what became known as the Katyn massacre, as well as the brutality of communist rule after the war. more...
| Gog/Magog |
Several decades ago, Latvian filmmaker Albert Jekste produced a grim, gripping documentary entitled "My Latvia" depicting the Soviet conquest and occupation of the Baltic States. This documentary features of the illegal Soviet military occupation of the Baltic states in 1940. This unusual film, which illuminates communist methods of internal subversion and conquest, includes rare scenes of Stalin and other Soviet leaders attending closed Kremlin meetings, and examines the criminal background of the Latvian nationals who "invited" the Soviets into that country and subsequently assumed high communist government posts. YouTube
My Latvia (Part 1 of 2): 0:09:58

My Latvia (Part 2 of 2): 0:07:58

---
Georgia claims Russians have cut country in half Associated Press (August 11, 2008) - Russian tanks roared deep into Georgia on Monday, launching a new western front in the conflict, and Russian planes staged air raids that sent people screaming and fleeing for cover in some towns. Russian forces for the first time moved well outside the two restive, pro-Russian provinces claimed by Georgia that lie at the heart of the dispute. An Associated Press reporter saw Russian troops in control of government buildings in this town just miles from the frontier and Russian troops were reported in nearby Senaki. Georgia's president said his country had been sliced in half with the capture of a critical highway crossroads near the central city of Gori, and Russian warplanes launched new air raids across the country. The Russian Defense Ministry, through news agencies, denied it had captured Gori and also denied any intentions to advance on the Georgian capital of Tbilisi. In New York, the United Nations Security Council held an emergency session at Georgia's request, the fifth meeting on the fighting in as many days. The western assault expanded the days-old war beyond the central breakaway region of South Ossetia, where a crackdown by Georgia last week drew a military response from Russia. While most Georgian forces were still busy fighting there, Russian troops opened the western attack by invading from a second separatist province, Abkhazia, that occupies Georgia's coastal northwest arm. Russian forces moved into Senaki, 20 miles inland from the Black Sea, and seized police stations in Zugdidi, just outside the southern fringe of Abkhazia. Abkhazian allies took control of the nearby village of Kurga, according to witnesses and Georgian officials. The Georgian president, Mikhail Saakashvili, told CNN late Monday that Russian forces were cleansing Abkhazia of ethnic Georgians. "I directly accuse Russia of ethnic cleansing," he said. At the U.N. on Friday, each side accused the other of ethnic cleansing. By late Monday, Russian news agencies, citing the Defense Ministry, said troops had left Senaki, 20 miles inland from the Black Sea port of Poti, "after liquidating the danger," but did not give details. The new assault came despite a claim earlier in the day by a top Russian general that Russia had no plans to enter undisputed Georgian territory. Both provinces of South Ossetia and Abkhazia have run their own affairs without international recognition since fighting to split from Georgia in the early 1990, and both have close ties with Moscow. When Georgia began its offensive to regain control over South Ossetia, the Russian response was swift and overpowering — thousands of troops and tanks poured in. Georgia had pledged a cease-fire, but it rang hollow Monday. An AP reporter saw a small group of Georgian fighters open fire on a column of Russian and Ossetian military vehicles outside Tskhinvali, triggering a 30-minute battle. The Russians later said all the Georgians were killed. more...
| Gog/Magog |
---
Russia Deploys Ships, Expands Georgia Bombing Blitz Fox News (August 10, 2008) - Russia battled Georgian forces on land and sea, reports said late Sunday, despite a Georgian cease-fire offer and its claim to be withdrawing from South Ossetia, the separatist Georgian province battered by days of intense fighting. Russia claimed to have sunk a Georgian boat that was trying to attack Russian vessels in the Black Sea, and Georgian officials said Russia sent tanks from South Ossetia into Georgia proper, heading toward a strategic city before being turned back. Russian planes on Sunday twice bombed an area near the Georgian capital's airport, officials said. The violence appeared to show gargantuan Russia's determination to subdue diminutive, U.S.-backed Georgia, even at the risk of international reproach. Russia fended off a wave of international calls to observe Georgia's cease-fire, saying it must first be assured that Georgian troops have indeed pulled back from South Ossetia. International envoys were heading in to try to end the conflict before it spreads throughout the Caucasus, a region plagued by ethnic tensions. But it was unclear what inducements or pressure the envoys could bring to bear, or to what extent either side was truly sensitive to world opinion. Georgian President Mikhail Saakashvili said one of the Russian raids on the airport area came a half hour before the arrival of the foreign ministers of France and Finland — in the country to try to mediate. Georgian Interior Ministry spokesman Temur Yakobashvili said Russian tanks tried to cross from South Ossetia into the territory of Georgia proper, but were turned back by Georgian forces. He said the tanks apparently were trying to approach Gori, but did not fire on the city of about 50,000 that sits on Georgia's only significant east-west highway. Russia also sent naval vessels to patrol off Georgia's Black Sea coast, but denied Sunday that the move was aimed at establishing a blockade. The ITAR-Tass news agency quoted a Russian Defense Ministry spokesman as saying that Georgian missile boats twice tried to attack Russian ships, which fired back and sank one of the Georgian vessels. South Ossetia broke away from Georgian control in 1992. Russia granted passports to most of its residents and the region's separatist leaders sought to absorb the region into Russia. Georgia, whose troops have been trained by American soldiers, began an offensive to regain control over South Ossetia overnight Friday, launching heavy rocket and artillery fire and air strikes that pounded the regional capital Tskhinvali. Georgia says it was responding to attacks by separatists. In response, Russia launched massive artillery shelling and air attacks on Georgian troops. Russia's Deputy Foreign Minister Grigory Karasin said more than 2,000 people had been killed in South Ossetia since Friday, most of them Ossetians with Russian passports. The figures could not be independently confirmed. The scope of Russia's military response has the Bush administration deeply worried. "We have made it clear to the Russians that if the disproportionate and dangerous escalation on the Russian side continues, that this will have a significant long-term impact on U.S.-Russian relations," U.S. deputy national security adviser Jim Jeffrey told reporters. The U.S. military began flying 2,000 Georgian troops home from Iraq after Georgia recalled them, even while calling for a truce. "Georgia expresses its readiness to immediately start negotiations with the Russian Federation on a cease-fire and termination of hostilities," the Georgian Foreign Ministry said in a statement, adding that it had notified Russia's envoy to Tbilisi. But Russia insisted Georgian troops were continuing their attacks. Alexander Darchiev, Russia's charge d'affairs in Washington, said Georgian soldiers were "not withdrawing but regrouping, including heavy armor and increased attacks on Tskhinvali." "Mass mobilization is still under way," he told CNN's "Late Edition." President Bush sought to contain the conflict in Georgia on Sunday as the White House warned that "Russian aggression must not go unanswered." Bush, in Beijing for the Olympics, has pressed for international mediation and reached out Sunday to French President Nicolas Sarkozy, who heads the European Union. The two agreed on the need for a cease-fire and a respect for Georgia's integrity, a White House spokesman said. more...
| Gog/Magog | EU/UN / 4th Kingdom | America |
---
'Hizbullah received advanced launchers' The Jerusalem Post (August 10, 2008) - The senior aide to Syrian President Bashar Assad who was assassinated last weekend had been in charge of supplying Hizbullah with advanced anti-aircraft weaponry, the Sunday Times reported. According to the report, Brig.-Gen. Muhammad Suleiman had provided the guerrilla group with advanced Syrian SA-8 anti-aircraft missiles, Middle Eastern sources told the paper. Such missiles could potentially challenge the IAF reconnaissance flights which are currently conducted unhindered over Lebanon. Last week, Lebanon's new Cabinet unanimously approved a draft policy statement which could secure Hizbullah's existence as an armed organization and guarantee its right to "liberate or recover occupied lands." "The Cabinet unanimously approved the draft," Information Minister Tarek Mitri told reporters after the five-hour meeting at the presidential palace in a Beirut suburb last Monday. Government sources in Jerusalem said the decision would make the government in Beirut an accomplice to any Hizbullah aggression and give Israel the right to hold it responsible. During the Second Lebanon War, Israel came under international pressure not to harm Lebanon's infrastructure because it was Hizbullah, not the Lebanese government, that killed several IDF soldiers and kidnapped reservists Ehud Goldwasser and Eldad Regev in the July 2006 cross border raid which sparked the conflict.
| Iran | Israel | Islam | Isaiah 17 | Gog/Magog |
Not only does this kind of activity seem like something that Israel may react to with force, but also that could help preserve the forces coming from the North following Israel's response to continued arms buildup in clear continued preparation to fulfill the promised destruction of the state of Israel from her enemies. We know God's plans however and while Israel will be severely diminished in the future time of Jacob's trouble, there is a remnant that will come to see Yeshua as the Messiah they have been longing for.
---
War in Georgia: The Israeli connection YNet News (August 10, 2008) - For past seven years, Israeli companies have been helping Gerogian army to preparer for war against Russia through arms deals, training of infantry units and security advice. The fighting which broke out over the weekend between Russia and Georgia has brought Israel's intensive involvement in the region into the limelight. This involvement includes the sale of advanced weapons to Georgia and the training of the Georgian army's infantry forces. The Defense Ministry held a special meeting Sunday to discuss the various arms deals held by Israelis in Georgia, but no change in policy has been announced as of yet. "The subject is closely monitored," said sources in the Defense Ministry. "We are not operating in any way which may counter Israeli interests. We have turned down many requests involving arms sales to Georgia; and the ones which have been approves have been duly scrutinized. So far, we have placed no limitations on the sale of protective measures." Israel began selling arms to Georgia about seven years ago following an initiative by Georgian citizens who immigrated to Israel and became businesspeople. "They contacted defense industry officials and arms dealers and told them that Georgia had relatively large budgets and could be interested in purchasing Israeli weapons," says a source involved in arms exports. The military cooperation between the countries developed swiftly. The fact that Georgia's defense minister, Davit Kezerashvili, is a former Israeli who is fluent in Hebrew contributed to this cooperation. "His door was always open to the Israelis who came and offered his country arms systems made in Israel," the source said. "Compared to countries in Eastern Europe, the deals in this country were conducted fast, mainly due to the defense minister's personal involvement." Israelis' activity in Georgia and the deals they struck there were all authorized by the Defense Ministry. Israel viewed Georgia as a friendly state to which there is no reason not to sell arms systems similar to those Israel exports to other countries in the world. As the tension between Russia and Georgia grew, however, increasing voices were heard in Israel – particularly in the Foreign Ministry – calling on the Defense Ministry to be more selective in the approval of the deals with Georgia for fear that they would anger Russia. "It was clear that too many unmistakable Israeli systems in the possesion of the Georgian army would be like a red cloth in the face of a raging bull as far as Russia is concerned," explained a source in the defense establishment. For inctance, the Russians viewed the operation of the Elbit System's RPVs as a real provocation. "It was clear that the Russians were angry," says a defense establishment source, "and that the interception of three of these RPVs in the past three months was an expression of this anger. Not everyone in Israel understood the sensitive nerve Israel touched when it supplied such an advanced arms system to a country whose relations with Russia are highly tense." more...
| Israel | Gog/Magog |
Another reason Russia would want to join with her military allies to attack Israel from the North when the time comes? Keep watching! See also: Georgian Jews Flee from Russian Border, Expecting Invasion See Also: 'Oil, Israel and Iran' Among Factors that Led to Georgia War
---
Russia, Georgia Risk Larger War as Attacks Continue Into Morning Fox News (August 8, 2008) - Russia dispatched an armored column into the breakaway enclave of South Ossetia on Friday after Georgia, a staunch U.S. ally, launched a surprise offensive to crush separatists. Witnesses said hundreds of civilians were killed. Fighting reportedly raged well into the night with Georgia's interior ministry saying early Saturday that warplanes attacked three Georgian military bases and key facilities for shipping oil to the West. The fighting, which devastated the capital of Tskhinvali, threatened to ignite a wider war between Georgia and Russia, and escalate tensions between Moscow and Washington. Georgia said it was forced to launch the assault because of rebel attacks; the separatists alleged Georgia violated a cease-fire. "I saw bodies lying on the streets, around ruined buildings, in cars," said Lyudmila Ostayeva, 50, who had fled with her family to Dzhava, a village near the border with Russia. "It's impossible to count them now. There is hardly a single building left undamaged." The fighting broke out as much of the world's attention was focused on the start of the Olympic Games and many leaders, including Russia's Prime Minister Vladimir Putin and President Bush, were in Beijing. The timing suggested Georgian President Mikhail Saakashvili may have been counting on surprise to fulfill his longtime pledge to wrest back control of South Ossetia — a key to his hold on power. The rebels seek to unite with North Ossetia, which is part of Russia. Saakashvili agreed the timing was not coincidental, but accused Russia of being the aggressor. "Most decision makers have gone for the holidays," he told CNN. "Brilliant moment to attack a small country." Seeking to prevent an all-out war, diplomats issued a flurry of statements calling on both sides to halt the fighting. The U.N. Security Council held two tense emergency sessions 12 hours apart with both sides using the forum to launch accusations. As the meeting recessed, officials promised a third council session Saturday. Secretary of State Condoleezza Rice urged Russia to halt aircraft and missile attacks and withdraw combat forces from Georgian territory. Rice said in a statement the United States wants Russia to respect Georgian sovereignty and agree to international mediation. The leader of South Ossetia's rebel government, Eduard Kokoity, said about 1,400 people were killed in the onslaught, the Interfax news agency reported. The toll could not be independently confirmed. As night fell, there were conflicting claims as to who held the battlefield advantage. Saakashvili said "Georgian military forces completely control all the territory of South Ossetia" except for a northern section adjacent to Russia. But Russian news agencies cited a Russian military official as saying heavy fighting was under way on the outskirts of the regional capital. It was unclear what might persuade either side to stop shooting. Both claim the battle started after the other side violated a cease-fire that had been declared just hours earlier after a week of sporadic clashes. The United States was sending in its top Caucasus envoy, Deputy Assistant Secretary of State Matthew Bryza, to try to end the bloodshed. It was the worst outbreak of hostilities since the province won de facto independence in a war against Georgia that ended in 1992. Russian troops went in as peacekeepers but Georgia alleges they now back the separatists. "We are facing Russian aggression," said Georgia's Security Council chief Kakha Lomaya. "They have sent in their troops and weapons and they are bombing our towns." Putin warned in the early stages of the conflict that the Georgian attack would draw retaliation and the Defense Ministry pledged to protect South Ossetians, most of whom have Russian citizenship. Chairing a session of his Security Council in the Kremlin, Russian President Dmitry Medvedev also vowed that Moscow will protect Russian citizens. "In accordance with the constitution and federal law, I, as president of Russia, am obliged to protect lives and dignity of Russian citizens wherever they are located," Medvedev said. "We won't allow the death of our compatriots go unpunished." On Friday, an AP reporter saw tanks and other heavy weapons concentrating on the Russian side of the border with South Ossetia — supporting the reports of an incursion. Some villagers were fleeing into Russia. more...
| Gog/Magog |
As is pointed out in the article, Georgia is all that stands between Russia and Turkey. According to Bible prophecy, Russia, Turkey, Iran and others attack Israel from the North and God destroys them in the mountains of Israel. I mentioned a possibility back in May when Georgia warned they were very close to war with Russia. It appears that this has begun to come to fruition. As for it leading the the Magog invasion, I still believe that Israel's action against Damascus will prompt the attack and if the forces are already built up on the Northern border of Turkey, who is part of the attack, and Hezbollah has already shown its ability to control Lebanon, there is a path for forces to come quickly from the North onto the mountains of Israel. Will this be the case soon? I don't know, but I'm still watching. This situation made me think of Poland, 1939.
---
Energy ties deepen between Iran and Turkey Gas And Oil (August 7, 2008) - The United States has maintained various sanctions against Iran since 1979, implemented in aftermath of the seizure of the US embassy in Tehran. As relations worsen between the US and Iran, Washington is seeking to have the United Nations Security Council impose additional sanctions on Iran for its nuclear enrichment activities, which Tehran insists are legal, entirely peaceful, and intended for generating electricity. Among the sanctions that most concern foreign energy companies and nations is the 1996 Iran-Libya Sanctions Act (ILSA), renewed in 2001, which provides for punitive measures against entities that invest more than $20 mm (EUR 13 mm) annually in the Iranian oil and gas sectors. Many countries are deeply ambivalent toward the US policy, none more so than Turkey, which imports 90% of its energy needs. Now Ankara is pushing the limits by increasing its natural gas purchases from Iran and considering possible involvement in developing the world's largest hydrocarbon reserves. On July 29 Iranian Petroleum Minister Qolam Hosein Nozari said in Tehran that Turkey and Iran were negotiating over Turkey being a transit corridor for Iranian natural gas exports to Europe and that Iran would provide increased amounts of natural gas to Turkey during the winter (Anadolu Ajansi, June 30). According to Nozari, the pipeline, which would run from Iran's South Pars natural gas and oil fields to the border province of Bazargan, was discussed during the OPEC summit held on June 22 in Jeddah (Tehran Times, June 29). Even worse for administration officials seeking to sustain and intensify the US sanctions regime, Nozari said, "We have also spoken about the participation of Turkey in the development of phases 14 and 23 of the South Pars field" (Hurriyet, June 30). The 3,745 sq-mile Persian Gulf South Pars-North Dome gas condensate field, straddling Iranian and Qatari territorial waters, is the world's largest known gas field. Discovered by the National Iranian Oil Company (NIOC) in 1990, Iran's sector, known as South Pars, covers 1,428 sq miles, with the site's remaining 2,317 sq miles, North Dome, lying in Qatari waters. South Pars-North Dome has estimated reserves of approximately 51 tcm of natural gas and 50 bn barrels of condensate; with in-place reserves equivalent to 360 bn barrels of oil. South Pars-North Dome is the world's biggest conventional hydrocarbon accretion, dwarfing even Saudi Arabia's 170 bn barrel Ghawar oil field (Middle East Economic Survey, March 20, 2006). Phase 14, due to begin production in 2014, is part of a $10 bn (EUR 6.5 bn) liquefied natural gas (LNG) project, which already has foreign investors -- a partnership of NIOC (50%), Anglo-Dutch firm Royal Dutch Shell (25%), and Spain's Repsol-YPF (25%). When operational, the project's initial production capacity will consist of two components, each capable of an annual production of 8 mm tons of LNG. For Ankara, the choice of major natural gas suppliers is difficult, Russia or Iran, while waiting for Azerbaijan to ramp up production. Iran, which holds the world's second largest gas reserves, currently provides over one-third of Turkey's domestic demand, while Turkey receives 63.7% of its imports from Gazprom with smaller volumes coming from Azerbaijan. In 1996 Turkey signed a contract with Iran for natural gas deliveries, which began in December 2001 via a pipeline from Tabriz to Ankara. The South Caucasus pipeline, also known as the Baku-Tbilisi-Erzurum natural gas pipeline, opened in December 2006 with an annual capacity of 8.8 bn cm and carries Azeri Caspian natural gas to Turkey via Georgia. Energy imports from both nations are critical to sustaining Turkish economic growth, even though Washington, whose diplomatic relations are increasingly strained with Russia and non-existent with Iran, is very unhappy about the situation. According to Turkey's Turkiye Istatistik Kurumu (Turkish Statistical Institute), Turkey's economic growth accelerated more than expected from January through March, increasing to 6.6% from 3.4% in the fourth quarter of 2007 (www.tuik.gov.tr). The figure exceeded the market estimates by 35 to 40%, as the expected growth rate was around 4% (Milliyet, July 1). In 2007 Turkey's annual GDP growth rate was 4.5%. Rising energy costs, however, are proving to be a significant drag on economic growth. Earlier this year the Turkish government hiked electricity prices by 21%, and Ankara is preparing to raise natural gas prices in July by 9% for residences and 11% for businesses (Radikal, July 1). In June, Turkey's Devlet Planlama Teskilati (State Planning Organization, or DPT) prepared a comprehensive projection for Turkey's economy from 2009 through 2011, which has been approved by the Cabinet and published in the government's official gazette, Resmi Gazete (http://rega.basbakanlik.gov.tr, June 28). The plan includes measures to ensure energy supply security in the long-term and gives top priority to decreasing the country's dependence on imported natural gas. At a time of record high oil prices, when Saudi Arabia's King Abdullah said, "Consumer countries have to adapt to the prices and the mechanisms of the market," Washington's efforts to compel its allies to respect its hard-line sanctions against Tehran seem at best naïve, especially when the United States has no alternative sources of energy to offer (Al-Siyassah, July 2). While Washington's threats of sanctions in June caused both Royal Dutch Shell and Repsol-YPF to withdraw from the South Pars development, there is a major difference between a multinational company and a sovereign government bending to sanctions. For Turkey, displays of political solidarity must take a back seat to financial considerations, as the government is committed to economic growth to improve the lives of its citizens. Ankara estimates that from Desert Storm in 1991 until the March 2003 invasion of Iraq, it lost an estimated $80 bn in oil revenues and increased energy costs as a result of supporting US and UN sanctions and policies against Iraq. Washington can hardly expect Turkey to suffer further financial losses for supporting its Middle East policies. With no end to energy price increases in sight, Washington must acknowledge the reality of Turkey's pragmatic economic relations with its energy-rich eastern neighbour, even if it does not agree with them.
| Iran | Islam | Gog/Magog |
---
Iran's Ahmadinejad in Turkey In Next Month Iran Mania (July 26, 2008) - Iranian President Mahmoud Ahmadinejad is expected to pay an official visit to Turkey at the invitation of his Turkish counterpart Abdullah Gul, PressTV reported. The visit would take place late in August and diplomatic sources in Ankara have declared that a date for the visit will be set soon, Turkish Daily reported on Friday. During the meeting agreements would be signed to further strengthen economic ties between the two neighboring countries. In May, Ahmadinejad in a meeting with Turkish State Minister Kursad Tuzmen said the two countries have the potential to turn into major economic powers in the world. The Turkish state minister said that the trade volume between the two countries could reach USD 20b by the end of 2011.
| Iran | Islam | Gog/Magog |
---
Iran, Turkey discuss ways to further cooperation, nuclear issue Mathaba (July 19, 2008) - The Iranian minister who visited Turkey at the invitation of his Turkish counterpart Ali Babacan left Ankara on Friday evening. During the meeting, Mottaki and Erdogan stressed the need for broadening Tehran-Ankara economic ties by carrying out more projects in energy field including construction of power plants. Mottaki also briefed Erdogan on latest developments on Iran's peaceful nuclear program hoping that the upcoming talks between nuclear Iran and the Group 5+1 would lead to positive outcome. Iran's top nuclear negotiator Saeed Jalili arrived in Geneva, Austria, on July 18 to take part in the talks due to be held on Saturday. In a major shift from a long-standing policy, the US State Department announced on Wednesday that Under Secretary of State William Burns, the third-highest US diplomat, would join the 5+1 talks with Iran. The Turkish prime minister told Mottaki that Ankara was happy that the trend of talks between Iran and the West was progressing. Erdogan stressed that peaceful negotiations was the only solution to Iran's nuclear standoff with the West. Mottaki also held two rounds of talks with his Turkish counterpart and also met Turkish President Abdullah Gul. His visit to Turkey was part of a regional tour which had earlier took him to Oman and Syria.
| Iran | Islam | Gog/Magog |
---
Hizbullah moves into 'every town' The Jerusalem Post (July 17, 2008) - Hizbullah is bolstering its presence in south Lebanon villages with non-Shi'ite majorities by buying land and using it to build military positions and store missiles and launchers, The Jerusalem Post has learned. The decision to build infrastructure in non-Shi'ite villages - where Hizbullah has less support - is part of the group's post-war strategy under which it has mostly abandoned the "nature reserves," forested areas in southern Lebanon where it kept most of its Katyusha rocket launchers before the Second Lebanon War. Behind the change is the mandate given to UNIFIL by the United Nations after the war in 2006. According to the mandate, the peacekeeping force can patrol freely throughout southern Lebanon but cannot enter villages or cities without being accompanied by soldiers from the Lebanese Armed Forces, which regularly tips off Hizbullah ahead of the raids. News of the change in Hizbullah strategy came as Israel is trying to persuade the UN to strengthen UNIFIL's mandate to give it the right to patrol the villages freely. "Hizbullah is moving into every town that it can," a senior defense official told the Post. "This is in order to evade UNIFIL detection." On Thursday, Lebanese complained they were receiving recorded phone messages from Israel promising "harsh retaliation" for any future Hizbullah attack. The automated messages also warn against allowing Hizbullah to form "a state within a state" in the country. The phone messages end with the words: "The State of Israel." There was no immediate confirmation from Israel, though similar reports surfaced of Israeli phone campaigns during the 2006 war trying to persuade Lebanese not to support Hizbullah. Lebanon's official National News Agency said residents in the country's south and east, as well as in Beirut reporting receiving the calls. It said Telecommunications Minister Jibran Bassil contacted the United Nations to complain, calling it a "flagrant aggression against Lebanese sovereignty." Also Thursday, defense officials warned that with the prisoner swap completed, Hizbullah would no longer need to restrain itself and might decide to avenge the assassination of the group's operations chief, Imad Mughniyeh, who was killed by a car bomb in Damascus last February. As a result, the IDF has slightly increased its level of alert along the border, based on the assessment that even if a retaliatory attack took place abroad the violence would spread to the Israeli-Lebanese border.
| Israel | Islam | Isaiah 17 | Gog/Magog |
---
We only get one strike The Jerusalem Post (July 16, 2008) - An Israeli attack on Iran seems inevitable. If it succeeds, it will return to Israel its deterrent power and send a clear message to the saber-rattling jihadists that they were too early in beginning the countdown for the disappearance of the Jewish state. If it fails, or fails to achieve the majority of its objectives, it could amount to an act of national suicide. Fanatical Muslims on every side will be encouraged by the failure and outcome of an Iranian retaliation which would cause heavy damage to the whole center of our country. Iran would unquestionably be joined by its proxies on our borders, Hizbullah and Syria on the north and Hamas on the south, the PLO jihad brigades under various names, and the Arabs of Israel. The latter have already shown their ability to block major traffic arteries and demonstrated that their loyalties rest with their Arab brethren, not with the Jewish state. The repeated declarations of President Mahmoud Ahmadinejad that the aim of Iran is to wipe Israel off the world map should not be taken as the empty, fiery words of a fanatical Muslim dictator, but as a plan of action. True, Iran does not need a pretext, but an Israeli attack on any nuclear installation in Iran, or just an invasion of Iranian air space could be used as an excellent reason for mounting an all-out missile attack. Since the late ninth century, the Shi'ites have been expecting the emergence of the hidden imam-mahdi, armed with divine power and followed by thousands of martyrdom-seeking warriors. He is expected to conquer the world and establish Shi'ism as its supreme religion and system of rule. His appearance would involve terrible war and unusual bloodshed. Ahmadinejad, as mayor of Teheran, built a spectacular boulevard through which the mahdi would enter into the capital. There is no question that Ahmadinejad believes he has been chosen to be the herald of the mahdi. Shi'ite Islam differs from Sunni Islam regarding the identity of the mahdi. The Sunni mahdi is essentially an anonymous figure; the Shi'ite mahdi is a divinely inspired person with a real identity. However both Shi'ites and Sunnis share one particular detail about "the coming of the hour" and the dawning of messianic times: The Jews must all suffer a violent death, to the last one. Both Shi'ites and Sunnis quote the famous hadith attributed to the Prophet Muhammad: The last hour will not come unless the Muslims fight against the Jews, and the Muslims would kill them until the Jews hide themselves behind a stone or a tree and the stone or the tree would say: "Muslim! Servant of Allah! Here is a Jew behind me; come and kill him!" Not one Friday passes without this hadith being quoted in sermons from one side of the Islamic world to the other. more...
| Iran | Israel | Islam | Isaiah 17 | Gog/Magog |
If it weren't for my study of Bible prophecy, I would probably expect Israel to attack Iran. I could very well be wrong and nothing I say should be taken without personal study and prayer, but I'm continually brought back to Isaiah 17 and the destruction of Damascus apparently by the "children of Israel." This opinion piece brings home the possible reality of this a little more. I think Israel realizes the seriousness of their current situation and if they are going to make a show of force, it will be big. After the loss in Lebanon during the summer 2006 engagement, Israel can't afford to appear insincere about her existence. If the elections in Israel change leadership to someone like Netanyahu, we could see a government more willing to make their intentions to remain more clear. Could it lead to the destruction of Damascus? I can't say, but I'm watching and will keep sharing what I see with you so you can decide for yourself and share with those who have ears to hear.
---
Ahmadinejad: We'll sever enemies' hands The Jerusalem Post (July 13, 2008) - Iran's President Mahmoud Ahmadinejad threatened on Sunday to "cut off the hands" of any would-be attackers of the Islamic Republic. "Before the enemies touch the trigger, the armed forces will cut off their hands," the state-run IRNA news agency quoted the leader as saying. Ahmadinejad said that missile tests conducted last week exhibited "only a small part" of Iran's defense capabilities, and that, if necessary, further capabilities would be revealed. Ahmadinejad's statement comes amid a report that US President George W. Bush has given Israel the "amber light" to carry out an attack on Iran if diplomatic efforts are unsuccessful in causing the Islamic Republic to back down and relinquish its nuclear program. According to a senior Pentagon official quoted by the British Sunday Times on Sunday morning, Bush has given Israel free rein to attack Iran's nuclear sites if sanctions fail in spite of opposition from US generals and regardless of the possible economic and political repercussions of such a strike. "Amber means get on with your preparations, stand by for immediate attack and tell us when you're ready," the official said, adding however, that Israel had been told that it could not count on the US to lend it military support. Contradicting recent reports to the contrary, he also said that the IAF would not be permitted to take off from American military bases in Iraq. The Jerusalem Post could not confirm the report. Ahmadinejad's aggressive statements contrasted strikingly with a report on Iranian state TV Sunday, which quoted him as saying that Iran would welcome the idea of setting up a US diplomatic office in Teheran. The report quoted the firebrand Iranian leader as saying he would consider an American request to set up an interests section in Iran. He said he "welcomes any move to expand ties." But Ahmadinejad said his government hasn't received any official request for such an office. Last month, US officials floated the idea but no formal requests were made. more...
| Iran | Israel | Islam | Isaiah 17 | Gog/Magog | America |
---
'We'll Take Land By Force if Talks Fail' The Jerusalem Post (July 12, 2008) - Should diplomacy fail to return "Israeli-occupied land" to Lebanon, the Lebanese army (LAF) will take it by force, Lebanese President Gen. Michel Sueleiman said on Sunday. Suleiman was speaking at a press conference after meeting Syrian President Bashar Assad on the sidelines of the Mediterranean conference in Paris. The Lebanese president stressed, however, that the military option was the last resort. Assad said Lebanon had an important role to play in the Middle East peace process and that any progress in future Israel-Lebanon negotiations would be made in coordination with Syria. Meanwhile, in what is being interpreted in Israel as a declaration of ownership, the Lebanese Armed Forces (LAF) has built a road and set up a military position in the Shaba Farms/ Mount Dov area for the first time since Israel's withdrawal from that part of Lebanon in 2000. Israeli defense officials confirmed the move, which was first reported in the Lebanese media, but would not comment on its significance.
| Israel | Islam | Dividing the Land | Isaiah 17 | Gog/Magog |
It seems the alliances are continuing together and the idea of Israel stealing land is uniting those alliances against Israel further. The attack on Israel that is prophesied to take place comes from the North parts and they are decimated in the mountains of Israel. Lebanon is immediately to the North and Syria also borders Israel to the North, both in agreement against Israel and if Israel is responsible for the destruction of Damascus, I'm sure they will allow armies to come through there to the North of Israel and the mountains there.

Ezekiel 39:2
And I will turn thee back, and leave but the sixth part of thee, and will cause thee to come up from the north parts, and will bring thee upon the mountains of Israel:

Also see map of mountains

---
Sarkozy: Syria and Lebanon will open embassies Associated Press (July 12, 2008) - France's president says Syria and Lebanon will open embassies in each other's countries. The nations have not had full-fledged embassies in each other's countries since Lebanon became independent in 1943 and Syria in 1945. Syrian President Bashar Assad said last month that establishing diplomatic ties with Lebanon would be possible if a national unity Cabinet was formed in Beirut. Such a government, including members of Syria's ally Hezbollah, was formed Friday after weeks of haggling. French President Nicolas Sarkozy is hosting a summit among leaders of 43 nations from Europe and the Mediterranean rim. Lebanon's new president said Saturday he wants to establish diplomatic ties with Syria and exchange ambassadors, calling for a major shift in long-hostile relations between the neighbors. Michel Suleiman spoke before talks in Paris with his Syrian counterpart, Bashar Assad — and on the eve of a rare summit among leaders of 43 nations from Europe and the Mediterranean rim that France says could send a "wind of hope" through the region. "We want an exchange of ambassadors and diplomatic relations with Syria," Suleiman told reporters at the French presidential palace. He said he was "satisfied" with relations with Syria and that a visit there is "still on the agenda." The two countries have not had diplomatic relations since 2005, when former Lebanese Prime Minister Rafik Hariri was killed. Syria's critics accuse Damascus of having a role in the slaying, a charge Syria denies. Suleiman would not comment on a hoped-for timeframe for new ties or embassies. The nations have not had full-fledged embassies in each other's countries since Lebanon became independent in 1943 and Syria in 1945. more...
| Islam | Isaiah 17 | Gog/Magog |
In looking at recent history in light of Bible prophecy, this is interesting that at this time Syria and Lebanon are showing signs of political cooperation. As we saw, the Hezbollah uprising in Lebanon led to an increase in cooperation between governments. more here Then there's the threat by Israel regarding this puppet group of Iran. more here In case you've just joined the newsletter, my current theory in light of what I've studied from the Bible and seen in current events reported here is posted here.
---
Hezbollah uprising exposed it as Iran's puppet in Lebanon Ya Libnan (June 9, 2008) - Ahmadinejad and the Iranian Shiite mullahs executing Khomeini's will to export the "Islamic revolution" remain on their self-assigned mission to slay the "Great Satan," the U.S. They were finding their campaign stumbling in all the pertinent places throughout the Sunni-dominated Mideast. This forced the Iranians to concentrate on multi-religious Lebanon in order to compensate for the major grounds lost lately in Iraq. The projection of Iranian power comes mainly in the form of Hezbollah. Hezbollah's most recent pretext to disrupt and dominate the nation was simple decisions of sovereignty by the Lebanese government on May7, including extending control over the Hezbollah communications network. Hezbollah refused. The group launched an armed revolt in Beirut, conquering districts, trashing government buildings, burning TV stations, and looting the city at will. But six days of violent confrontations between the well-armed and trained Hezbollah fighters and untrained individual Lebanese did not lead to the fall of the government or plunge the country in complete chaos as it was intended. Lebanese citizens improvised strategies to defend their neighborhoods. Hezbollah fighters lacked necessary logistical support in order to remain in the areas they invaded. So Hezbollah had to hand over the zones back to the Lebanese army. The Arabs, realizing the gravity of the Iranian assault, started an initiative culminating in a summit in Qatar. Ultimately, the factional and governmental representatives left with the Doha Accord. Pacification returned to the smoldering streets of Beirut. more...
| Iran | Israel | Islam | Isaiah 17 | Gog/Magog |
---
Crossfire War - Israel Estimates Iran-Syria to Fire 250-300 Long Range Missiles News Blaze (July 3, 2008) - "How Many Missiles will be Fired from Iran-Syria-Lebanon Against Israel in the Next War?" was the subject of a lecture given by Major-General (res.) Eitan Ben Eliahu at the Israel Missile Defense Association (IMDA) (www.imda.org.il) a new link with Crossfire War. Haaretz reports General Eliahu headed the Israel Air Force (IAF) from 1996-2000 and in his lecture earlier this week he estimated Syria-Iran will launch 250-300 long range Shahab-Scud missiles at Israel in the next war. Eliahu estimated Hezbollah in Lebanon will be able to launch 5,000 short range missiles, an increase from the 4,200 they fired in 2006. Hezbollah does possess some longer range missiles which can hit Tel Aviv and no doubt they will be used as quickly as possible since the IAF will make destroying the longer range missiles their top priority whether they are fired from Lebanon-Syria-Iran. Eliahu expects the full scale fighting to last 20 days. [HAARETZ] In the course of his discussion General Eliahu mentioned Israel operates under a security doctrine that does allow for An Initiated War (preventive strike) as in 1967 which was so successful the war lasted only six days and Israel was able to take the strategic Golan Heights, a Syrian obsession ever since and Damascus' main motive for entering the war this year. He then said if an Initiated War is not possible then the doctrine provides for a Pre-Emptive Attack to disrupt the enemy's preparation. The IAF attack on the Syrian nuclear base last September was an example. Eliahu then mentioned if war does result then Israel Defense Forces (IDF) must conduct a holding operation during which they must achieve Aerial Superiority. He probably realizes if/when Israel does conduct a pre-emptive attack on Iran, for disruptive purposes, it would mean full scale war, beyond the serious flare ups of the past two years which did not yet lead to Israel's offensive into Gaza. Eliahu stated Israel should expect the next war to require action on one to three fronts and in order to achieve victory the IDF must crush the enemy on one of the fronts, which would be either Hezbollah in Lebanon or Syria. Since the ground area to cover is smaller in Lebanon Israel's offensive there should not take as long as in the case with Syria. Jerusalem may also prefer a quick victory against the hated Sheikh Hassan Nasrallah even if it means using nuclear weapons. Concerning Palestinian units in Gaza Eliahu recommends a war of containment which would include a ground offensive. Against Iran he recommended long range attacks should be continued. more...
| Iran | Israel | Islam | Isaiah 17 | Gog/Magog |
---
Russian FM visits Turkey Kuwait News Agency (July 2, 2008) - In a visit which is the first of its kind for a high ranking Russian official following the presidential elections in Moscow last March, Russian Foreign Minister Sergei Lavrov has arrived at Turkey on an official visit to discuss a number of hot regional issues. During the two-day visit, Lavrov will meet with his Turkish counterpart Ali Babajan, the president Abdullah Gul, and the Prime Minister Recep Tayyip Erdogan. The meetings will focus on ways to develop economic and bilateral ties between the two countries, in addition to discussing regional developments, especially in Iran, Iraq, the Middle East, the Caucasus, and the Balkan countries. Moreover, the topics up for discussion include Turkey's mediation efforts in indirect peace talks between Syria and Israel, which Russia supports.
| Gog/Magog |
---
Turkey's past is ruining hopes of a liberal future Times Online (July 2, 2008) - Turkey took a lurch towards turmoil yesterday as the chief prosecutor outlined his case for banning the governing party and police detained two retired commanders, among others, in their pursuit of a group alleged to be plotting a coup. For months, as this clash has been brewing, allies of Turkey hoped that it would fade away as an older generation of nationalist-minded generals gave way to younger, European-orientated politicians. It won't. It now seems that the struggle for Turkey's identity is going to get much worse, while its chances of a liberal, modern future dissolve. Ever since Recep Tayyip Erdogan, the Prime Minister, and his Justice and Development Party (AK Party) were elected enthusiastically six years ago, the country's old-guard defenders of its historic secularism have been uneasy. That is an entirely fair starting point. Turkey's secularism, a fervent refusal to allow religion to shape the institutions of state, has been the heart of the republic founded by Mustafa Kemal Atatürk in 1923. It has underpinned the extraordinary position that Turkey has chosen for itself: as the only Islamic member of Nato; as the only Islamic friend of Israel; as a bridge, culturally and diplomatically, between Central Asia and Europe. The Army has repeatedly intervened in Turkey's history to protect that secularism. But this has clashed with its hopes of building a modern democracy. It has been coming to a head since 2002 when the people of Turkey overwhelmingly elected a government which, in the name of liberalism, set out to grant more licence for Islamic practices. It is fair for the generals – and others – to have been suspicious of the AK Party initially. The party's roots were in two overtly Islamic groups. Its intentions, on arriving in Government, were unknown. The 1979 Iranian revolution next door added to these worries. Yet that is not how the AK Party has behaved in office (nor does its steady popularity appear to reflect any desire for it to turn Turkey into an Islamic state). The issue on which the Government began to clash with the courts was its move to overturn the ban on women wearing headscarves in universities. This might sound, to British ears for example, merely like one of the eye-catching cases where someone's desire to wear religious dress clashed with the rules of their employer or school. But that would be to underplay the huge symbolic significance of the headscarf in Turkey, as the emblem of the religiously observant, and the long-standing principle that those who would not adapt their dress would not have access to university. It is increasingly hard to square that kind of prohibition with a modern, liberal democracy of the kind that Turkey has been becoming. Nor is it fair to portray the AK Party's desire to make that one change as the insertion of Islam into the state. Of course, no one would want to be relaxed about any kind of constitutional change that might lay the ground for more Islamic-tinged reforms. But it is unfair to imply that this is the party's intention, given its six-year record that has been liberal, more respectful of human rights and interested in joining the European Union. The courts have been erratic in their defence of the principle of secularism over the years. The decision by the chief prosecutor to accept the legal challenge of the opposition and to move ahead in seeking to ban the entire governing party – not simply to challenge the headscarf rule – is a disastrous one. It has taken Turkey towards a confrontation that will be hard to defuse, and almost certainly, farther from Europe.
| Islam | Gog/Magog |
---
Russia Warns Israel Against Tehran Attack The Nation (June 24, 2008) - Russia, one of the world's major powers, has warned of "disasterous consequences" if Israel attacked Iran's nuclear facilities. "If things happen like threats of force and unilateral sanctions outside the framework of the [UN] Security Council, it is distracting from the negotiating process," Vitaly Churkin, Russia's ambassador to the United Nations, said when asked to comment on a newspaper report about a large military exercise carried out by Israel this month as a rehearsal for a bombing attack on Iran. On Saturday, The Washington Post said senior U.S. officials confirmed that Israel had held a massive operation that involved the types of warplanes, distances and maneuvers required for airstrikes on Iran, a story which was first reported by The New York Times. "A military move would have devastating consequences for the prospect of resolving the Iranian nuclear issue, for the region and internationally," the Russian ambassador added. The Post said, "The mock (Israeli) operation reflected a growing policy schism over Iran among major international players at a time when U.S. politics may freeze major decisions until a new administration is in place, its officials are confirmed and a policy review is complete." more...
| Iran | Israel | Gog/Magog |
---
Israel on the Iran Brink Wall Street Journal (June 23, 2008) - Israel isn't famous for welcoming public scrutiny of its most sensitive military plans. But we doubt Jerusalem officials were dismayed to see news of their recent air force exercises splashed over the front pages of the Western press. Those exercises – reportedly involving about 100 fighters, tactical bombers, refueling planes and rescue helicopters – were conducted about 900 miles west of Israel's shores in the Mediterranean. Iran's nuclear facilities at Bushehr, Isfahan and Natanz all fall roughly within the same radius, albeit in the opposite direction. The point was not lost on Tehran, which promptly warned of "strong blows" in the event of a pre-emptive Israeli attack. The more important question is whether the meaning of Israel's exercise registered in Western capitals. It's been six years since Iran's secret nuclear programs were publicly exposed, and Israel has more or less bided its time as the Bush Administration and Europe have pursued diplomacy to induce Tehran to cease enriching uranium. It hasn't worked. Iran has rejected repeated offers of technical and economic assistance, most recently this month. Despite four years of pleading, the Administration has failed to win anything but weak U.N. sanctions. Russia plans to sell advanced antiaircraft missiles to Iran and finish work on a nuclear reactor at Bushehr, though spent fuel from that reactor could eventually be diverted and reprocessed into weapons-usable plutonium. Chinese companies still invest in Iran, while the U.N.'s chief nuclear inspector, Mohamed ElBaradei, has repeatedly downplayed Iran's nuclear threat. As for the U.S., December's publication of a misleading National Intelligence Estimate that claimed Iran had halted nuclear weaponization signaled America's own lack of seriousness toward Iranian ambitions. Barack Obama is leading in the Presidential polls and portrays as a virtue his promise to negotiate with Iran "without precondition" – i.e., without insisting that Tehran stop enriching uranium. All the while Iran continues to enrich, installing thousands of additional centrifuges of increasingly more sophisticated design while it buries key facilities underground. No wonder Israel is concluding that it will have to act on its own to prevent a nuclear Iran. Earlier this month, Deputy Prime Minister Shaul Mofaz, a former army chief of staff, warned that "if Iran continues with its program for developing nuclear weapons, we will attack." Other officials distanced themselves from those remarks, but September's one-shot raid on Syria's nuclear reactor ought to be proof of Israel's determination. An Israeli strike on Iran's nuclear sites would of course look nothing like the Syrian operation. The distances are greater; the targets are hardened, defended and dispersed; hundreds of sorties and several days would be required. Iran would retaliate, with the help of Hezbollah and Hamas, possibly sparking a regional conflict as large as the 1973 Yom Kippur war. Mr. ElBaradei predicted this weekend that such an attack would turn the Middle East into a "ball of fire," yet his own apologies for Iran and the West's diplomatic failures are responsible for bringing the region to this pass. They have convinced the mullahs that the powers responsible for maintaining world order lack the will to stop Iran. Israelis surely don't welcome a war in which they will suffer. Yet they have no choice but to defend themselves against an enemy that vows to obliterate them if Iran acquires the weapon to do so. The tragic paradox of the past six years is that the diplomatic and intelligence evasions offered in the name of avoiding war with Iran have done the most to bring us close to this brink. Appeasement that ends in war is a familiar theme of history.
| Iran | Israel | Islam | Gog/Magog |
---
Fighting for Turkey's soul International Herald Tribune (June 10, 2008) - Reading the Western press, one would think that there is a fight in Turkey between the democratic - yet religious - governing party and the secular - but anti-democratic - opposition. This is not the case. The ultimate battle is for Turkey's soul: Will Turkey become a liberal democracy and remain an important member of the Euro-Atlantic community, or erode into an illiberal one, moving towards the Russia-Iran axis? Turkey is undergoing a complex political and social transformation. It is unique, and thus it is impossible to understand what is happening in Turkey today by comparing it with any other Muslim or Western country. Turkey is 99 percent Muslim, yet it was founded in 1923 as a secular republic. The ending of the caliphate and the Islamic Shariah legal system - thus separating religion and the state - was a truly revolutionary move. Most Muslim countries still have Shariah law enshrined in their constitutions. This has been a huge impediment to their democratic evolution because Shariah, encoded in the 8th century, is not compatible with democracy. For its part, Turkey has evolved as a democratic country because it has kept religion out of politics. The nation's founding fathers charted the country's course toward the West. However, succeeding generations failed to spread the values and ideals of the republic to the masses. The institutions of democracy remained weak and democratic political culture failed to take root. Today's fight in Turkey can be described as a power struggle to decide the future of this unique, Western, democratic, secular-but-Muslim country. The governing party and its supporters are labeled as "democrats" committed to reforms and expanding freedoms while those in opposition are branded as "fascist seculars" resisting change. However, a critical look at the governing party's record would make clear that, while the government has indeed undertaken important political and social reforms, these were overwhelmingly in areas that expanded the freedoms of the conservative religious base. Little attention has been given to the concerns of liberal Muslims, such as the Alevi community, which makes up about 20 percent of Turkey's population. Moreover, women are increasingly disappearing from the work force - except for those areas traditionally seen as the "women's sphere." For example, the current government has only one female member. Not surprisingly, she is the Minister Responsible for Women's Affairs. A recent study found that female participation in the work force dropped from over 34 percent in 1990 to just over 22 percent at the end of 2007. Equally disturbing is the various forms of pressure put on women to "protect" the social fabric. In many cases sexual harassment or abuse is viewed as the woman's fault for not having dressed more "Islamic" or for sharing the public space with men. Another dangerous trend is the systematic undermining of the military, the judiciary and the education system, the three critical institutions of Turkey's secular and Western identity. Most recently, pro-secular rulings by Turkey's highest court (based on the Constitution) have been labeled as "judiciary coups," even by some Turkish liberals and their Western supporters. What these well-intentioned supporters of democracy don't seem to recognize is that they inadvertently strengthen hard-line Islamists, who argue that the current legal system is illegitimate and that Muslims need to be ruled under Shariah. more...
| Islam | Gog/Magog |
---
Iran and Syria sign missile pact Gulf In The Media (June 2, 2008) - Iran's Revolutionary Guards Corps has created an independent missile command to be integrated with a Syrian missile program, military sources said. The DEBKAfile news agency reported Sunday that the joint command was formalized in a treaty signed by the Syrian Defense Minister Hassan Turkmani in Tehran last week. Under the agreement, Syria's missile units would come under the new Iranian missile section and their operations would be fully coordinated with Tehran. Iranian officers are to be attached to Syrian units, while Syrian officers are posted to the Iranian command. Military sources told DEBKAfile that Iran's control of four hostile missile fronts would virtually neutralize the American and Israeli anti-missile defense systems in the region.
| Iran | Israel | Islam | Isaiah 17 | Gog/Magog |
---
'Unavoidable' attack on Iran looms, says Israeli minister Guardian UK (June 6, 2008) - An Israeli minister has said an attack on Iran's nuclear sites will be "unavoidable" if Tehran refuses to halt its alleged weapons programme. In the most explicit threat yet by a member of Ehud Olmert's government, Shaul Mofaz, a deputy prime minister, said the hardline Iranian president, Mahmoud Ahmadinejad, "would disappear before Israel does". "If Iran continues with its programme for developing nuclear weapons, we will attack it. The sanctions are ineffective," Mofaz, who is also Israel's transport minister, said in comments published today by the Yedioth Ahronoth newspaper. "Attacking Iran in order to stop its nuclear plans will be unavoidable." Iranian-born Mofaz is a former army chief and defence minister. He is a member of Olmert's security cabinet and leads regular strategic coordination talks with the US state department. Iran denies trying to build nuclear weapons and has defied western pressure to abandon uranium enrichment. The leadership in Tehran has threatened that if attacked the country will retaliate against Israel - believed to have the Middle East's only nuclear arsenal - and American targets in the region. Ahmadinejad has repeatedly called for Israel to be wiped off the map since becoming president. On Monday, he said Israel was "about to die and will soon be erased from the geographical scene". Olmert met the US president, George Bush, on Wednesday to discuss concerns over Iran. The Israeli prime minister, who is being pressured to resign over a corruption scandal, has said that Iran's nuclear threat "must be stopped by all possible means". Israeli planes bombed Syria in September, destroying what the US administration said was a partly built nuclear reactor using North Korean help. Syria denied having any such facility. UN inspectors announced this week that they would be visiting Syria to investigate the American claim.
| Iran | Israel | Islam | Isaiah 17 | Gog/Magog | America |
Interesting having just watched I Will Turn Thee Back: Turkey At A Crossroads by Avi Lipkin...
---
Turkey, Iran Coordinating Action Against Kurdish Rebels: report Africasia.com (June 5, 2008) - Turkey and Iran have carried out simultaneous military action against separatist Kurdish rebels holed up in northern Iraq and are sharing intelligence, a Turkish general was quoted as saying Thursday. "When they start action, we also do... They carry out operations from the Iranian side of the border and we do so from the Turkish side," land forces commander Ilker Basbug said, the CNN Turk news channel reported on its web site. The general said no such coordinated action had taken place in the past two months, but that it could be launched again in the future. Separatist Kurdish militants of both Turkish and Iranian origin take refuge in the mountains of northern Iraq, where the frontiers of the three countries meet, and use camps there as a launching pad for attacks into Turkey and Iran. "We are working in coordination with Iran in the region... We are sharing information," Basbug said. Turkish and Iranian forces often shell rebel positions across the border. Since December, Turkey has also carried out several bombing raids in northern Iraq and in February conducted a week-long ground offensive against camps of the separatist Kurdistan Workers' Party (PKK) there. The PKK, which has waged a bloody campaign for Kurdish self-rule in southeast Turkey, is closely associated with Iran's Party of Free Life of Kurdistan (PJAK), which has recently stepped up attacks on the Iranian security forces. Turkey and Iran have been helping each other on security matters, primarily to stop the movement of rebels across their porous border, since they signed a cooperation agreement in the late 1990s. Turkish media have reported that the two neighbours hammered out a fresh deal in April involving intelligence sharing. Following an air raid against PKK camps in northern Iraq in May, the Turkish army said senior rebel commander Cemil Bayik fled into a neighbouring country together with a large group of militants, engaging in clashes with local security forces. The army did not name the country, but it is believed to be Iran. It said that its security forces killed many of Bayik's bodyguards, with the commander's fate unknown. Listed as a terrorist group by Turkey and much of the international community, the PKK has been fighting for self-rule in Turkey's mainly Kurdish southeast since 1984. The conflict has claimed more than 37,000 lives.
| Iran | Islam | Gog/Magog |
---
Defense sources: Syria arming Hezbollah, despite Israel talks Haaretz (June 4, 2008) - Syria is continuing to supply the Lebanon-based Hezbollah organization with large amounts of weapons, missiles and rockets even as it conducts indirect negotiations with Israel, defense officials in Jerusalem told Army Radio on Wednesday. Meanwhile, Syrian President Bashar Assad said Monday in a series of interviews that resumed peace talks with Israel hinge on the current cabinet remaining in power in Jerusalem. In interviews he gave to newspaper editors in the United Arab Emirates, Assad said: "The success of the talks depend on the Israeli side and is tied to the Israeli government's ability and how stable it is." According to one report, Assad said direct talks would begin only next year, though Syria is not opposed in principle. "We explained our vision for peace, and we are waiting for the Israeli response. However, our previous attempt to negotiate with Israel was not encouraging, and what we are doing now is to verify that Israel is ready for peace," he said. Defense Minister Ehud Barak referred to the indirect talks with Syria while touring the northern border Tuesday. "With the Syrians, feelers are being put out to check whether there is a possibility of opening direct negotiations and discussing in that framework all of the topics about which we will have to make tough decisions and make concessions, but it cuts both ways. These will be tough decisions from Assad's perspective and also ours," Barak said. Referring to Syria's "intimate" cooperation with Hezbollah, including helping to arm it," Barak said "the supreme responsibility in our view falls on Hezbollah, on the one hand, and Syria and Iran, on the other."
| Israel | Islam | Isaiah 17 | Gog/Magog |
---
Ahmadinejad says Israel will soon disappear Breitbart.com (June 2, 2008) - Iranian President Mahmoud Ahmadinejad predicted on Monday that Muslims would uproot "satanic powers" and repeated his controversial belief that Israel will soon disappear, the Mehr news agency reported. "I must announce that the Zionist regime (Israel), with a 60-year record of genocide, plunder, invasion and betrayal is about to die and will soon be erased from the geographical scene," he said. "Today, the time for the fall of the satanic power of the United States has come and the countdown to the annihilation of the emperor of power and wealth has started." Since taking the presidency in August 2005, Ahmadinejad has repeatedly provoked international outrage by predicting Israel is doomed to disappear. "I tell you that with the unity and awareness of all the Islamic countries all the satanic powers will soon be destroyed," he said to a group of foreign visitors ahead of the 19th anniversary of the death of revolutionary leader Ayatollah Ruhollah Khomeini. Ahmadinejad also again expressed his apocalyptic vision that tyranny in the world be abolished by the return to earth of the Mahdi, the 12th imam of Shiite Islam, alongside great religious figures including Jesus Christ. "With the appearance of the promised saviour... and his companions such as Jesus Christ, tyranny will be soon be eradicated in the world." Ahmadinejad has always been a devotee of the Mahdi, who Shiites believe disappeared more than a thousand years ago and who will return one day to usher in a new era of peace and harmony. His emphasis on the Mahdi has been a cause of controversy inside Iran with critics saying he would be better solving bread-and-butter domestic problems rather than talking about Iran's divine responsibility.
| Iran | Israel | Gog/Magog |
---
SYRIA: Israeli hopes for a Tehran-Damascus rift collapse Los Angeles Times (May 2008) - Iranian and Syrian officials poured a bucket of ice water this week on Israeli hopes for a rupture in the long-standing Tehran-Damascus relationship. Israeli officials had demanded Syria break ties with Iran in exchange for returning the occupied Golan Heights to Syria. Instead, Syria this week appeared to strengthen its ties with Iran, signing a defense cooperation pact in a showy Tehran photo-op on Tuesday. That same day, Syrian President Bashar Assad told a visiting delegation of British lawmakers that Damascus' relationship with Tehran was not up for negotiation. In reality, despite a lot of media attention, there was never really much chance of a peace deal between Syria and Israel or a break in ties between Damascus and Tehran. At least not anytime soon. Israeli and Syrian leaders admitted this month that the two countries were engaged in peace talks mediated by Turkey. Almost immediately, the Israeli foreign minister said Syria would have to cut ties with Iran, and its allies Hezbollah and Hamas, before Israel would consider making peace and handing back the Golan Heights. A Western diplomat in Damascus closely tracking the indirect Syria-Israel talks bluntly called any hopes of dangling the Golan Heights (a hilly plateau about the size of Los Angeles County) to drive a wedge between Damascus and Tehran "a non-starter." A more realistic strategy might be to try to persuade Syria to temper the behavior of Hamas and Hezbollah, which both fight Israel. "The Syrians won't want to lose Hezbollah, but can moderate Hezbollah," said the diplomat, speaking on condition of anonymity. "Syrians don't have control over Hamas and Hezbollah, but they have influence. Syria might have veto power." In any case, few insiders believed a breakthrough between Israel and Syria was imminent. The diplomat said Assad doesn't anticipate any new deals before summer 2009, after President Bush is out of office. "Bashar has been clear that he didn't really want to negotiate. He's preparing everything for the next American administration. If the next American administration is ready to guarantee a deal, then they'll be ready." But Israel may also be part of the problem. A majority of Israelis are reluctant to give up the Golan Heights, which has become a 463-square-mile resort destination as well as a strategic buffer, even for a peace deal with Damascus. Over 41 years of occupation, they've grown to love the Golan Heights.
| Iran | Israel | Islam | Isaiah 17 | Gog/Magog |
---
US: Iranian warhead blueprint 'alarming' The Jerusalem Post (May 29, 2008) - A ranking International Atomic Energy Agency official called Teheran's possession of a drawing showing how to make part of an atomic warhead "alarming" Thursday and said the onus is on Iran to prove it had not tried to develop nuclear arms, said diplomats attending a closed briefing. The US said the evidence detailed by IAEA Deputy Director General Olli Heinonen increased concerns that Teheran had tried to make such weapons. "Today's briefing showed ... strong reasons to suspect that Iran was working covertly and deceitfully at least until recently to build a bomb," Gregory L. Schulte, the chief US delegate to the agency, told reporters. Rejecting the allegation, Ali Ashgar Soltanieh, Schulte's Iranian counterpart, again dismissed the evidence as "baseless and fabricated documents and papers." Separately, a senior diplomat suggested the agency was not accepting as fact US intelligence estimates that the Islamic Republic stopped active pursuit of nuclear weapons five years ago. Queried on documents in the agency's possession possibly linked to research in such weapons and bearing dates into early 2004, he told The Associated Press that the IAEA was reserving its judgment on whether they indicated nuclear weapons work past 2003 until it finished its own investigations. The documents, outlined in an IAEA report forwarded Monday to the UN Security Council and agency board members, are part of evidence provided by board member nations to the agency for its investigation into allegations that Iran used the cover of peaceful nuclear activities to conduct research and testing on a nuclear arms program. more…
| Iran | Israel | Gog/Magog |
---
Turkey In Between: Syria-Israel & Georgia-Russia Poli Gazette (May 27, 2008) - Adding to its much coveted resume as "Europe's bridge to the Middle East", Turkey has now been officially recognized as the facilitator of talks between Israel and Syria. Whether or not the Israeli media agrees with Prime Minister Ehud Olmert's motivations for publicizing the existence of talks, Turkey can at least shine in the warm spotlight of international recognition for a few weeks. While most Turkish diplomatic activity in the Arab Middle East other than with Iraq follows a mechanical approach, Turkey's role as a mediator between Israel and Syria is uncharacteristically complex. There exists a very clear logic behind Turkey's effort to mingle in the affairs of these two countries. Compared to its relationship with neighbor Iran, Turkey's rapport with Syria is relatively underdeveloped. Perhaps the most significant reason for this is the incredible backwardness of Syria's Baathist state-controlled economy, which is also responsible for the incredible backwardness of Syria's regional foreign policy. Syria's problematic approach last affected Turkey in a dramatic way in 1998. Syria gave refuge to PKK leader Abdullah Ocalan, much to the disgrace of Turkish public opinion that had designated Ocalan as a terrorist. Syria would ultimately harbor the Kurdish leader in Damascus until the threat of a Turkish invasion successfully forced his eviction. In comparison, Turkey's rapport with Israel has proved quite dynamic. Successive Turkish governments and the Turkish military have pursued a symbiotic relationship with Israel despite the risk of alienating Turkey even further in the eyes of the Arab World. Both countries, similarly focused on linking themselves with the West, have cooperated through military exchanges and natural resource transfers. In addition, Turkey hopes to court the sympathy of the Israeli lobby in Washington as a means of counter-balancing the influence of the Armenian lobby on American foreign policy. While no observer could claim that Turkey's efforts will actually make a significant difference in solving the issues that separate Israel and Syria, Turkey's actions will help it acquire some additional credibility with pundits who influence EU opinion. This alone could be reason for Turkey to exert its diplomatic energy. The highly involved nature of Turkey's interest in affairs south of its border stands in tremendous contrast with its attitudes concerning the tumultuous political situation to its north-east. Turkey has chosen a relatively silent course as Georgia struggles to deal with breakaway Abkhazia and omnipresent Russia. (On Monday, the UN announced that a Russian jet did indeed shoot down a Georgian unmanned surveillance drone patrolling over Abkhazia.) Other than its relations with Armenia, which are "very well" defined, Turkey's diplomatic intentions in the greater Caucasus region and Central Asia have been unclear ever since the failure of its Pan-Turkism initiative in the 1990s. While Turkish construction companies and textile producers have been keen to acquire contracts and conduct foreign direct investment projects, Turkey's main interest in the region has been its role as a conduit for Central Asian energy exports to Europe and beyond. Turkey's energy interests in Central Asia have understandably run counter to those of Russia, which are monopolistic by nature. more…
| Iran | Israel | Islam | Isaiah 17 | Gog/Magog |
---
Iran's Ahmadinejad wants closer Syria defence ties Reuters (May 26, 2008) - Iran's President Mahmoud Ahmadinejad called on Monday for closer defence ties with Syria, the official IRNA news agency reported, a few days after Israel urged Damascus to distance itself from Tehran. "So far Iran's and Syria's joint and mutual relations in various fields have been of utmost usefulness and defence relations must expand to the extent possible," he told visiting Syrian Defence Minister Hassan Turkmani. The IRNA report gave no further details on military cooperation between the two Middle East countries, which the United States accuses of sponsoring terrorism. Iranian Defence Minister Mostafa Mohammad Najjar described Syria on Sunday as a strategic ally. Pieter Wezeman, a researcher on conventional arms transfers at the Stockholm International Peace Research Institute (SIPRI), said Syria and Iran had military relations but their secretive nature made it difficult to say how substantial they were. He said Iran was believed to supply Syria mainly with ammunition but there were reports of other kinds of military cooperation. "It is extremely difficult to find any reliable information," Wezeman said by telephone from Stockholm. more...
| Iran | Israel | Islam | Isaiah 17 | Gog/Magog |
---
Ahmadinejad sure Syria will press struggle against Israel AFP (May 26, 2008) - President Mahmoud Ahmadinejad said on Monday that he remains confident Iran's close ally Syria will keep up the struggle against Israel despite its announcement of renewed peace negotiations. "I am sure that the Syrian leadership will manage the situation with wisdom and will not abandon the front line until the complete removal of the Zionist threats," Ahmadinejad told visiting Syrian Defence Minister Hassan Turkmani. "So far the cooperation between Iran and Syria in different areas has been beneficial for both sides and our defence ties should be expanded as far as possible," the official IRNA news agency quoted the president as saying. Turkmani's visit is the first to Iran by a Syrian official since Syria and Israel announced last Wednesday that they had resumed indirect peace negotiations through Turkish mediators, ending an eight-year freeze. Turkmani held talks on Sunday with his Iranian counterpart Mostafa Mohammad Najjar, during which the Iranian side underlined the importance of "collective security". Ahmadinejad stressed that Iran would continue its longstanding policy of supporting "the oppressed Palestinian people." "Supporting the Palestinian people means supporting regional security, as the Palestinians are in the front line of the Zionists' aggression," he said. Iran does not recognise Israel and has been a staunch supporter of the Palestinian cause since the 1979 Islamic revolution. Ahmadinejad has drawn international condemnation by calling for the Jewish state to be wiped from the map. On Saturday, Syria rejected any preconditions to the new peace negotiations with Israel involving either breaking its three-decade alliance with Iran or ending its support for Lebanese and Palestinian militant groups. Israeli officials have in the past conditioned any peace deal with Syria on its agreement to end both. Iranian analysts saw in Turkmani's visit proof that the three-decade-old alliance between Tehran and Damascus remained intact despite the renewed peace negotiations. more...
| Iran | Israel | Islam | Isaiah 17 | Gog/Magog |
---
The September War WorldNet Daily (May 23, 2008) - According to a number of sources, Mahmoud Ahmadinejad is planning to bring his first reactor on line sometime in September 2008, which is just about in line with what the Israeli Mossad had estimated back in 2003 when the full extent of Iran's secret nuclear program became known. The Iranian announcement came on the heels of a surprise announcement by the government of Israel confirming it had entered into third-party peace talks with Syria's Bashar Assad. The surprising confirmation on Wednesday was the first acknowledged contact between the two parties in eight years, which will be mediated by Turkey. Equally surprising was a statement from the United States saying it had no objection to the talks. Previously, the U.S. had rejected any peace overtures toward Syria as long as it was sponsoring Hezbollah and Hamas. In fact, President Bush seemed to have been blindsided by the news. According to transcripts of an interview he granted to the Jerusalem Post, Bush responded to the news by stammering; "I expect an explanation, but I'm – he made a decision that he made – or no decisions have been made, except the idea of trying to get some dialogue moving, which is – and I know him well, and know that he is as concerned about Israeli security as any other person that's ever been the prime minister of Israel. And so I presume the decision is made." Despite the White House's official welcome of the news, privately, officials were furious. The New York Times quoted an "anonymous" (of course) "administration official" who called Israel's unilateral move "a slap in the face." While Damascus and Jerusalem talk peace, Iranian-backed Hezbollah consolidated the gains it made in fighting against government forces in the streets of Beirut and elsewhere. After six days of mediation between Hezbollah and the Lebanese government, Hezbollah emerged a clear winner in a settlement agreement in which Hezbollah was granted veto rights over the government, affirming its stature as "the preponderant military actor and the super political power in Lebanon," according to political scientist Hilal Khashan of the American University of Beirut. Khashan told the AFP that "it was an excellent deal for the Hezbollah-led opposition and a major defeat for the U.S.-backed government." The deal was brokered by the Qatari government. The Arab League played a major part in securing the deal, with both Syria and Iran declaring their support for Hezbollah's victory. Under the arrangement, Parliament will elect as president the current head of the Lebanese Army, Gen. Michel Suleiman. Gen. Suleiman will then appoint a new government – one in which Hezbollah holds enough seats to veto any decisions it doesn't like – such as disarming Hezbollah. Meanwhile, Israeli military sources say that Iran is continuing to ship weapons and ammunition, via Hezbollah, to the Hamas-occupied Gaza Strip, including rockets, missiles and rocket launchers. According to the Mossad, these shipments have been stepped up in recent months, reaching a peak in March-April. Using fishing boats, Iran has successfully smuggled Iranian-made 120 mm mortars with a range of up to six miles. The Mossad says that the smuggling operation is overseen by the Iranian Revolutionary Guard using Syrian ports and Hezbollah operatives. Meanwhile, back in Israel, Prime Minister Ehud Olmert is fighting desperately to keep his job while he is under investigation by police on charges of obtaining money by fraud, breach of trust, money laundering and tax offenses, according to Haartez. And fears are rampant within Israeli circles that Olmert may be considering trading the Golan Heights in exchange for a peace deal he can trumpet to deflect attention away from his legal problems.
If one sits down and connects the dots, one ends up with a very different picture than the one being presented by the mainstream media suggesting the Syrian-Israeli talks are representative of a major breakthrough. It is worth remembering that it was the Persians who invented chess, and Ahmadinejad seems to be controlling all the pieces. In the first place, Ahmadinejad knows that Israel will attack its reactor the moment that they take it on line. He's been arming and training Hamas to serve as its proxy in the event of war, to harass the IDF on its flanks. To the north in Lebanon, Ahmadinejad has succeeded in rearming and re-equipping Hezbollah since the Lebanon War in 2006. The Mossad estimates Hezbollah is stronger now than it was before Israel invaded. Hezbollah has succeeded, for all intents and purposes, in taking over the Lebanese government. Hamas controls all of the Gaza Strip. Mahmoud Abbas' Palestinian Authority barely has a handle on the West Bank – and in any event, would turn on Israel the second the opportunity presented itself. Syria's insistence on the return of the Golan Heights as a precondition for peace is a Trojan Horse – particularly considering the timing. It was only last September that Israel destroyed a Syrian nuclear reactor that was only weeks from being operational. Syria has built one of the most formidable arsenals of missiles and rockets in the region, all of them aimed at Israel. From the Golan Heights, Syria would control much of northern Israel, as it did prior to losing the Golan to Israel in the Six Days War. Israel is therefore surrounded with Hezbollah and Syria to the north, Hamas on both flanks, with al-Qaida sympathizers flooding in through Egypt and Jordan. Everything is in place for war except the pretext to start things off. Starting up a nuclear reactor will do nicely.
| Iran | Israel | Islam | Isaiah 17 | Gog/Magog |
Let's also not forget... Report: Israel threatened to target Syria if Hezbollah attacks
---
Syrian military delegation arrives in Moscow RIA Novosti (May 19, 2008) - A group of Syrian military officials arrived in Moscow on Monday to discuss prospects for bilateral military and technical cooperation, a Russian Air Force spokesman said. During the five-day visit, the delegation led by Syrian Air Force and Air Defense Commander Gen. Akhmad Al Ratyb will meet with Russian Defense Ministry and Air Force officials, visit several military units and defense industry plants, Col. Alexander Drobyshevsky said. Russia's Kommersant newspaper earlier wrote that Moscow and Damascus had agreed on deliveries of the latest Russian MiG-29SMT fighter. Syria also bought 36 Pantsir S1E air-defense systems from Russia, and hopes to receive Strelets short-range air defense systems, Iskander tactical missile systems, Yak-130 aircraft, and two Amur-1650 submarines. Israel and the U.S. are sensitive about Russian-Syrian military and technical cooperation, fearing not only a reinforcement of Syria's Armed Forces, but also the possibility that modern weapons could fall into the hands of Hezbollah fighters and Iran, in violation of the existing international embargo.
| Israel | Islam | Isaiah 17 | Gog/Magog |
---
ANALYSIS / Price of quiet in Lebanon is Hezbollah in power Haaretz (May 26, 2008) - The smiles, handshakes and congratulations that followed the election of Lebanese President Michel Suleiman yesterday were unable to erase questions and fears over what Hezbollah has in store for the country, and the region as a whole. That is because the lovely principle of "no victor, no vanquished," as the emir of Qatar described the deal reached in Doha that allowed for Suleiman's election, does not reflect reality. Lebanon did manage to engage the emergency brake before spiraling into civil war, and can even look forward to a period of relative quiet. But the price is liable to be Hezbollah's long-term de facto control of Lebanon. Suleiman's election is not the product of a democratic compromise between a majority and an opposition; it is the product of threats and violence. The fancy swearing-in ceremony yesterday could not have taken place without the agreement of Hezbollah, which delayed the selection of a president by seven months. Hezbollah conditioned its acceptance on the establishment of a national unity government in which it and its partners will have 11 ministers. This grants Hezbollah veto power over key government decisions, since the Lebanese constitution requires important decisions to be approved by a two-thirds majority. Hezbollah also won a change in the elections law, which gives its supporters a much greater chance of getting their candidates into parliament in the election planned for next year. In addition, the question of Hezbollah's right to function as an autonomous militia has been removed from the agenda, replaced by a declaration that Hezbollah's guns will never again be aimed at fellow Lebanese. And without the agreement of the Lebanese government, any international attempt to disarm Hezbollah will be seen as illegitimate. Suleiman thanked Arab leaders, especially the emir of Qatar, Sheikh Hamad Bin Khalifa al-Thani. But without the agreements reached between Syria, Iran and Hezbollah, Suleiman would not have been elected president. Hezbollah also determined the most convenient place for negotiations - not Saudi Arabia or Egypt, which are allies of the Lebanese government, but Qatar, whose emir was the first Arab leader to visit a Shi'ite neighborhood in Beirut that had been bombed by Israel, and who donated a lot of money to rebuild it. Hezbollah could have celebrated twice yesterday - once to mark eight years since the Israel Defense Forces withdrew from Lebanon, and a second time over having laid the cornerstone of its political domination of the country. Syria is not dissatisfied with this victory, but understands that Hezbollah is not a Syrian organization. Damascus may yet miss the days when it controlled Lebanon directly, without having to rely on a group whose loyalty depends on its own interests rather than being driven by ideology. Now, after Hezbollah's great political victory, it is no longer clear who depends on whom. In the Saudi-Iranian struggle over regional hegemony, Tehran can chalk up another victory.
| Israel | Islam | Gog/Magog |
It seems to me that if the Magog invasion comes from the North, that Lebanon is the key to funneling the troops that God will destroy in the mountains of Israel into Israel. Keep watching events with Syria as well as Russia, Libya, Turkey and Iran this summer.
---
'Iran to give Hamas more arms, funds' The Jerusalem Post (May 25, 2008) - Iran has promised Hamas new rockets and more funds, an expression of the Islamic Republic's displeasure with recent news of renewed Israeli-Syrian peace talks, the London-based newspaper, Asharq Alawsat reported on Sunday. According to the report, Syria-based Hamas leader Khaled Mashaal, who held a press conference in Teheran with Iranian Foreign Minister Manouchehr Mottaki Saturday, expressed his concern over statements issued simultaneously by Jerusalem, Damascus and Ankara last Wednesday in which a renewal of talks between Syria and Israel under Turkish mediation was declared. Mashaal reportedly told his Iranian hosts that despite commitments he was given by Damascus that peace with Israel would not come at the expense of Syria's ties with Iran, Hizbullah and Hamas, he was still aware of the fact that Syria would have to make some concessions. He emphasized that he understood that Syria could not sign a peace agreement with Israel, exchange ambassadors, end the state of war and make the Golan Heights demilitarized and at the same time continue to allow Iran to use its territory to transfer weapons to Hizbullah, train Hamas and Islamic Jihad terrorists and help in the financing of those groups. An Iranian source told the paper that in light of Mashaal's fears, Iranian regime officials promised the head of Hamas's political bureau that Iran would continue supporting Hamas financially, materially and morally, even if Syria would turn its back on the organization for the sake of an agreement with Israel. According to the source, the Iranians had even elaborated what that support would be: Newer, upgraded rockets and an increase in the budget allotted to Hamas to $150 million in the second half of 2008. A source in the office of Iranian Supreme Leader Ayatollah Ali Khamenei said Mashaal was promised that Iran would supply every support his organization might need, be it weapons, finance, or military training. Iran's defense minister also expressed confidence on Sunday that negotiations would not hamper the strong alliance between Teheran and Damascus, the Iranian FARS news agency reported. Labeling Syria a strategic ally of Iran, Defense Minister Mustafa Mohammed Nejad called on "Islamic states to strengthen their relations in order to defend themselves against the dangers which threaten the region."
| Israel | Islam | Isaiah 17 | Gog/Magog |
Olmert: We're facing a historic agreement with Syria The question is, will Syria go against their Islamic roots and diplomatic and defensive ties with Iran? Or could this be a ploy to take advantage of a perceived weakness in Israeli leadership looking for some kind of political progress? Could Israel discovering true intentions lead to the destruction of Damascus and that trigger the coalitions to defend Syria?
---
Iran tells Syria must regain control of Golan YNet News (May 24, 2008) - Syrian Defense Minister Hassan Turkmani arrived in Tehran on Saturday evening as part of Damascus' bid to reassure its Iranian ally after resuming peace negotiations with Israel. General Turkmani is scheduled to meet with his Iranian counterpart, Mustafa Mohammad-Najjar, and additional key figures in Tehran. A possible meeting with President Mahmoud Ahmadinejad has not yet been confirmed. In a meeting he held earlier on Saturday with Hamas politburo chief, Khaled Mashaal, Iranian Foreign Minister Manouchehr Mottaki publically addressed the renewed talks for the first time. "The Golan belongs to Syria and must be returned to its control. The Zionist regime must withdraw from the Golan, and we support Syrian efforts to repossess the Heights." The Syrian defense minister's visit to Tehran follow reports of Ahmadinejad's outrage over the contact between Israel and Syria. Sources close to the Iranian president told the London-based Asharq al-Awsat daily that Ahmadinejad has made his discontent over the clandestine negotiations well known. He described the talks as a "flagrant violation" of the mutual commitments between Syria and Iran. Meanwhile, Damascus as reiterated its rejection of Israel's demand that it sever ties with Iran, Hizbullah and Hamas as a key condition of any peace agreement. During a joint press conference Mashaal held with Mottaki after their meeting, the exiled Hamas leader was careful not to criticize the negotiations. He did say however that Prime Minister Ehud Olmert lacks the political might to make the moves necessary for peace with Syria. "There is great skepticism concerning (Israel's) seriousness to return the Golan," Mashaal said. "It's maneuvering and playing all the (negotiation) tracks – this is a well known game and besides, Olmert's weakness will not allow him to take this step." He was referring to the current ongoing investigation against Olmert, who has recently been suspected of receiving money unlawfully. Mashaal said he was sure the renewed talks would not come at the expense of the Palestinian track.
| Iran | Israel | Islam | Dividing the Land | Isaiah 17 | Gog/Magog |
Related News: Syria refuses to sever ties with Iran
---
Russia's Putin Pledges to Buttress Ties with Libya The Jerusalem Post (May 22, 2008) - Russian Prime Minister Vladimir Putin on Tuesday promised Libya's leader Moamer Gathafi that Moscow would buttress economic and military ties with Tripoli, the government news service said. Putin and Gathafi spoke on the telephone and agreed to continue "the useful confidential dialogue between the two countries and noted mutual interest in boosting cooperation in both civil and military spheres," a statement said. Putin "stressed the need to realize the accords cinched during the recent Russo-Libyan summit and affirmed that as prime minister he intended to give it all due attention," it added. Libya has had its debt to the Soviet Union waived in return for important contracts to Russian companies. These include the Russian state railroad company's plans to construct a 600-kilometre (375-mile) rail link between the cities of Syrte and Benghazi, which is estimated to cost over two billion euros. The two countries also signed four accords on economic and financial cooperation, exchange of confidential information and promotion and protection of investments. Libya had been an important ally of the Soviet Union and a faithful client of Soviet arms. However, ties between the two nations cooled after the fall of the Soviet Union in 1991.
| Gog/Magog |
---
Israel: Russia may be selling Syria arms The Jerusalem Post (May 21, 2008) - Fearing that Damascus is acquiring advanced military platforms, Israel is closely following meetings being held in Moscow this week between a high-level Syrian military delegation and Russian Defense Ministry officials. Senior government officials in Jerusalem said they have been aware for several days of the Syrians' upcoming visit to the Russian capital but that it was not yet clear which military platforms Damascus was requesting. According to reports in the Russian media, the delegation, led by Syrian Air Force commander Gen. Akhmad al-Ratyb, will be in Moscow for five days and meet with Russian Defense Ministry and Air Force officials, as well as visit several military bases and units. According to the reports, the talks will focus on arms sales - including submarines, anti-aircraft missiles, the latest model MiG fighter jets and advanced surface-to-surface ballistic missiles. Israel is particularly concerned with a Syrian request for long-range S-300 surface-to-air missiles that could threaten IAF jets flying on the Israeli side of the Golan Heights. The S-300 is one of the best multi-target anti-aircraft-missile systems in the world and reportedly can track 100 targets simultaneously while engaging 12 at the same time. Syria recently received 36 Pantsir S1E air-defense systems from Russia. Iran is believed to have already procured several S-300 systems to protect its nuclear facilities. Israeli defense officials expressed grave concern over the possibility that Syria would obtain these new military platforms. Damascus, the officials said, had dramatically increased defense spending recently. In the past three years, Syria has spent more than $3 billion on weapons, up from less than $100 million in 2002. Officials said that Israel was working diplomatically with Moscow to prevent the sales, but that for the right amount of money, Russia would likely approve the sales in any case. Israel is also extremely concerned about a possible sale of the Iskander surface-to-surface missile system. The Iskander, Israeli weapons experts said Tuesday, was the heir to the Scud and was far superior to the ballistic missiles currently in Syria's arsenal. The Iskander is propelled by solid fuel and has a range of 300 kilometers, with accuracy of about 20 meters. "This would without a doubt be a major threat to Israel," one Israeli expert said. Lastly, Syria is also reportedly interested in buying two Amur-1650 submarines from Russia. The Amur 1650 is a diesel-electric operated vessel and reportedly can strike salvo missile blows at multiple targets simultaneously. Syria has a navy but does not have operational submarines. more...
| Israel | Islam | Isaiah 17 | Gog/Magog |
Keep watching!
---
Russia: A totalitarian regime in thrall to a Tsar who's creating the new Fascist empire Daily Mail (May 17, 2008) - As ex-President Putin settles in to his new role as Prime Minister, he has every reason to congratulate himself. After all, he has not only written the script for his constitutional coup d'etat, but staged the play and given himself the starring role as well. Of course, he has given a walk-on role to Dmitry Medvedev, his personally anointed successor. But the transfer of power from Putin to his Little Sir Echo, Medvedev, and the show of military strength with those soldiers and clapped-out missiles in Red Square on Victory Day which followed it last week, made it clear who is really in charge. No decision of any significance for the Russian people or the rest of us will be made in the foreseeable future without the say - so of Medvedev's unsmiling master. Just before he stood down as President, Putin declared: "I have worked like a galley slave throughout these eight years, morning til night, and I have given all I could to this work. I am happy with the results." As he surveys the nation today he reminds me of that chilling poem by Ted Hughes, Hawk Roosting, in which the dreaded bird sits at the top of a tall tree musing: "Now I hold all Creation in my foot - I kill as I please because it is all mine - I am going to keep things like this." In a way he is right to be so self-satisfied. He has told the Russian people that life is much better than it was before he took over - and, after a journey of some 10,000 miles across the largest country in the world for a new book and BBC TV series, I am in no doubt that the majority of his subjects believe him. I travelled from cities to towns to villages by road, rail and boat and met a great diversity of people - from St Petersburg glitterati to impoverished potato-pickers, from a witch who charms the sprites of the forest to the mountain herdsmen who worship fire and water, from oilmen to woodcutters. It was an exhilarating and revelatory experience in a land of extremes. But it was also deeply disturbing. Despite the fact that Putin's Russia is increasingly autocratic and irredeemably corrupt, the man himself - their born-again Tsar - is overwhelmingly regarded as the answer to the nation's prayers. In a nation that has not tasted and - with very few exceptions - does not expect or demand justice or freedom, all that matters is stability and security. And, to a degree, Putin has delivered these twin blessings. But the price has been exorbitant and the Russians have been criminally short-changed. Putin boasts that since he came into office investment in the Russian economy has increased sevenfold (reaching $82.3 billion in 2007) and that the country's GDP has risen by more than 70 per cent. Over the same period, average real incomes have more than doubled. But they started from a very low base and they could have done far better. Nor is this growth thanks either to the Kremlin's leadership or a surge of entrepreneurial energy. On the contrary, it is almost solely down to Russia's vast reserves of oil and gas. Stricken with an epidemic of AIDS and alcoholism which both contribute to a male life expectancy of 58 years, the population is projected to shrink from 145 million to 120 million within a few decades. So where has all the oil wealth gone? According to an Independent Experts Report, written by two former high-level Kremlin insiders who have had the courage to speak out, "a criminal system of government [has] taken shape under Putin" in which the Kremlin has been selling state assets cheaply to Putin's cronies and buying others assets back from them at an exorbitant price. Among such dubious transactions the authors cite the purchase by the state-owned Gasprom (run until a few months ago by Dmitry Medvedev) of a 75 per cent share in an oil company called Sifnet (owned by Roman Abramovich, the oligarch who owns Chelsea Football Club). In 1995 Abramovich, one of Putin's closest allies, paid a mere $100 million for Sifnet; ten years later, the government shelled out $13.7 billion for it - an astronomical sum and far above the going market rate. The threat of prosecution for tax fraud is the Kremlin's weapon of choice against anyone who dares to challenge its hegemony. When Mikhail Khodorkovsky, once the richest man in Russia, used his oil wealth to promote human rights and democracy, Putin detected a threat to his throne. The oligarch was duly arrested and convicted of fraud. He now languishes in a Siberian jail where he is in the third year of an eight-year prison sentence. None of this is a matter of public debate in Russia where the media has been muzzled by the Kremlin, their freedom of expression stifled by the government. Almost every national radio and television station is now controlled directly or indirectly by the state, and the same applies to every newspaper of any influence. In the heady days immediately before and after the collapse of the Soviet empire, editors and reporters competed to challenge the mighty and to uncover scandal and corruption. Now they cower from the wrath of the state and its agents in the police and the security services. That diminishing number who have the courage to investigate or speak out against the abuses perpetrated by the rich and powerful very soon find themselves out of a job - or, in an alarming number of cases, on the receiving end of a deadly bullet. Some 20 Russian journalists have been killed in suspicious circumstances since Putin came to office. No one has yet been convicted for any of these crimes. Putin calls the system over which he presides "sovereign democracy". I think a better term is "cryptofascism" - though even the Kremlin's few critics in Russia recoil when I suggest this.
| Gog/Magog |
---
Hezbollah in dangerous territory BBC News (May 16, 2008) - Hezbollah's lightning offensive against West Beirut and the Druze mountains brought home violently what everybody already knew: that it is far stronger than any other force in the land, including the Lebanese Army. Its advances on the ground, and the Western-backed government's humiliating capitulation over its two rescinded decisions, were hailed in the Shia areas as glorious victories, and celebrated with jubilation. In one way, the Hezbollah escalation and the ensuing crisis has helped to unblock the deadlock that has paralysed Lebanese politics for the past 18 months. It triggered an Arab League initiative, led by Qatar, to defuse the crisis. The initiative provided the vehicle for an agreement on the immediate start of a political dialogue, something that has been absent for quite some time. But the full consequences of the worst violence since the civil war in the 1970s and 1980s have yet to be gauged. So too has the extent to which Hezbollah's undoubted supremacy on the ground can translate into political gains. The onslaught unleashed by the Hezbollah leader, Sayed Hassan Nasrallah, just minutes after his televised address on 8 May, saw his movement plunge along a bloody and dangerous course he always vowed it would never follow. Hezbollah crushed all opposition in West Beirut from Sunni supporters of the government in a matter of hours on that Thursday night. On 11 May, it pounded the hills south-east of Beirut until the Druze leader, Walid Jumblatt, agreed to lay down arms and hand over to the Lebanese Army. But Hezbollah had turned its guns against fellow-Lebanese, something Hassan Nasrallah said would never happen. It also stirred up a hornets' nest of sectarian hatreds and very real fears of another outbreak of uncontainable civil strife. Hassan Nasrallah always reassured those anxious about Hezbollah's growing power that he would never allow that to happen. During the brief period when his fighters and a motley array of allied Syrian-backed militias left over from the civil war erupted into the streets of West Beirut, they burned a television station and a newspaper office, and ransacked and closed down other media outlets owned by their adversaries, especially the Sunni leader Saad Hariri. That led to fears among many Lebanese that what was under threat was not just the political balance, but a way of life - the strong Lebanese tradition of media freedom and social liberalism that somehow survived all previous upheavals, and made Lebanon for decades a haven for the region's political exiles. So Hezbollah and its allies now enter the political contest hoping that the message of their military "victories" against vastly inferior forces will mean a greater chance of getting what they want - at least veto power in a new national unity government, an issue that has snagged all previous efforts to reach agreement. Hezbollah won two elements in the current package agreement mediated by the Arab delegation:
The western-backed government formally retracted the two decisions it had taken on 6 May, outlawing Hizbollah's private communications network and reassigning the chief of security at Beirut airport over the alleged deployment of Hezbollah spy cameras overlooking the main runway
The government side also agreed to an immediate dialogue, as insisted on by Hassan Nasrallah
But those immediate gains for Hezbollah and its allies were balanced by two elements in the Arab-mediated agreement positive for the government side, possibly implying that Hezbollah's political position has been damaged by its use of resistance arms in the domestic arena and the Pandora's box that swung open as a result. These were:
A pledge to refrain from resorting or returning to violence in pursuit of political gains - a clear reference to Hezbollah's behaviour over the previous week
Agreement on a parallel dialogue on spreading state sovereignty throughout the country, and defining the state's relationship with "all organisations" - a reference to Hezbollah and its armed presence
So the issue of Hezbollah's weaponry, which it - unlike all other militias - was allowed to keep at the end of the civil war on the grounds that it was a resistance movement against Israeli occupation, is now centre-stage, as a result of its being turned against fellow-Lebanese. After the bloodshed, hatred and sectarian tensions of the past week, many Lebanese are fearful that a breakdown of the dialogue now starting could see Hezbollah and its allies back on the warpath in search of a clean political sweep. The consequences, already foreshadowed by the convulsions which triggered the Arab initiative, could be disastrous. more...
| Iran | Islam | Gog/Magog |
---
Russia captures 'Georgian spy' Aljazeera.net (May 16, 2008) - Russia has said it has captured a Georgian spy allegedly operating in southern Russia to destabilize the region. Georgia immediately rejected the allegations as "absurd" and called it part of a Russian "policy of provocation'' aimed at Tbilisi. Russian news agencies quoted unnamed sources in Russia's FSB security service as saying they had caught a 34-year-old Georgian who had been living in southern Russia's war-torn Chechyna region. The man was said to have been recruiting among rebel fighter groups and security forces there. Speaking to Russia's Interfax news agency, an FSB source said: "An agent has been exposed, a Russian citizen, a native of Georgia. [This] confirms the involvement of Georgian secret services in disruptive terrorist activity in the North Caucasus." The claim comes as tensions between Georgia and Russia have dramatically escalated, centering on Abkhazia, the Russian-backed separatist region of Georgia. The Interfax source said the suspect's work was "to organise contacts between Georgian secret services and active members of illegal armed groups on Russian territory" in order to provide financing and "organise armed resistance". The source said: "For fulfilling his tasks the agent several times received financial rewards from Georgia's special services in American dollars. Some of these were handed over in personal meetings, some by... money transfer." Shota Utiashvili, a Georgian interior ministry spokesman, said: "It is an absurd accusation. Russia's provocations are becoming more and more aggressive." Tensions between Russia and Mikheil Saakashvili, Georgia's president, have risen as Georgia pursues membership of the Nato military alliance. Georgia received a promise of eventual Nato membership, at an unspecified date, at a summit of Nato leaders in Bucharest last month. Saakashvili has also sought to retake control of Abkhazia and South Ossetia, a second separatist region, which are both backed by Russia. Tbilisi and Moscow have traded spying accusations before, notably in September 2006, when Georgia arrested four alleged Russian spies. Amid Georgian hopes of an easing of tensions under Dmitry Medvedev, Russia's new president, a Georgian interior ministry official said his country was "astonished that the new head of the FSB has begun his first day with the discovery of so-called Georgian spies". Last month, Russia announced it was establishing formal ties with Georgia's two separatist regions, even though it claims to recognise Georgia's territorial integrity. In an example of the growing ties, a Russian Olympic official and the governor of the neighbouring Russian region of Kuban held talks in Abkhazia on Friday on building plans for the 2014 Winter Olympics in Russia, the Interfax news agency said. Moscow has increased its peacekeeping force in Abkhazia, a force long seen as giving de facto backing to the Abkhazians. In recent weeks, Abkhaz separatists claim to have shot down a string of Georgian reconnaissance drones. Tbilisi has denied those claims, saying that just one drone has been destroyed by a Russian fighter jet.
| Gog/Magog |
---
Deal seeks to end Lebanon strife BBC (May 15, 2008) - Arab League mediators in Lebanon say they have clinched an agreement to end the recent fighting, which raised fears of a second civil war breaking out. They said the opposition would end sit-in protests in Beirut and allow the city's airport and port to reopen. Fighting between pro-government groups and the Hezbollah-led opposition broke out last week leaving at least 65 dead. The breakthrough came a day after the Lebanese government withdrew plans aimed at curbing Hezbollah. In what correspondents called a climb-down, ministers rescinded decisions to shut down of Hezbollah's private phone system and to remove a head of airport security. These moves last week triggered the worst violence since Lebanon's 1975-1990 civil war. The head of the Arab League delegation, Qatari Prime Minister Sheikh Hamad bin Jassem bin Hamad al-Thani, announced a breakthrough on Thursday after two days of peace talks in Beirut. The mediators said the rival parties would go to Qatar on Friday to try to elect a president - Lebanon has had no president since November - and form a national unity government. The two sides have already agreed to appoint Lebanese army commander Gen Michel Suleiman as president, but must resolve the other issues first. Lebanon has been suspended in political crisis since late 2006 when the Hezbollah-led opposition left a national unity coalition cabinet, demanding more power and a veto over government decisions. As news of a deal broke, mechanical diggers began removing roadblocks set up last week by militants on the route to Beirut's international airport, paving the way for the first commercial flight to land in a week. Naim Qassam, the deputy leader of Hezbollah, a mainly Shia political and militant movement, earlier pledged it would return the situation in Lebanon back "to normal". The BBC's Jim Muir in Beirut says the Lebanese know that issues like the make-up of a new government have defied all previous efforts to reach agreement. But they will cautiously welcome the improved situation on the ground, while keeping their fingers crossed that the dialogue will produce a stable political situation, he says. Lebanon's Western-backed governing coalition said last week's violence was a coup attempt by Hezbollah aimed at restoring the influence of the two regional powers, Syria and Iran.
| Iran | Israel | Islam | Gog/Magog |
---
Ahmadinejad: Israel to be 'swept away soon' The Earth Times (May 13, 2008) - Iranian President Mahmoud Ahmadinejad said Tuesday that Israel would "be soon swept away" from the Palestinian Territories by the Palestinians. It is the second time within less than three years that the Iranian president predicted the eradication of the Jewish state. The first time was in 2005 when Ahmadinejad hoped that Israel would be eradicated from the Middle East map. "This terrorist and criminal state is backed by foreign powers, but this regime would soon be swept away by the Palestinians," Ahmadinejad said in a press conference in Tehran. Referring to worldwide celebrations for the 60th anniversary of Israel's foundation, he said that "it would be futile to hold a birthday ceremony for something which is already dead." "As far as the regional countries are concerned, this regime does not exist," Ahmadinejad added. The Iranian president said last week that the anniversary feasts could not save this "rotten and stinking corpse." Ahmadinejad caused international outrage in the past by hoping for the eradication of Israel, the relocation of the Jewish state to Europe or Alaska and questioning the historic dimensions of the Holocaust.
| Iran | Israel | Islam | Gog/Magog |
---
Iran's Ambassador to Syria says Israel in worst ever condition Mathaba (May 13, 2008) - President's Advisor and IRI Ambassador in Syria said here Monday occupying regime of Holy Qods is currently in its worst ever condition, getting weaker with passage of each day, and moving towards extinction. According to IRNA correspondent in Syria, Hojjatoleslam Seyyed Ahmad Moussavi made the comment here on Monday night at the opening ceremony of a conference titled "Repatriation, A Sacred And Legitimate Right", sponsored by Damascus based Arab Writers Union. Moussavi added, "Israel has ever since its establishment been serving the colonialist, and later on neo-colonialist Western powers as a tool for strengthening their hegemony in this sensitive region." The Iranian diplomat added, "The US President assumes that the entire nations in this region are waiting for him to issue commands and obey them, but the Americans are today beginning to realize that not only that has been a simple minded assumption, but also the US and Israeli plots for the region are facing humiliating defeats in the region one after the other." Referring to the existence of numerous conflicts and difficulties within the Islamic and Arab worlds, he said, "Despite all those problems and challenges, the root cause of most of which is US and Israeli plots, the victory of Muslims in the long run is easy to predict." The Islamic Republic of Iran's ambassador to Syria emphasized that freedom and liberation cannot be achieved without tolerating the hardships of Jihad (sacred defensive war), resistance, and unity. He added, "In order to achieve independence, freedom, and competence in facing the ever increasing challenges in today's world, the world Muslims need to get acquainted with the culture of resistance, and to keep alight the light of hope for embracing final victory in their hearts." Hojjatoleslam Moussavi who was addressing the audience at the conference on the verge of the 60th wretched anniversary of Israel's illegitimate establishment meanwhile warned the Muslims to beware of the incessant cultural onslaught of the West. He added, "The main objective of this onslaught is annihilation of the Islamic and indigenous values of our nations, as well as braking the bonds of unity within the Islamic and Arab societies." The Zionists occupied the major part of Palestine's lands on May 15th, 1948 and in 1967 seized the entire territory of that oppressed nation. The Palestinians refer to the latter day, when they lost their lands, became homeless, and were broadly massacred by the Zionists as "Yaum ul-Nikba" (The Wretched Day), remembering it as the most catastrophic day in their history, but the illegitimate Zionist state celebrates the same day annually. Mousavi then referred to the occupation of Palestine initially by the British forces, and then handing it to the agents of the International Zionism, who facilitated for the three waves of the world Jews' migration to that holy land as the most perilous plot hatched n the West against the Islamic World. He emphasized, "Accusing the world Muslims of nurturing terrorists and of having terrorist tendencies today, is a stage in continuation of the same nasty plot." Mousavi said, "The late founder of the Islamic Republic of Iran, Imam Khomeini (P) considered defending the Palestinian nation, and their ideals a top priority of Iran's foreign policy. Iran's ambassador to Damascus added, "A couple of signs of remaining faithful to that policy is his announcement of the last Friday of the fasting month of Ramadan as the International Qods Day, closure f Israel's embassy in Tehran, and establishment of Palestine's Embassy in its place soon after the victory of the Islamic Revolution." The two-day conference is held in the presence of a large number of Iranian and Arab Alims and thinkers. Among the prominent Arab personalities at the conference there are the head of the Arab Writers Union, Hussain Jum'ah, Deputy Secretary General of Palestine's Islamic Jihad Movement, Amal, and head of Iran-Arab Friendship Committee, Adnan Abu-Nasser.
| Iran | Israel | Islam | Isaiah 17 | Gog/Magog |
---
Ahmadinejad: Israel a 'stinking corpse' facing annihilation The Jerusalem Post (May 9, 2008) - Iranian President Mahmoud Ahmadinejad said on Thursday that the state of Israel is a "stinking corpse" that is destined to disappear, the French news agency AFP reported. "Those who think they can revive the stinking corpse of the usurping and fake Israeli regime by throwing a birthday party are seriously mistaken," the official IRNA news agency quoted Ahmadinejad as having said. "Today the reason for the Zionist regime's existence is questioned and this regime is on its way to annihilation." Ahmadinejad further stated that Israel "has reached the end like a dead rat after being slapped by the Lebanese" - referring to the Second Lebanon War in the summer of 2006.
| Iran | Israel | Islam | Gog/Magog |
Given Bible prophecy's stance on Iran's future actions in Ezekiel 38,39 I would take his rhetoric seriously. However, Israel was already a pile of bones, but God brought them back together again just a few chapters prior to the foretelling of Iran's attack on Israel.

Ezekiel 37:1-6; 11-14
The hand of the LORD was upon me, and carried me out in the spirit of the LORD, and set me down in the midst of the valley which was full of bones, And caused me to pass by them round about: and, behold, there were very many in the open valley; and, lo, they were very dry. And he said unto me, Son of man, can these bones live? And I answered, O Lord GOD, thou knowest. Again he said unto me, Prophesy upon these bones, and say unto them, O ye dry bones, hear the word of the LORD. Thus saith the Lord GOD unto these bones; Behold, I will cause breath to enter into you, and ye shall live: And I will lay sinews upon you, and will bring up flesh upon you, and cover you with skin, and put breath in you, and ye shall live; and ye shall know that I am the LORD...
Then he said unto me, Son of man, these bones are the whole house of Israel: behold, they say, Our bones are dried, and our hope is lost: we are cut off for our parts. Therefore prophesy and say unto them, Thus saith the Lord GOD; Behold, O my people, I will open your graves, and cause you to come up out of your graves, and bring you into the land of Israel. And ye shall know that I am the LORD, when I have opened your graves, O my people, and brought you up out of your graves, And shall put my spirit in you, and ye shall live, and I shall place you in your own land: then shall ye know that I the LORD have spoken it, and performed it, saith the LORD.

And God has made it clear that just as the bones coming together again was a sign to the world that God is who He says He is and means what He says, so too will the destruction of the Magog invaders in the mountains of Israel be a witness to the world that He is God.

Ezekiel 39:6-8
And I will send a fire on Magog, and among them that dwell carelessly in the isles: and they shall know that I am the LORD. So will I make my holy name known in the midst of my people Israel; and I will not let them pollute my holy name any more: and the heathen shall know that I am the LORD, the Holy One in Israel. Behold, it is come, and it is done, saith the Lord GOD; this is the day whereof I have spoken.

While the future does look bleak at times for Israel even after God intervenes on her behalf, in the end the promise that Israel will never again be removed from the Promised Land will be true, just like the rest of God's Word is. It is those that come against the Lord who will be the "stinking corpses" and will not receive the promise of eternal life through faith in Yeshua the Christ. Faith is not blind, faith comes by hearing and hearing by the Word of God. May your faith be strengthened in these increasingly deceptive times as you see God's Word come to pass in this generation.
---
Violence rekindles fears of Lebanese civil war MSNBC (May 8, 2008) - Shiite Hezbollah supporters and the Lebanese government's Sunni backers clashed with machine guns and rocket-propelled grenades Thursday in battles that spread through Beirut's streets soon after Hezbollah's leader vowed to fight any attempt to disarm his men. Lebanese security officials said two people were killed and eight wounded in the sectarian clashes. The violence first erupted in Muslim West Beirut, where masked gunmen on street corners opened fire along Corniche Mazraa, a major thoroughfare that has become a demarcation line between the two sides. It spread to Khandaq el-Ghamiq, a neighborhood adjacent to downtown, which is home to the government's offices. Shootings and explosions were reported by witnesses and television stations in the Aisha Bakkar neighborhood near the office of Lebanon's Sunni spiritual leader, who is allied with the government. Gunfire and explosions were also heard in a nearby district where the opposition-aligned parliament speaker has his official residence. Troops in armored carriers had earlier moved in to West Beirut to separate people who were trading insults and throwing stones at each other, but the troops did not attempt to stop the street battles that then broke out. The army, which has been struggling to contain the disturbances, warned of the consequences to the country and the military. "The continuation of the situation as is is a clear loss for all and harms the unity of the military institution," a statement said. The clashes have brought back memories of the devastating 1975-1990 civil war that has left lasting scars on Lebanon. Beirut residents are now seeing fresh demarcation lines, burning tires and roadblocks. The army has largely stayed out of the broader political struggle between Hezbollah and the government for fear of exacerbating the situation. The army's commander is the two factions' consensus candidate for president. Gen. Michel Suleiman so far has advised the government not to declare a state of emergency. The clashes came close on the heels of a defiant speech by Hezbollah leader Hassan Nasrallah, who said his Iranian-backed militant organization would respond with force to any attacks. "Those who try to arrest us, we will arrest them," he said. "Those who shoot at us, we will shoot at them. The hand raised against us, we will cut it off." It was the second day of fighting that has turned some city neighborhoods into battlegrounds and spilled over to other parts of the country. more...
| Iran | Islam | Gog/Magog |
What does this have to do with Gog/Magog? As was reported a while back, Southern Lebanon has been a location with many underground bunkers storing munitions and the Magog attack is supposed to come from the North into Israel. That there were Russian and Turkish "peacekeeping troops" sent in after the 2006 fighting with Israel and these bunkers are storing weapons, the instability in the nation now would seem to tilt into the hands of Hezbollah who is supported by Iran, a major player in the attack on Israel that God prevents.
---
Georgia says "very close" to war with Russia The Star Online (May 6, 2008) - Russia's deployment of extra troops in the breakaway Georgian region of Abkhazia has brought the prospect of war "very close", a minister of ex-Soviet Georgia said on Tuesday. Separately, in comments certain to fan rising tension between Moscow and Tbilisi, the "foreign minister" of the breakaway Black Sea region was quoted as saying it was ready to hand over military control to Russia. "We literally have to avert war," Temur Iakobashvili, a Georgian State Minister, told reporters in Brussels. Asked how close to such a war the situation was, he replied: "Very close, because we know Russians very well." "We know what the signals are when you see propaganda waged against Georgia. We see Russian troops entering our territories on the basis of false information," he said. Georgia, a vital energy transit route in the Caucasus region, has angered Russia, its former Soviet master with which it shares a land border, by seeking NATO membership. An April summit of the U.S.-led Western alliance stopped short of giving it a definite track towards membership but confirmed it would enter one day. Russia has said its troop build-up is needed to counter what it says are Georgian plans to attack Abkhazia, a sliver of land by the Black Sea, and has accused Tbilisi of trying to suck the West into a war -- allegations Georgia rejects. Tensions have been steadily mounting and escalated after Georgia accused Russia of shooting down one of its drones over Abkhazia in April, a claim Russia denied. An extra Russian contingent began arriving in Abkhazia last week. Moscow has not said how many troops would be added but said the total would remain within the 3,000 limit allowed under a United Nations-brokered ceasefire agreement signed in 1994. Diplomats expect the reinforcement to be of the order of 1,200. more...
| Gog/Magog |
This story made me think given how close we could be to Russia, Turkey, Iran and others attacking Israel from the North. Take a look at this map below. Notice Georgia borders Turkey. I find it convenient to the attack scenario that these troops are building up for other reasons as far as the world is concerned. Keep in mind also that Hezbollah is causing problems and gaining control in Beirut while the rest of Lebanon is in turmoil currently and there are reports of weapons bunkers on the southern border of Lebanon, which borders Northern Israel. If Turkey is part of the invading force, then Russian troops could pass through Turkey with Turkish troops, through Syria and finally through Lebanon into Northern Israel. Keep in mind also that I believe scripture clarifies that these attackers are pulled into attacking Israel by the destruction of Damascus in Syria. So while Syria is not mentioned in the prophecy I'm sure any forces there would be more than willing to participate if not just allowing Russian, Turkish and Iranian troops to come down through her to Israel.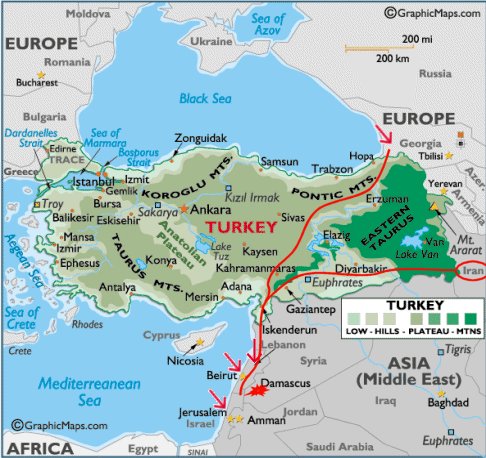 I'm not saying this will happen now, but the Bible says it will happen and this seems to be awfully set up currently for a sudden attack. If Israel were to catch wind of some plan being hatched in the terrorist-infested city of Damascus, would Israel strike first? Remember that Syria was building a nuclear reactor that Israel destroyed and that Israel hardly has any true friends in the region. There's also the story further down regarding Israel's threat to Syria regarding Hezbollah. Then there is the story from above regarding the troubles in Lebanon and the instability created by Hezbollah. For Israel, this is a fight for existence. Of course God won't allow them to be completely wiped out, but the mindset in the political realm of Israel is fairly secular in nature right now. I believe that will change once God steps in to save Israel from this invasion attempt. Keep watching!
---
EU warns Russia against boosting troops in Georgian breakaway regions EU Observer (April 30, 2008) - In a sharp escalation of tensions in the South Caucasus, Russia has claimed that Georgia is set to invade its breakaway region of Abkhazia and is increasing the number of Russian troops there and in South Ossetia in response. The EU's foreign policy chief, Javier Solana, has warned Russia against such a move. "Even if the increase in peacekeepers is within limits, if we want to diminish the perception of tensions, I don't think it is a wise measure to increase now," EU foreign policy chief Javier Solana said on Tuesday (29 April), adding that the union continues to defend the territorial integrity of Georgia. The statement came only hours after Russia had accused Georgia, a part of the Soviet Union between 1922 and 1991, of attempting to invade Abkhazia, something that Tbillisi denies. "If Georgia puts in place the threat it has made on a number of occasions about the use of force in South Ossetia and Abkhazia, we would be forced to take retaliatory measures to protect the lives of our citizens," Russian foreign minister Sergei Lavrov told press, after talking to his European counterparts in Luxembourg on Tuesday. The Russian foreign ministry has accused Georgia of sending 1,500 of its own troops and police in the upper Kodori Gorge in Abkhazia, which is still under Tblisi's control. "A bridgehead is being prepared for the start of military operations against Abkhazia," reads a ministry statement. Georgia has denied any plans or troop build-up, and regarded the Russian move and accusations as provocative. Prime Minister Lado Gurgenidze said: "From now on, we consider every [Russian] soldier or any unit of military equipment coming in [to Abkhazia and South Ossetia] as illegal, potential aggressors and potential generators of destabilisation." "We consider this to be an utterly irresponsible step. We think this step will utterly destabilise this region," he added. Meanwhile, according to AFP, Georgian interior minster Shota Utiashvili said: ""This is not acceptable to us ... [Russia] cannot increase the number any further." "It is the Russians who are taking provocative actions, not Georgia," he added. "Deploying additional troops is certainly a very provocative move." "There has been no increase in forces from the Georgian side, nothing at all. The Russian statement is simply not true," he continued.
| Gog/Magog | EU/UN / 4th Kingdom | Solana |
It seems the divisions that will lead to a Russian, Turkish, Iranian and Libyan alliance apart from the rest of the world are becoming clearer. Europe is working to bring peace while the other side keeps provoking and seemingly working against it. I believe it is this group that will get "spanked by God" when they attack Israel which could lead to a time of more relative peace, albeit short half-peace, before all hell breaks loose at the abomination of desolation. For now Europe and the West are at odds with Russia and the more radical Islamic nations. There are many things that could shift these relationships dramatically and quickly. While I don't have all the answers, I'm still watching! The end will come as foretold, we just have to go through the stages to get there to really understand how.
---
Iran tells Russia of plan to solve world problems Brietbart.com (April 28, 2008) - Iran's top national security official on Monday held talks with his Russian counterpart about a new Iranian package aimed at solving world problems, including the nuclear standoff with the West. "The package is about the great questions of the world and the nuclear question could be the subject of discussion," Iran's top national security official Saeed Jalili said after talks with Russia's Valentin Sobolev. Jalili gave no further details over the contents of the package, which appears to be an all-embracing attempt to solve the problems of the world rather than a specific offer to end the nuclear crisis. "Our approach could be a good basis for negotiation between the influential powers of the world," he said. The package appears to emphasise what Iran sees as its growing power in the world and the supposed decline of the great world powers such as Britain and the United States. President Mahmoud Ahmadinejad has repeatedly said in recent weeks that Iran is the most powerful nation in the world and capitalist superpowers are on the verge of collapse. Ahmadinejad appointed his close ally Jalili as secretary of the Supreme National Security Council in a surprise move last year, replacing the more moderate Ali Larijani. "The world is no longer unilateral," Jalili told a news conference alongside Sobolev, who is the acting head of Russia's security council. "There are different powers in the world. Decisions should be made taking into account these different powers and the capacity and power of the Islamic Republic of Iran in the world," said Jalili. He added that the package would not yet be made public. It would be a major surprise if the package contained any concession from Iran to break the deadlock in the nuclear standoff as Ahmadinejad has repeatedly said Tehran will not cede an inch in the dispute. more...
| Iran | Gog/Magog |
According to my understanding of scripture and the timing of events, Iran is very close to the prophesied attack on Israel, Ezekiel 38,39, in which God will intervene and destroy the attackers. Ahmadinejad's feeling of power in seeing the decline of Western power could lead to confidence in attacking Israel and the world not doing anything about it. There is also the possibility that they are led to attack because of an Israeli pre-emptive attack on Damascus, Isaiah 17, which would give them even more confidence to attack. Keep watching!
---
Israel: UNIFIL is hiding information about Hezbollah from Security Council Haaretz (April 28, 2008) - The United Nations Interim Force in Lebanon (UNIFIL) is intentionally concealing information about Hezbollah activities south of the Litani River in Lebanon to avoid conflict with the group, senior sources in Jerusalem have said. In the last six months there have been at least four cases in which UNIFIL soldiers identified armed Hezbollah operatives, but did nothing and did not submit full reports on the incidents to the UN Security Council. The Israel Defense Forces and the Foreign Ministry are reportedly very angry about UNIFIL's actions in recent months, especially about the fact that its commander, Major General Claudio Graziano, is said to be leniently interpreting his mission, as assigned by Security Council Resolution 1701, passed at the end of the Second Lebanon War. Senior IDF officials said recently behind closed doors that Graziano is "presenting half-truths so as to avoid embarrassment and conflict with Hezbollah," and that Resolution 1701 has been increasingly eroded in recent months. A senior government source in Jerusalem said that, "There is an attempt by various factors in the UN to mislead the Security Council and whitewash everything having to do with the strengthening of Hezbollah in southern Lebanon." The source also said, "The policy of cover-ups and whitewashing will not last long and, hopefully, now that the concealing of information has been revealed, things will change." Israeli anger reached boiling point over a week ago after the release of a new report by UN Secretary-General Ban Ki-moon with regard to another Lebanon-related Security Council resolution, 1559. The report briefly mentioned an incident at the beginning of March in which UNIFIL soldiers encountered unidentified armed men, and included no additional details. Officials in Israel, familiar with the incident, reportedly were aware that the Security Council had not been apprised of numerous details of the incident. A day after the release of the report, Haaretz revealed that the incident described in the report had actually been a clash between UNIFIL and armed Hezbollah activists. The latter, driving a truck full of explosives, threatened the Italian UNIFIL battalion with weapons. Instead of using force as required by their mandate, the UN soldiers abandoned the site. A diplomatic source at the UN told Haaretz that senior officials in UNIFIL and in the UN Secretariat brought heavy pressure to bear to have the incident erased from the report or at least to blur it. When the incident was made public, UNIFIL was forced to admit that it had indeed occurred and to request Lebanon's assistance in investigating it. UNIFIL spokeswoman Yasmina Bouziane said that during the incident, which took place near the city of Tyre in southern Lebanon, five armed men had threatened UNIFIL troops. more...
| Iran | Israel | Islam | Gog/Magog | EU/UN / 4th Kingdom |
---
Report: Hezbollah man says new attack on Israel is question of 'when, not if' Haaretz (April 27, 2008) - Two years after the Second Lebanon War, the Iranian-backed Hezbollah organization has bolstered its recruitment efforts at an unprecedented rate in preparation for a fresh war with Israel, The Guardian reported Sunday. The report quoted an unnamed Hezbollah fighter as saying: "It's not a matter of if, it's a matter of when Sayyed Hassan Nasrallah [Hezbollah chief] commands us" to attack. According to the report, the Islamist group has of late been sending "hundreds, if not thousands" of recruits to training camps in Lebanon, Syria and Iran in ancticipation of conflict with Israel. "The villages in the south are empty of men," an international official was quoted as saying. "They are all gone, training in Bekaa, Syria and Iran." Israel and the Hezbollah fought a 34-day war in the summer of 2006, sparked by the militant group's cross-border raid and abduction of two Israel Defense Forces reservists. more...
| Iran | Israel | Islam | Gog/Magog |
---
Putin in Libya to close $2.5b arms deal The Jerusalem Post (April 16, 2008) - Only few weeks before he leaves office, Russian President Vladimir Putin arrived in Libya on Wednesday for a two-day visit likely to be dominated by discussions on energy cooperation, arms deals and debt negotiations. Putin's visit may bring closure to several large arms deals totaling $2.5 billion, which are aimed at bolstering Libya's aging weapons arsenal, Russian media outlets reported. The deals will include anti-aircraft systems, MiG and Sukhoi aircraft, helicopters, submarines and warships, the Russian news agency Interfax said. "The media are always interested in arms deals… but the main issue for Russia will be Libya as a trading partner, which is something that almost every country in the world is interested in, because Libya, with a high oil price, has a lot of money to spend," Oliver Miles, a former British ambassador to Libya, and currently deputy chairman of the Libyan British Business Council, told The Media Line. Last week, the state-run Russian gas company, Gazprom, revealed it was negotiating with its Italian partner, Eni, about a potential asset swap involving projects in Libya. The heads of the two companies have met with Putin recently, although the content of their discussions has not been fully disclosed. International competition over foreign investments in Libya has been heightened as a result of the country's recent moves to open up. "There are many things that we in Britain, for example, or the French, or other exporting countries, would wish to sell to the Libyans, and naturally we see the Russians as competitors," Miles said. Regarding the military aircraft deal, Miles explained there was direct competition between France and Russia, which are "probably the most likely suppliers of military aircraft to Libya." The former ambassador explained that a French-Libyan deal for the purchase of military aircraft was considered a done deal at the time of French President Nicolas Sarkozy's recent visit to Libya. more...
| Gog/Magog |
---
Putin accepts leadership of party Associated Press (April 15, 2008) - Vladimir Putin agreed Tuesday to take command of the United Russia Party when he steps down as president, enhancing the power he will wield as prime minister and bolstering his platform for a potential return to the Kremlin. At a party congress that mixed promises of a bright future with traditions from the communist era, more than 550 delegates unanimously approved Putin as chairman of Russia's most powerful political faction. Speaking just three weeks before he will cede the presidency to his hand-picked successor, Dmitry Medvedev, Putin said the move would help ensure that Russia's political bosses and bureaucrats functioned as a "single organism" for the good of the people. "Today even more than before, we need the consolidation of political forces and the spiritual unity of our people," he told the congress in an exhibition center off Red Square. Putin cast the move as a step toward European-style democracy, saying that for the head of a party to be prime minister is "a civilized, natural, traditional practice for democratic states." But the analogy was not precise because in Russia, the prime minister is appointed by the president, unlike the European parliamentary democracy system in which the chairman of the leading party is generally chosen as premier. Critics dismissed Putin's argument as a bid to lend legitimacy to a process engineered from the top down, saying it was more like a step backward toward Soviet times, when the Communist Party had no rival and its chief was the supreme leader. Some analysts called Putin's decision the strategic maneuver of a control-minded leader determined to head off potential challenges, and said it would undermine Medvedev by boosting the authority of Putin and parliament. In terms of imagery, Putin eclipsed Medvedev at the congress, staying firmly in the spotlight in his final weeks of an eight-year presidency marked by carefully choreographed events that have helped enhance his popularity. In less than an hour, Tuesday's proceedings capped a year of maneuvering by Putin to maintain power after he leaves the presidency. Constitutionally barred from seeking a third straight term, he anointed Medvedev as his favored successor and announced he would become prime minister. Putin has promised not to shift any presidential powers to the prime minister, who is a distant No. 2 under the constitution. But he has made no secret of his plans to use the State Duma, or lower house of parliament, to ensure that his will is carried out. more...
| Gog/Magog |
---
Iran: We'll 'eliminate Israel' if it launches attack The Jerusalem Post (April 15, 2008) - Iran will eliminate Israel if it attacks the Islamic Republic, Iran's deputy army chief warned Tuesday in words conjuring up Iranian President Mahmoud Ahmadinejad's threats to wipe Israel off the map. "Should Israel take any action against Iran, we will eliminate Israel from the scene of the universe," Gen. Muhammad Reza Ashtiani said in Teheran on Tuesday. Ashtiani's statement followed Infrastructure Minister Binyamin Ben-Eliezer's comment last week warning Iran that any attack on Israel would result in the "destruction of the Iranian nation." Ashtiani claimed Israel was "very vulnerable" and dismissed allegations that Iran was worried about Israeli maneuvers. "Due to its special conditions, Israel is very vulnerable in the region," he said. "The aggressors will face a crushing response." Prime Minister Ehud Olmert's spokesman Mark Regev responded by saying "these hateful and extreme statements from the Iranian leadership are unfortunately routine. The sad reality is that these statements expose the mind set and political agenda of the leadership in Teheran. Unfortunately these hateful words are backed up by very dangerous actions." Foreign Ministry spokesman Aryeh Mekel said that these comments illustrate the need for the international community to "work with more determination" and take steps to keep Iran, which is threatening to destroy another UN member state, from obtaining nuclear weapons. more...
| Iran | Israel | Islam | Gog/Magog |
I believe Iran will follow through on this threat. However, I also believe God will follow through with His promised intervention when it takes place as well.
---
A Mystery in the Middle East Strategic Forecasting, Inc. (April 8, 2008) - The Arab-Israeli region of the Middle East is filled with rumors of war. That is about as unusual as the rising of the sun, so normally it would not be worth mentioning. But like the proverbial broken clock that is right twice a day, such rumors occasionally will be true. In this case, we don't know that they are true, and certainly it's not the rumors that are driving us. But other things — minor and readily explicable individually — have drawn our attention to the possibility that something is happening. The first thing that drew our attention was a minor, routine matter. Back in February, the United States started purchasing oil for its Strategic Petroleum Reserve (SPR). The SPR is a reserve of crude oil stored in underground salt domes. Back in February, it stood at 96.2 percent of capacity, which is pretty full as far as we are concerned. But the U.S. Department of Energy decided to increase its capacity. This move came in spite of record-high oil prices and the fact that the purchase would not help matters. It also came despite potential political fallout, since during times like these there is generally pressure to release reserves. Part of the step could have been the bureaucracy cranking away, and part of it could have been the feeling that the step didn't make much difference. But part of it could have been based on real fears of a disruption in oil supplies. By itself, the move meant nothing. But it did cause us to become thoughtful. Also in February, someone assassinated Imad Mughniyah, a leader of Hezbollah, in a car bomb explosion in Syria. It was assumed the Israelis had killed him, although there were some suspicions the Syrians might have had him killed for their own arcane reasons. In any case, Hezbollah publicly claimed the Israelis killed Mughniyah, and therefore it was expected the militant Shiite group would take revenge. In the past, Hezbollah responded not by attacking Israel but by attacking Jewish targets elsewhere, as in the Buenos Aires attacks of 1992 and 1994. In March, the United States decided to dispatch the USS Cole, then under Sixth Fleet command, to Lebanese coastal waters. Washington later replaced it with two escorts from the Nassau (LHA-4) Expeditionary Strike Group (ESG), reportedly maintaining a minor naval presence in the area. (Most of the ESG, on a regularly scheduled deployment, is no more than a few days sail from the coast, as it remains in the Mediterranean Sea.) The reason given for the American naval presence was to serve as a warning to the Syrians not to involve themselves in Lebanese affairs. The exact mission of the naval presence off the Levantine coast — and the exact deterrent function it served — was not clear, but there they were. The Sixth Fleet has gone out of its way to park and maintain U.S. warships off the Lebanese coast. Hezbollah leaders being killed by the Israelis and the presence of American ships off the shores of Mediterranean countries are not news in and of themselves. These things happen. The killing of Mughniyah is notable only to point out that as much as Israel might have wanted him dead, the Israelis knew this fight would escalate. But anyone would have known this. So all we know is that whoever killed Mughniyah wanted to trigger a conflict. The U.S. naval presence off the Levantine coast is notable in that Washington, rather busy with matters elsewhere, found the bandwidth to get involved here as well. With the situation becoming tense, the Israelis announced in March that they would carry out an exercise in April called Turning Point 2. Once again, an Israeli military exercise is hardly interesting news. But the Syrians apparently got quite interested. After the announcement, the Syrians deployed three divisions — two armored, one mechanized — to the Lebanese-Syrian border in the Bekaa Valley, the western part of which is Hezbollah's stronghold. The Syrians didn't appear to be aggressive. Rather, they deployed these forces in a defensive posture, in a way walling off their part of the valley. The Syrians are well aware that in the event of a conventional war with Israel, they would experience a short but exciting life, as they say. They thus are hardly going to attack Israel. The deployment therefore seemed intended to keep the Israelis on the Lebanese side of the border — on the apparent assumption the Israelis were going into the Bekaa Valley. Despite Israeli and Syrian denials of the Syrian troop buildup along the border, Stratfor sources maintain that the buildup in fact happened. Normally, Israel would be jumping at the chance to trumpet Syrian aggression in response to these troop movements, but, instead, the Israelis downplayed the buildup. When the Israelis kicked off Turning Point 2, which we regard as a pretty interesting name, it turned out to be the largest exercise in Israeli history. It involved the entire country, and was designed to test civil defenses and the ability of the national command authority to continue to function in the event of an attack with unconventional weapons — chemical and nuclear, we would assume. This was a costly exercise. It also involved calling up reserves, some of them for the exercise, and, by some reports, others for deployment to the north against Syria. Israel does not call up reserves casually. Reserve call-ups are expensive and disrupt the civilian economy. These appear small, but in the environment of Turning Point 2, it would not be difficult to mobilize larger forces without being noticed. The Syrians already were deeply concerned by the Israeli exercise. Eventually, the Lebanese government got worried, too, and started to evacuate some civilians from the South. Hezbollah, which still hadn't retaliated for the Mughniyah assassination, also claimed the Israelis were about to attack it, and reportedly went on alert and mobilized its forces. The Americans, who normally issue warnings and cautions to everyone, said nothing to try to calm the situation. They just sat offshore on their ships. more...
| Iran | Israel | Islam | Isaiah 17 | Gog/Magog | America |
---
Israeli intel projects a one-month war with Syria World Tribune (April 8, 2008) - Israel's intelligence community has concluded that the next war would involve missiles and Hizbullah, last at least a month and include Syria. The intelligence community has drafted a series of scenarios for Israel's emergency services to prepare for future war. The scenarios envisioned the next war as including massive missile and rocket salvos, some of them containing chemical weapons, on Israeli cities. "The scenarios are based on Arab military capability rather than intentions," an Israeli government source said. "The war in Lebanon was also seen as a taste of what a full-scale war would bring." Officials said Israel's military, police and emergency services have been on high alert for an attack by Hizbullah, Syria or Iran, Middle East Newsline reported. They said the current alert would last throughout April and did not rule out a continuation of high combat-readiness for the rest of 2008. Under the scenarios, hundreds of Israelis would be killed and thousands injured in missile strikes on Tel Aviv. The enemy missiles would target strategic facilities, including Israel's Ben-Gurion International Airport. Syria was also expected to be a participant in the next war against Israel. The intelligence community envisioned Hizbullah, Iran and Syria coordinating strikes on northern and central Israel. The Hamas regime and the Palestinian Authority would also fire rockets from the West Bank and Gaza Strip. In one scenario, Iran would also attack the Jewish state. The intelligence community did not expect Iran to fire nuclear, biological or chemical weapons, but said such an attack could stem from Syria. more...
| Iran | Israel | Islam | Isaiah 17 | Gog/Magog |
---
Turkey's EU bid runs into trouble BBC News (April 4, 2008) - Turkey's attempt to enter the EU is now being called Europe's "biggest project". But new doubts have emerged that it will ever happen. Uniting Turkey, a large mainly Muslim nation, with the European Union is Europe's biggest peace project since World War II, Turkey's Foreign Minister Ali Babacan says. But he complains that some EU countries are holding Turkey back out of political ill-will. Turkey has had enough of being Europe's whipping boy. After nine years of frustrating efforts as an official candidate to join the European Union but still without a guarantee of membership in the end, its leaders now have a tougher message for Europe - play fair, because you need us as much as we need you. Veiled warning Mr Babacan told BBC News "Europe should never think that Turkey has no choice". This did not mean there was any "other alliance or group of countries we might join forces with", the minister explained. But the relationship must be a two-way street, of benefit to both sides. The foreign minister's veiled warning came this week during a conference in Istanbul of the British Wilton Park organisation for politicians and policy-makers to assess Turkey's path towards EU accession. Last week Turkey's most ardent supporters of its European hopes were shocked when the Prime Minister, Recep Tayyip Erdogan, told students in Sarajevo that his country would have "nothing to lose" if Europe kept it out. The EU would be the loser, Mr Erdogan claimed. Turkey's 45-year-old commitment to integration in Europe has hit serious turbulence. And "enlargement fatigue" among the EU's 27 member states is not the main reason. The issue is Turkey itself. Turkish hopes are threatened by flagging popular support on both sides. more...
| Islam | Gog/Magog | EU/UN / 4th Kingdom |
It seems Turkey is going to be forced more out of the alliance of Europe and into that of it's Muslim origins and with the same group that the Bible foretells will attack Israel in the Magog invasion. Keep watching!
---
Iran Gains African Foothold up to Chad through Pacts with Sudan DEBKAfile (April 1, 2008) - Iran jumped in with gusto to meet Sudan president Omar al-Bashir's application for a military package including arms and training of his army. The application was received after the horrendous Darfur tragedy and Khartoum's backing for Chad rebels finally convinced Sudan's traditional arms suppliers, Russia, China and Libya, to back away from arming Sudan's 120,000-strong army. Beijing came last, sensitized to its international image by the approaching Olympic Games in August. Libya has a major beef with Khartoum for backing the rebels fighting to overthrow Chad president Idriss Debby. The pacts were signed on March 8 by Iran's defense minister Gen. Mostafa Mohammad Majjar and his Sudanese counterpart, Gen. Abdul Rahim Mohammad Hussein, a fighter pilot appointed defense minister last month. For years Tehran has been building up its military ties with Khartoum with an eye on its geopolitical assets: a long coast on the Red Sea, a main sea lanes to the Persian Gulf, a Muslim nation located opposite Saudi Arabia and next door to Egypt; Sudan's command of oil resources and the White Nile, a major water source for an entire African region. This strategic jewel finally dropped into Iran's fundamentalist lap. DEBKA-Net-Weekly's Iranian sources disclosed its substance on March 14, 2008:
1. The Sudanese Army will gradually re-adjust from Russian and Chinese weaponry to Iranian-made items.
2. A 50 percent discount on Iran arms sold to Sudan.
3. Iran will build Sudan a military industry for the manufacture of Iranian weapons.
4. The two governments will establish a joint military commission to translate mutual defense collaboration into practical form. Each undertakes to come to the other's aid in the event of foreign aggression.
5. The two air forces, navies and armored corps will exchange delegations.
6. Iran will help Sudan plan and construct security systems for strategic locations, such as oil fields, ports and the Nile River dams.
The $1.8 billion White Nile River Merowe Dam hydropower project, which includes a 174-kilometer long reservoir, is funded by China and Arab countries. Chinese, Sudanese, German and French companies participate in this project and in the Kajbar Dam downstream of the Merowe Dam. The Sudanese are afraid that Egypt, which claims the Merowe project is diverting its water supply, may attack and destroy the project. On March 10, the UN center in Geneva published a report compiled by a group of experts monitoring human rights in Sudan, which had this to say about these dams: "We regret that the government did not allow access to Kajbar, Amir, Merowe and Makabrab in the northern state. The visit was planned to meet with local authorities and affected communities in the Nile valley area where two hydropower dams are being constructed. It was canceled by Sudan's state security committee the day before it was scheduled to travel to the area. The reasons provided by the government did not justify their decision to prevent access. more...
| Iran | Islam | Gog/Magog |
Image from Chuck Missler research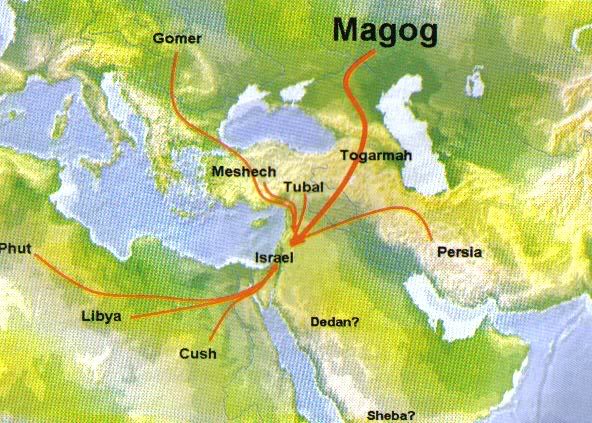 ---
No Lebanon Breakthrough for Arabs BBC News (March 30, 2008) - An annual summit of the Arab League has ended in Syria's capital Damascus with a call for an end to the political crisis in Lebanon. But correspondents say there were no specific proposals to solve the crisis, which has seen Lebanon without a president since November. Only 11 heads of states from the 22-member organisation were present, as key pro-Western leaders stayed away. Egypt, Saudi Arabia and Jordan sent low-level delegations. They blame Syria for the ongoing political crisis in Lebanon - a charge denied by the government in Damascus. The Lebanese government boycotted the summit completely. In a final statement, the League called for a compromise candidate to be elected president, and a national unity cabinet formed, AFP news agency reported. But the BBC's Heba Saleh in Damascus says there were no breakthroughs. Opening the meeting, Syrian President Bashar al-Assad denied his country was meddling in Lebanon. He was responding to Lebanese Prime Minister Fouad Siniora, who had accused Syria of preventing the election of a consensus president in Beirut. Mr Assad said his country was willing to join "Arab or non-Arab efforts" to end Lebanon's political crisis "on condition that they are based on Lebanese national consensus". But our correspondent says it will take more than words to convince his critics, and Syria risks further isolation if there is no immediate resolution to the Lebanon crisis. In Riyadh, the Saudi Foreign Minister, Prince Saud al-Faisal, suggested Syria had not abided by the Arab consensus on Lebanon. "The problem is that what was decided unanimously in the Arab League, including by Syria, is not being carried out," he said. The foreign minister called for ''counter-measures". Syria had billed the summit as a golden opportunity for regional unity but there is little sign of this, BBC Middle East correspondent Katya Adler reports from Damascus. She says the leaders of Egypt, Saudi Arabia, Jordan and Lebanon are all staying at home because they view Syria as a trouble-maker, too close to Iran and a destructive force in Lebanon. Syria has accused them in the past of being subservient to the US and Foreign Minister Walid Moualem has blamed Washington for trying to "divide the Arab world". "They [the US] did their best to prevent the summit but they failed," Mr Moualem said on the eve of the summit.
| Iran | Israel | Islam | Isaiah 17 | Gog/Magog |
It's interesting to see the lines being drawn in alliances that God foretold in scripture come to pass. Syria is viewed as a troublemaker which may explain why Damascus is destroyed while a group of Muslim nations remains distant from them and are not mentioned in the list of Magog attackers. Lebanon is still teetering, but I wouldn't be surprised if it turned once Damascus is destroyed to act as a staging ground for a Northern attack on Israel. Time will tell if these are the developing stages or not, as for me I'm going to keep watching.
---
No One Can Separate Iran, Turkey - Ahmadinejad

Islamic Republic News Agency (March 14, 2008) - President Mahmoud Ahmadinejad said here on Thursday that Iran and Turkey are two brotherly countries which no one can separate them. He made the remarks in a meeting with his Turkish counterpart President Abdullah Gul on the sidelines of the 11th Summit of the Organization of the Islamic Conference which opened in the Senegalese capital on Thursday. "We consider Development of Turkey as our own development," the Iranian president noted. On danger of terrorism in the region, he called for all-out cooperation among the regional states to eradicate this menace. Referring to great potentials in both states, he called for further expansion of economic ties between the two neighboring states. President Ahmadinejad also urged removal of obstacles in the way of joint investments by the two states. As to the latest developments in the region, he said great developments have been taken place in the region recently which necessitate regional cooperation to turn them to the benefit of the regional nations. For his part, the Turkish president, said campaign against terrorism would continue in his country. Referring to Iran-Turkey good economic relations, he expressed his satisfaction with the recent visit to Tehran of Turkish tradesmen and start of economic discussions between the two sides. The Iranian president wound up his visit to Senegal and departed for Tehran Friday morning to take part in the nationwide parliamentary election which started a few hours ago in Iran.
| Iran | Islam | Gog/Magog |
---
Israel in cross-hairs of summer war? World Net Daily (March 13, 2008) - Britain's Secret Intelligence Service says Iran's Revolutionary Guards are training hundreds of Hamas fighters to prepare for an all-out war this summer against Israel, according to Joseph Farah's G2 Bulletin. The Gaza-based organization's elite Izzedine al-Qassam Brigade will form the southern front of an attack against the Jewish state while Hezbollah will launch its simultaneous assault from southern Lebanon, according to MI6. Analysts with the organization believe the attack will come in the rundown of the Bush administration and closing months of the bitter Democratic campaign. "With the Bush White House virtually a spent force and both the Democrats and Republicans looking inward to their conventions, there is mounting evidence that Tehran will seize the opportunity to attack Israel through its surrogates, Hamas and Hezbollah," said a senior intelligence source in London. MI6 analysts have confirmed tortuous negotiations in which Egypt acted as an intermediary between Hamas and Israel are now increasingly fragile. Hamas, which is pledged to destroy Israel, is officially excluded by Israel from direct negotiations with Prime Minister Ehud Olmert's government. But with the mounting threat of a simultaneous attack on Israel from two fronts, several members of the Israeli security services have begun to urge Olmert to meet with Hamas leaders. However, hardliners like the head of Mossad, Meir Dagan, and Yuval Diskin, the director-general of Israel's internal security service, Shin Bet, are opposed to any negotiations. Dagan has told Olmert: "To talk to Hamas is a waste of time. Gaza is a noxious mixture of our oxidized hopes." And Diskin added last week: "While we would be talking, Hamas would be sending still more of its fighters to Iran to be trained." MI6 undercover agents in Tehran – operating out of a secret base on the country's border with Iraq – have established there are three training camps.
| Iran | Israel | Islam | Isaiah 17 | Gog/Magog |
---
Israel to Hizbullah: Revenge Attack Could Mean War

Israel National News (March 12, 2008) - Israel has recently warned Hizbullah that it will not hesitate to retaliate with war for a large scale attack on its citizens, Channel 10 – Nana news reported Wednesday. The Hizbullah attack is expected in revenge for the killing of its operations officer Imad Mughniyeh. Iranian TV vowed that Israel would face its "third destruction" on the 40th day after Mughniyeh's death, which will occur next Saturday. Israeli intelligence is picking up extensive "chatter" between Hizbullah and Iran but still has not located specific intentions to carry out a terror attack. Israeli military attachés worldwide have been instructed to change their routine movements and retired military persons were warned to exercise caution in their travels.
| Iran | Israel | Islam | Isaiah 17 | Gog/Magog |
Could this threat of retaliation trigger an Israeli pre-emptive attack? I don't know, keep watching. There is also supposed to be a two-day Arab summit in Damascus starting March 29. There's currently some question as to whether Egypt or Saudi Arabia will be present there.
---
Syrian Defense Minister receives a Russian Military delegation

Syrian Arab News Agency (March 11, 2008) - Defense Minister L.t. Gen. Hassan Turkmani has received Gen.-Col. Aleksandr Nikolaevich Zelin, deputy chief of the Russian Federation Air Forces and an accompanying delegation. Talks during the meeting Monday dealt with the latest developments in the region and means of enhancing cooperation between the two countries.
| Islam | Isaiah 17 | Gog/Magog |
---
Allies of Syria and Iran Ready to Confront Israel

Naharet (March 10, 2008) - Political factions backed by Syria and Iran on Monday said they are prepared to confront any Israeli attack on Lebanon and declared support for the killing of eight students at a Jewish religious school in Jerusalem. The self-labeled Lebanese Parties issued a statement after their regular meeting at the offices in Sidon of Ousama Saad's Popular Nasserite Organization claiming the United States has dispatched naval vessels to the Mediterranean to "support the ruling majority." The statement said the groups are "fully prepared and perfectly ready to confront any Zionist aggression that leaders of the Zionist entity's criminal terror could launch." It praised as "heroic" the killing of Jewish religious students in Jerusalem, saying it was the "real and factual response to Fascist-Zionist practices carried out by the enemy's army in Gaza."
| Israel | Islam | Isaiah 17 | Gog/Magog |
---
President or foreign minister - who should talk to Medvedev? EU Observer (March 7, 2008) - Listening to an analysis of the Russian presidential election, I heard the interviewer ask who would now be handling Russian foreign policy? Would it be the President - the newly elected ex-Chairman of the Russian state energy giant, Gazprom, whose name was lost to Hillary Clinton the other day - Mr Dmitry Medvedev? Or would it be that prime ministerial power behind, under, over, around, and beside the President's throne - Mr Vladimir Putin? The government spokesman muttered something safe, as spokesmen are wont to do. Under our constitution, he said, the President deals with foreign policy while the Prime Minister (that is Mr Putin) deals with domestic matters. We shall have to wait to see what happens in practice but only the bright and naively optimistic can surely imagine that the Putin finger will, not only be in every domestic pie, but on every foreign policy trigger as well. ...But before we Europeans shake our heads and tut-tut (and after all the congratulations to Mr Mevedev and the hoping that his election will usher in a new, warm period in EU-Russian relations, there is a very great deal to tut-tut at in Russian politics and not only Mr Putin's flagrant warping of the Constitution and suppression of all viable opposition) we could well turn the question back on ourselves and ponder who, in practice, will actually be responsible for foreign policy, on our side of the fence so to speak, in the post-Lisbon Treaty World of 2009? Who will have the job of dealing face to face with Mr Putin and Mr Mevedev over energy security, border control, trade, missile sites, nuclear installations, climate change, extradition matters, exploitation of the Arctic, the Caucasus, Serbia, the United Nations, and so on? Who will handle the relations between democratic Europe and despotic Russia; between two nuclear armed continents that share a long border? Will it be Europe's Foreign Minister designate under the Lisbon Treaty, Or will it be the President of the European Council? ...In the absence of a coherent European foreign policy (look how split Europe is over Kosovo, over US missile defence bases, over gas pipelines) Russia naturally finds it easy to play one country off against another. Nothing unites us quite so well as our disunity. But a strong European foreign policy will require leadership and diplomatic skills of the highest order, both to secure the policy at home and then to put it across abroad. As the Constitutional Convention of 2003 foresaw, Europe does need someone to speak with both personal and constitutional authority on Foreign Affairs. Should this person be the (so-not-called) Foreign Minister - or should it be Europe's President, the man or woman whose task it will be to coral the member states, pushing the agenda along in the manner of someone first among equals? At present, of course, there is no EU President as such. The Lisbon Treaty creates a new and, as yet, undefined post. Foreign Policy is split between the High Representative (Mr Solana) who works for the member states, and the External Relations Commissioner, Mrs Ferrero-Waldner. These two posts will be combined into something which, in practice, will be a quasi-Secretary of State role. Mr Solana (for he is the favourite) will then have a foot in both camps. But a Secretary of State is a Secretary of State. He or she acts on behalf of the head of state. Now the European Union is not a state; it is a partnership of states that wish, ostensibly, to align their foreign policies to achieve goals and influence which they could not expect to achieve, in this global world, by acting alone. But if the partnership is to find a voice and then speak with authority, it needs a strong President. ...Vladimir Putin may have been prepared to bend the constitution and engage in practices so anti-democratic that election observers feel they cannot operate in Russia, so great are the restrictions placed upon them. But Europeans beware! Our own democratic credentials at the Continental level are wafer thin; some would say non-existent. Europe's President will be appointed; not even indirectly elected. As will be the Foreign Minister. Are their democratic credentials, therefore, any better than those of Mr Medvedev and Mr Putin? If our enlarged Europe is to pursue a united and successful foreign policy, she must not fall into the Russian trap of becoming another 'sovereign democracy.' Criticising Russia here may be another case of pots and kettles. more...
| Gog/Magog | EU/UN / 4th Kingdom | Solana | NewWorldOrder |
---
Kuwaiti Paper: Mega-Attack on Israel in March Israel National News (February 26, 2008) - The Kuwaiti daily Al-Watan quoted "top Western sources" Monday saying that, "according to reliable intelligence information, Hizbullah has begun planning a large-scale attack on Israel in retaliation for its [alleged] assassination of senior Hizbullah commander Imad Mughniyah." According to the report, translated by MEMRI, the attack is being planned in coordination with Syria and Iran, and is to take place before the Arab summit next month. It was also reported that there would be a simultaneous terrorist escalation by Hamas, Islamic Jihad, and other PA groups in Gaza.
| Iran | Gog/Magog | Israel | Islam | Isaiah 17 |
---
Syria, Iran foresee large clash with Israel Haaretz (February 17, 2008) - Syrian and Iranian officials believe there will be a serious military confrontation with Israel in the near future, according to Al-Akhbar, a Lebanese daily affiliated with Hezbollah. Hezbollah's response to the assassination of Imad Mughniyah, the organization's operations chief, will force Israel to make a "difficult decision," the newspaper stated in an editorial. Hezbollah blames Israel for Mughniyah's assassination in Damascus last week. Ibrahim al-Amin, Al-Akhbar's editor, said in a televised interview that Hezbollah does not intend to accept Mughniyah's assassination quietly. Hezbollah's response "will force Israel to make a big decision," he said. However, he insisted that Hezbollah was not interested in a war with Israel. Meanwhile, the defense establishment is bracing for a response from Hezbollah. It is concerned the group may use an explosives-laden unmanned aerial vehicle to attack a civilian or military target in northern or central Israel. The Israel Air Force is on alert for this. To date, Hezbollah has dispatched five Iranian-made drones against Israel, three of them during the Second Lebanon War in August 2006. Two were shot down by the air force, and one crashed. The drones were loaded with dozens of kilograms of high-grade explosives and apparently had been intended to crash in the heavily populated Dan region. The IDF also has bolstered its forces along the northern border, anticipating Hezbollah may launch a massive rocket attack on the area. However, the army has no specific information about the group's intentions in this regard. Meanwhile, the Lebanese media announced that Hezbollah Secretary General Hassan Nasrallah has appointed a successor to Mughniyah, but his identity has not been revealed. Israeli sources said Mughniyah's successor is one of three persons: Ibrahim Akil, who is in charge of southern Lebanon; Fuad Sukur, a senior militia figure; or Talal Hamiyah, who was Mughniyah's deputy. Meanwhile, the Lebanese media said none of these men are being considered. The Lebanese daily Al-Safir reported yesterday that Hezbollah has gone on high alert in southern Lebanon and evacuated all of its local headquarters, fearing Israeli air strikes. According to the report, the organization has mobilized 50,000 militiamen. Meanwhile, in Syria, the investigation into Mughniyah's assassination continues. "The investigation is being carried out with complete secrecy because of Mughniyah's sensitive location before the ambush," Al-Akhbar reported yesterday. Mughniyah had emerged from a meeting shortly before he was killed. He was killed near the offices of the chief of Syrian intelligence, Asif Shuwekat, who is President Bashar Assad's brother-in-law. Several Palestinians were arrested for suspected involvement in the killing, the newspaper reported.
| Iran | Gog/Magog | Israel | Islam | Isaiah 17 |
Isaiah 17:9, "In that day shall his strong cities be as a forsaken bough, and an uppermost branch, which they left because of the children of Israel: and there shall be desolation." Could Israel's big decision end up being a pre-emptive attack on the plotters in Damascus that results in its destruction? And given Syria's defense agreement with Iran, could we see Iran and friends (Russia, Turkey, Libya, etc.) come to Israel with "hooks in their jaws?" I don't believe the time is right just yet because Israel is not dwelling in safety as rockets continue to rain down. However, it is this very kind of building conflict that I believe will ultimately lead to Bible prophecy once again being fulfilled 100%. Keep watching!
---
'Syria and Iran anticipating serious military clash with Israel' Jerusalem Newswire (February 17, 2008) - Damascus and Tehran expect to soon be caught up in a military confrontation with Israel. According to a report in Al-Ahkbar, a Lebanese newspaper said to be affiliated with Hizb'allah, the Syrian and Iranian-sponsored terrorist organization does not intend to let last week's execution of top terrorist Amad Mugniyah be left unanswered. The concensus in the region is that Israel was behind the blowing up of Mugniyah's car, and Hizb'allah chief Hassan Nasrallah has vowed to make Israel pay in "open war." Defense Minister Ehud Barak told the cabinet in Jerusalem Sunday he has put the Israeli Air Force on alert for a possible Hizb'allah attack against Jewish communities in the north. Barak said Israel was prepared for the possibility that an explosives-laden pilotless drone could be sent to explode inside an Israeli community.
| Iran | Gog/Magog | Israel | Islam | Isaiah 17 |
---
Bad News in Gaza? Look For Tehran World Jewish Congress Newsletter (February 6, 2008) - Wherever you find bad news in Gaza or bad news in the West Bank, you will find Tehran and its proxies, Hamas, Hezbollah, Islamic Jihad, and other terrorist groups who receive their money and marching orders from the Iranian regime and do its bidding. Take the case of the fence in Gaza. In these last weeks, the fence and border between the divided city of Rafah and Gaza was blown up by Hamas, causing a refugee flood into the Sinai for, we were told, flour and toothpaste. In fact, the cause was a deliberate, preplanned provocation. This process started about one to 3 months ago as Hamas, under the electronic gaze of the Egyptians, utilized torches to cut the base supports of the fence and cause its collapse. Sick of incessant rocket attacks emanating from Gaza, Israel was considering re-entering and re-taking the Philadephi route to stop the weapons smuggling through the tunnels. Hamas then began undermining the fence to prepare explosions to kill the Israelis who might be coming into the area. When that did not happen, they hatched this plot of fabricated fuel shortages. The Egyptians knew about this for weeks since they had the surveillance pictures but did not share the information. It is interesting to note that Mubarak and Ahmadinejad had a conversation the day before the fence fell. Also interesting is the fact that this fall coincided with a conference in Damascus of Arab rejectionists of the Annapolis peace conference. Over 300 Palestinian terrorists leaders were convened by Iran and Syria in a gathering originally slated to take place during the Annapolis meeting but which was postponed when Syria decided to actually go to Annapolis. So it was held precisely at the time of the breaking down of the wall in Gaza. The tunnels were not constructed in such a way that could convey large-sized ordinance into Gaza. But now that the wall is destroyed, we hear of large anti-aircraft weapons, katyushas and other arms being transferred uninterrupted. Not transfers of fuel - that "shortage" was an excuse manufactured to justify the breach in the wall. Hamas will now be able to increase the striking range of its katyushas and its anti-aircraft weapons. There is a new chilling possibility of Hamas hitting Ashkelon. One wonders if Egypt fully anticipated what problems might be created to its own detriment. Many of those who flooded into Egypt are going to remain there. Now that there are terrorists in the Sinai with large amounts of explosives and other weapons that could not fit into a tunnel, cities in Egypt as well as in Israel may become targets. The policy of letting Israel bleed a little in order to appease the Muslim radicals could backfire. Allowing this to go on encourages Hamas to continue its violent provocations, so that Israel is again forced to be on the defensive. Another Hamastan may be born in the Sinai, which would provide them with a base from which to operate in Egypt and expand their influence. Iran's proxies would have an even greater leg up over Abbas. With the transfer of katyusha rockets into Gaza, what we now have is a baby Bek'aa, situated four miles from Ashkelon, like the baby Hezbollahstan in the north that was created with the same technology and money coming from Iran, through Hezbollah. This is a long-term change - the whole paradigm of the Middle East changes in the region because of what happened in Gaza. Now the question is what can Israel do about it? Frankly, its options are limited. One and a half million people in Gaza are miserably abused by their leadership, the Hamas leaders, who are committed to following the orders of Tehran's leaders who make apocalyptic promises to wipe Israel off the map. Now they have established at least the possibility of a firing platform about four miles from the electric grid in Ashkelon, within easy shot of the Jewish residents living there. The international community must take notice: Gaza-Hamastan is a serious threat to the comity of the region - engineered and financed by Tehran.
| Iran | Gog/Magog | Israel | Islam | Isaiah 17 |
According to Bible prophecy, Isaiah 17, Damascus is destroyed and people leave the cities because of the children of Israel. We can see the divide amongst many of the Muslim nations along the very lines drawn out in the Bible. Iran and Syria have a clear relationship passing weapons through to Gaza and elsewhere while others make the appearance of wanting a dual-state solution more aligned with the West. I think the dividing of Israel is going to be viewed by the radical Muslims as a victory leading to the planning of a full-scale invasion prophesied in Ezekiel 38,39. I think Israel will catch wind of these plans resulting in the destruction of Damascus triggering the defense agreement that Syria and Iran have to bring the Magog invaders with hooks in their jaws to the mountains of Israel. These kind of stories just further lay out the alliances that lead me to the above conclusions having studied Bible prophecy.
---
Ahmadinejad tells West: Accept Israel's 'imminent collapse' Haaretz (January 30, 2008) - Iranian President Mahmoud Ahmadinejad called on the West Wednesday to acknowledge Israel's "imminent collapse." Speaking to a crowd on a visit to the southern port of Bushehr, where Iran's first light-water nuclear power plant is being built by Russia, Ahmadinejad further incited his listeners to "stop supporting the Zionists, as [their] regime reached its final stage." "Accept that the life of Zionists will sooner or later come to an end," the Iranian president said in a televised speech. He added, "What we have right now is the last chapter [of Israeli atrocities] which the Palestinians and regional nations will confront and eventually turn in Palestine's favor." Iran does not acknowledge Israel and Ahmadinejad has in the past sparked international outcry by referring to the systematic murder of six million Jews in World War II as a "myth" and calling for Israel to be "wiped off the map." Iran is currently also mediating in the crisis over the Gaza Strip, where Israel has imposed a blockade on border crossings into the coastal territory, barring the entry of supplies into the already impoverished area. Last week, Palestinian militants blew holes in the barrier separating the Gaza Strip from Egypt, prompting hundreds of thousands of Gazans to pour into Egypt in search of supplies. Ahmadinejad also urged the Western powers to help build nuclear power plants in his country saying it will be too late if they do not decide to do so immediately. "If you will not come, this nation will build nuclear plants based on its own resources and when you come some four years later it will reject your request and not then give you any opportunity," he said. "I am addressing leaders of two or three powers; do you remember I sent you message and told you to stop be stubborn? If you think that you can block the movement of Iranian nation, you are wrong," the Iranian president continued. more...
| Iran | Gog/Magog | Israel | Islam |
---
In Response to an Israeli Attack, Iran Can, With Syria's Help, Wipe Out Half of Israel MEMRI (January 23, 2008) - Following reports on Israel's January 17, 2008 test of the Jericho III missile, which has a range of 4,500 km, the Iranian website Tabnak, which is affiliated with Iranian Expediency Council secretary and former Islamic Revolutionary Guards Corps (IRGC) commander Mohsen Rezai, wrote that the missile's addition to Israel's arsenal does not change the balance of power between Israel and Iran. The website stated that in the event of a conflict with Israel, Iran would use its strategic alliance with Syria to fire missiles at Israel from Syrian territory.[1] It also hinted that, in addition to assistance from Syria, any attack by Israel would also bring retaliation by Hamas, Islamic Jihad, and Hizbullah. [2] Further, in an interview on Al-Jazeera TV, Iranian President Mahmoud Ahmadinejad dismissed the Israeli missile test, saying that "even before this missile test, the Zionist regime enjoyed this military technology, because of its support from several powers. But such measures will not improve its situation, and will not prevent its fall. The Zionist regime has lost the rationale on which its existence was based, and all nations identify it as criminal. Therefore, it will not achieve legitimacy for its existence through threats and sowing fear."[3] The following are the main points of the Tabnak article: [4]
"...The message to Iran from Israel's test of the new Jericho III missile is that this missile is, according to Israel, capable of travelling 4,500 km and striking any point in Iran. If these statements are true, then the Israelis have made several fundamental mistakes in sending [this] threatening message to Iran...:
"1. Iran's defense strategy towards any type of possible attack, by Israel or by the U.S., is based on [the assumption] that both are capable [of carrying out] a missile attack and an aerial attack on Iranian targets. Iran has never denied that Israel and the U.S. are capable [of carrying out] a missile or aerial attack on it.
"2. The fundamental assumption of Iran's strategy is that [even] if Israel did not have long-range missiles aimed at Iran, the U.S. would arm it with long-range strategic missiles as soon as it could.
"3. Any country determines, and deploys, its strategic missile launching system based on its geographical breadth. Accordingly, Israel automatically comes up against a difficult limitation: While Iran's area is 1,648,195 [square] km, the area of 'the regime that occupies Jerusalem' [i.e. Israel] is 26,323 [square] km, and if we subtract the Gaza Strip and the West Bank, [this area] shrinks to 20,150 [square km]. This means that [even] if Israel can fire 100 missiles a day at Iran, and hit 100 cities, Iran can [launch] thousands of missiles, and with them eradicate half of Israel. For this reason, the missile balance between the sides will end up in Iran's favor.
"4. In the event of an attack on Iran, if the Iran-Syria Joint Strategic Defense Agreement is implemented, Iran need not launch long-range missiles from its territory, [but rather] will be able to face Israel with a wave of missile attacks from [missiles with] a maximum range of 500 km, and with much higher explosive potential. At the same time, [even] if we leave out reciprocal attacks by the Islamic resistance in Lebanon [i.e. Hizbullah], Iran and Syria know very well that an attack on Iran will bring in its wake an attack on Syria, and that an attack on Syria will bring in its wake an attack on Iran - and that in both situations, the third target or the parallel [target] are the Islamic Resistance [organizations] in Lebanon and Palestine. If, prior [to such an attack], Iran employs joint defense measures, and arms itself with a missile defense system through cooperating with Syria, Israel will beyond a doubt receive a crushing response if it attacks Iran.
"5. [The placement of] Iran's missile sites is based on the doctrine of irregular warfare. Accordingly, neither Israel nor the U.S. can take out Iran's missile sites in a single surprise attack. For the same reason, Iran's strategic missile defense doctrine benefits from the advantage of [territorial] depth, particularly because Iran can use at least 400,000 square km of its territory as an effective area for aiming [its missiles] at Israel, since it has the benefit of mountainous topography, not a plain.
"6. In the past decade, Iran has focused on developing long-range missiles with a range of 3,000 km, in order to benefit from deterrent defense power in the face of any possible Israeli attack. [5] The Israelis know that because [Iran's missiles have attained] a range of 2,500 km, they are in Iran's range of fire, and [they also know that] the shorter the missile's range, the greater its explosive power. For this reason, Iran's missiles have a very great explosive power.
"Therefore, it can be explicitly said that Israel's recent missile test, on January 17, changes Iran's missile defense balance [against Israel] not one whit, and does not impinge on a single one of its defense doctrines... For this reason, this missile test does not create a new situation or [new] result, in any arena of possible confrontation between Iran and Israel...
"Thus [it appears that] the real idea behind this Israeli missile test is psychological warfare [in order to affect] public opinion in Israel, and not psychological warfare against Iran."
| Iran | Gog/Magog | Israel | Islam | Isaiah 17 |
---
Ahmadinejad: Mideast countries will erupt like a volcano YNet News (January 17, 2008) - Mahmoud Ahmadinejad said in response to US President George W. Bush's recent visit to the Middle East that "the region's countries are about to erupt like a volcano", the Islamic Republic News Agency (IRNA) reported Thursday. Speaking at a mosque in Tehran Wednesday evening ahead of the Day of Ashura celebrations, the Iranian president said the region's countries would follow the Islamic Republic's lead and "stand firm in the face of (Israel's) murderous operations against the oppressed Palestinian nation and its supporters." Meanwhile, Iran's chief nuclear negotiator said the West had failed in efforts to put pressure on the Islamic Republic over its atomic activities. The West fears Tehran is seeking an atom bomb and has imposed two sets of United Nations sanctions. Iran says it aims only to generate electricity. "Those countries who so far have been after imposing sanctions and putting pressure on Iran have not achieved any success," chief nuclear negotiator Saeed Jalili told the official IRNA news agency at the start of a visit to Beijing. "Today, global developments and Iran's logical behavior do not allow anybody to do this."
| Iran | Gog/Magog | Israel | Islam |
---
The Putin-Osama Connection Front Page Magazine (January 16, 2008) - Frontpage Interview's guest today is Pavel Stroilov, a Russian exile in London and the editor and translator of Alexander Litvinenko's book, Allegations. He was a friend of Litvinenko's.
FP: Pavel Stroilov, welcome to Frontpage Interview.

Stroilov: I am very honoured, though I would have much preferred to see the author of the book, Alexander Litvinenko, here in my place. Alas, he cannot speak for himself anymore, so our sad duty is to act as his posthumous spokesmen.

While Alexander was still alive, he made a number of extremely important allegations. If nothing else, his horrible death itself proves that those allegations should be taken very seriously and investigated most thoroughly.

FP: Our thoughts and prayers are with Alexander and with his family. Against all odds, let us hope that his killers will one day be brought to justice. Let's start our discussion with the FSB's (Federal Security Service) links to Al-Qaeda.

Stroilov: Alexander revealed, in his articles and interviews included in the Allegations, that at least two notorious Al Qaeda terrorists are secret agents of the FSB – one of whom, Aiman al Zawahiri, is bin Laden's second-in-command.

As the former leader of the terrorist organisation Egyptian Islamic Jihad, al Zawahiri was on international lists of most wanted terrorists for many years. In 1997, he suddenly re-surfaced in Russia, where he undertook a special training course at a secret FSB base in Dagestan. After that, he was sent to Afghanistan, and joined Al Qaeda as bin Laden's number two. Meanwhile, the FSB officers who had supervised him in Dagestan were promoted and re-assigned to Moscow. It was from them that Alexander learned about al Zawahiri.

These and other facts of FSB involvement in international terrorism, revealed by Alexander, have tremendous implications. Contrary to the view of many in the US, Russia is anything but a reliable ally of yours in the 'war on terror'. The Kremlin is playing a treacherous double game: while enjoying the West's support as ally, it secretly supports and manipulates the Al Qaeda through FSB agents of influence.

As Alexander writes: "It is possible to destroy the whole international terrorism tomorrow, along with Russian Mafia. All you need to do is disband the Russian special services."

FP: Ok just a second. Alexander states that, "It is possible to destroy the whole international terrorism tomorrow, along with Russian Mafia. All you need to do is disband the Russian special services." His point is well taken. The FSB does a lot to bolster Islamo-Fascism. And the FSB's involvement here is significant, dangerous and reprehensible -- and we must be honest about it. But to imply that the threat of radical Islam toward the West would dissipate if the Russian special services were disbanded is a bit of an exaggeration, don't you think? Alexander is making a strong point with a bit of hyperbole, correct?

Stroilov: Yes, in a sense he is. I don't think that terrorism would disappear immediately if you just close down the Kremlin and Lubyanka. However, that would certainly do the terrorists more damage than anything you have done yet, and that would open you the way to a final victory.

Indeed, that would be much more than just cutting the enemy supplies. For the war against terrorism is all about intelligence: the most horrible terrorist is absolutely toothless without secrecy. Overthrowing the KGB regime in Russia would mean investigation of its crimes which, in turn, would give you such intelligence about the international terrorist networks which you could never obtain elsewhere. Litvinenko, an FSB officer who was not even involved in supervision of international terrorists, revealed information of tremendous importance about leaders of Al Qaeda. Can you imagine how much more information you would have if only you could interrogate those directly responsible, and search in their secret archives? If, as Alexander wrote, the 'Kremlin is the centre of world terrorism', taking over the Kremlin would mean capturing the enemy headquarters. You would know everything: names, chains of commands, communication channels, supply channels, hiding places, etc, etc.

On the other hand, imagine what would happen if the truth about Moscow's hand in organisations like Al Qaeda is made public. It is hardly a very fresh idea that 'winning hearts and minds' of the Muslims is the key to victory in the whole 'war on terror'. To put it mildly, I strongly doubt that revelations about Al Qaeda leaders' intimate relations with Moscow would boost their popularity. Rather than being 'lions of Allah', as they call each other, they would be exposed as moles of Putin. After that, suicide bombers would probably think twice before obeying their orders. But thinking twice is no good in suicide bombers' profession.

If you are serious about the global war, let us try and think strategically. The most important strategic target in that war is the Kremlin. That is not only the best way to start winning it, but, as far as I can see, the only way. Paraphrasing Alexander, we can say it is impossible to destroy the international terrorism even in a century unless you disband the Russian secret services first.

FP: Russian special services are aiding international terrorism. But Islamist terror is also, on some realms, targeting Russia – and has also hit Russia. How do we make sense of all this?

Stroilov: It is not the first time when Russian people and Russian special services find themselves on opposite sides. In fact, Russia is exactly the place where the FSB hand in terrorism, Islamist or otherwise, can be seen most clearly. The 'Nord-Ost' story is only one example, and not the brightest one. In 1999, the FSB blew up four apartment blocks in Russia, and then were caught red-handed attempting to blow-up the fifth. After that, they announced that the bomb was a fake (the expert technicians simply mistook sugar for an explosive mixture), and the whole operation was a training exercise. Before that, in mid-1990s, one FSB officer was killed trying to blow up a railroad bridge, and another one was convicted by court for blowing up a bus in Moscow.

Alexander Litvinenko was well-known precisely for his investigation of the FSB terrorism in Russia, particularly the 1999 apartment blocks explosions. A big part of the Allegations is about it, and even more details are given in Blowing-up Russia. Terror from within by Litvinenko and Yuri Felshtinsky. The FSB is at war with Russian citizens, and that is more than just a figure of speech. They resort to any means in that war. They have created the terrorist threat in Russia, and then 'defended' us from it – in exchange for our obedience.

FP: Tell us about the Prime Minister of Italy, Romano Prodi (also former President of the European Commission) and his relations with the KGB.

Stroilov: Romano Prodi was described to Alexander by a senior KGB/FSB colleague, three star General Trofimov, as 'our man in Italy'. He told Alexander that Prodi had 'collaborated with the KGB' and 'carried out KGB missions'. Moreover, after 1996 the FSB had restored its relations with the old KGB agents of influence in the West. So, Gen. Trofimov and Alexander himself reckoned that Prodi might still be dangerous.

In February 2006, Alexander was interviewed about that by Mario Scaramella, a consultant to the Guzzanti Commission of Italian Parliament, which investigated the KGB's activities in Italy. The video-record of that interview was kept secret at the time, and intended only for a closed-doors parliamentary investigation. (After Alexander's death it was made public, and the transcript of it is included in the Allegations.)

However, two months later Alexander encouraged Gerard Batten, Member of European Parliament for London, to make his accusation against Prodi public. Gerard did that on 3 April 2006 in his speech to the European Parliament. The Parliament declined to investigate the matter, as Gerard insisted it should do; nor did Prodi himself ever comment on it as long as Alexander was alive. However, just eight days after Litvinenko's death, Italian left-wing newspapers 'revealed' how Sen. Guzzanti and Scaramella were 'plotting' to discredit Prodi by alleging he had links to the KGB. Prodi himself, in a clumsy imitation of fury, announced he would instruct his lawyers to take legal action over these allegations. In event, no such legal action was taken.

Mario Scaramella was arrested as soon as he returned to Italy on Christmas of the same year. He is still kept in prison without a trial, and may stay there for the rest of his life. For the Italian legal system enables the prosecution to keep him in jail for three months on some particular charges, then drop those charges, put forward some new ones, and jail him for another three months. So it goes on and on for a year now, against the background of a perpetual propaganda campaign against Scaramella. Indeed, he is one of the first political prisoners in the emerging Gulag of the EUSSR.

FP: Can you talk a bit about the political prisoners in Russia today?

Stroilov: There are dozens. We know this much, although there is no commonly accepted list, as different human rights organisations have different criteria to distinguish political prisoners from other victims of Russia's perverted 'justice'.

However, at least one Penal Code article, introduced under Putin, is used only to persecute dissenters: 'instigation to extremism'. Boris Stomakhin, a journalist who edited a small on-line newsletter, is now imprisoned for his critical writings, which were ruled to constitute that ill-defined 'crime'. Trying to get away from the FSB gangsters who came to arrest him, Stomakhin jumped out of the window, and broke his spine and leg. Being practically handicapped, he is now denied any decent treatment in the harsh conditions of what we call PutLAG.

Some others are those who went dangerously close to the Kremlin's darkest secrets. Thus, Col. Yevgeny Taratorin, a police detective, was imprisoned in a notorious corruption trial. However, Alexander Litvinenko argued that the corruption charges against Taratorin were fabricated, while the real reasons for his imprisonment was his investigation of the 2002 'Nord-Ost' theatre hostage-taking. Apparently Taratorin had gone too close to uncovering the FSB role in that crime.

Then there is over a dozen of political prisoners persecuted in the notorious YUKOS case, for their association with the once uncontrollable oil company. There is also a number of academics, such as Igor Sutyagin and Valentin Danilov, imprisoned in the course of Putin's spy-mania campaign for their collaboration with foreign colleagues.

There are ethnic Chechens, such as Zara Murtazaliyeva or Zaurbek Talkhigov, who were deemed 'terrorists' and imprisoned only for their Chechen origins.

Apart from that, there are hundreds, if not thousands, of Chechen POWs and civilians captured in North Caucasus and kept in the so-called filtration camps there. About them, we simply know very little or nothing. It is also possible that many political prisoners in Russia itself remain unknown.

FP: The FSB role in that the 2002 'Nord-Ost' theatre hostage-taking? What role are you exactly alluding to and what would the FSB want to cover up in this instance?

Stroilov: The publisher would probably want me to answer by recommending to read Chapter 2 of Allegations, but I shall briefly re-tell the story now. At least two of the 'Nord-Ost' terrorists were FSB agents-provocateurs, and both of them miraculously survived the FSB assault on the building.

One of them, Khanpasha Terkibayev, suddenly emerged in Strasbourg a few months later, accompanying Russian official delegation to Council of Europe. There he was recognised and interviewed by Anna Politkovskaya, and admitted he had been in the theatre during the siege. Russian prosecutors were not interested, but because a US citizen had been killed in 'Nord-Ost', the FBI also investigated it. So, the FBI said they wanted to interrogate Terkibayev, but a few days later he was killed in a car accident in Chechnya.

Apparently, it had been Terkibayev who provided the hostage-takers with all the necessary logistics in Moscow. If not for him, they would not be able to capture the theatre at all.

Another agent-provocateur, Abubakar, was identified by Mikhail Trepashkin. Many years before that, FSB detective Trepashkin investigated Abubakar as a gangster and arms dealer – and discovered that Abubakar enjoyed FSB protection. More details of that story are given in the book. Better still, Trepashkin himself has been released from the PutLAG a few weeks ago, so you can ask him.

As for Col. Taratorin, I understand that he tried to trace the explosives, and the traces also led him too close to the FSB.

FP: Your thoughts on the situation in Chechnya ?

Stroilov: Like Alexander, I approach the situation in Chechen Republic of Ichkeria from a strictly legal viewpoint. Russia has recognised Chechnya as an independent state in the 1997 Peace Treaty. The subsequent invasion and the present Russian occupation are totally illegal. The only legitimate government of Chechnya is the one supported by its last democratically elected Parliament, i.e. the government-in-exile led by Ahmed Zakayev. Indeed, none of those 'elections' and 'referenda' which Russia held in Chechnya after the 1999 invasion were recognised by independent observers. Anyway, no fair vote is possible under a military occupation.

Another important thing to understand is that the war is by far not over. The Kremlin propaganda about peace and prosperity finally coming to Chechnya under the excellent occupational administration is as false as the 100% turnout at the last 'elections' and 99% support for Putin's regime. In reality, the war and genocide are still going on; people on both sides are being killed every day. Moreover, this war has now spread all over North Caucasus.

Alexander's book is as much about Chechnya as it is about Russia. He reveals lots of details about the dirty tactics which FSB uses in this war: from terrorism and agents-provocateurs to zachistkas and assassination squads.

FP: Who killed Alexander Litvinenko? How exactly did they do it and why?

Stroilov: On his deathbed, Alexander himself named Vladimir Putin as the murderer. Moreover, as is revealed in the Allegations' last chapter, Putin had been trying to kill him for all those years.

In July 2006, extra-judicial murders of people like Alexander were openly made an official policy of Russian regime. A law was passed, authorising the president to use Russian special forces to assassinate his enemies all over the world – and there was little doubt that Alexander's name was high on the hit list. As Alexander himself commented prophetically in a Radio Liberty interview: 'If they listen to me now, let them know: I hire no bodyguards to protect myself, and I never hide anywhere. I live very openly, all the journalists know where to find me. So, gentlemen, if you come to Britain to kill me, you will have to do that openly.'

But the most crucial piece of evidence against Putin is the poison, the Polonium-210, which is a very rare substance, precisely traceable to its source in Russia. And indeed it was traced down to a state-controlled, top security nuclear establishment. The use of Polonium to poison Alexander could only be authorised from the very top. Of course, Putin and his accomplices never expected the poison to be identified. That was why, immediately after Alexander's death, Putin betrayed himself by publicly claiming there was no evidence of violent death.

The actual assassination was perpetrated by a team of at least three people: Andrei Lugovoi, Dmitry Kovtun, and someone who used several false identities and whose real name is unknown. Apparently, Kovtun was responsible for the transportation of the Polonium, Lugovoi – for approaching the target, whom he knew personally, and the third one actually put the poison in Alexander's cup.

Putin probably had several motives to murder Alexander, the most obvious of which is this. Litvinenko knew too much and, worse still, he tried to let the public know too much. If you pretend to be a valiant fighter against terrorism, and there is a man who knows and talks about your covert links with Al Qaeda, what else would you do? And the Al Qaeda business is only one of the secrets which Alexander knew and revealed.

FP: What interests does Putin have in helping Al Qaeda and other jihadi terror groups?

Stroilov: To stir up trouble, in the world in general and in the Middle East in particular. The most obvious consequence of that are sky-high oil prices, which are both the source of KGB junta's wealth and the salvation for their regime.

Apart from that economic interest, this is a similar scheme to the one used against Russian citizens. We must stay united in front of the grave terrorist threat, right? It is not the time to reproach Putin for murders, tortures, political prisoners or genocide, is it? We must be realists: we cannot afford a new Cold War against Russia in a situation like that, can we? That is the reaction they want from you, and regrettably, they have not been quite unsuccessful.

FP: What would your advice be to the U.S. and to the West in general in terms of its policy toward Putin?

Stroilov: It is no good arguing if the Second Cold War is good or bad for us, for it has already started. What we should think about is how to win it as quickly and painlessly as possible.

In my view, it would be wise to set the following immediate objectives in your policy towards Putin (and his future successor):

1. Total isolation: throw him out of the G7, Council of Europe, WTO and wherever else you've made him a member or observer. Oddly enough, they are rather sensitive about such things. Cut the number and level of meetings with Russian officials, starting from summits and ministerial ones. The KGB people don't see these meetings like you do: for them, every meeting is a stage in your virtual recruitment. They cannot be your partners, they can only be your case officers.

2. Support all those who are already fighting them, from democratic opposition inside Russia to those neighbouring countries, such as Georgia or East European states, which resist Kremlin's pressure.

I even think it is time to establish relations, in an appropriate form, with the Chechen government-in-exile. I don't think that you follow the Chechen politics very carefully, so perhaps your readers are unaware of the recent crisis, when Islamic fundamentalists unsuccessfully tried to take over the leadership of the Resistance. Instead, it resulted in the formation of Ahmed Zakayev's government, which is pro-democracy, pro-independence, and has explicitly dissociated itself from the so-called jihadism. The West will hardly ever find a better kind of partners in the Muslim world.

If you support Zakayev, that would be a very strong blow on the Kremlin. In a situation when Putin covertly supports Al Qaeda, what could be a better response than demonstration of your solidarity with his own worst enemies, whom he slanders as terrorists, who represent the small nation suffering from FSB genocide, and who abide by the laws of war even in their desperate situation? Besides, if you support a Muslim nation in its war against Kremlin's tyranny, that may win you plenty of Muslim 'hearts and minds' elsewhere.

3. Do everything you can to make oil prices drop. Persuade the Saudis, develop your own oil production, do anything you can think of. Every dollar-per-barrel down means a blow on the KGB regime, and perhaps many human lives saved.

FP: Your thoughts on Time making Putin the person of the year?

Stroilov: Well done. They've found a worthy successor to Hitler, Stalin, and Khomeini.

FP: Are you optimistic or pessimistic about the future of Russia in general?

Stroilov: Optimistic (though I don't like the word). The Putin-Medvedev regime is doomed, and whatever will replace it, it cannot be worse. Even if the country collapses into dozens of realms, as it very well may, in many of them things will certainly get better than the present state. But of course, it is very important to do everything possible to help democratic opposition to develop in Russia, so as to have a force able to ensure stability after the KGB downfall.

FP: Pavel Stroilov, thank you for joining Frontpage Interview.

Stroilov: Thank you.
| Islam | Gog/Magog | EU/UN / 4th Kingdom |
Given the Biblical account of what is to come, I don't find the revelations in this interview that surprising, yet they strongly support the alliances put forth in scripture and indeed evident on the world scene today between Islam and Russia. I found the connection to Romano Prodi especially interesting given his position preparing the way politically for the "voice of Europe" we have today. Coincidence or the mystery of iniquity at work in the world to bring about the great conspiracy of the man of sin?

There are some aspects as well that cause me to think of what conditions worldwide are likely to be like during the reign of the man of sin, the time of great tribulation. I believe that the worship of the man of sin will be required and lack of worship not tolerated. I believe those who refuse will be labeled as terrorists to the "peace and prosperity" being brought about by the New World Order under the man of sin and with the New Age mindset that will be prevalent, those who refuse to participate only stand in the way of utopia for all and must be eliminated from causing harm to the greater good.

I do believe that the leadership in Russia will change, just as it will in America and elsewhere around the world. That is what is foretold to happen and what is coming together now. If Russia is indeed part of the attack on Israel from the North along with Turkey and Iran, then they too will be decimated in the mountains of Israel and I believe that Israel will have a very sudden shift along with the rest of the world, Israel toward the ways of their fathers in the Old Testament and the world toward leadership that will save them and eventually get rid of the fundamentalists like Israel who are causing all the problems and preventing the universal mind concept from becoming reality.

Clearly the enemy of mankind is very strong already in the earth today and with the love of many growing colder, I see a very bleak future for those who love the world. However, I also know the promise from God's Word for them that love Him and are not of this world and this is where my hope and joy lie. Some may call me defeatist or a pessimist for giving up on this world and putting my hope in Christ, but reality will catch up to everyone, whether they believe it or not. Our goal, who believe, should be focused on bringing the hope of the Gospel to the lost while we can, something that I myself need to do a lot better as the clock ticks ever closer to midnight. Keep watching!
---
Turkey Firm On Boosting Ties With Iran Iran Mania (January 10, 2008) - Despite the US pressure, Turkey is firm on bolstering relationship with Iran since the neighbors have not fought since 17th century, PressTV reported. "Turkey and Iran have neither fought nor changed border since the 1639 Treaty of Qasr-e Shirin (also known as the Treaty of Zuhab)," Turkey's President Abdullah Gul said to remind that Ankara-Tehran relations is older than US history. Gul's remarks at the Woodrow Wilson International Center for Scholars came as Ankara is under mounting US pressure to refrain from investing billions in Iranian energy projects, Today's Zaman reported. Turkey, the only NATO country bordering Iran, has not buckled under US pressures to cut doing businesses with Tehran. Earlier in November, Iran and Turkey signed an energy deal including building power plants and improving electricity transport infrastructure. The Turkish prime minister also reiterated in September that his country would continue collaboration with Iran in the oil and gas sectors. "Iran is an important trade partner for Turkey and Turkey cannot ignore this fact," Recep Tayyip Erdogan has said.
| Iran | Gog/Magog | Islam |
---
U.S. Wary of Warming Syrian-Turkish Ties NPR (January 10, 2008) - One place President George Bush is not visiting on his tour of the Middle East is Syria. Relations are icy, with Washington and Damascus at odds over Lebanon, the Arab-Israel conflict, the Iraq war and Iran. But Syria is rapidly improving ties with a key U.S. ally in the region, Turkey. And that is a development that could have substantial repercussions, particularly for Washington. Syrians Have Much to Gain Syria's ambassador in Washington, Imad Moustapha, characterizes his country's ties with Turkey as a "honeymoon" and the "best possible relations between any two neighborly countries in the world." Such enthusiasm over ties with Turkey is a worry for the United States, says Omer Taspinar, a Turkish analyst at the U.S. War College. "I think the Syrians have a lot to gain. That's why it is in their interests to send a signal they are not isolated and they have Turkey on their side. "Syria is perceived as the underdog against the U.S. So, the more the U.S. says, 'Don't talk to Syria,' I think, the more it will become attractive for Turkish public opinion," Taspinar says. And that may be why Syrian President Bashar al-Assad got such a warm welcome on a recent trip to Turkey. With his attractive young wife, Assad toured the capital with Turkey's president and prime minister. The TV cameras were there as they opened a new Turkish shopping center. The coverage of smiling presidents and their wives surprised even Syrians, says George Sageur, a Syrian-American businessman. The response to the president and his wife — as the face of Syria — has been tremendous in Turkey, he says. They were "received very, very well indeed." Iraq War Marked Change in Syrian-Turkish Relations It's a marked improvement from tensions a decade ago. The two countries seemed on the verge of war after Turkey accused Syria of harboring a Kurdish rebel leader. But that was all before the U.S. invasion of Iraq. Now, Turkey and Syria have shared concerns. Both have sizeable Kurdish populations. Both worry about the nationalist goals of the Kurds in neighboring Iraq. And both are wary of U.S. plans in the region, says Taspinar. "The real impetus for these visits is the Kurdish question — let's not miss the real picture here. I think Turks are very much disillusioned with this whole Iraq episode." Syria has benefited from that disillusionment. Because of expanded trade relations, Turkish language classes in Damascus are now popular for Syrian Arabic speakers. Syria's deputy prime minister was in Turkey last week to sign an agreement for a joint natural gas pipeline. "The relationship with Turkey has an economic aspect, but it is also very important for domestic legitimacy," says Josh Landis, an American academic who writes an influential blog on Syria. Landis says the new partnership with Turkey has helped Syria's president blunt a domestic problem: Many of Syria's majority Sunni Muslims do not like Assad's close relations with Shiite Iran. more...
| Gog/Magog | Islam | Isaiah 17 |
---
Olmert: No peace unless attacks stop Associated Press (January 9, 2008) - Israeli Prime Minister Ehud Olmert said Wednesday that "there will be no peace" unless attacks are halted from all parts of the Palestinian territories, including those not controlled by his negotiating partners in the Palestinian leadership. But he said that both sides "are very seriously trying to move forward" on a deal. "Israel does not tolerate and will not tolerate the continuation of these vicious attacks," Olmert said, after two and a half hours of talks with President Bush. "We will not hesitate to take all the necessary measures. There will be no peace unless terror is stopped. And terror will have to be stopped everywhere." On the first day of his eight-day Mideast trip aimed at pushing the Israelis and Palestinians toward an agreement, Bush declared there is a "historic moment, a historic opportunity." But he also said: "I'm under no illusions. This is going to be hard work." "America cannot dictate the terms of what a state will look like," he added. "We'll help." Earlier Wednesday, an Israeli airstrike in northern Gaza killed two Palestinians and wounded four others, a move the Israeli army said was taken in response to Palestinian militants who had bombarded the rocket-scarred southern Israeli city of Sderot with rocket and mortar fire. Bush said he and Olmert also discussed Iran's nuclear weapons ambitions and an incident Sunday when Iranian boats harassed and provoked three American Navy ships in the strategic Strait of Hormuz. U.S. officials said Iran threatened to explode the vessels, but the incident ended peacefully. more...
| Iran | Gog/Magog | Israel | Islam | 1st Seal | Dividing the Land |
Ezekiel 38:8
After many days thou shalt be visited: in the latter years thou shalt come into the land that is brought back from the sword, and is gathered out of many people, against the mountains of Israel, which have been always waste: but it is brought forth out of the nations, and they shall dwell safely all of them.
Beyond the dividing of Israel and the creation of a Palestinian state, one of the prerequisites of the Magog invasion by Iran, Turkey, Russia and others is that Israel is living in safety. This works to bring about the false peace as well so I have a feeling that the rockets are going to soon stop and that will help spur the division of the land to create a situation of relative, temporary peace.
---
Hamas averages 8.2 missiles a day in 2007, steps up Iran-Syrian-backed preparations for full-scale war DEBKAfile (January 1, 2008) - The annual report of Israel's domestic intelligence service, ShinShin BetBet, paints a troubling picture of a Hamas-ruled government in Gaza expanding its efforts to build a war machine capable of taking on Israel in full-scale military combat, with active input from Iran and Syria. In the outgoing year, Hamas and its allies fired more than 1.300 Qassam missiles and 1,700 mortar shells from Gaza, subjecting Israeli communities in an expanding radius to a daily average of 8.2 projectiles. At the same time, the ShinShin BetBet and IDF were strikingly successful in their preventive campaign. They thwarted 29 major attacks inside Israel originating in Gaza, and the number of Israelis killed by terrorists declined from 50 in 2005 and 24 in 2006 to 13 in 2007. Nonetheless, the Palestinians mounted a total of 2,946 Palestinian terrorist attacks, 9 less than 2006, including a single suicide bombing in Eilat and another three that were intercepted in time. No let-up is expected next year. In 2007, Hamas smuggled into Gaza more than 80 tons of explosives for use in the fabrication of missiles and bombs, including roadside devices laid down against an Israeli military incursion. Al Qaeda and its Palestinian affiliates recently stepped up their participation in attacks, more conspicuously since Fatah al Islam set up operations in Gaza after being thrown out of its northern haven in Lebanon four months ago. Israeli officials said that Osama bin Laden's threat to "liberate every inch of Palestine" is being taken seriously. The ShinShin BetBet reports that hundreds of Hamas operatives were smuggled through the Sinai tunnels out to Iran and Syria and back for special 2-6 month courses at facilities near Tehran and Damascus in commando combat and the manufacture and launching of missiles. Among them were officers and naval commandos. The ShinShin BetBet report notes that Hamas' smuggling projects spread out from Gaza to the West Bank, where a new terror machine is taking shape. Local terrorist elements are being taught to manufacture and use Qassam missiles and high-trajectory weapons, thereby bringing Israel's central coastal cities, including Tel Aviv, within range. Scores of West Bank Hamas activitists were also sent to Iran and Syria to study missile manufacture. During most of 2007, Iran's Lebanese surrogate, Hizballah, funded the West Bank project at the rate of the equivalent of $10 million per month. The transfers slowed in recent months. The ShinShin BetBet reports that Hizballah is diverting more funds to building its own substantial new infrastructures in SouthSouth LebanonLebanon and north of the LitaniLitani RiverRiver.
| Iran | Gog/Magog | Israel | Islam | Isaiah 17 |
---